Welcome to Year 6
Mrs Cockley
Curriculum Newsletter Summer Term 1
Curriculum Newsletter Spring Term 2
Curriculum Newsletter Spring Term 1
Art Week - October 2016
We had a very busy four days during our art week, where we focused on two projects. Firstly we learnt some sketching and shading techniques and used these to draw some open fruit. Secondly, we learnt how to use watercolour paint to paint these fruit segments. We found the pineapple very tricky to draw and paint but enjoyed giving it a go! We were really please with our end pictures.
On Thursday we started a mammoth painting session where we learnt several new painting techniques which we used to create four sheets of paper that we were going to use as collage paper. Once our collage paper had dried fully, we then used it to start making our Viking ship collages. We started with the sky and sea and finished with the boat and sail. We are VERY impressed with our finished results and think that they will look stunning when on display.
Thanks to all the parents and grandparents who came to see our work in class, we hope you were as impressed as we were!
PGL - September 2016
Goodbye England!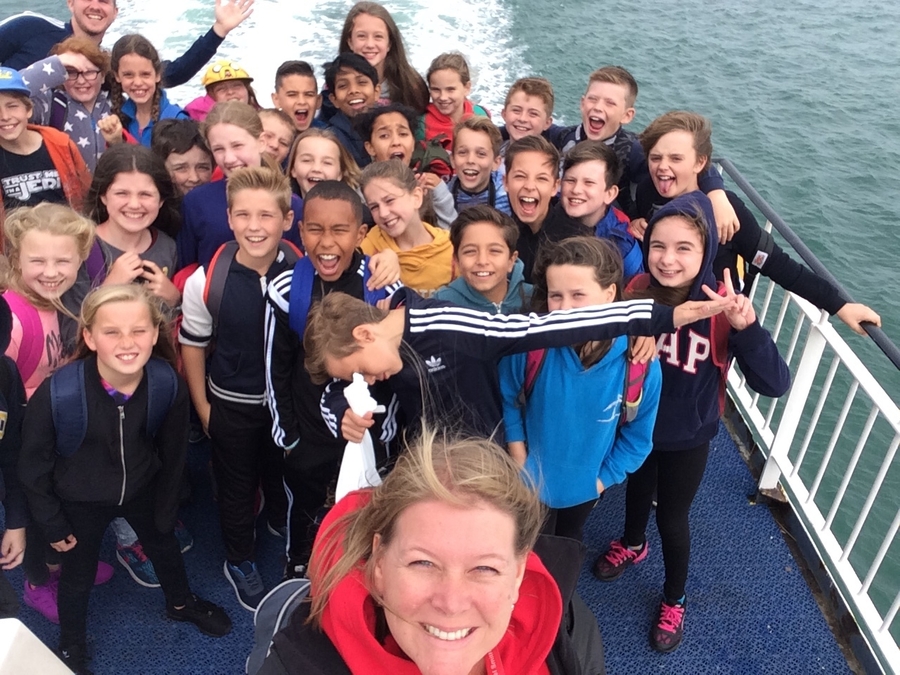 Day 3 - Thursday 29th September 2016
Another good nights sleep has meant that we are up and full of beans again today! This mornings activities have been Abseiling, and Dragon boat racing. We loved the dragon boat racing and managed to stay (fairly) dry. We were in two boats and raced against each other and another school. Luckily the sea was nice and calm and the ferries stayed away from our race track!
This afternoon we are doing tunnel trail and our final computing session where we will be finishing our animation. Tonight we have the talent show and, despite some croaky voices, we are looking forward to showcasing our talents!
Here are some dragon boat racing photos!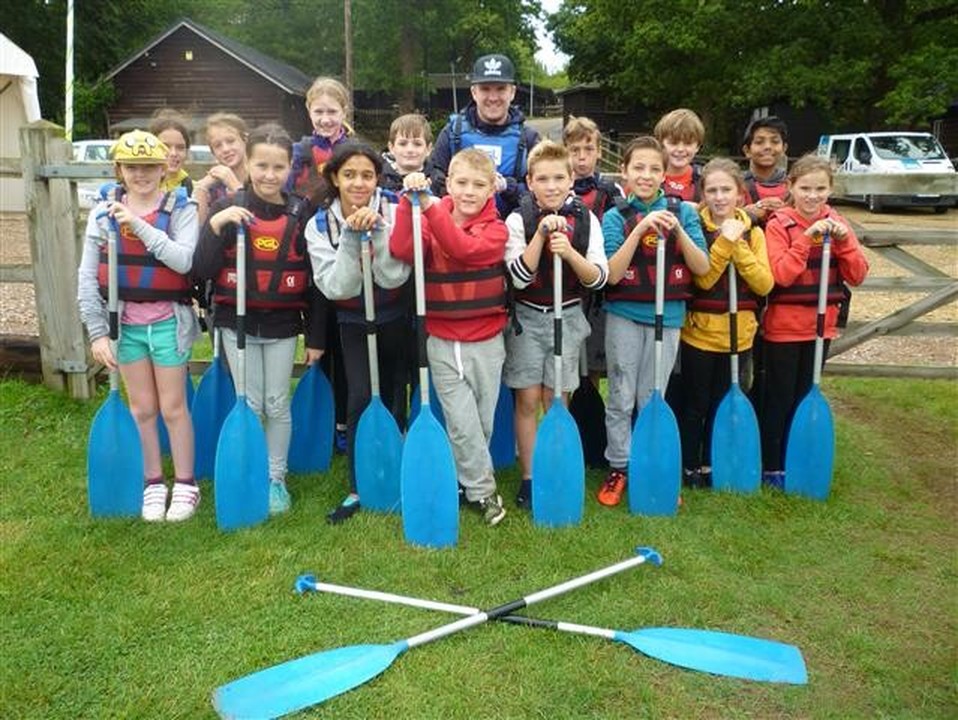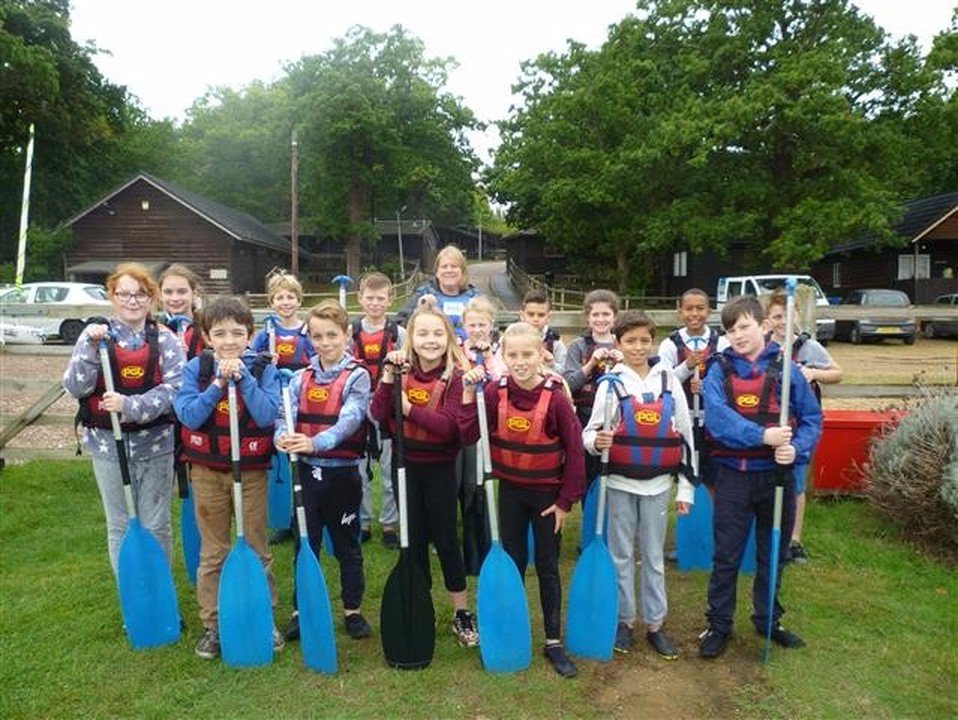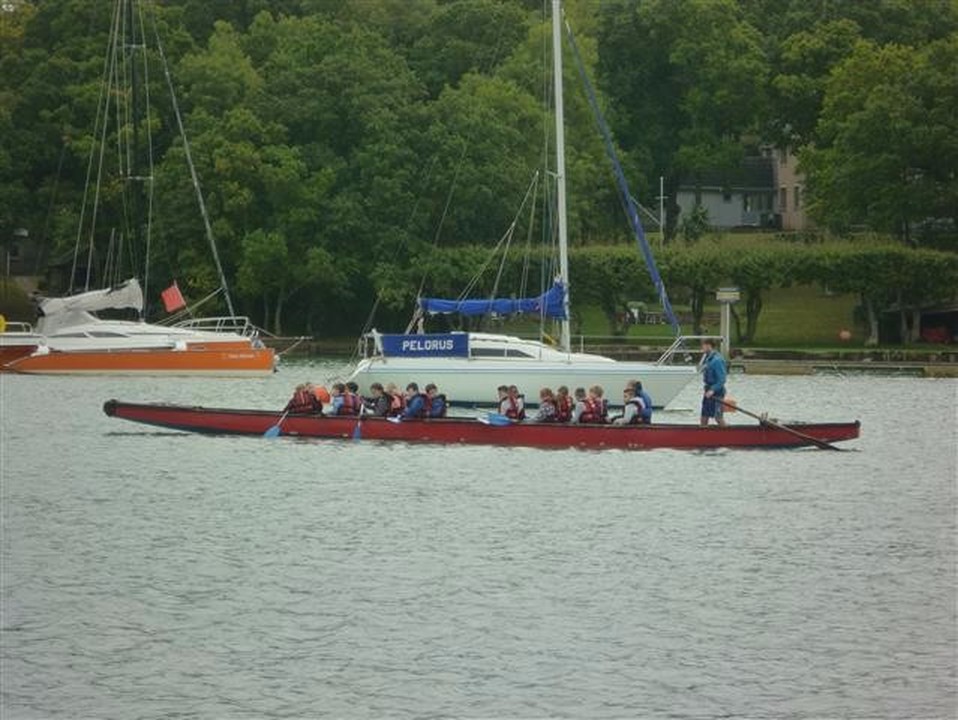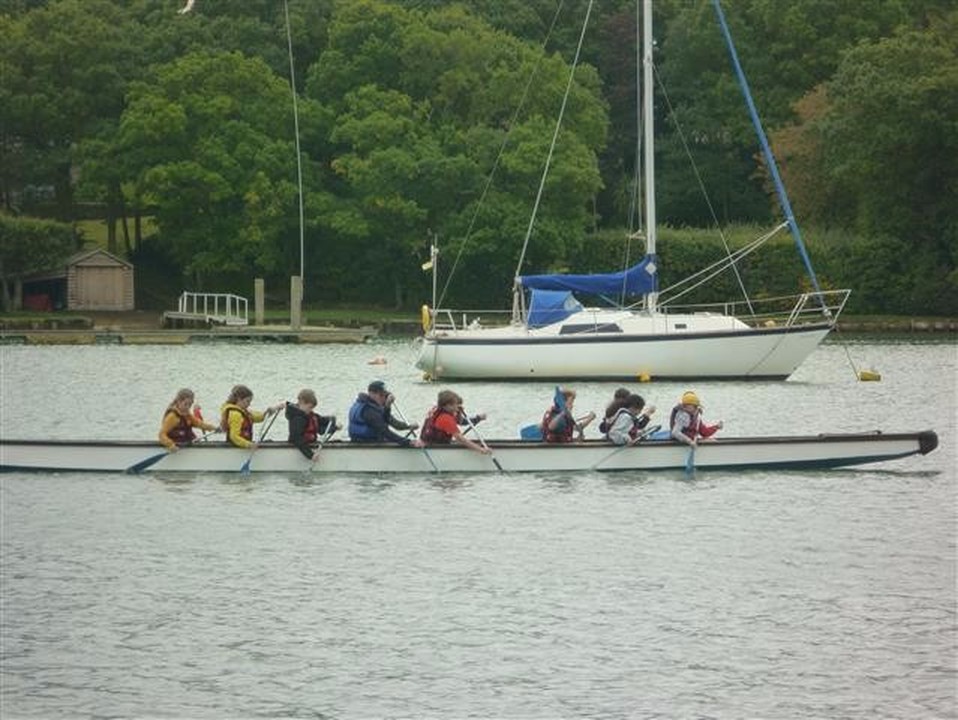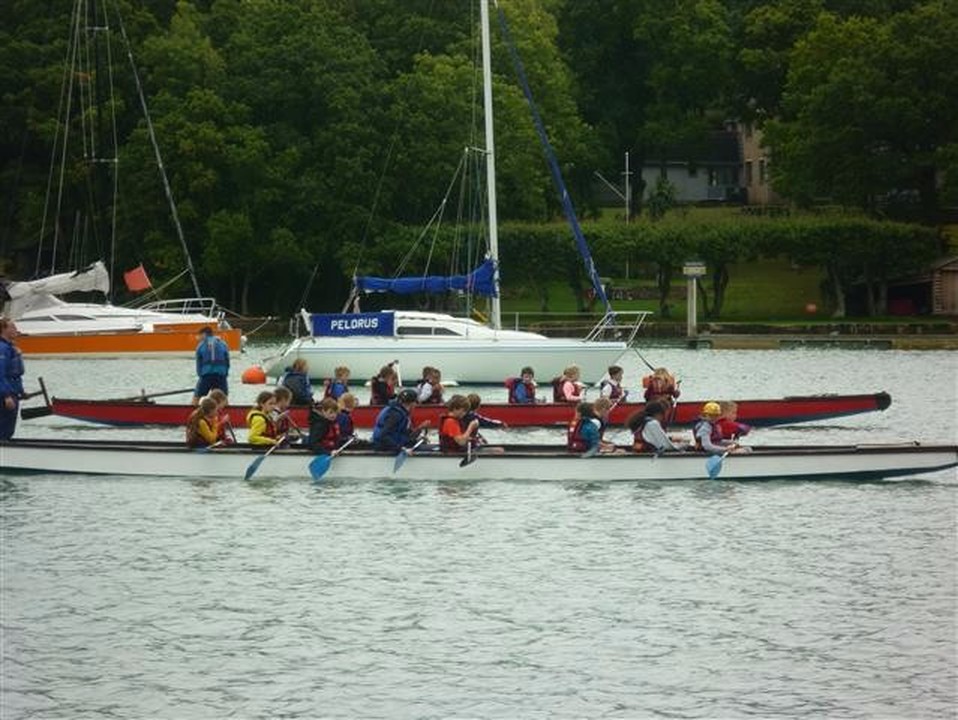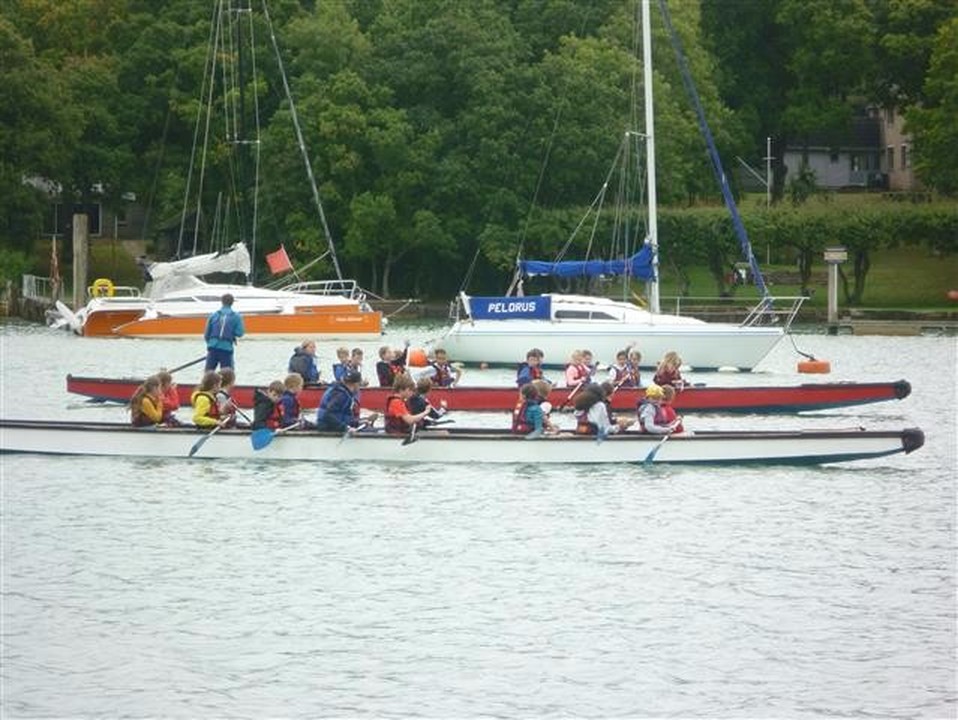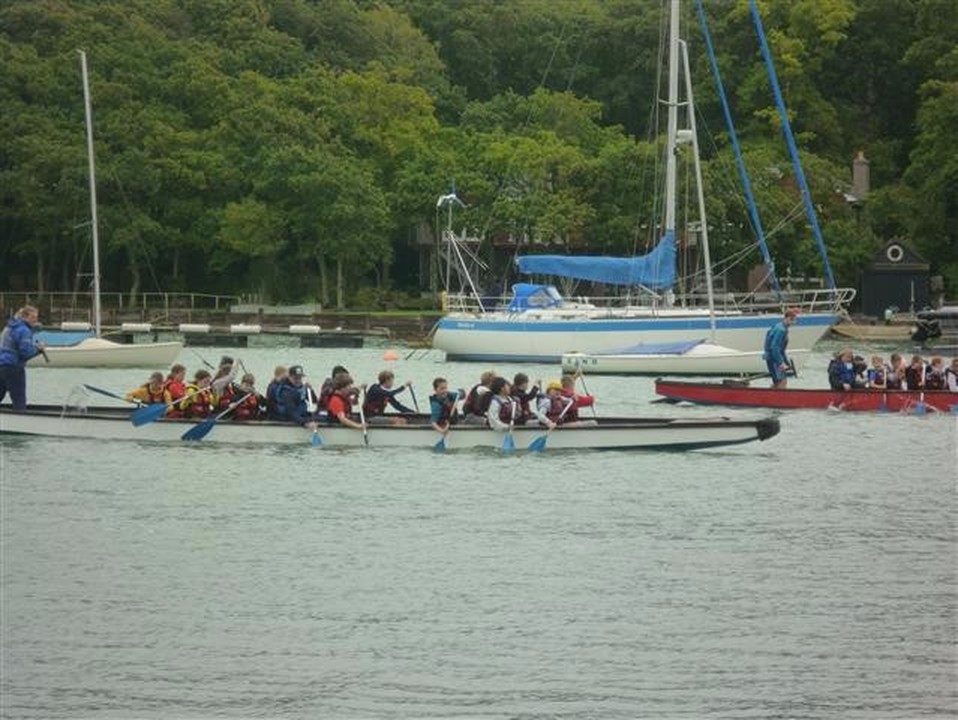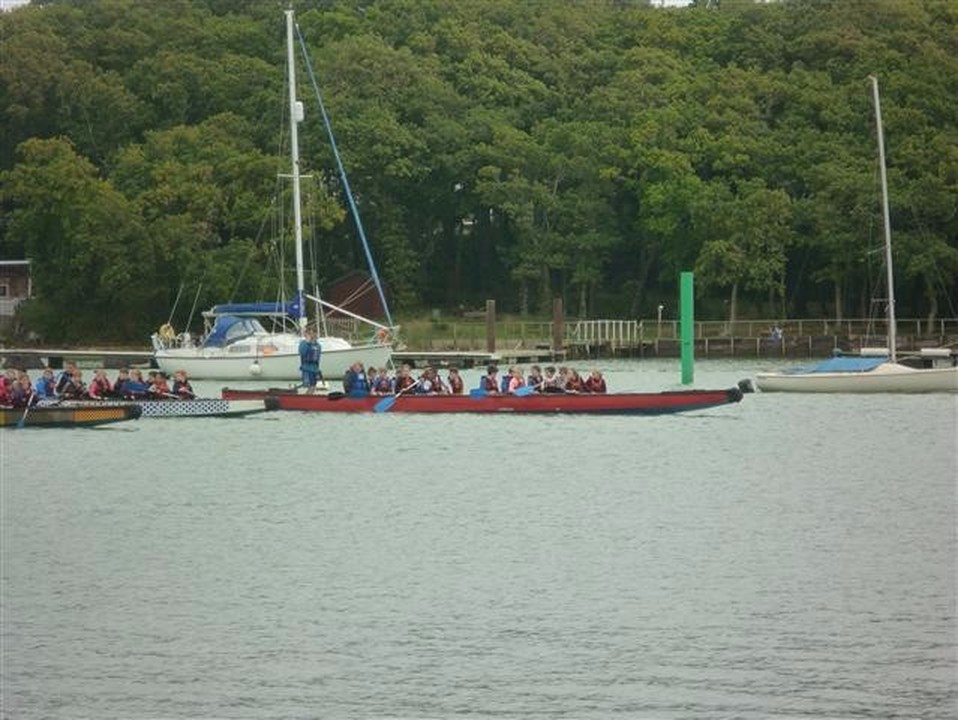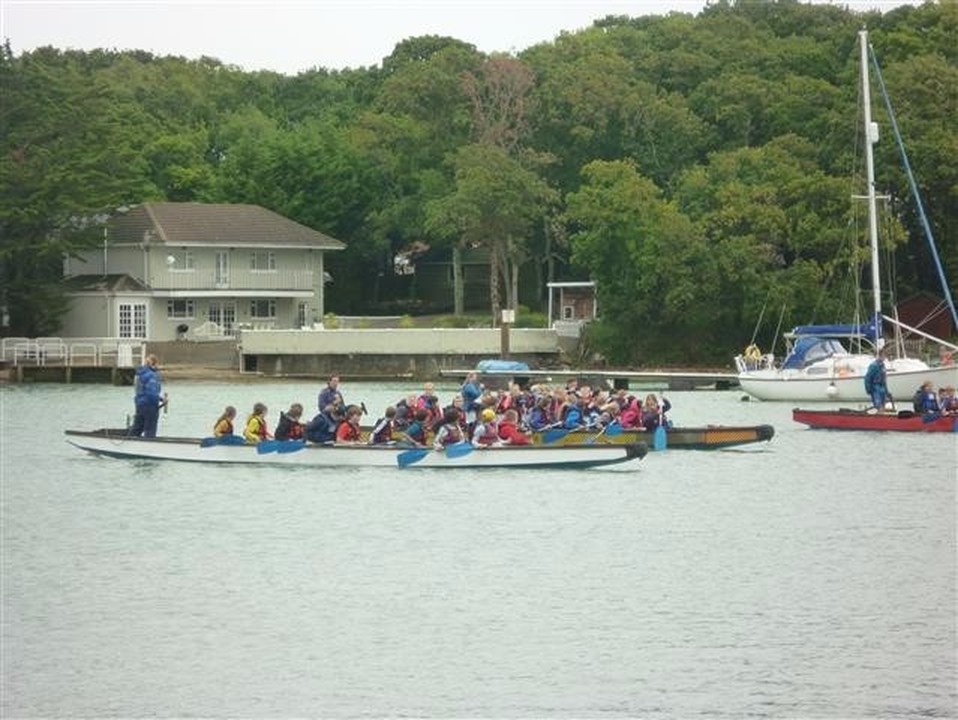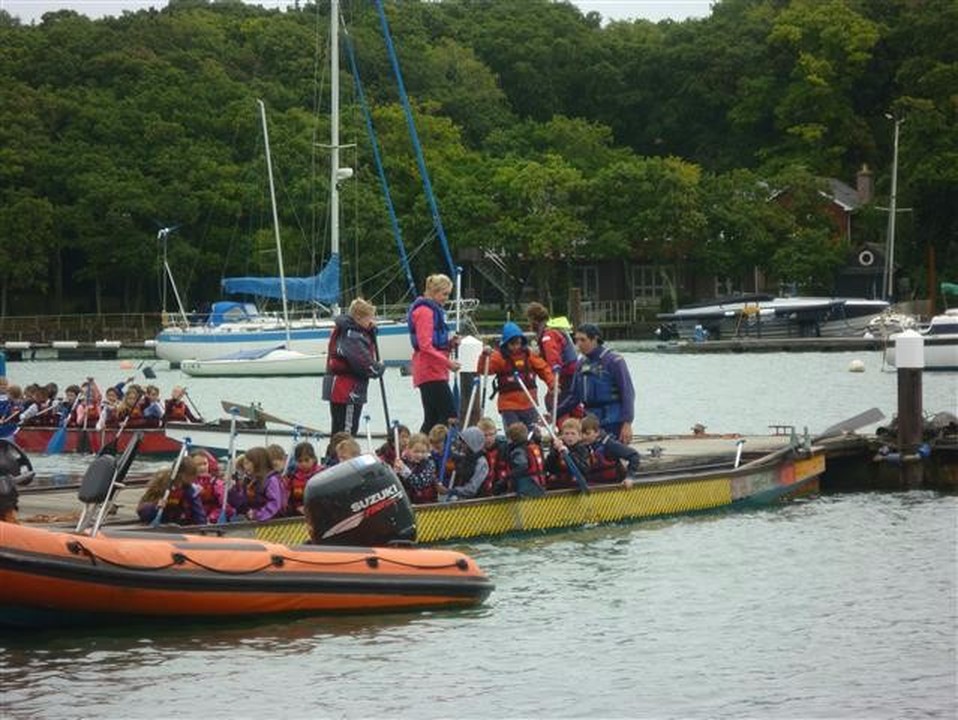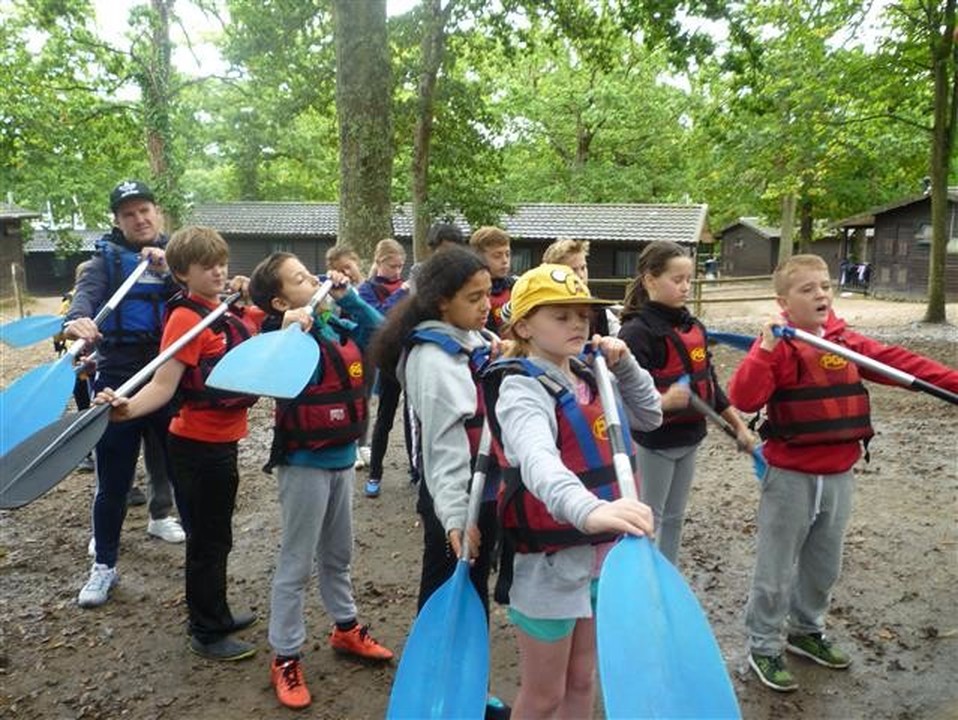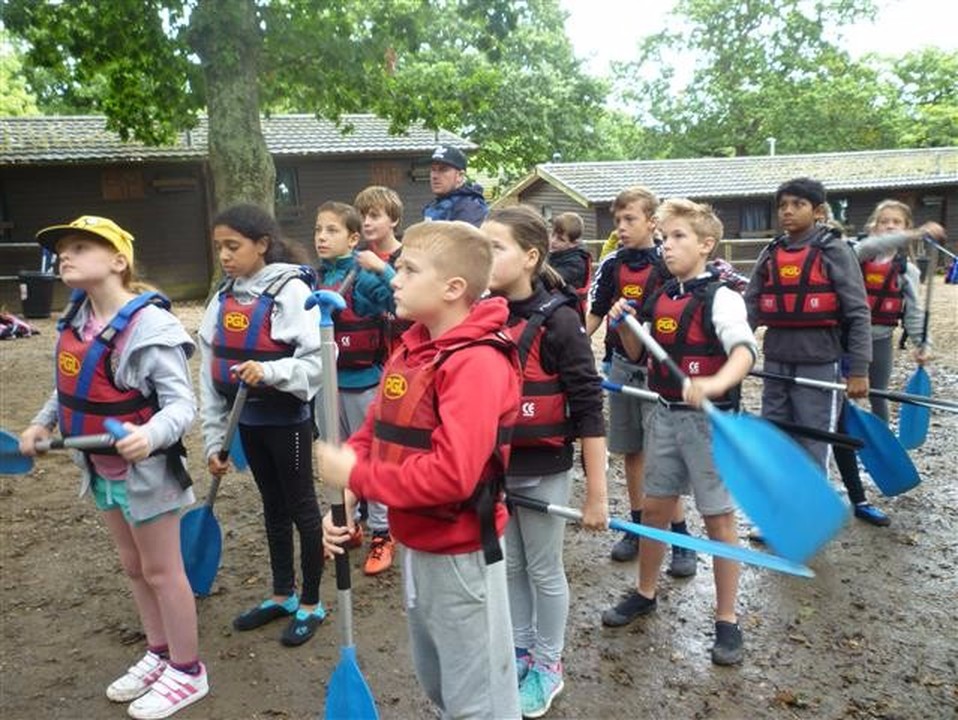 Thursday - Group 3
Group 3 in the Matrix, completing their animations and Tunnel Trail....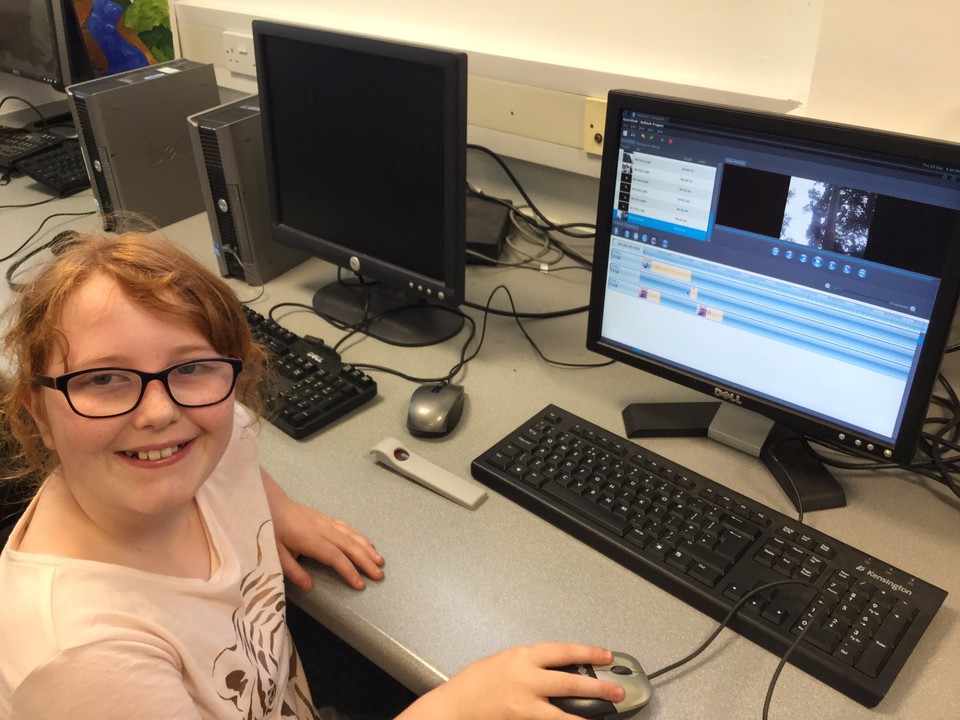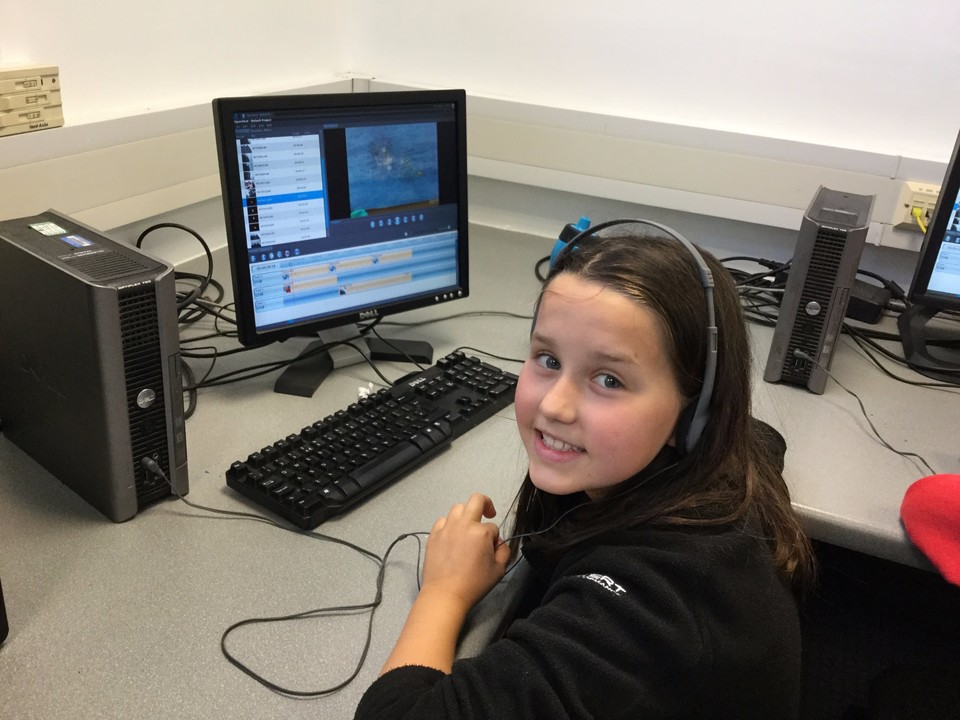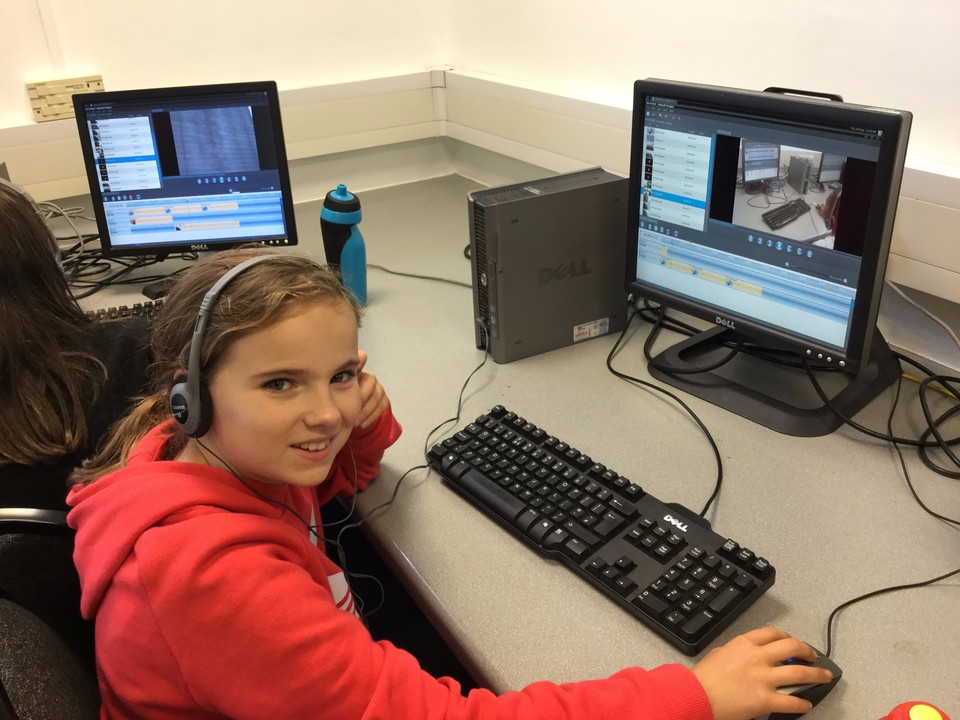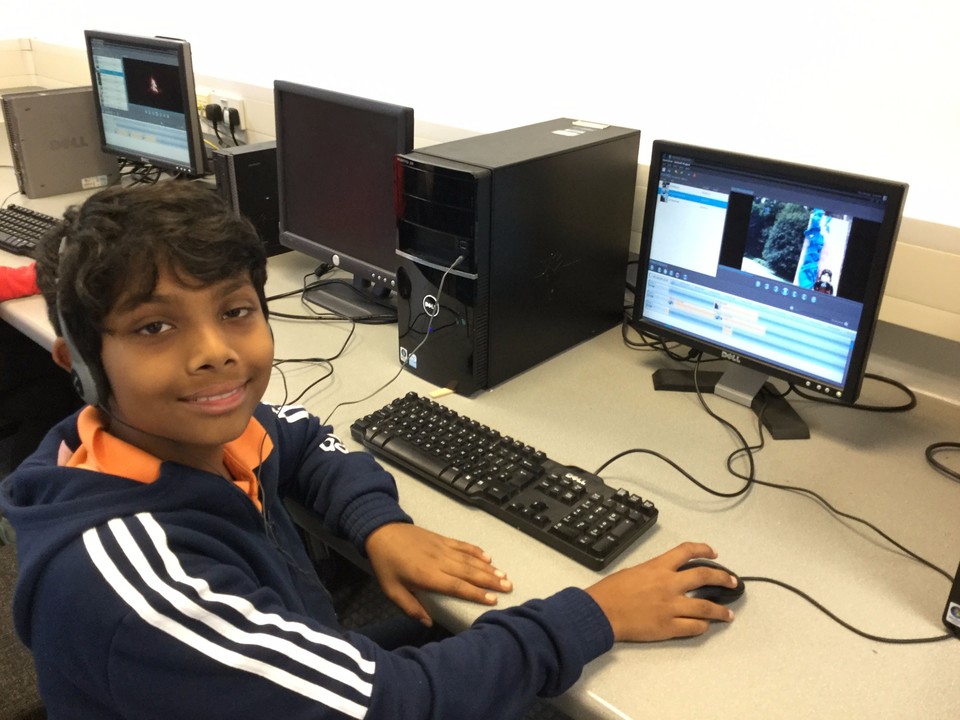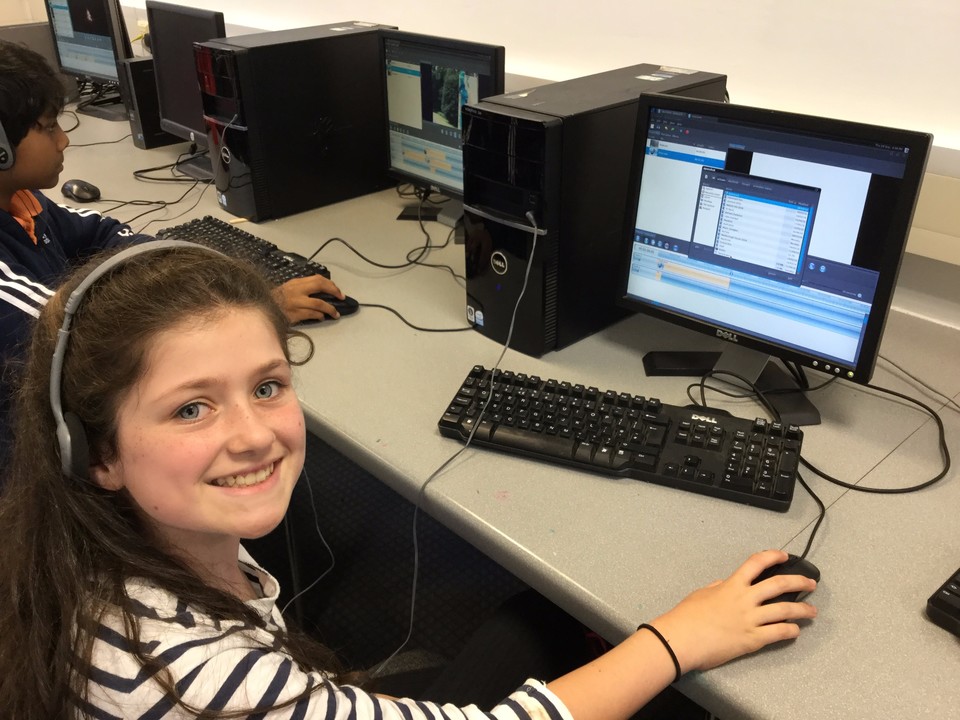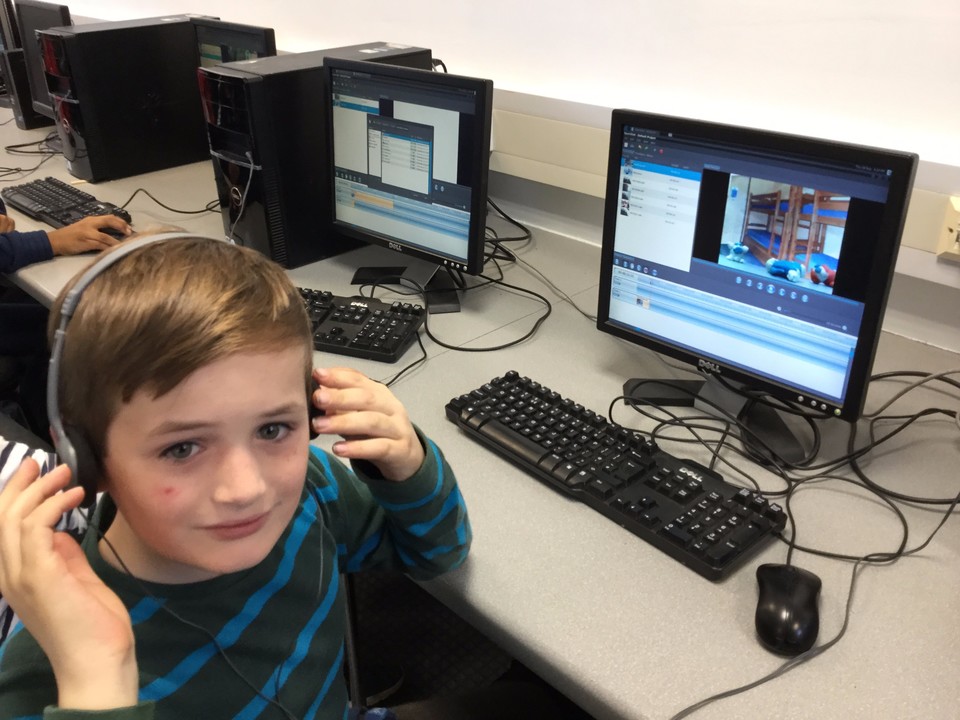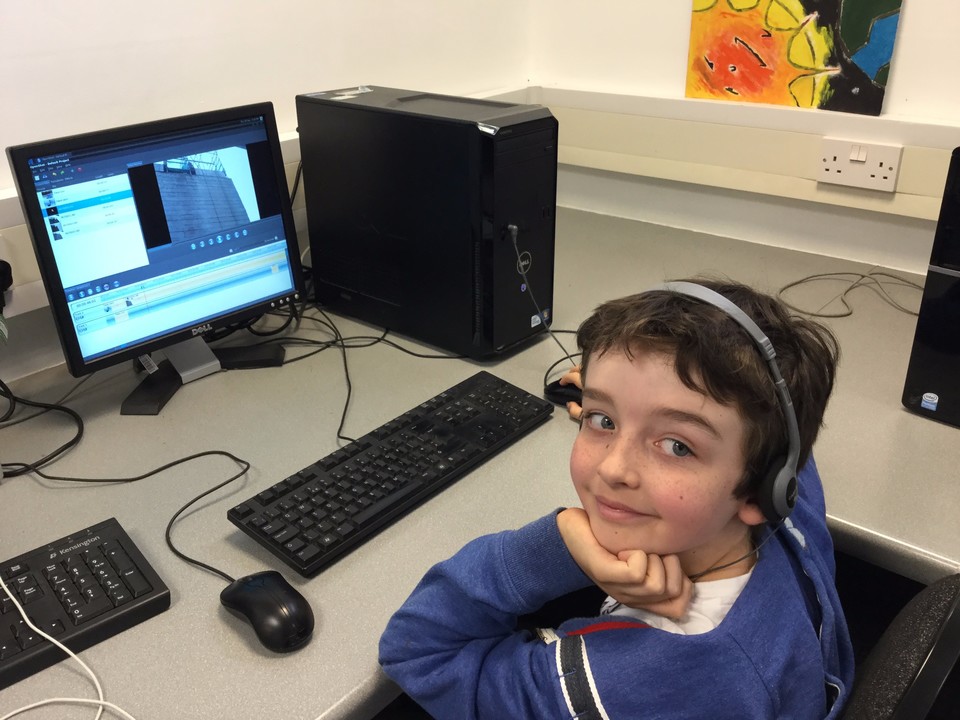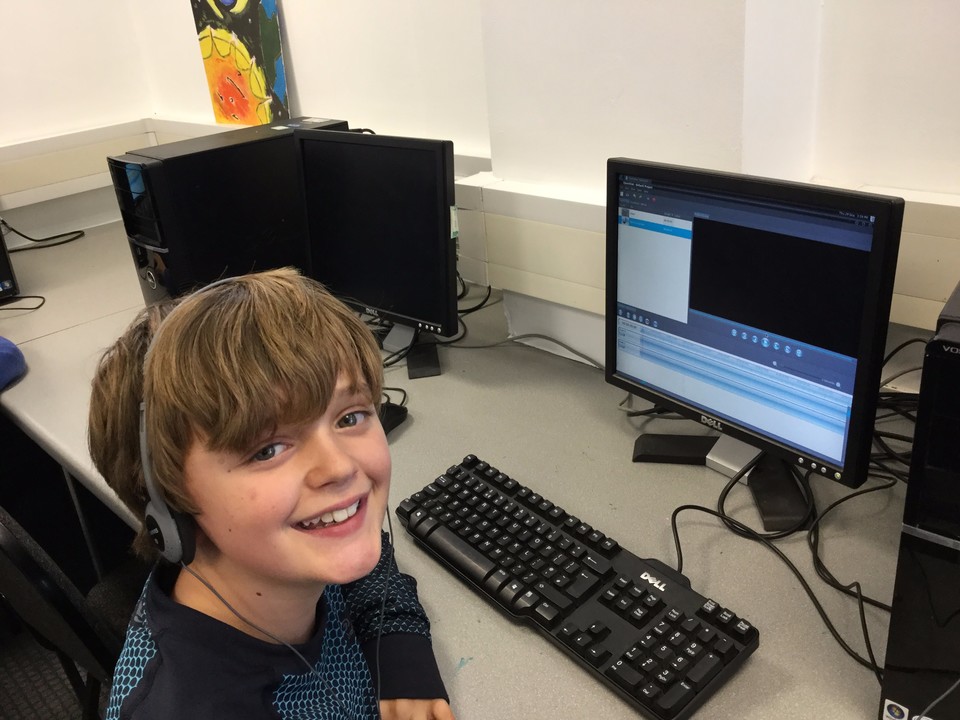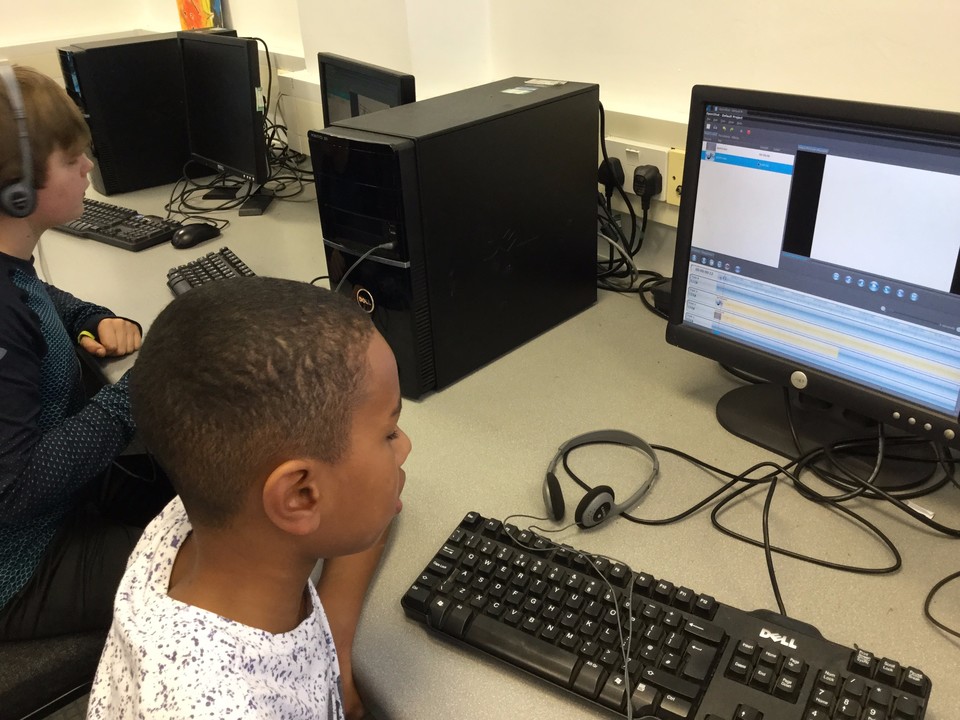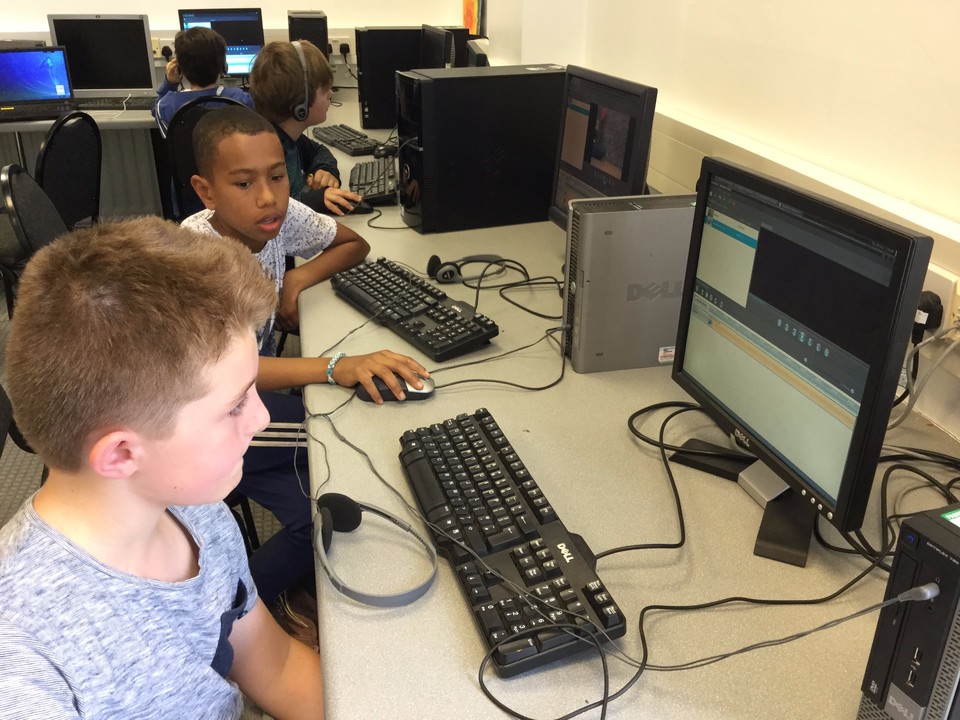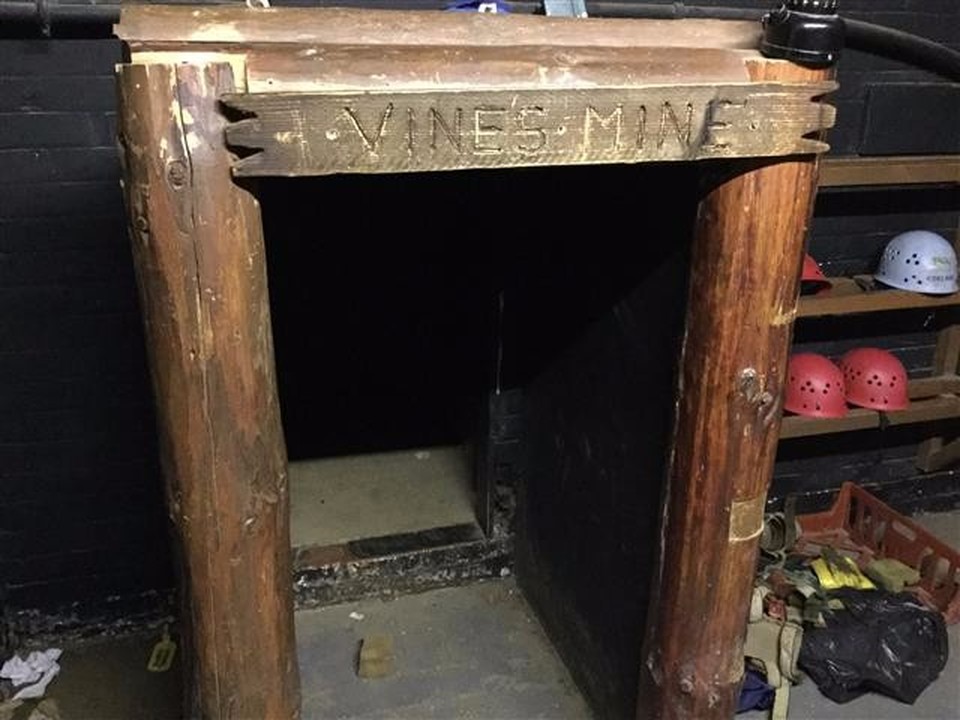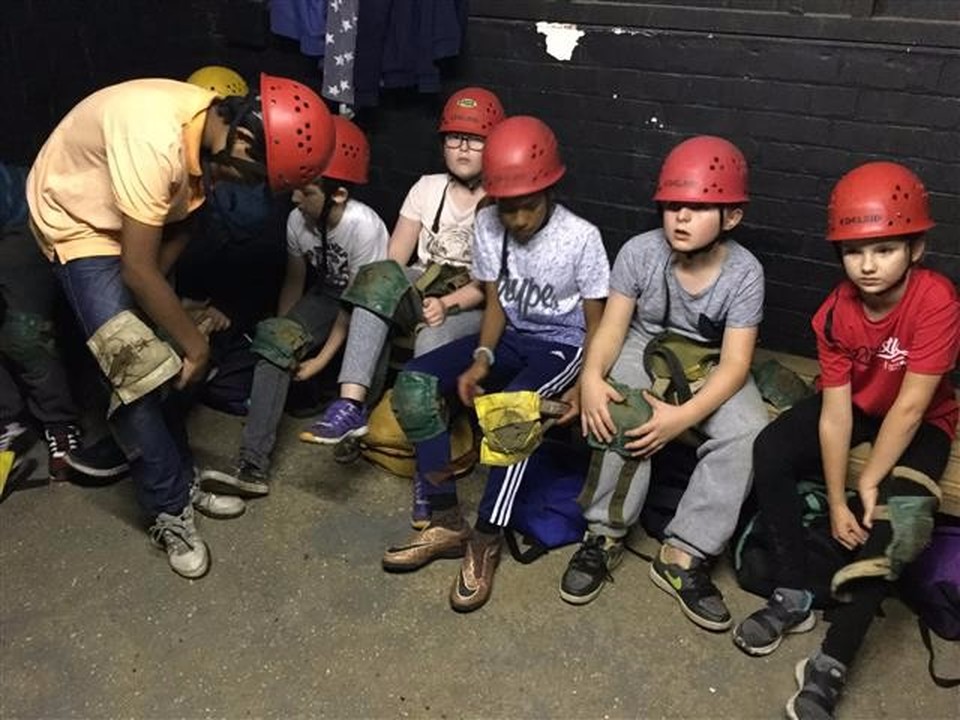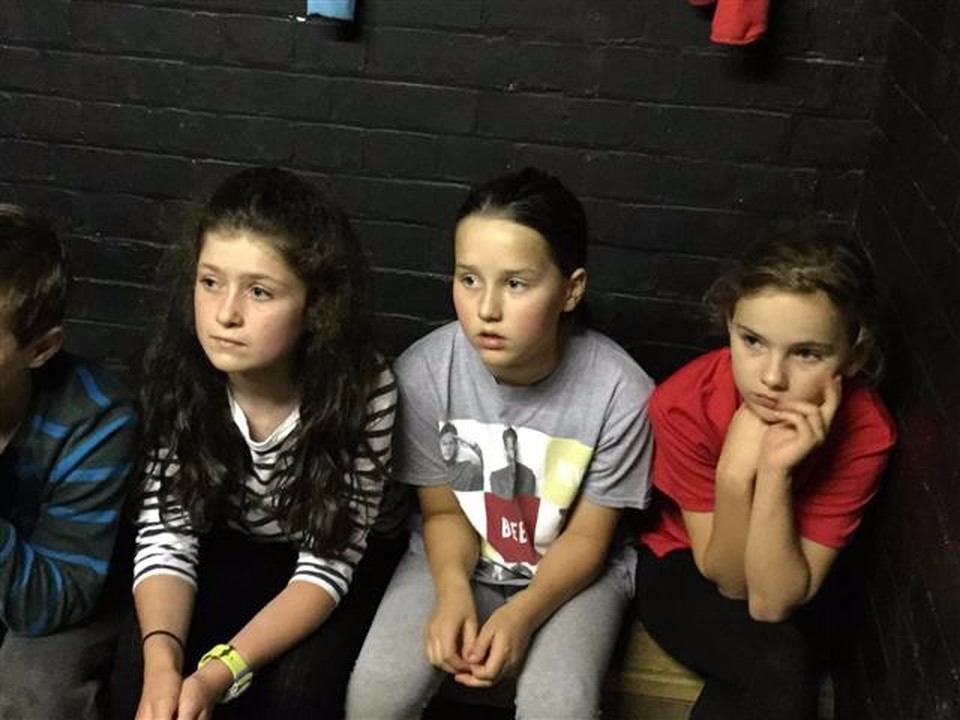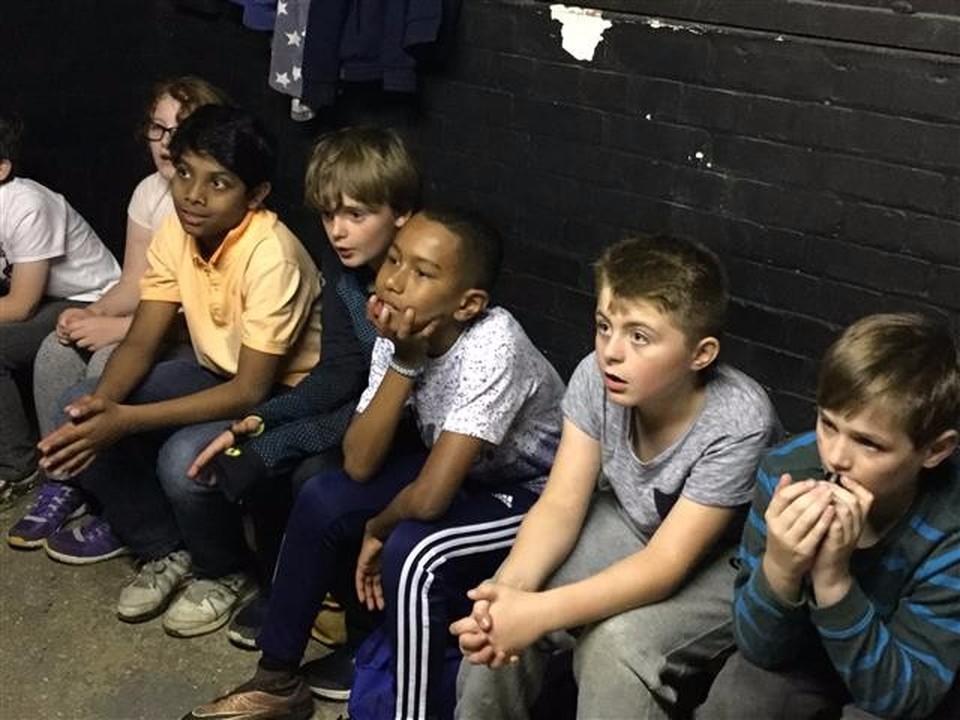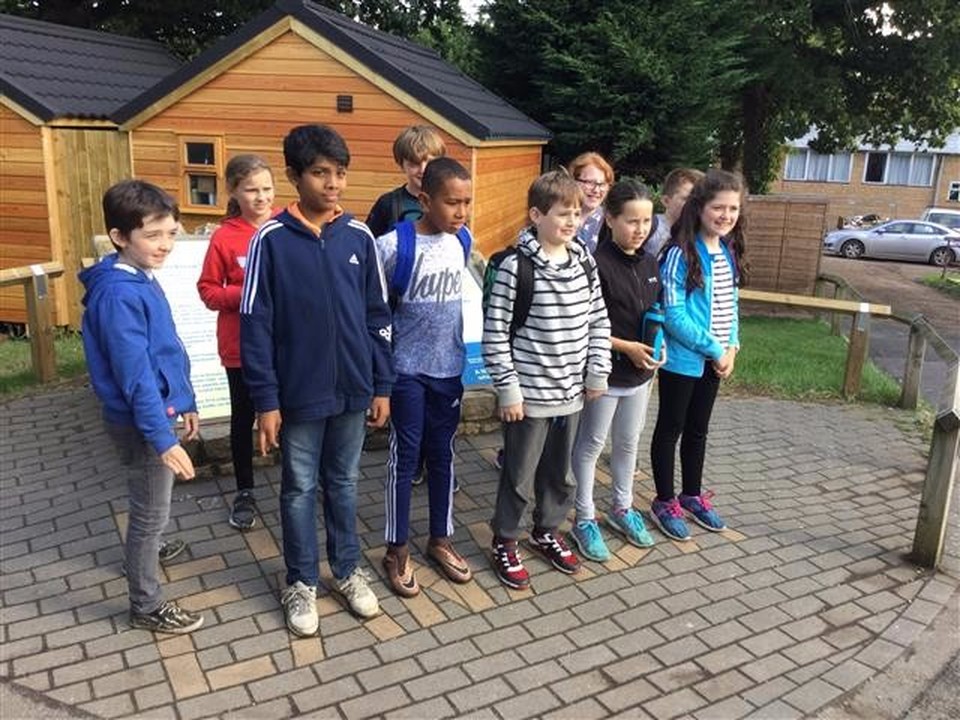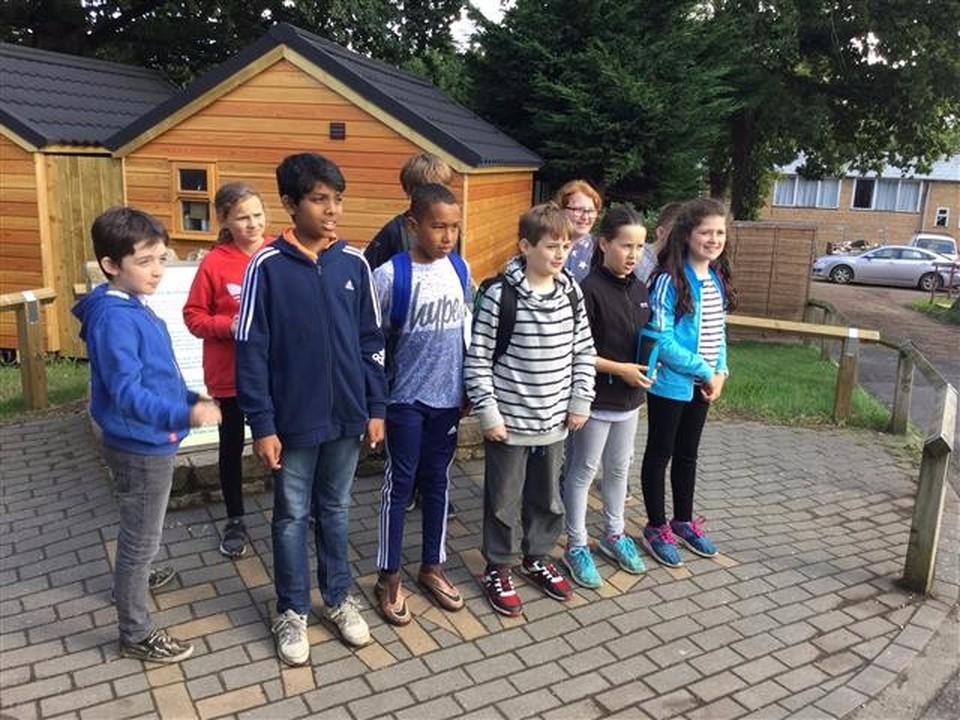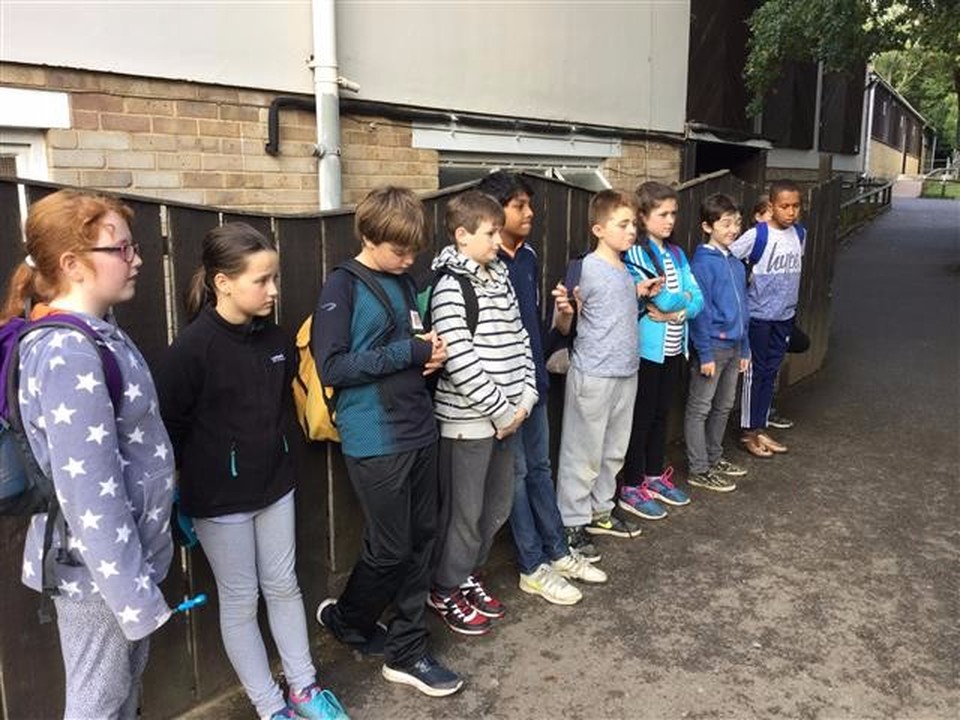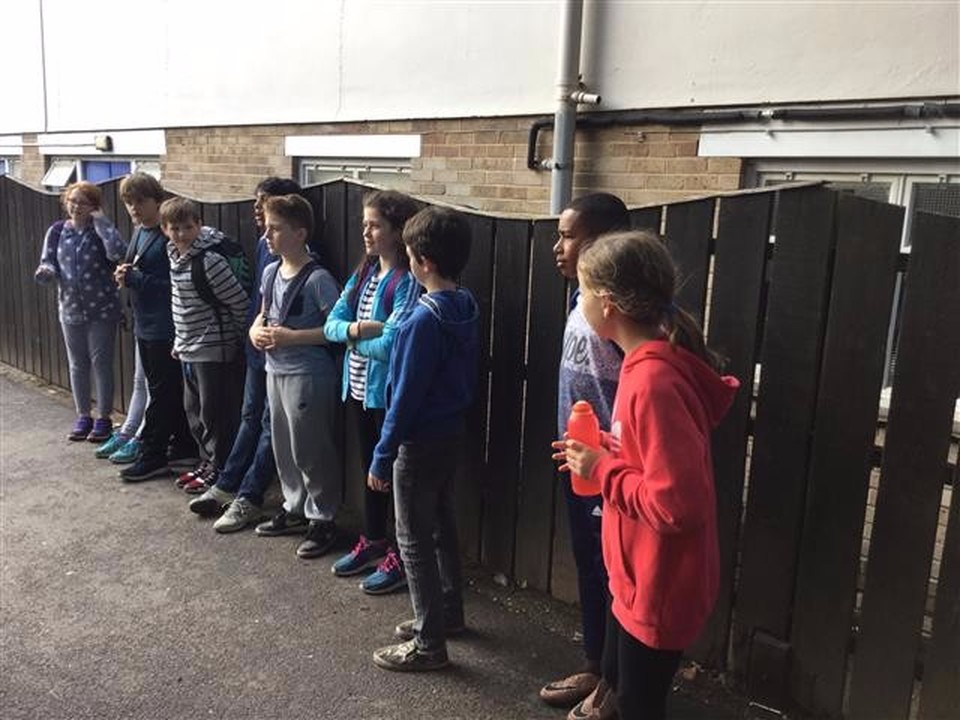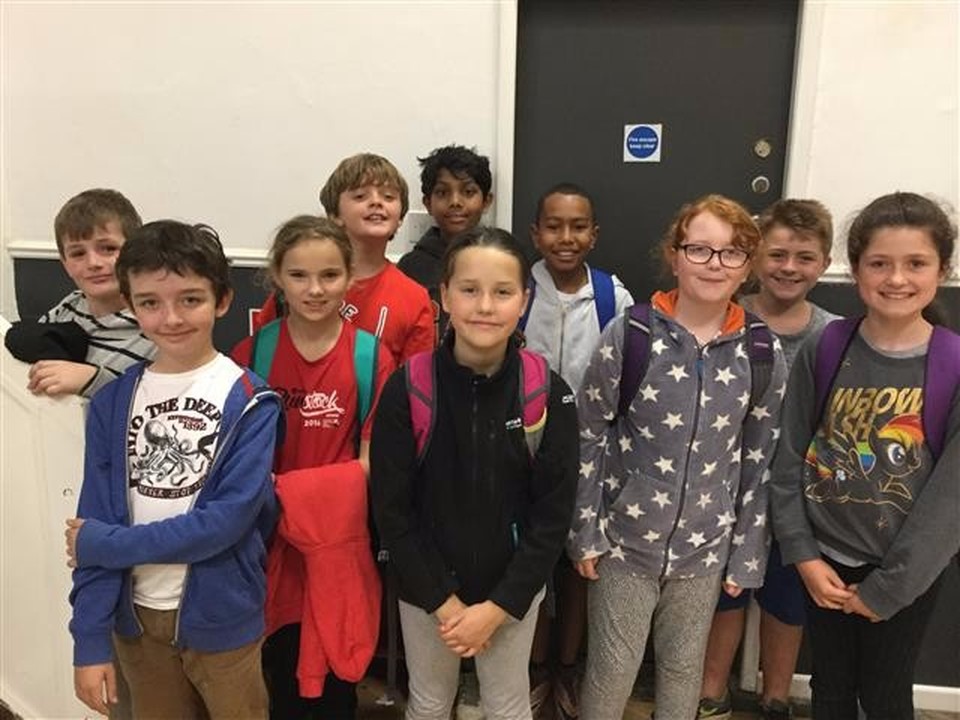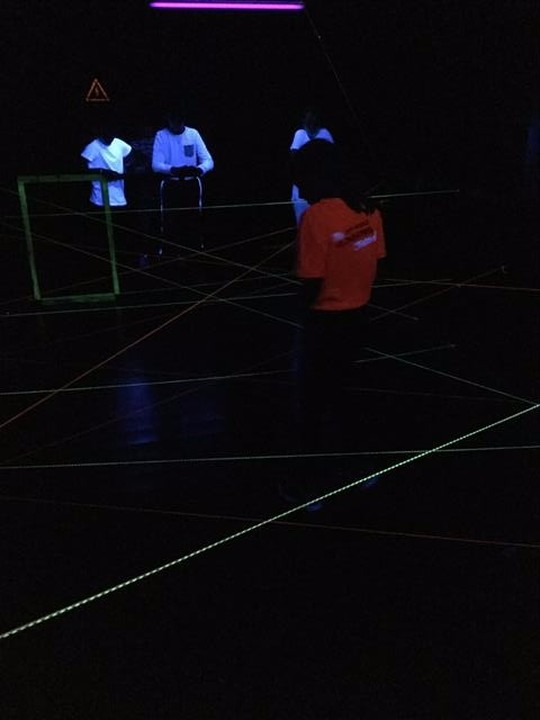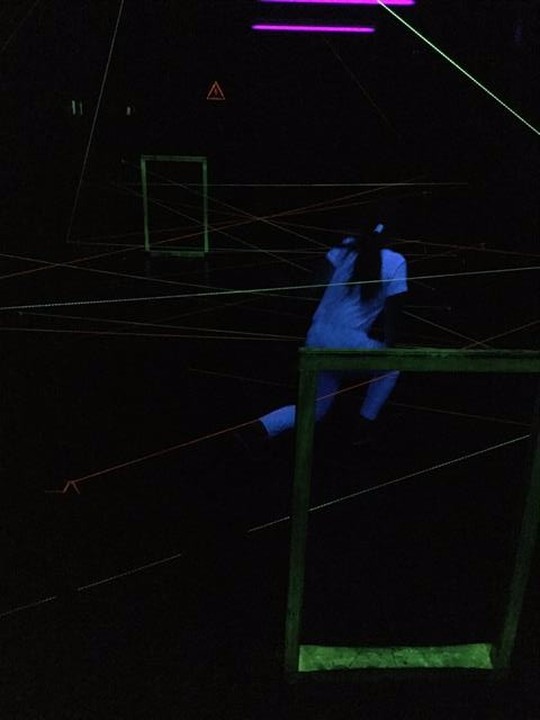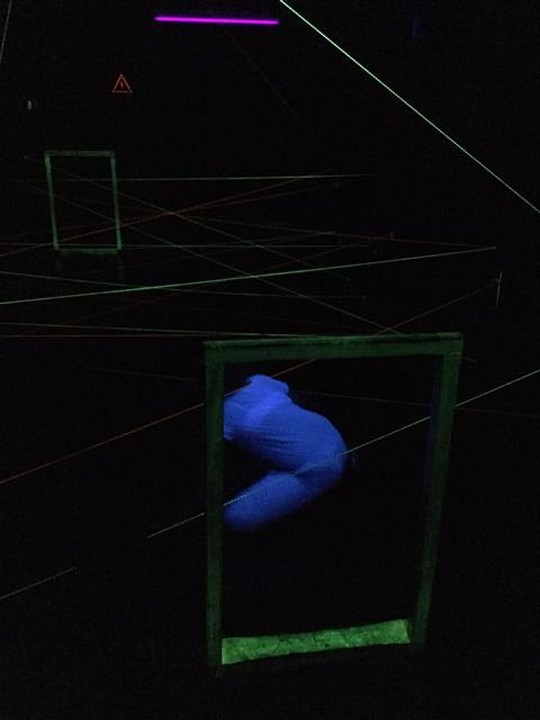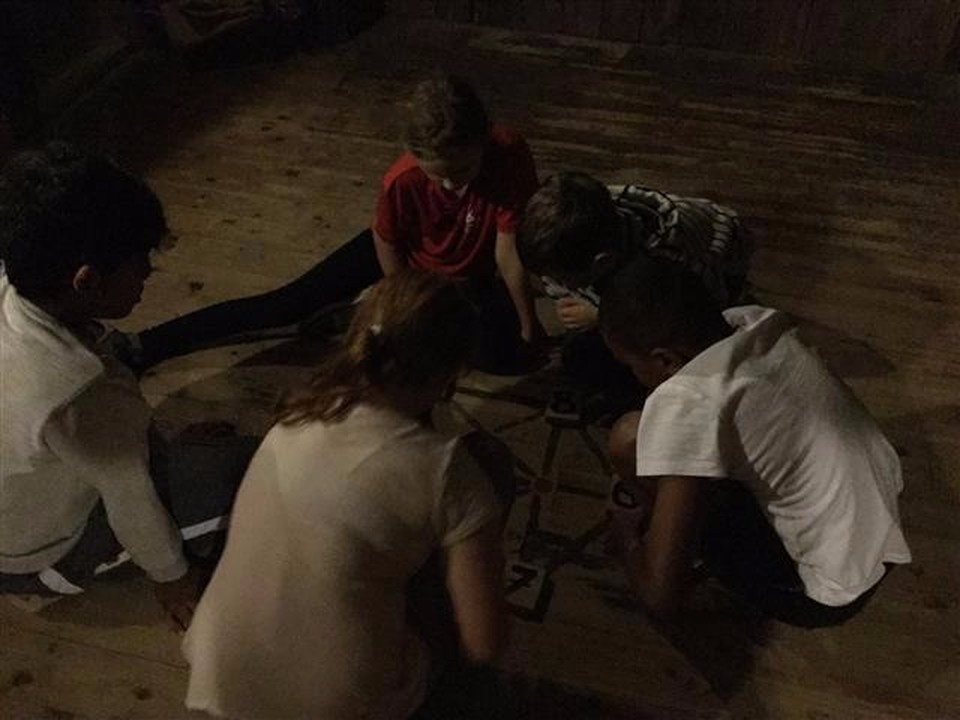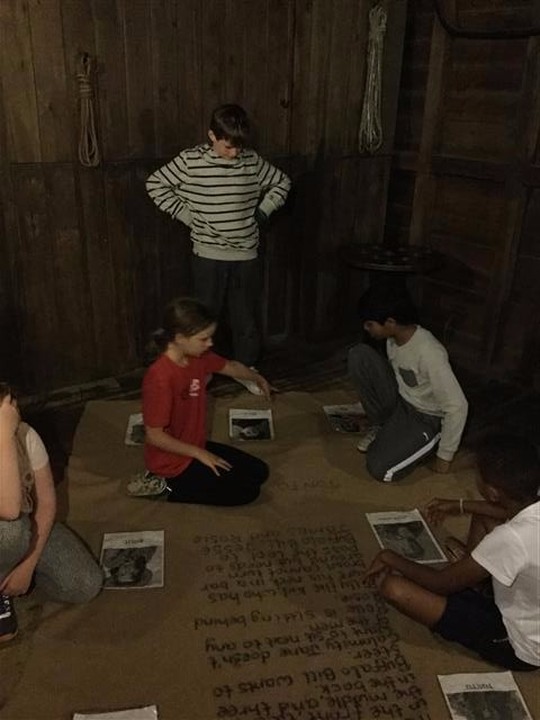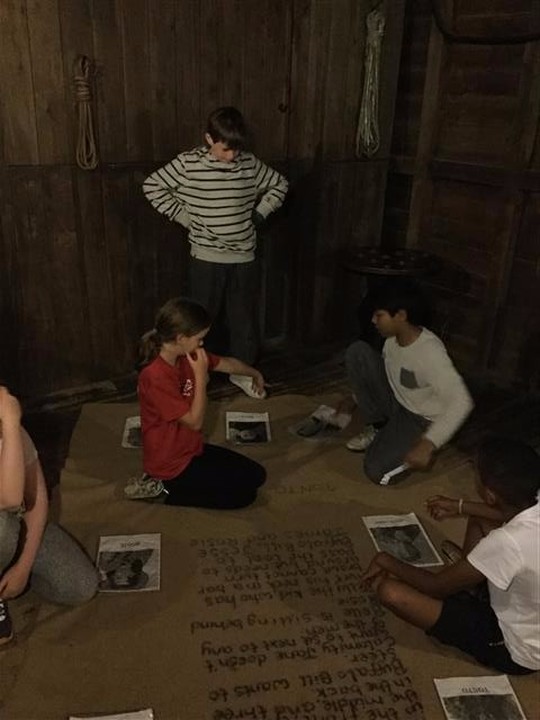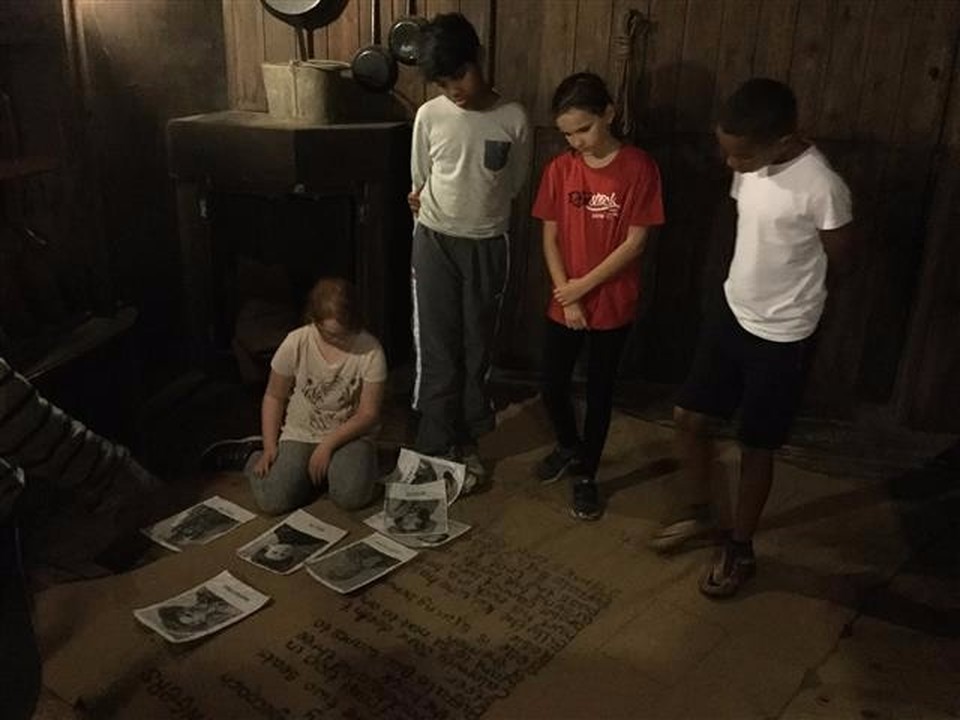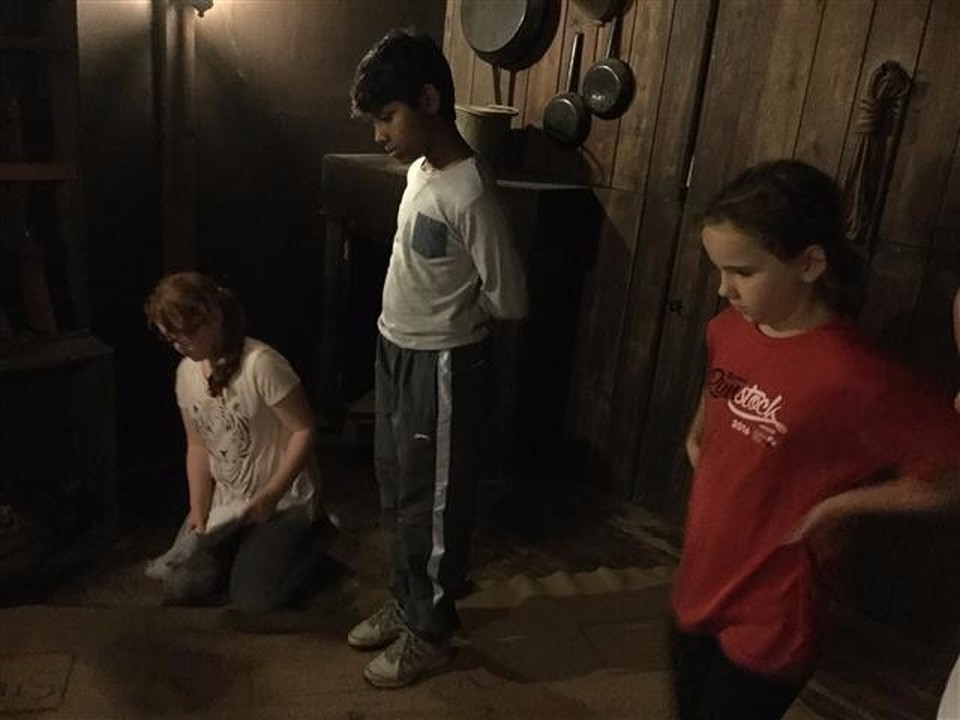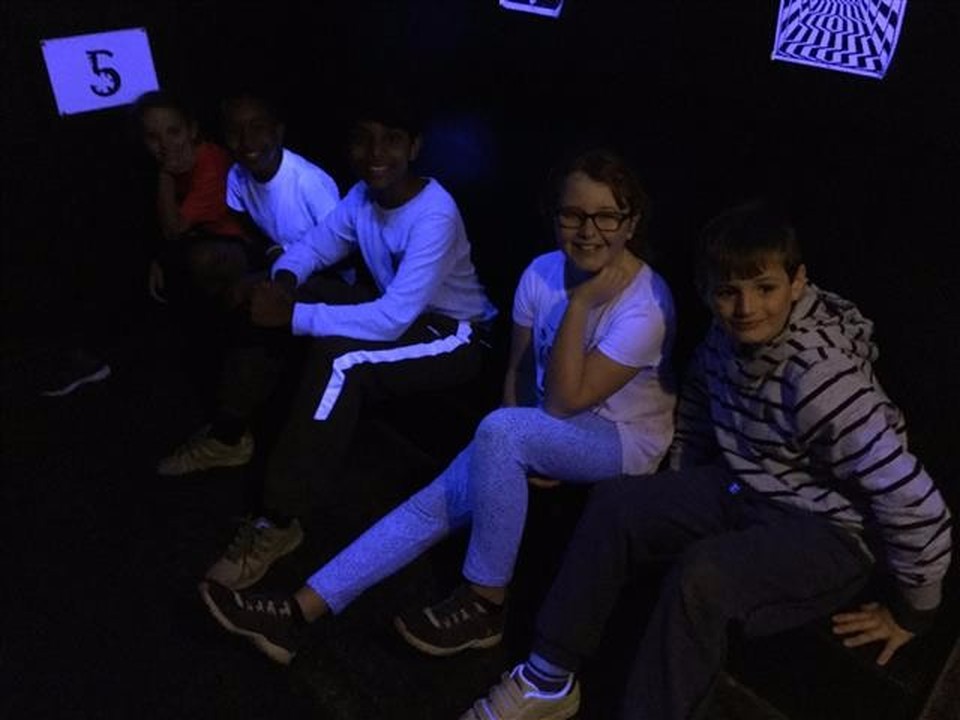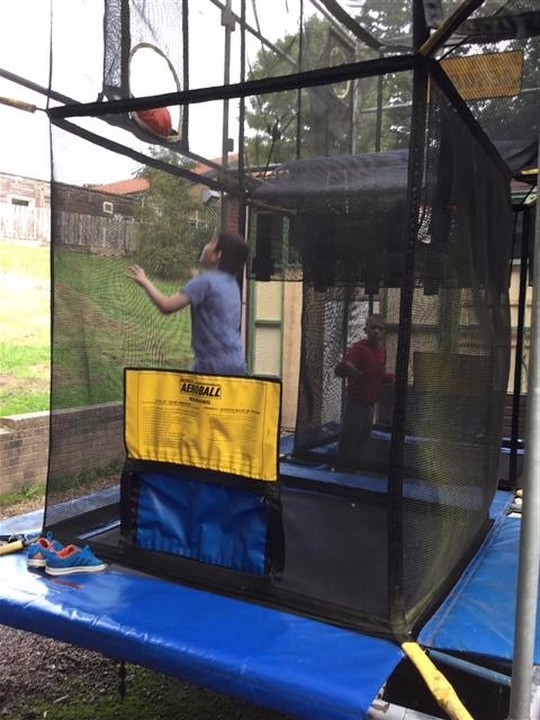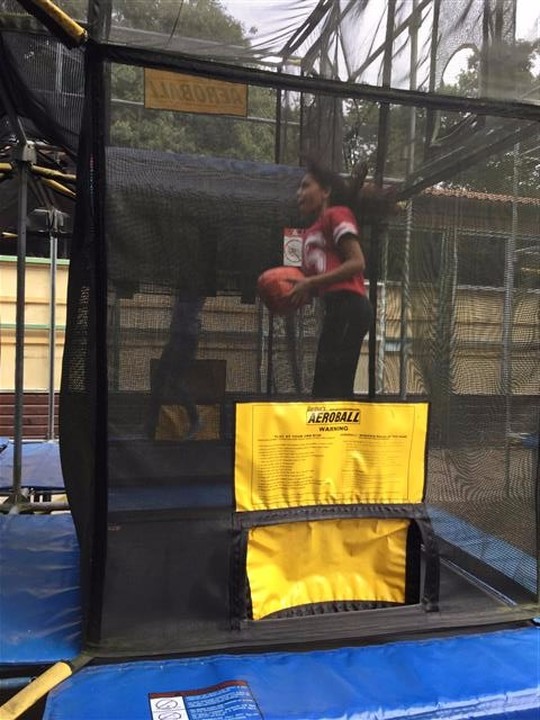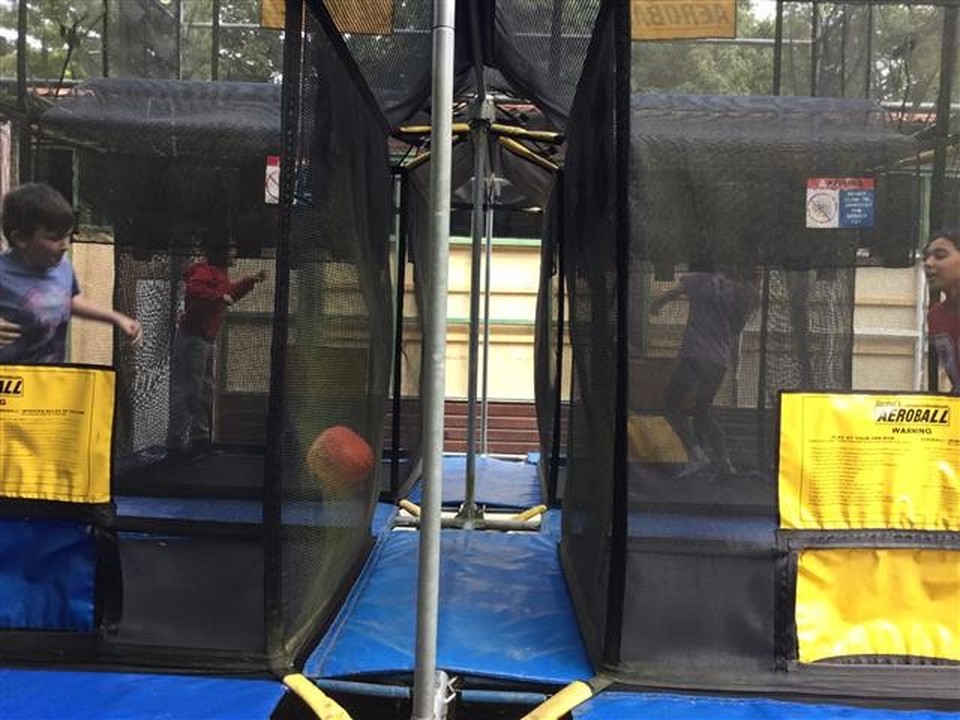 Day 2 - Wednesday 28th September 2016
The sun is shining and we've slept well! This morning we have another computing session where we have started to make our stop-frame animations and we have had 'Cat walk' - where we have walked along wires suspended very high in the trees! It was scary but really good fun and we feel very proud of our achievements!
This afternoon we are doing Trapeze (also known as The Leap of Faith) and Matrix! Our evening activity tonight is Ambush (hide and seek in the dark. An Abel Smith favourite!)
Here are some photos of Group 2 this morning! More to follow later!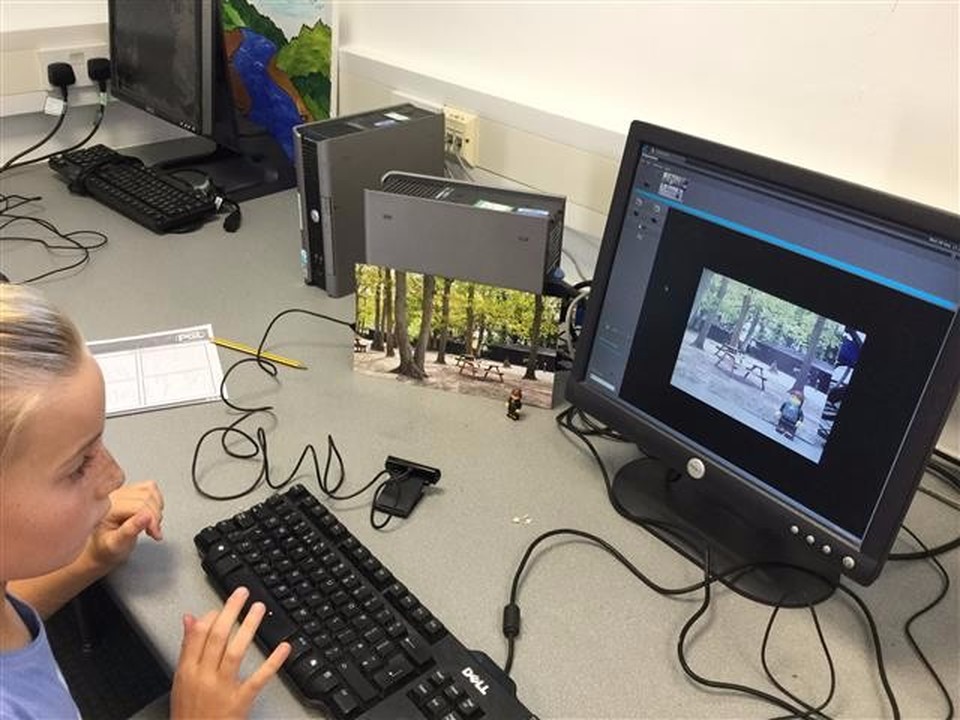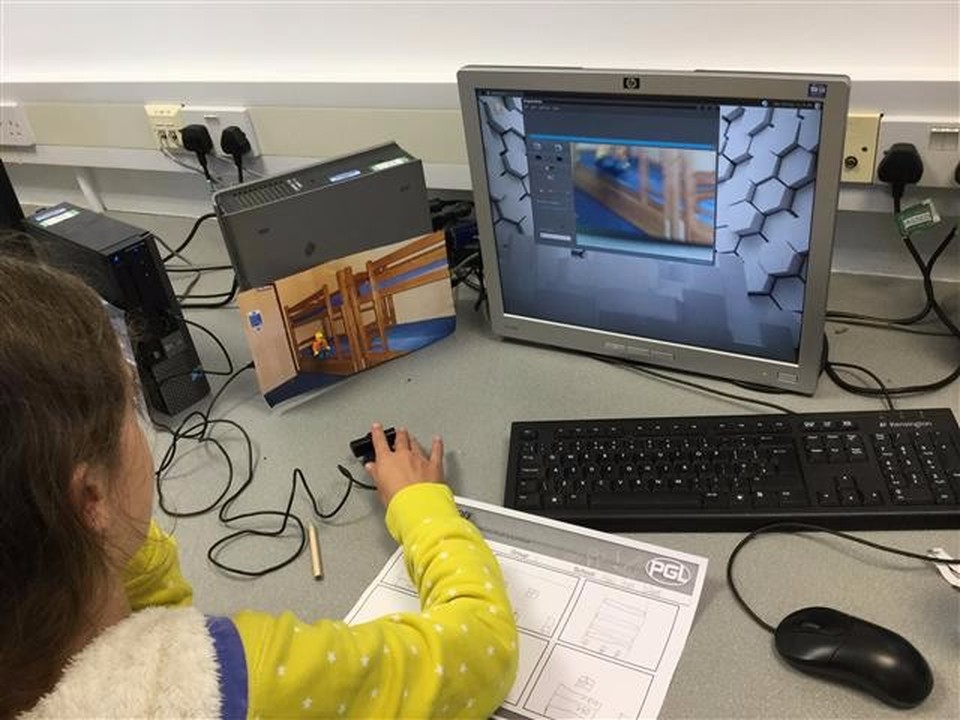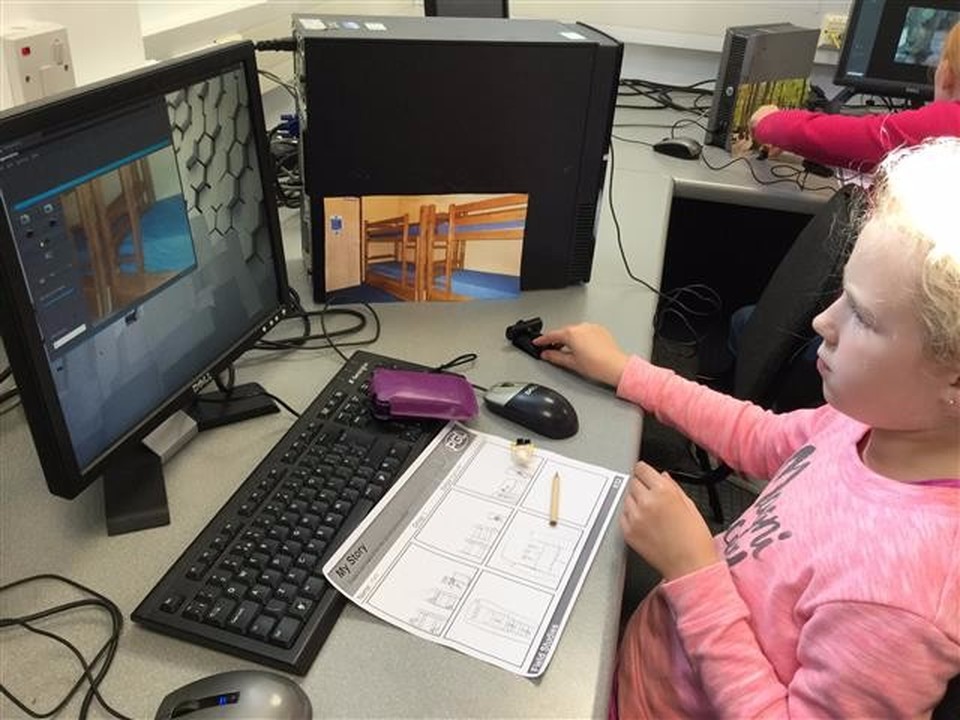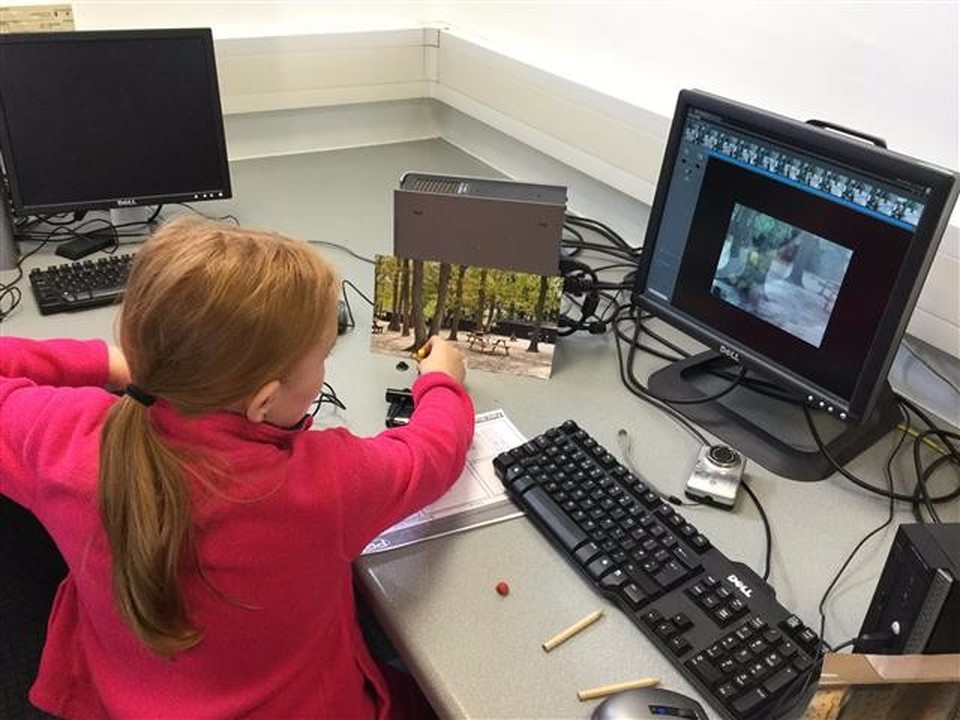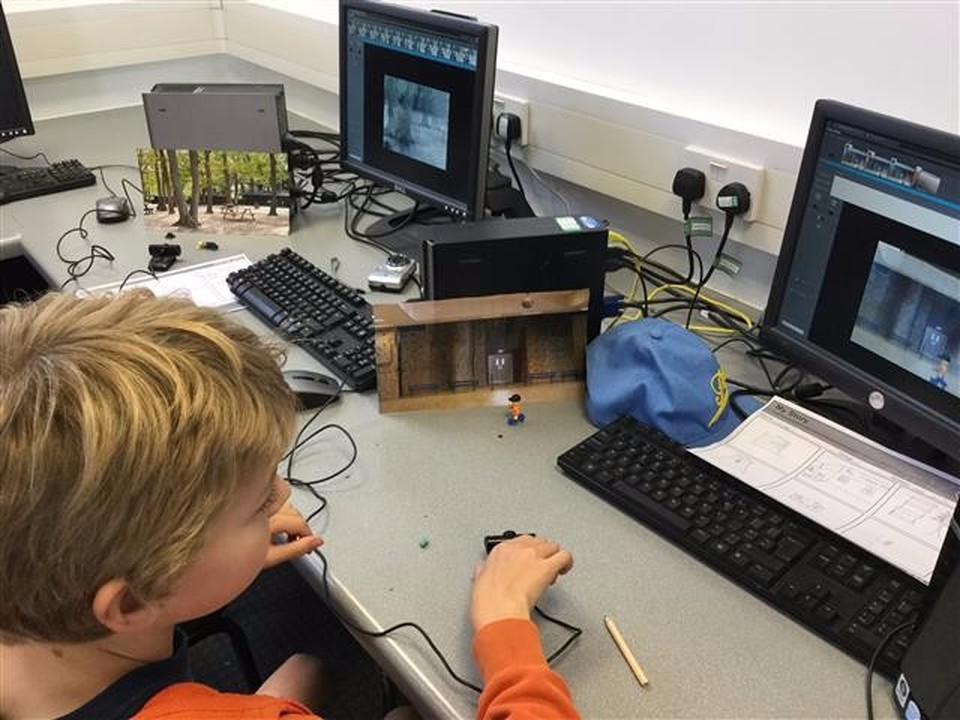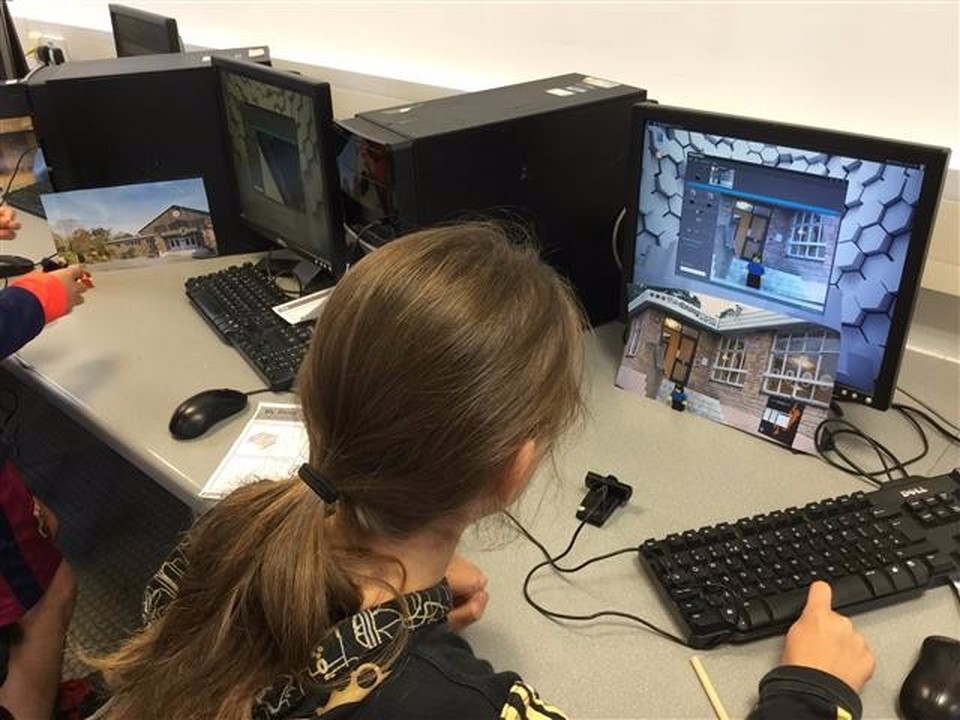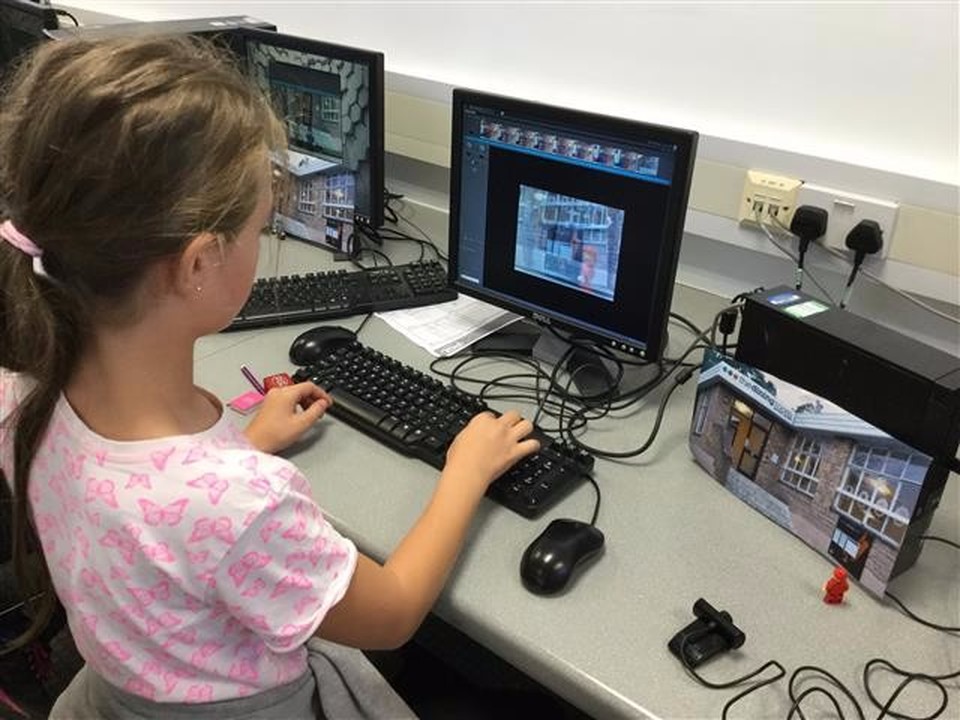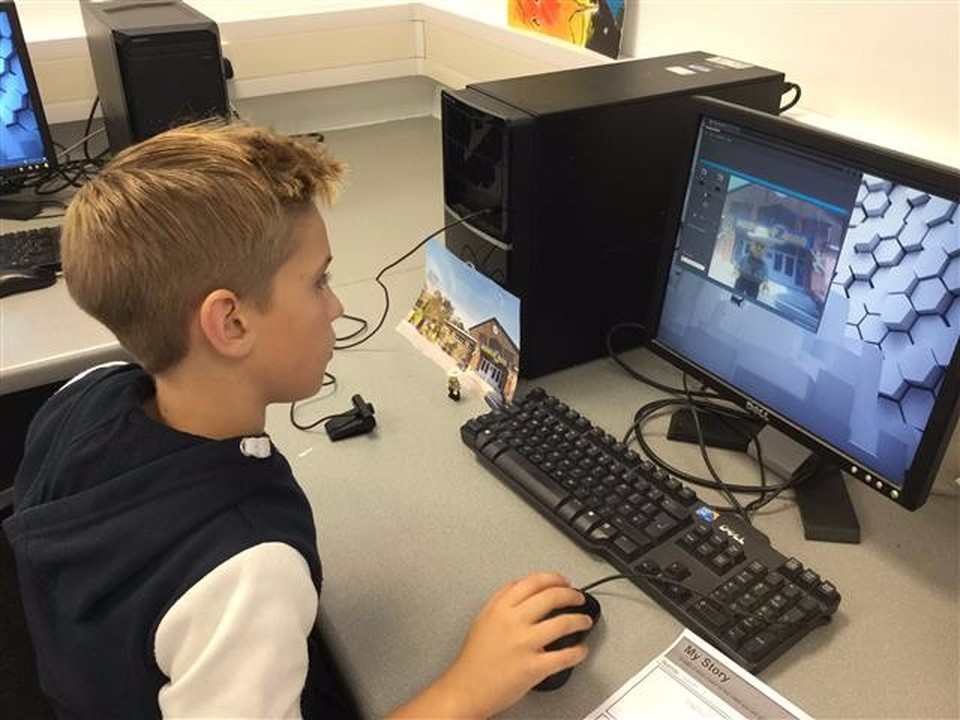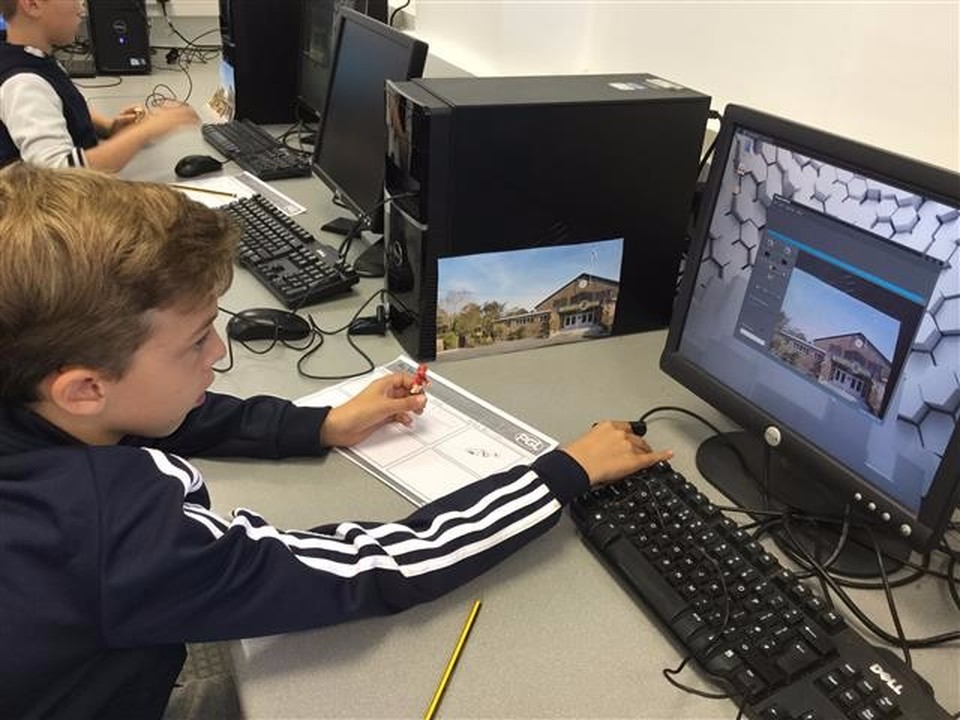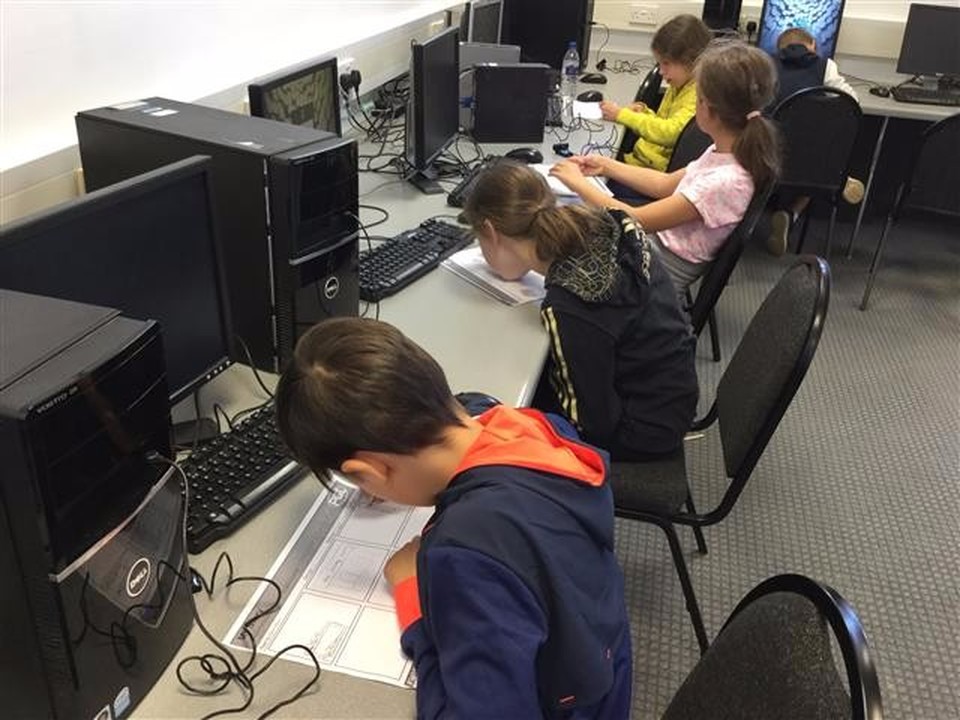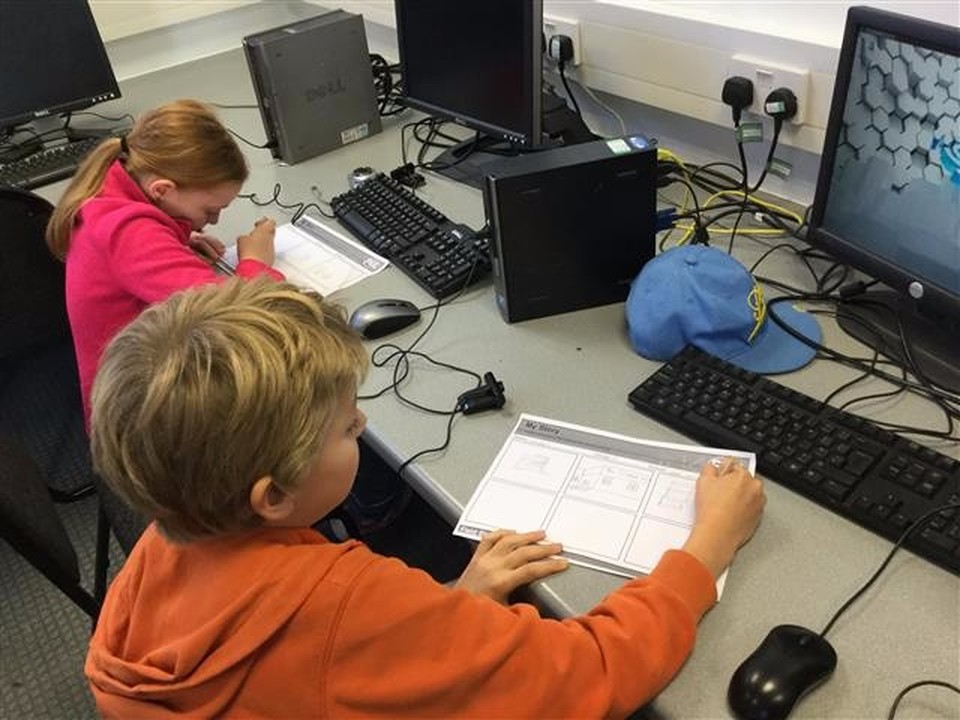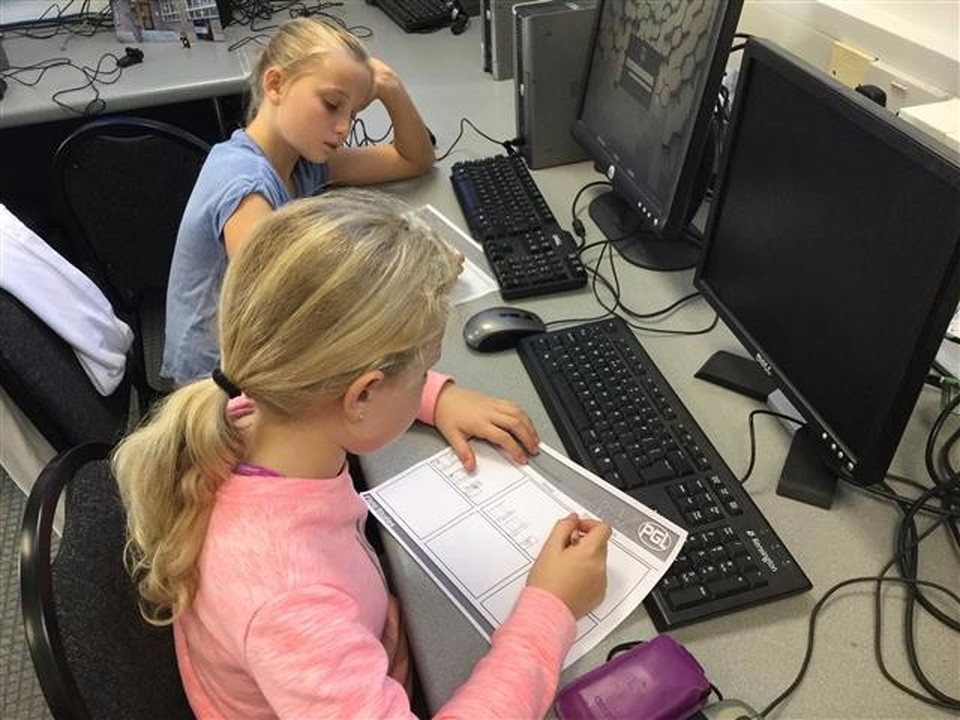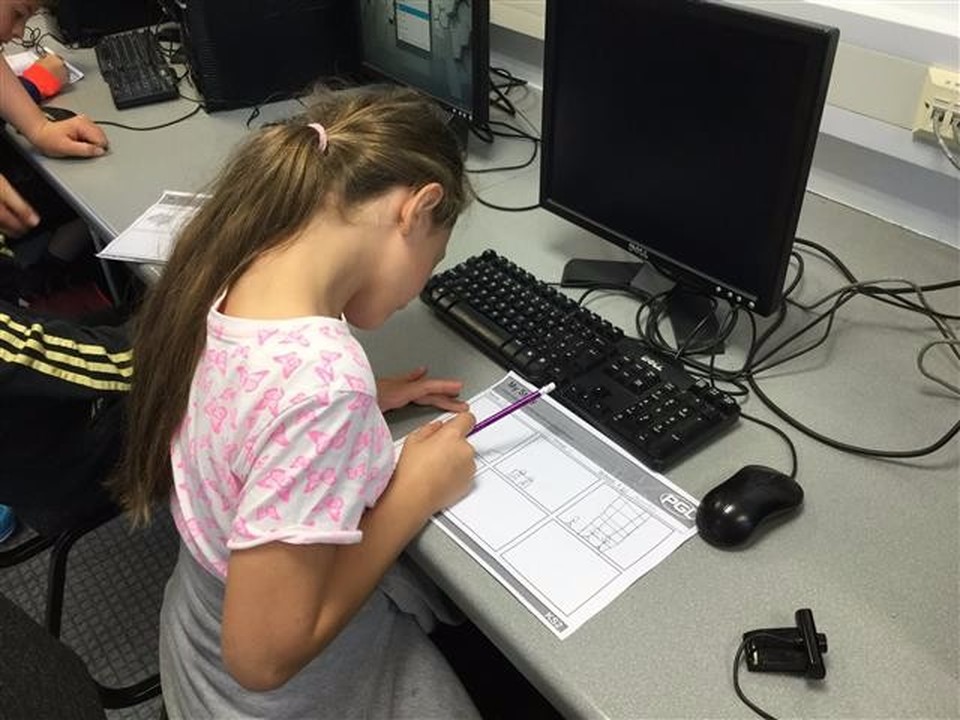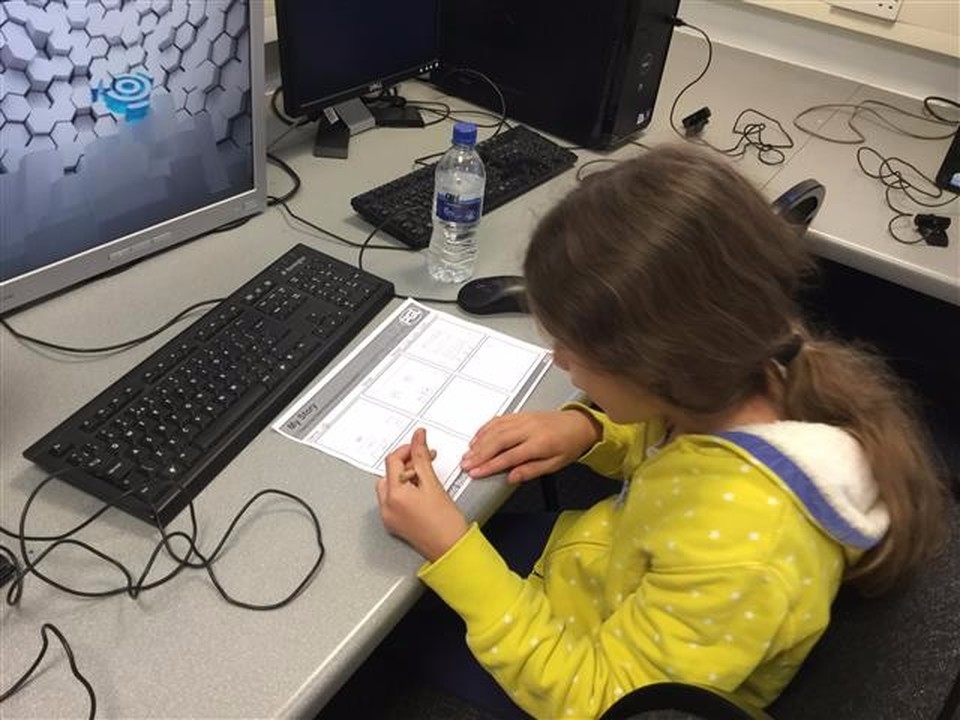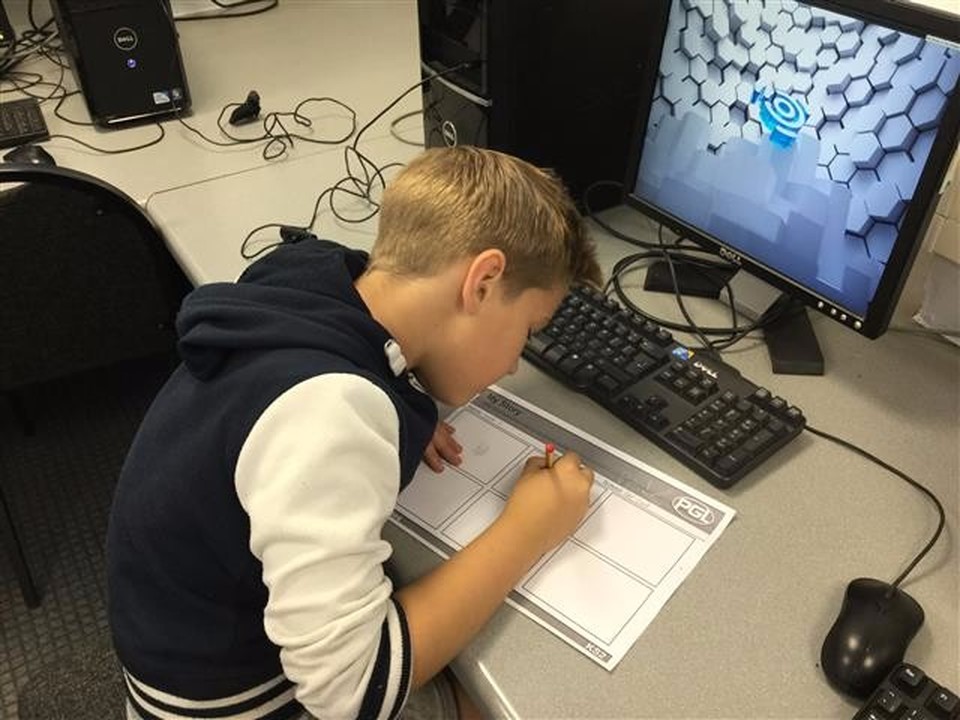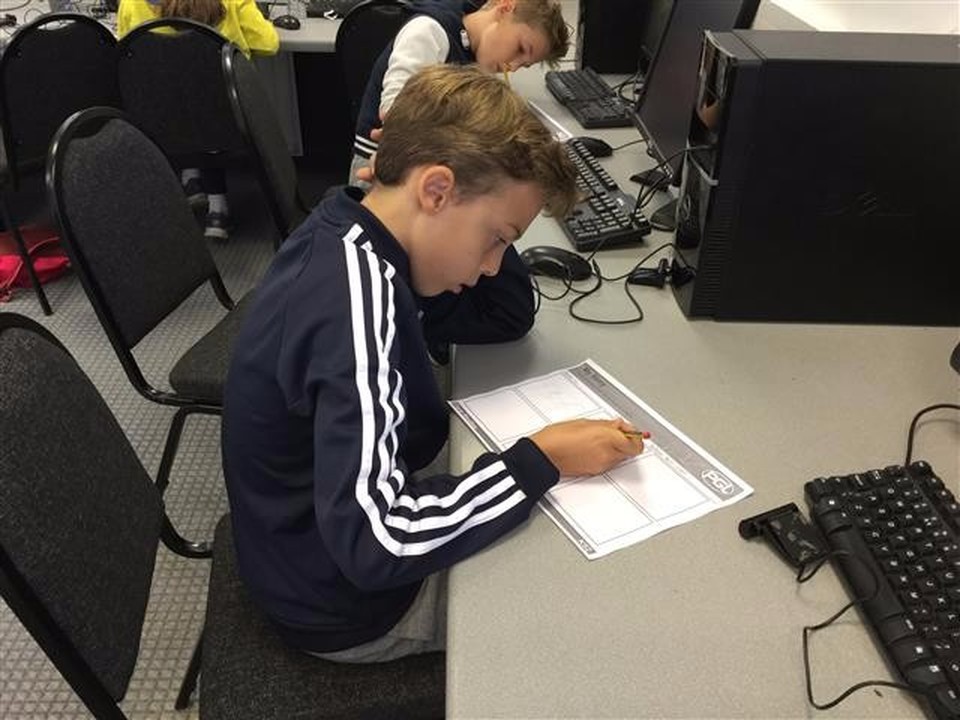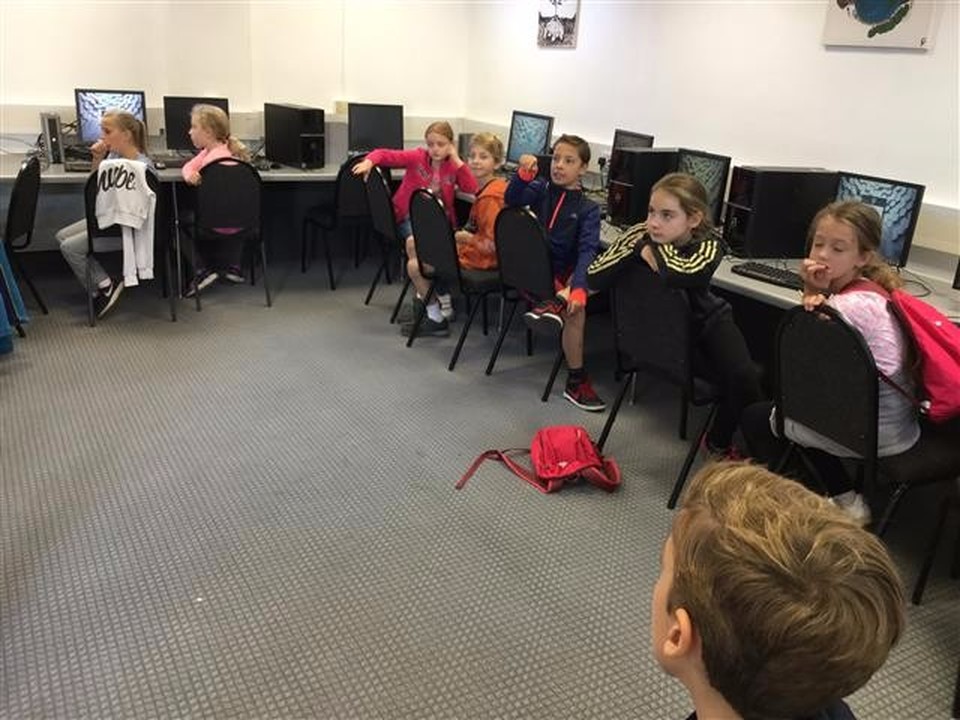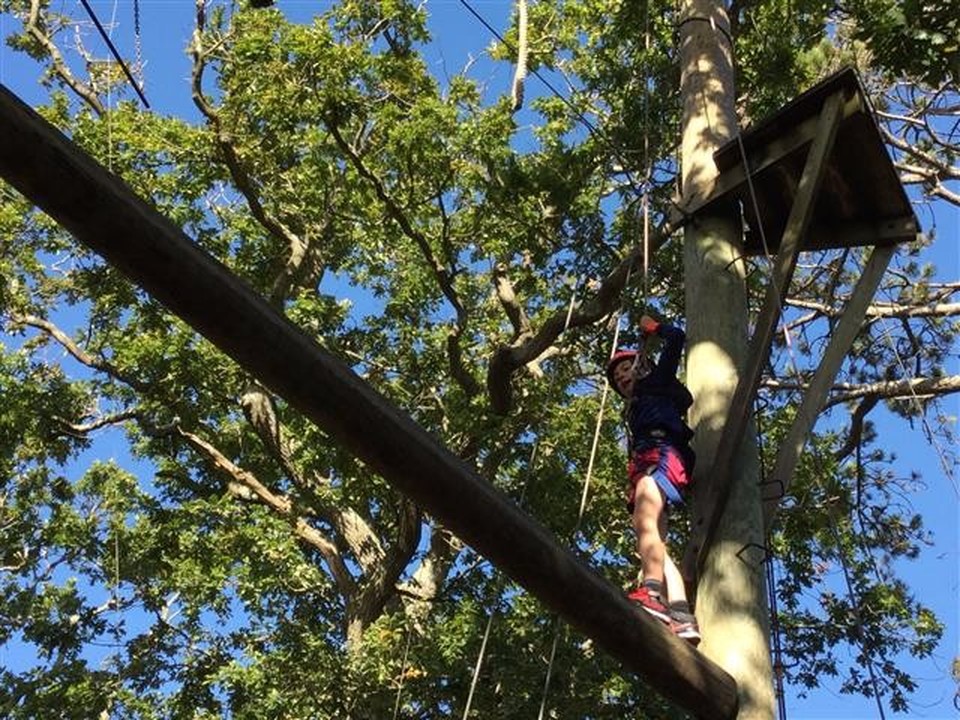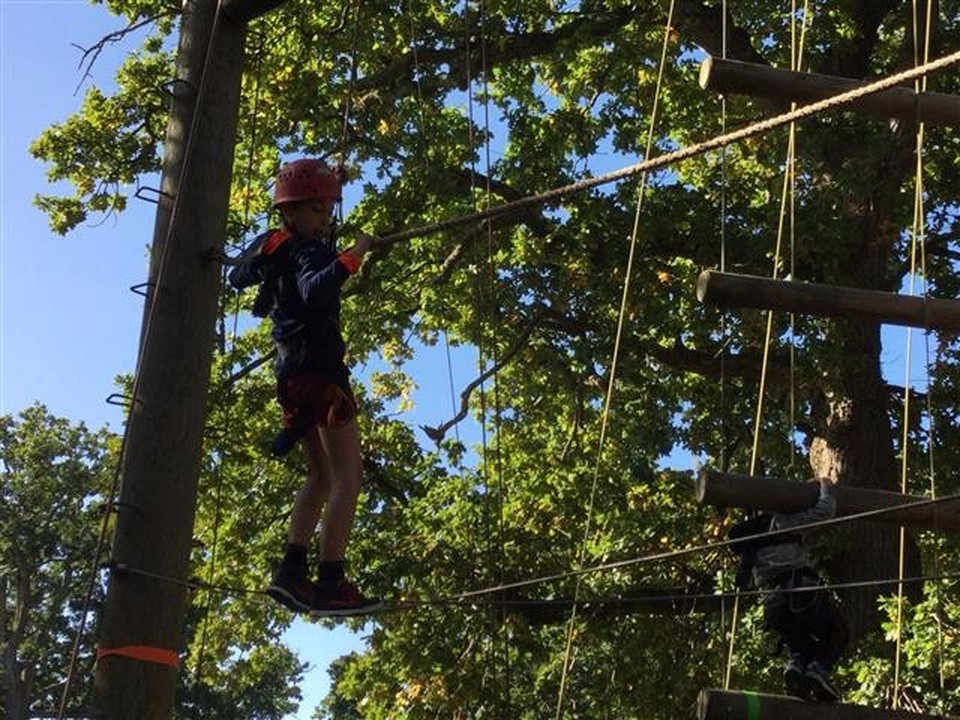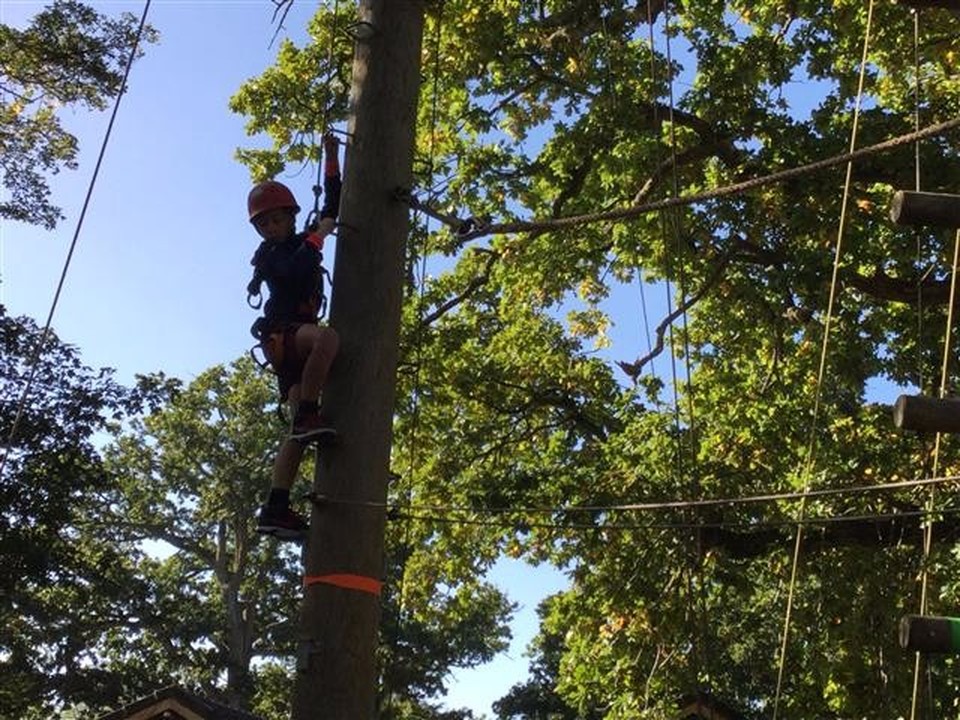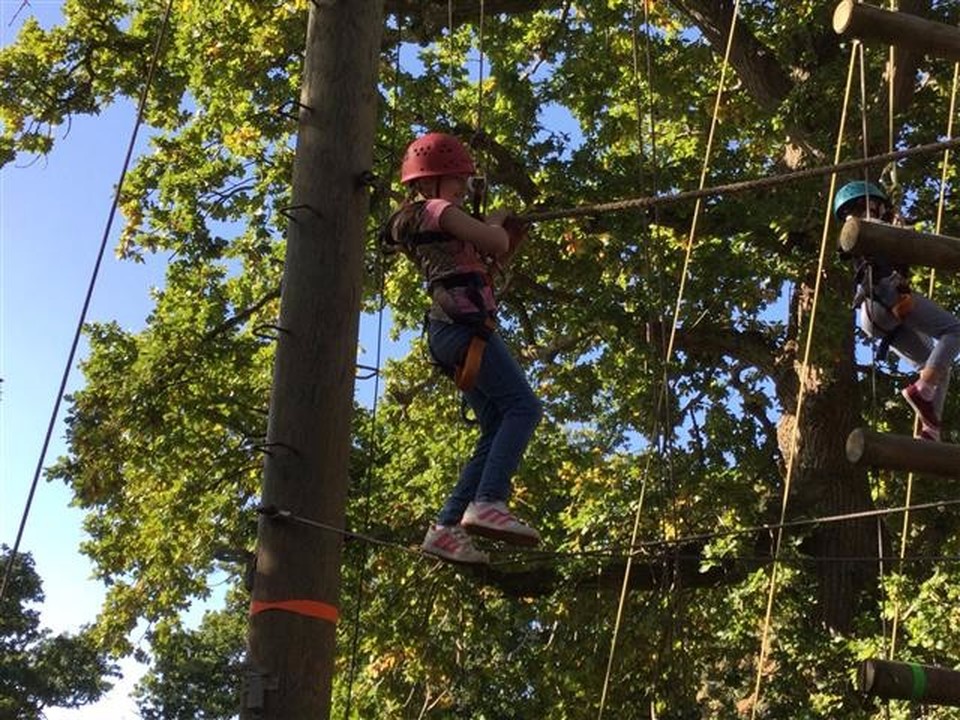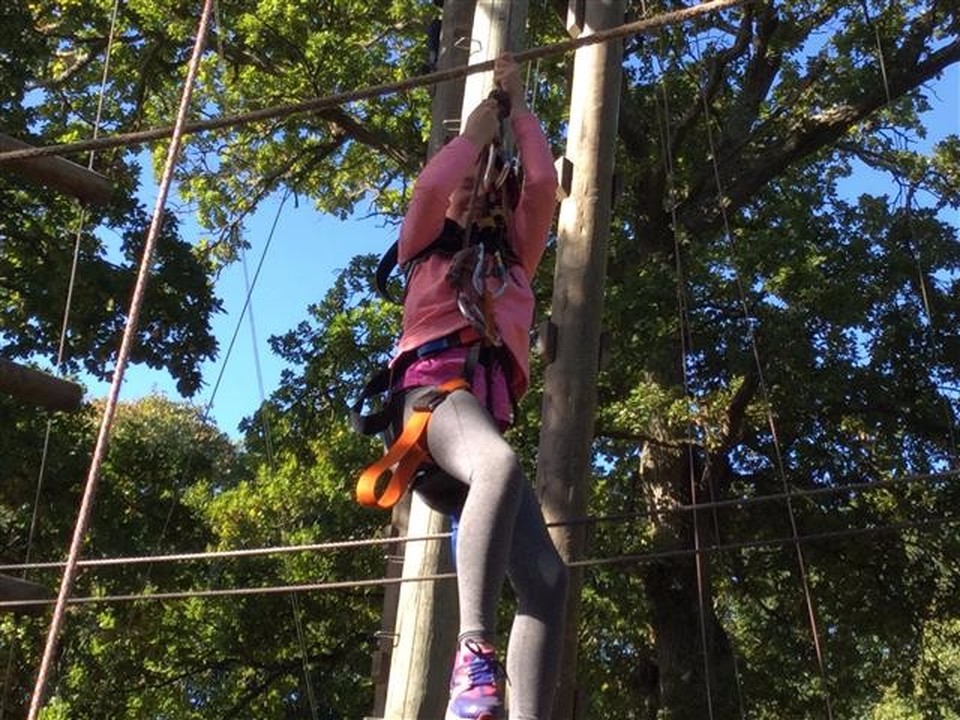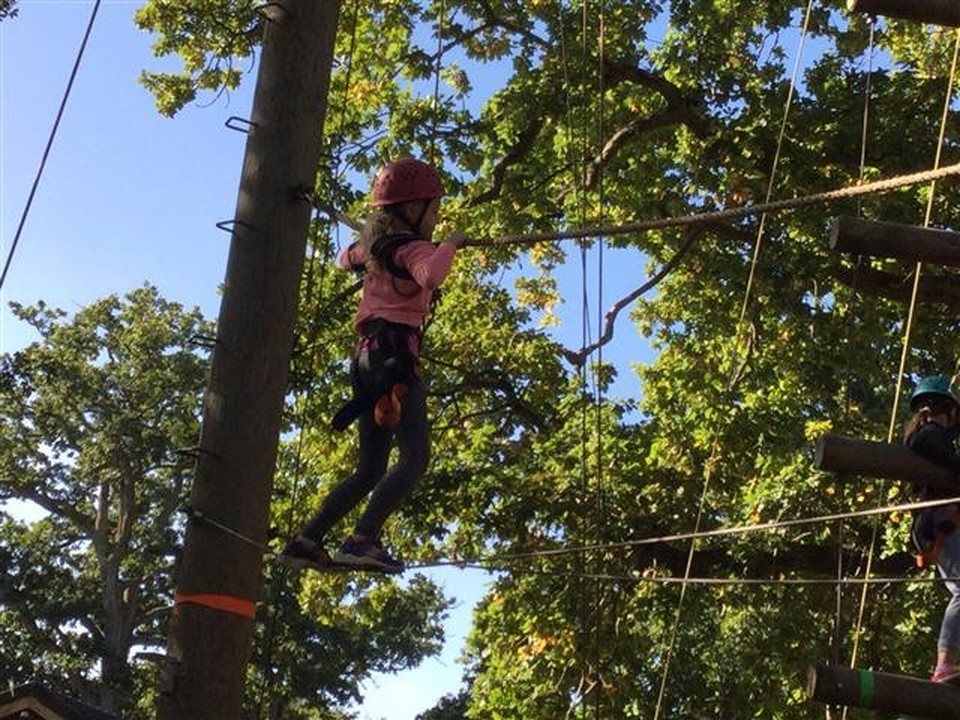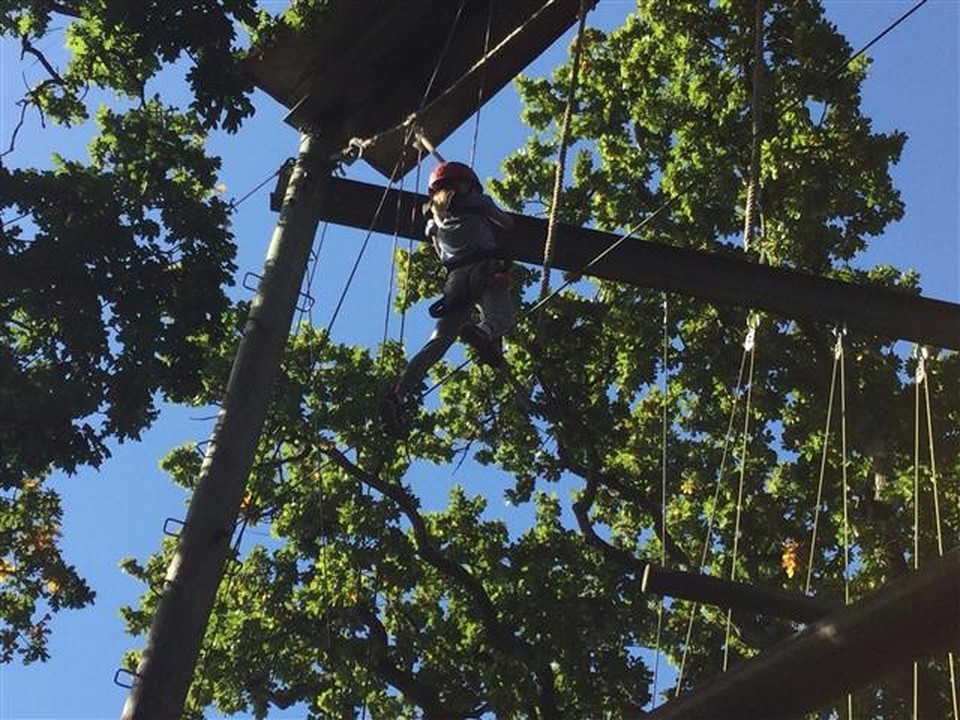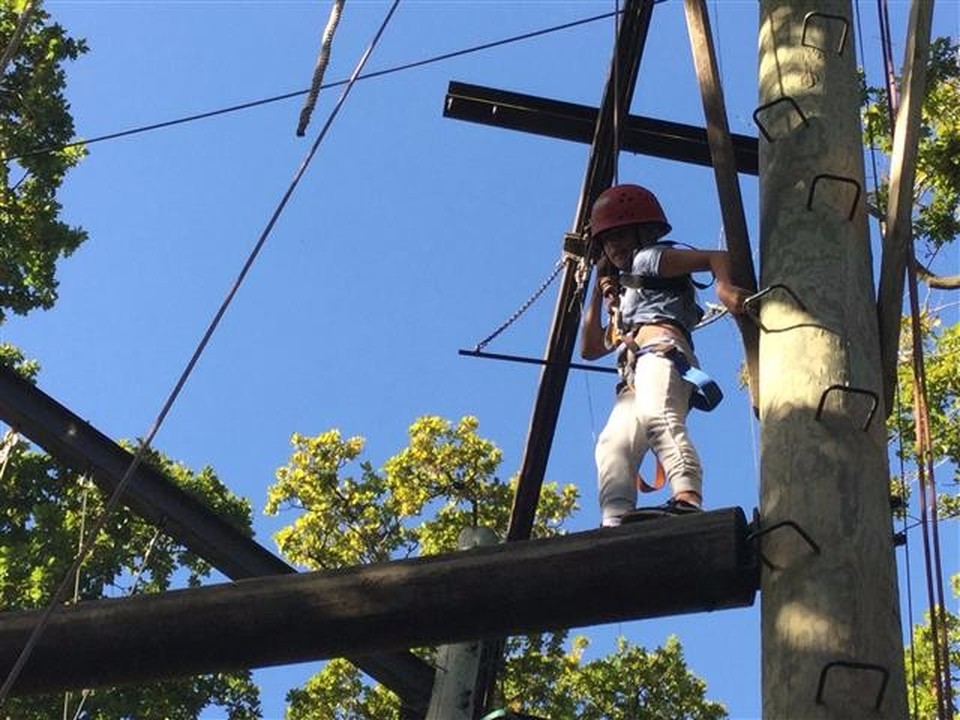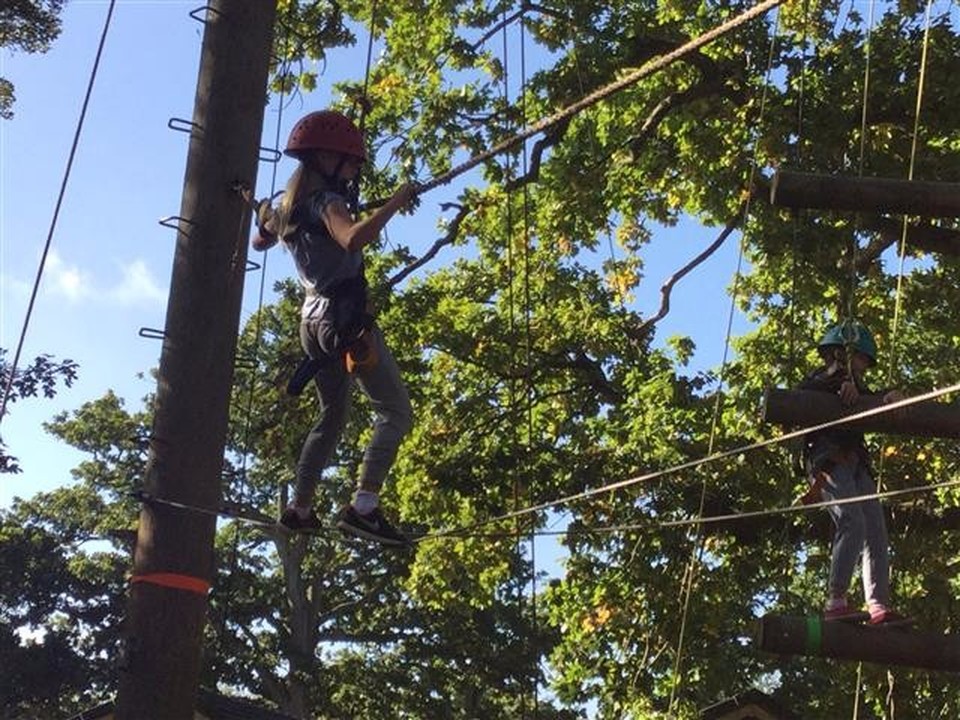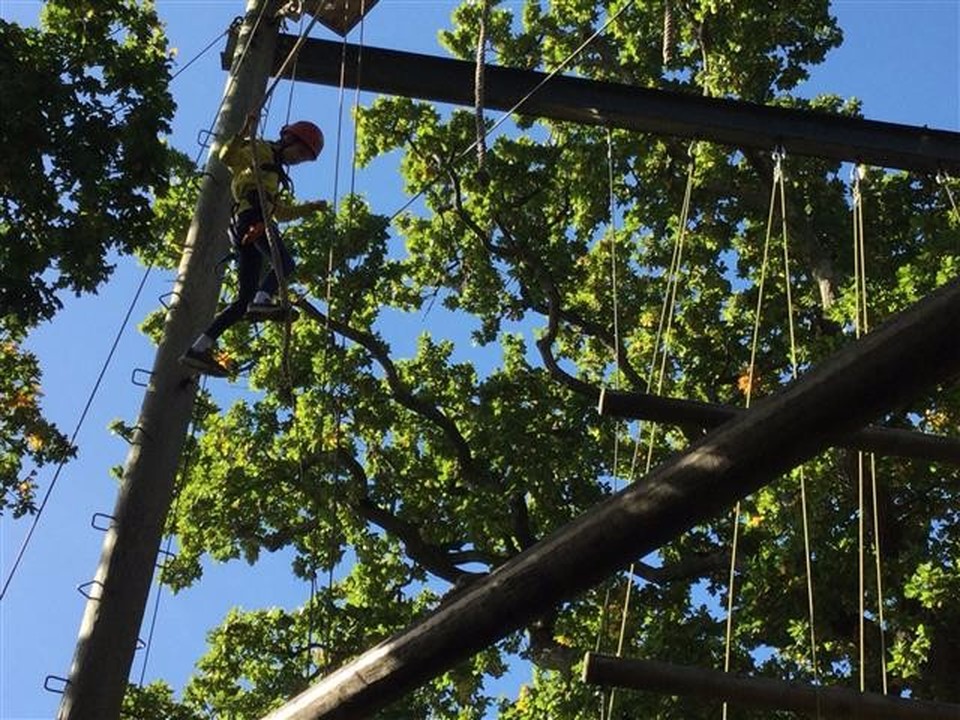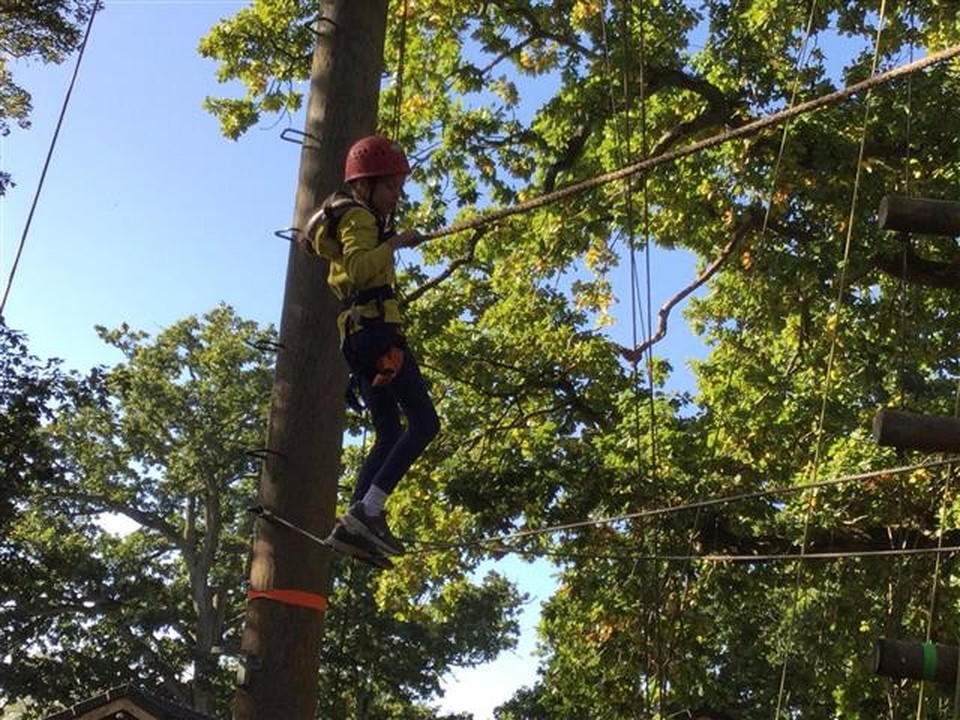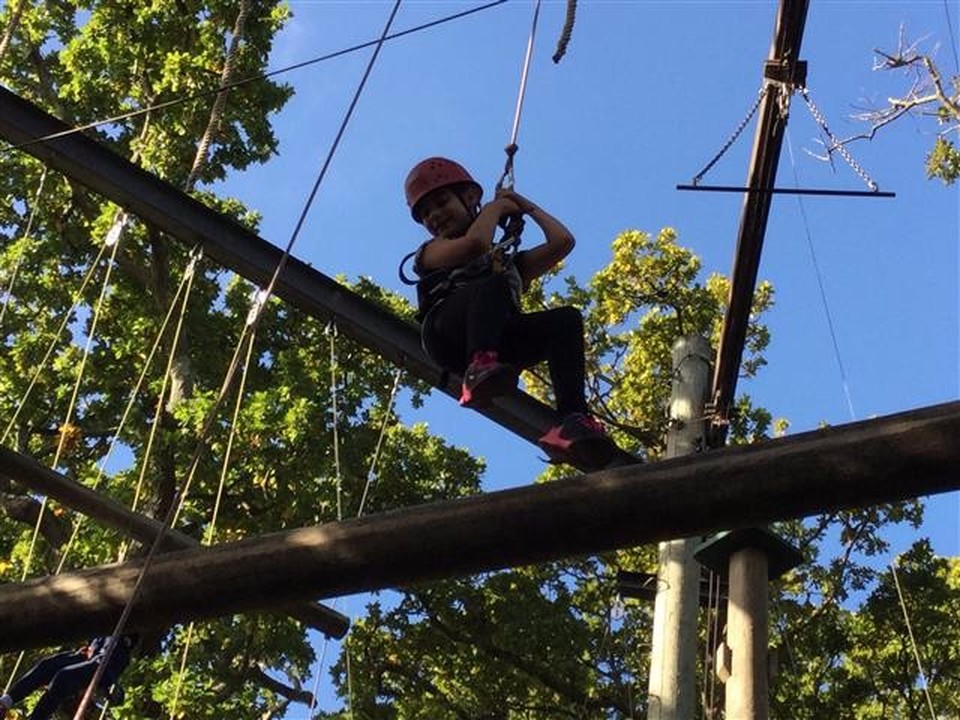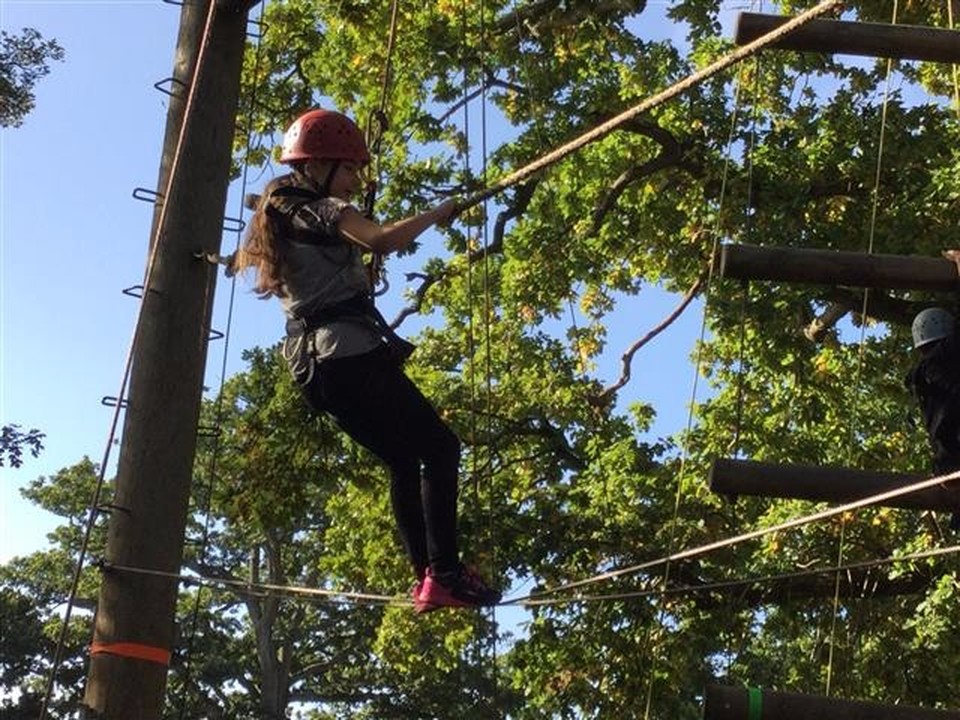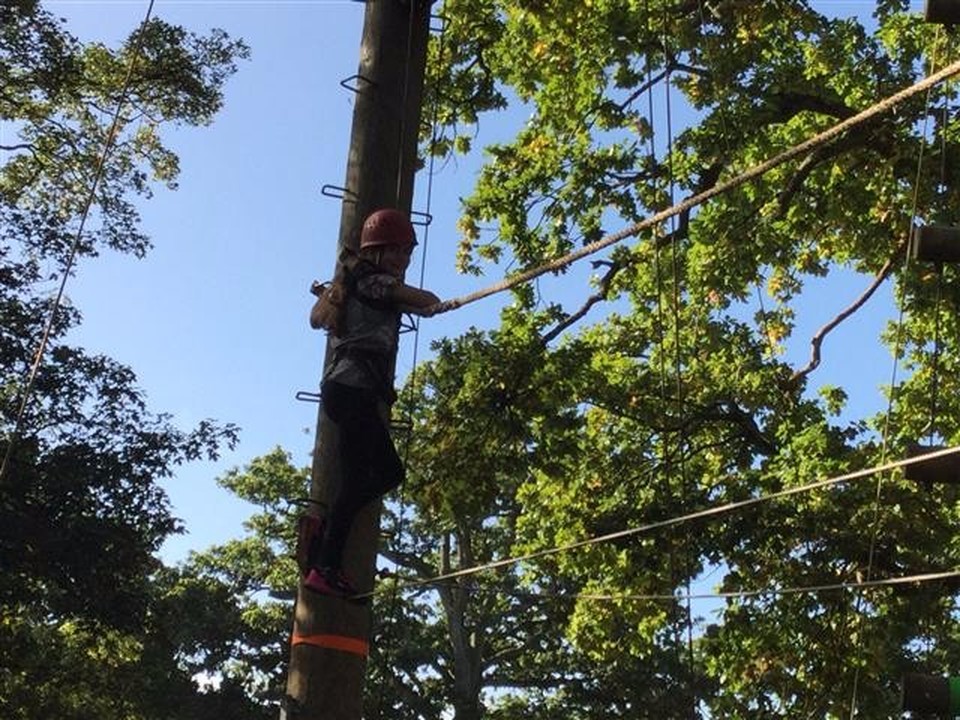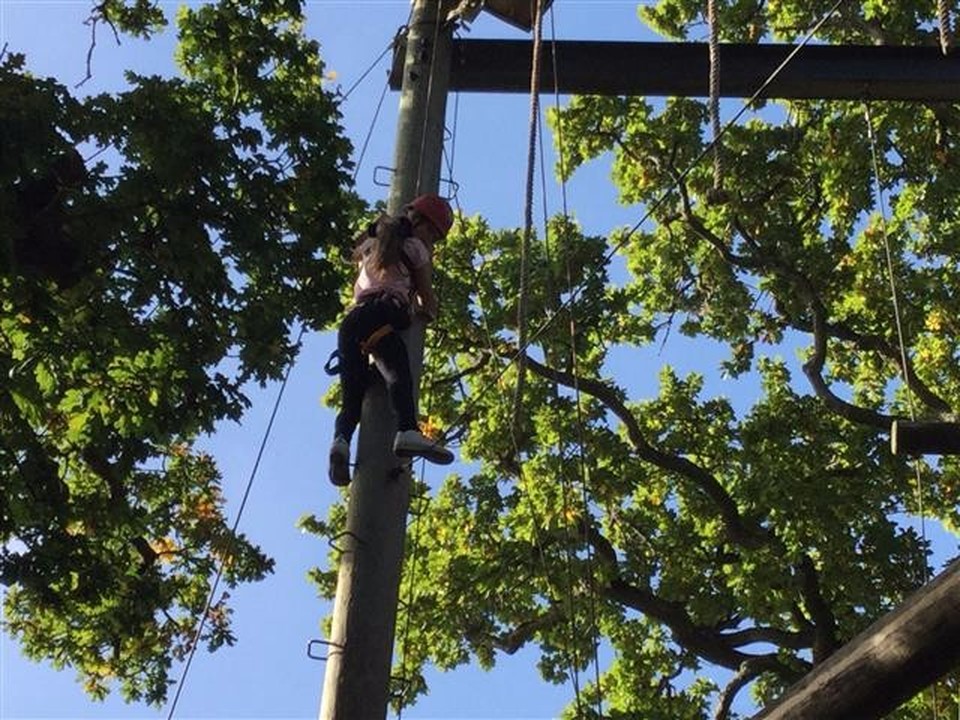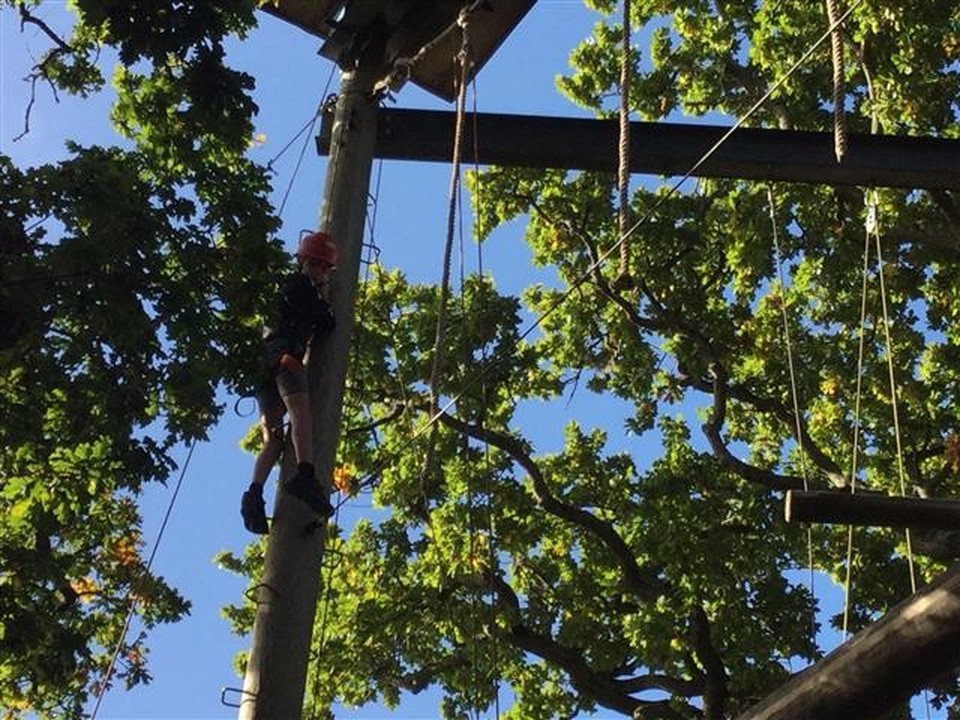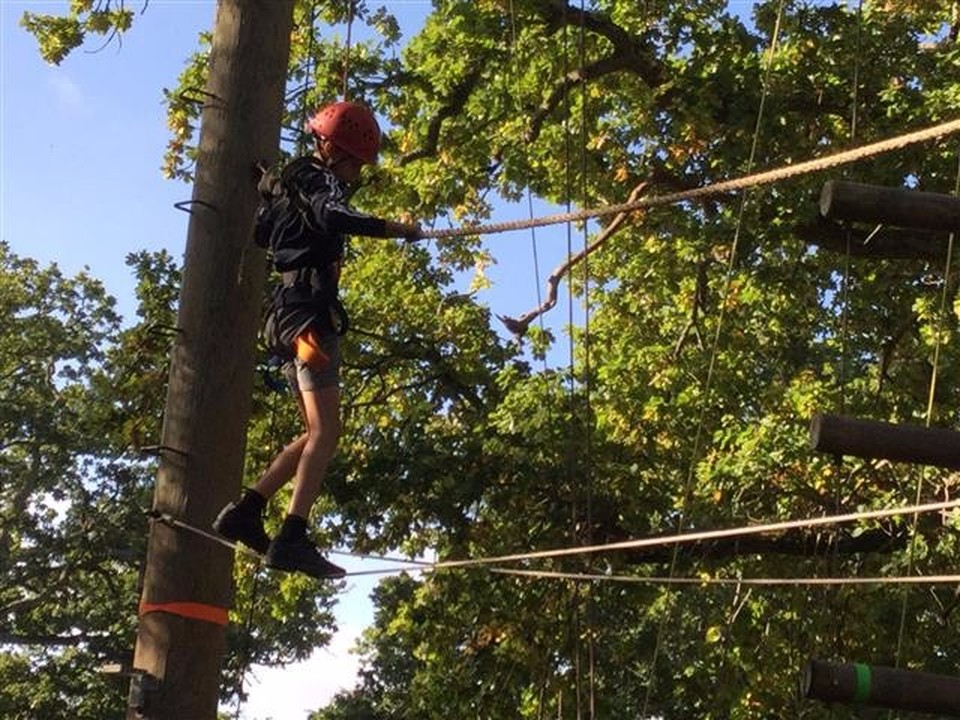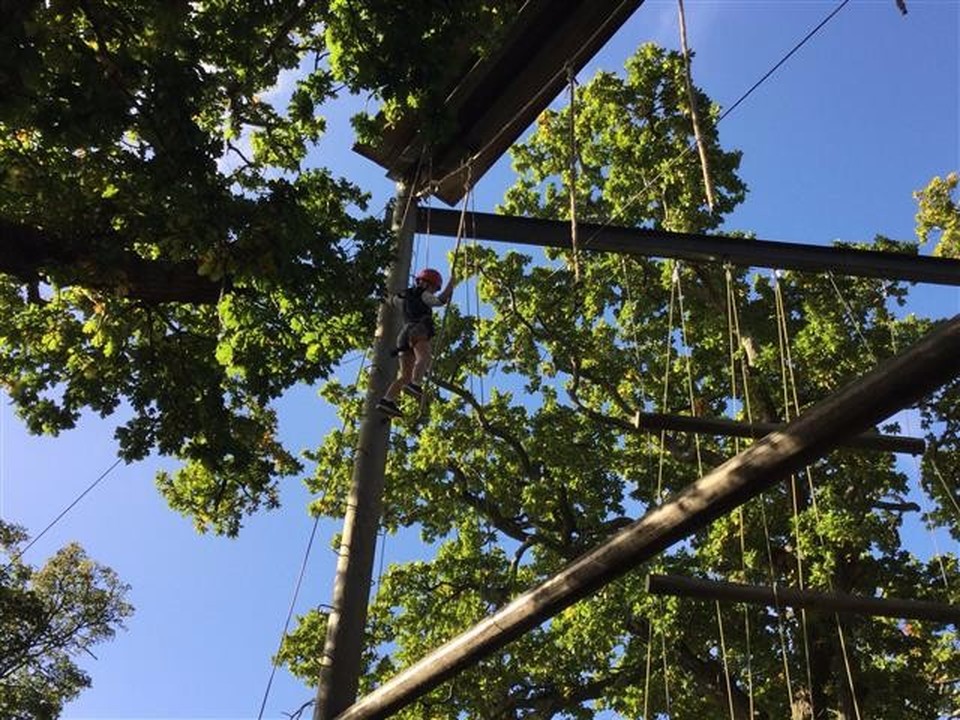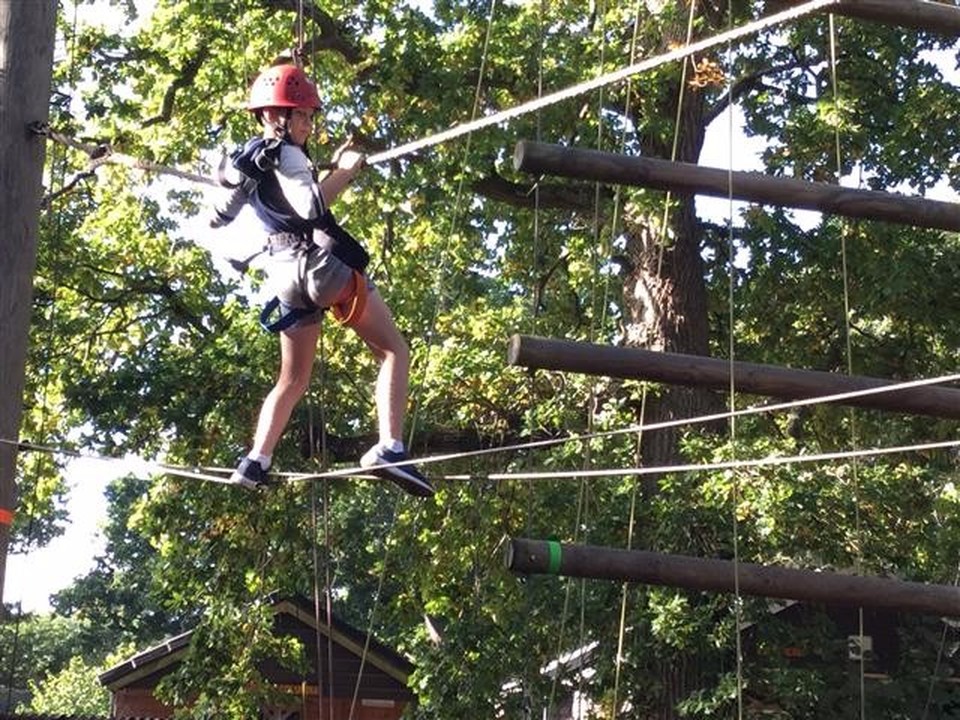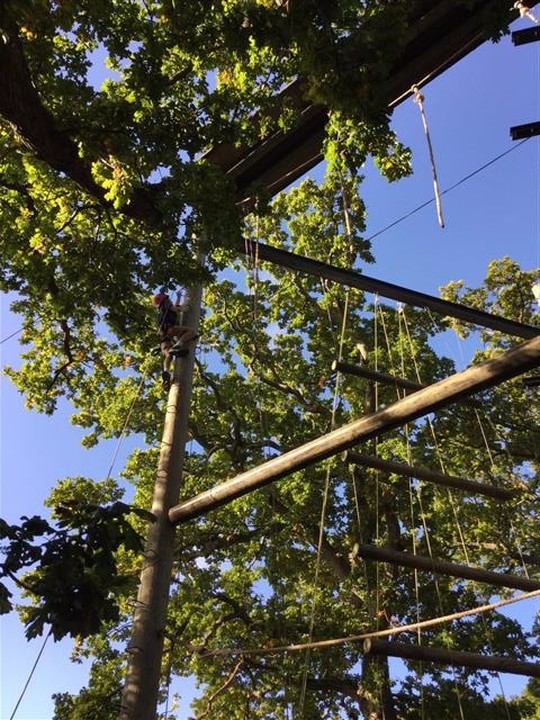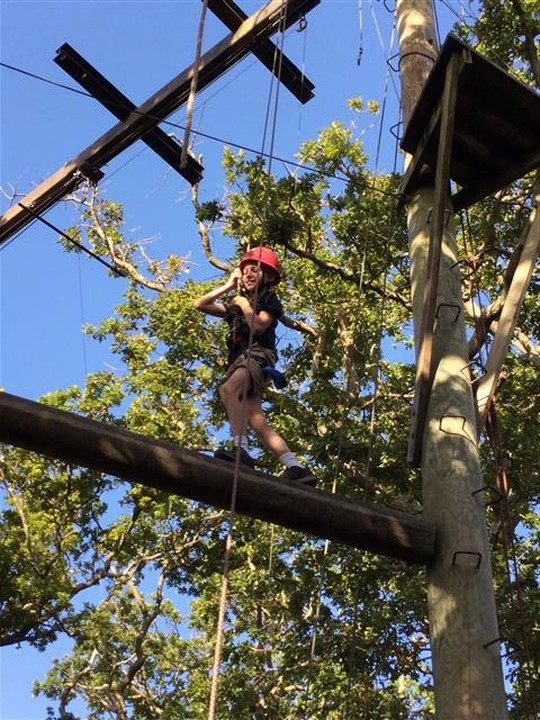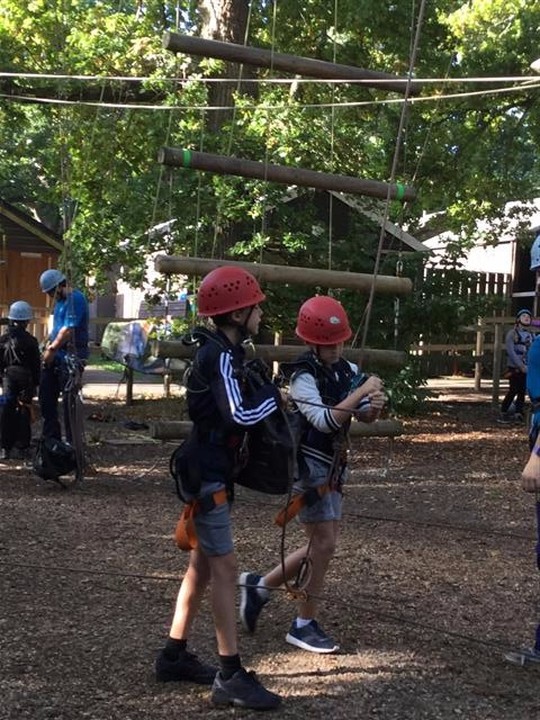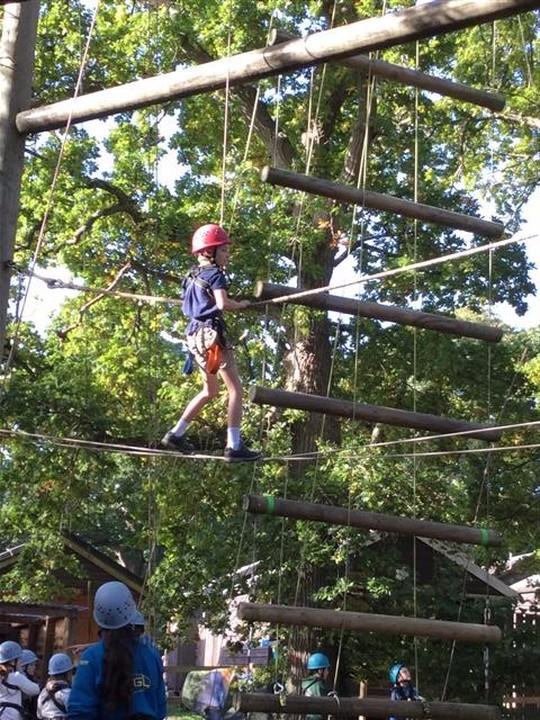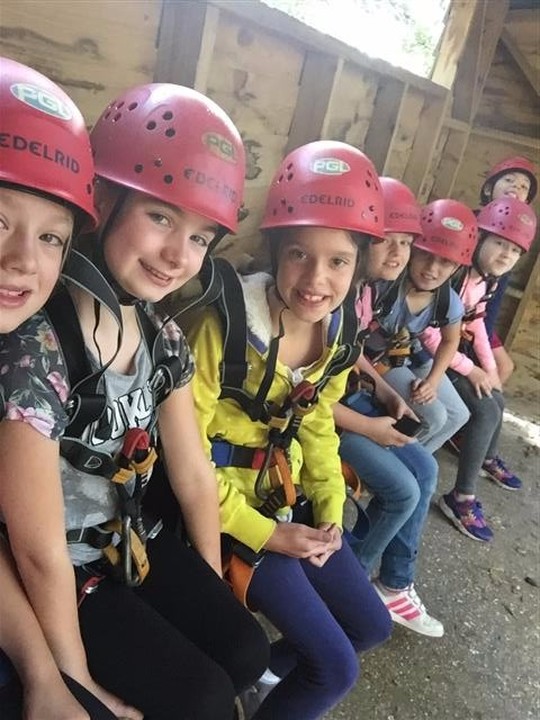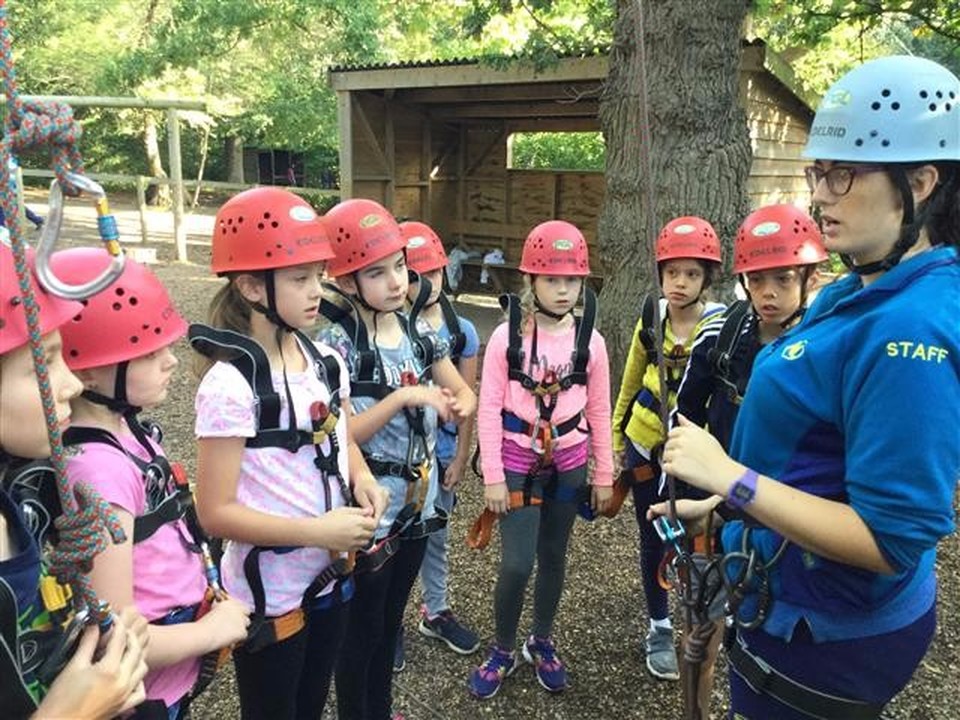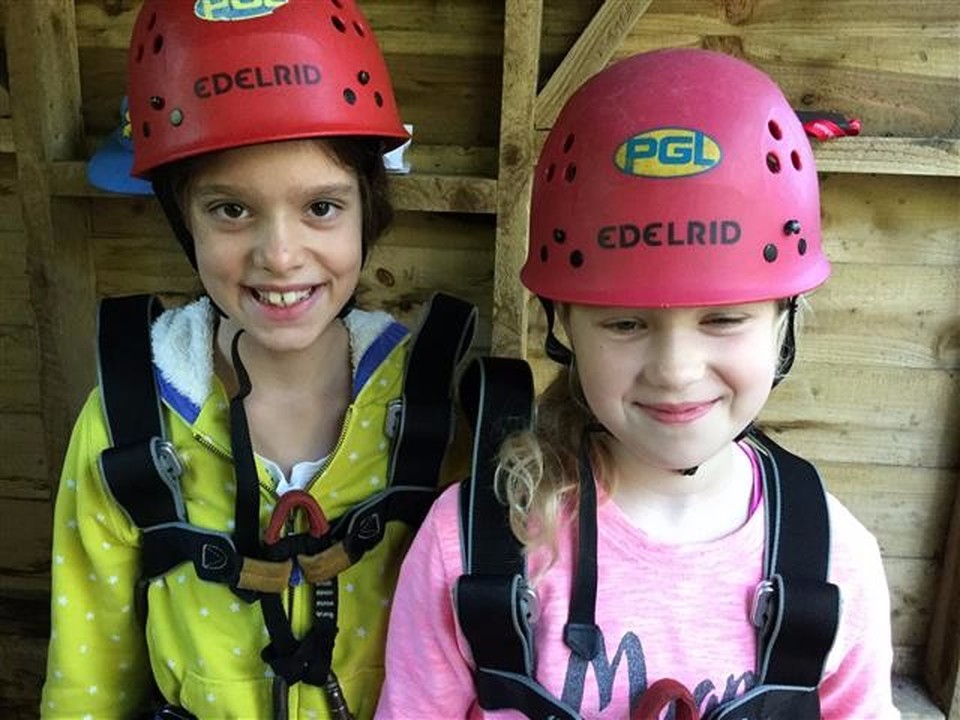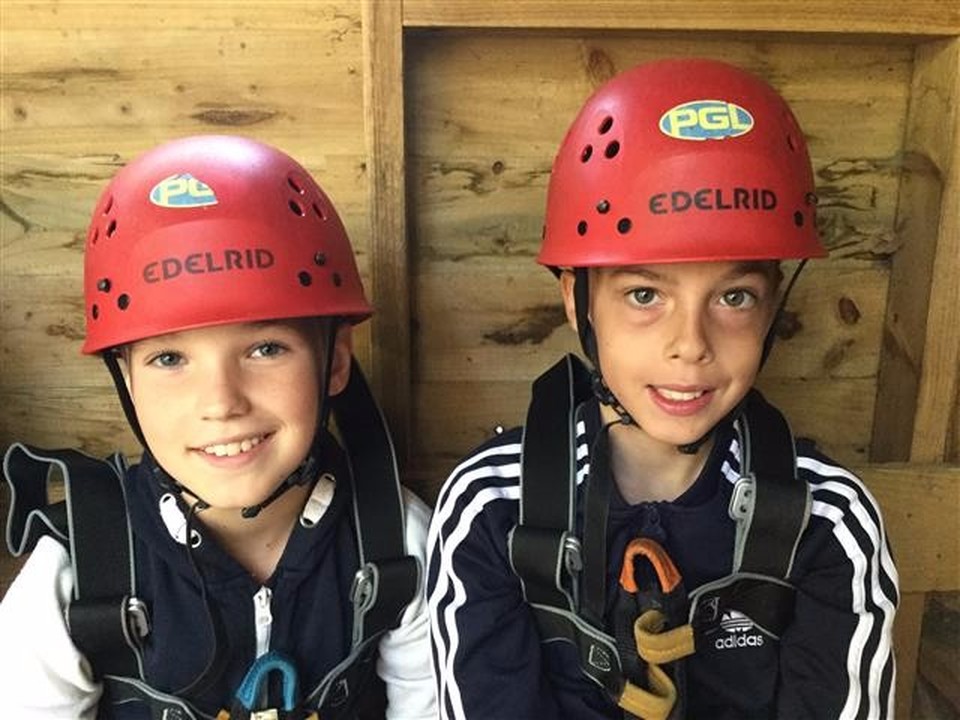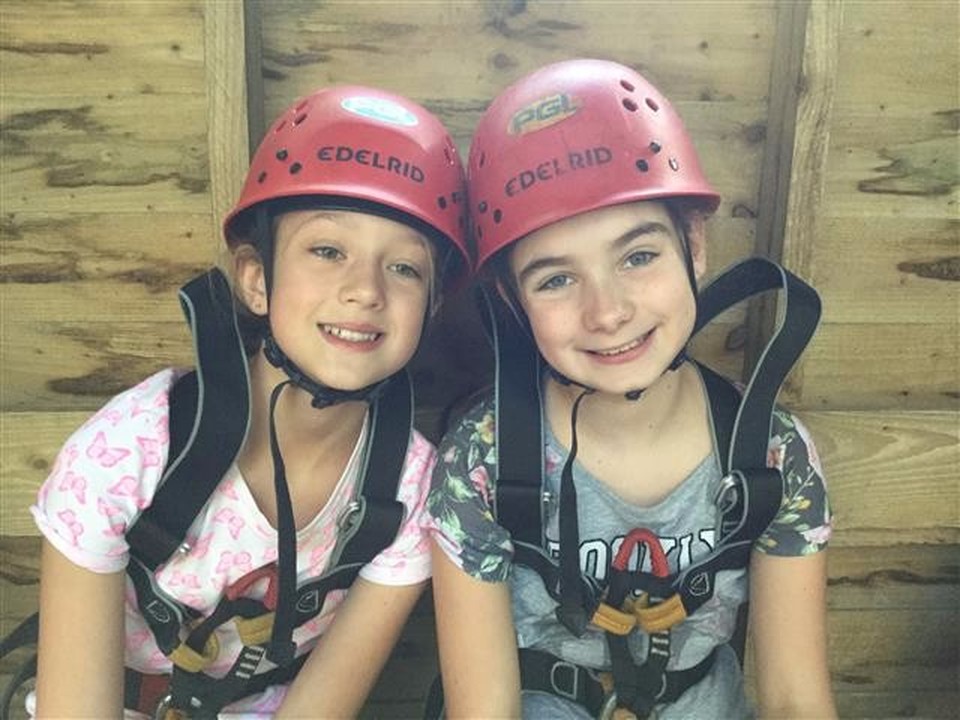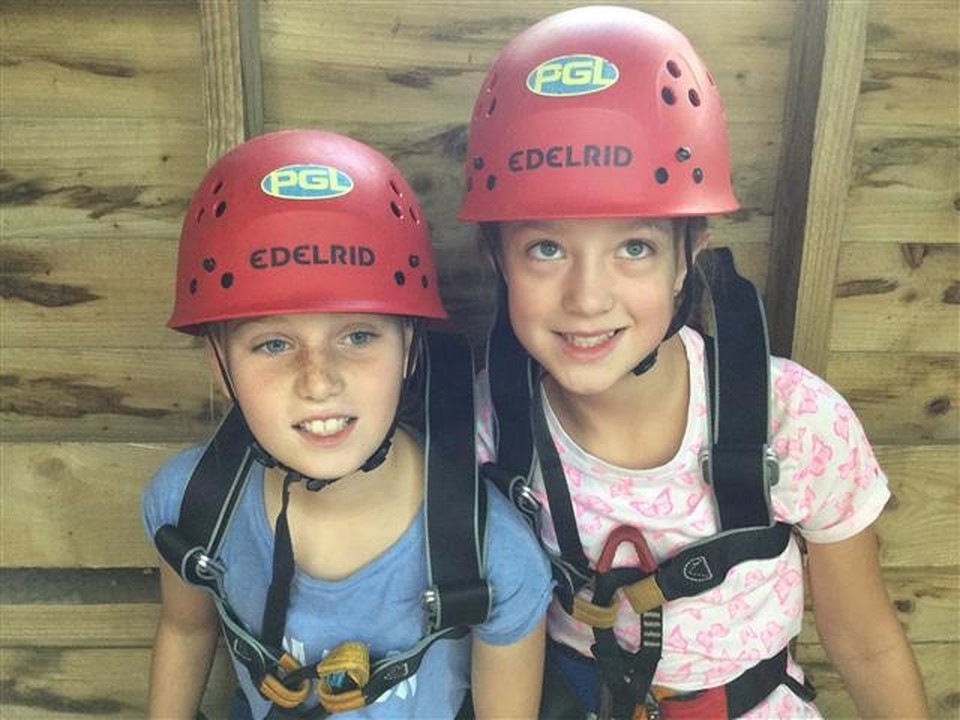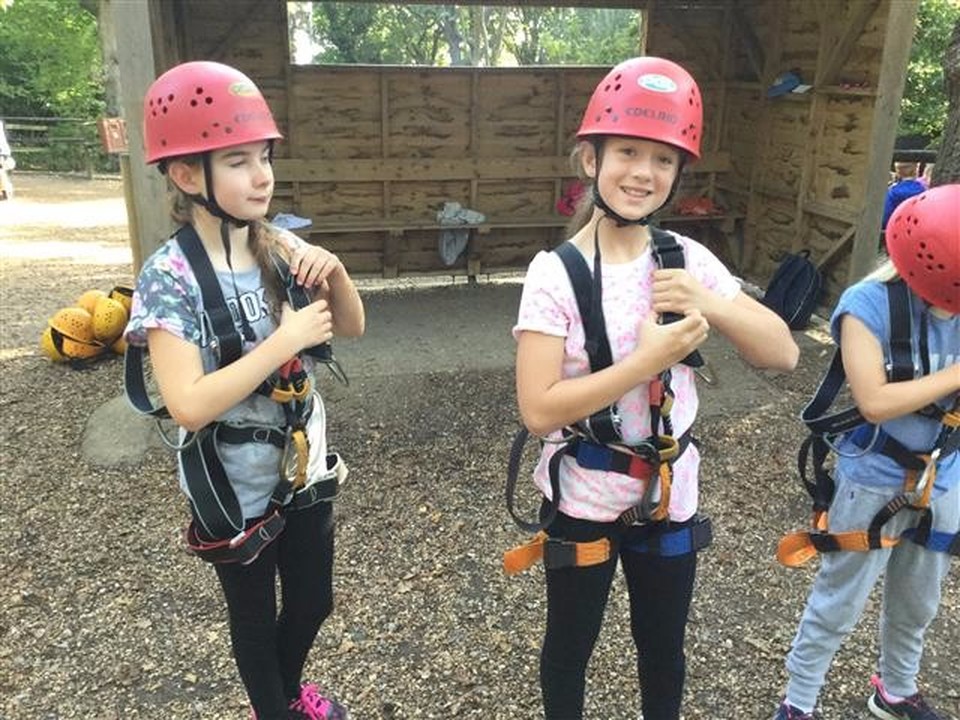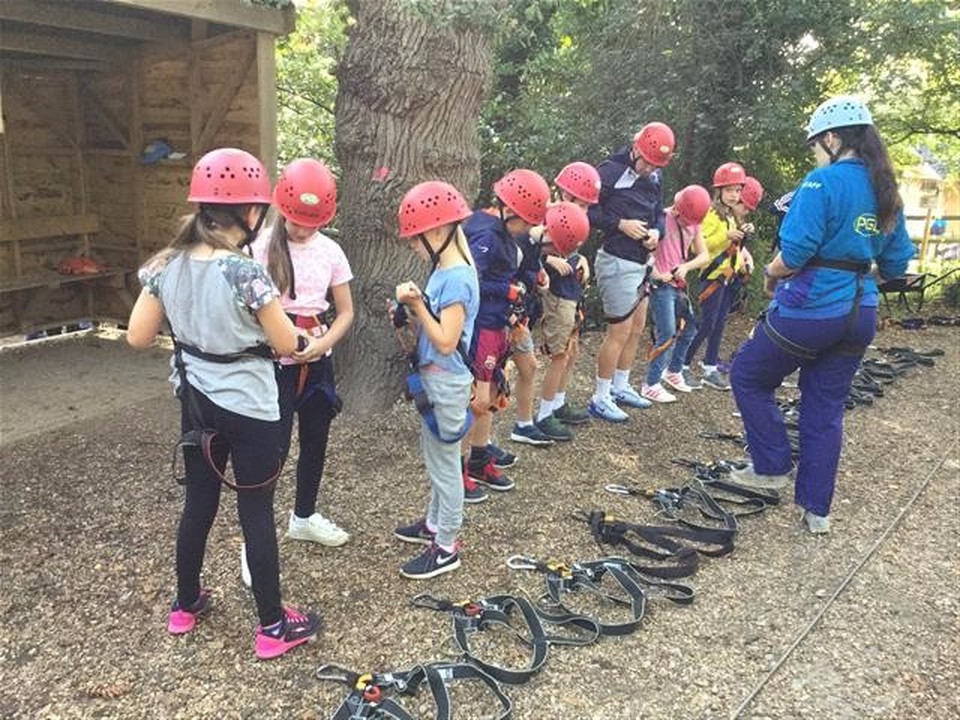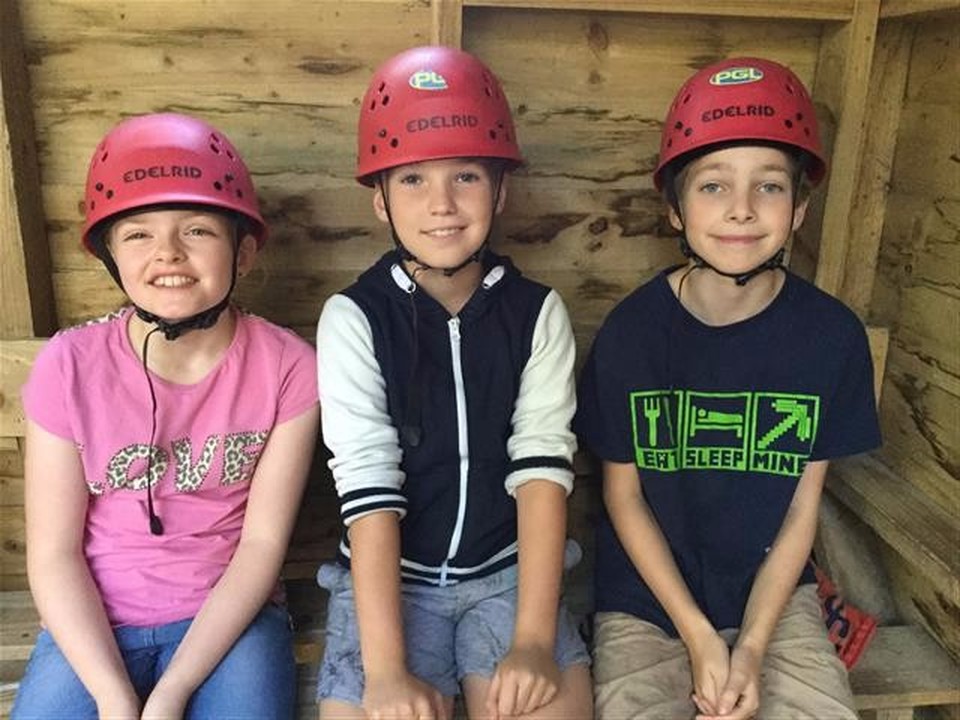 Day 1
We have arrived at Little Canada! The ferry trip was exciting - we saw the forts that we had researched for homework, a hovercraft and some sharks (apparently!)
After a guided tour and checking into our amazing log cabins, we had a delicious dinner and played a game of 'Splash' - a game where we had to stop a water balloon from bursting when we dropped it from a height! Amazingly, all 3 teams built a brilliant contraption which protected their water balloon! Well done teams!
We finally settled down to sleep about 11pm and the teachers would like to report that we had a full eight hours... but unfortunately it was slightly less than that! (and significantly less for others)
Despite the lack of sleep, we are up and raring to go this morning! We have started our computing projects by using a music programme called Audacity to create the background music for our animations.
After that, we got VERY muddy on the sensory trail - helped along a little by the rain! This afternoon we are abseiling and playing aeroball and tonight we are having a camp fire on the beach!
Photos of group 1 and group 3. Group 2's photos tomorrow (Wifi permitting!)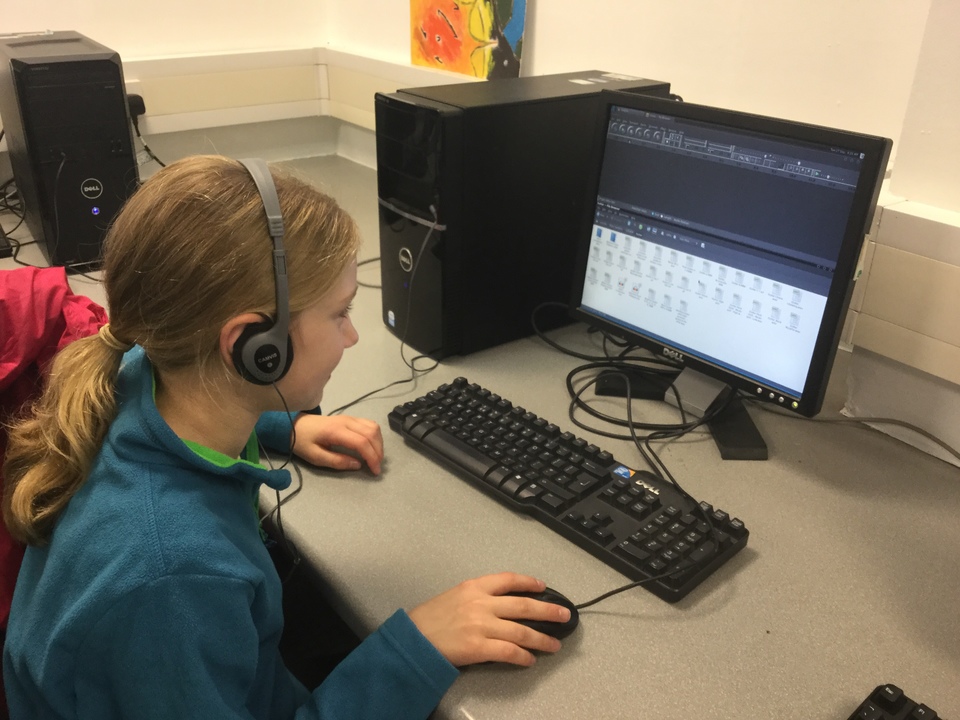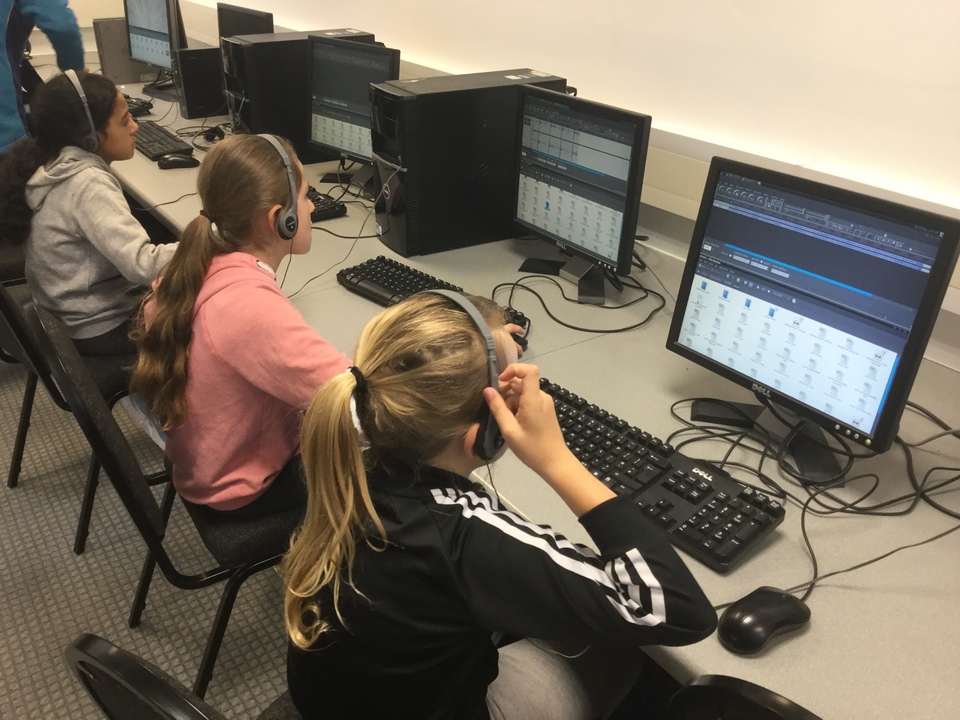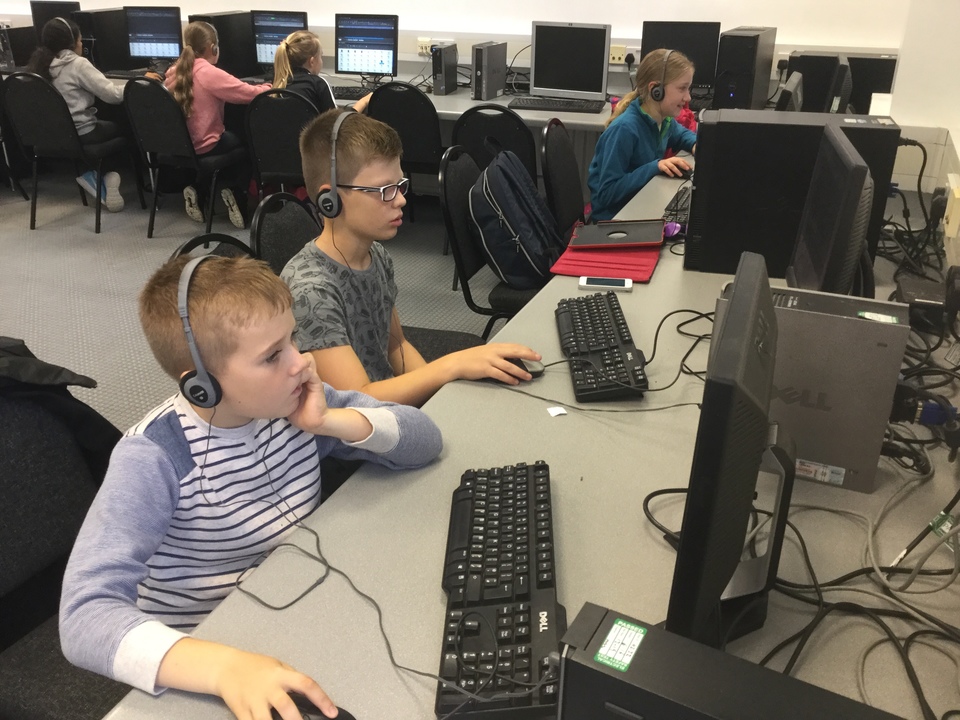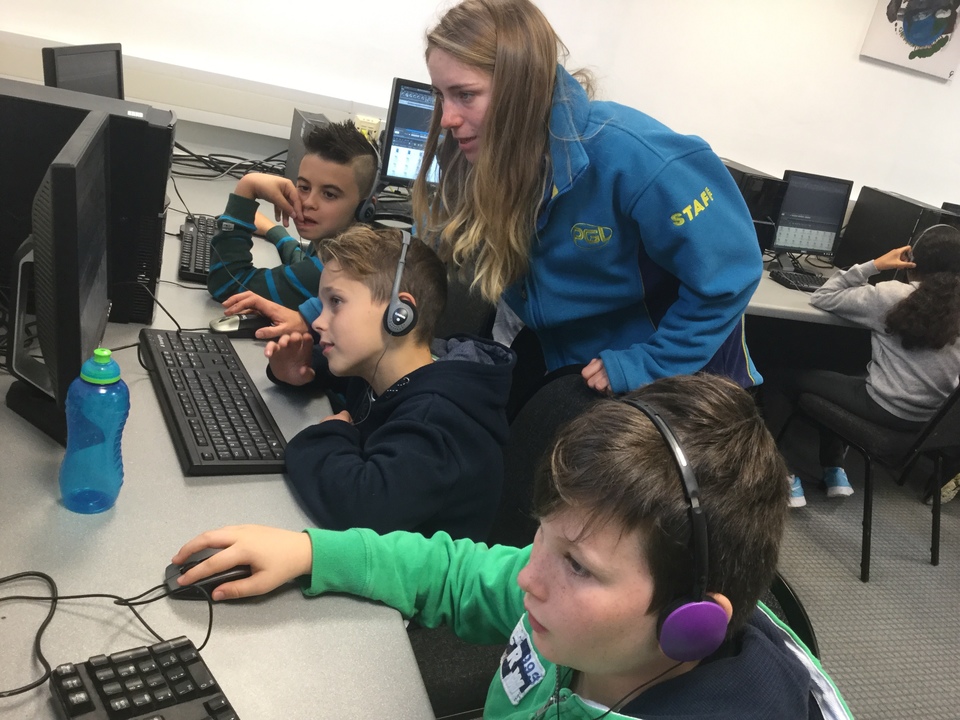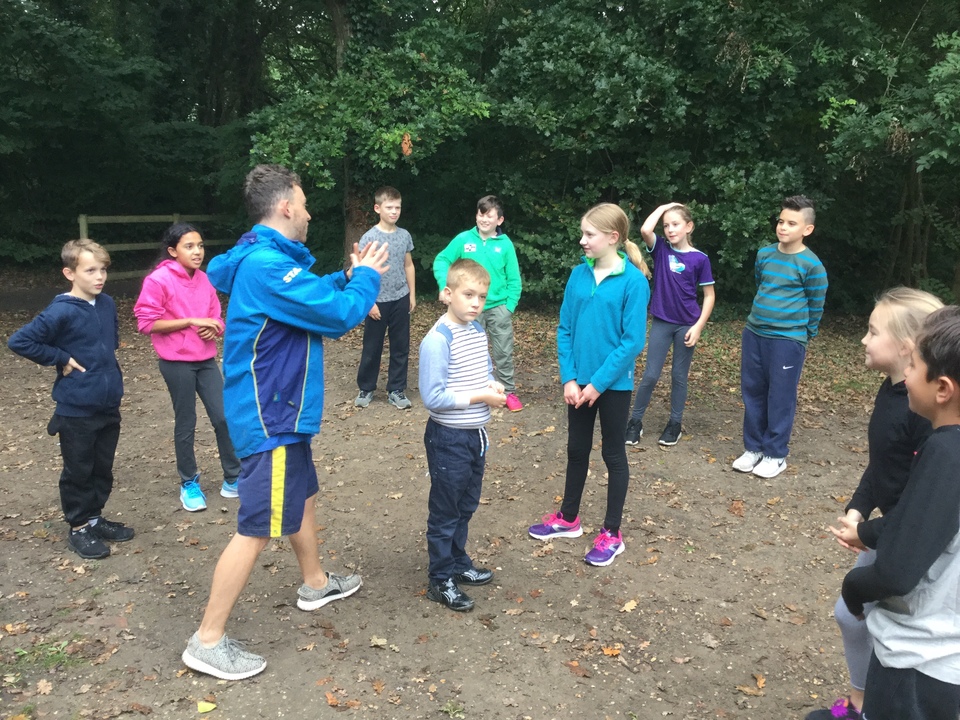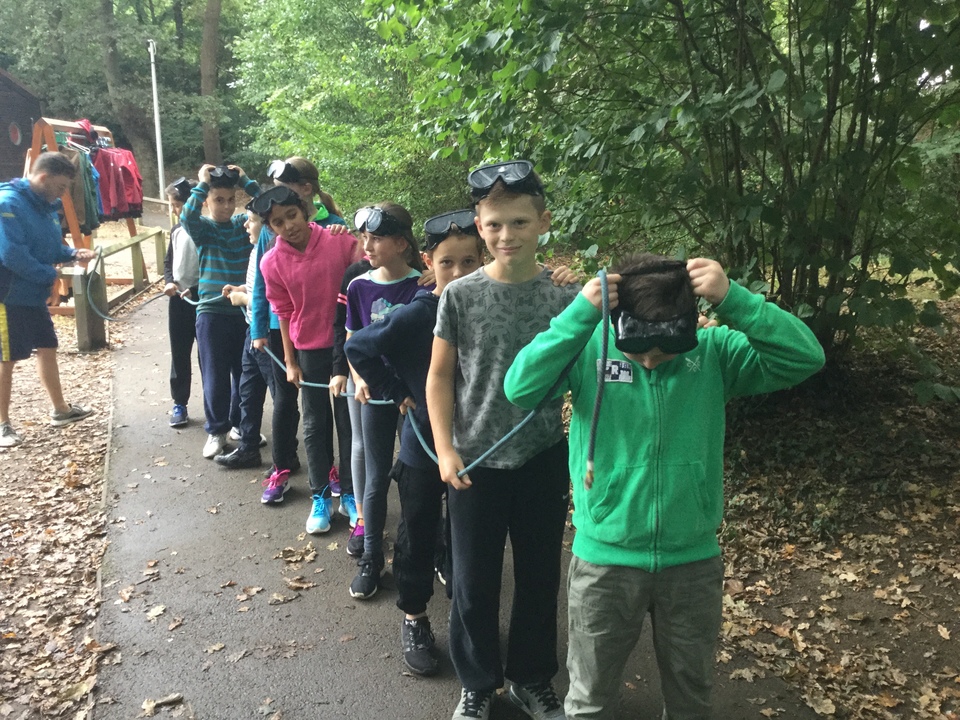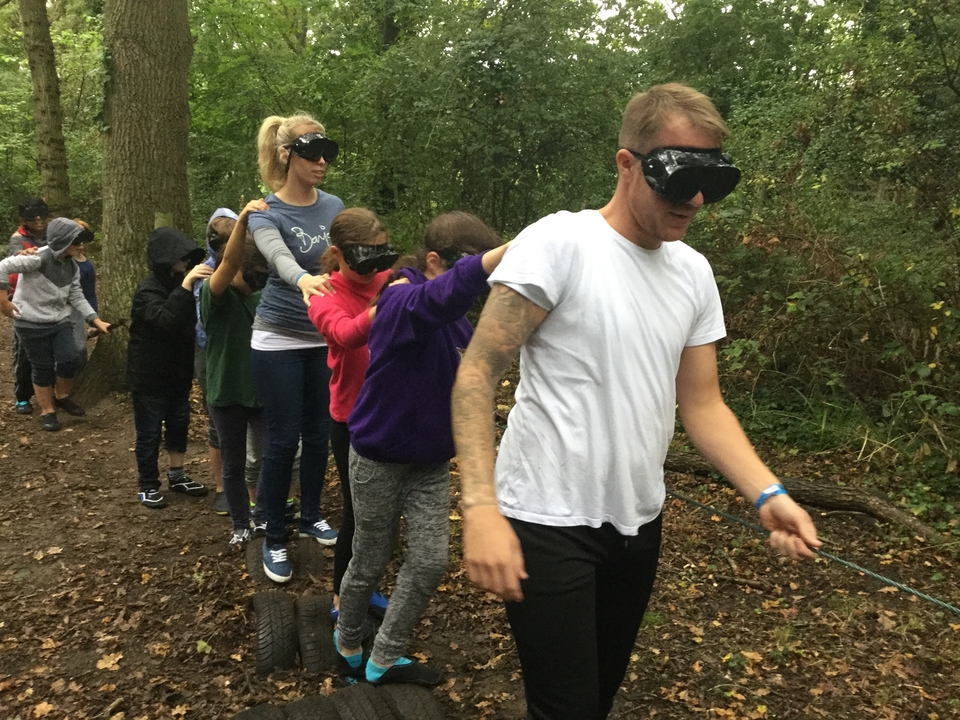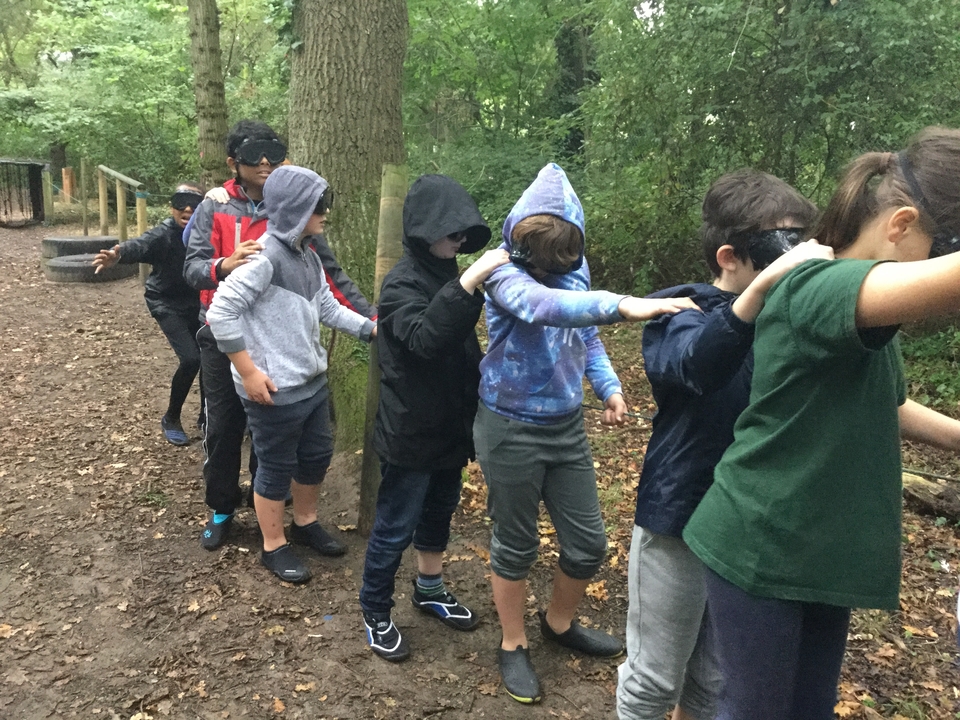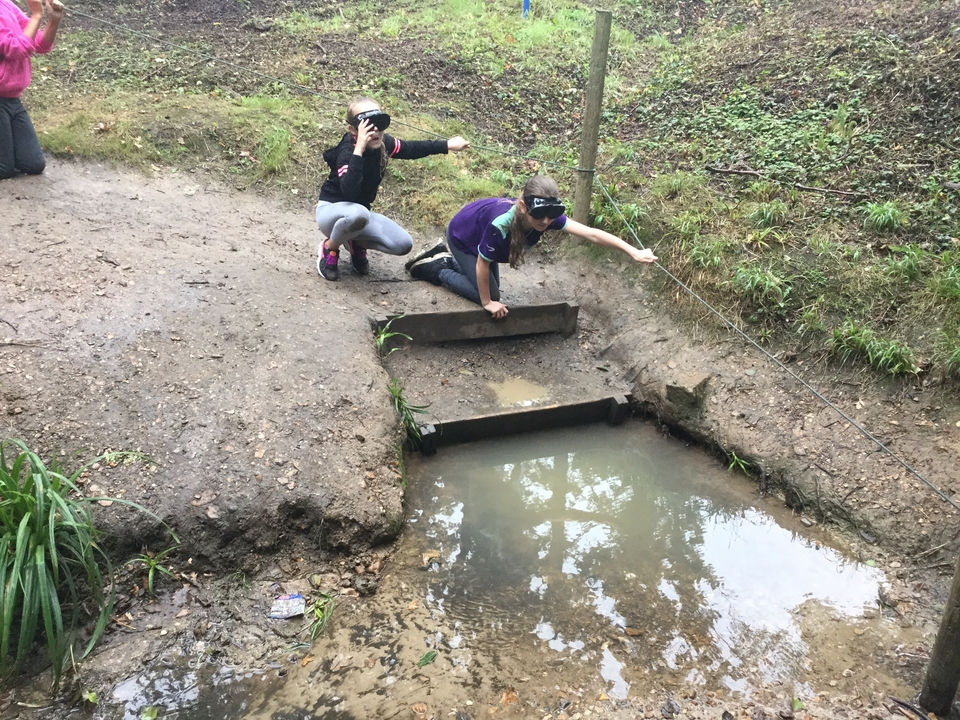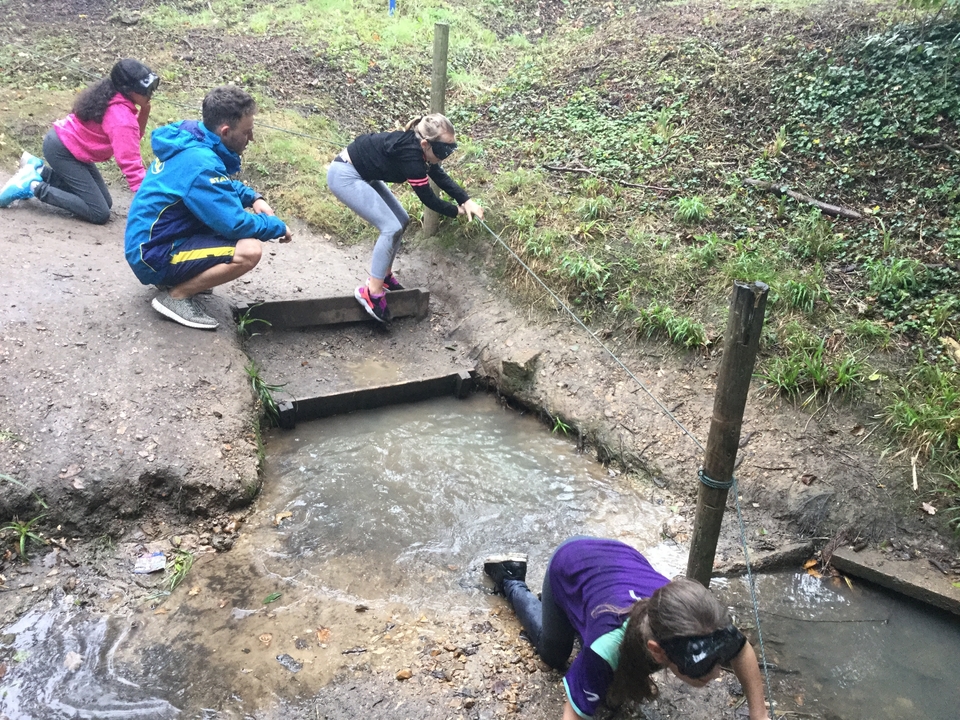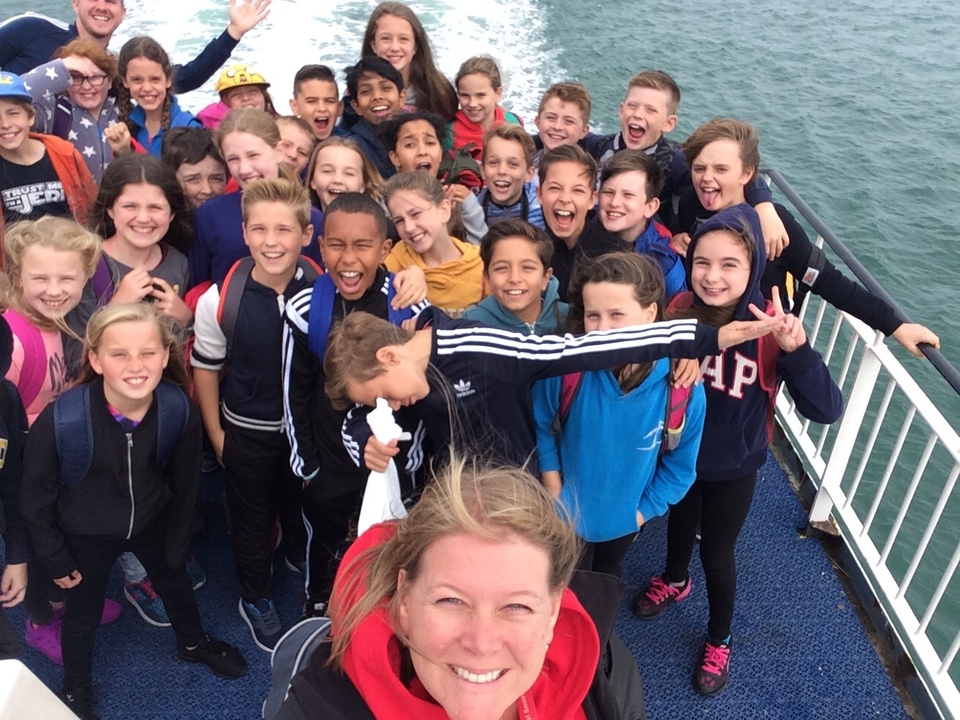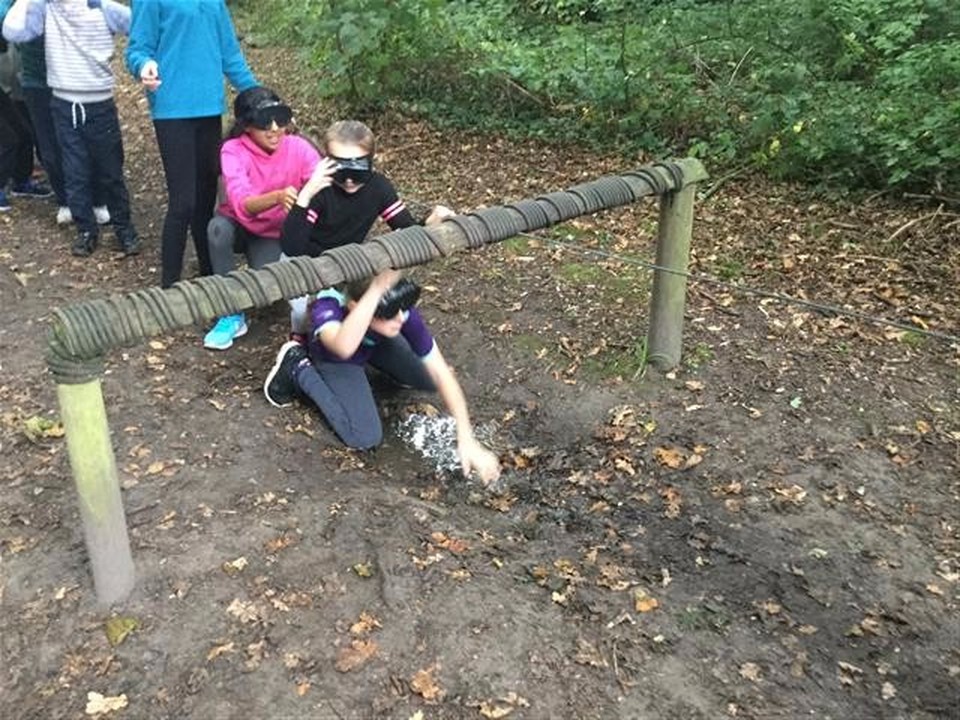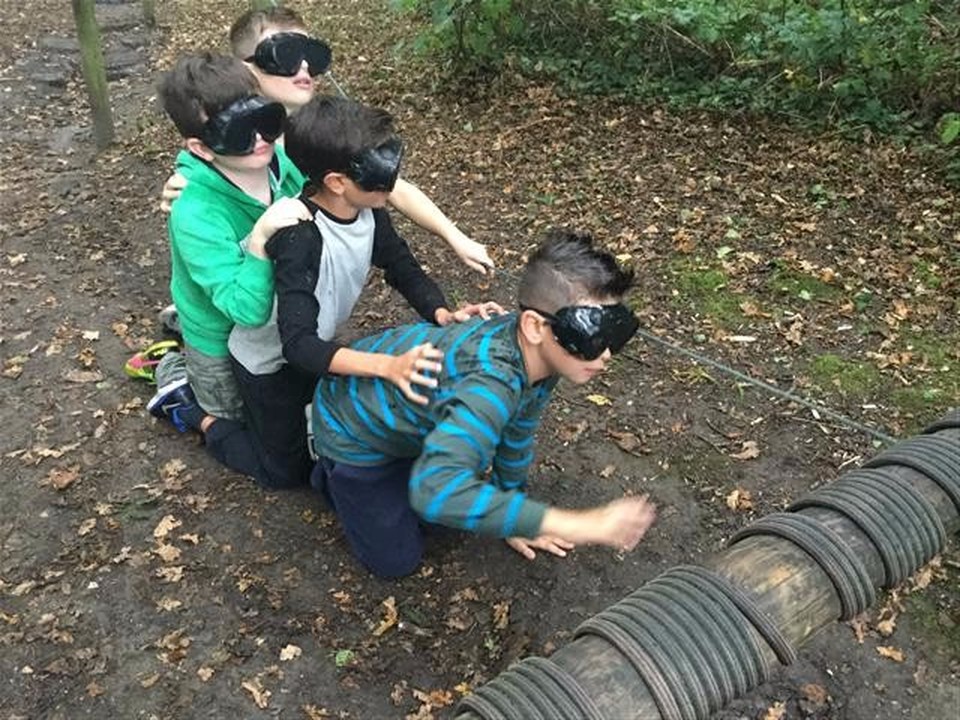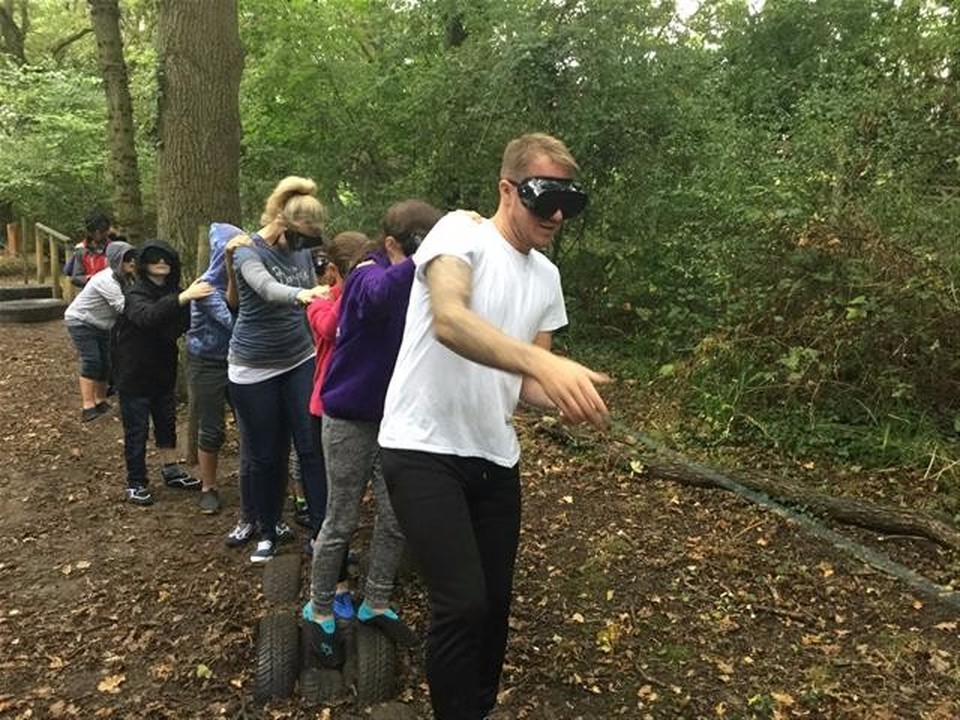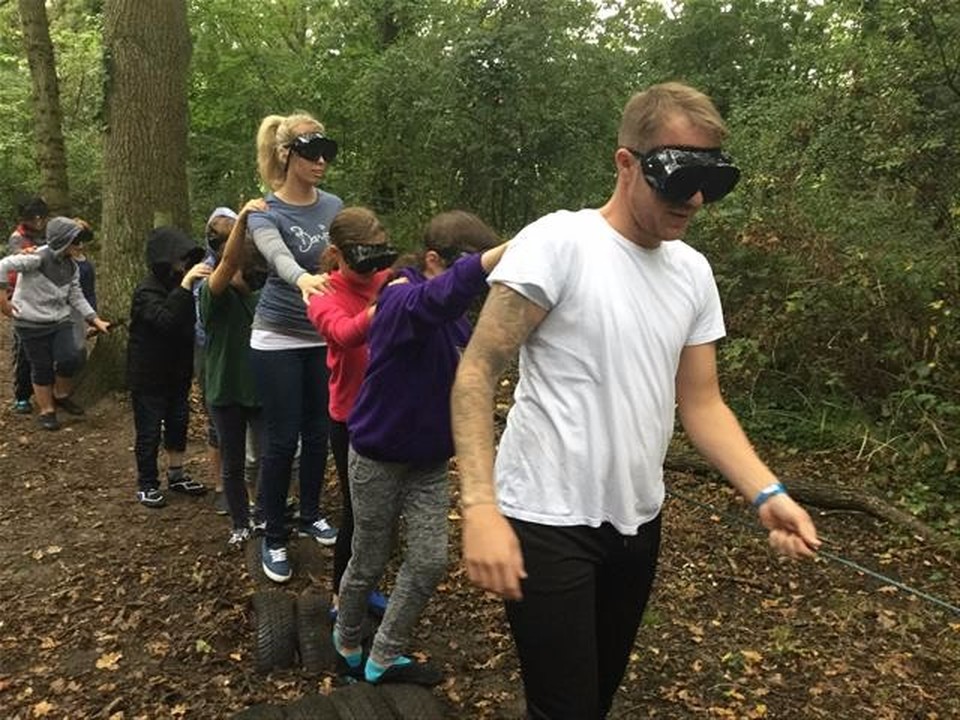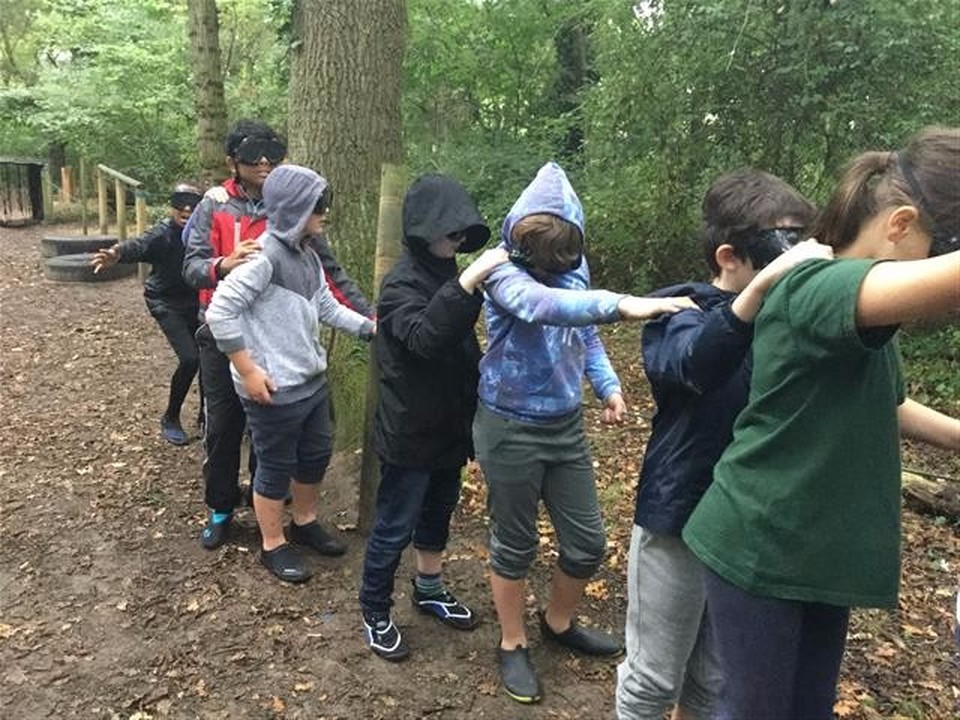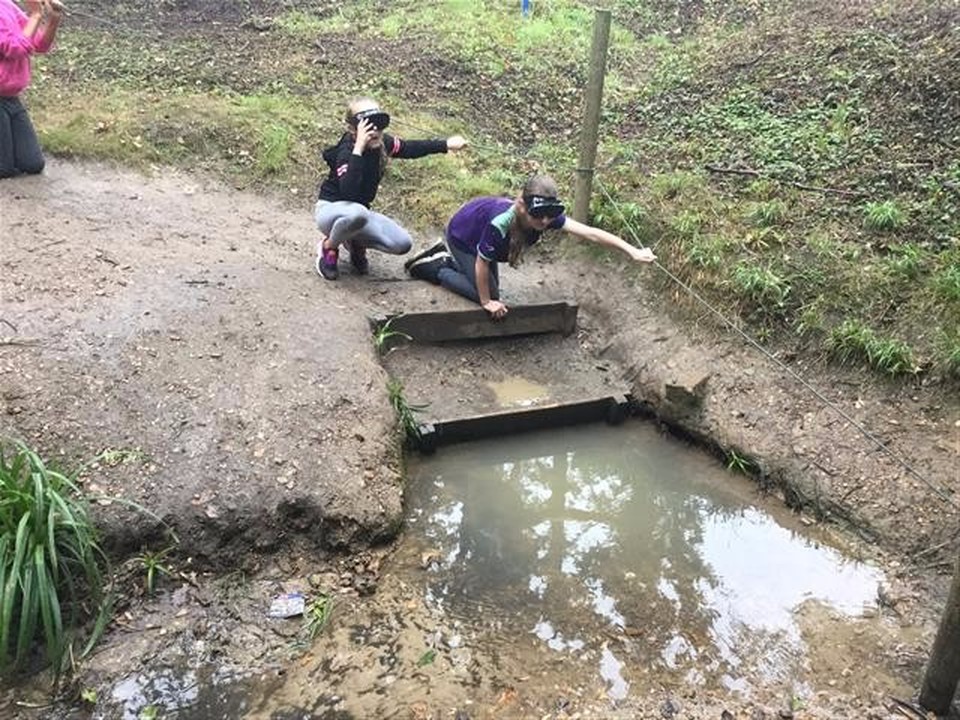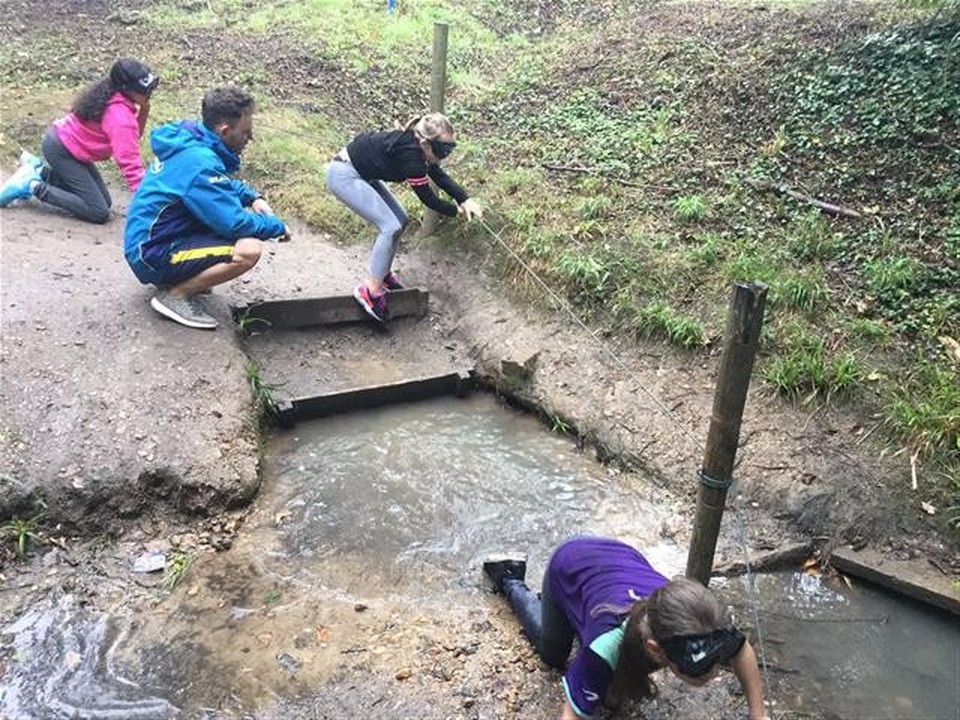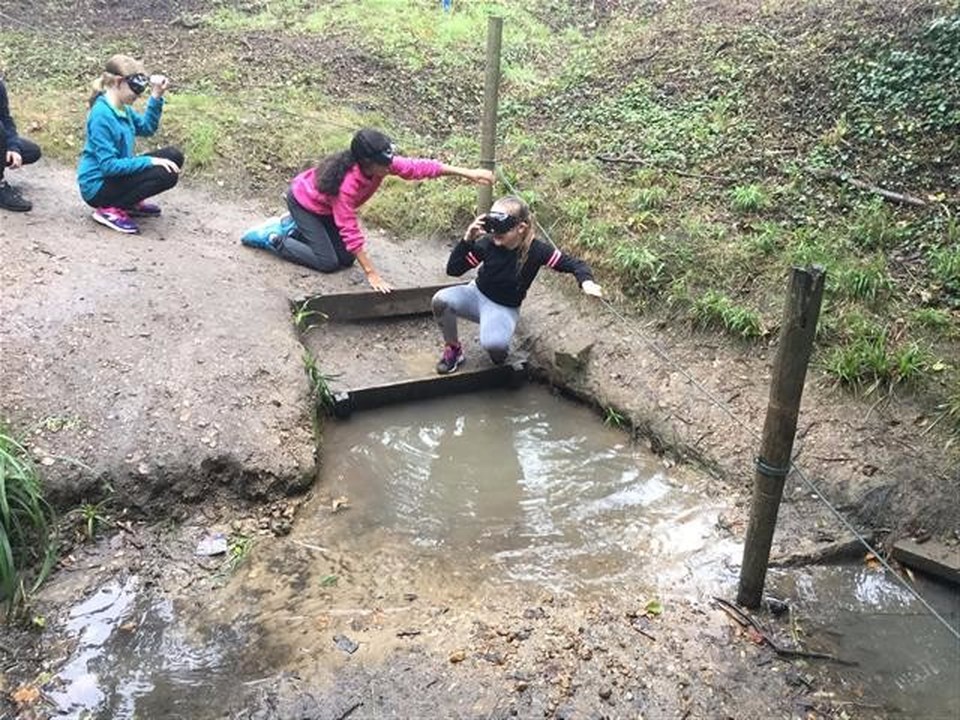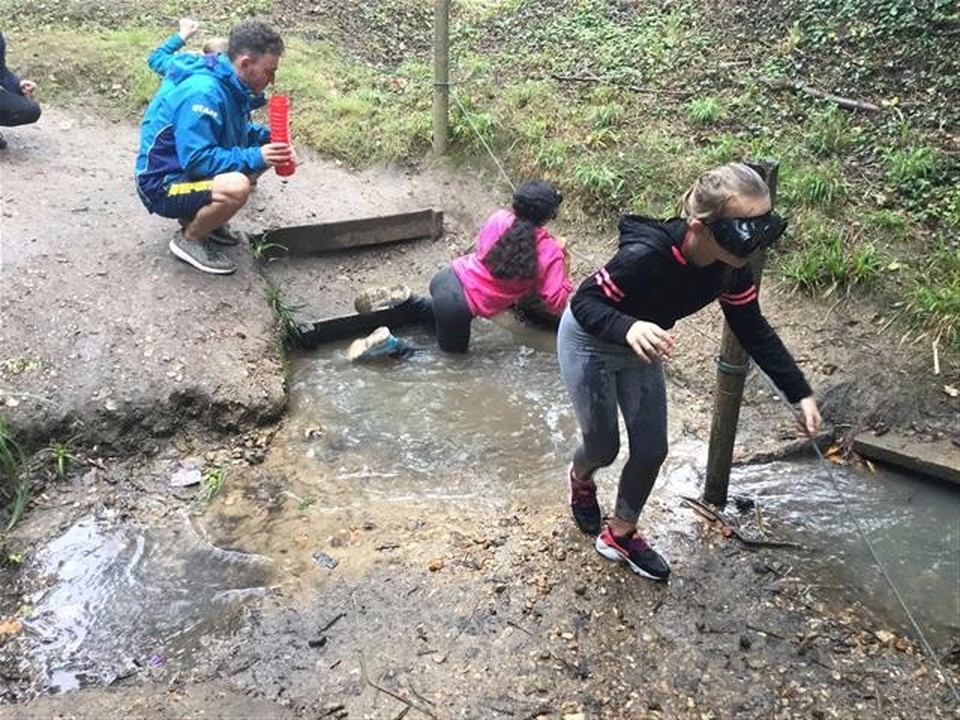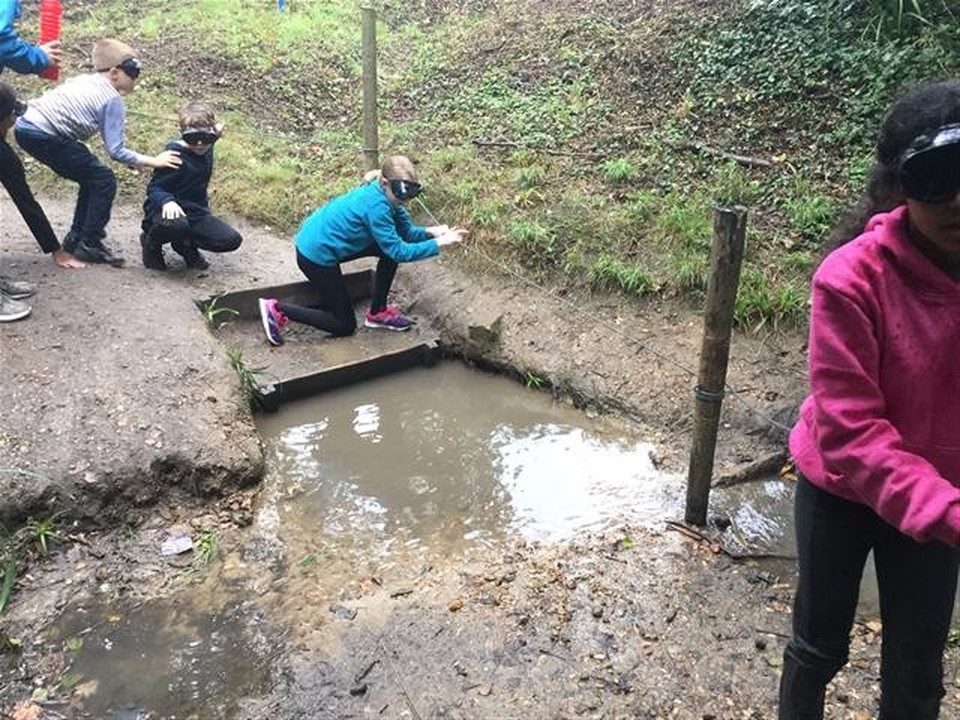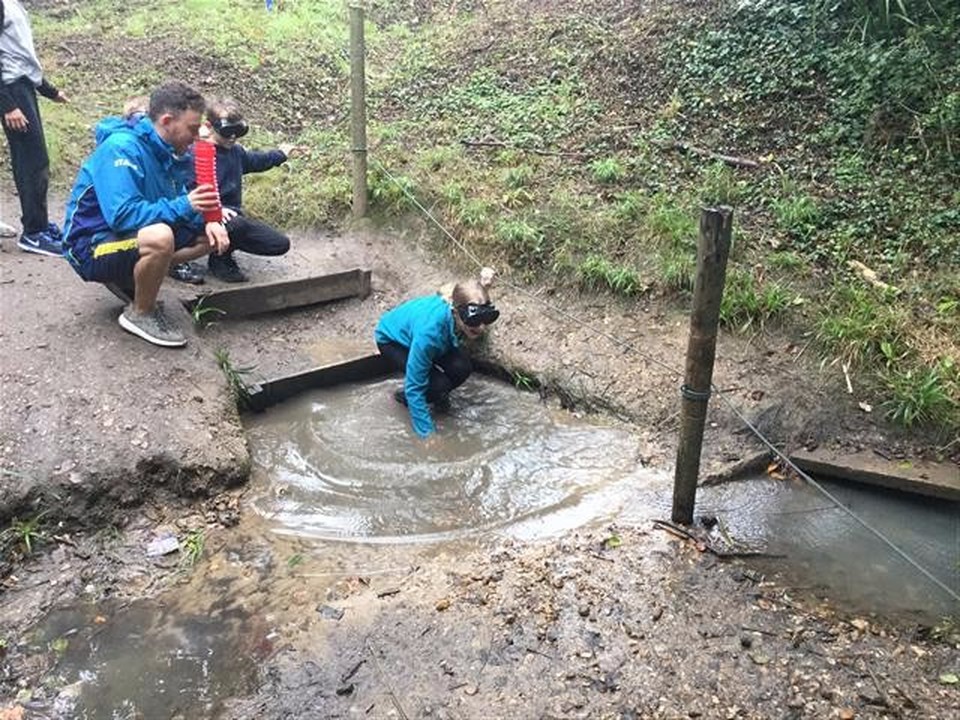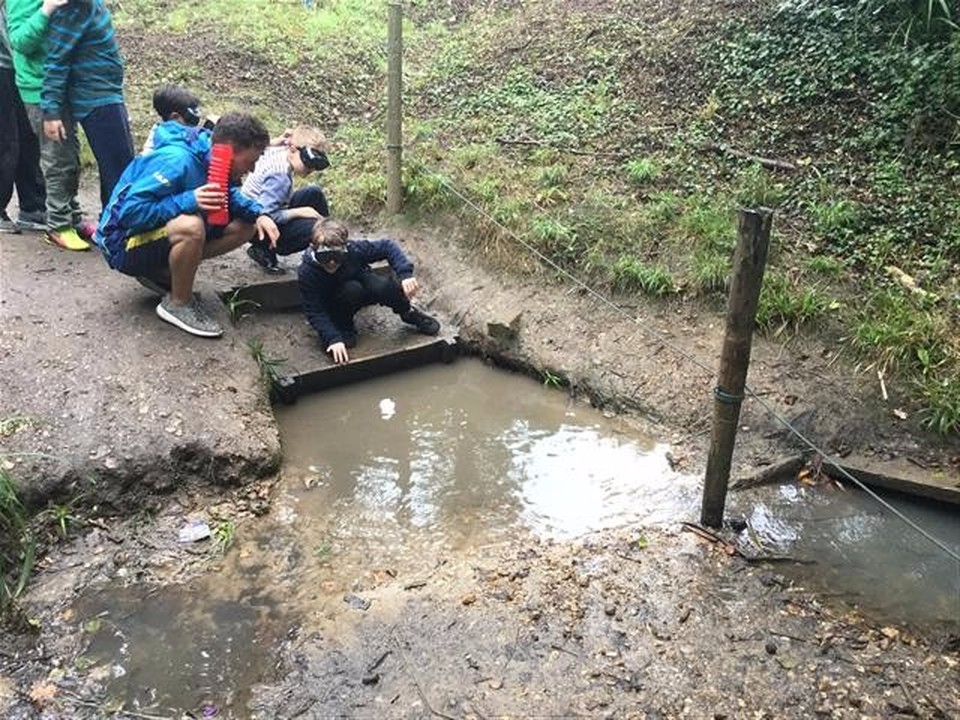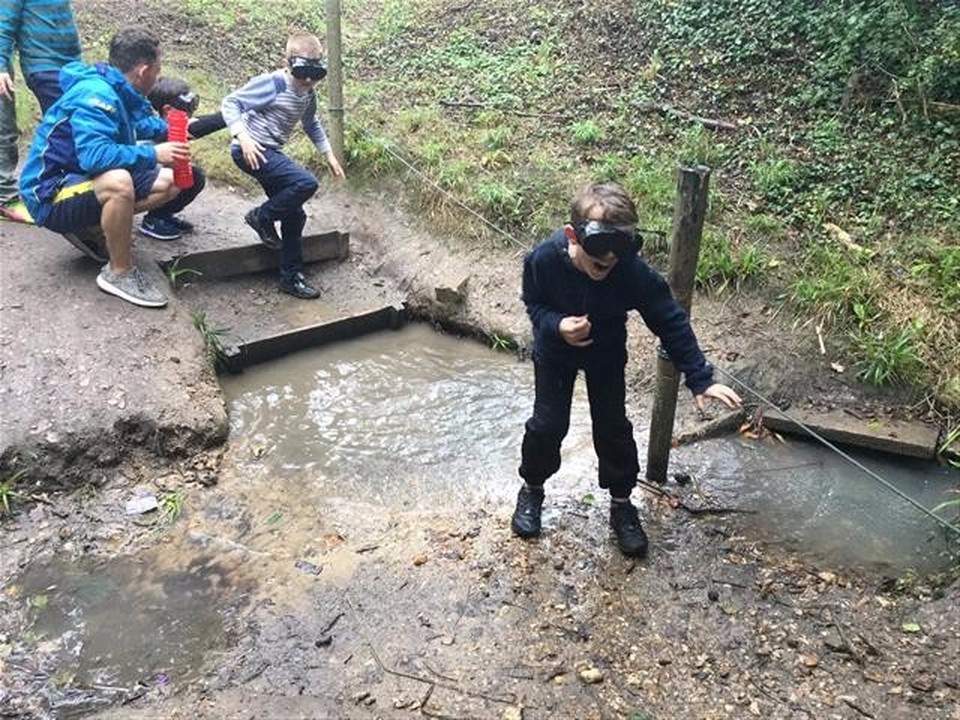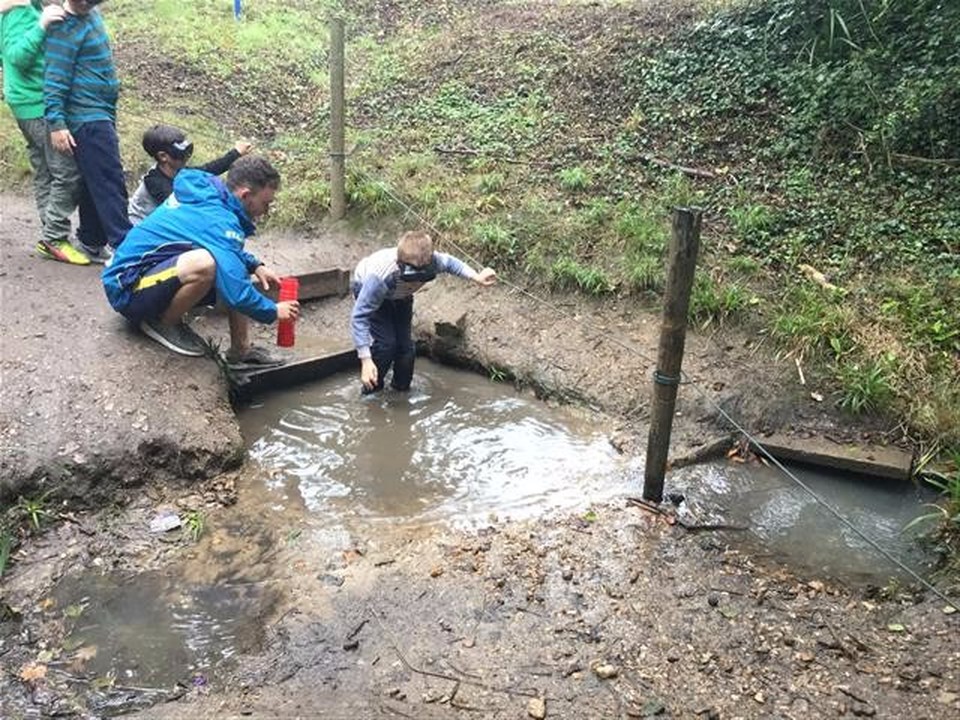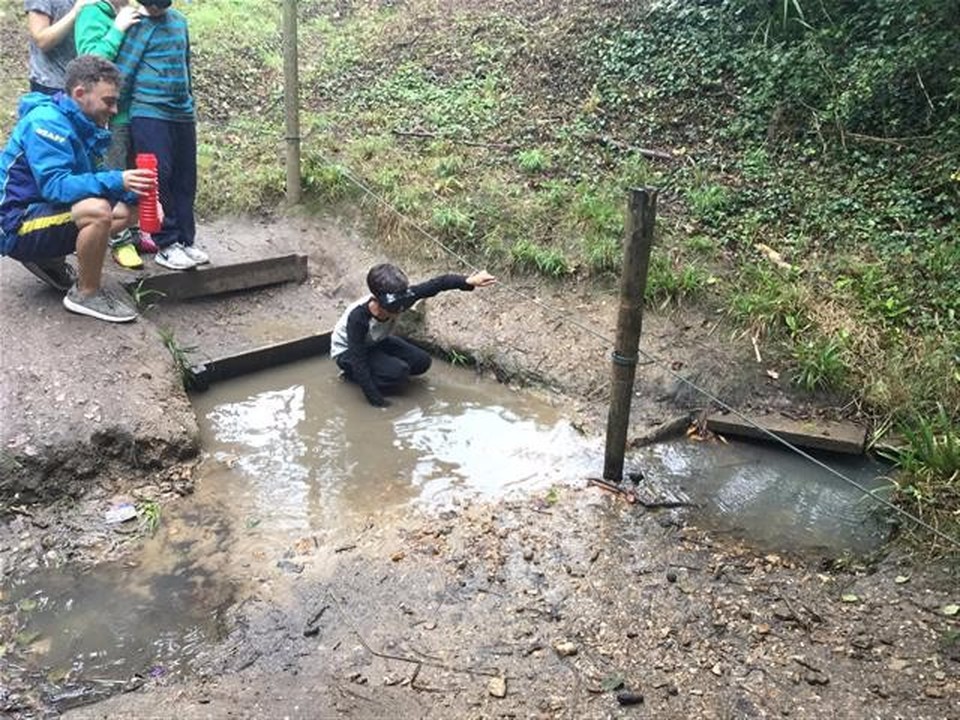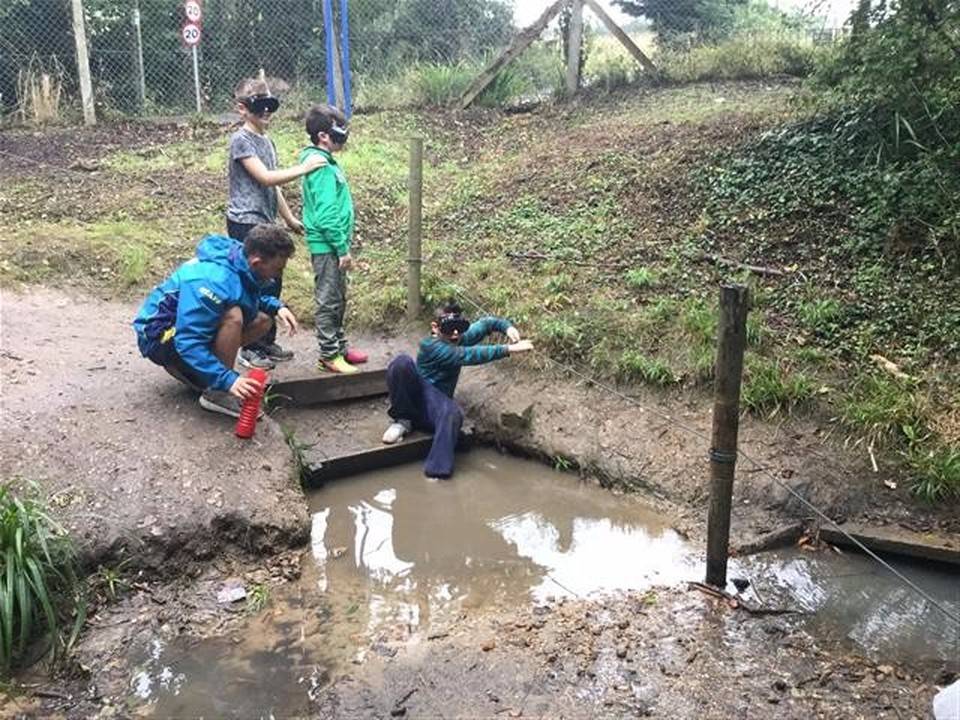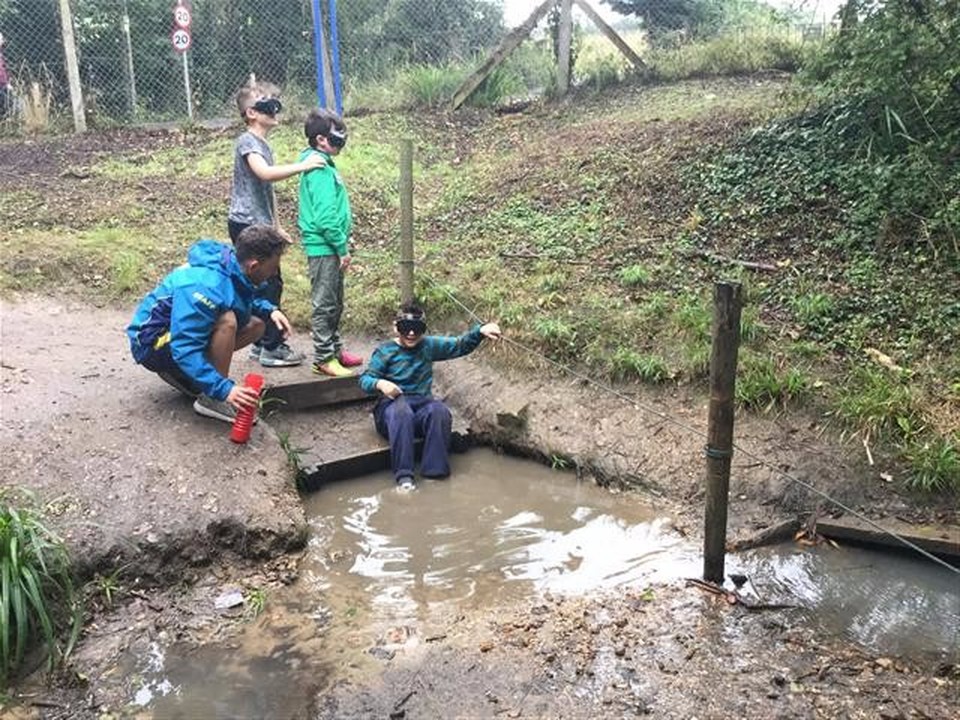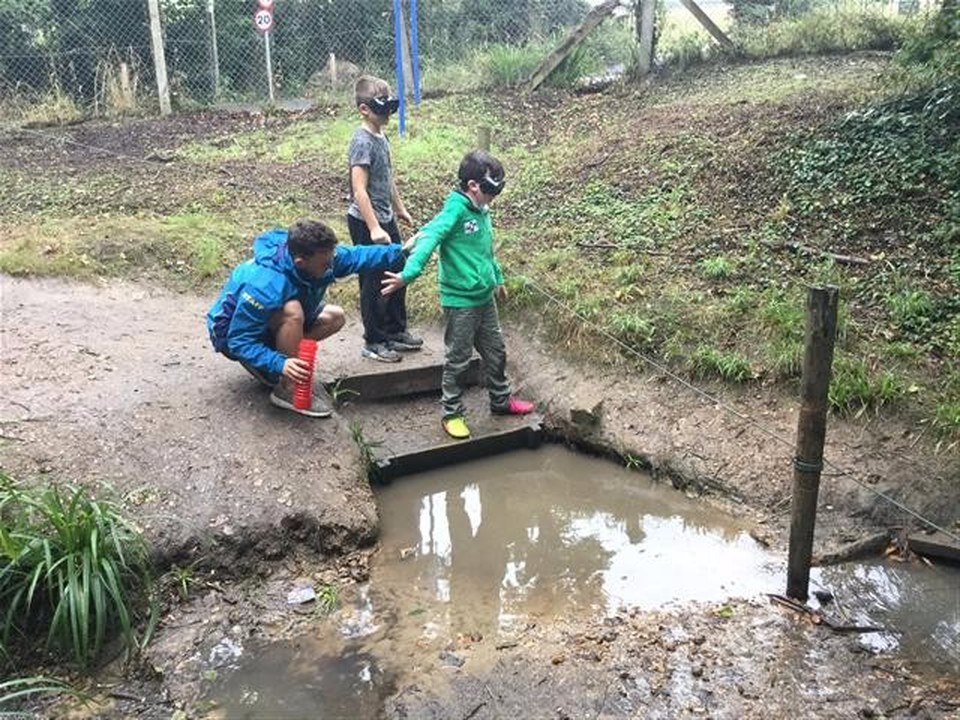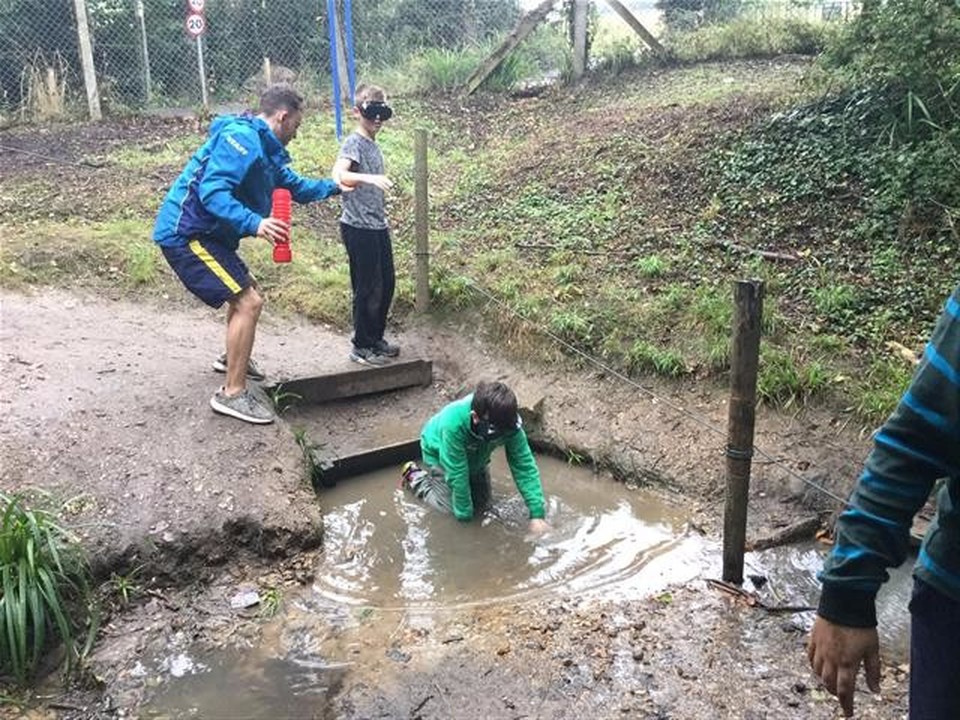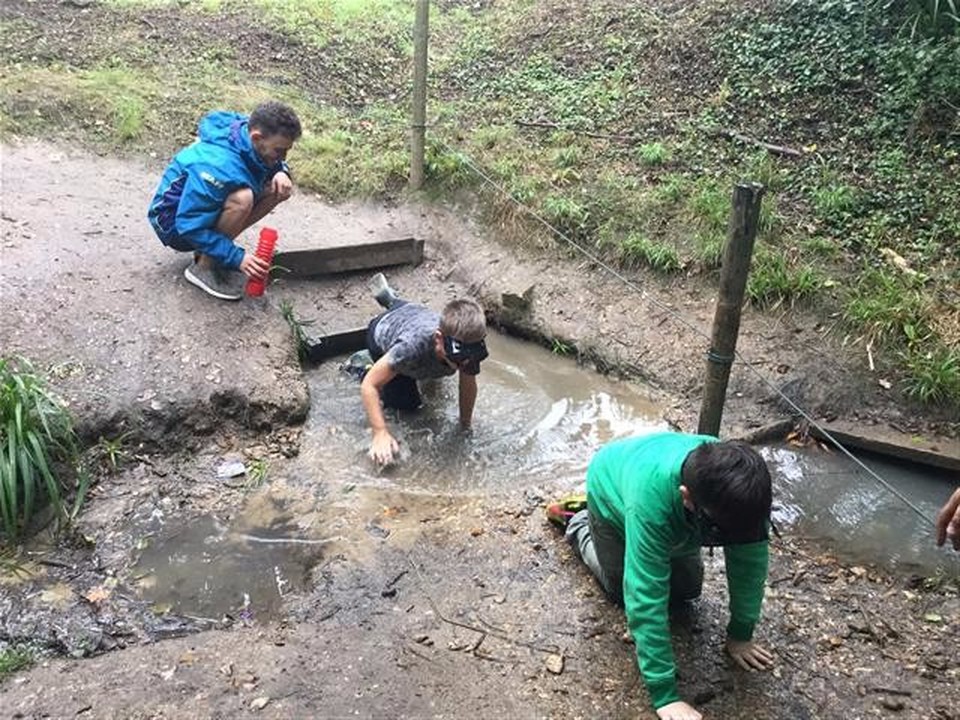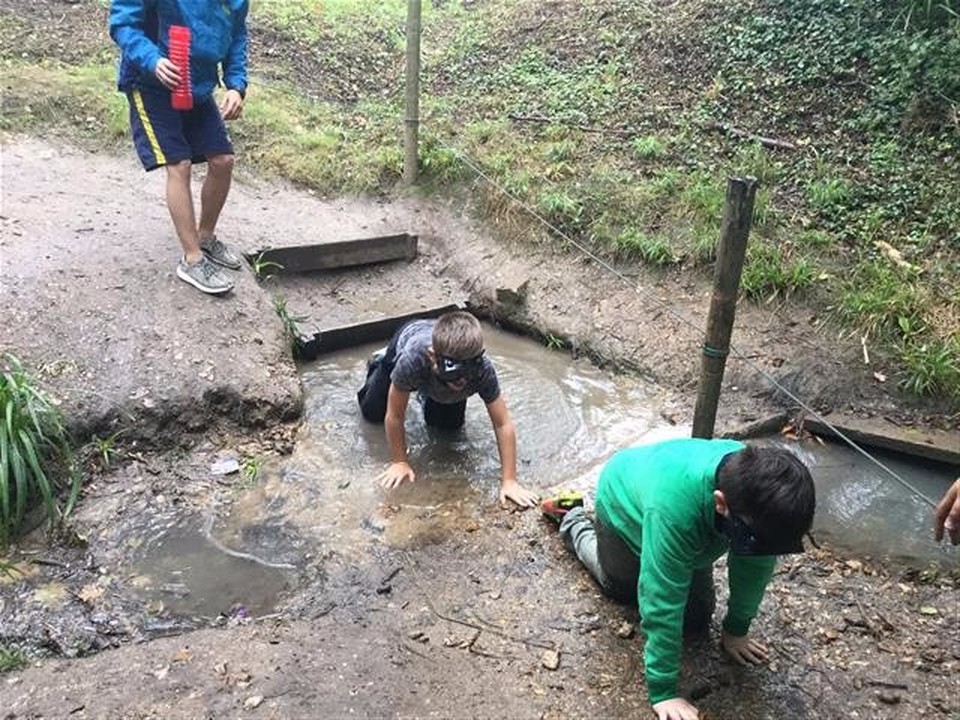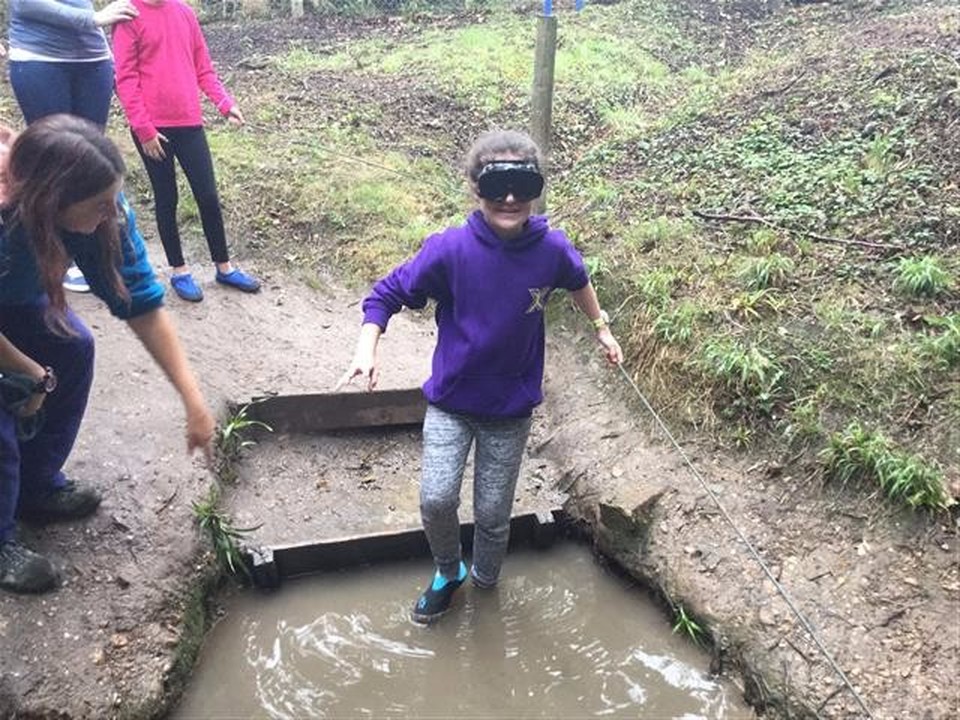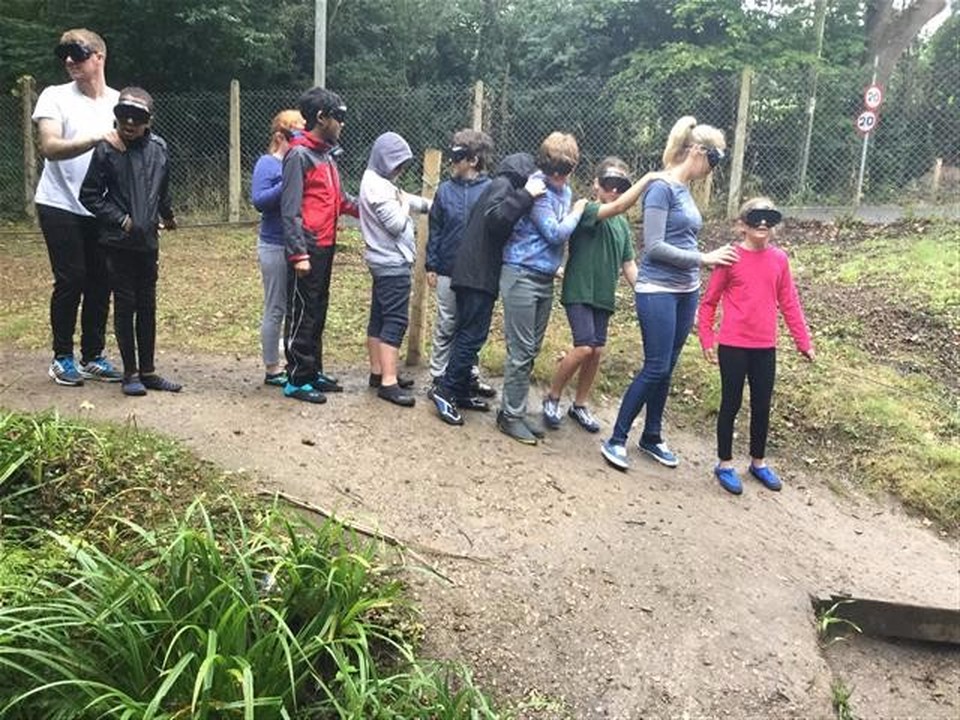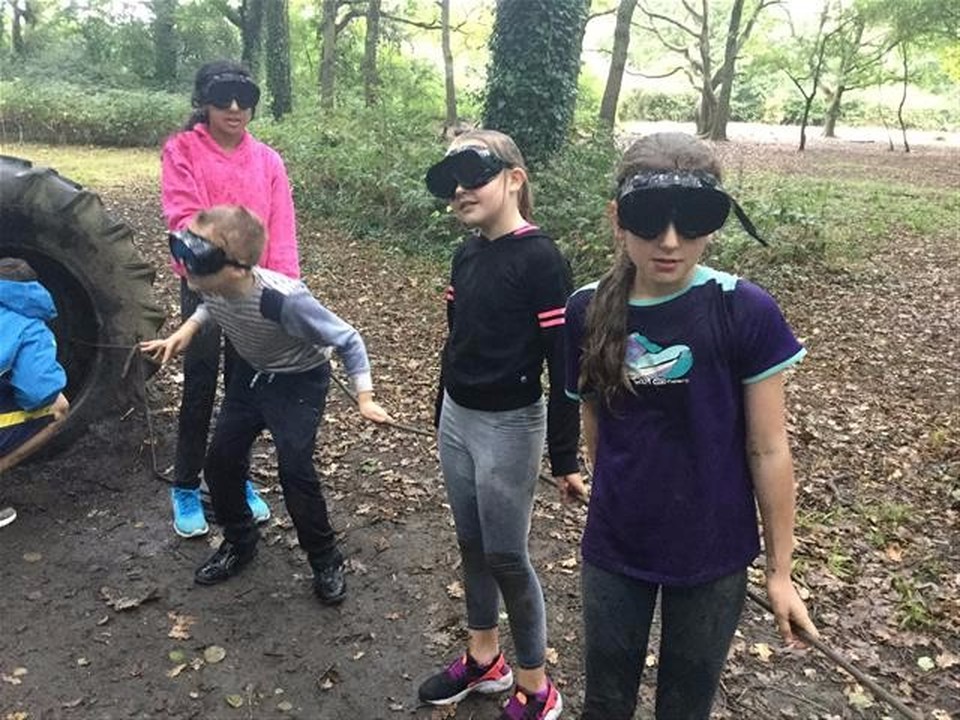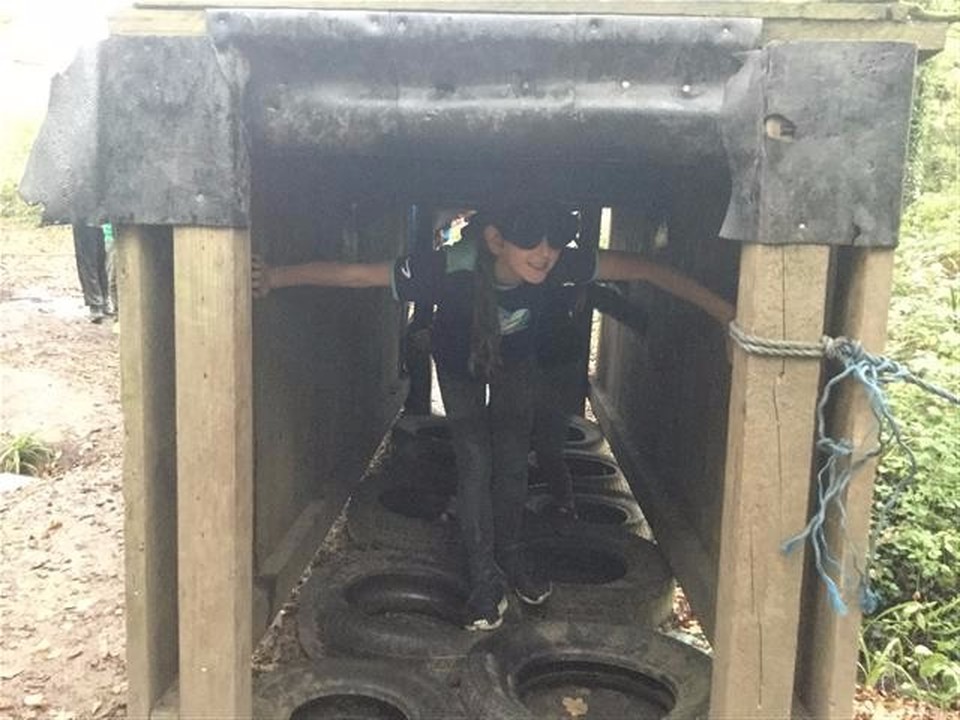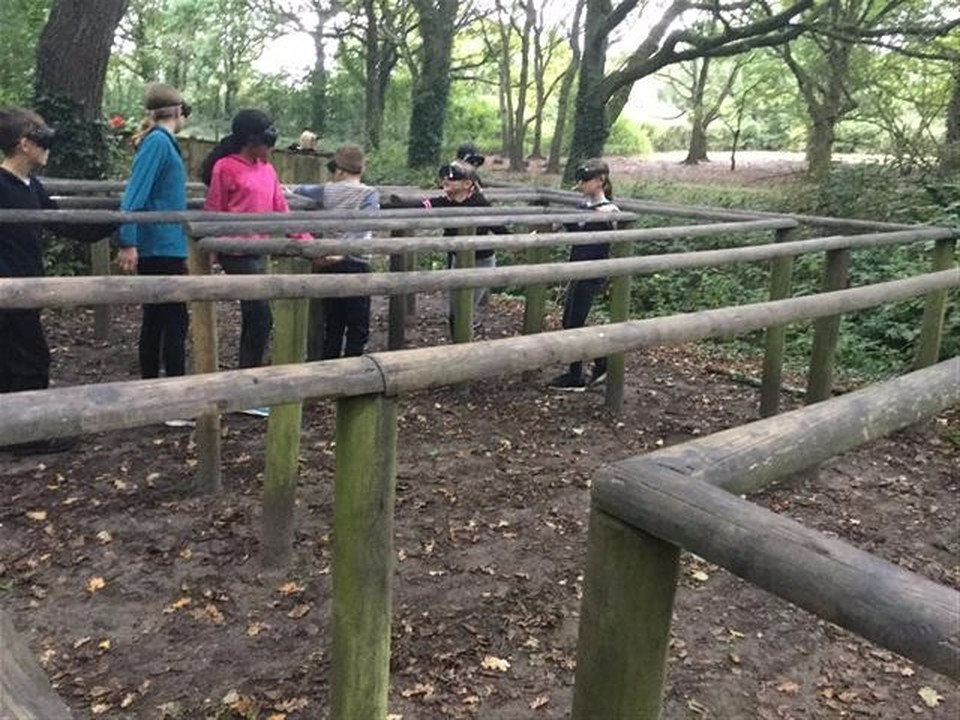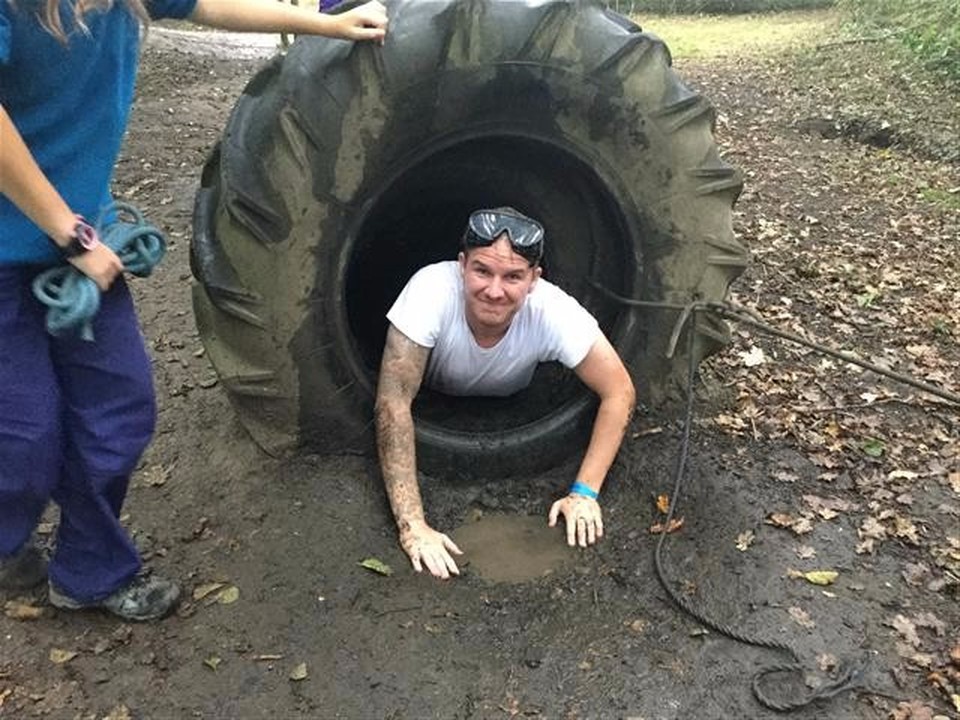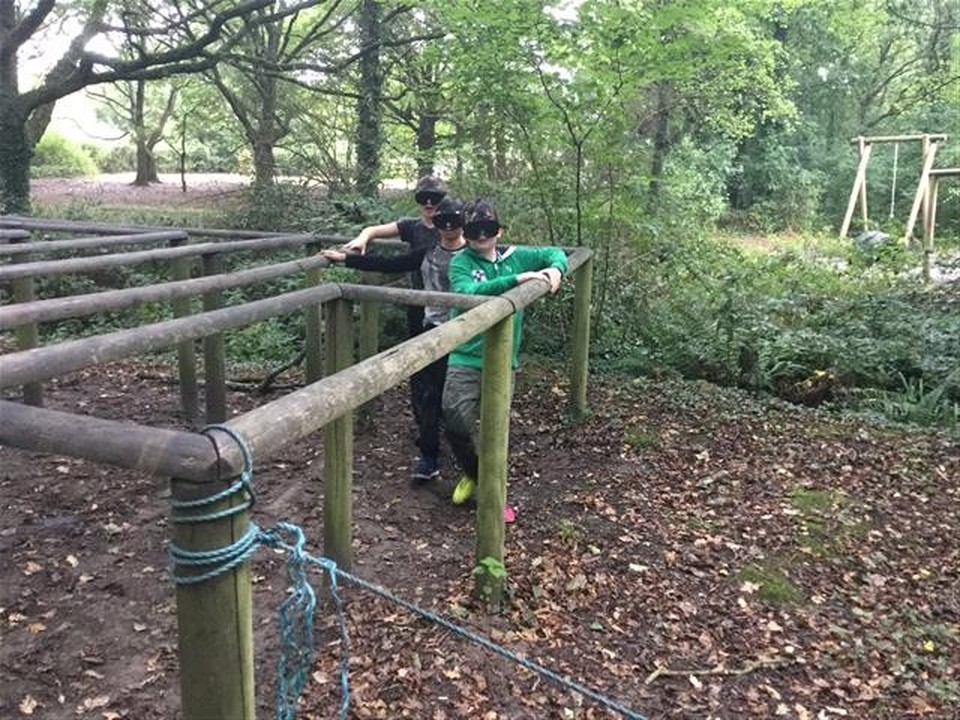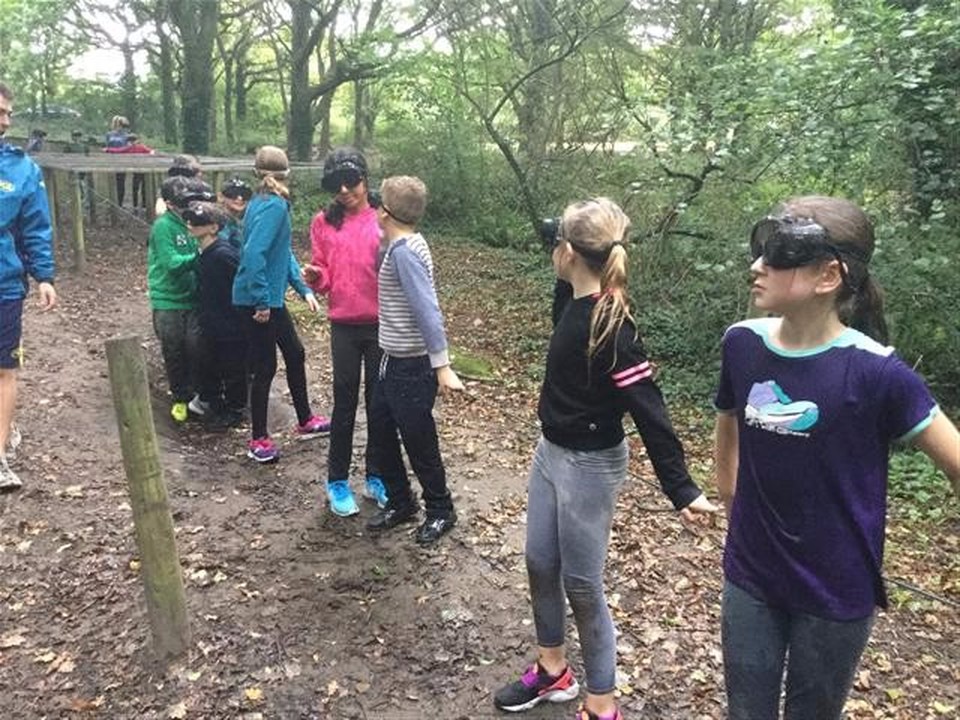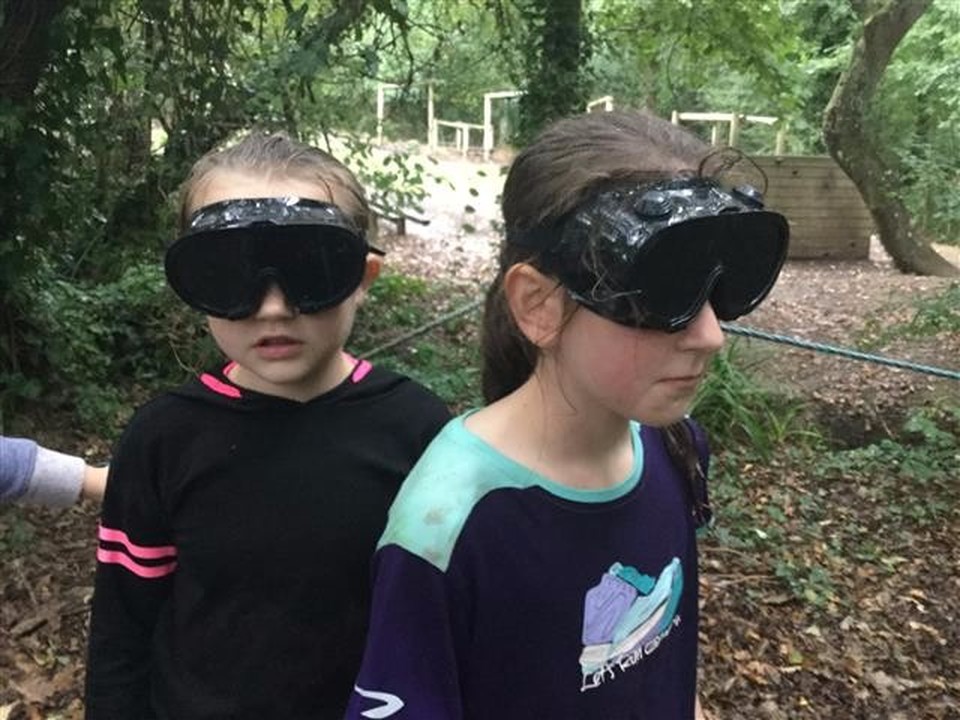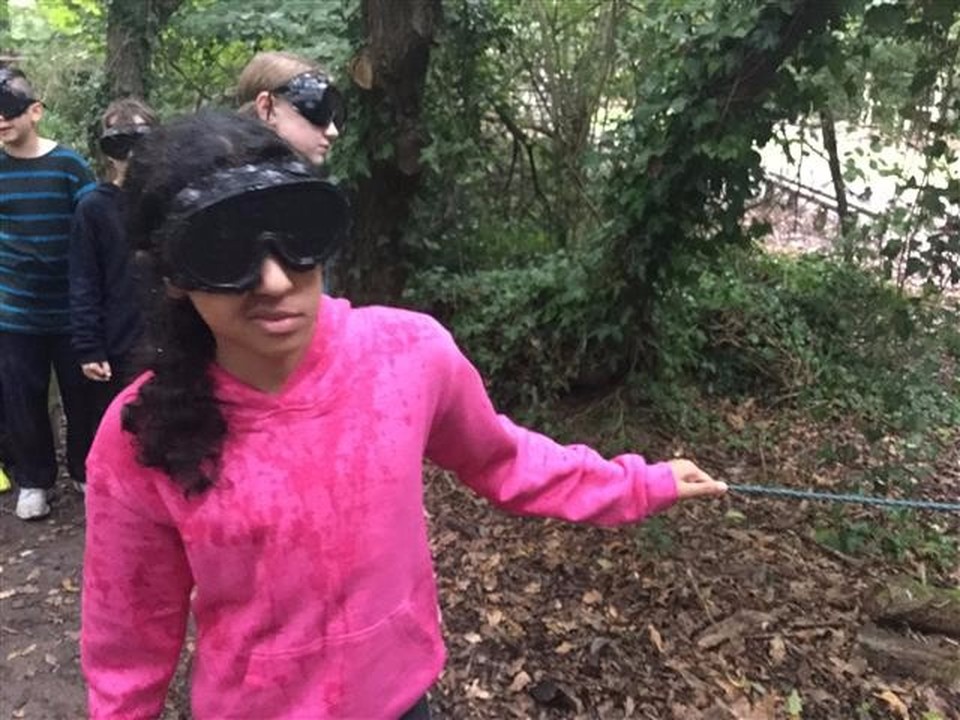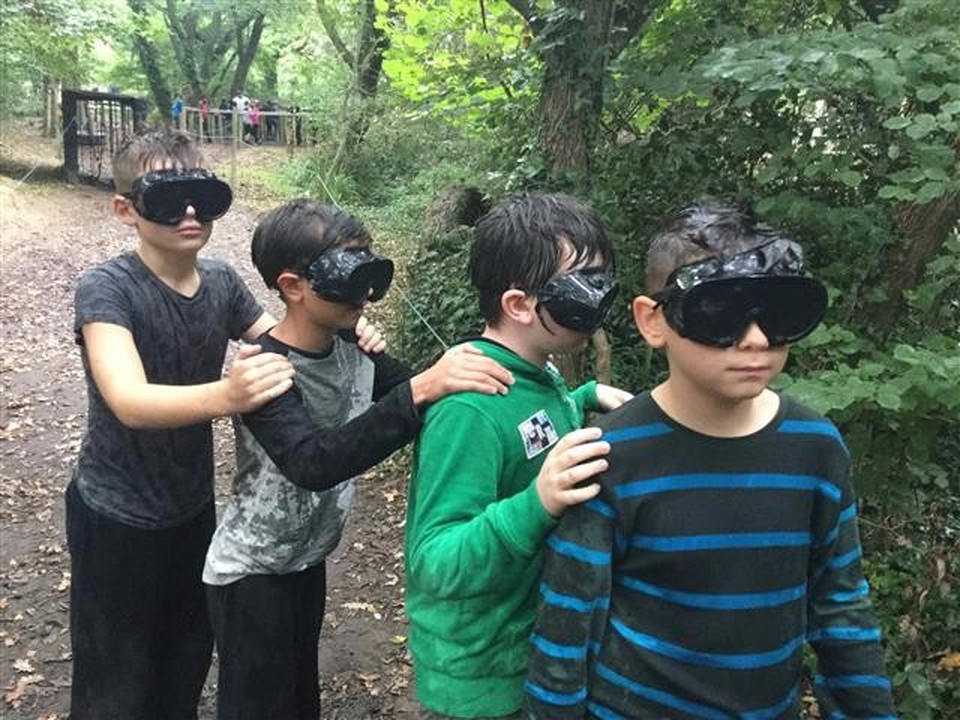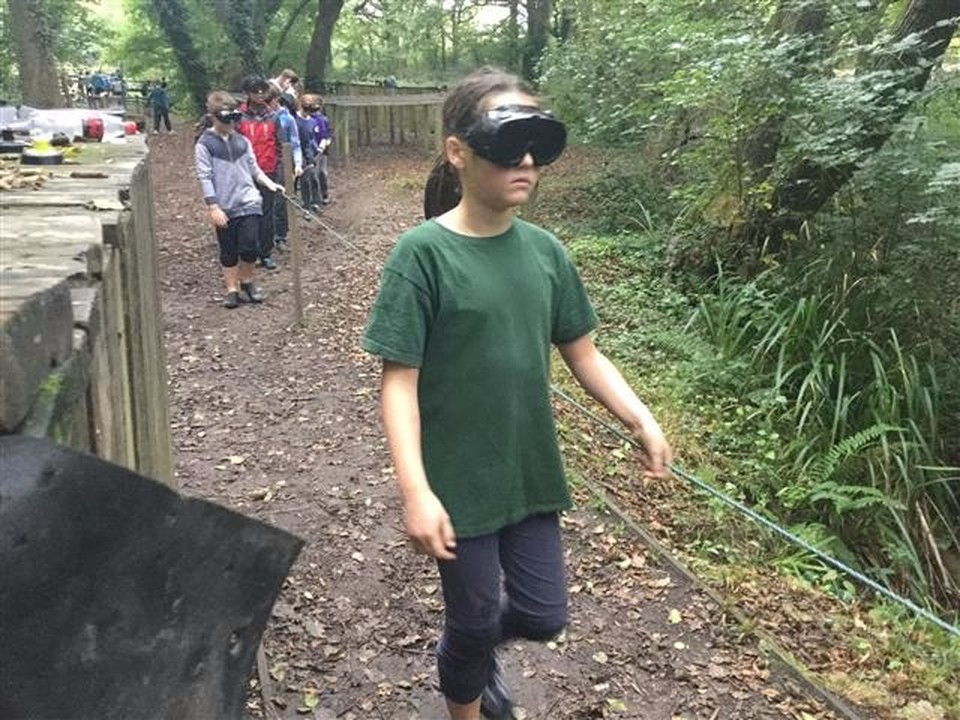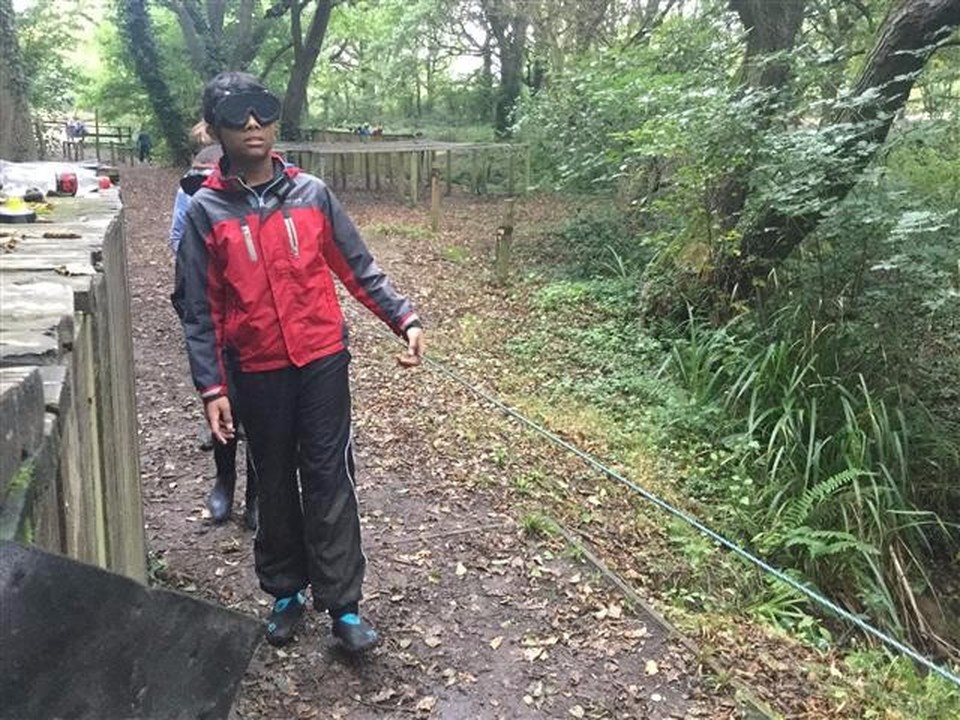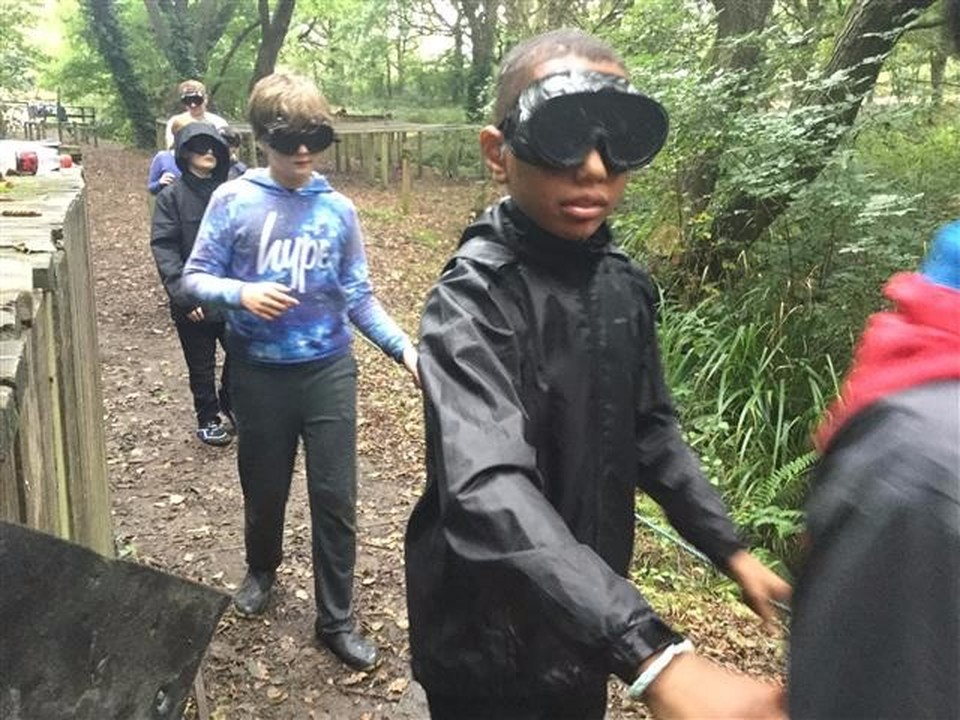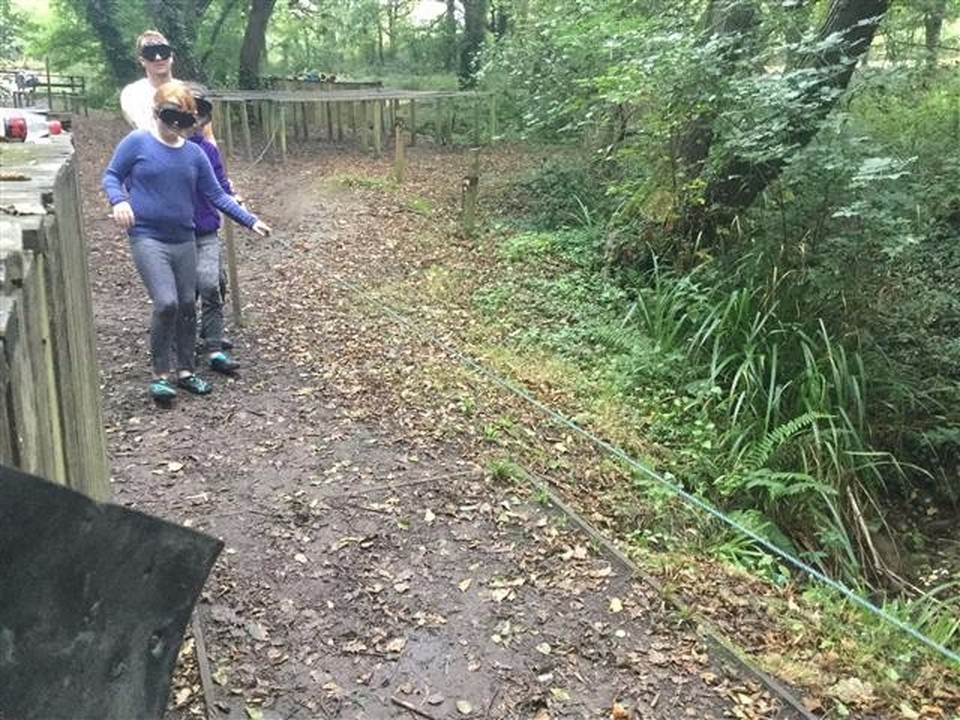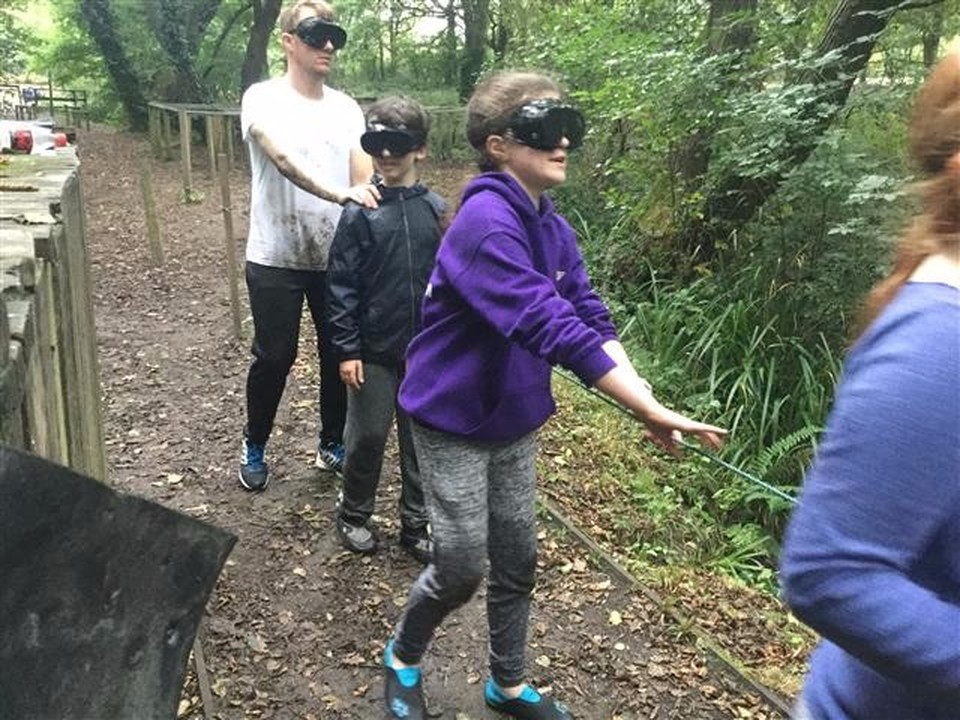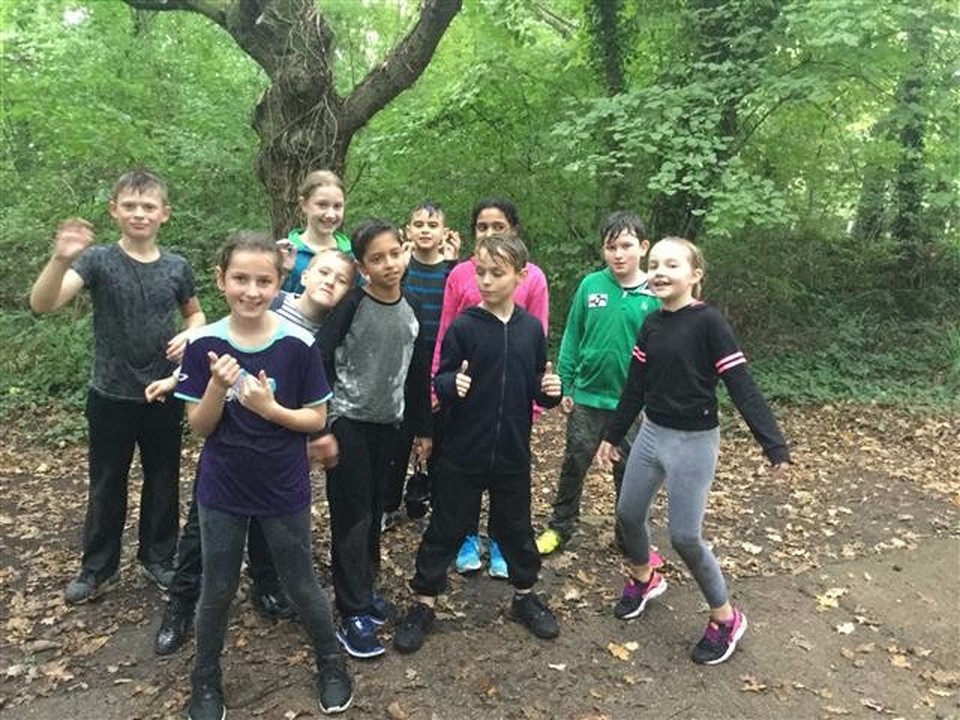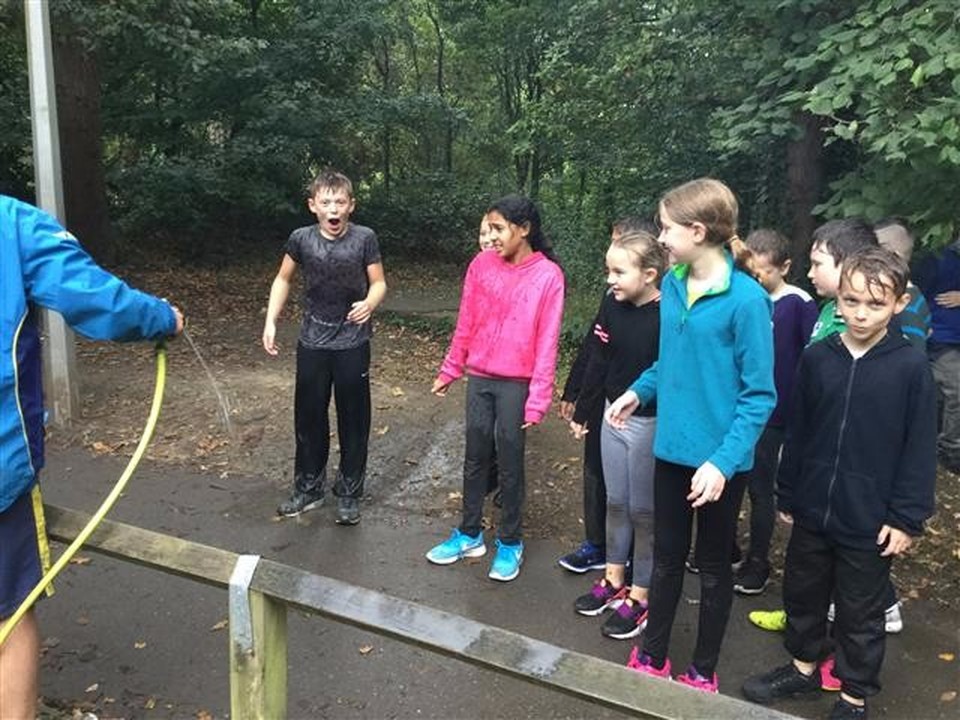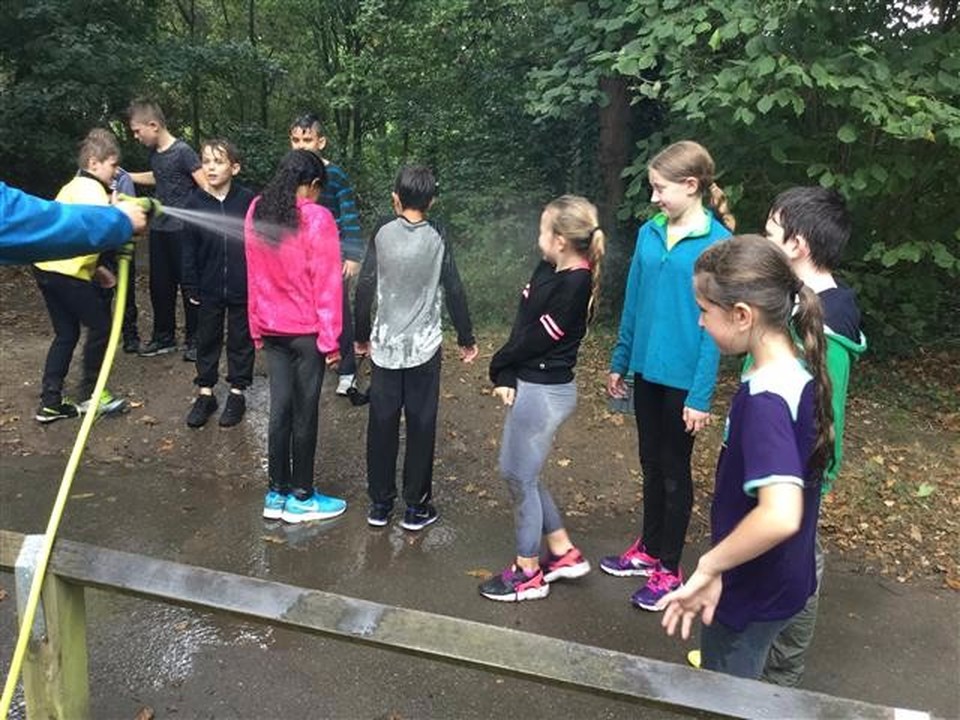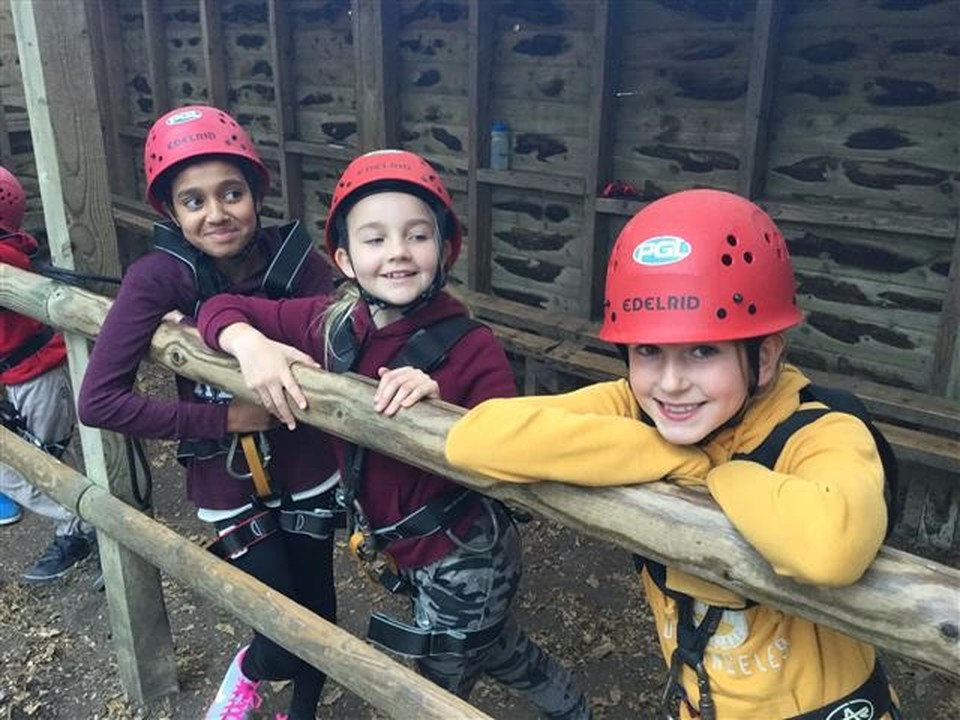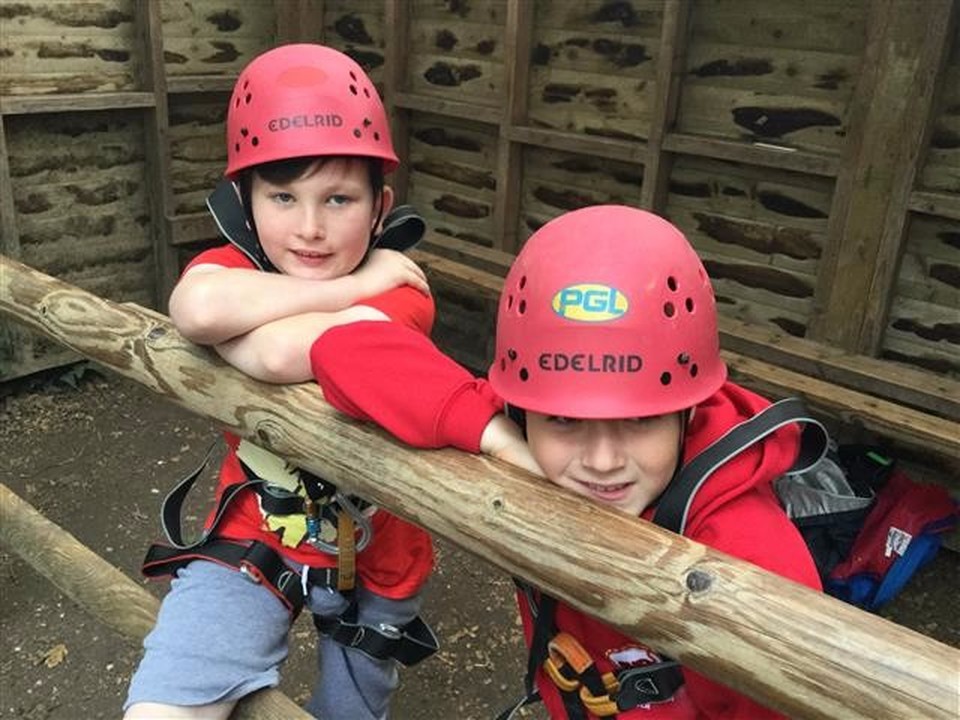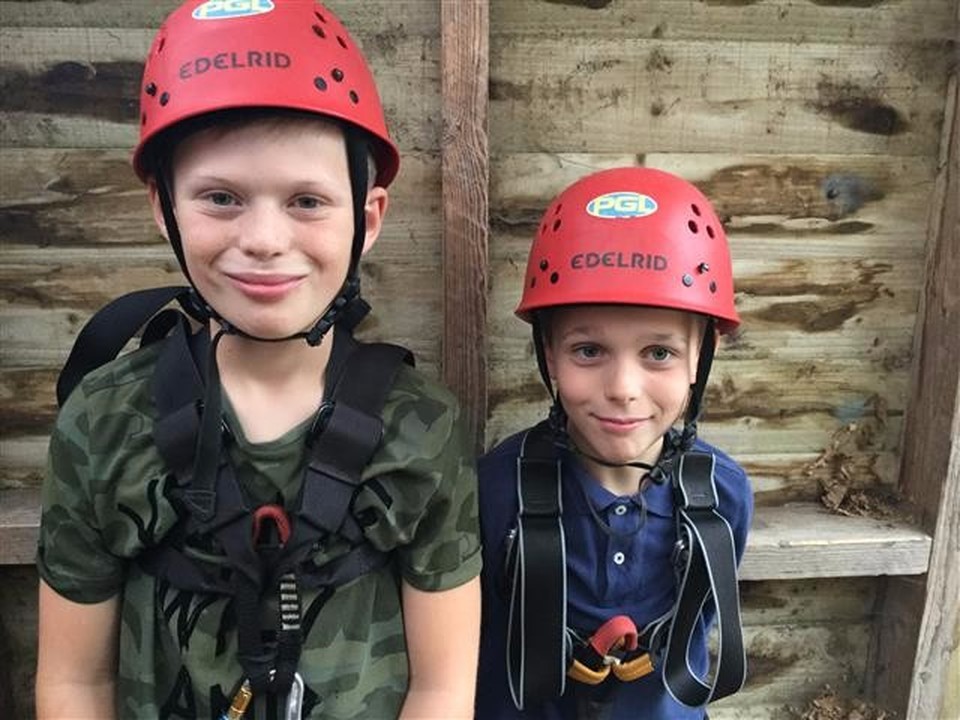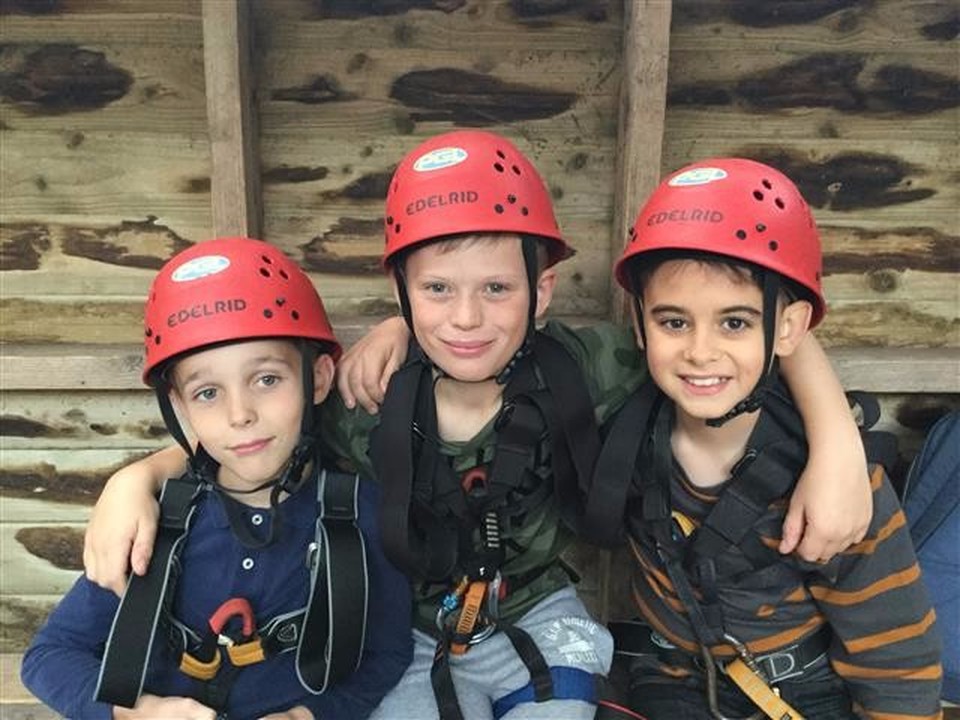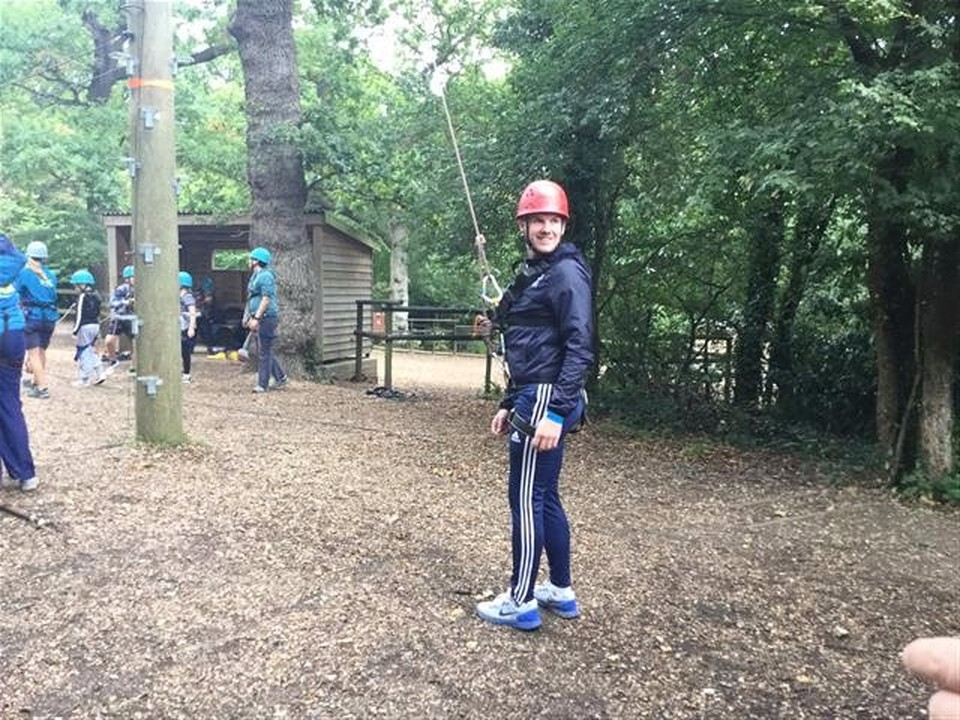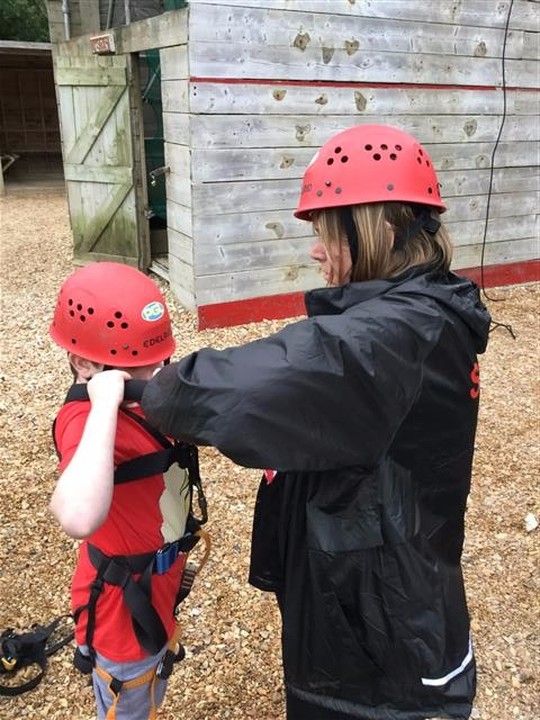 Curriculum Newsletter Autumn Term 1
Circus Skills Day - 24th June 2016
What a great day we had today learning some circus skills! We learnt how to balance a feather, spin a plate and juggle scarves! Who knew that Year 6 could be so happy with some feathers, material and a plastic plate! Thanks to the PFA for funding this brilliant workshop!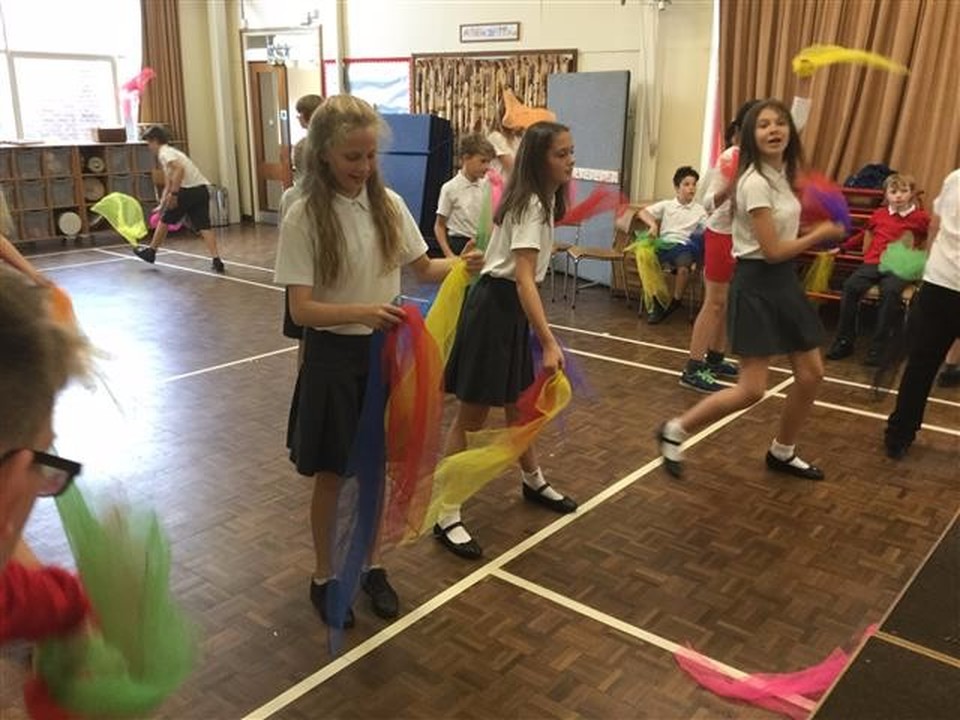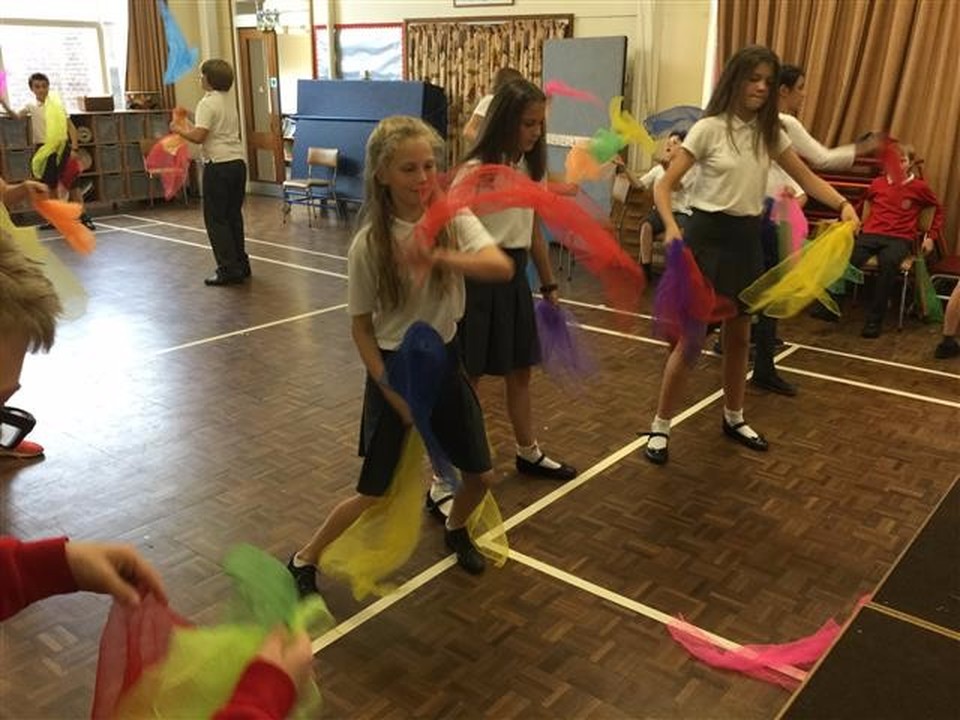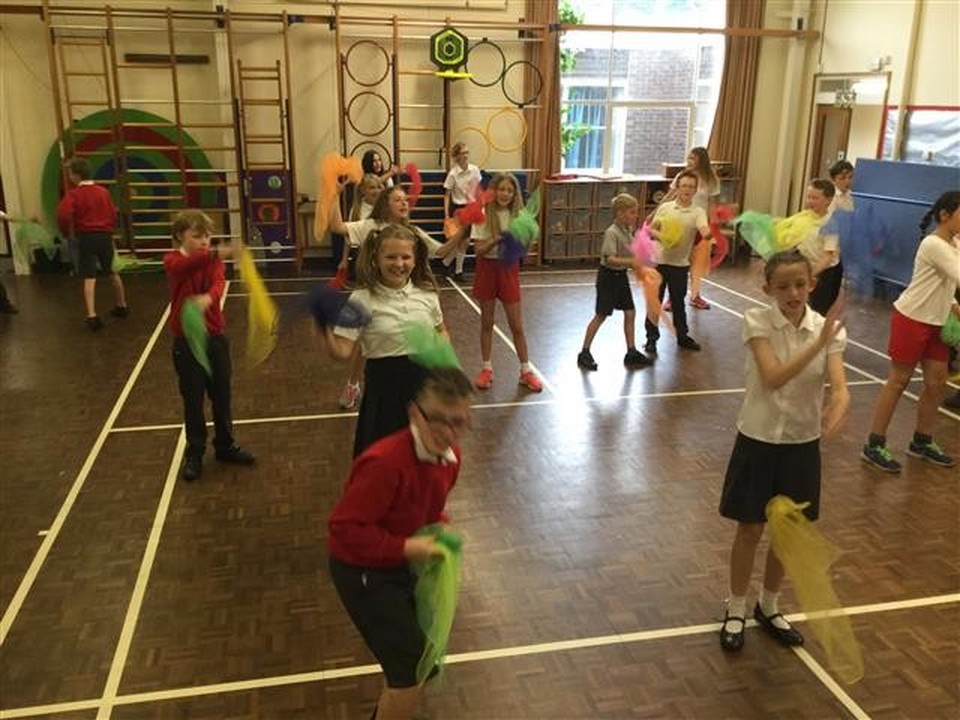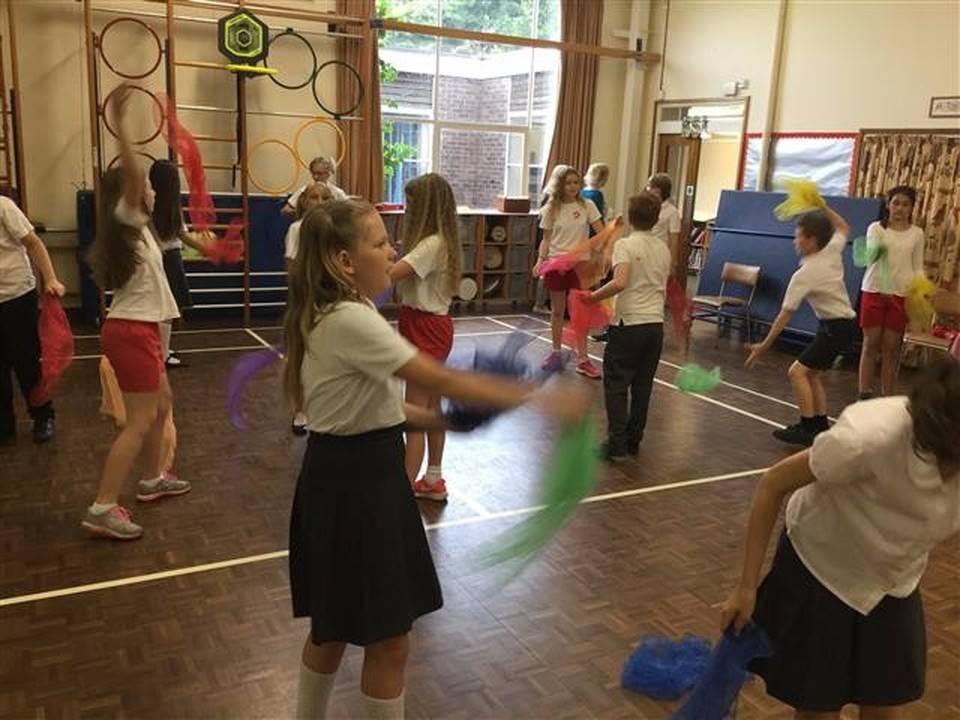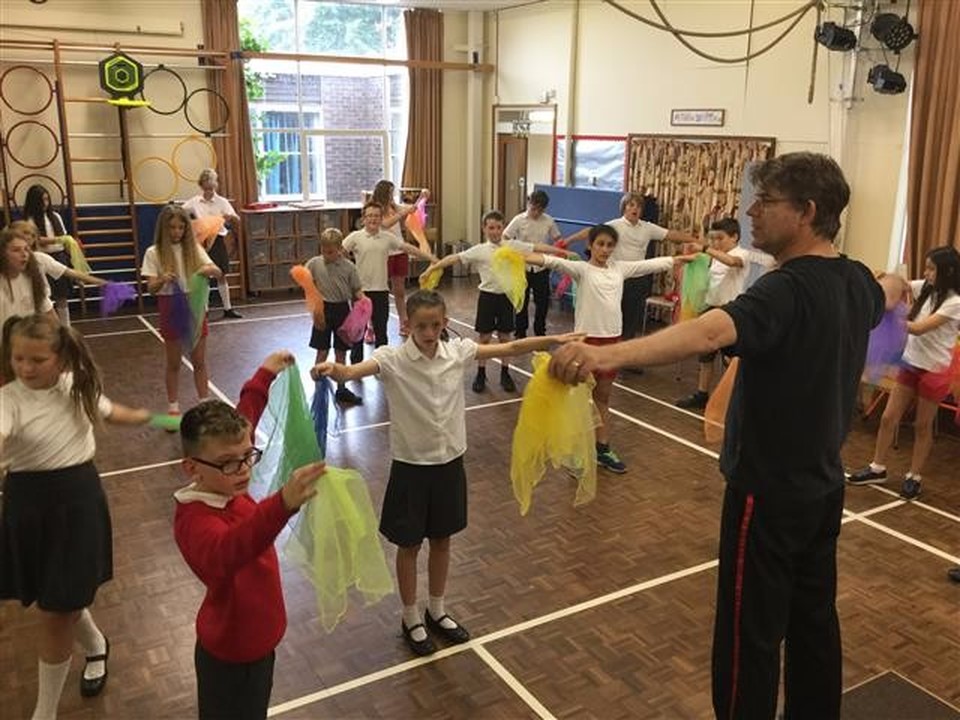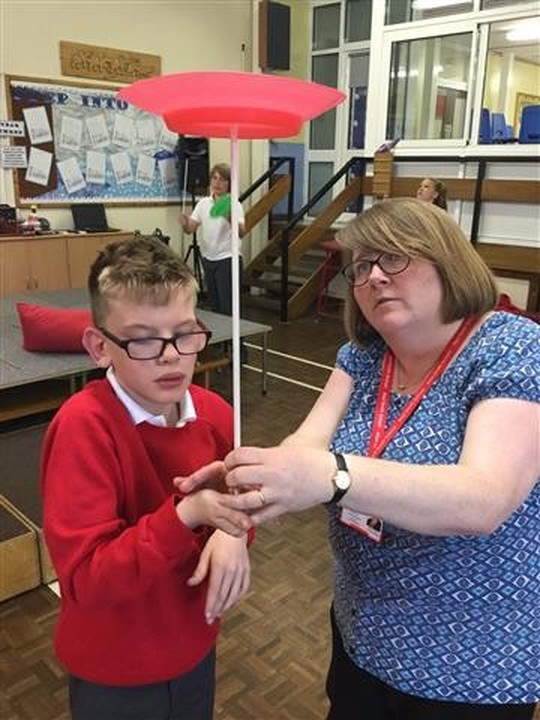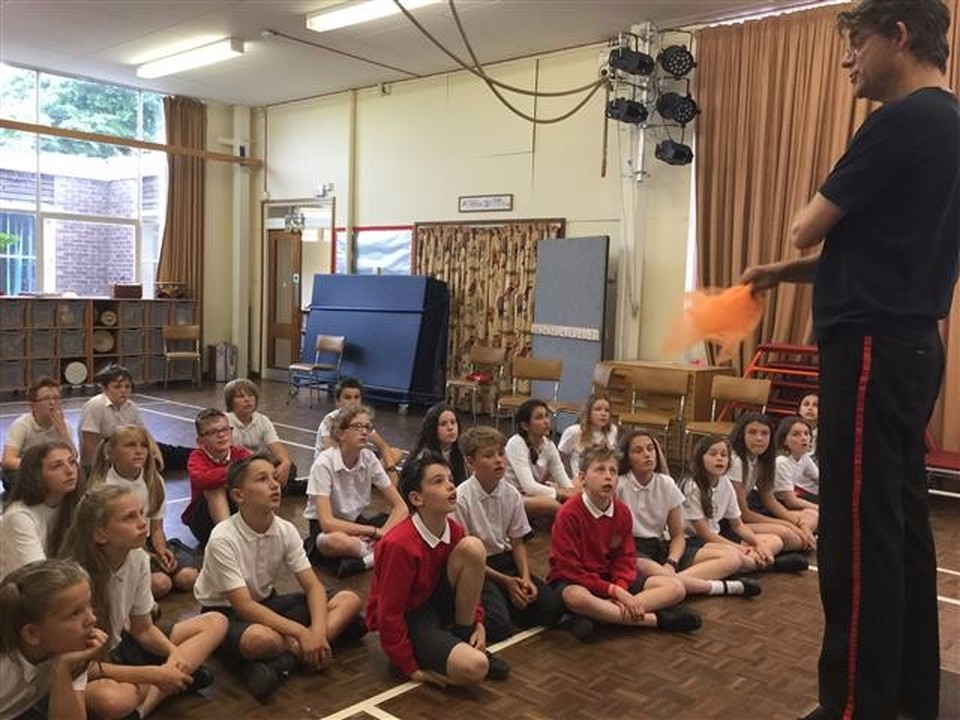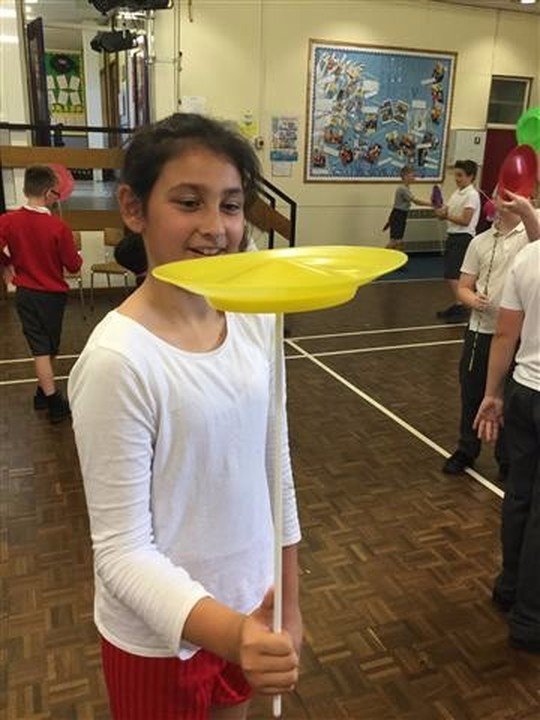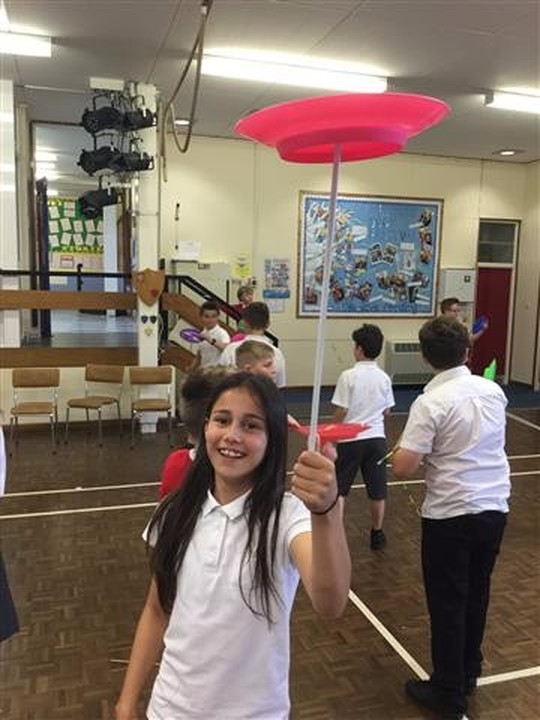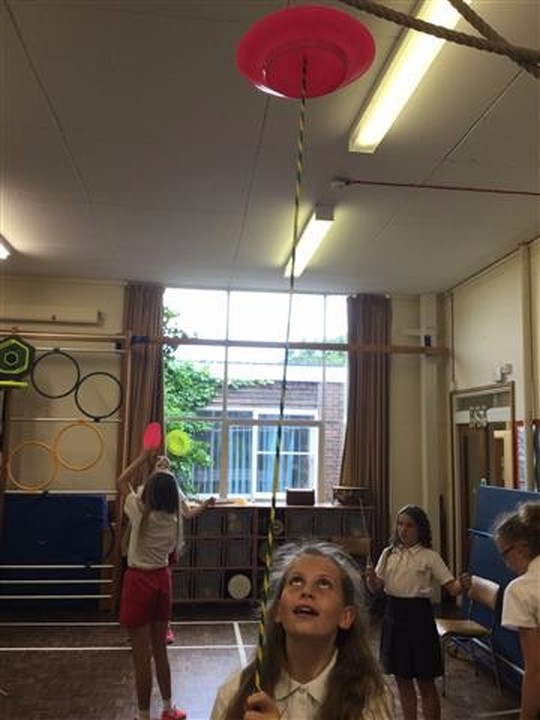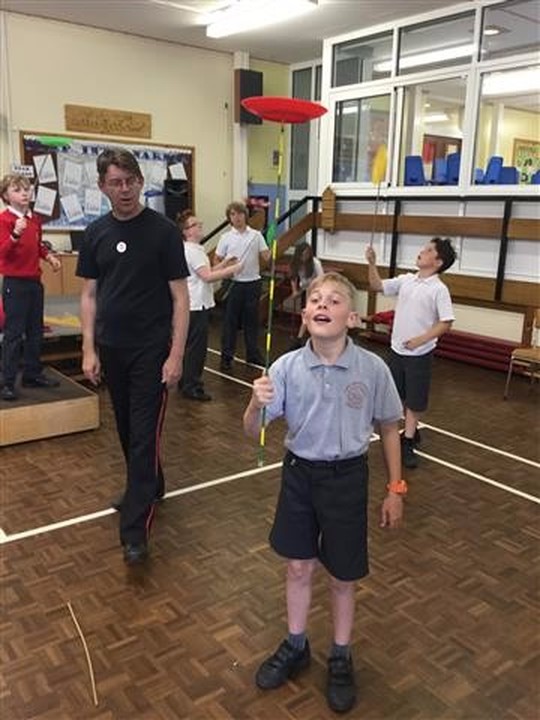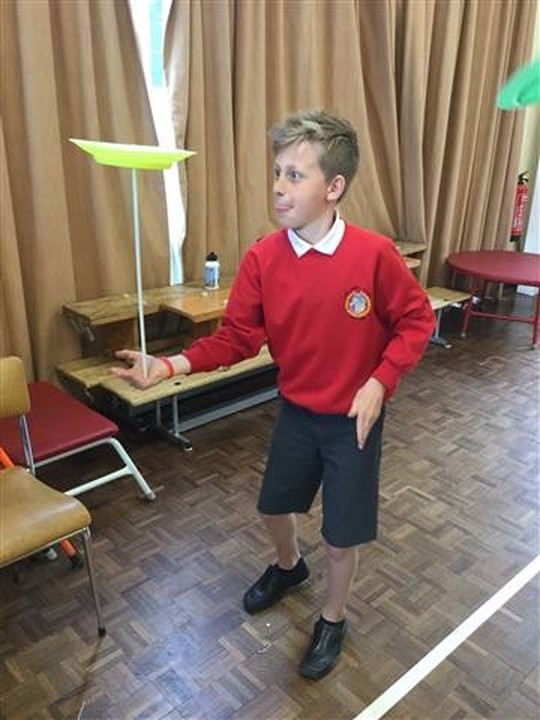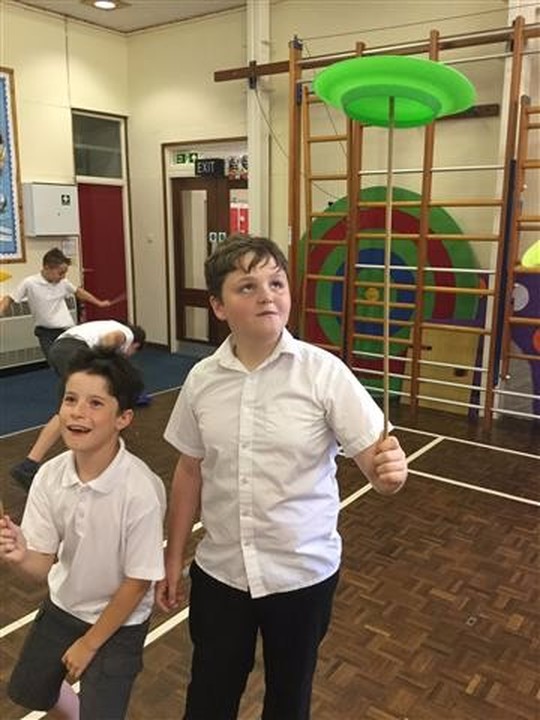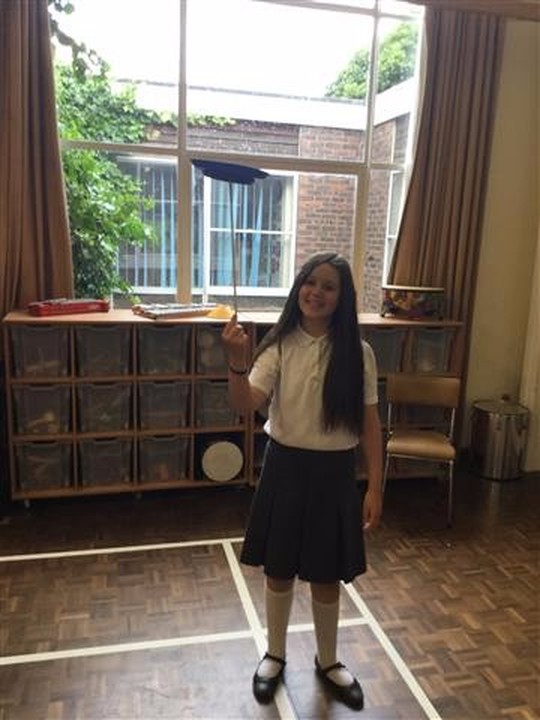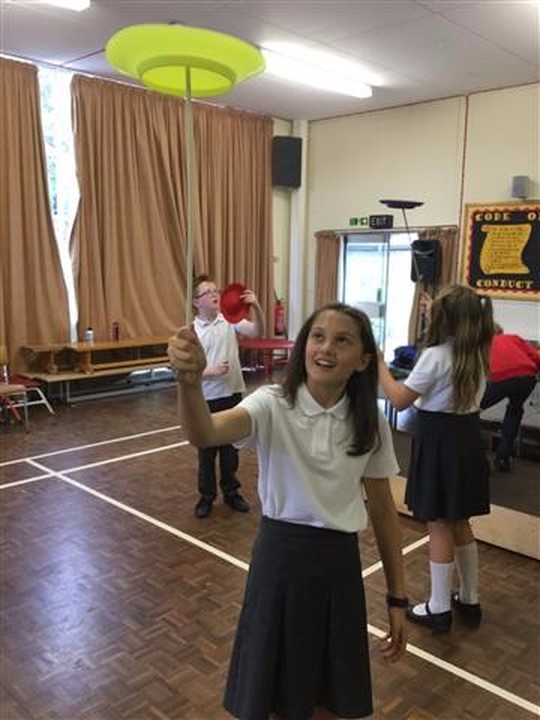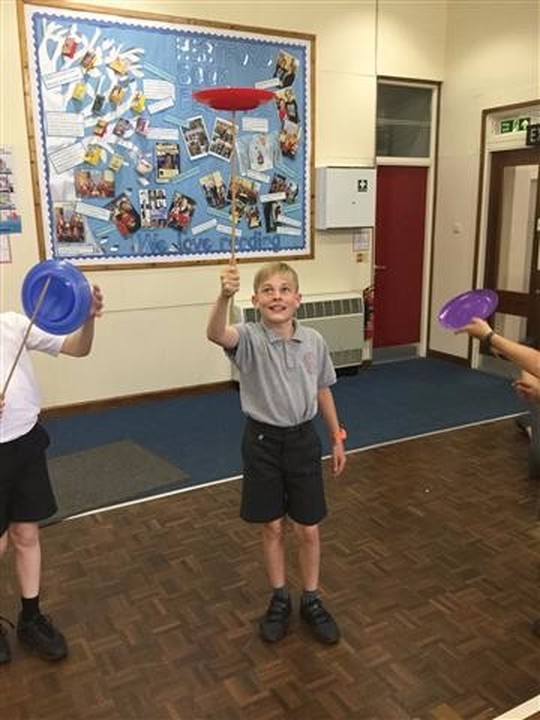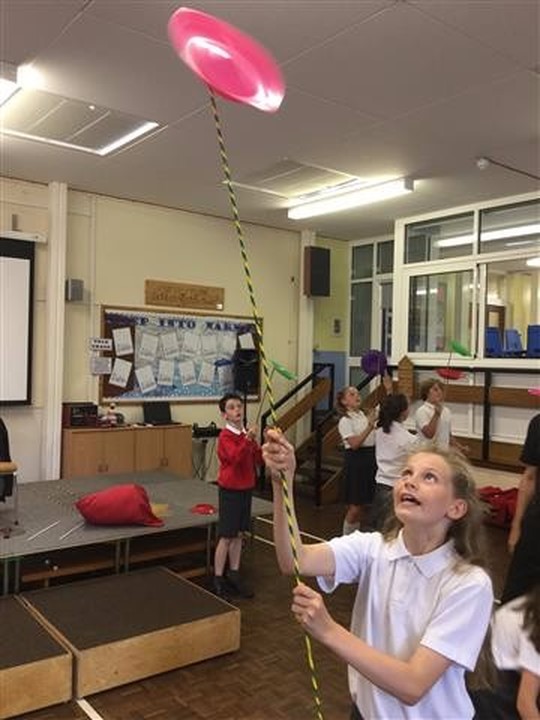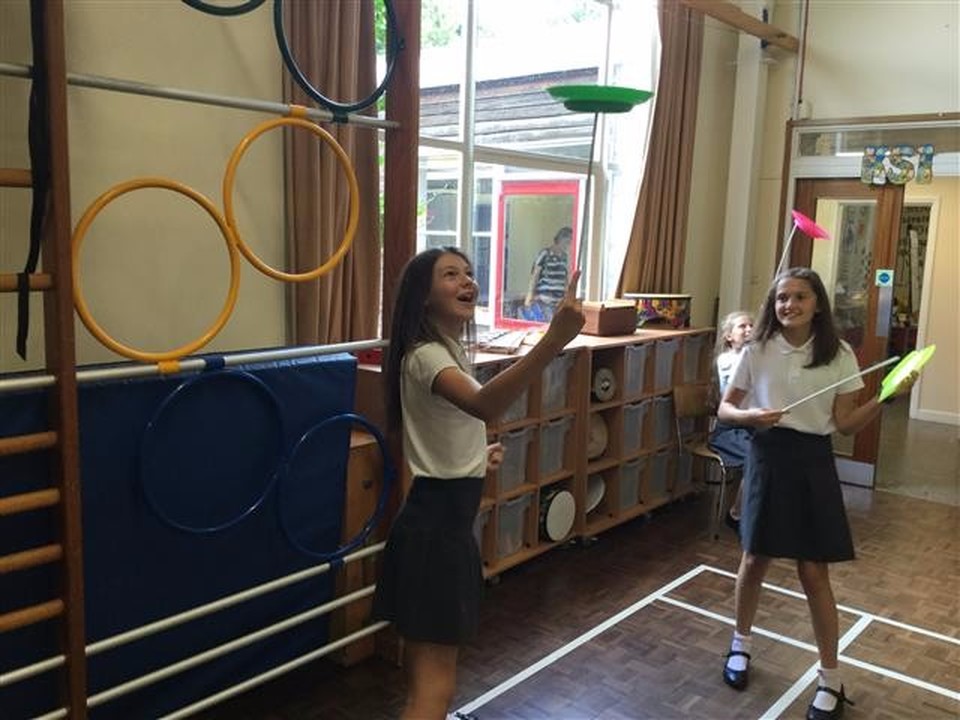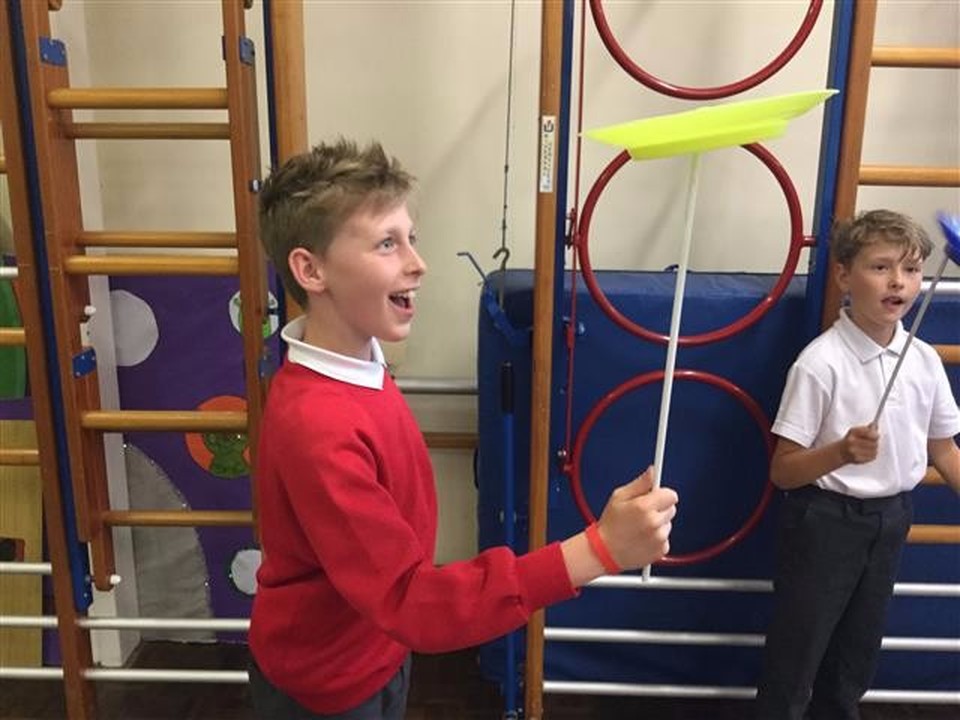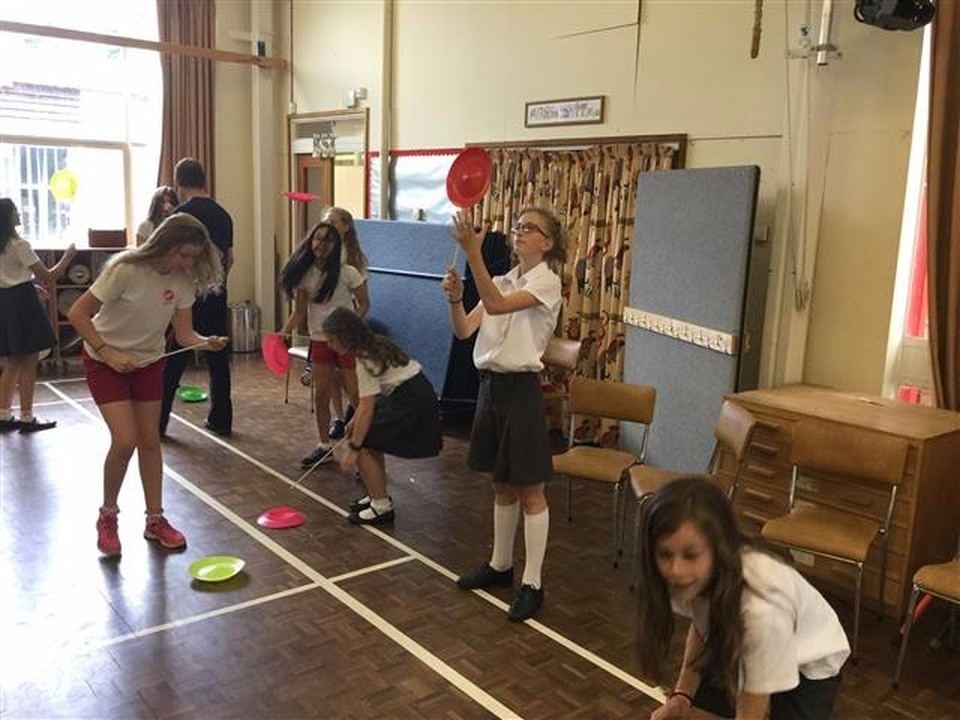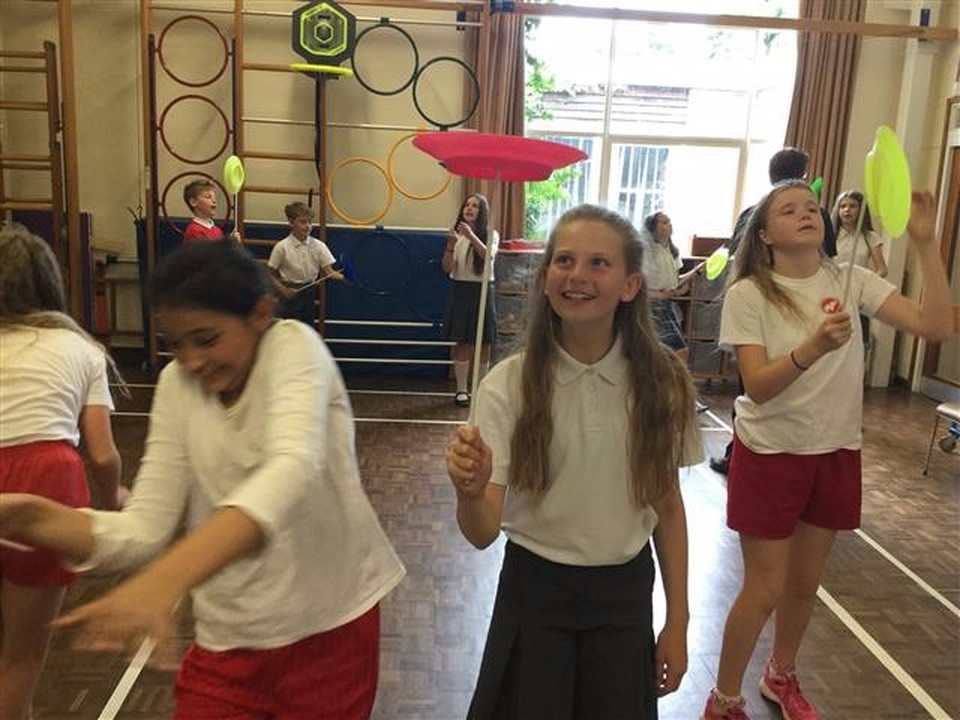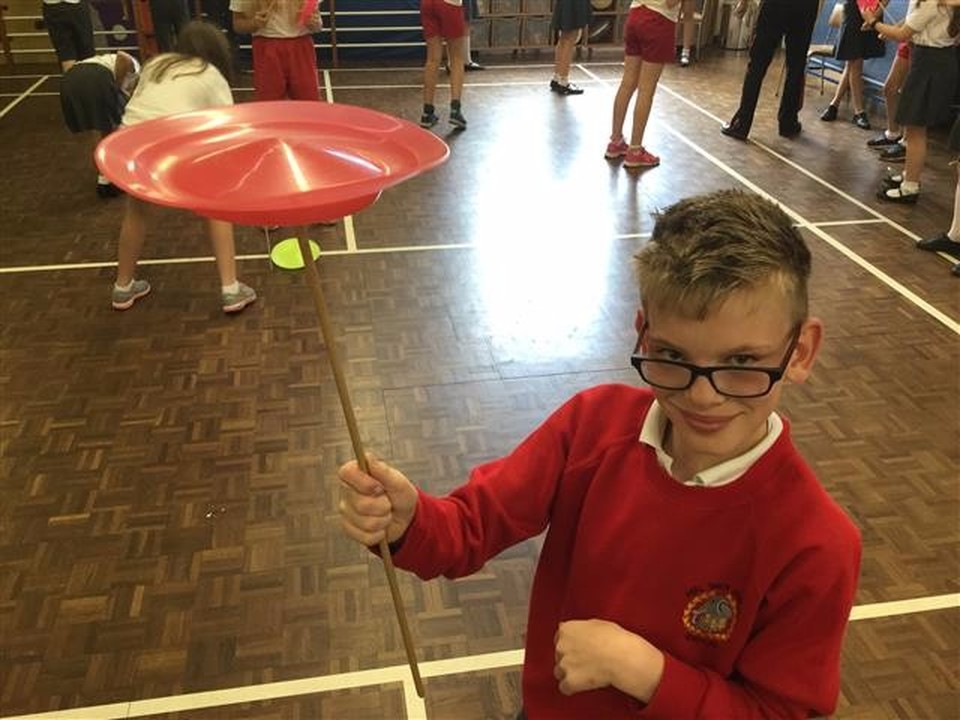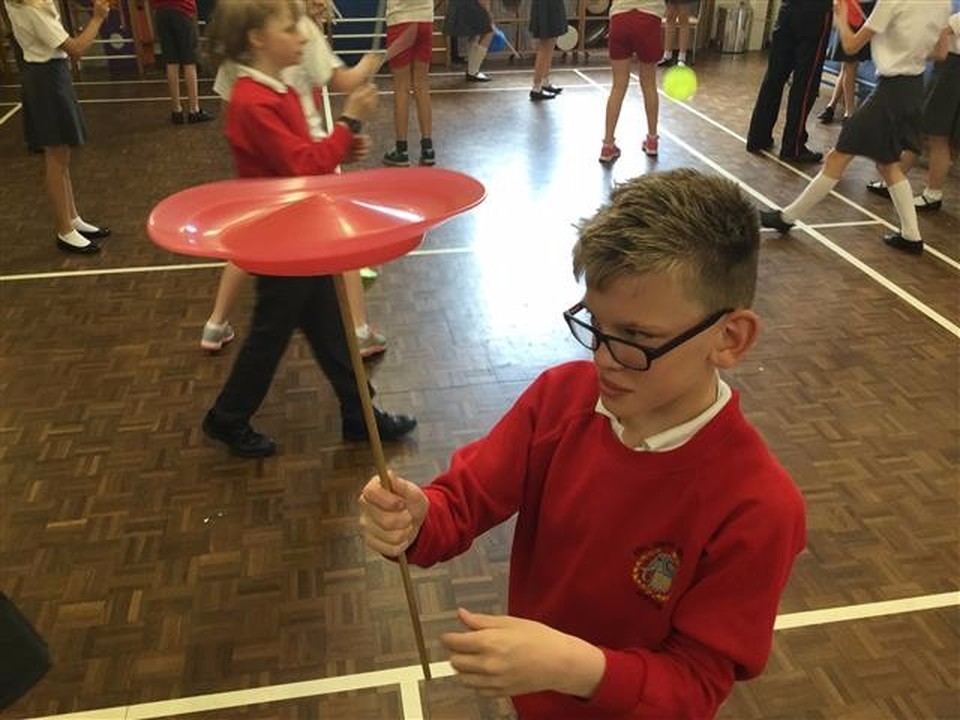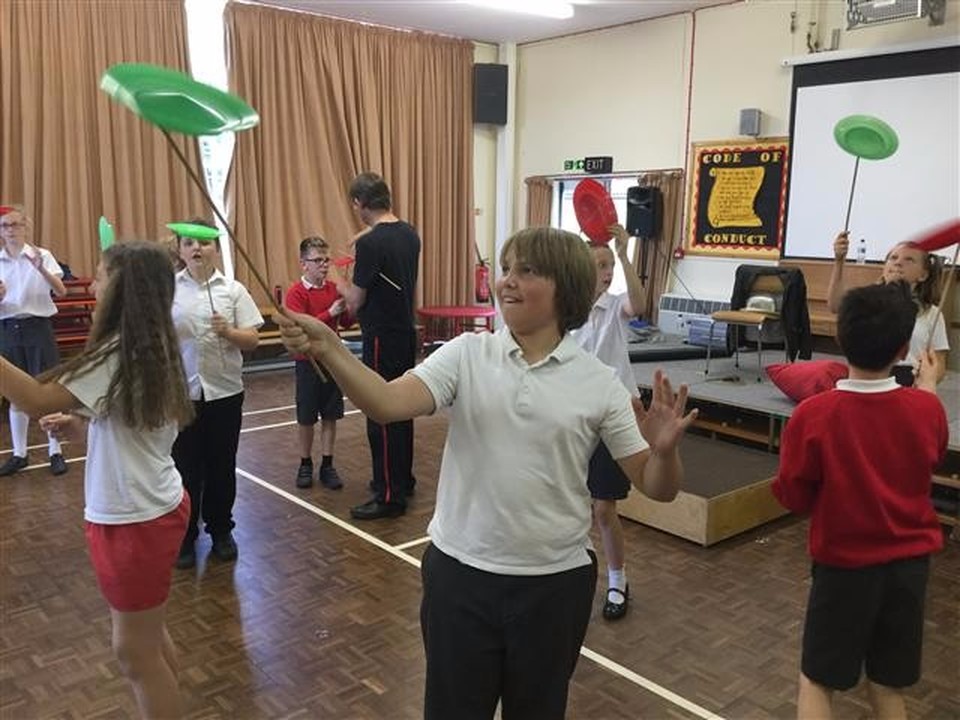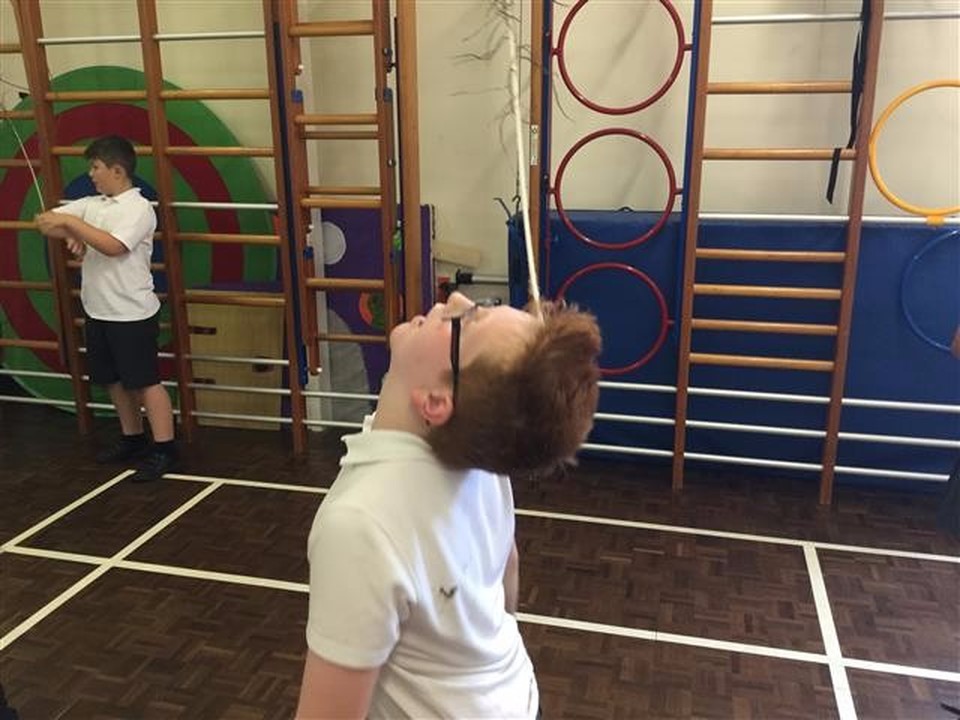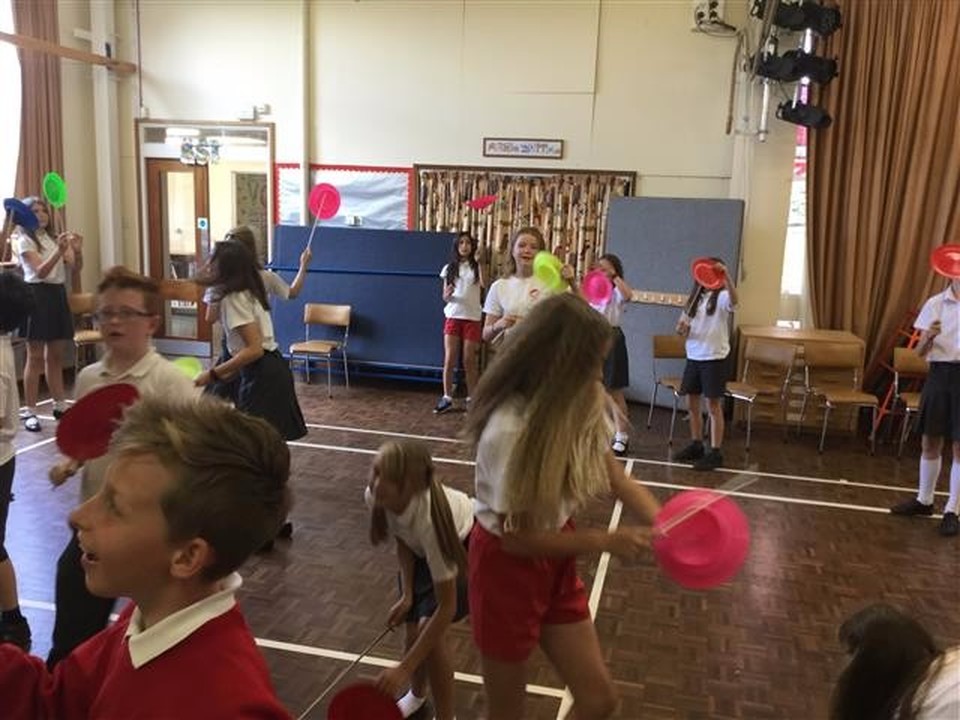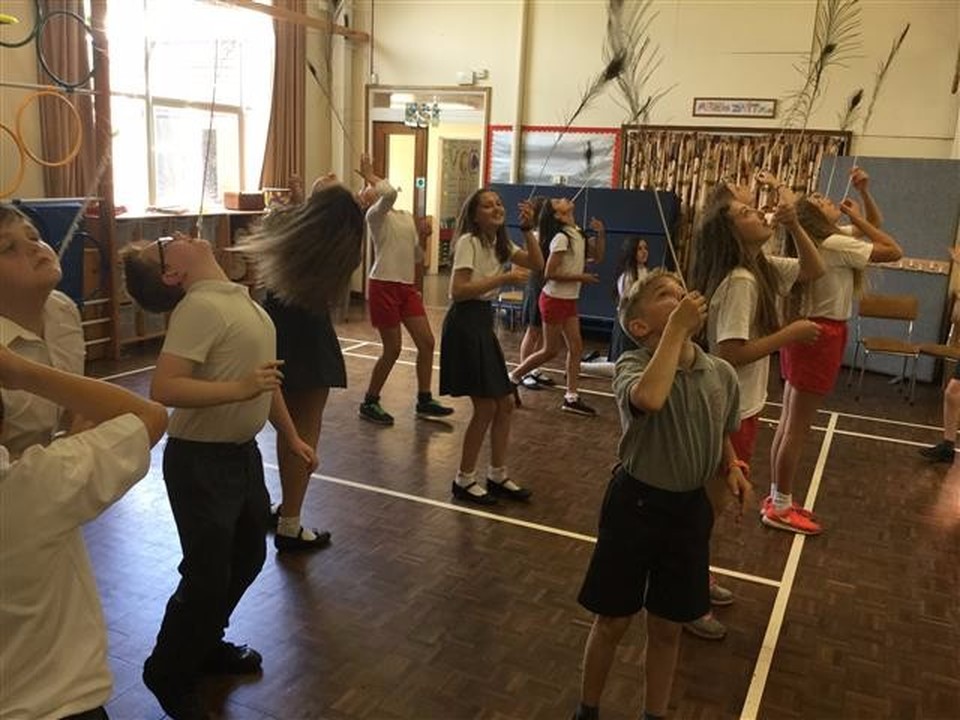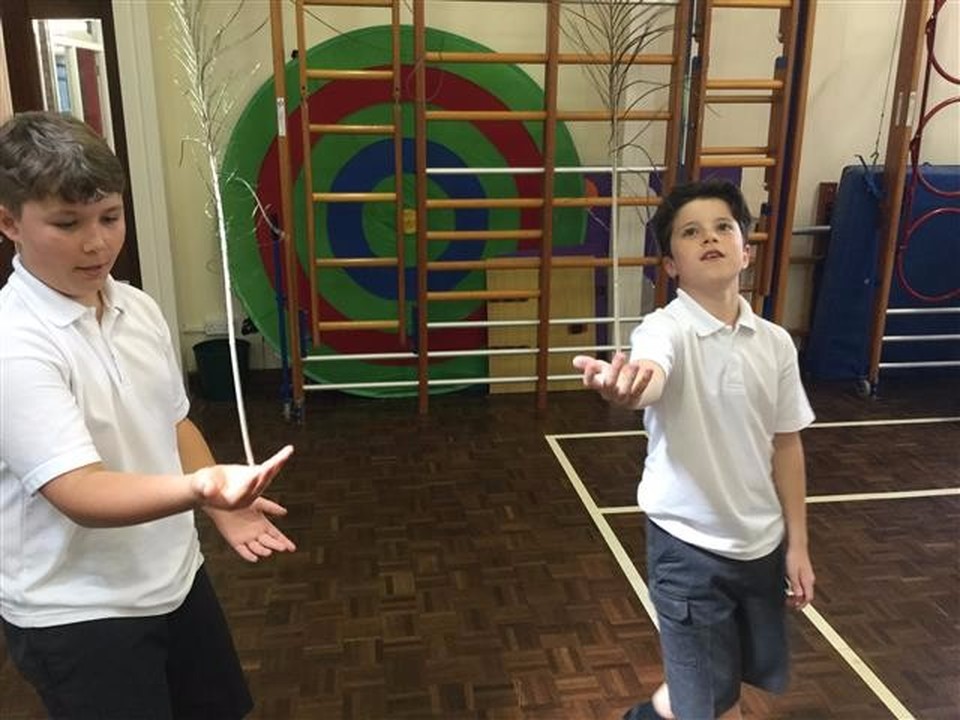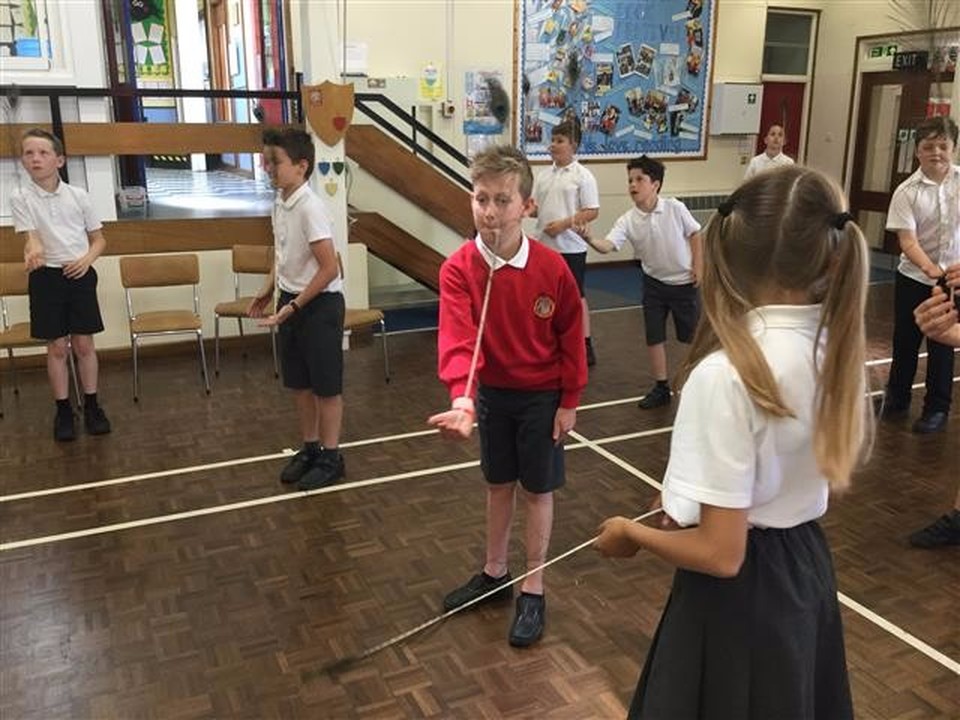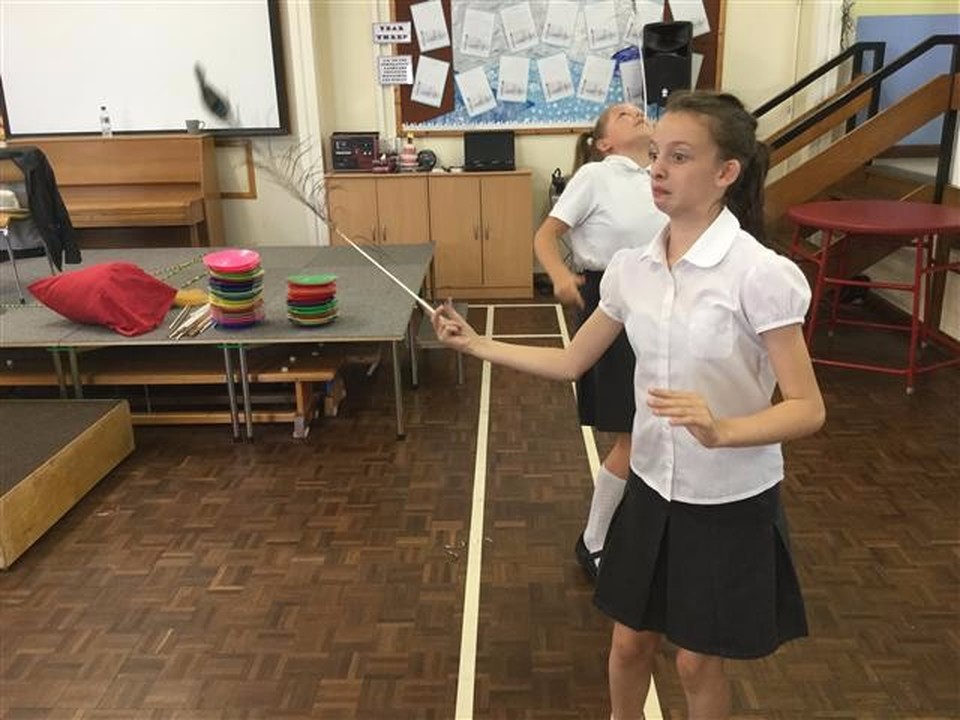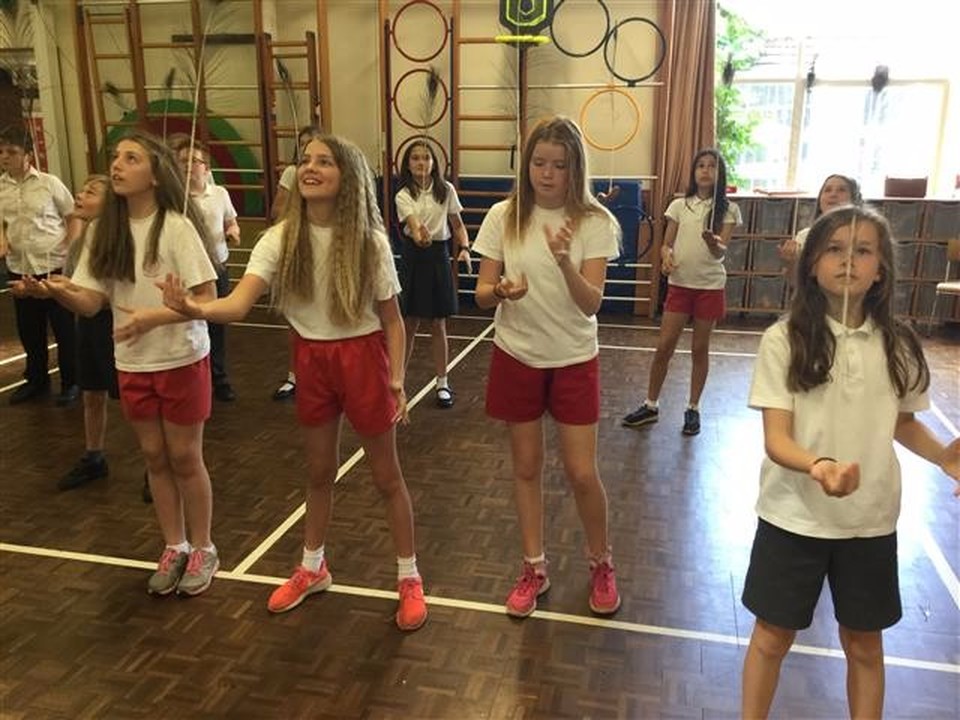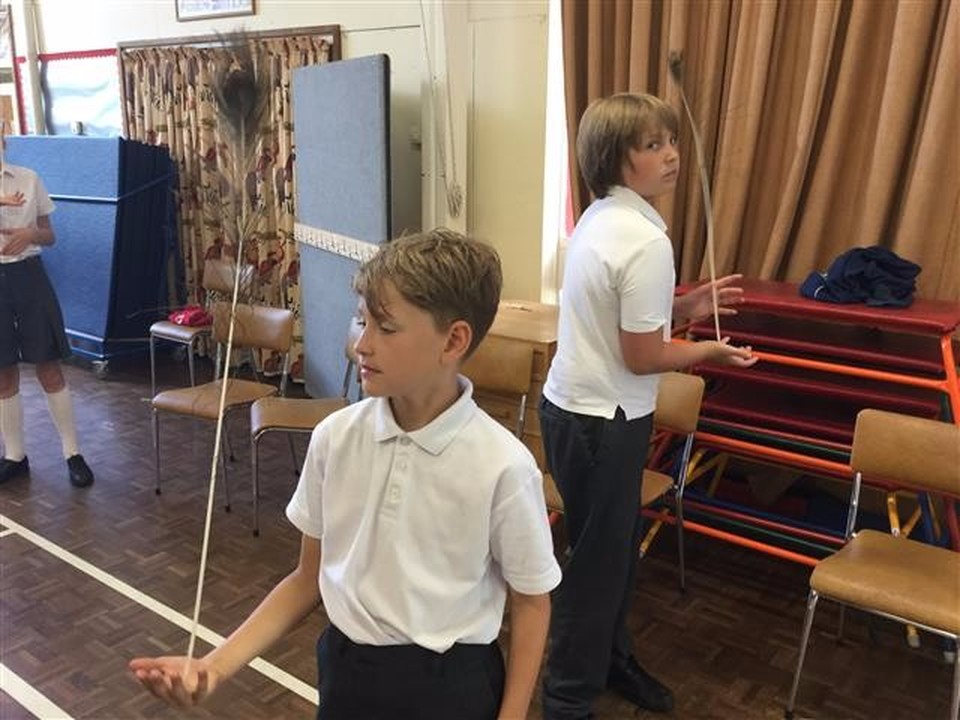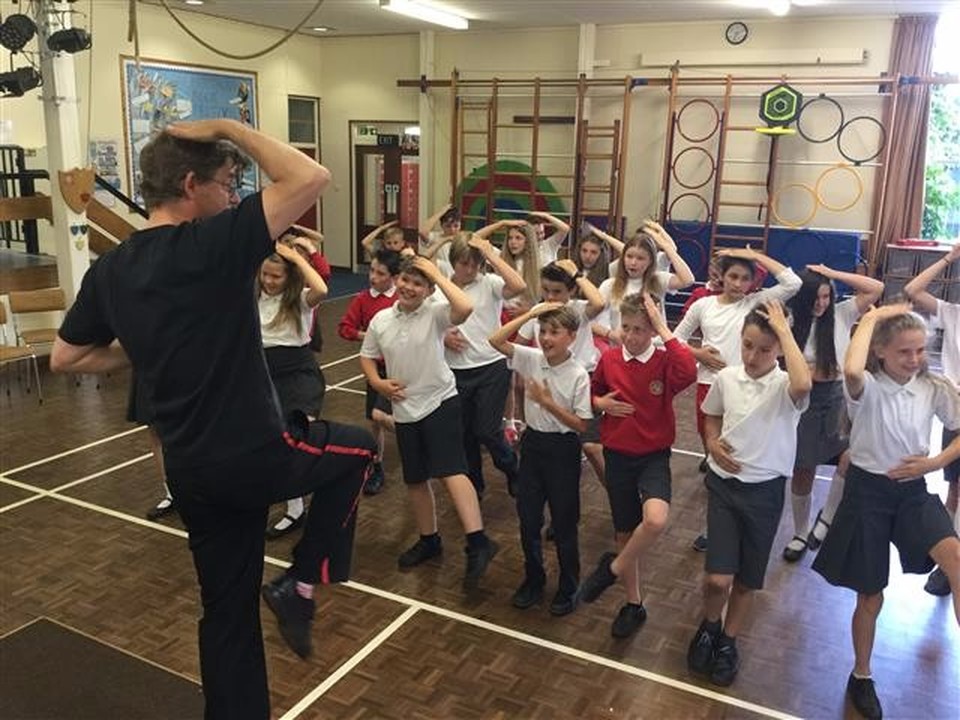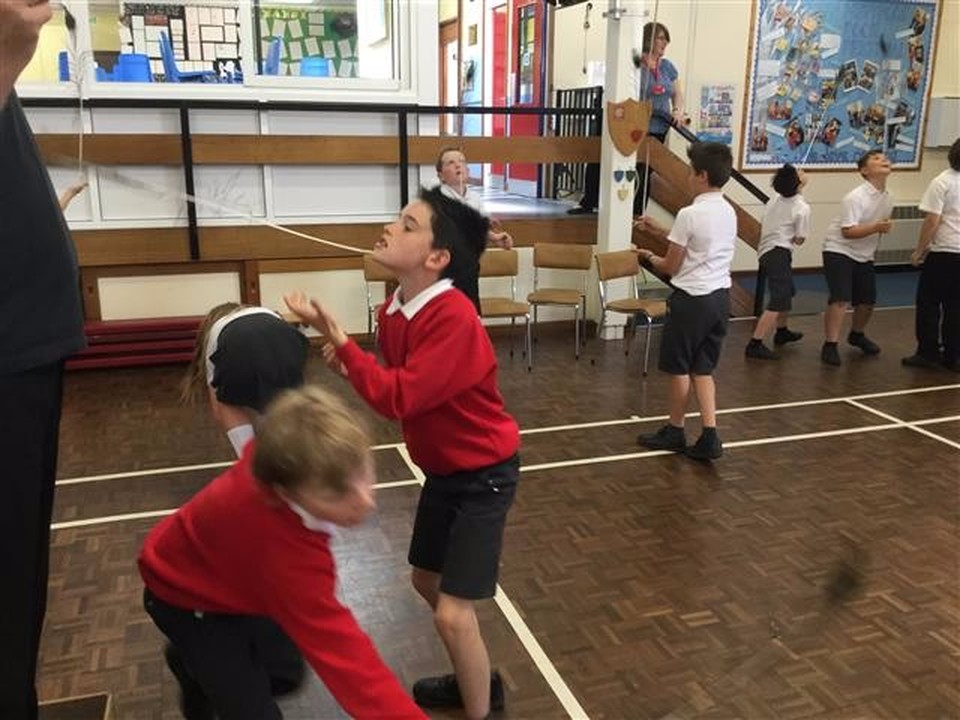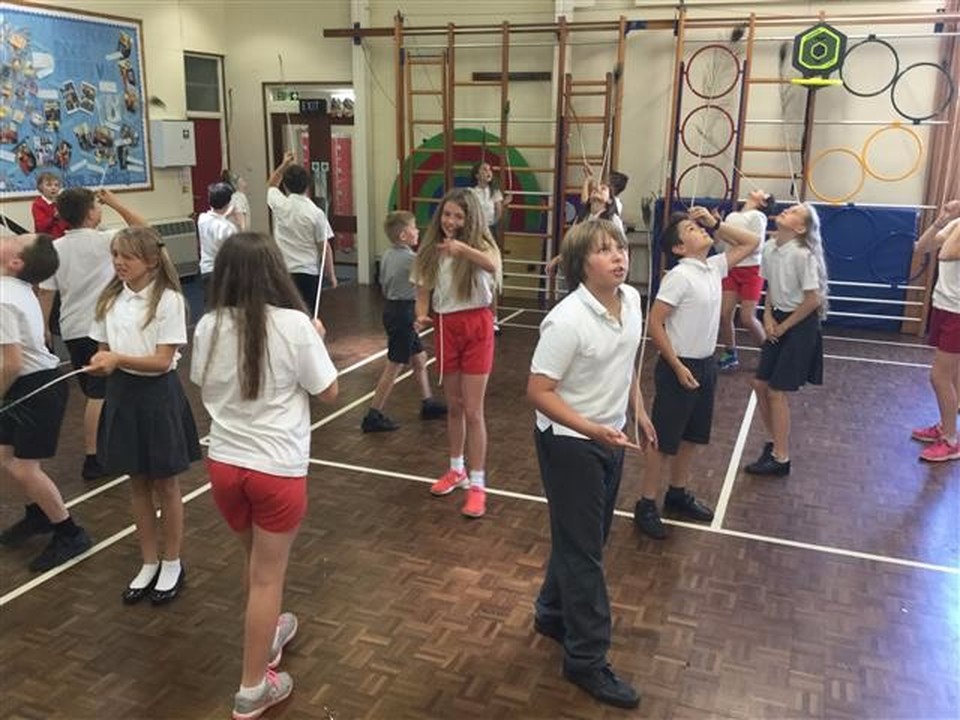 Woodhall Park Estate - 10th June 2016
We had a brilliant day at Woodhall Park learning about our countryside and environment. We got to meet some really cool animals, play on tractors and plant seeds (to name only some). Thank you to Mr Abel Smith for inviting our school again this year and to the Countryside Learning Alliance for organising such as great day.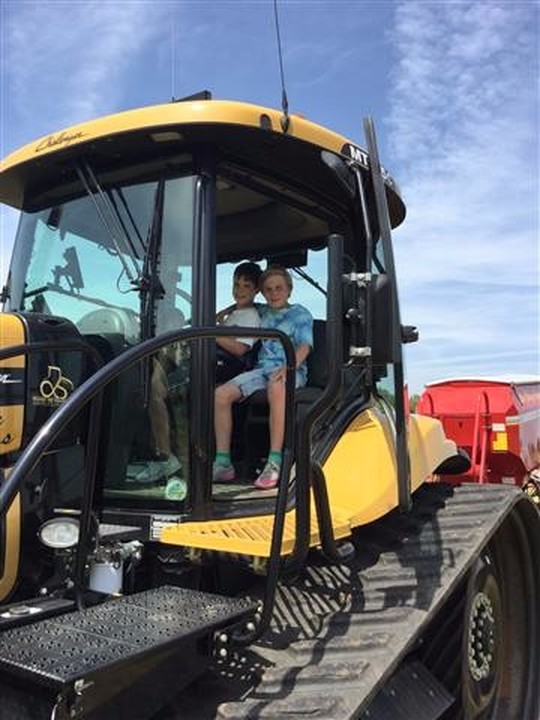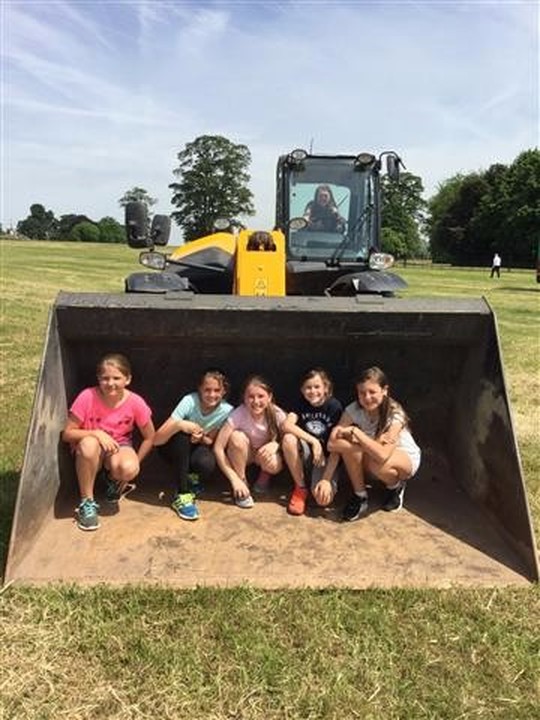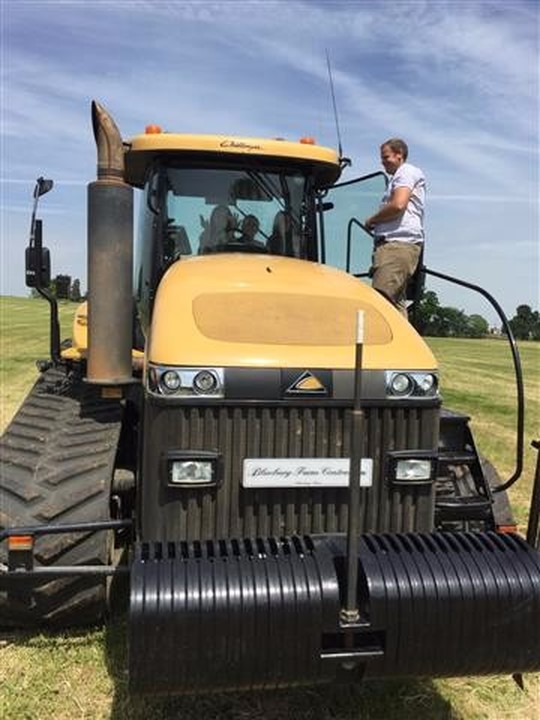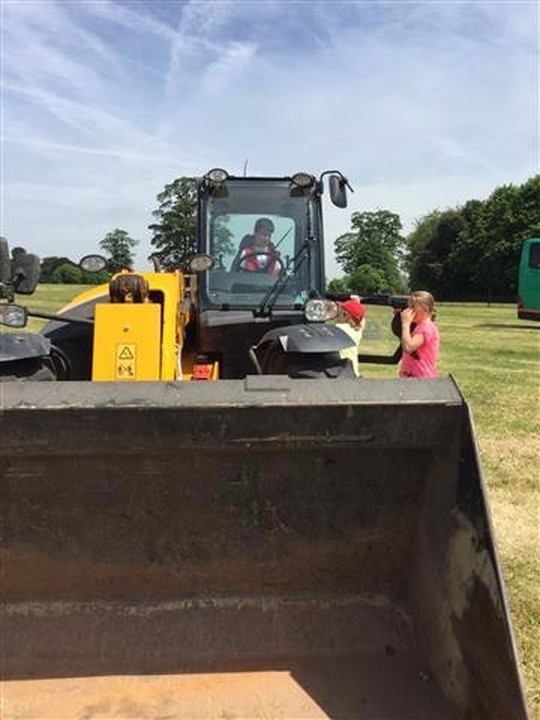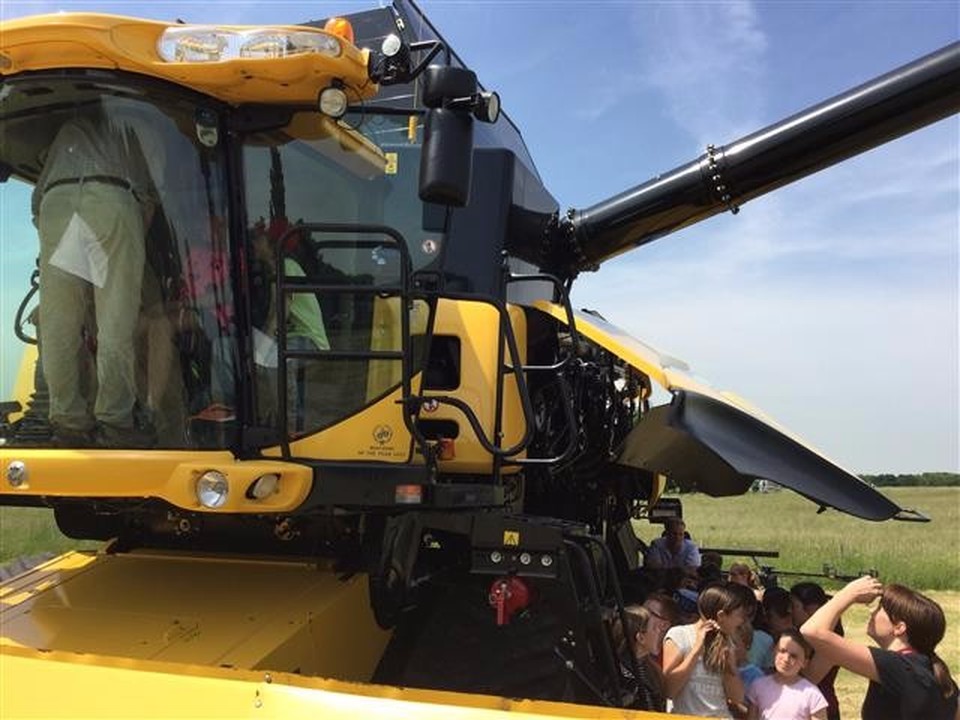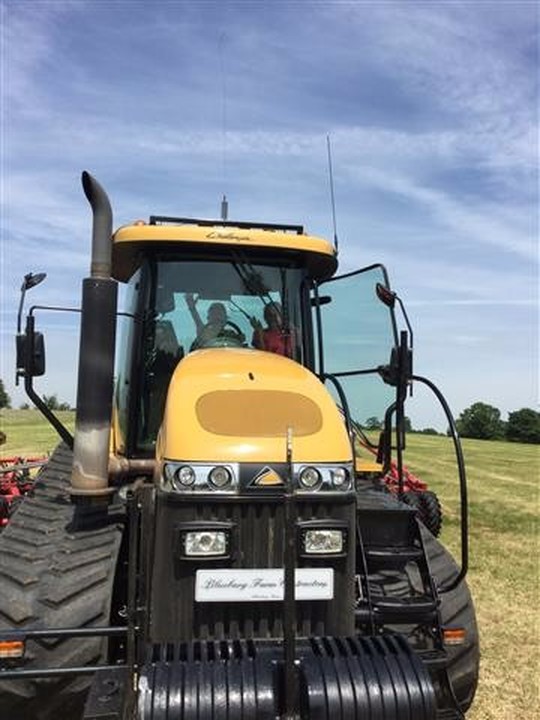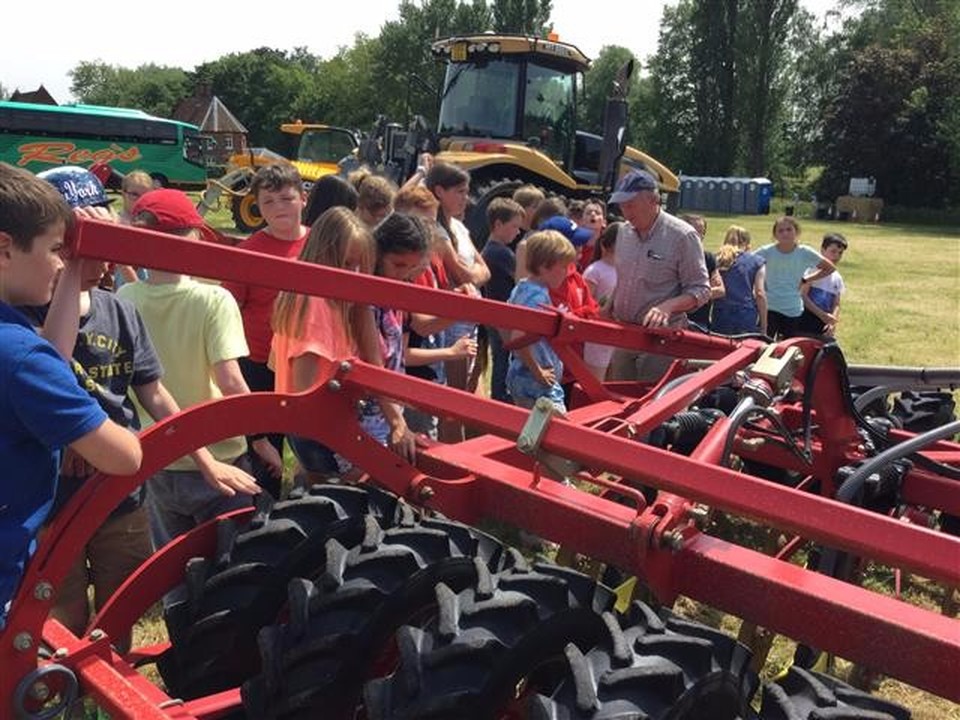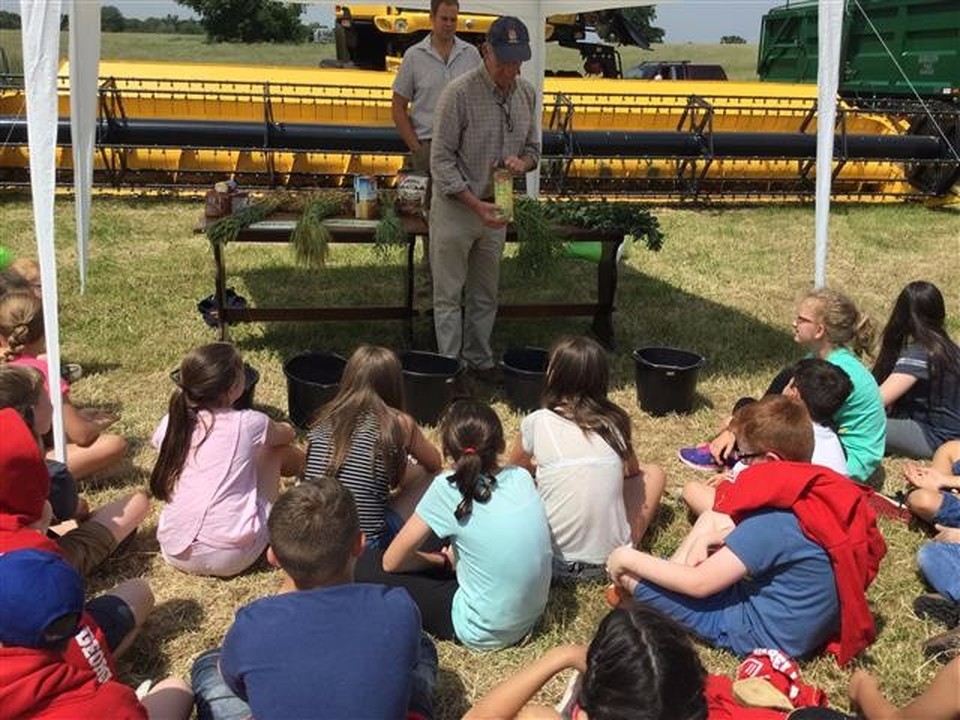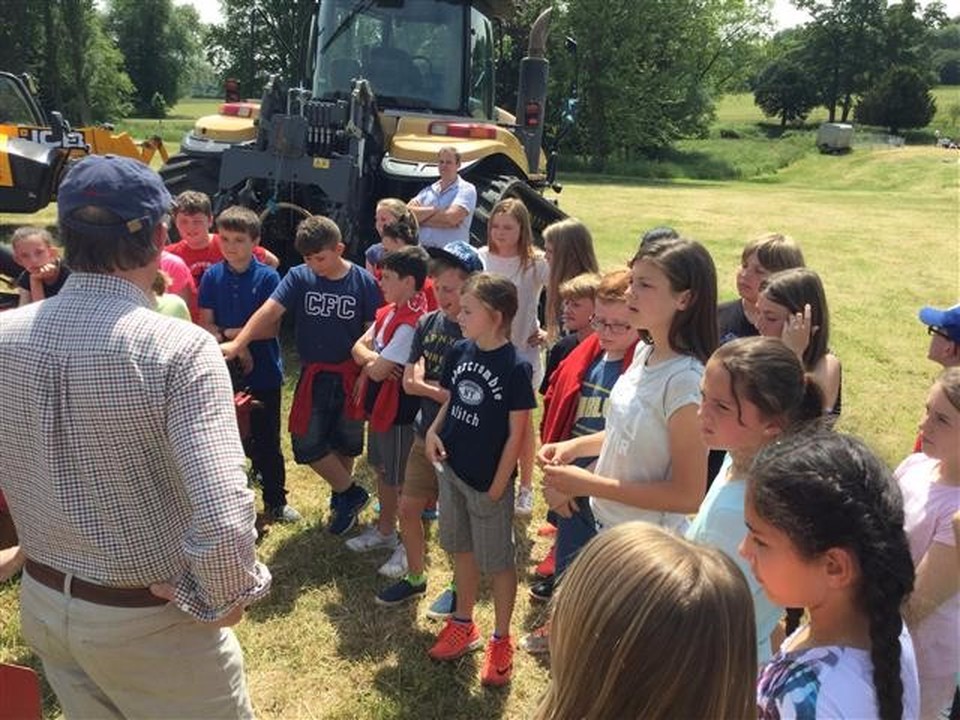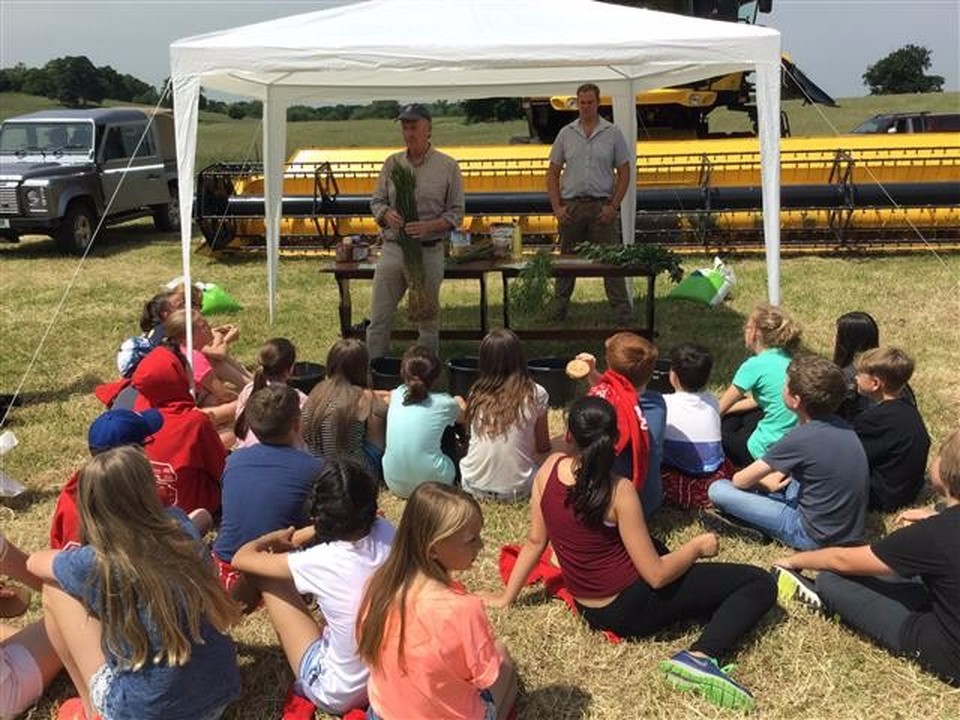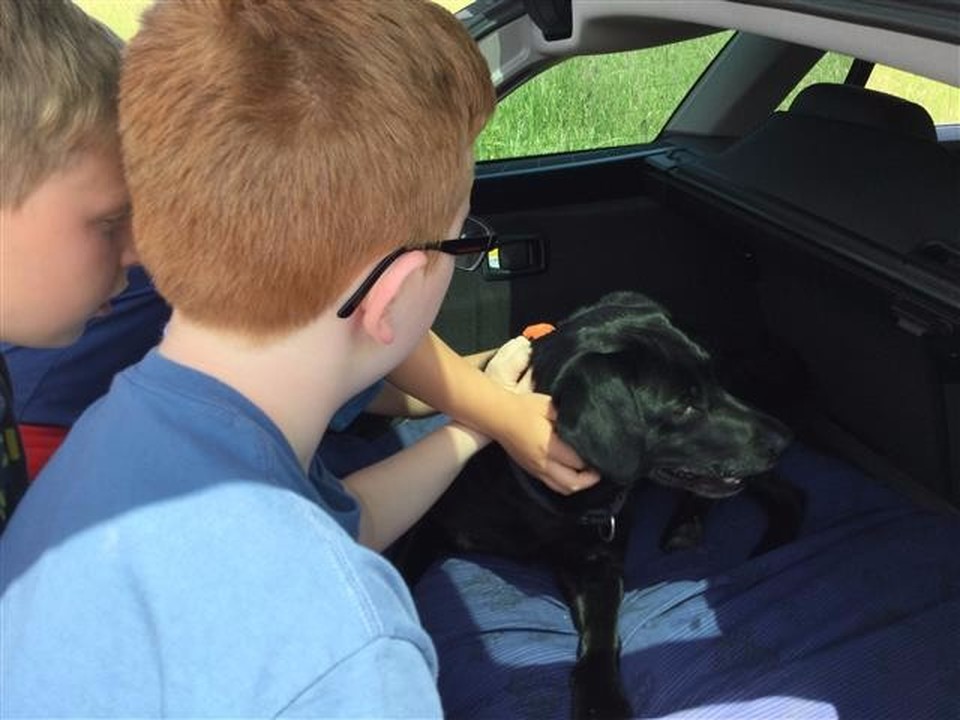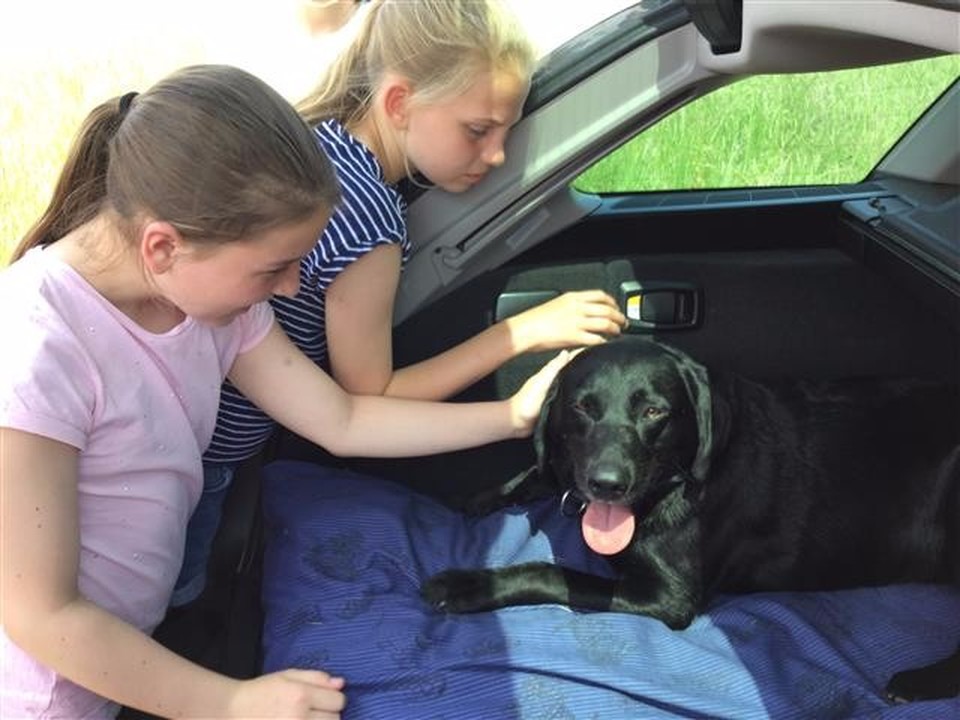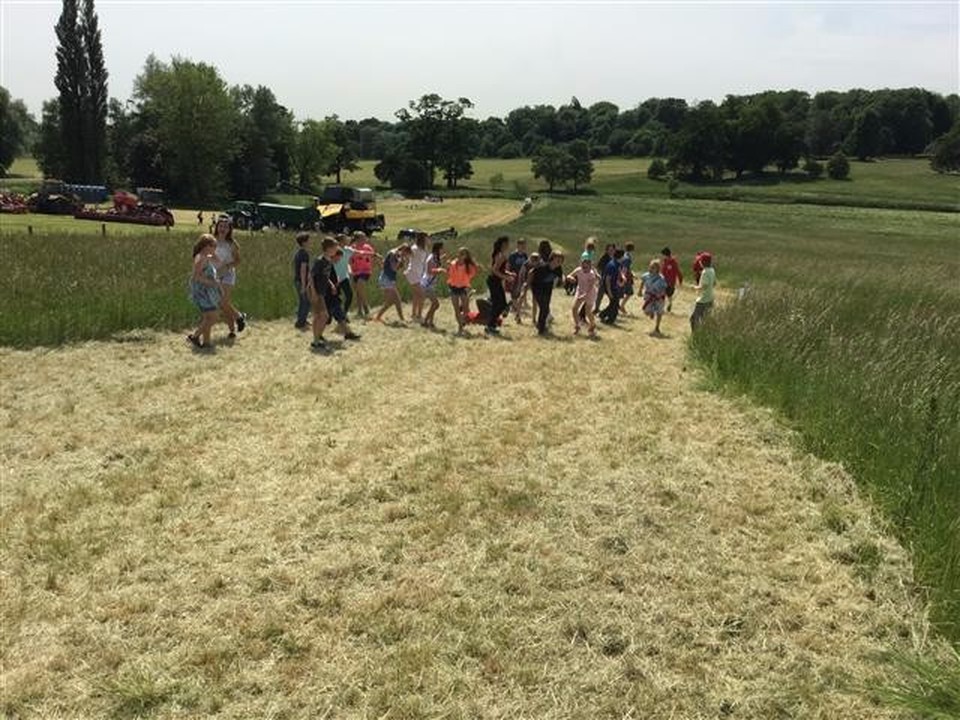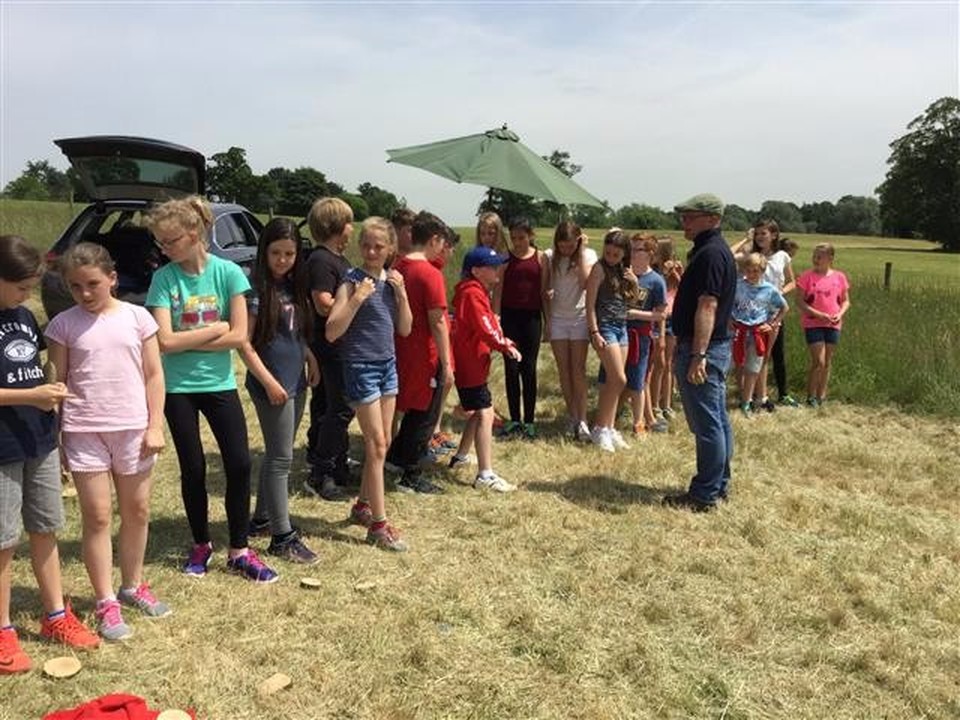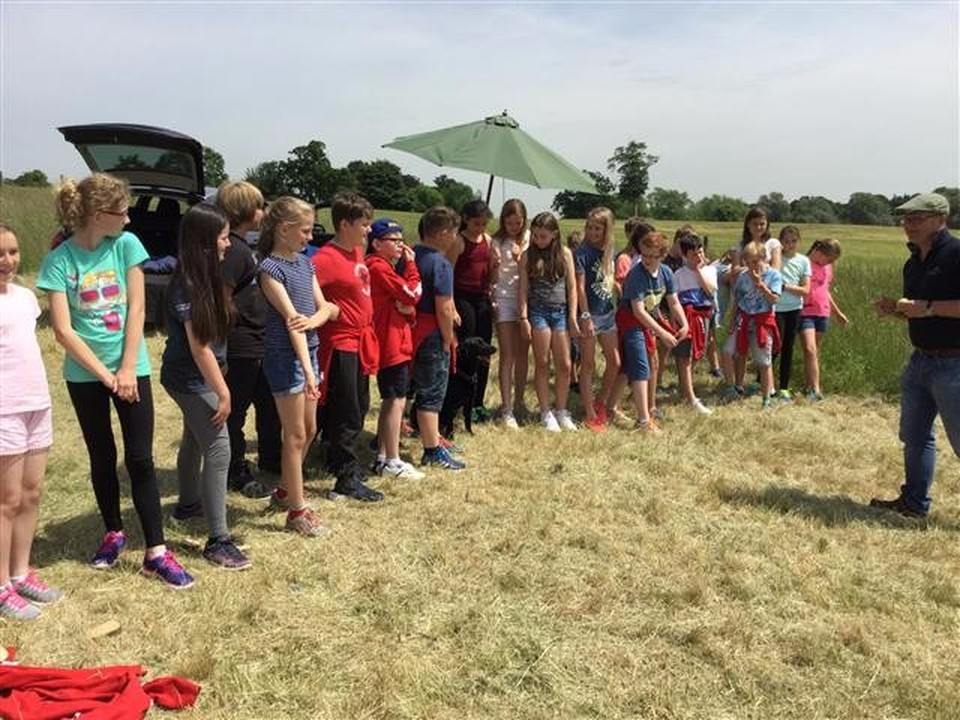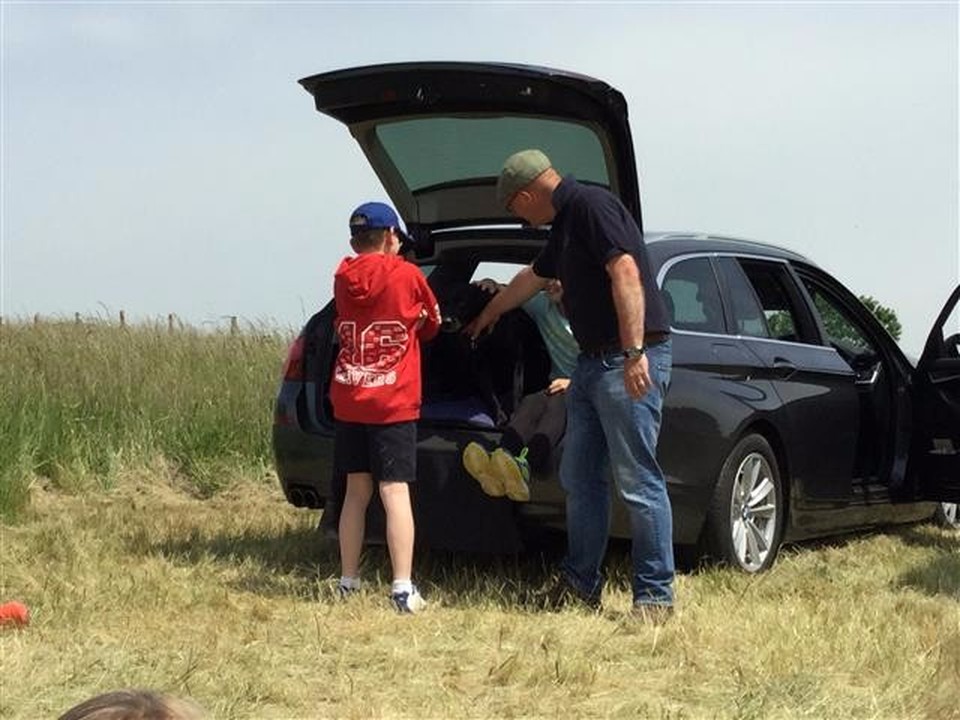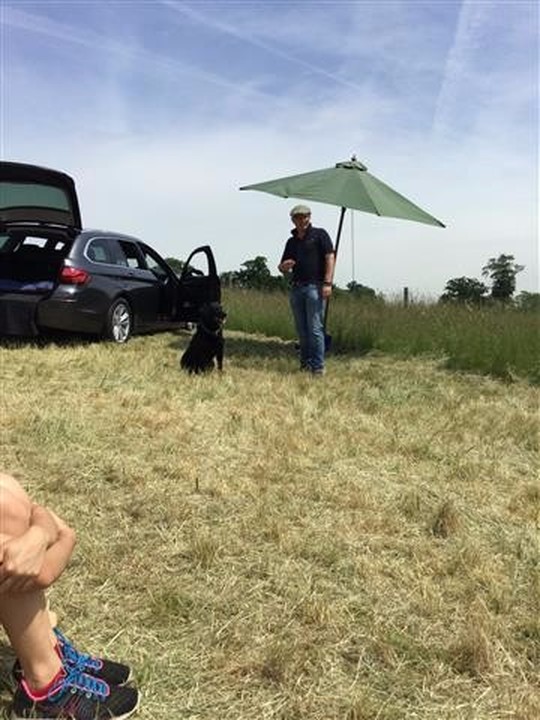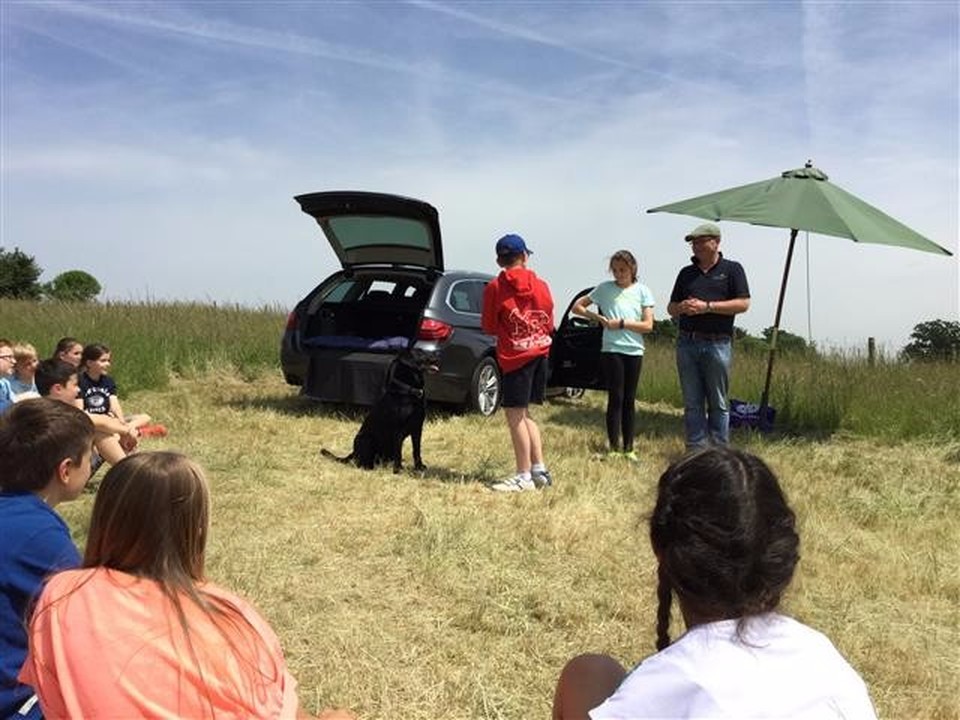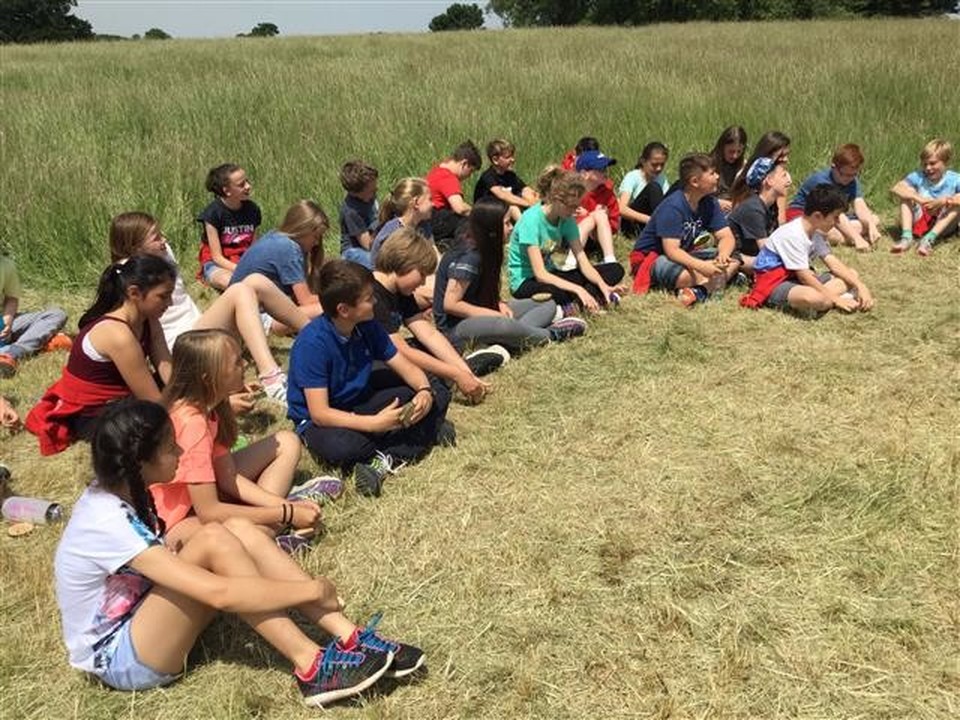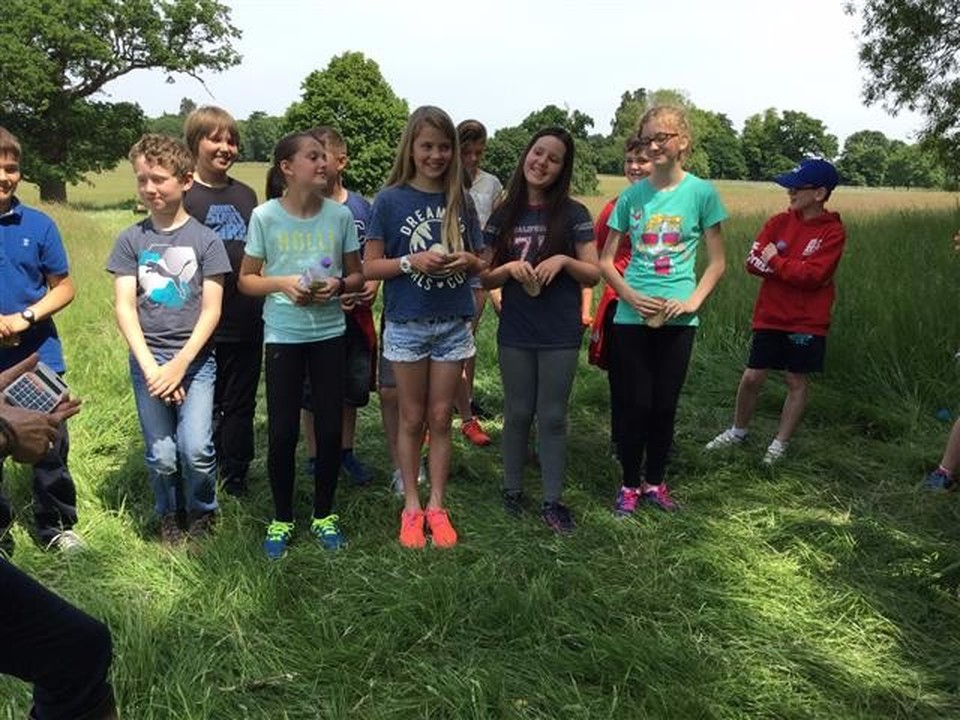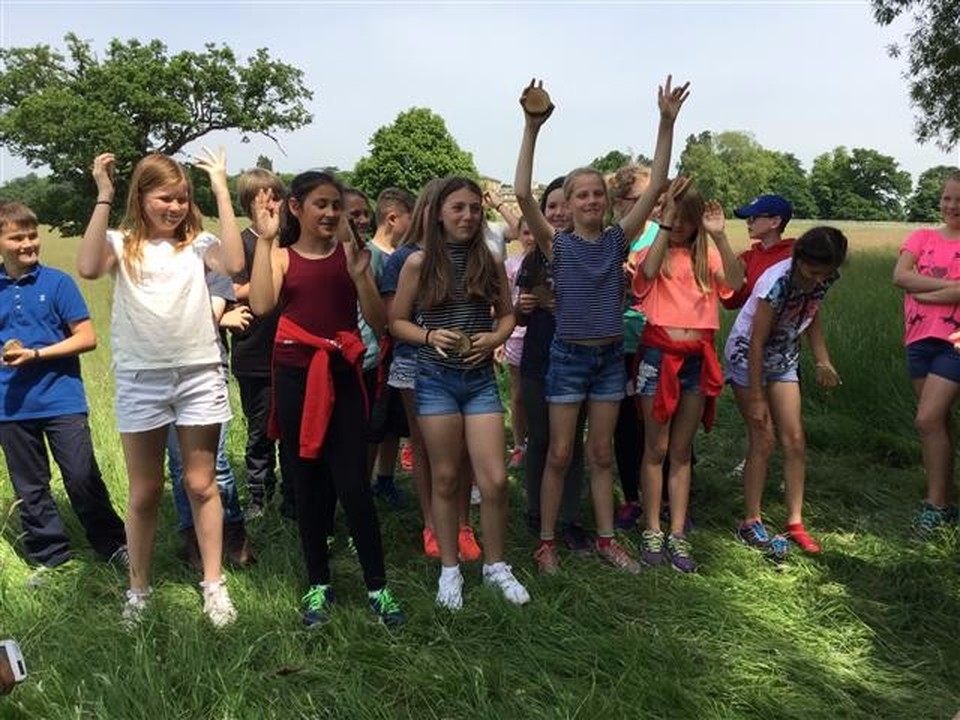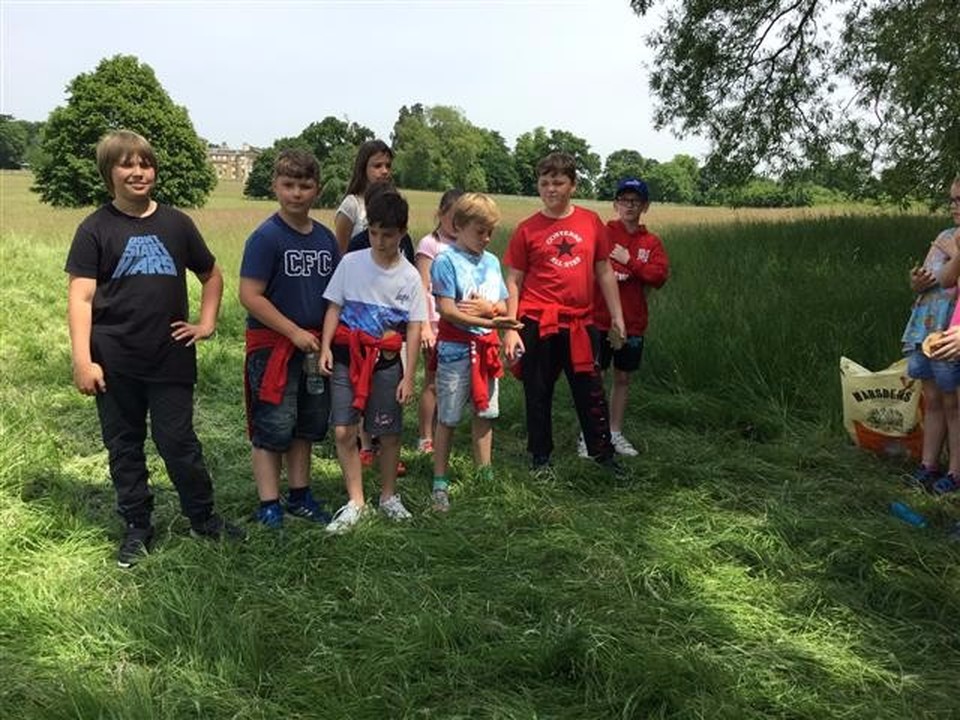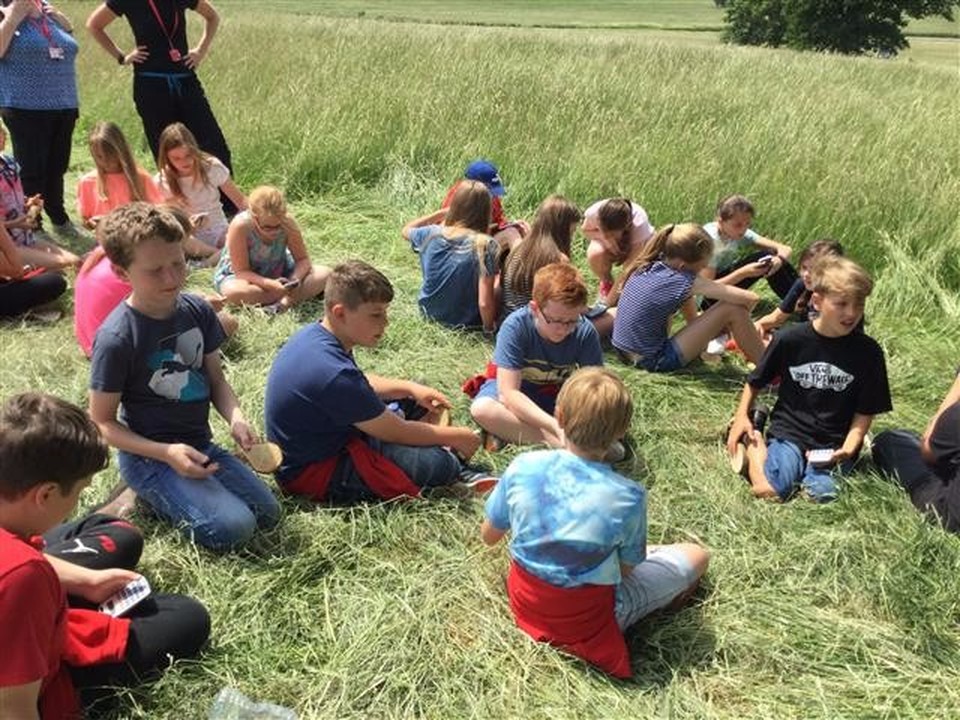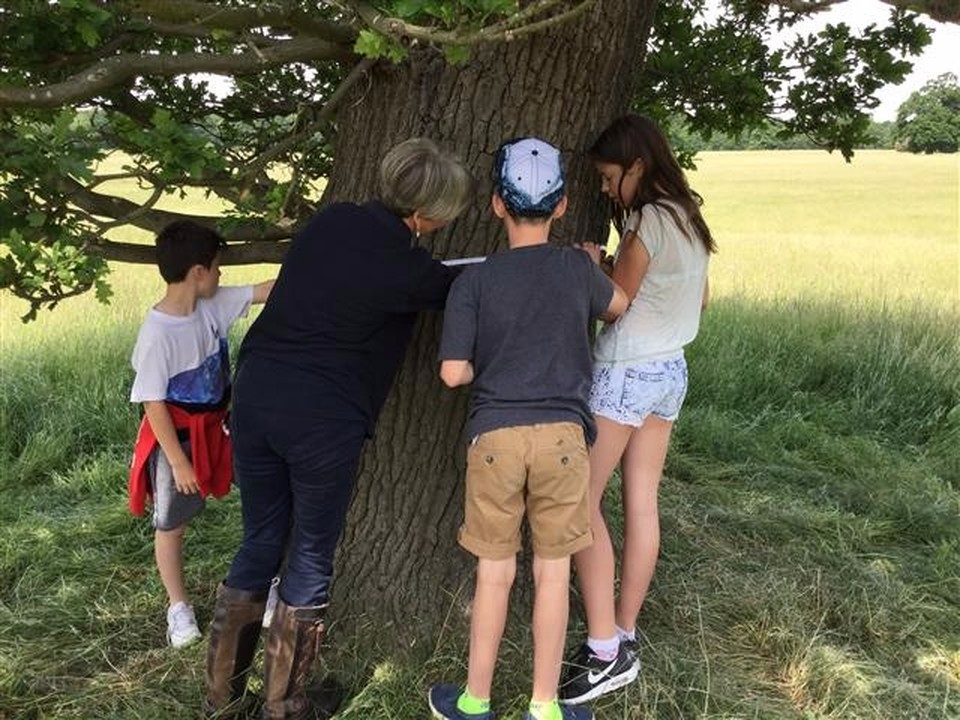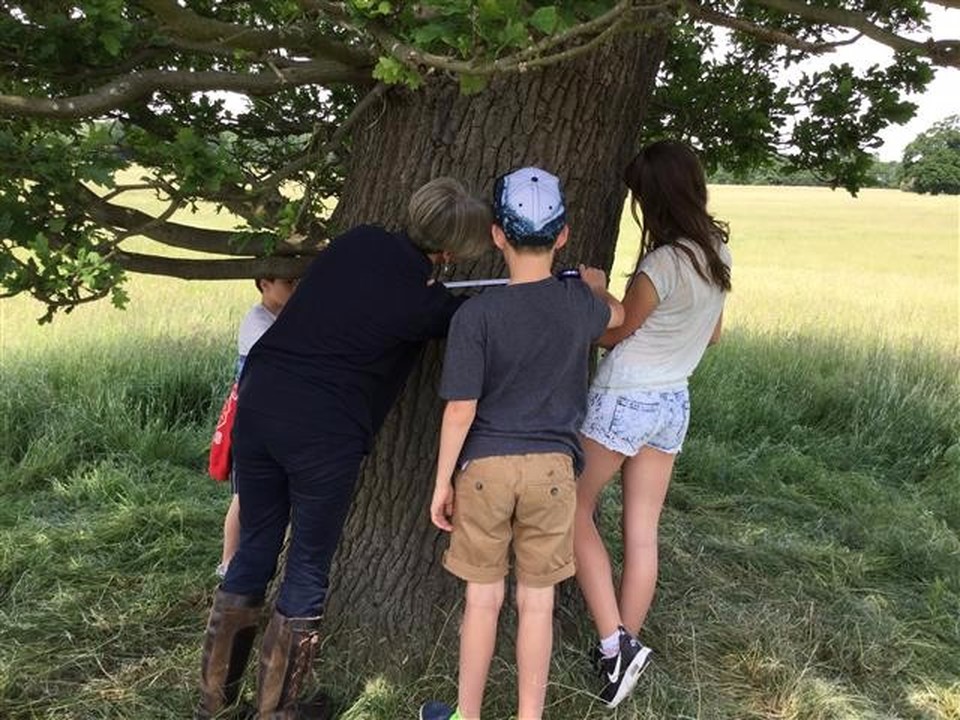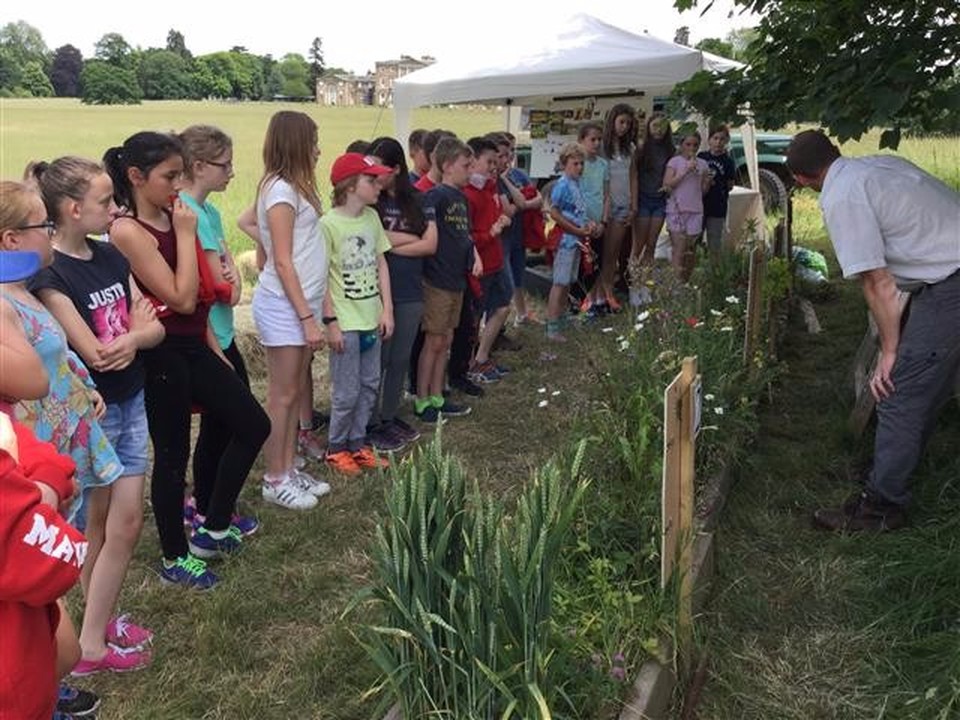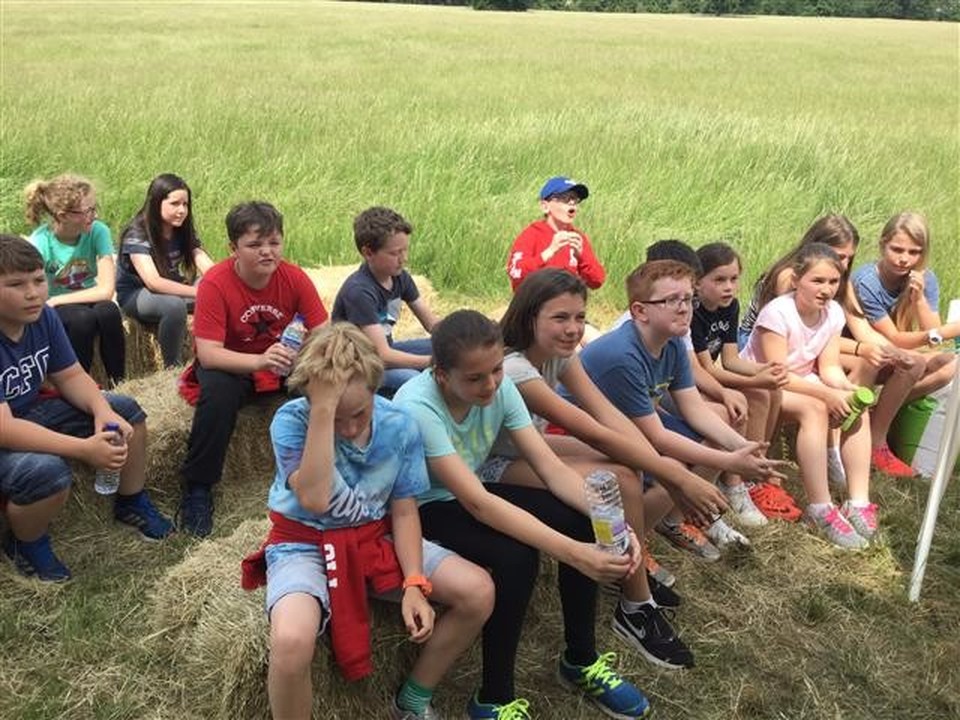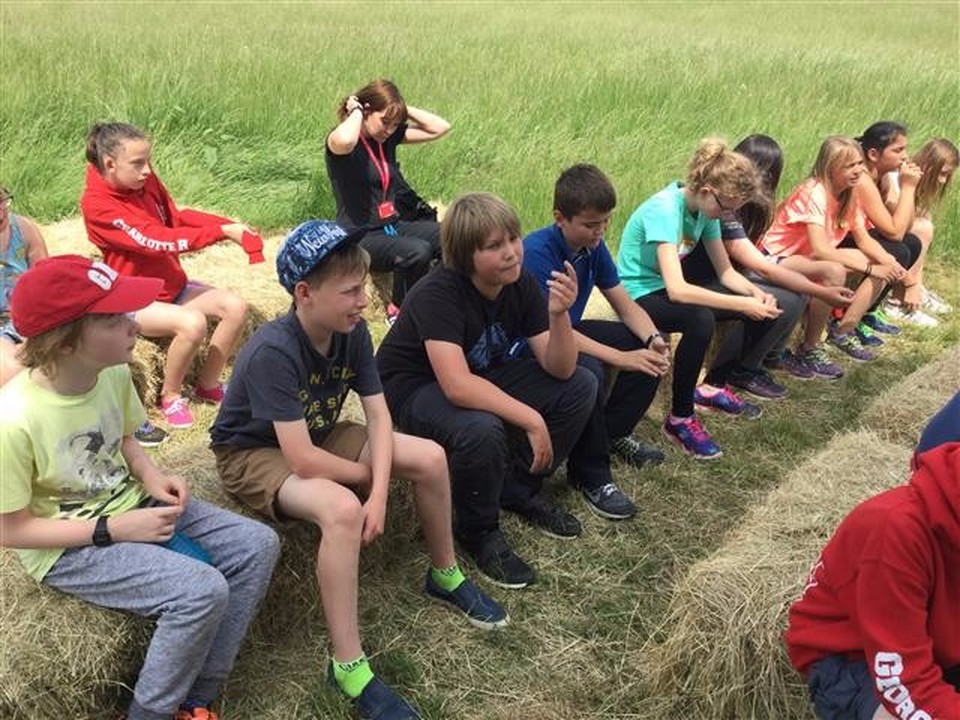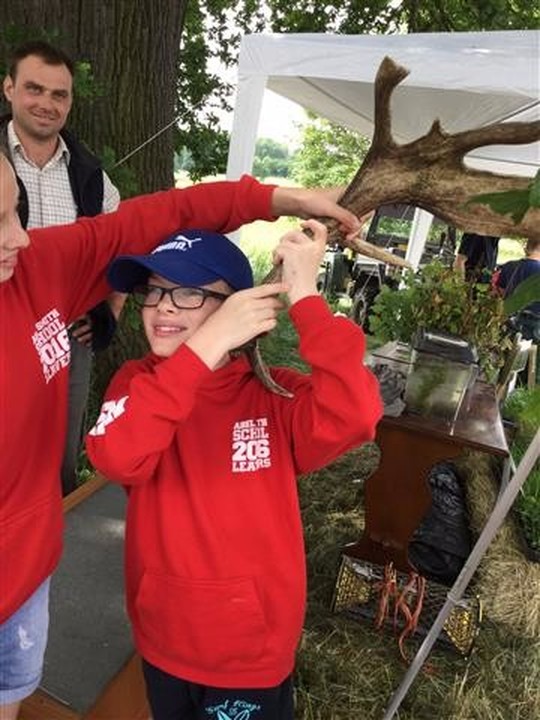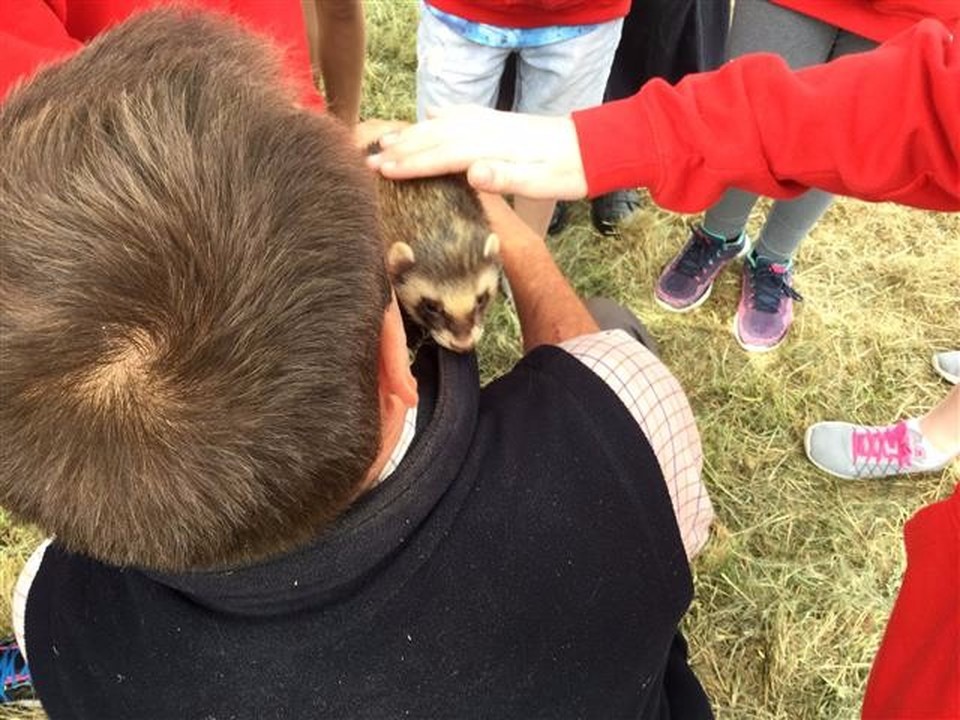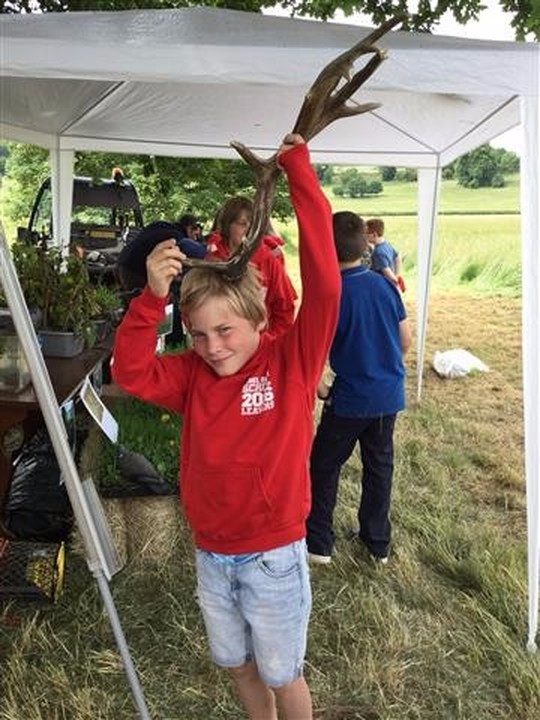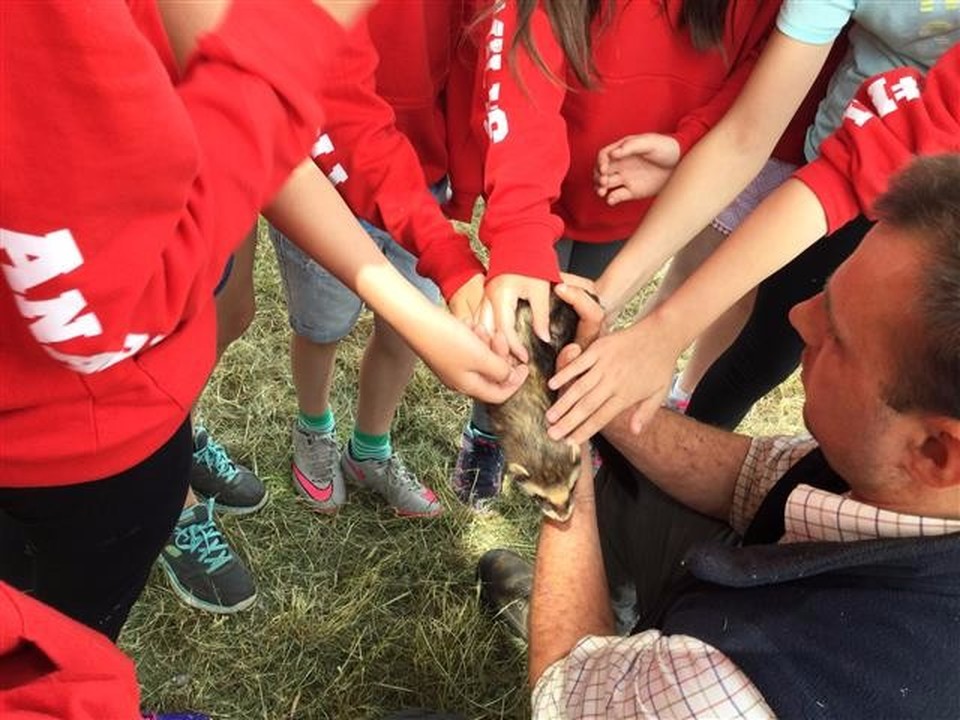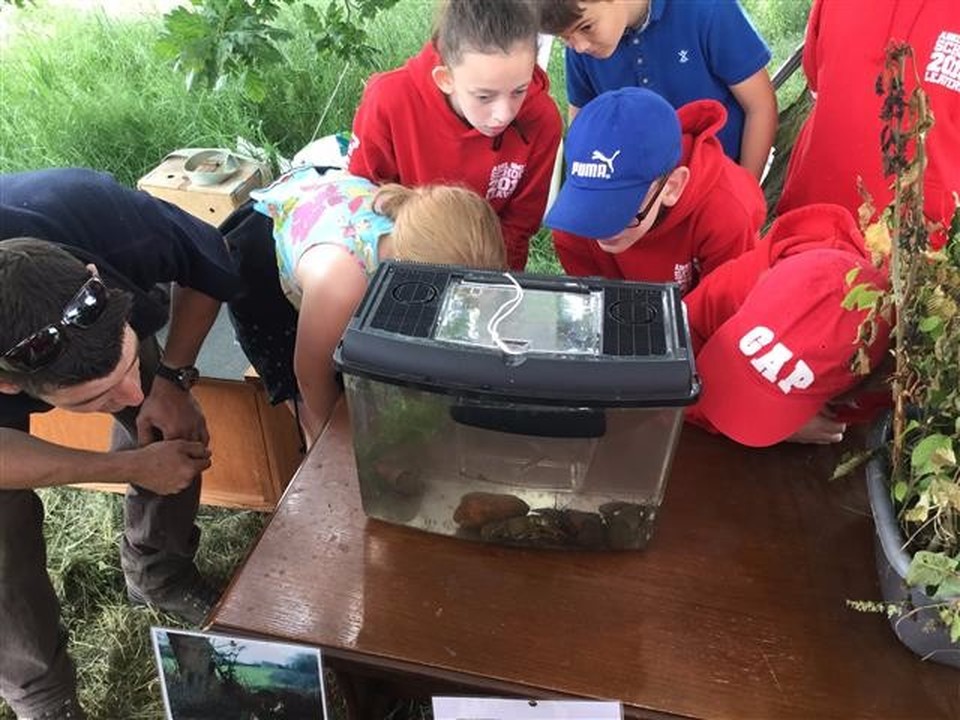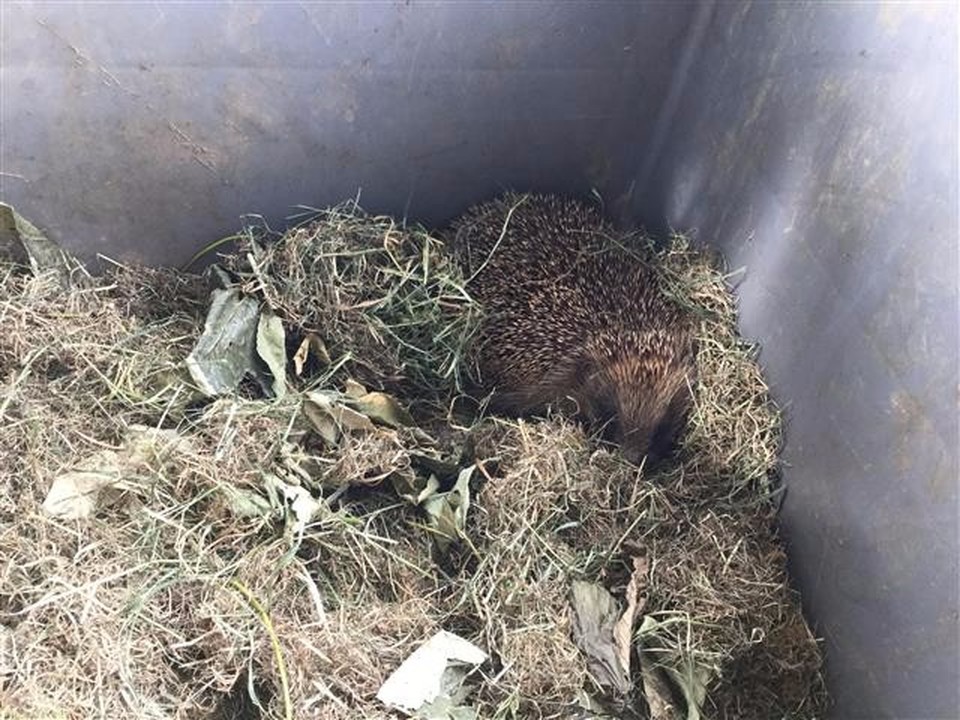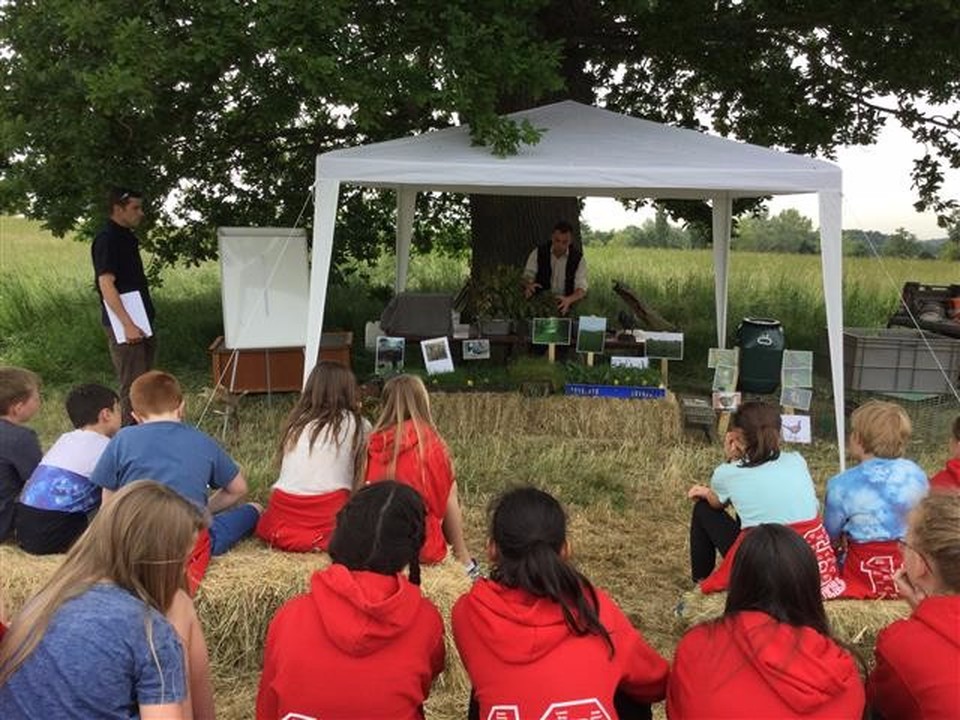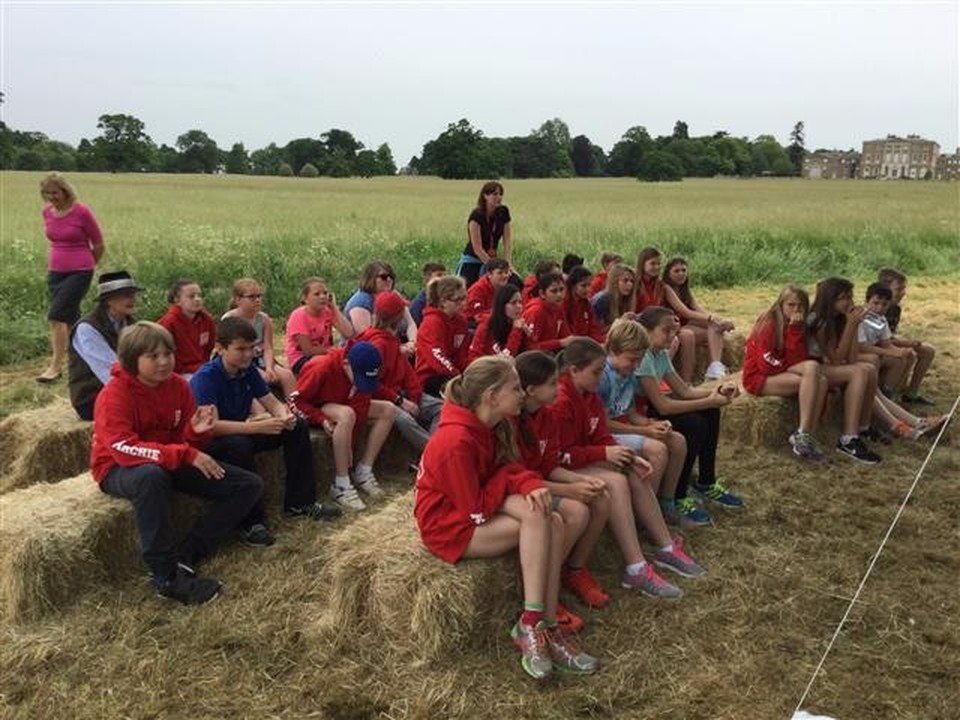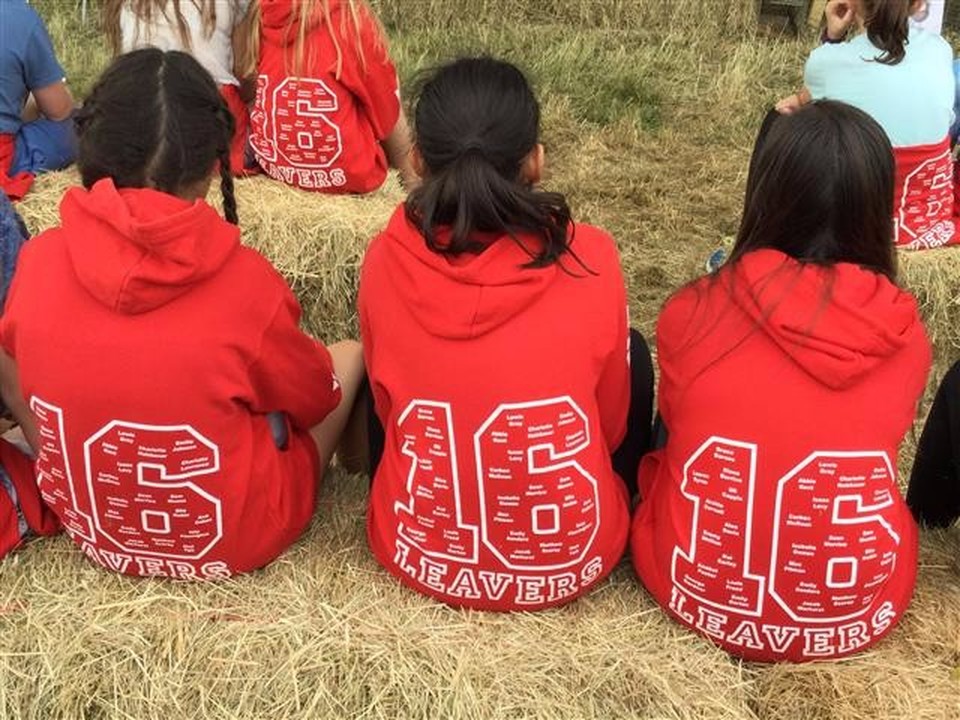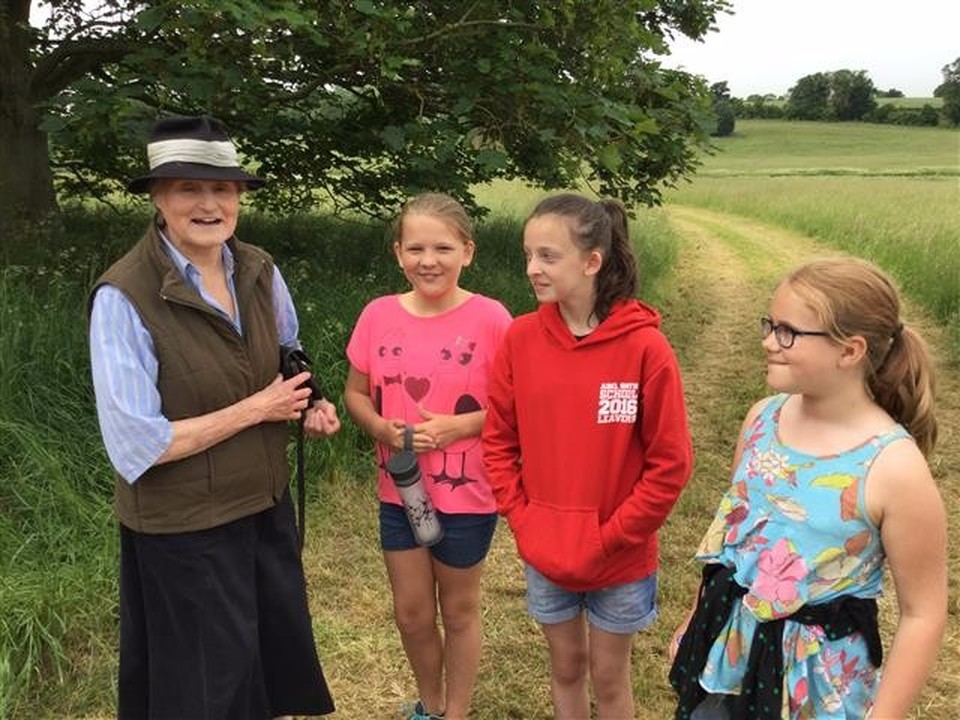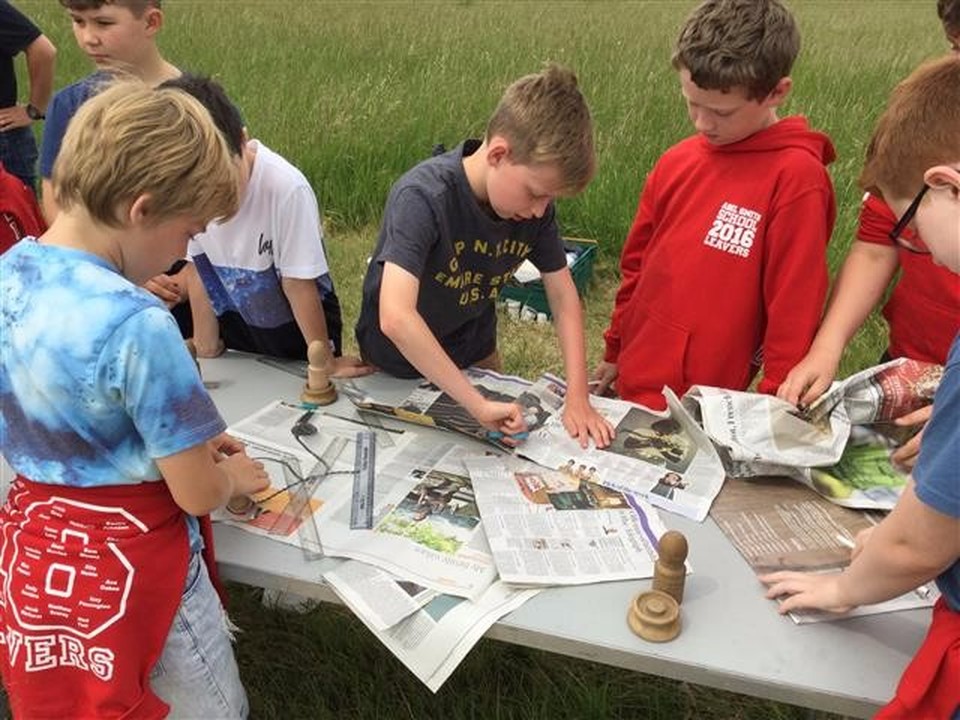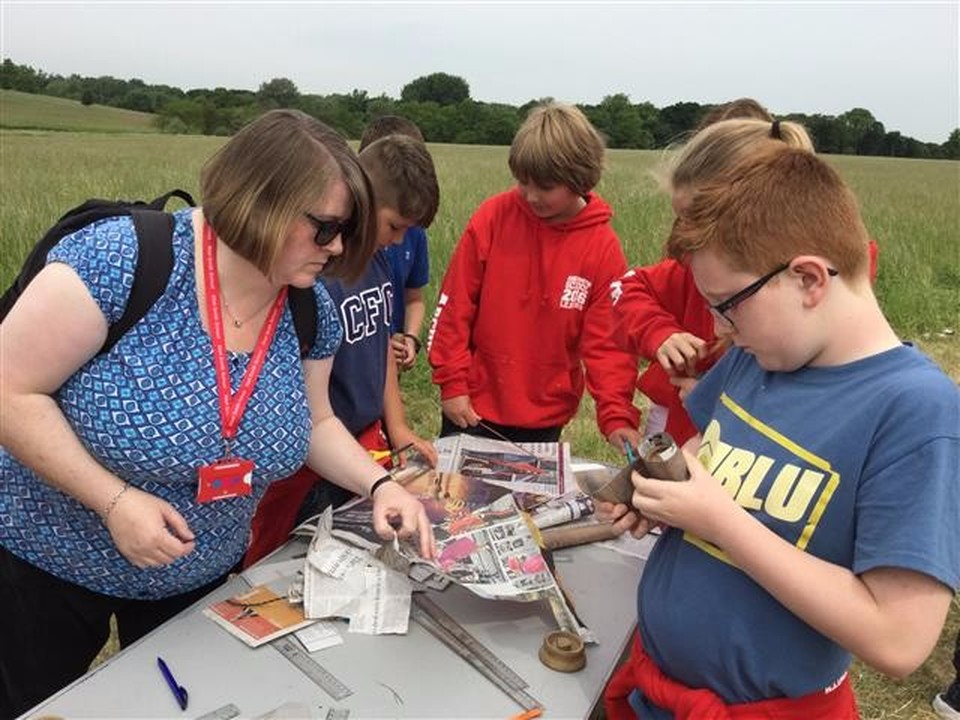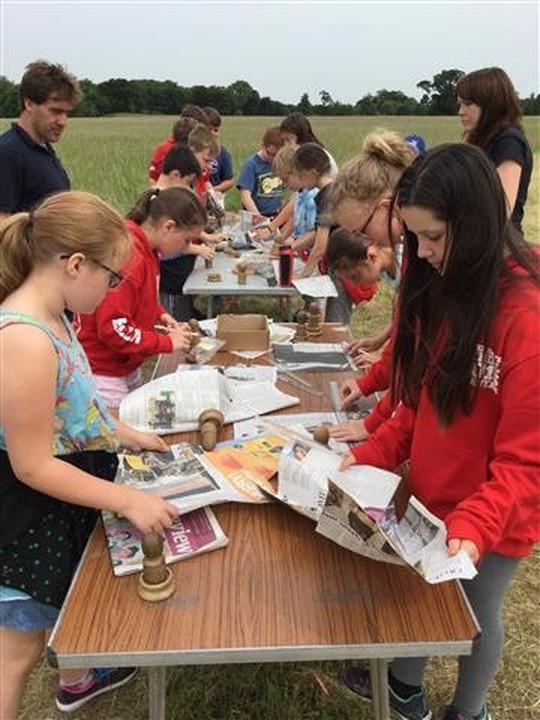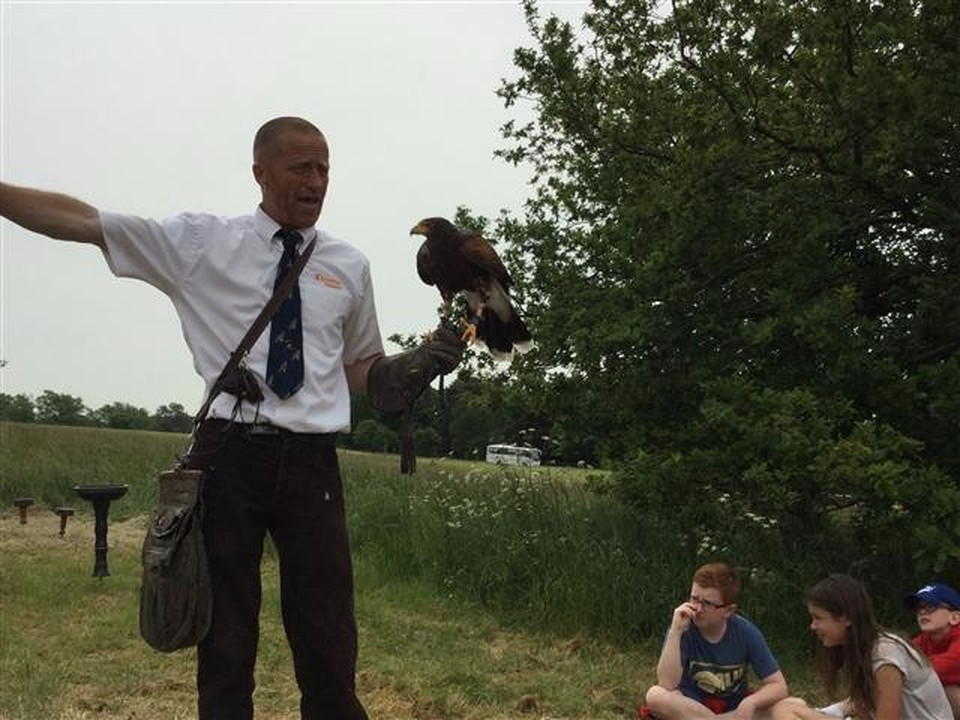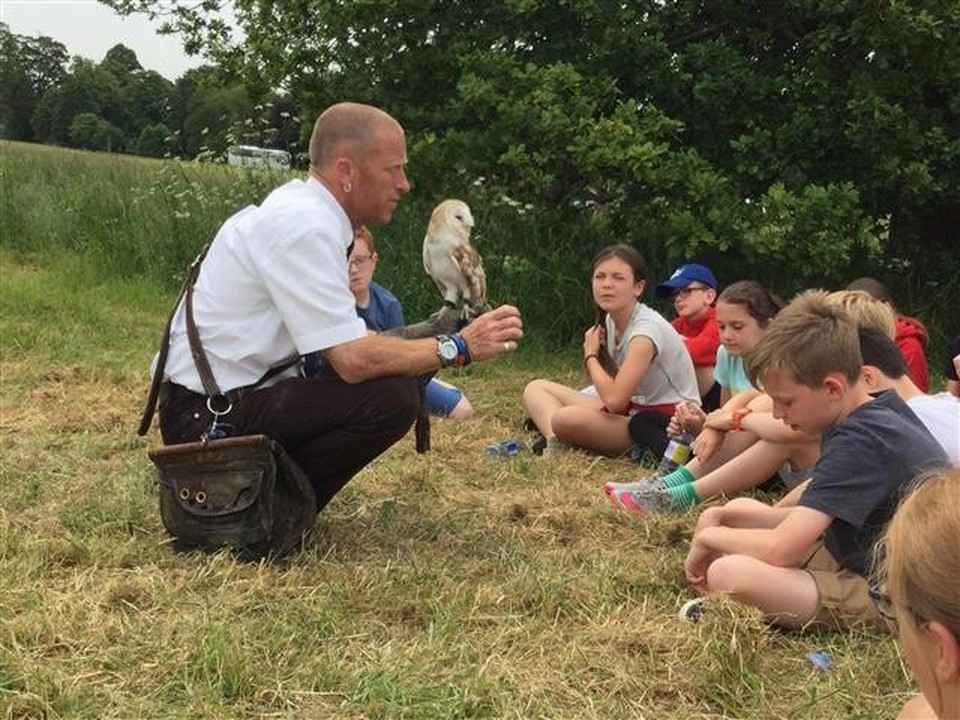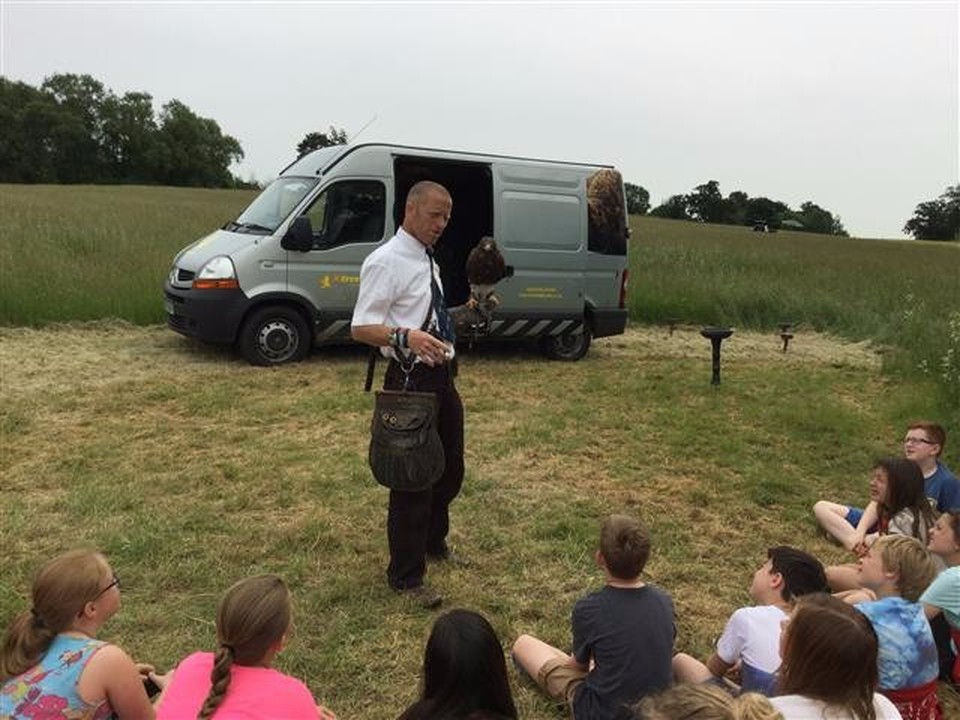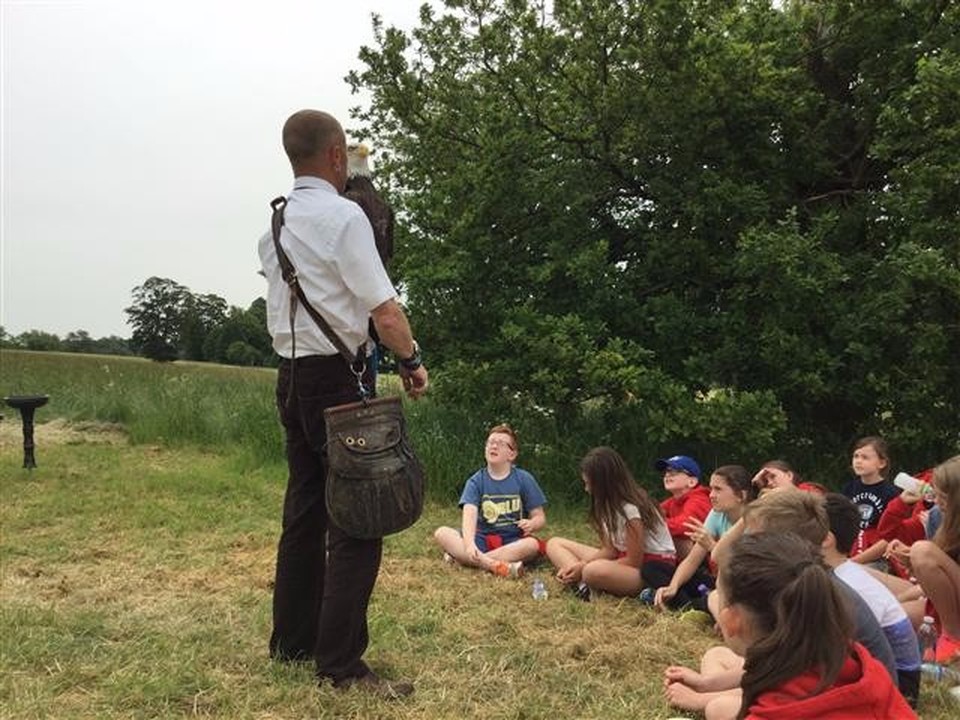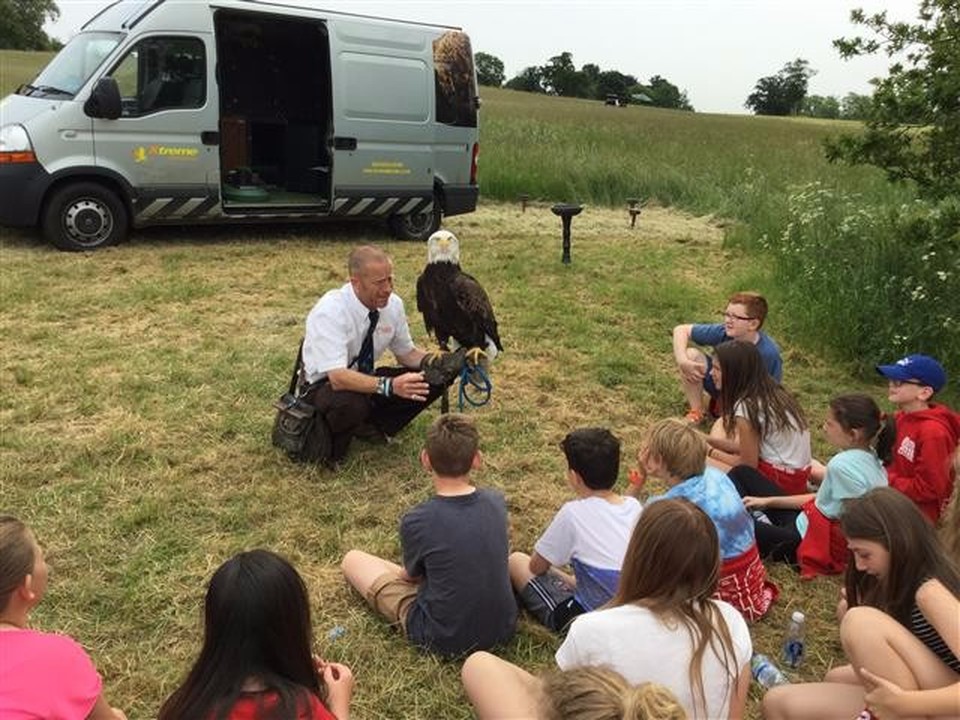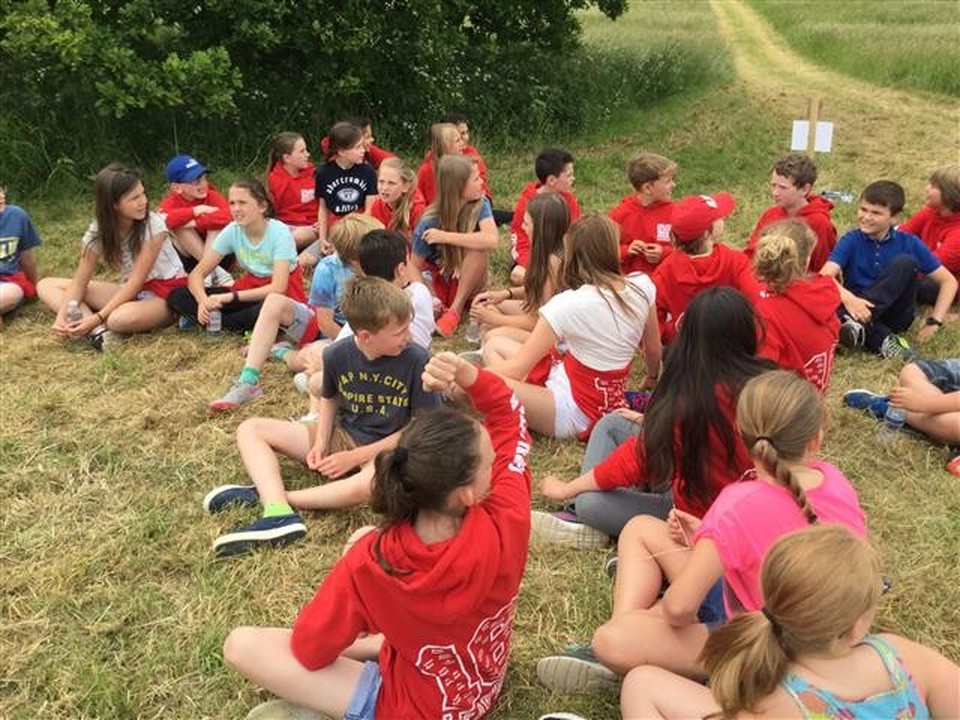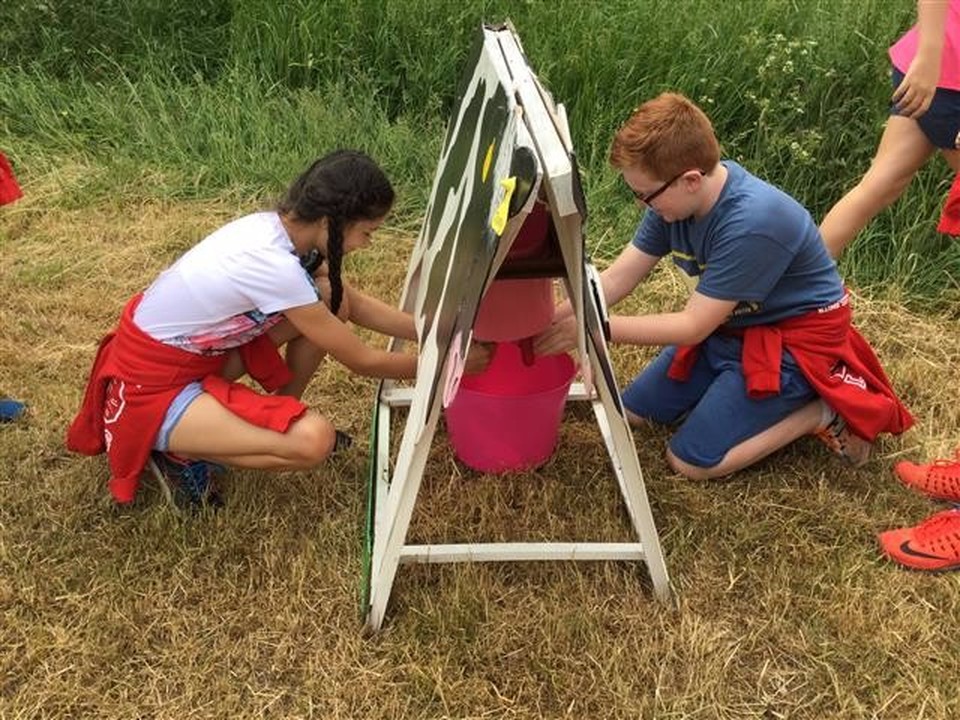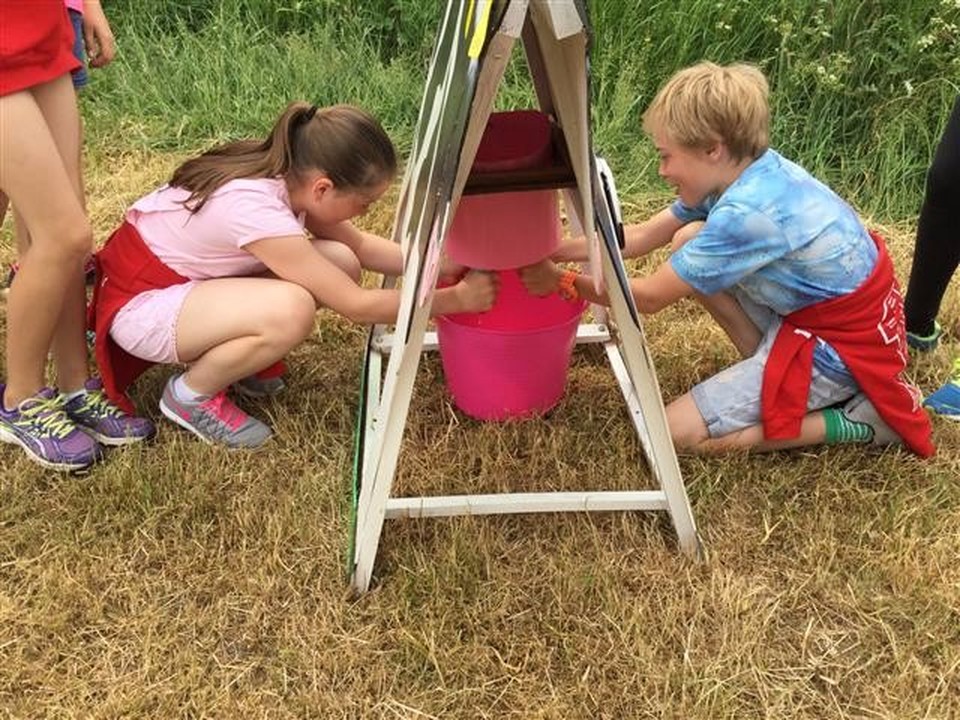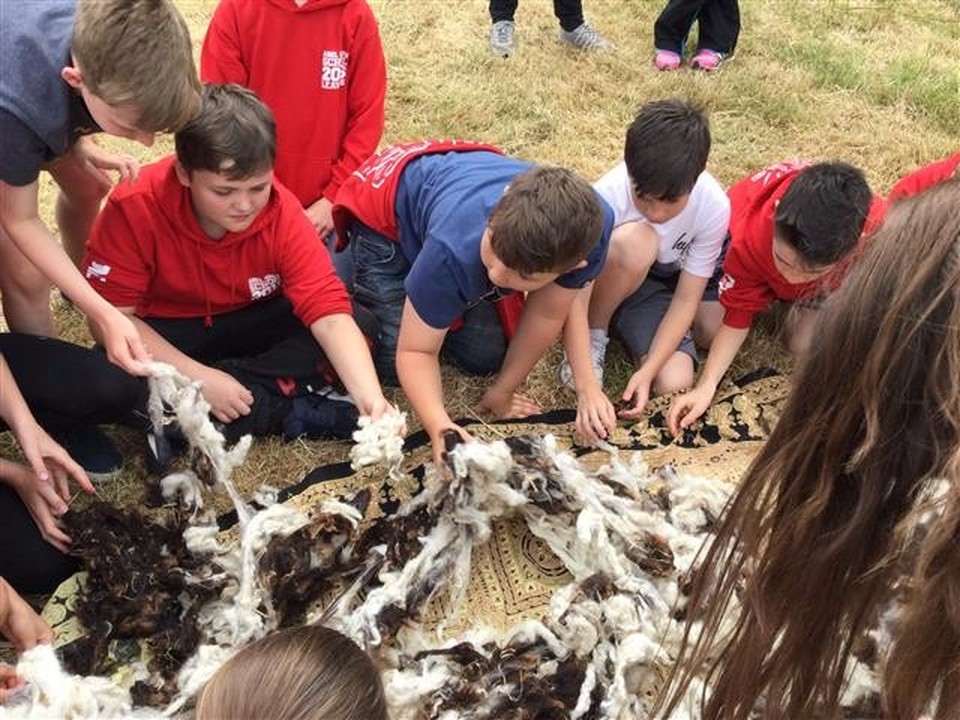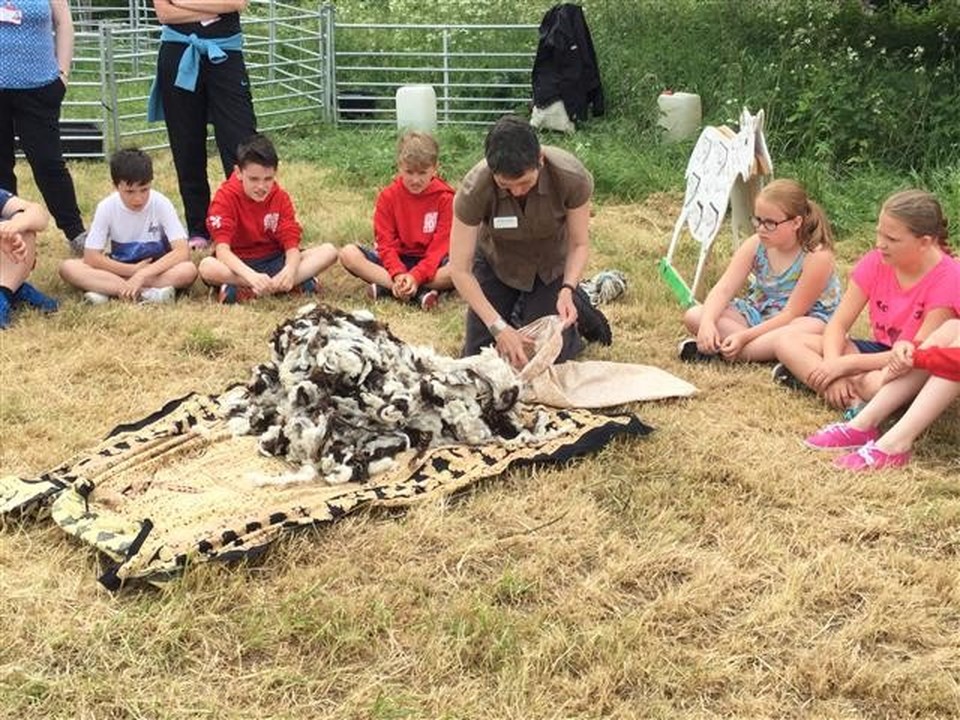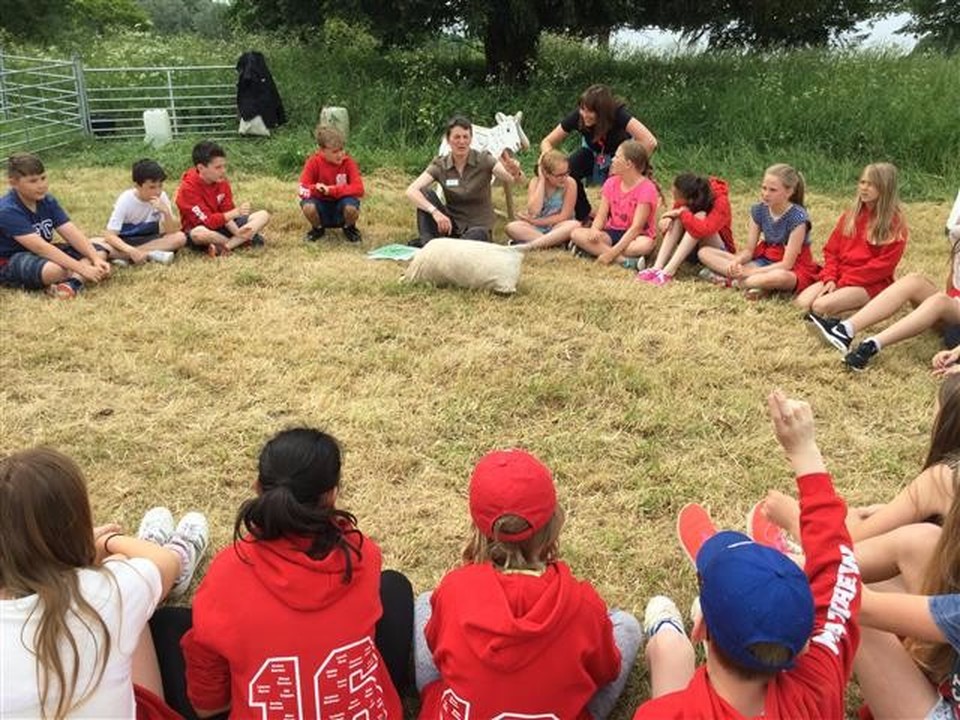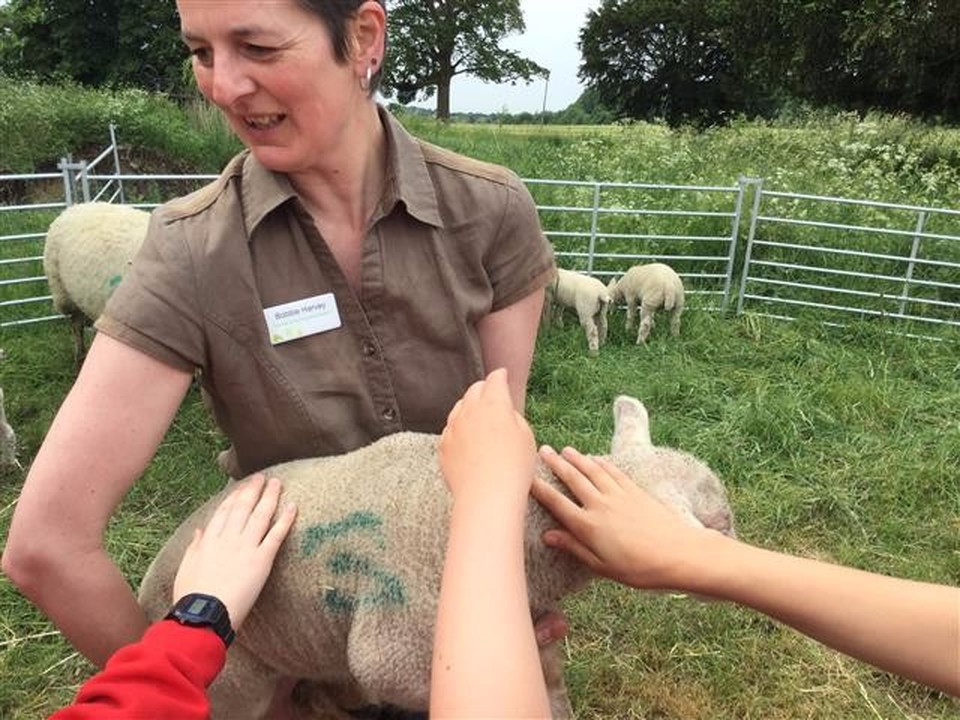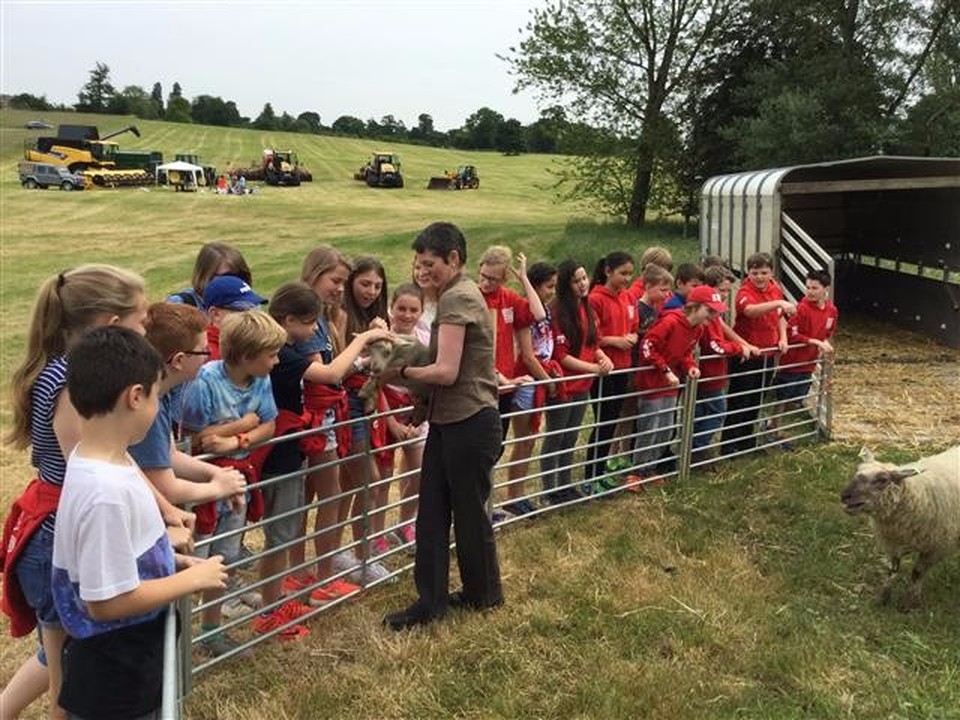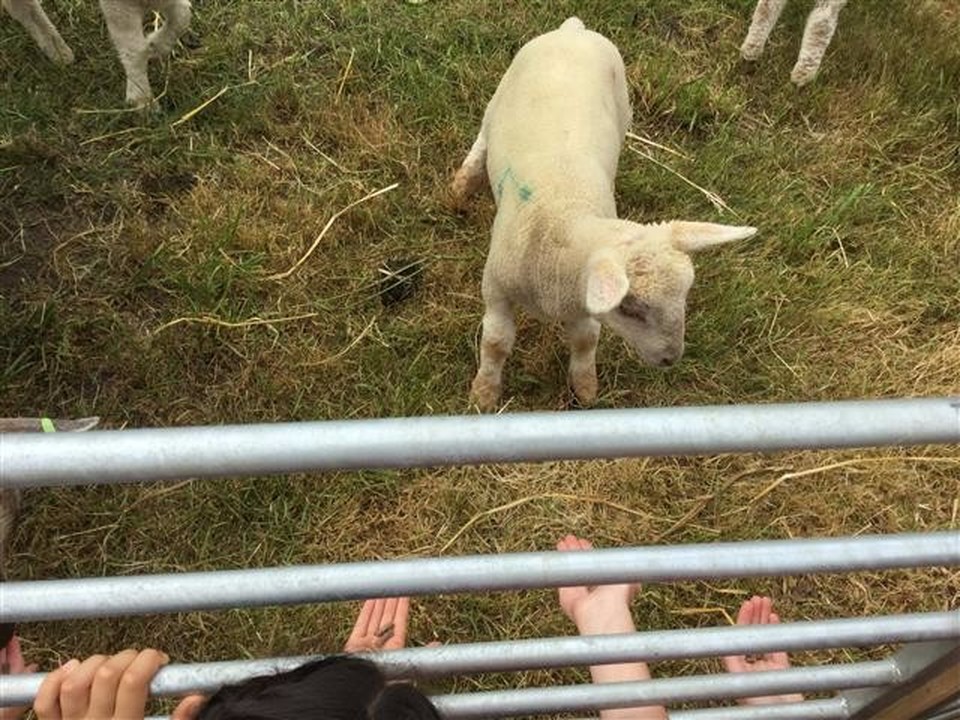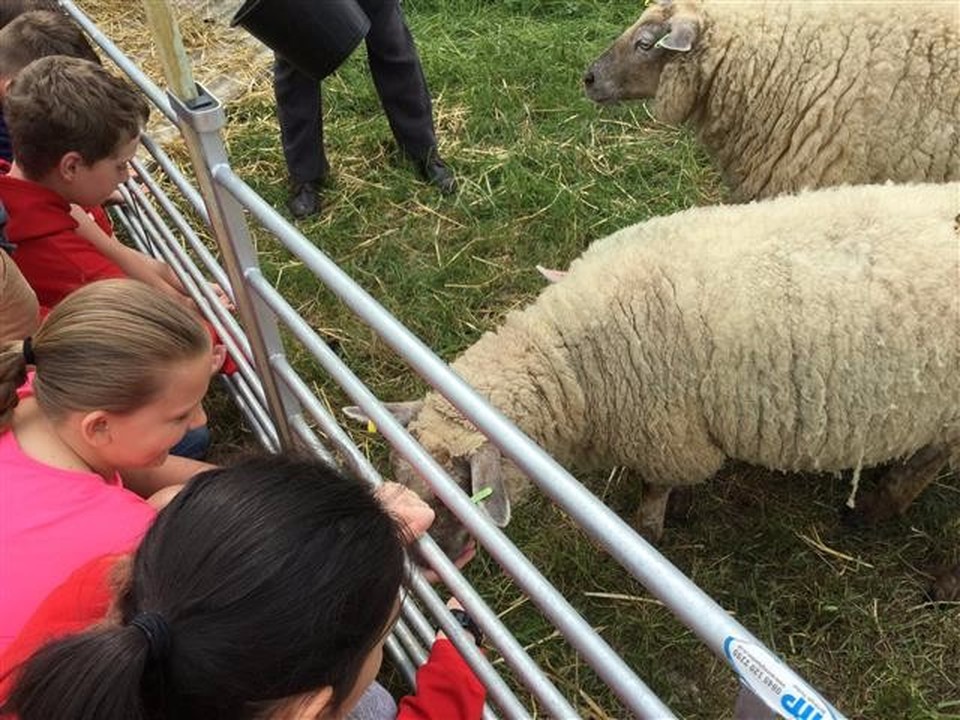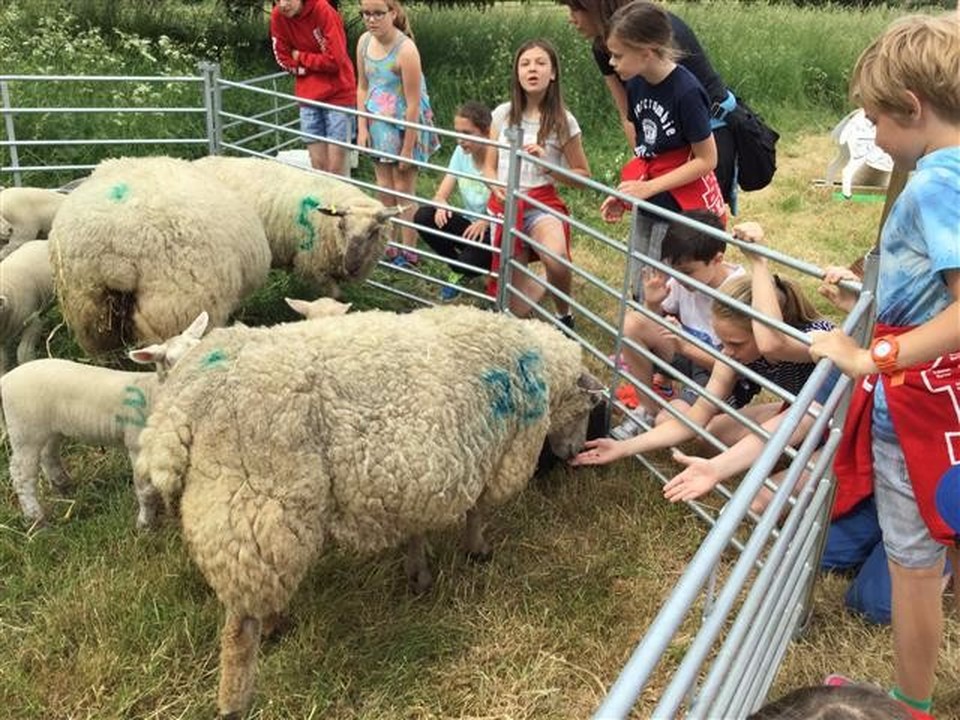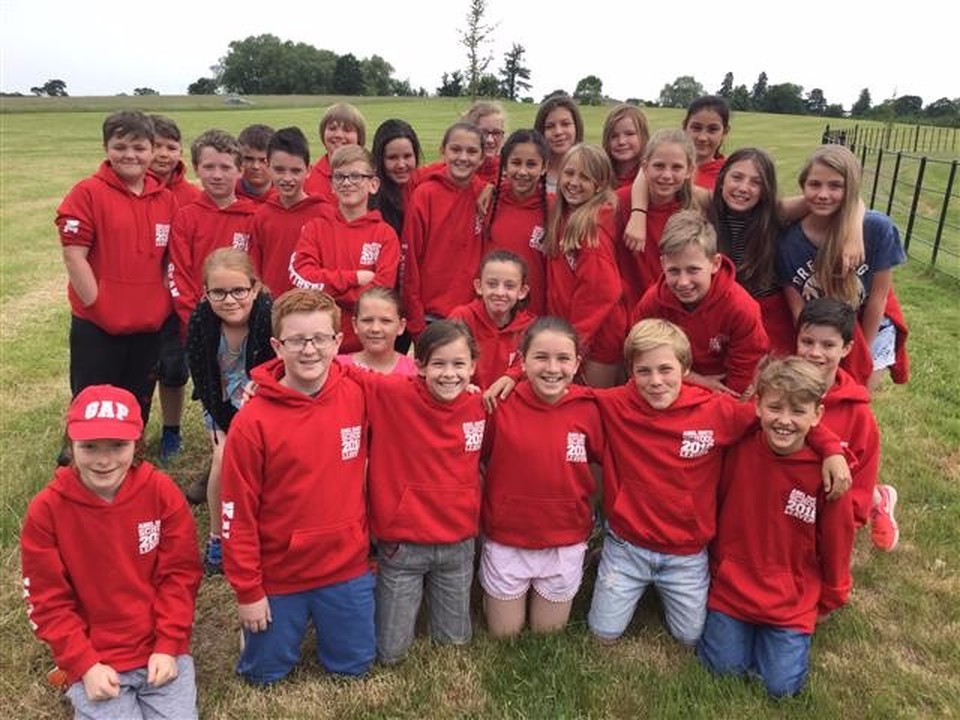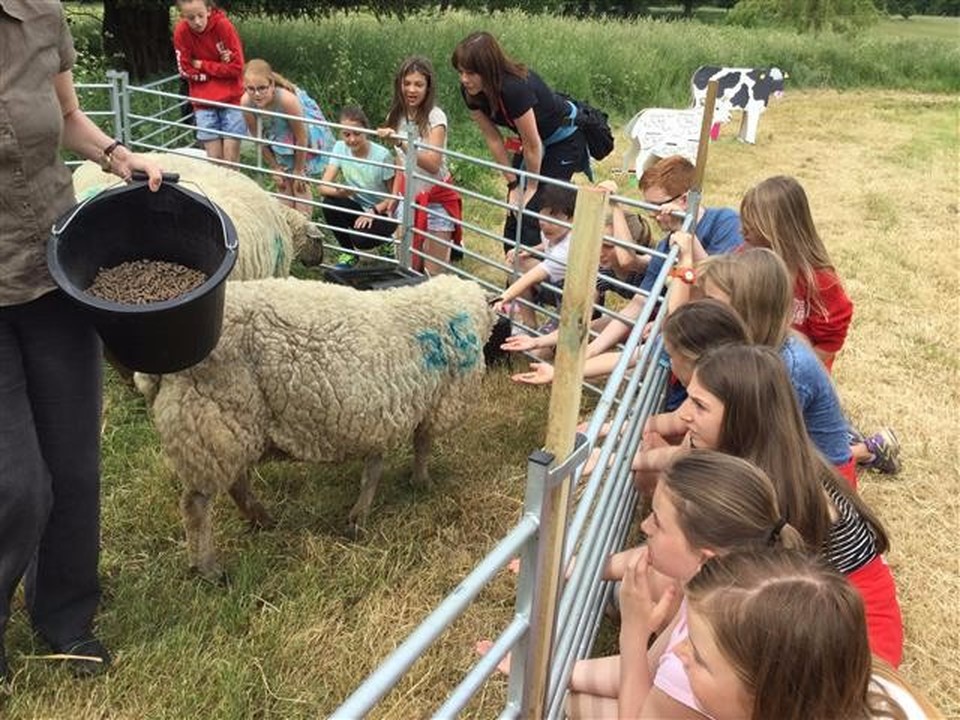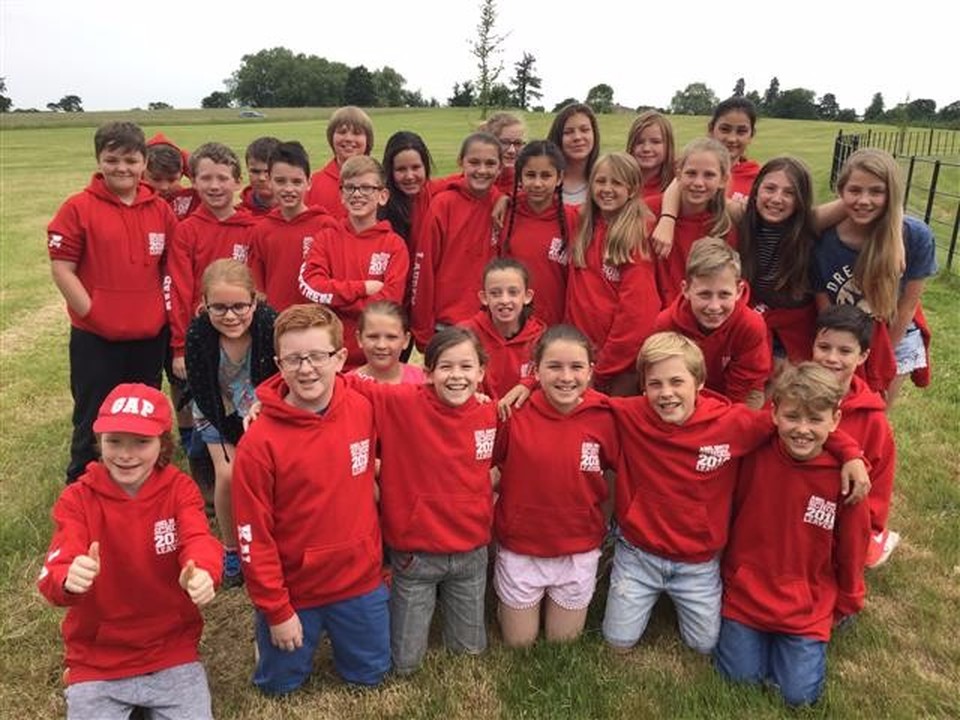 The Globe Theatre and Tudor Day
We really enjoyed our trip to the Globe theatre and loved the workshop too. We enjoyed sitting on the seats in the Globe and watching the cast rehearse for their production later that evening. It gave us a real feel of how it might have been to watch a play there back in the Tudor times.
We also really enjoyed our Tudor day in school and enjoyed making Tudor portraits, learning about banquets and learning to dance - Tudor Style! Thanks to the PFA for funding this trip and workshop - we really loved it!
Essay Competition
Each year Year 6 take part in an essay writing competition which is organised and run by The Rotary Club. The theme is 'What I would like to be when I grow up and why.' We wrote our essays in February and, as usual, we were really
impressed with the aspirations of the pupils. We had essays written about becoming a farrier, a chef, an entrepreneur, a dancer and a writer.(to name just a few!)
Isabella's, Alex's and Emily S's were chosen as the three best from the class and then these were put forward to compete against some other local schools. On Friday 29th April, Bill Wright (from the Rotary Club) came in to school with certificates and prizes AND to announce the winner! We were absolutely delighted to find out that the overall winner of the competition was from Abel Smith School (for the second year running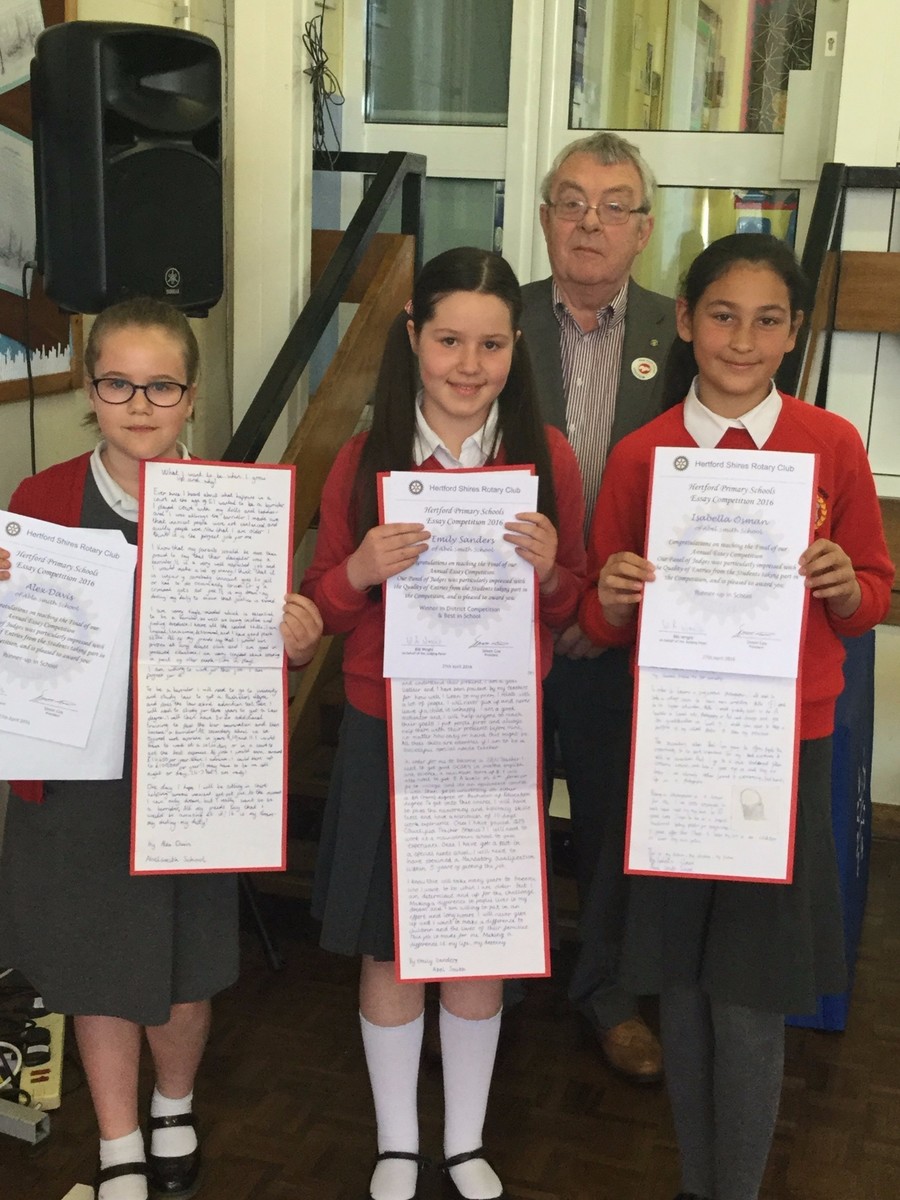 KNex Workshop
We had great fun during our KNex workshop. We were given the challenge to design and build a catapult that was capable of firing a small ball over a 30cm wall - sounds easy? We soon learnt that it wasn't that easy at all! Well done to everyone involved but especially to Corben and Oli who were chosen as having the best design in the class! Thank you to all the team at Setpoint for organising this event.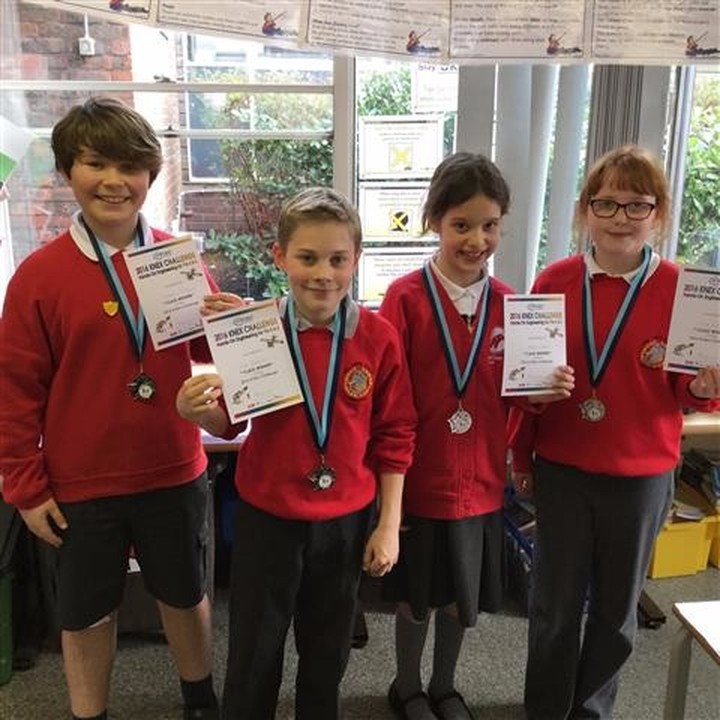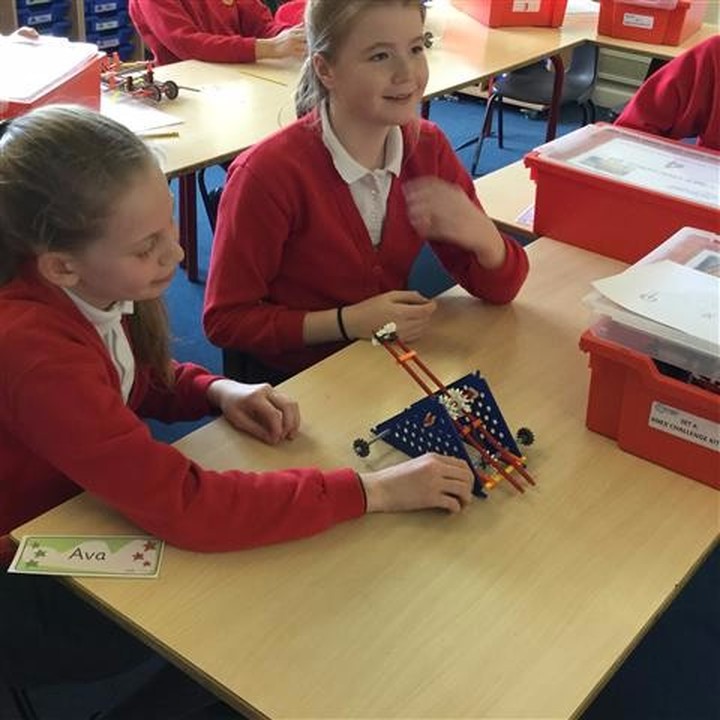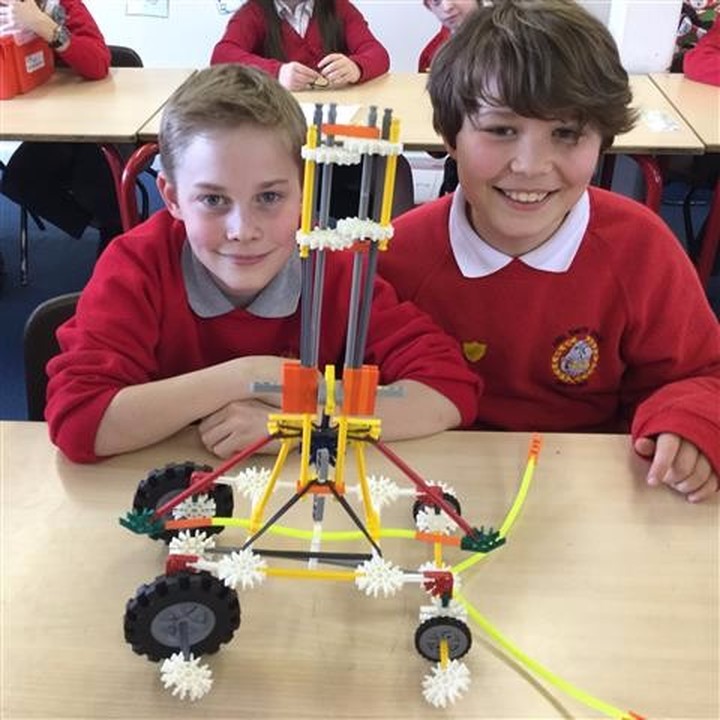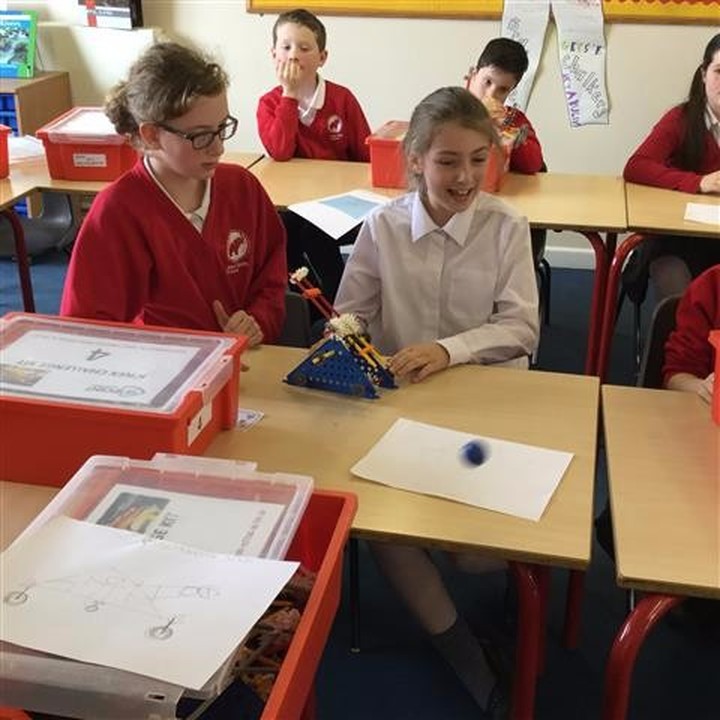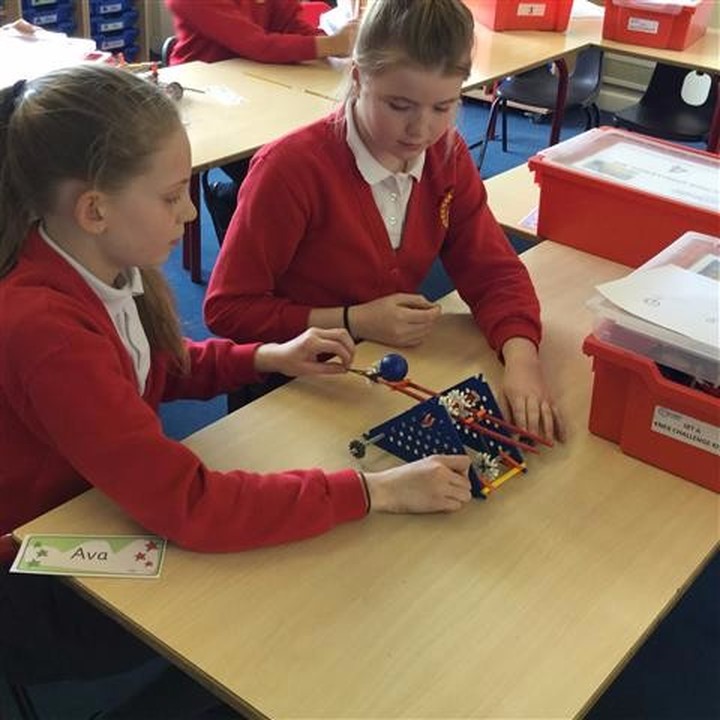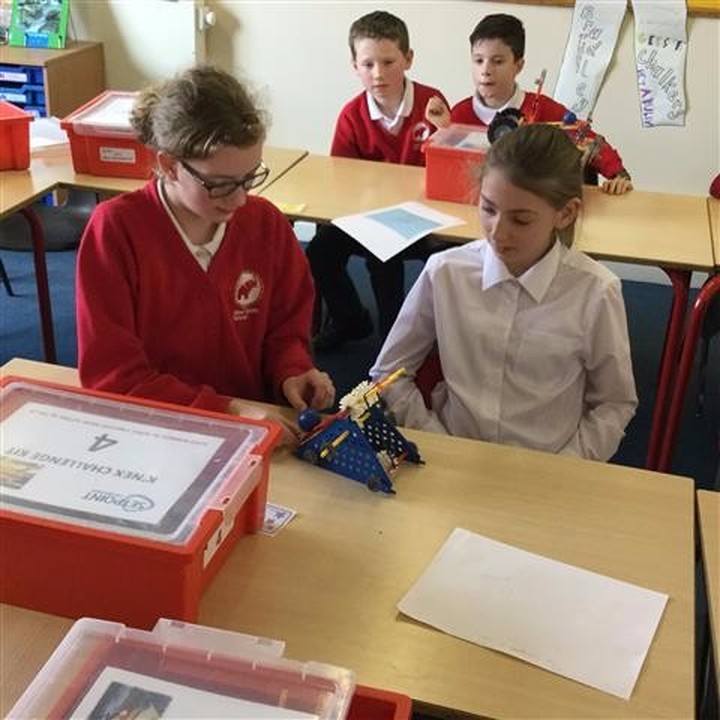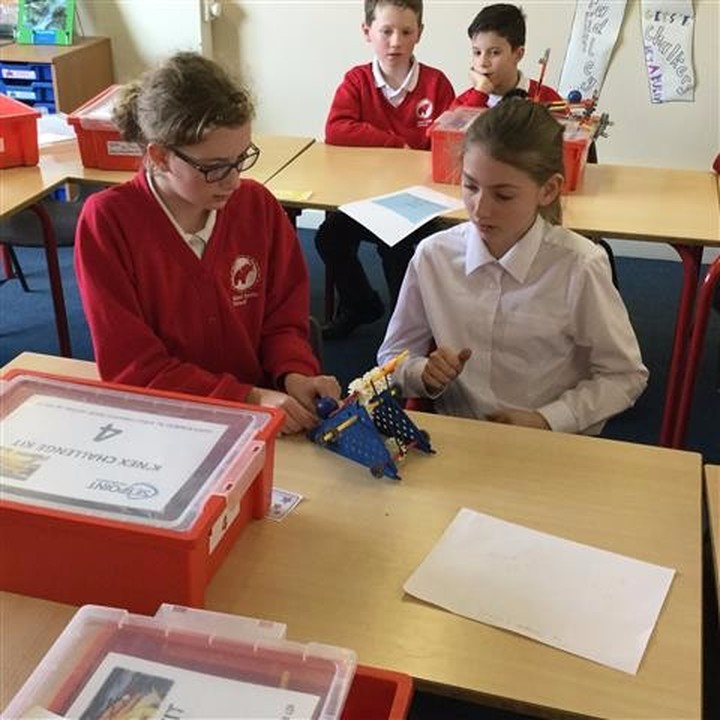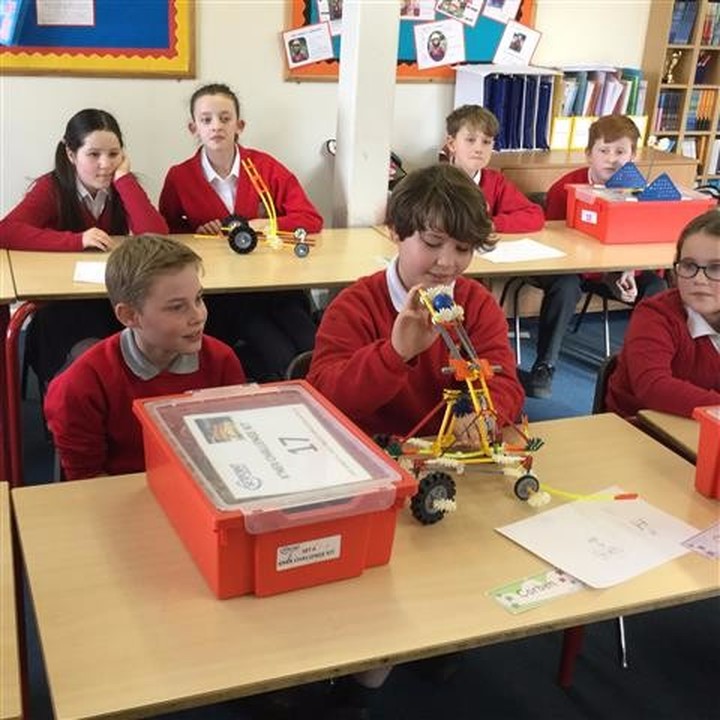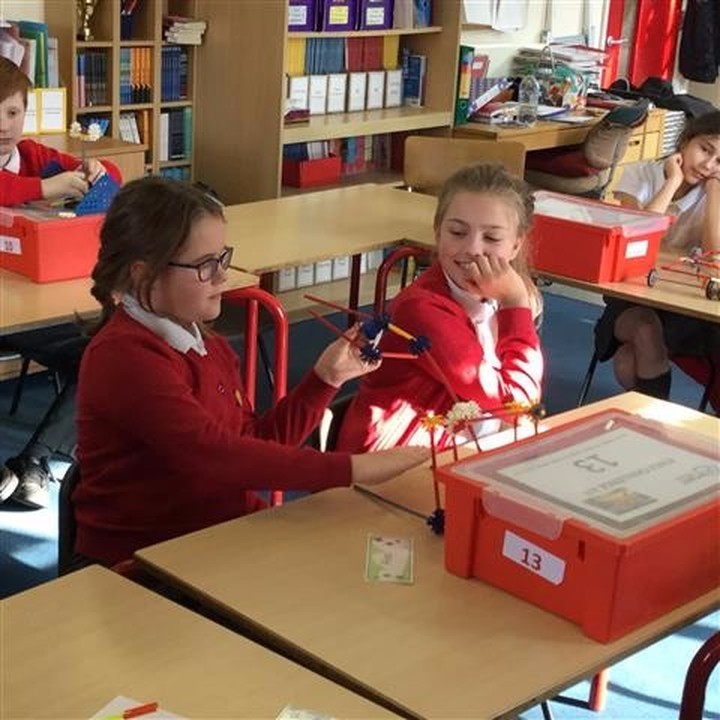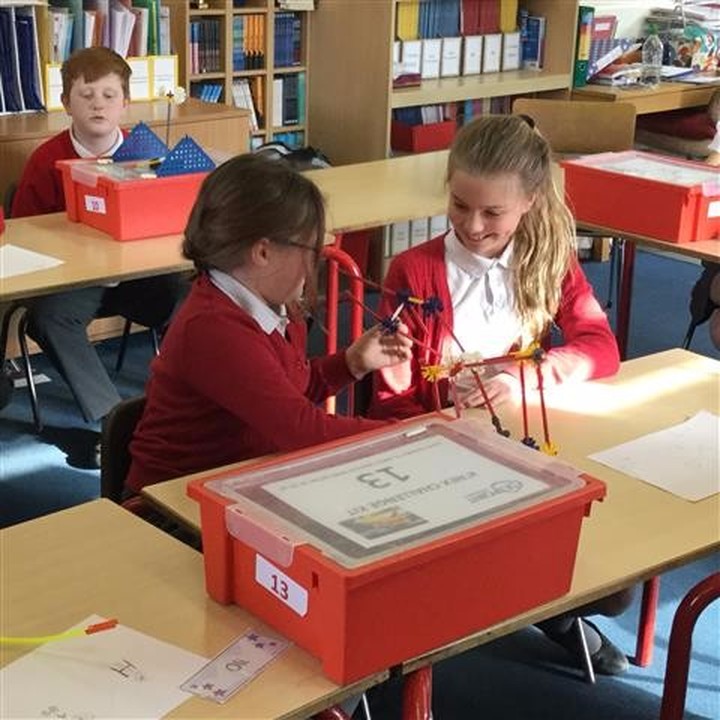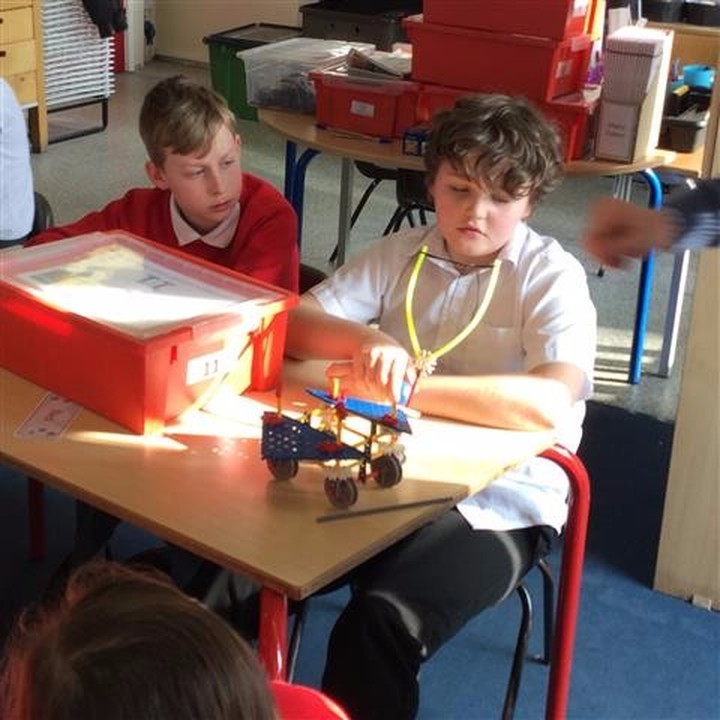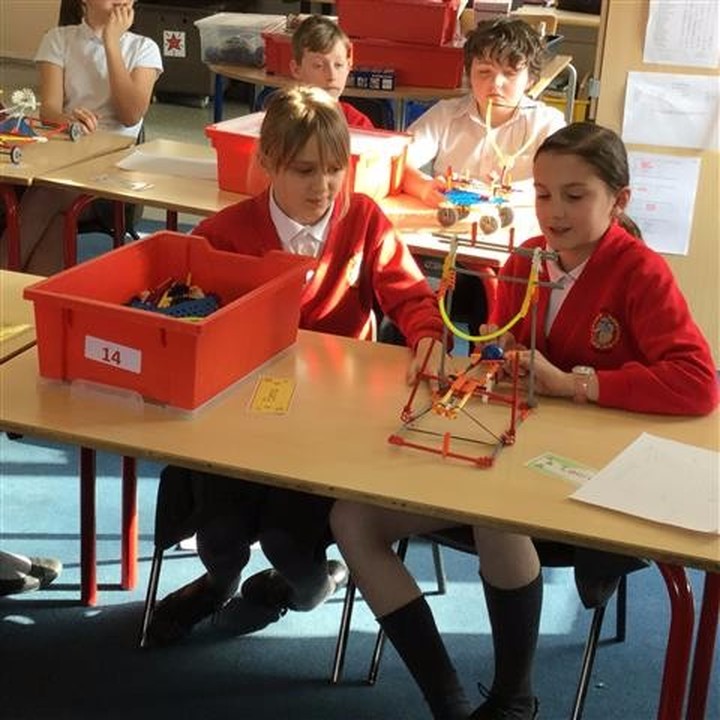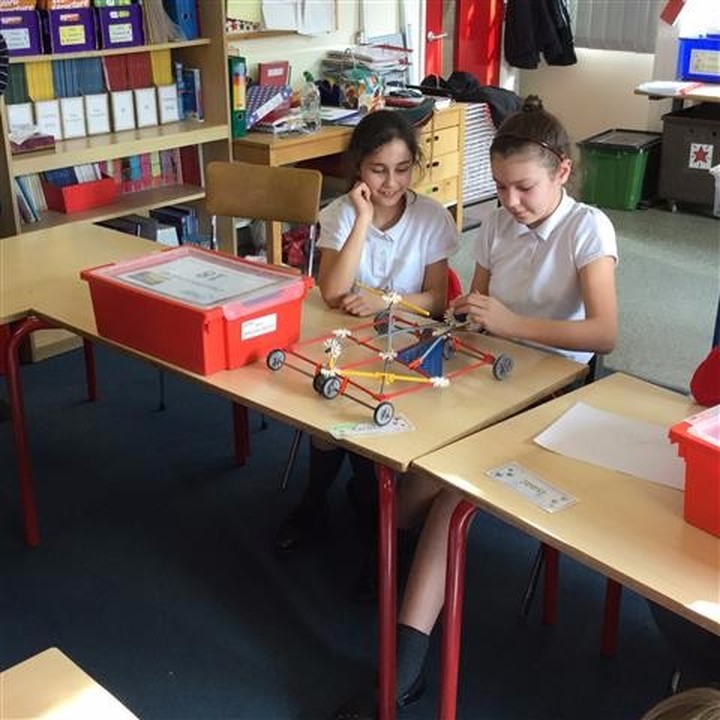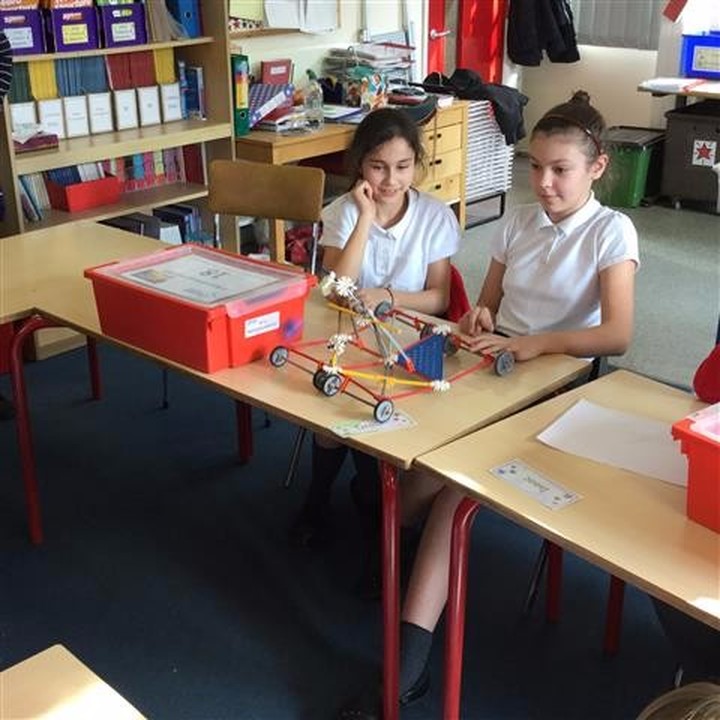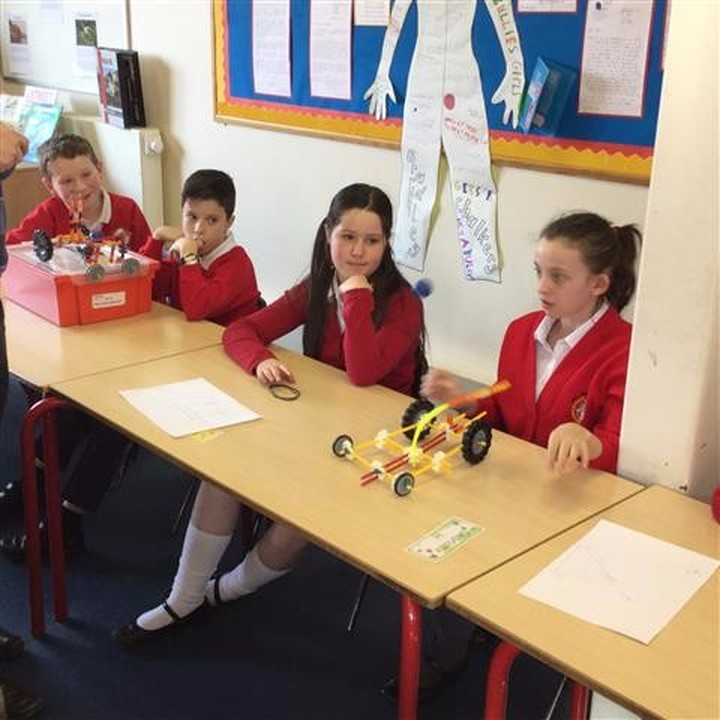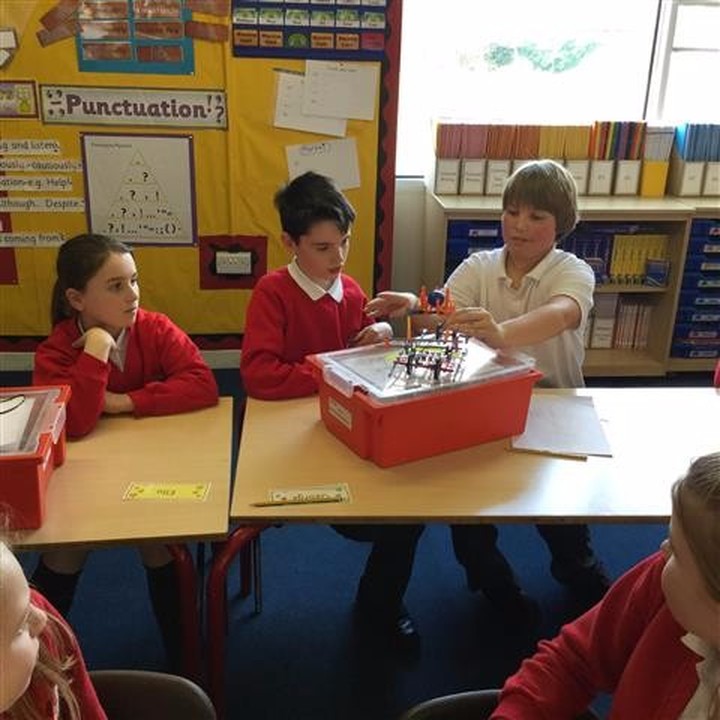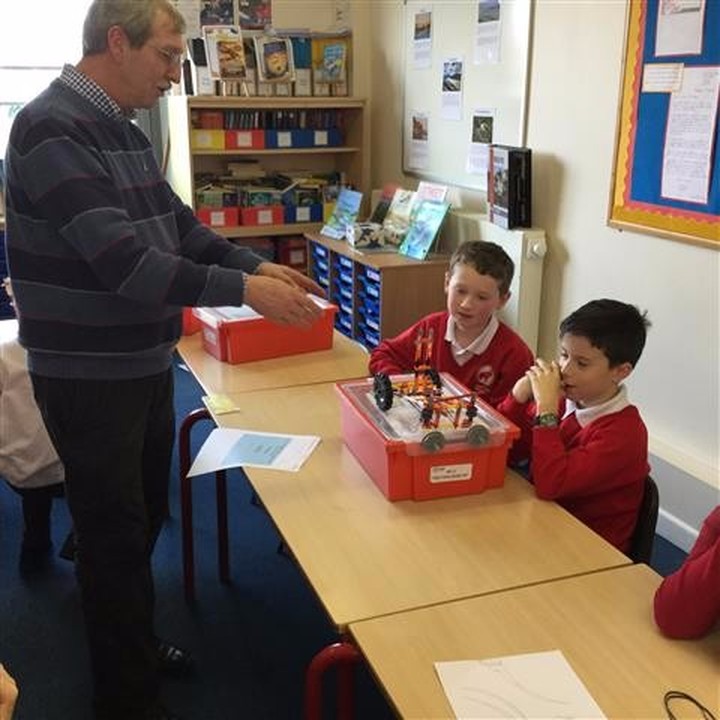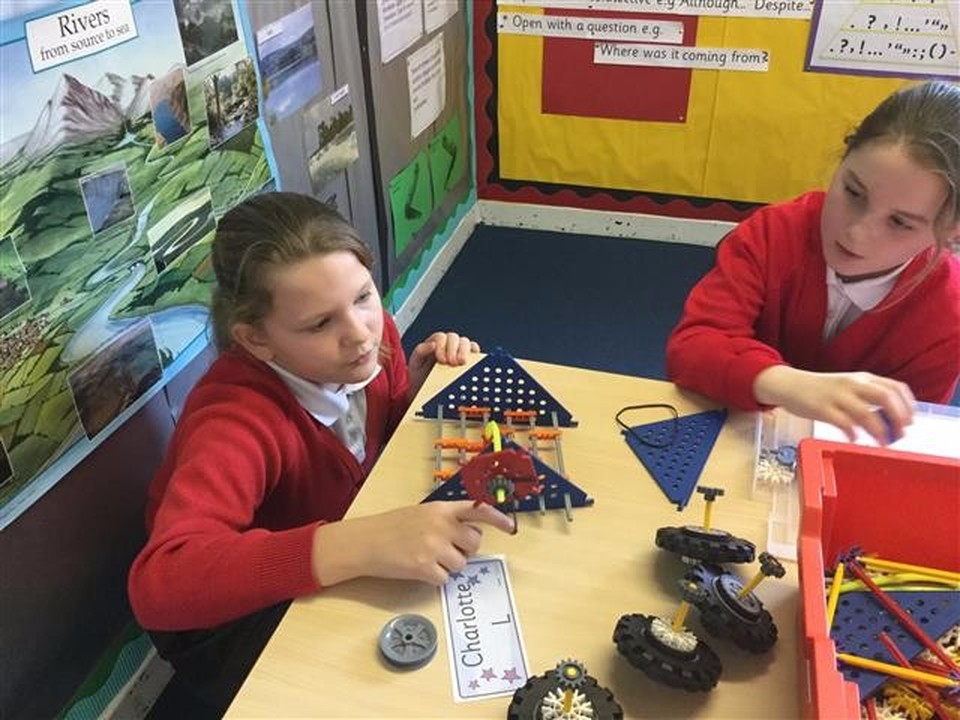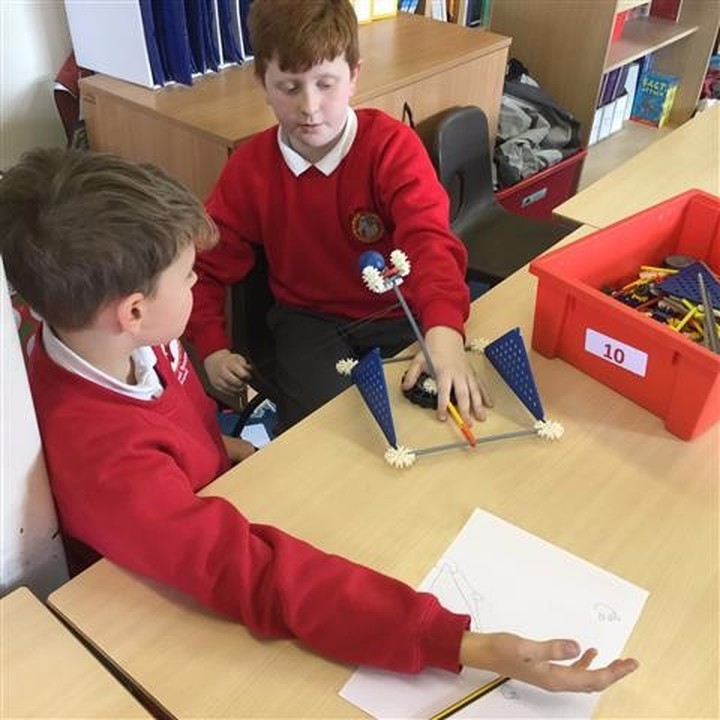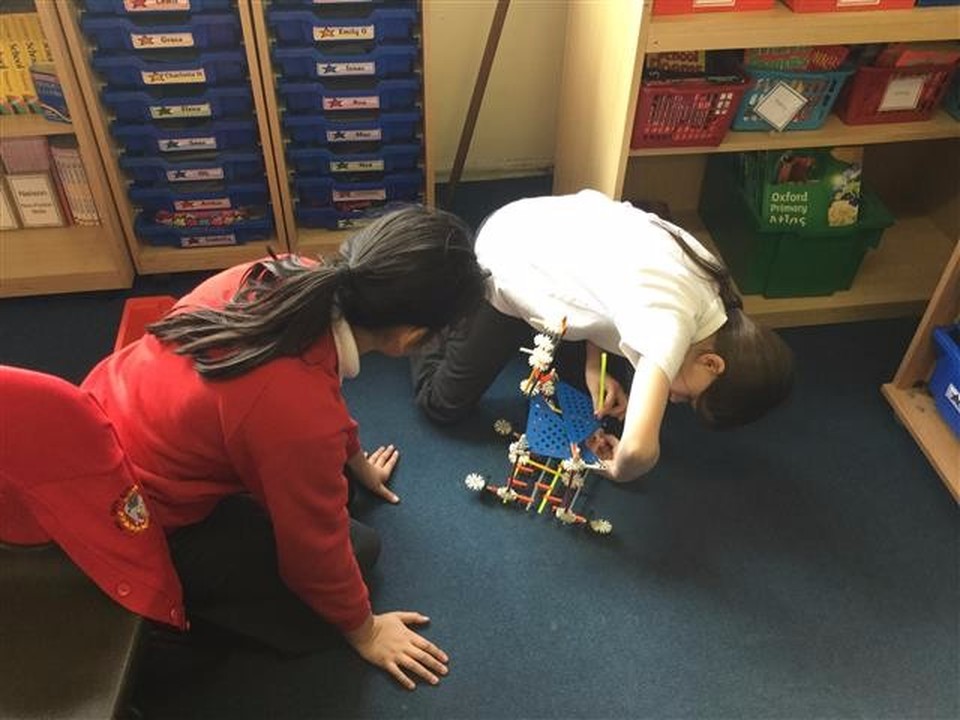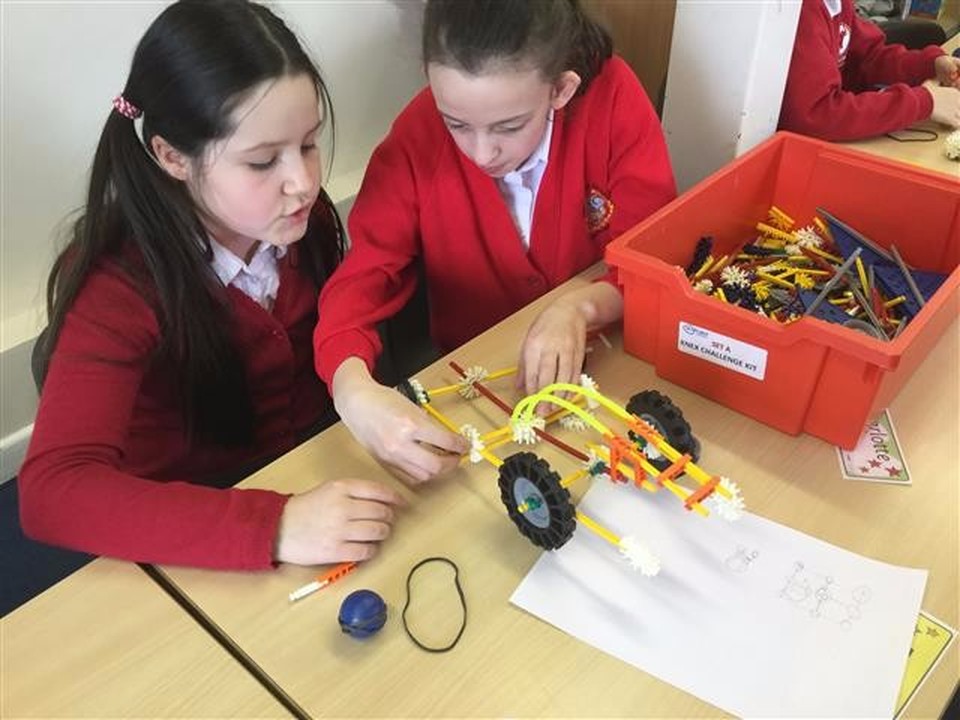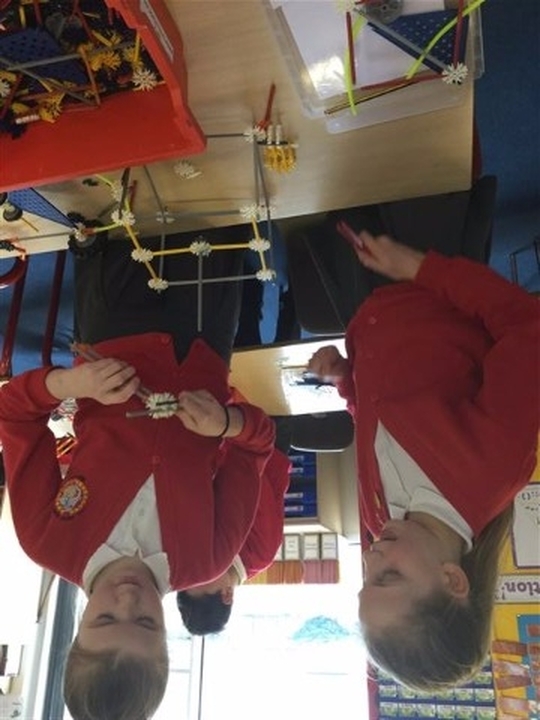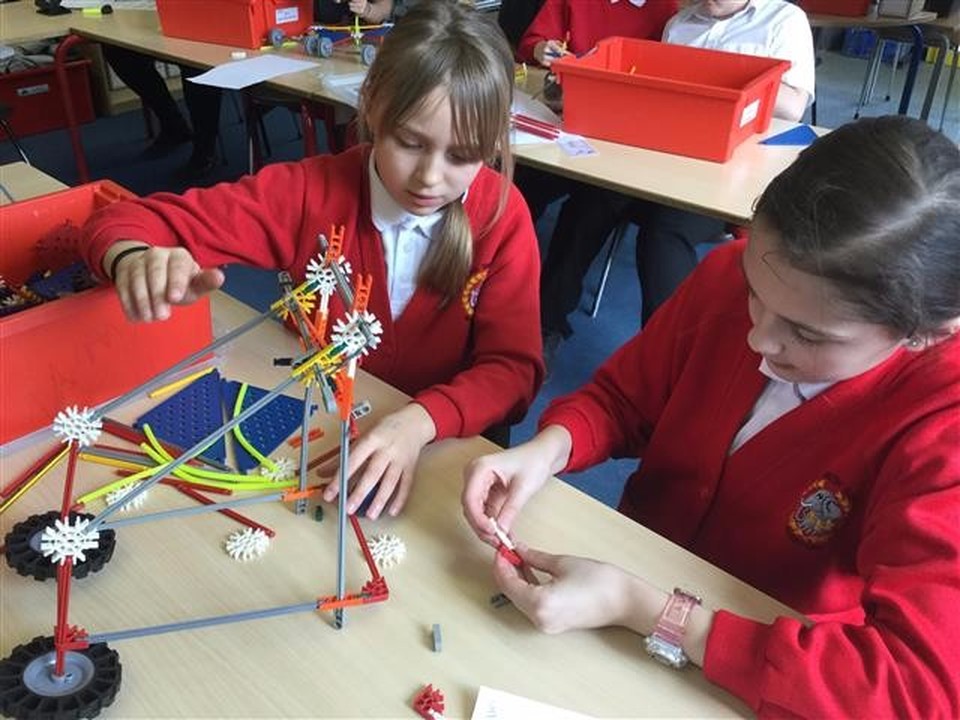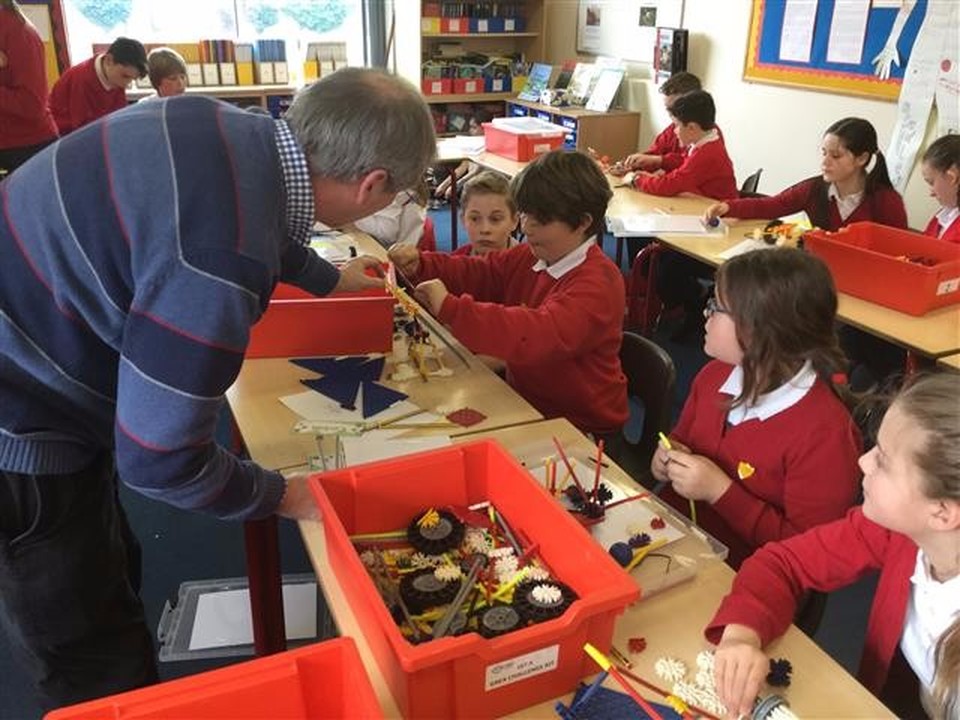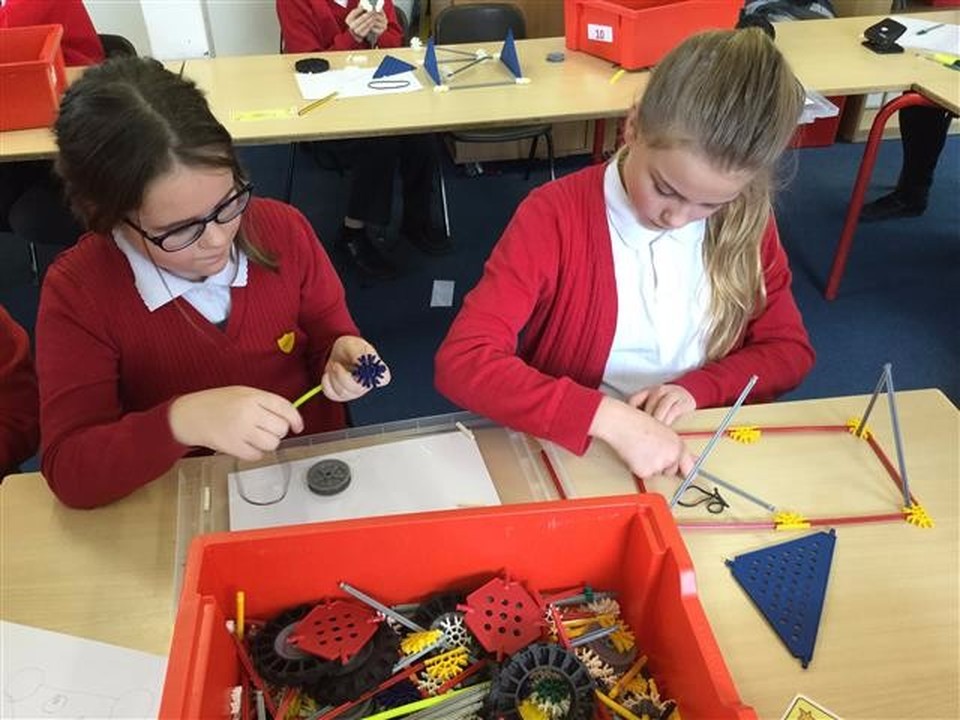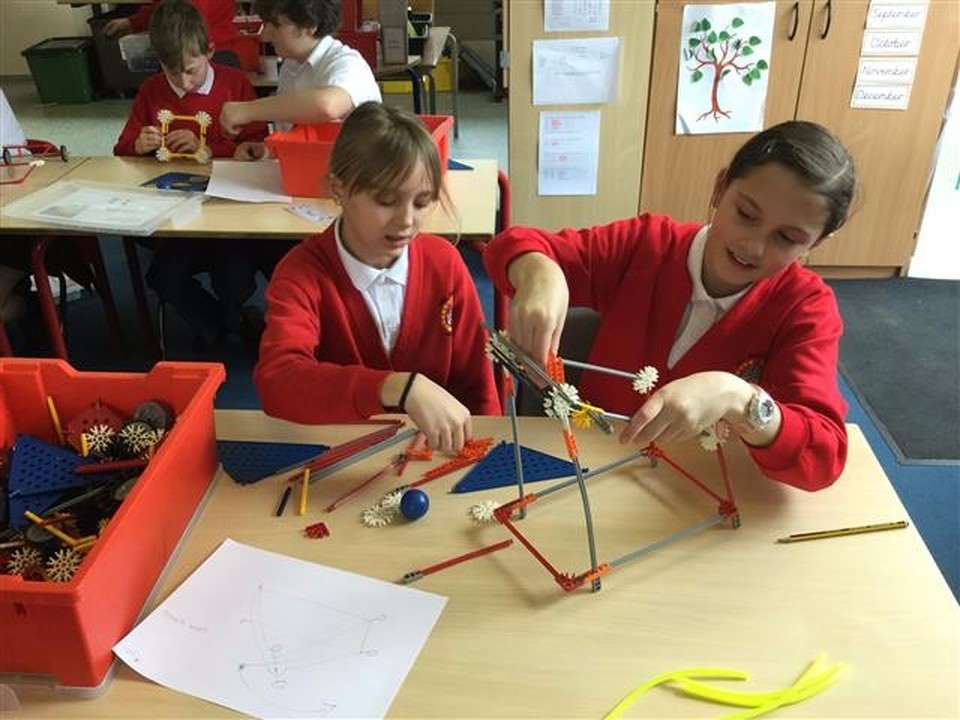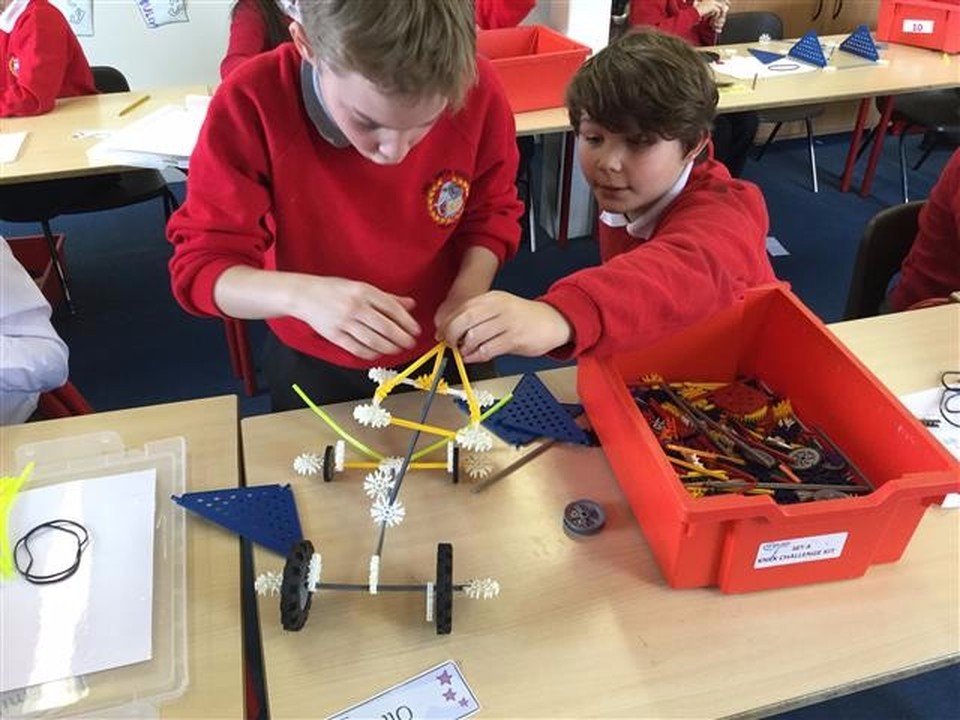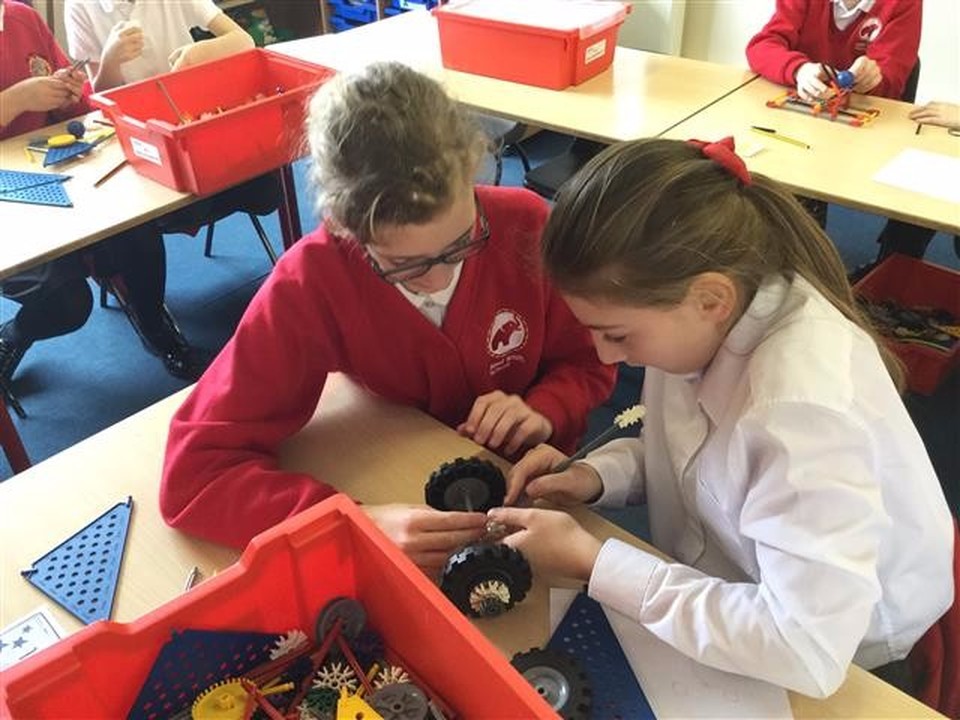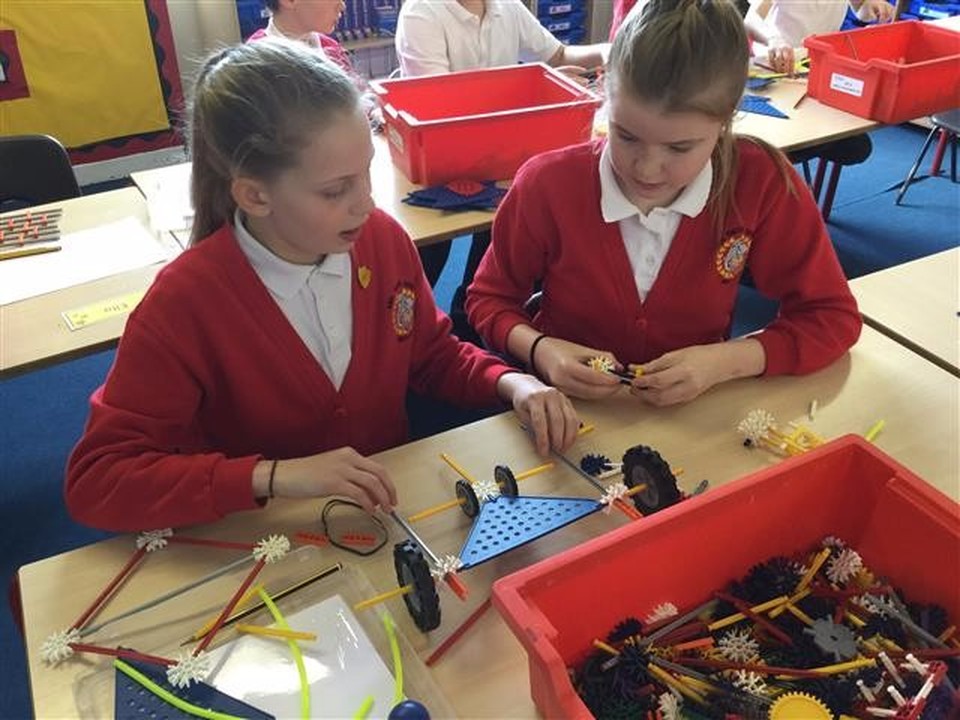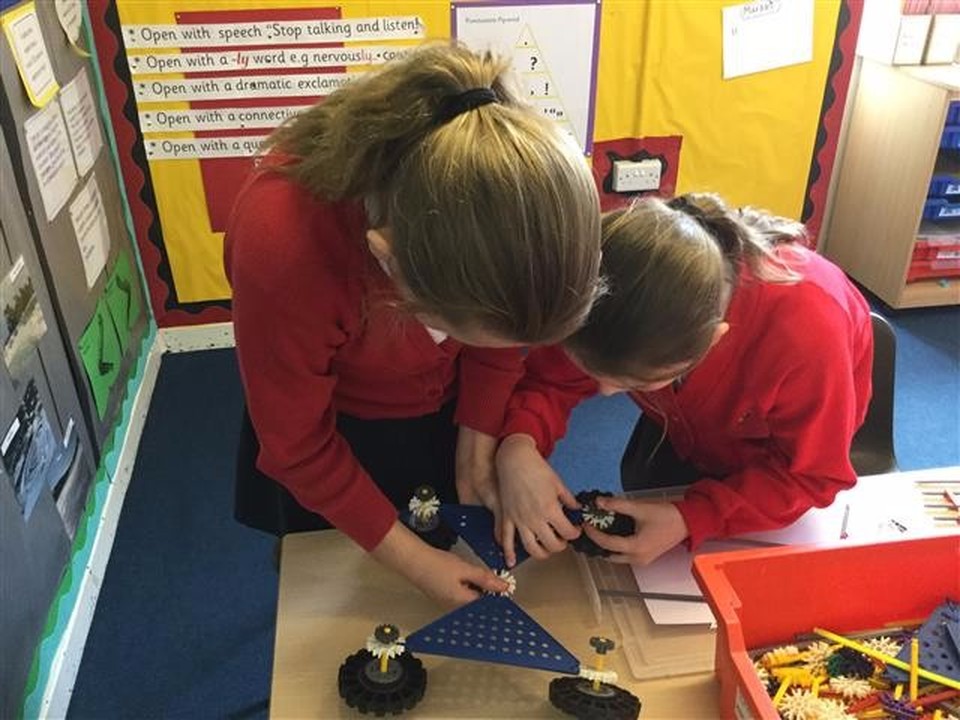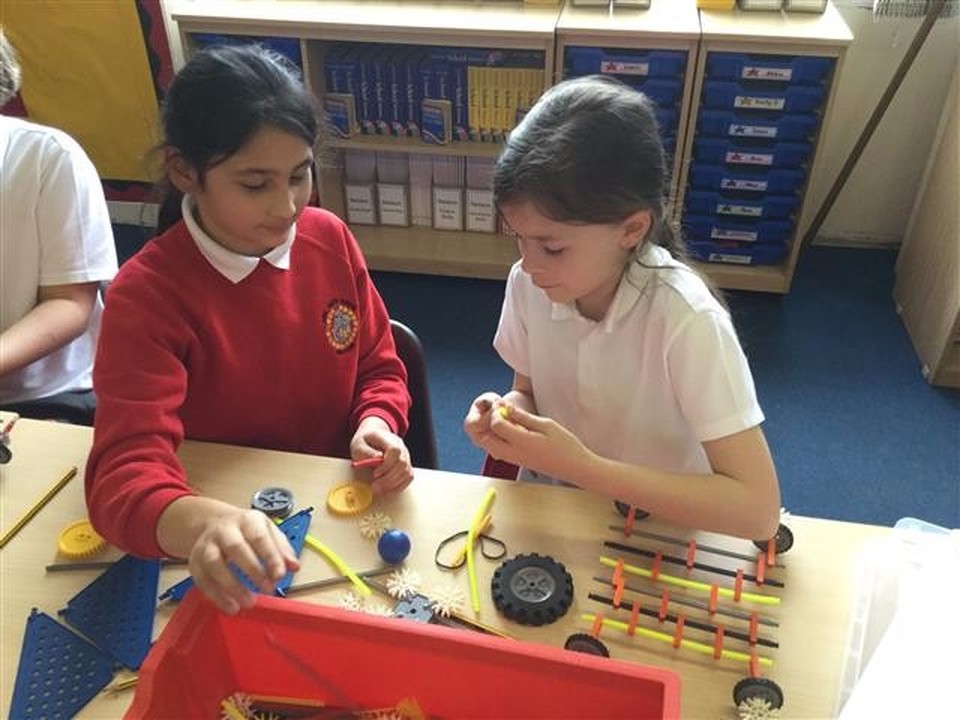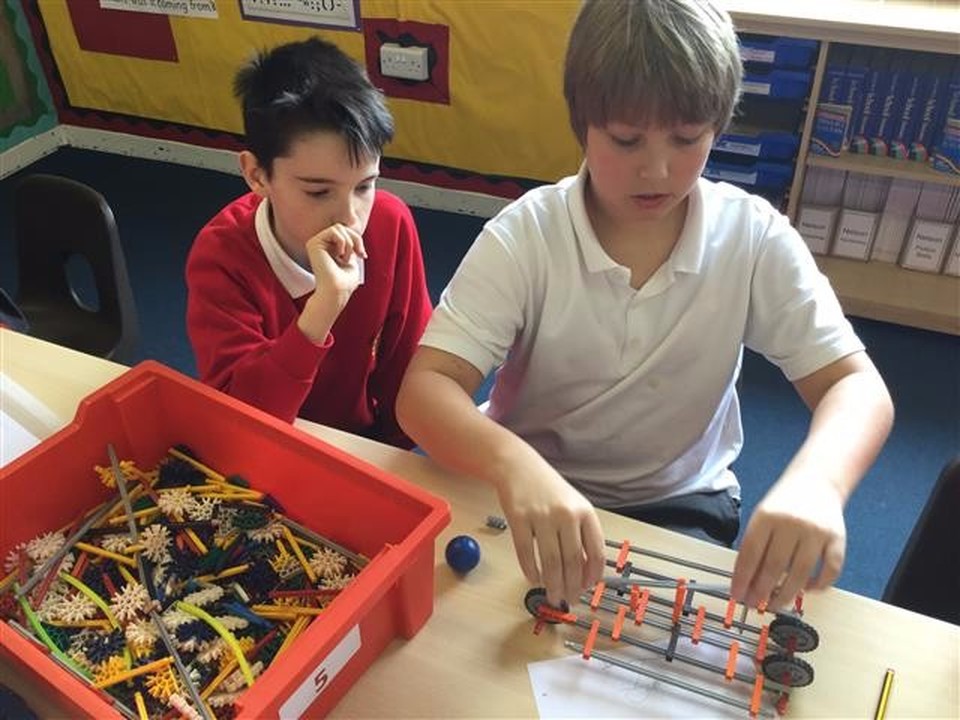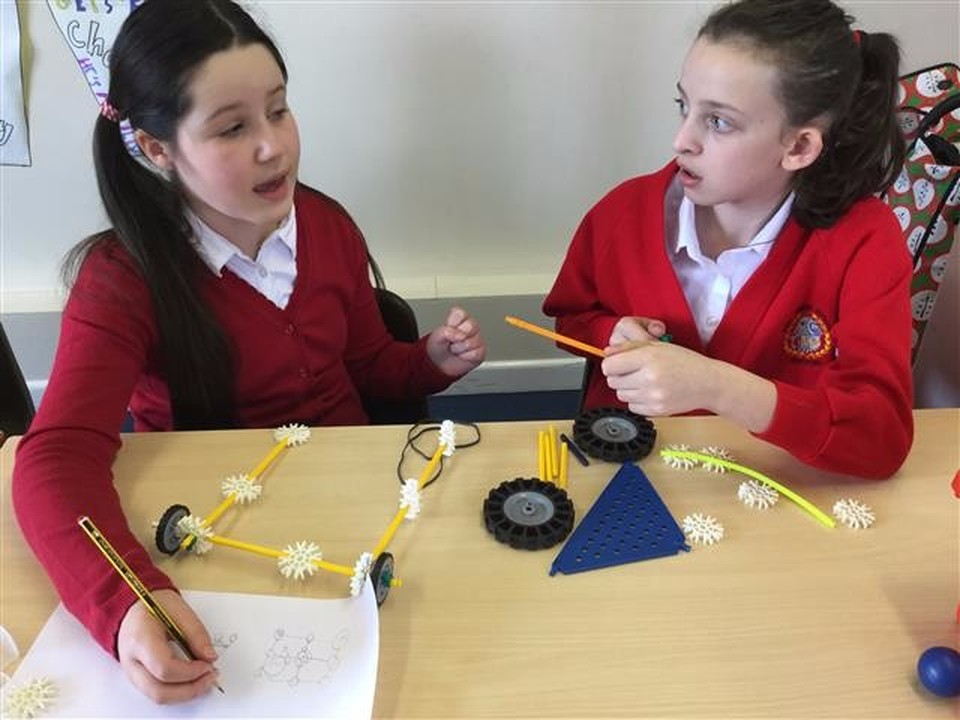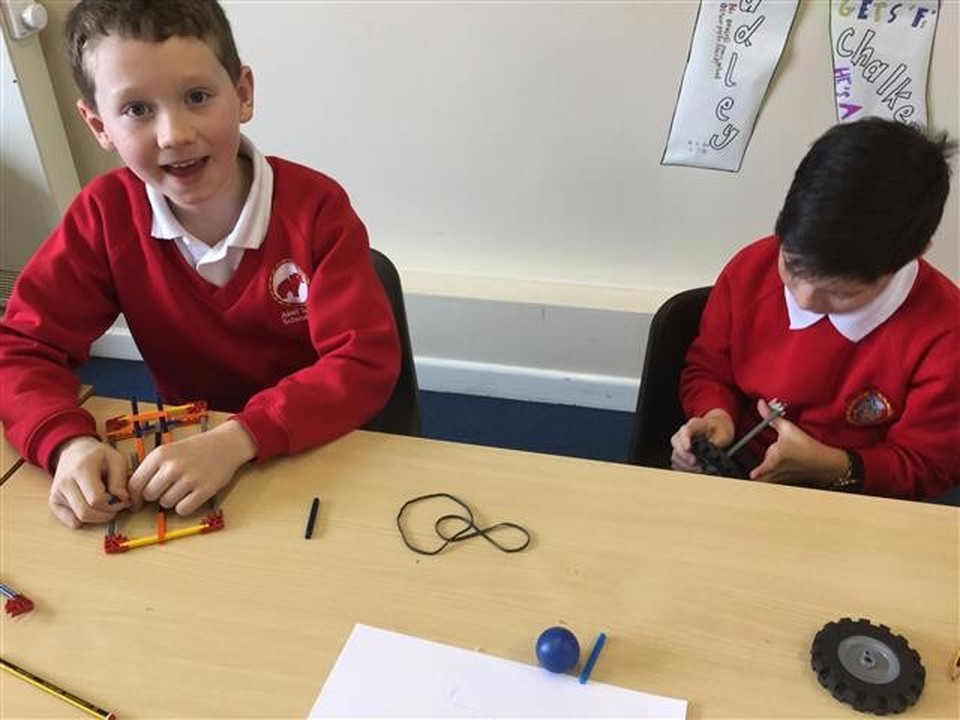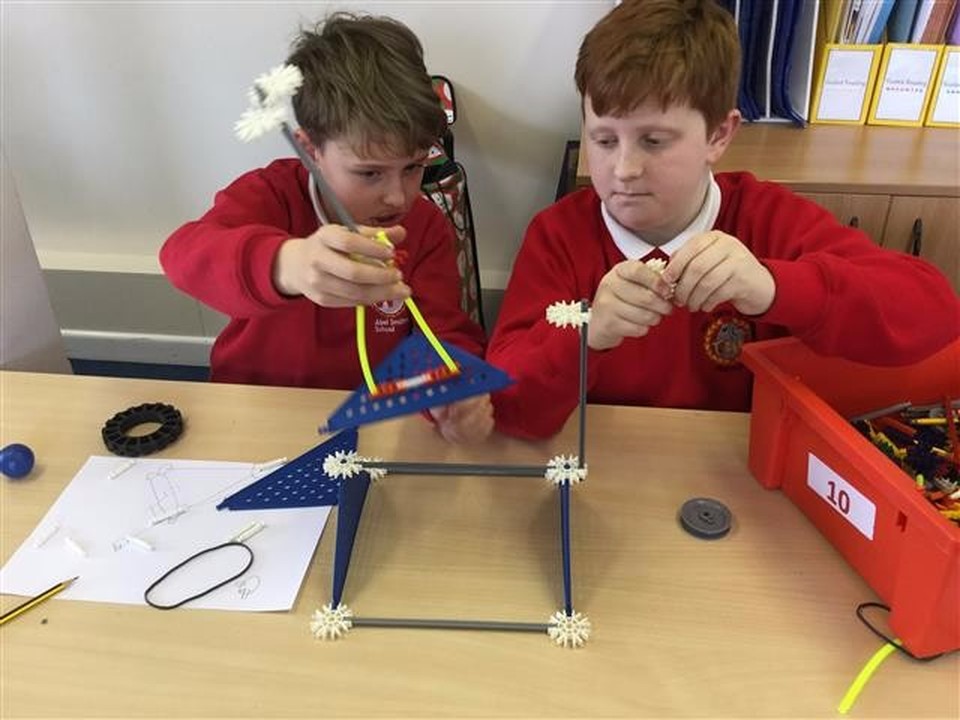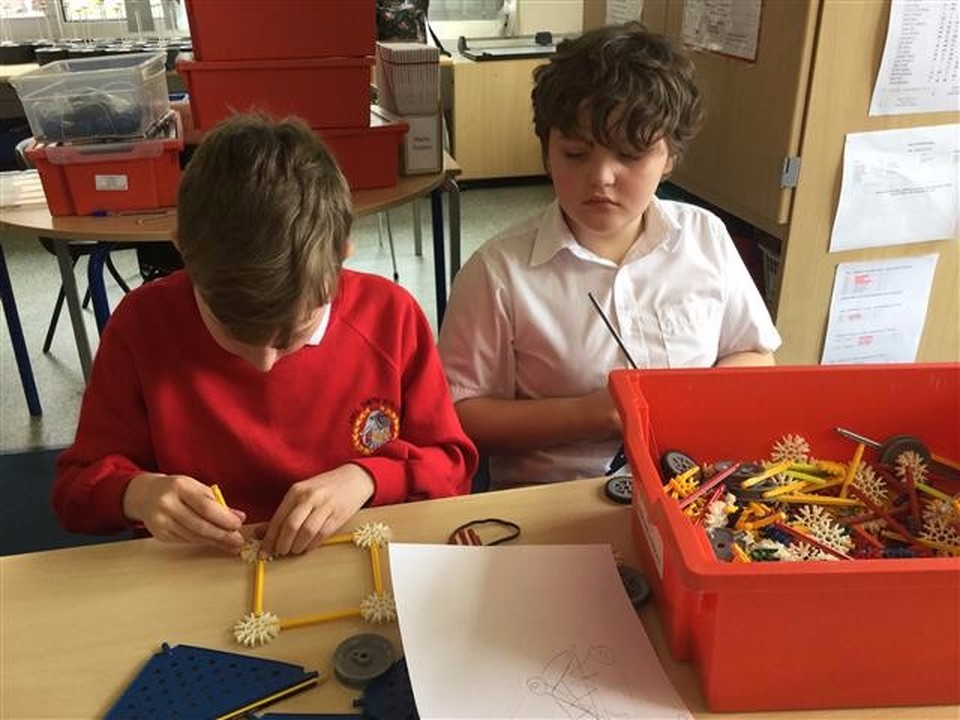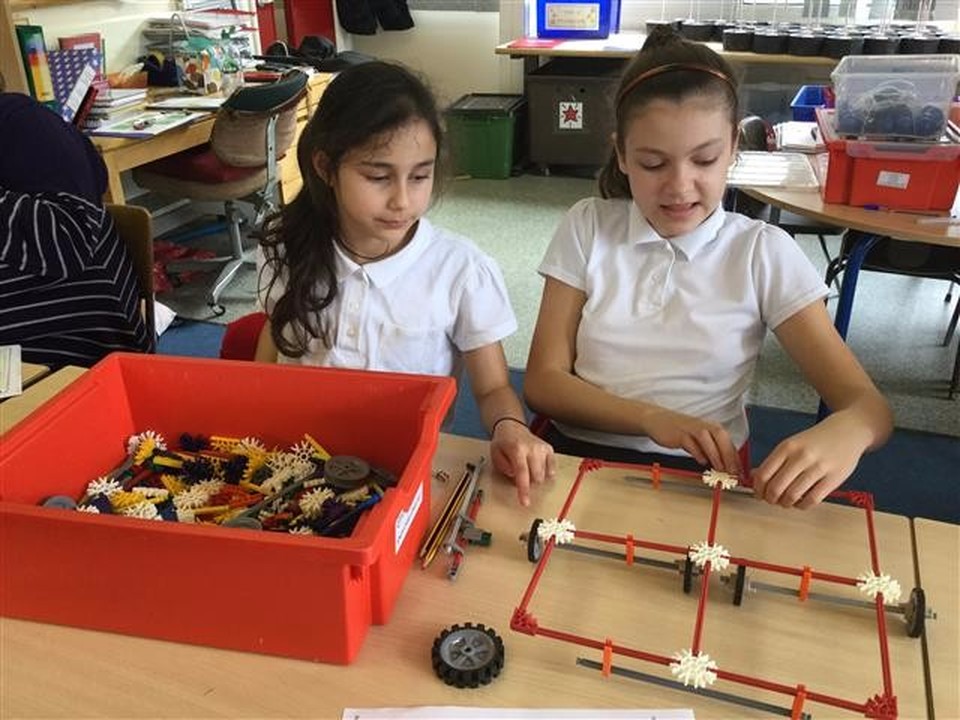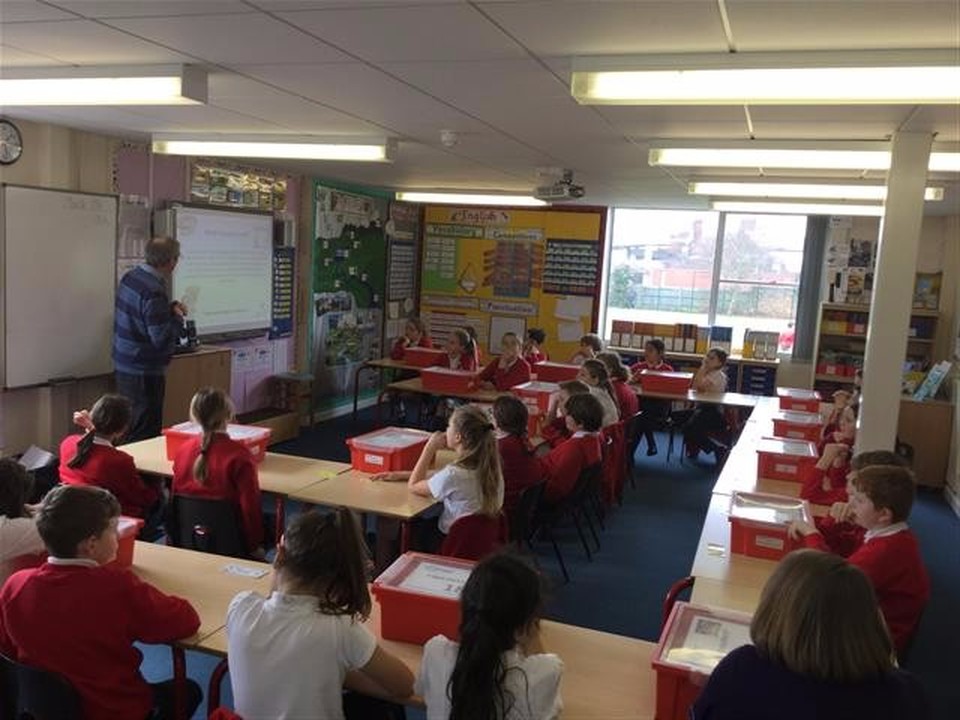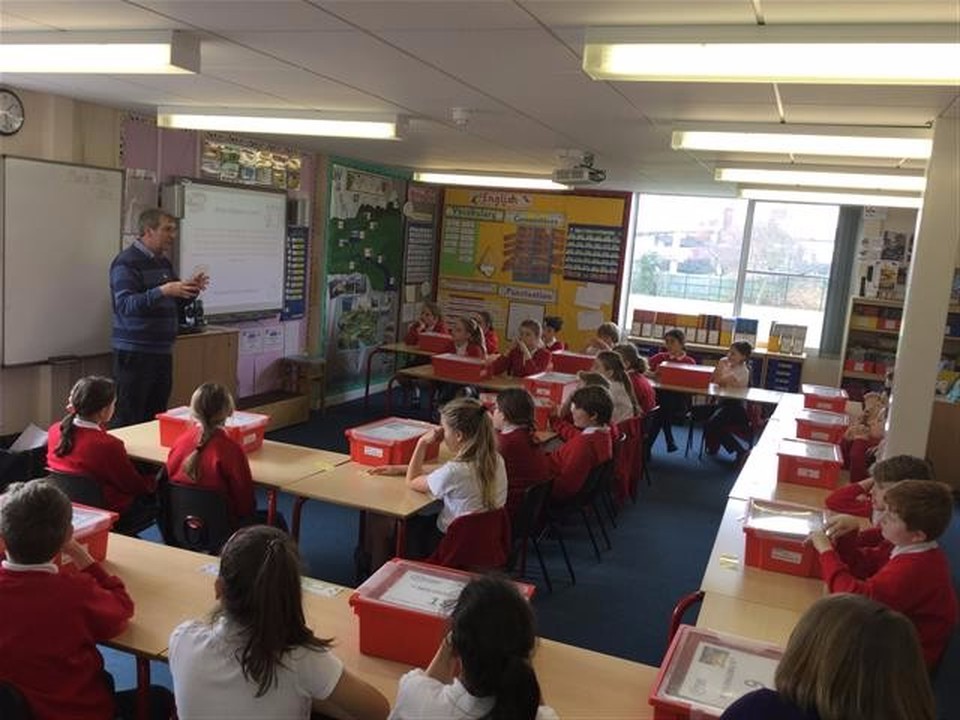 French Day 2016
During French day, we wrote a short passage in French all about ourselves and we played boules. Here is some of our work, we hope you like it!
Affinity Water - Friday 26th February
We had a great trip to Affinity Water today. We really enjoyed our tour of the water treatment centre and learnt how our water gets from the aquifer (an underground layer of water) through the boarhole and into the treatment plant at Bushy. We then heard about how it is cleaned and treated ready to be either stored in a reservoir or pumped straight into local homes and businesses.
We also enjoyed finding our about the catchment area of a river and what happens to the river water on its journey from the source down to the mouth of the river. We discussed what we needed to do to help keep our river water clean and wrote pledges of how we could play our part.
In the afternoon we went outside to learn more on the giant, river model. The best news was that this had only jbeen finished being built a few hours before and we were the first class to use it! It was amazing and helped us to visualise all our learning about rivers in a interactive way. We are looking forward to continuing our learning this half term.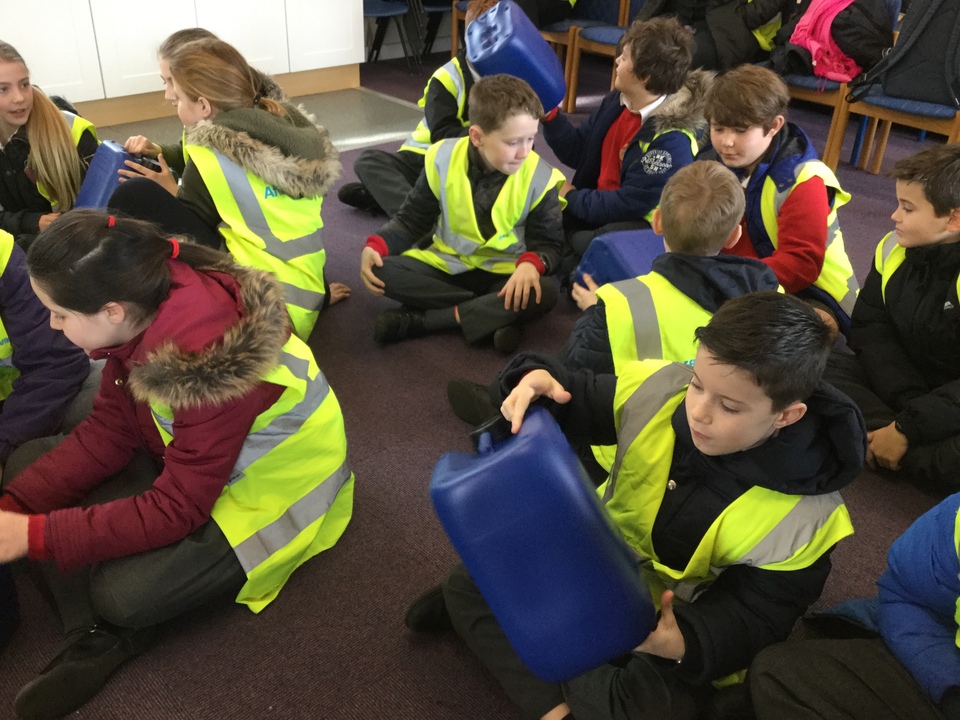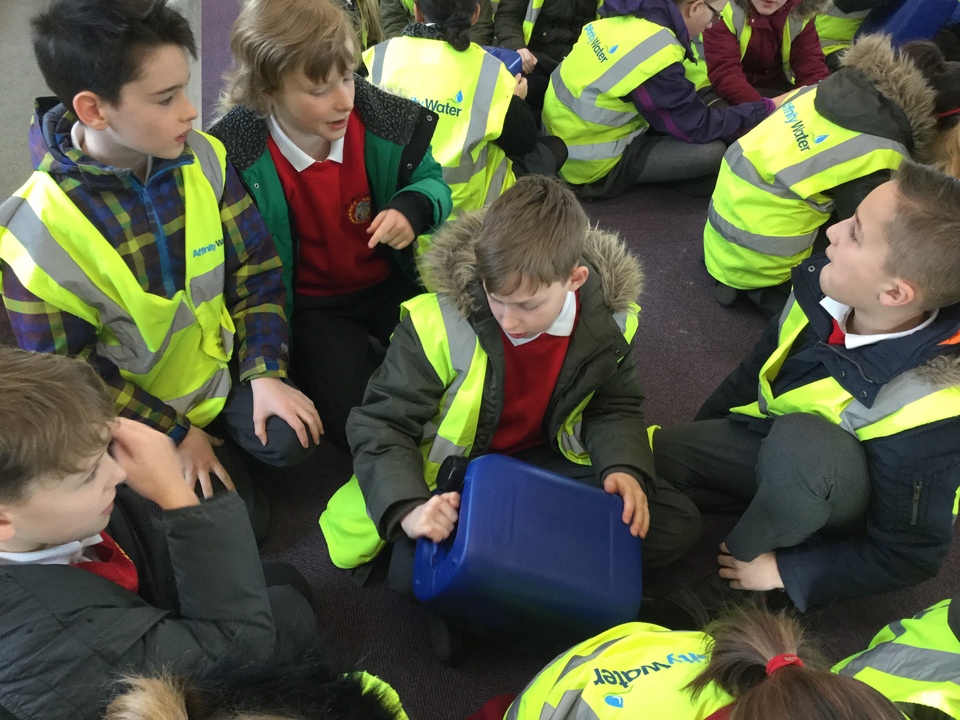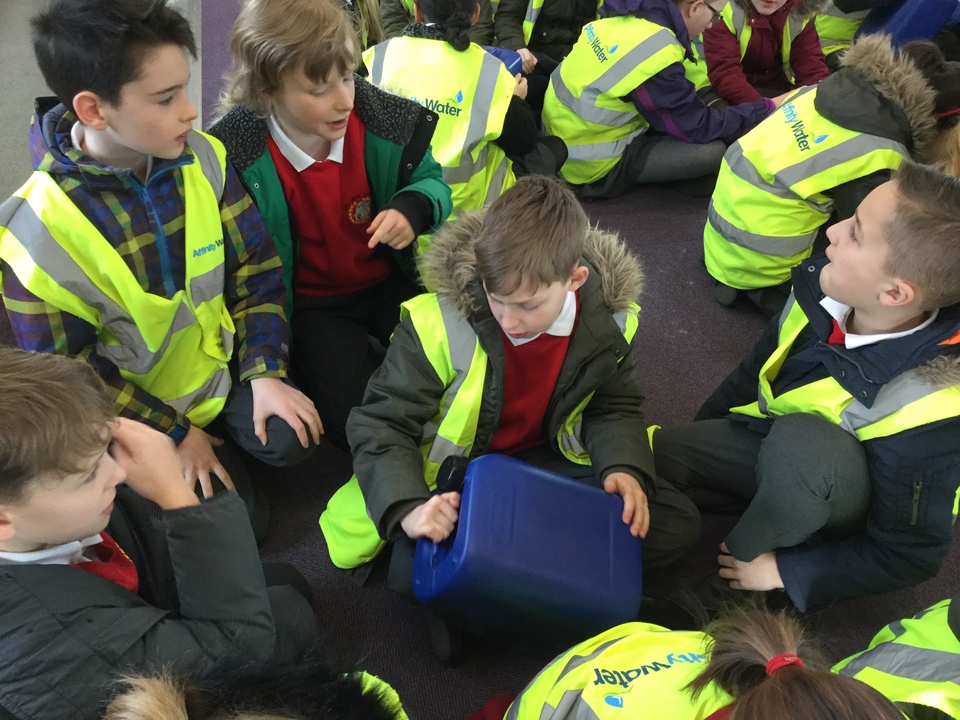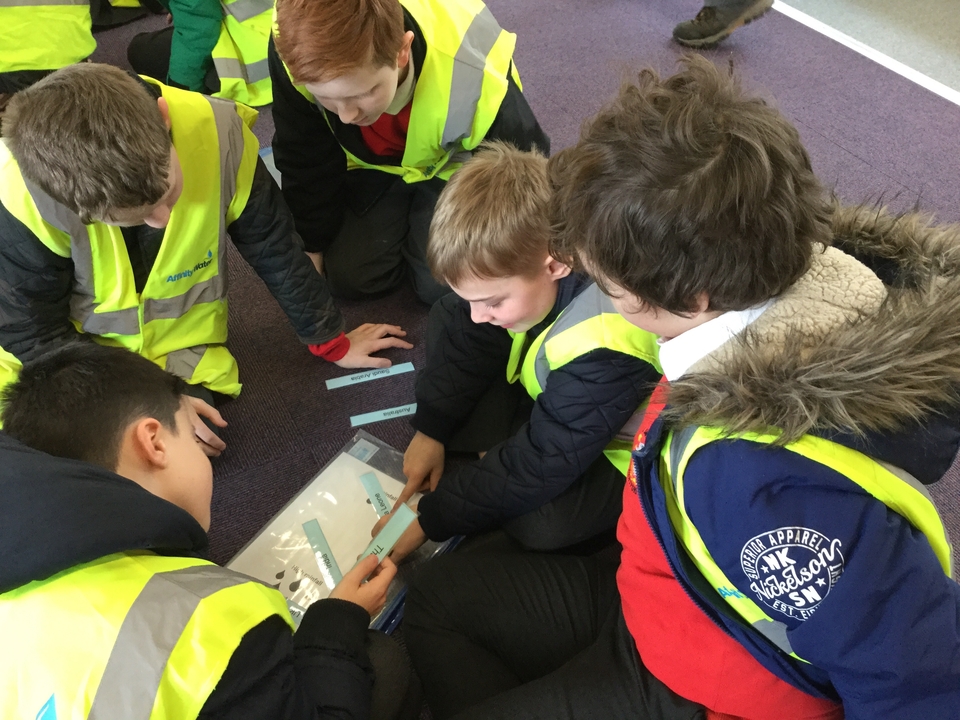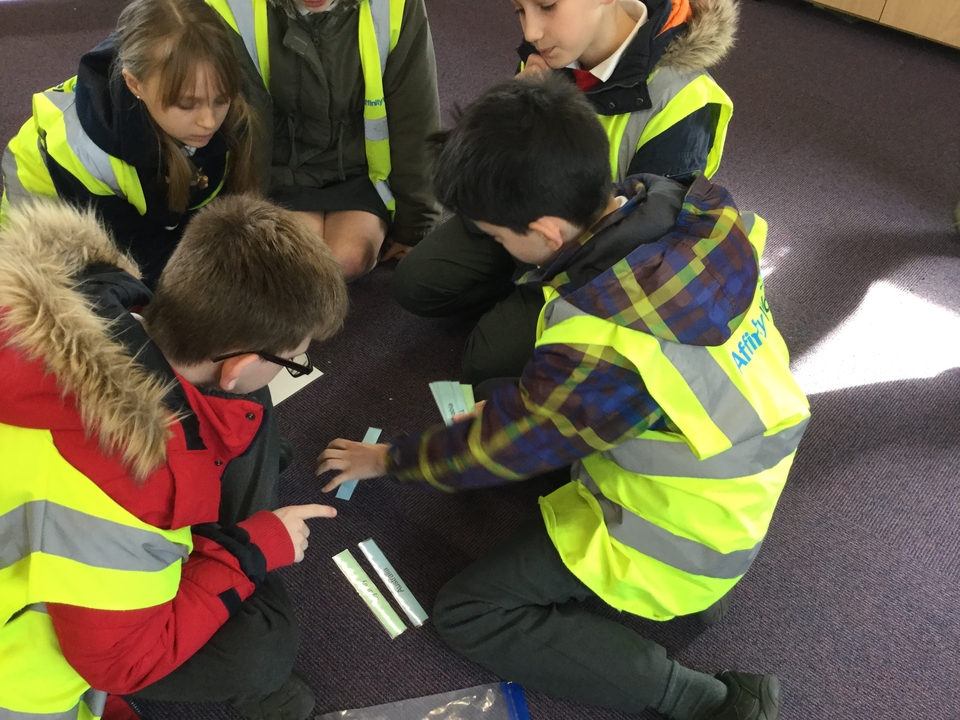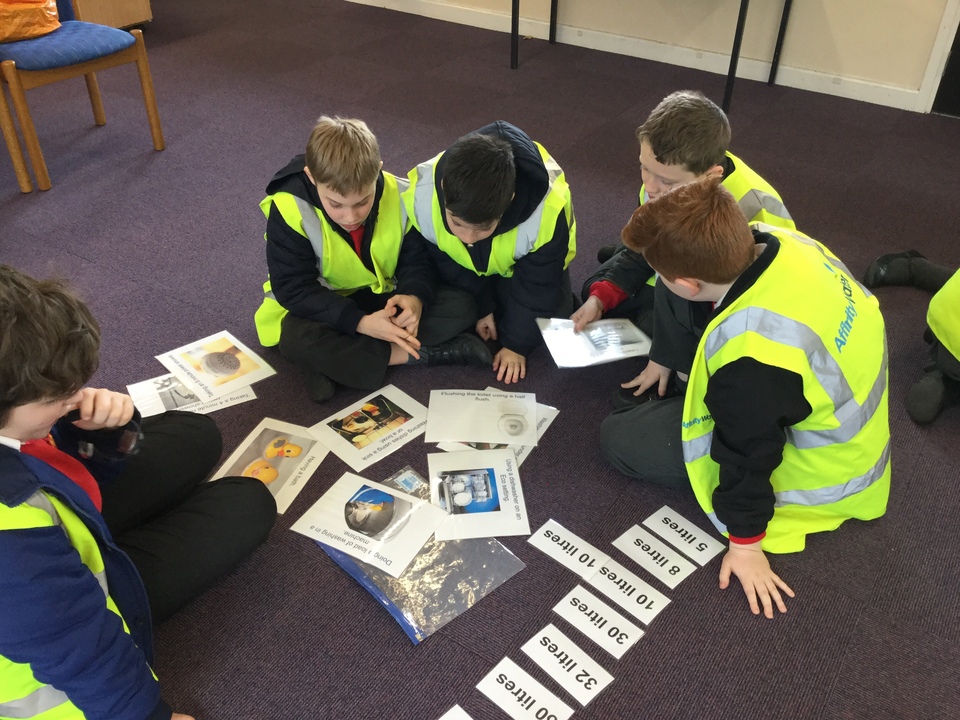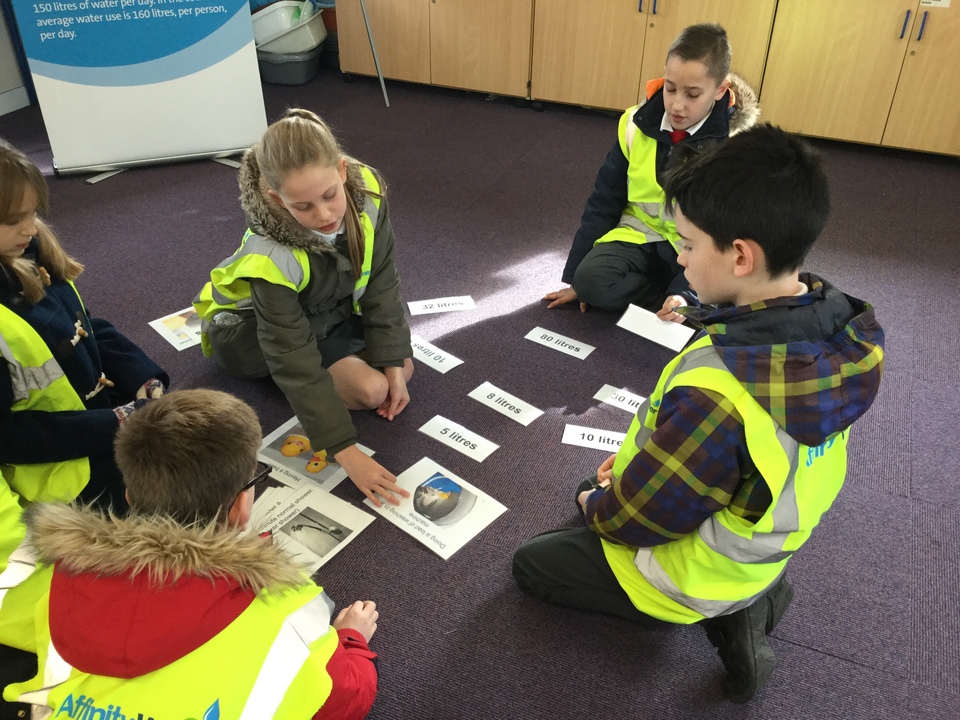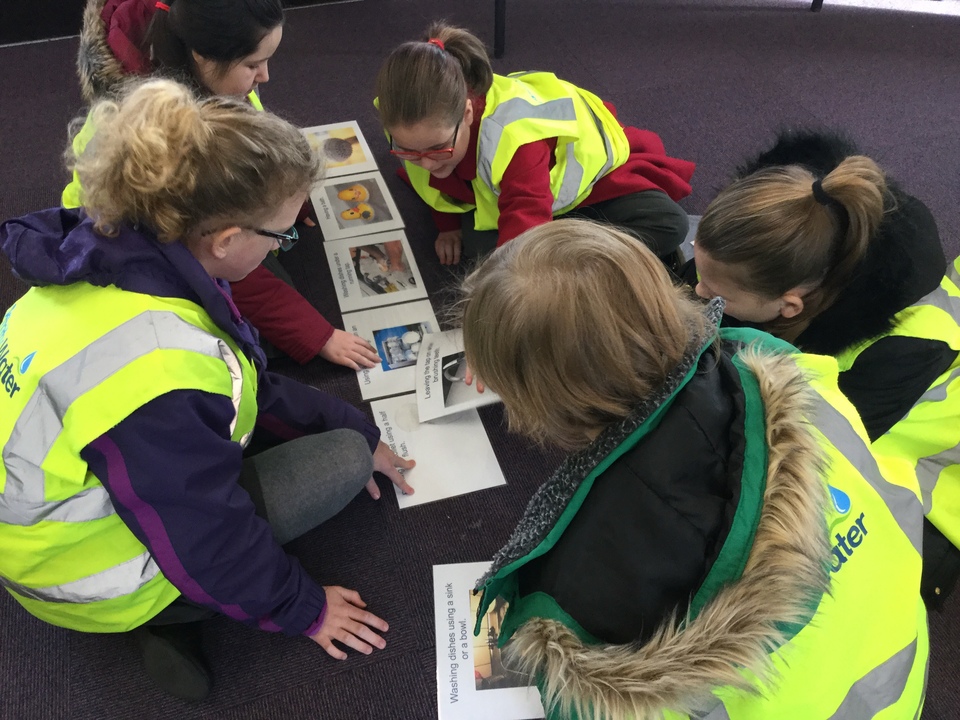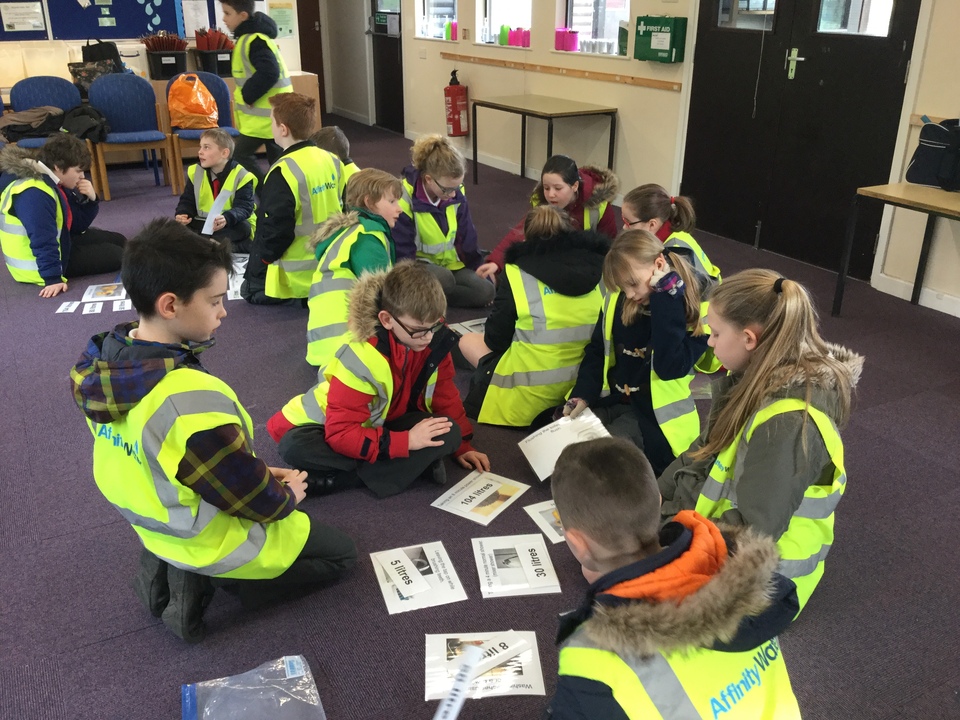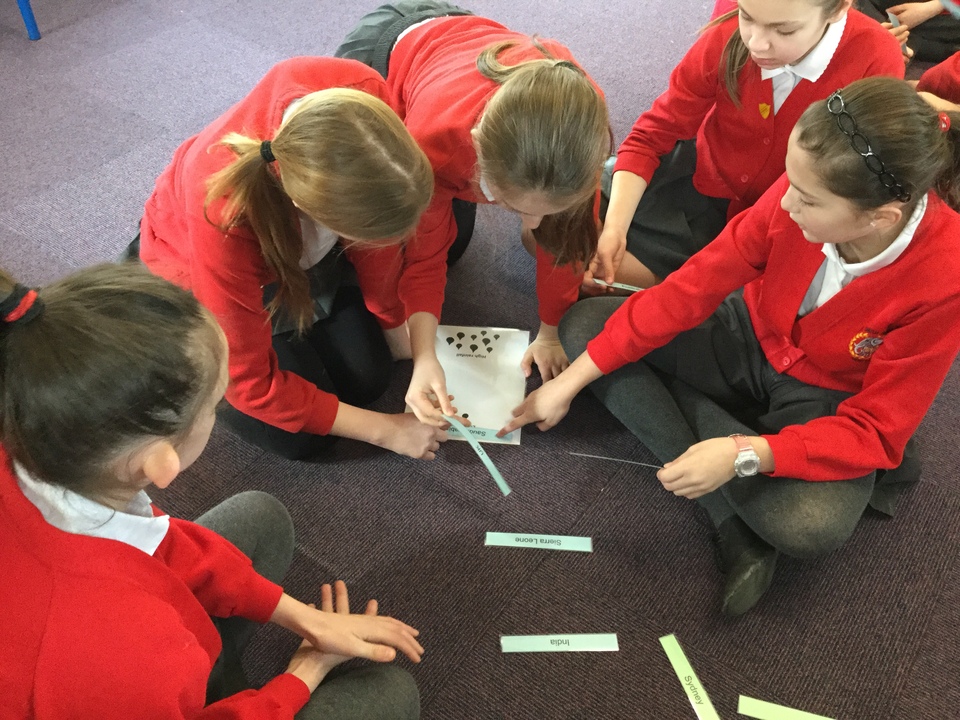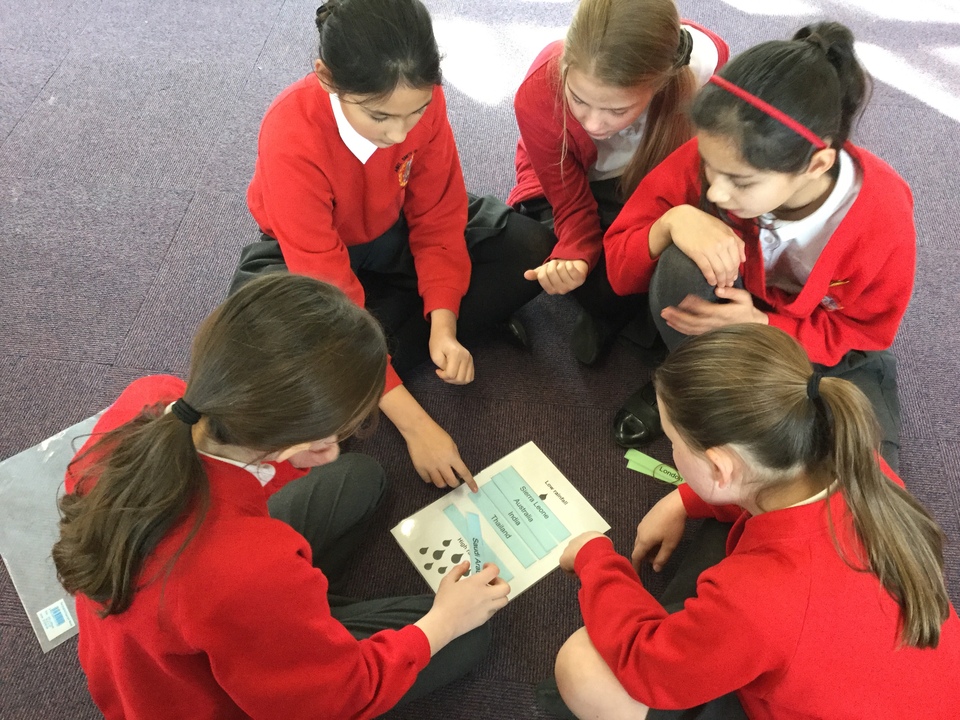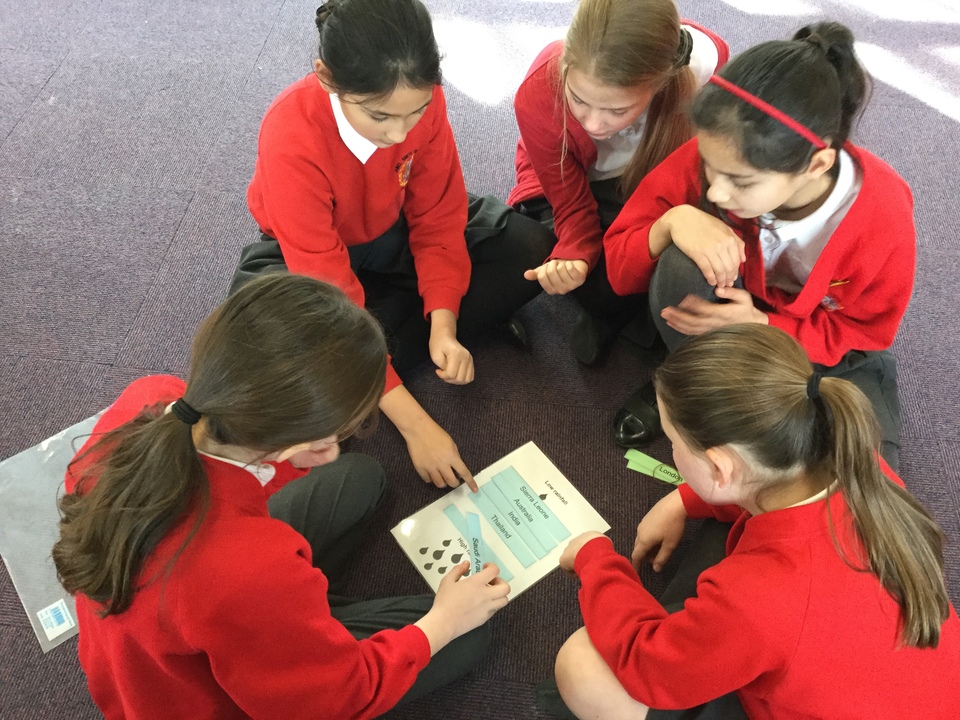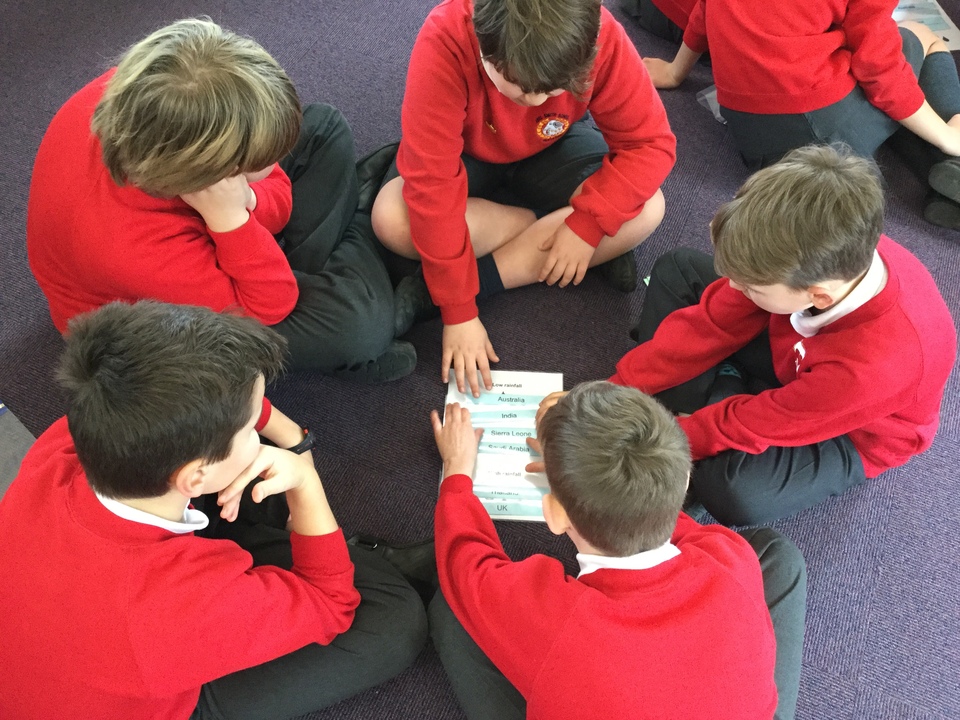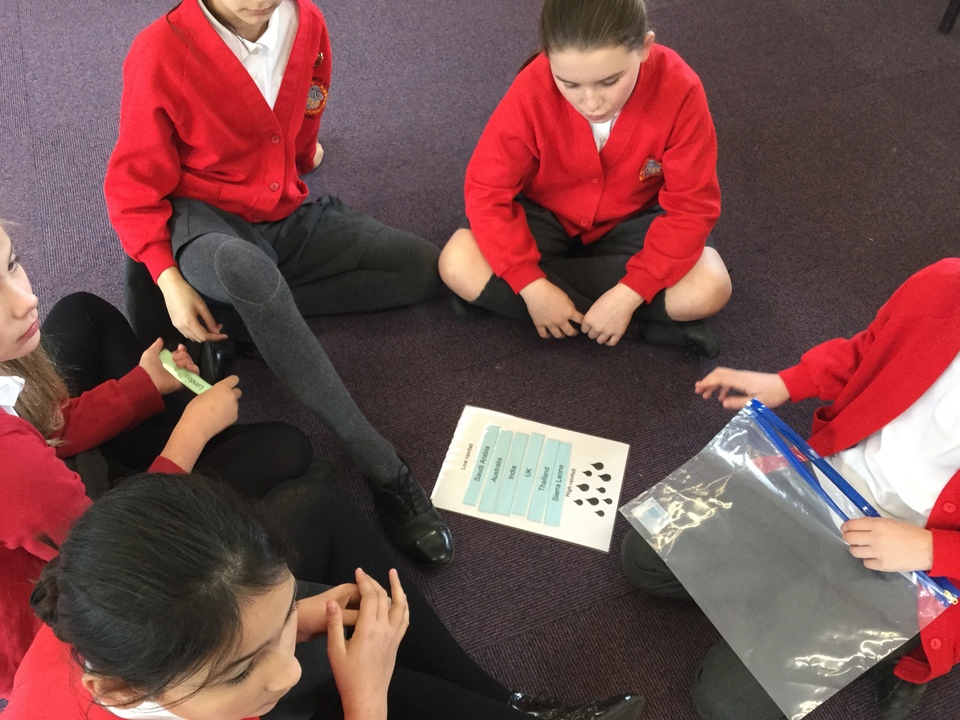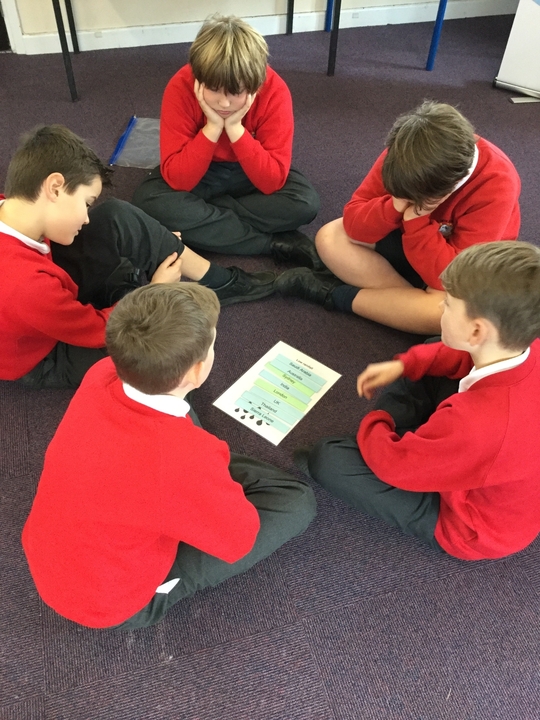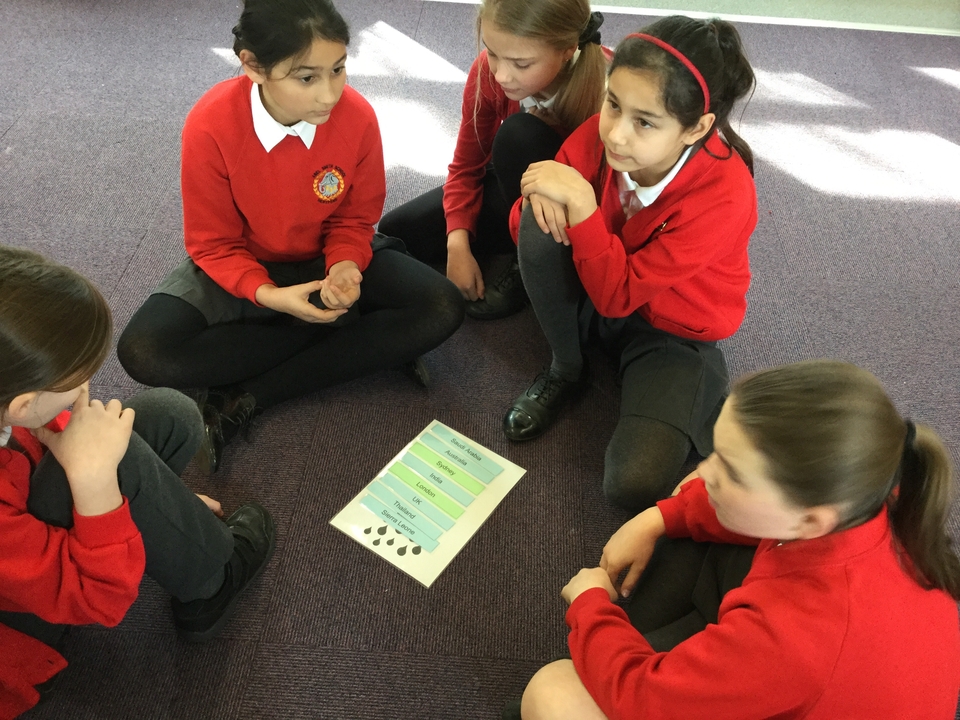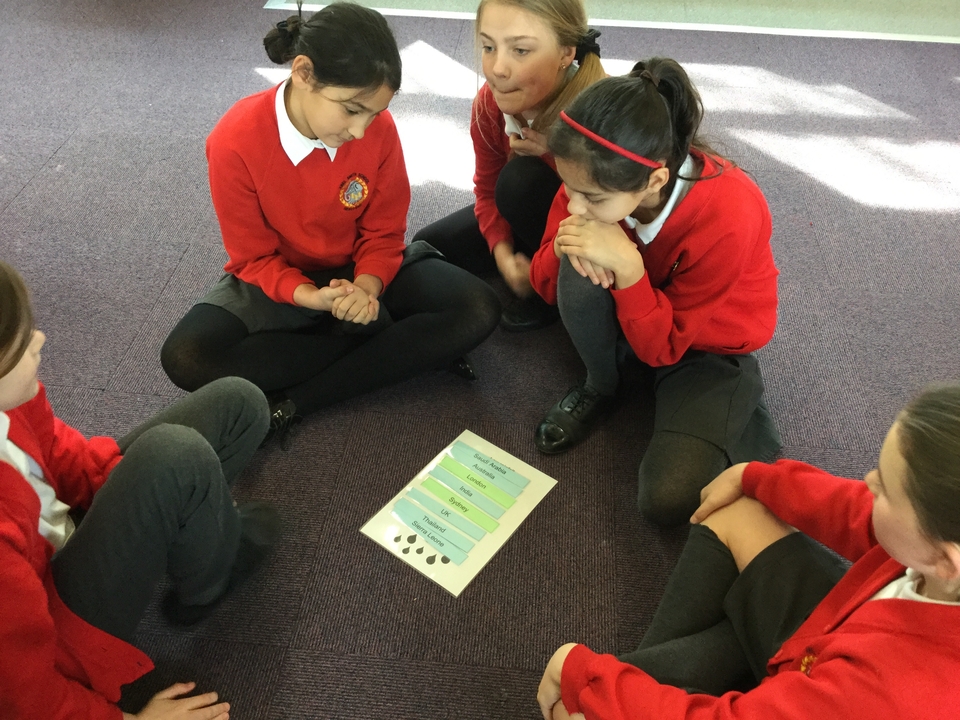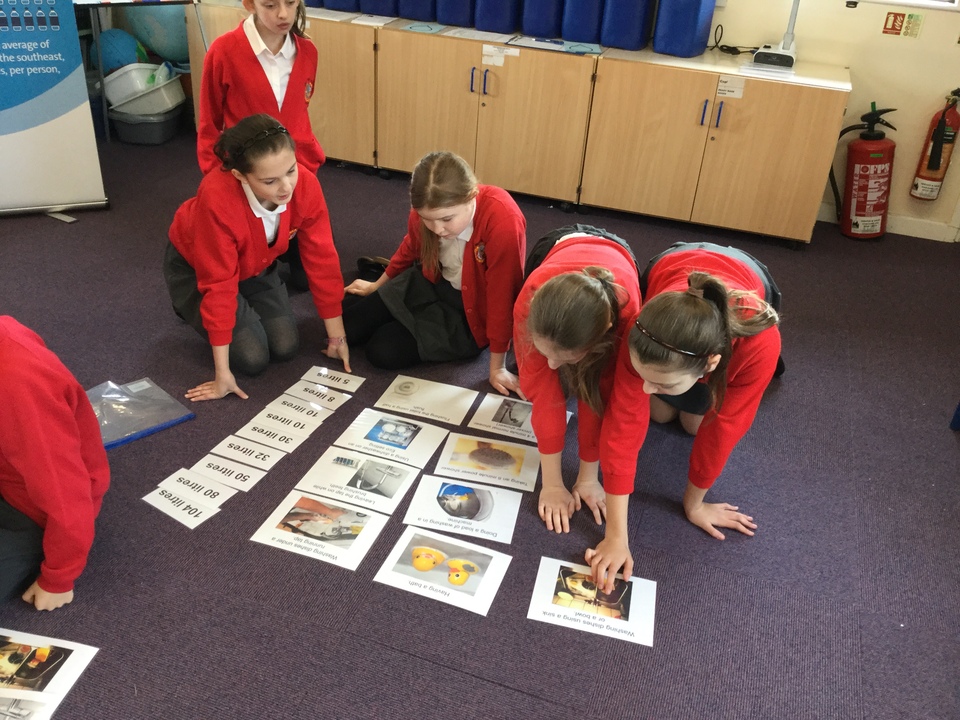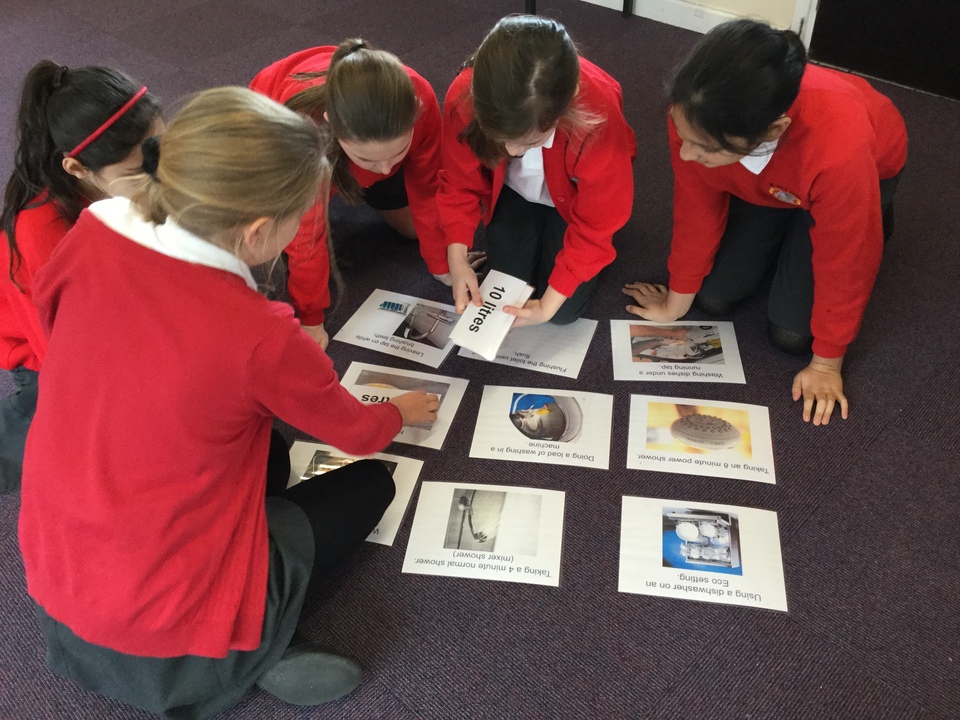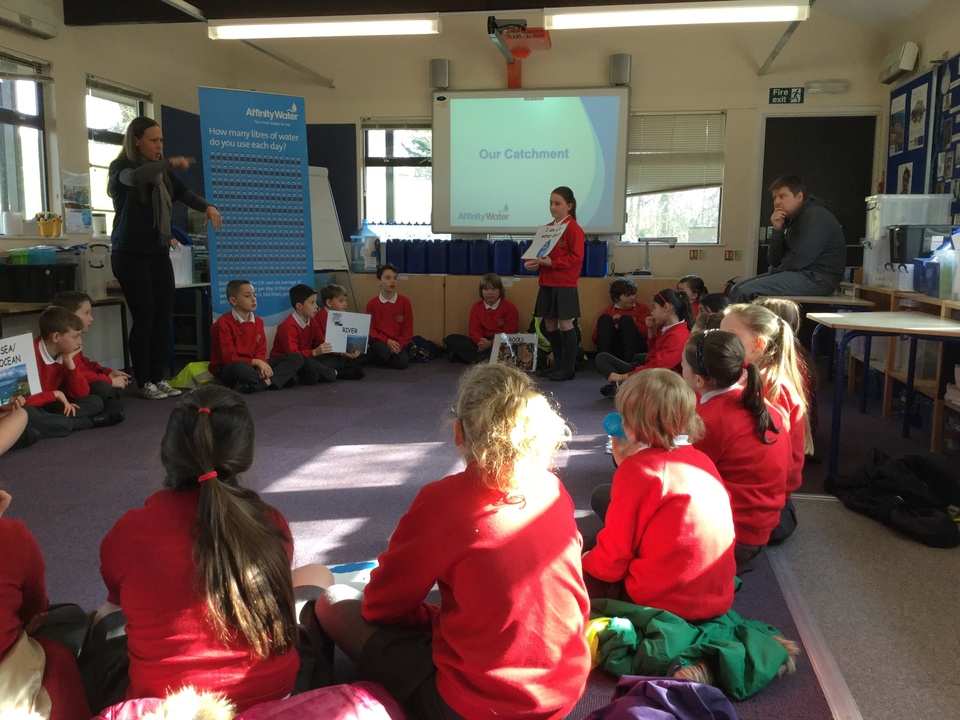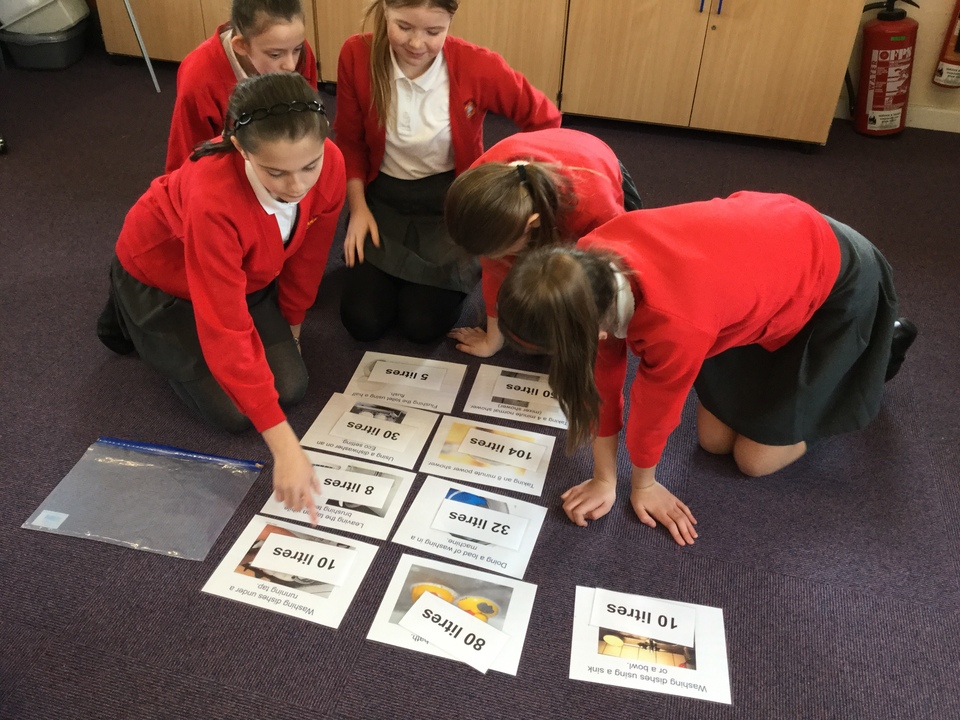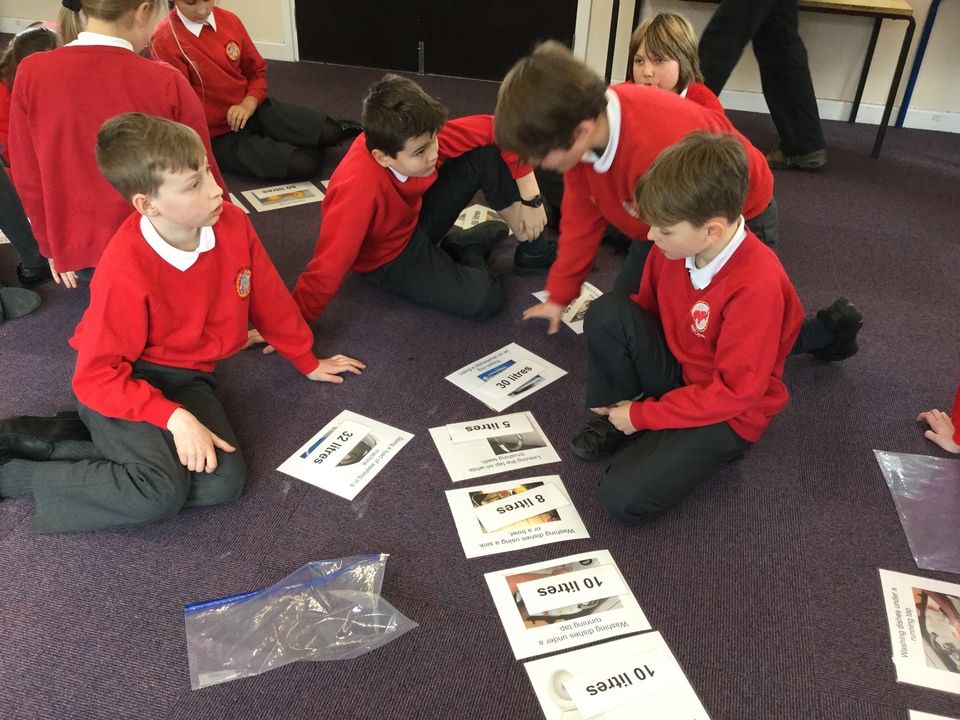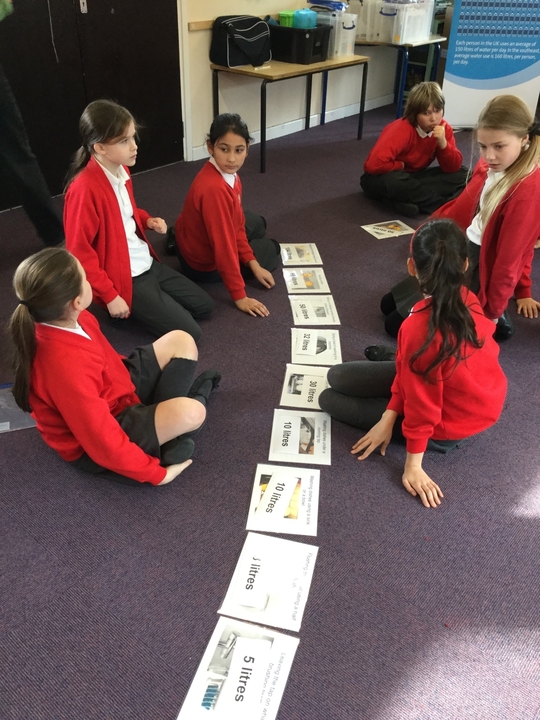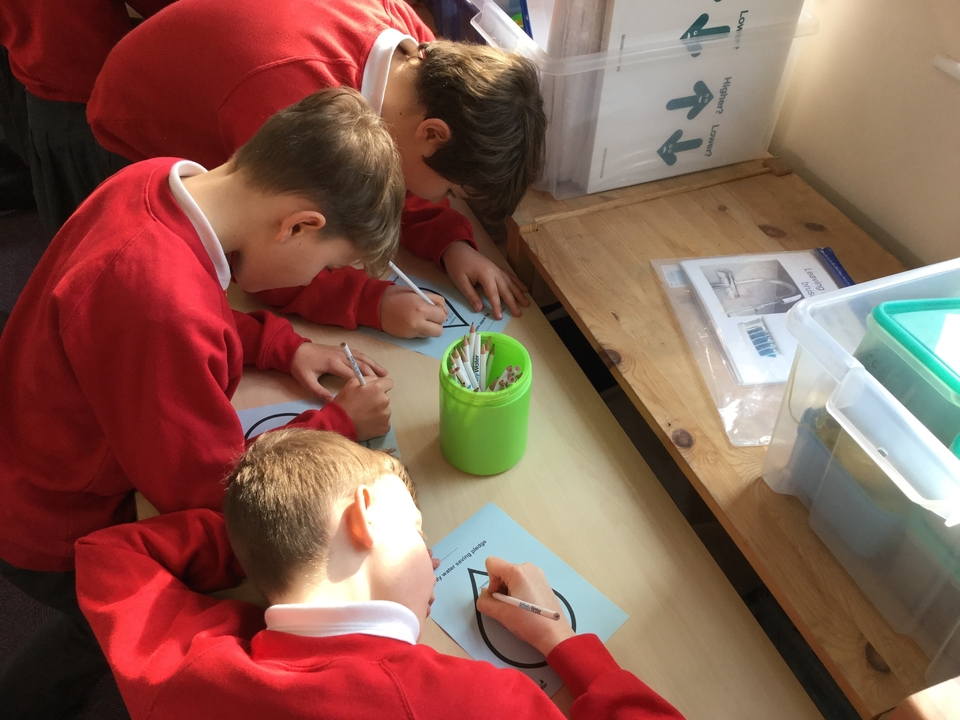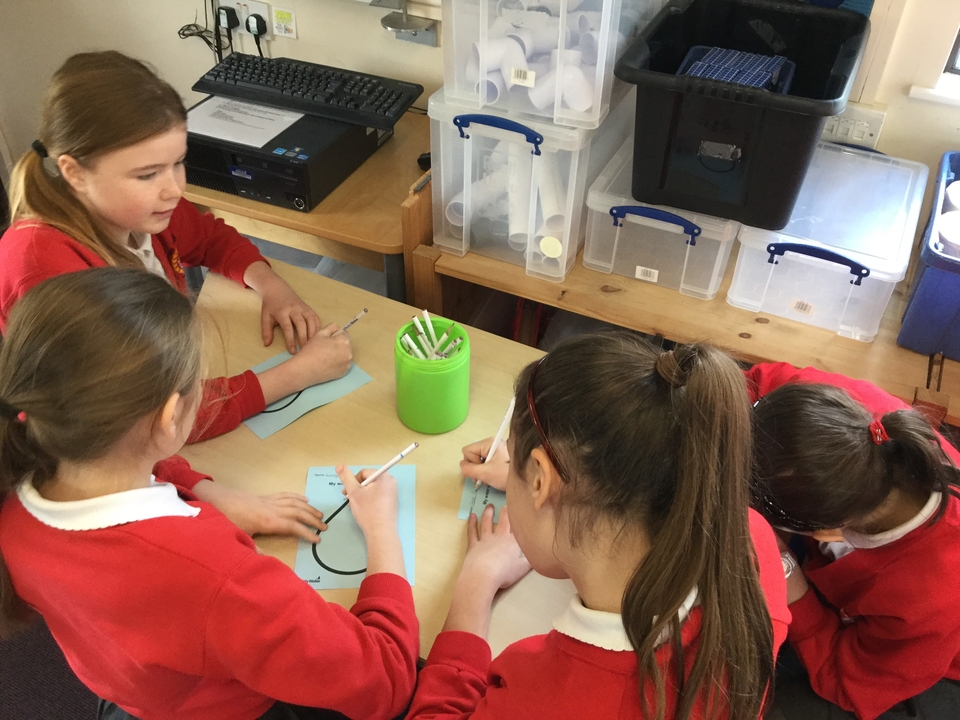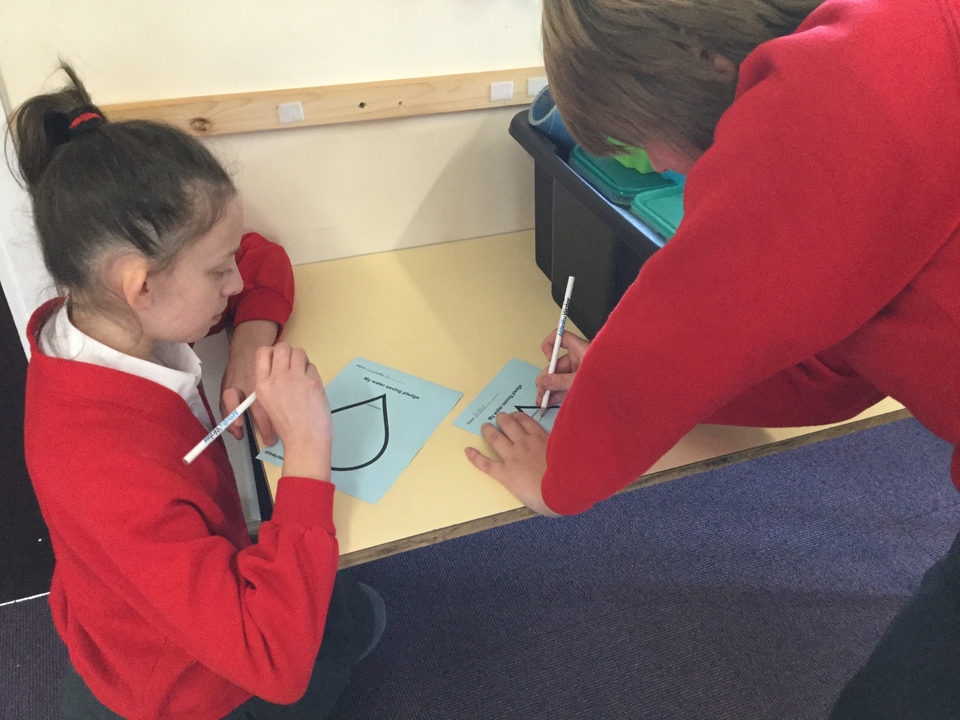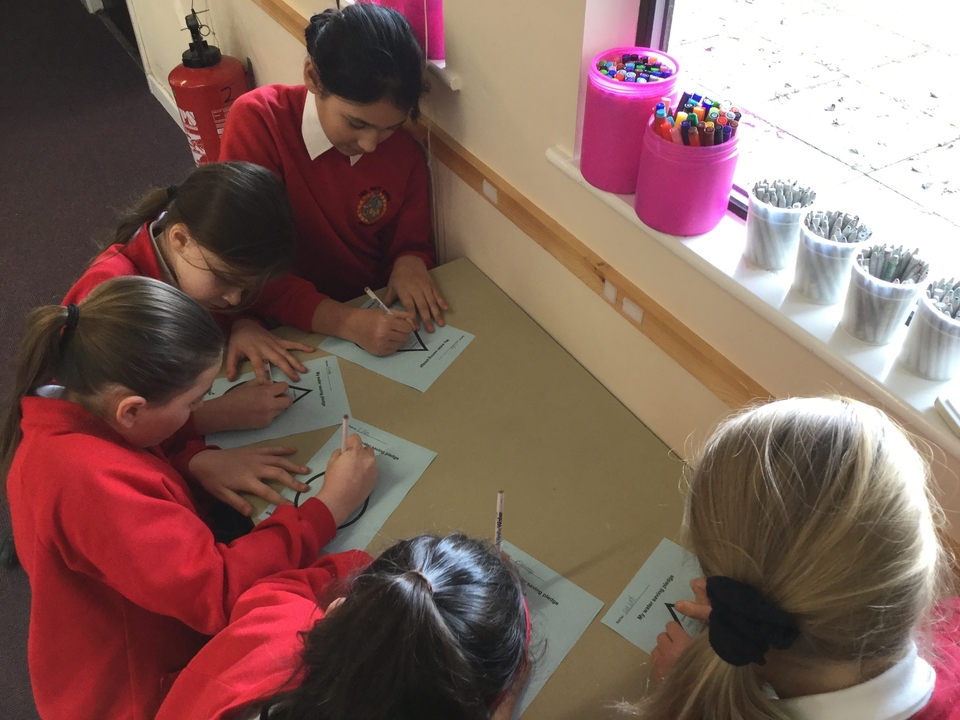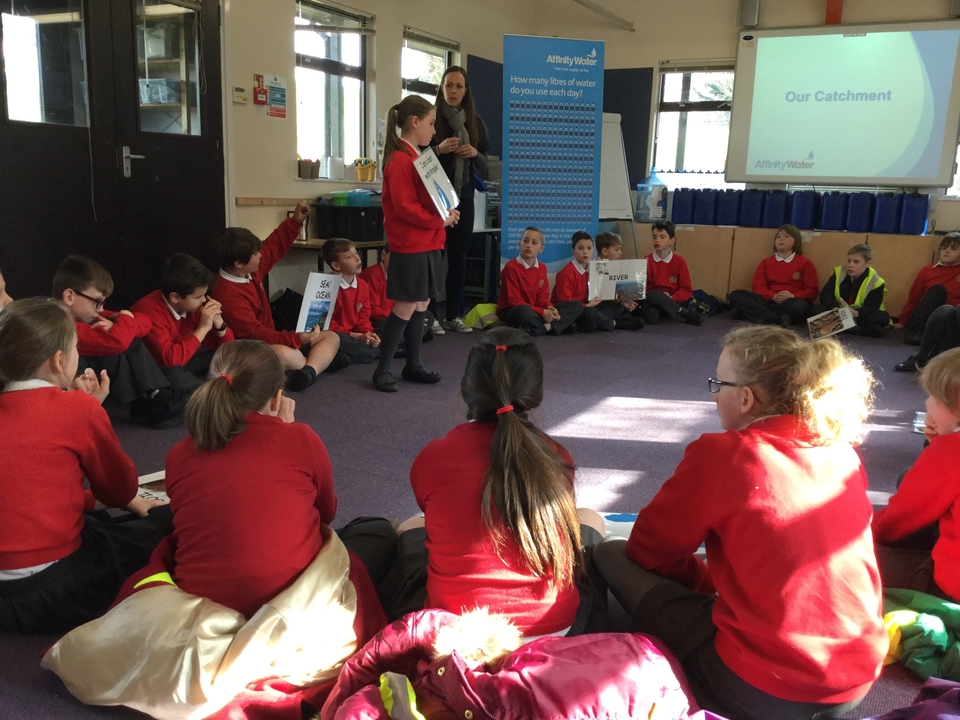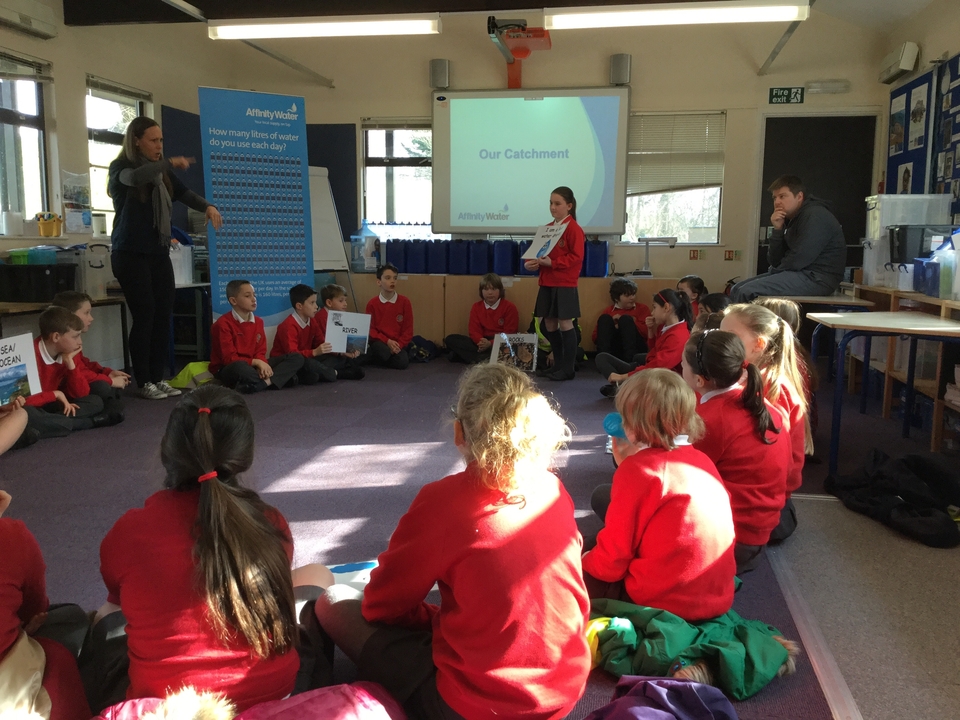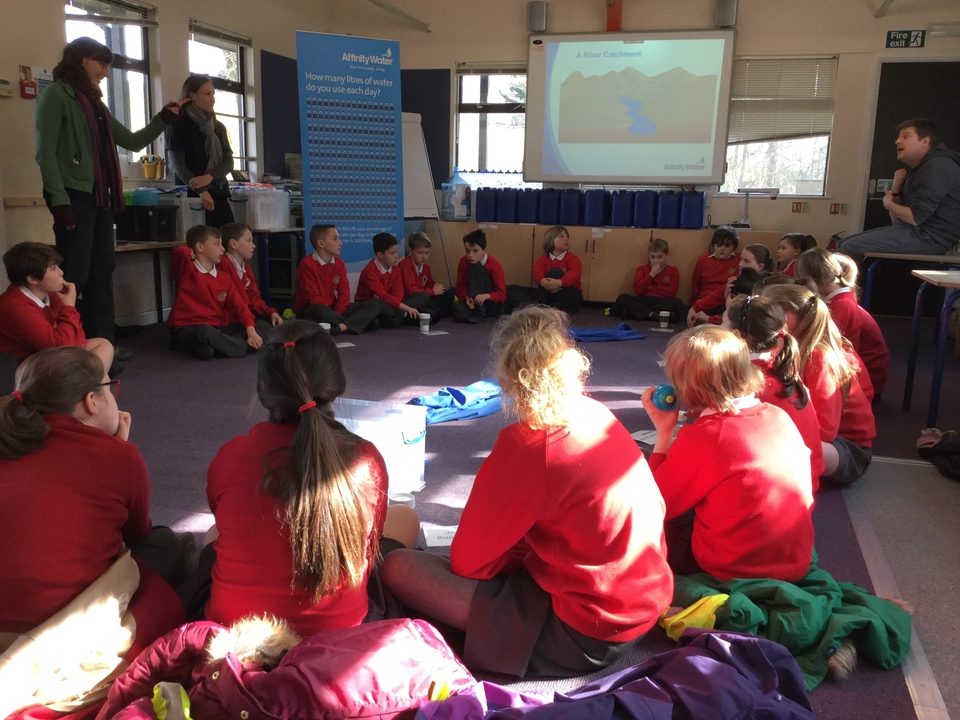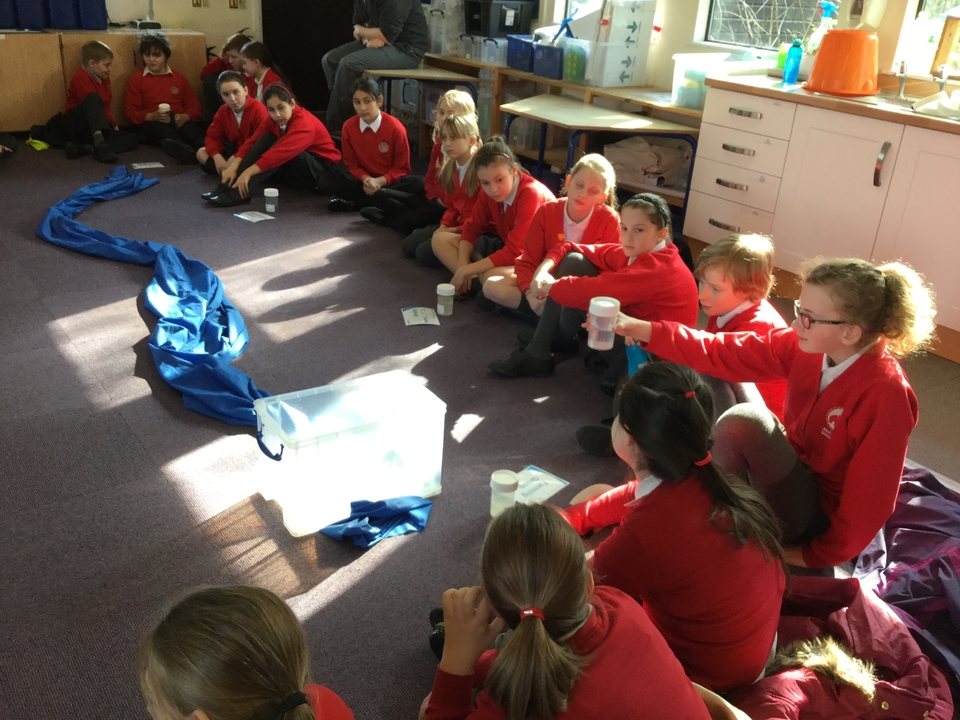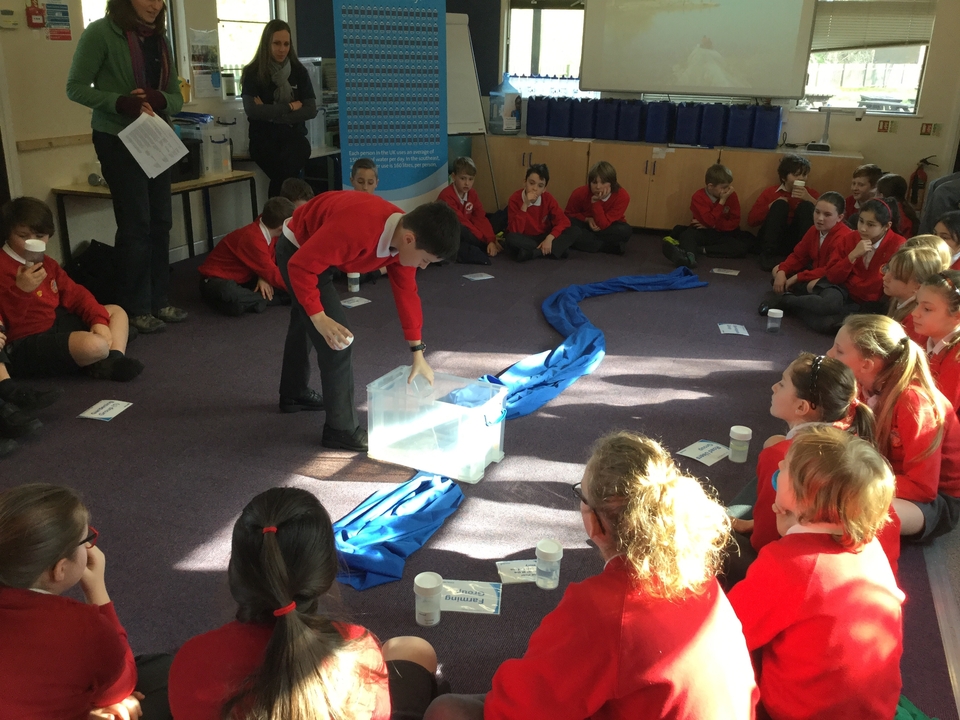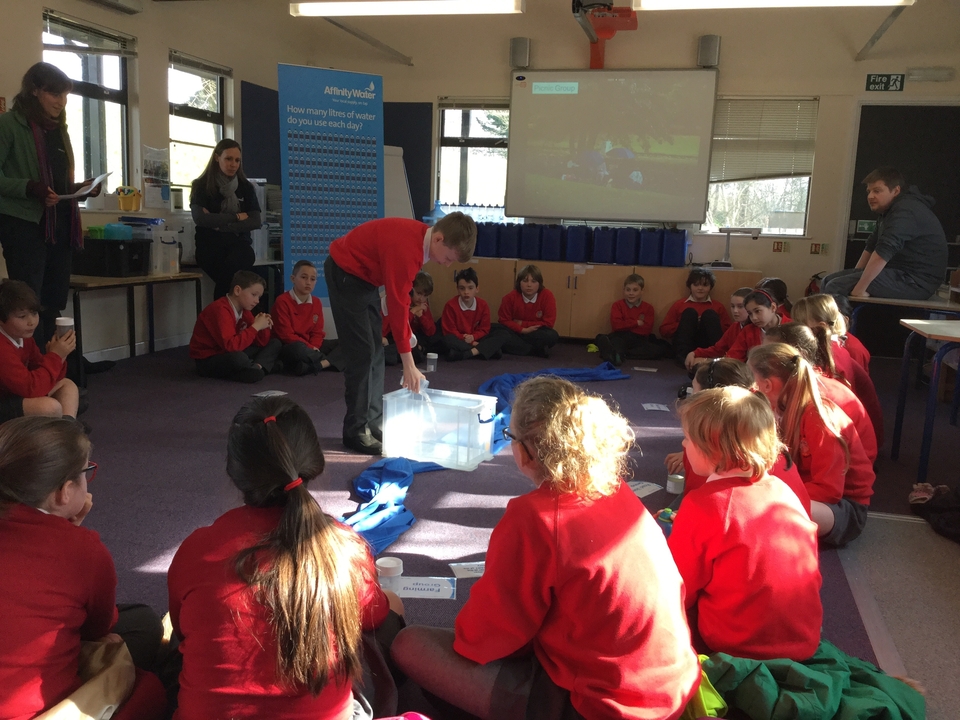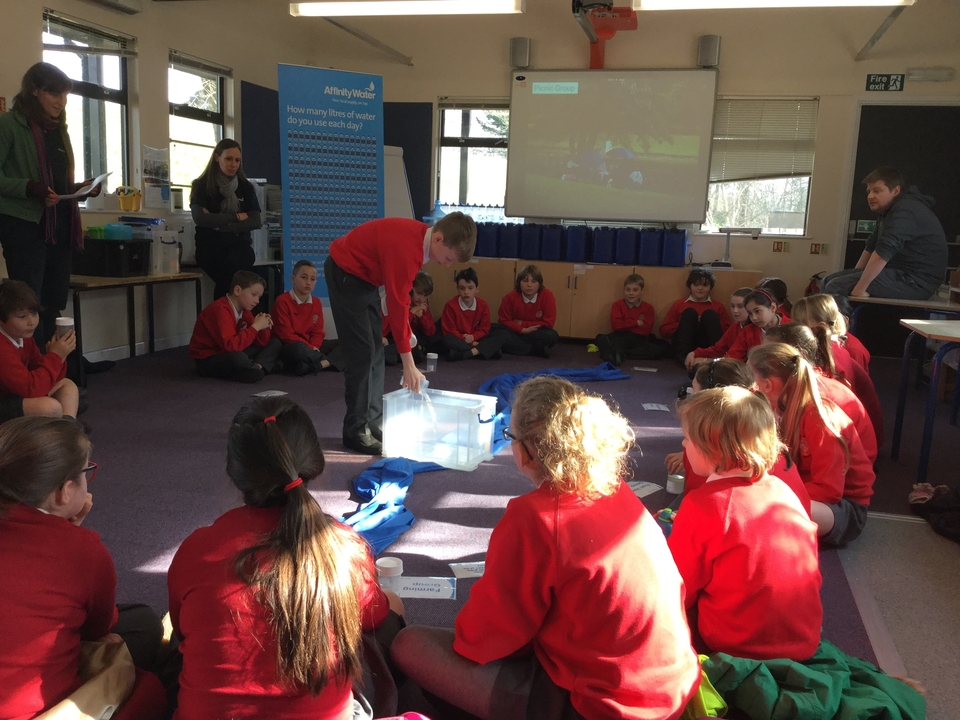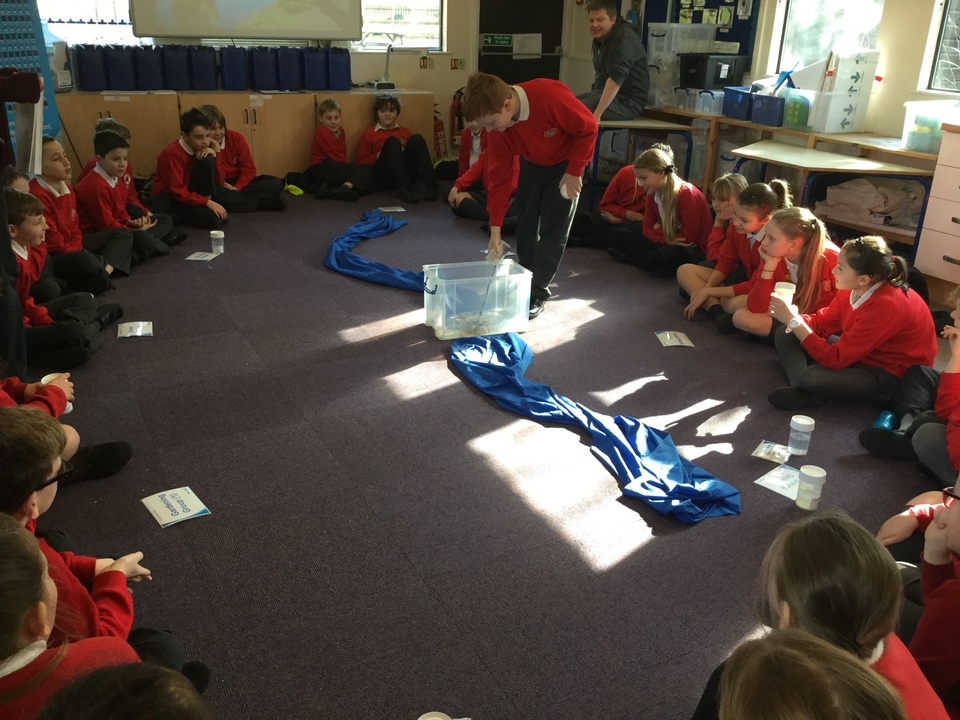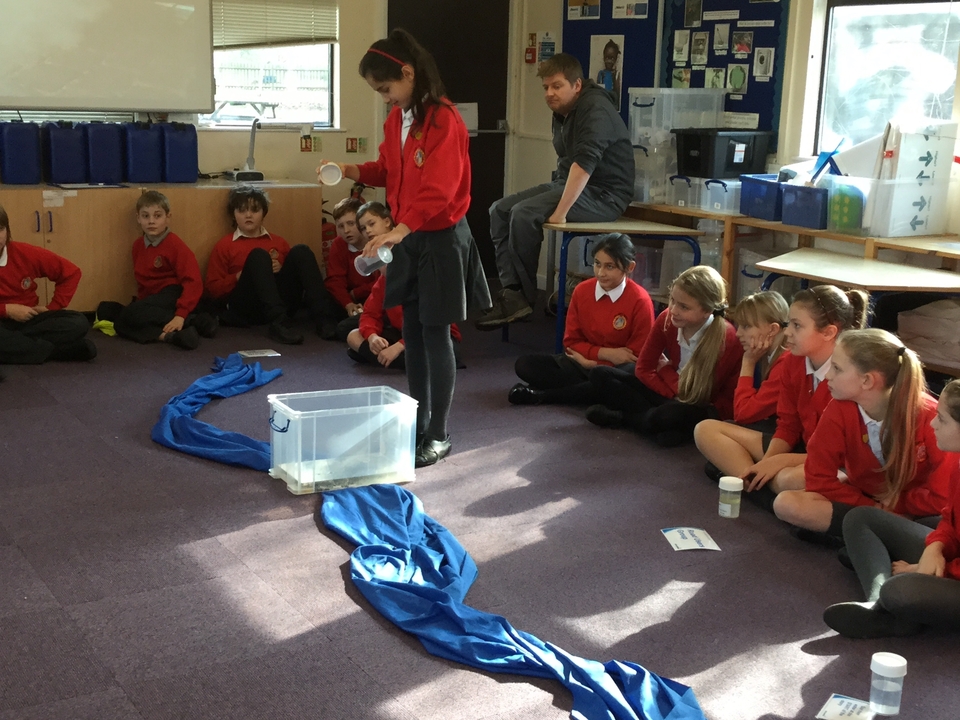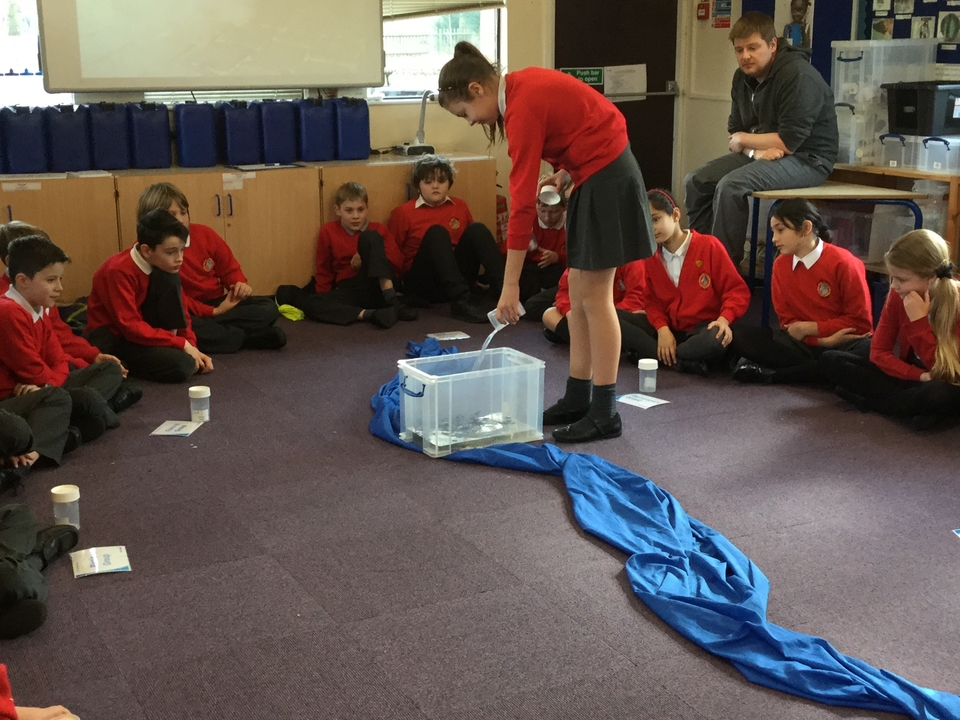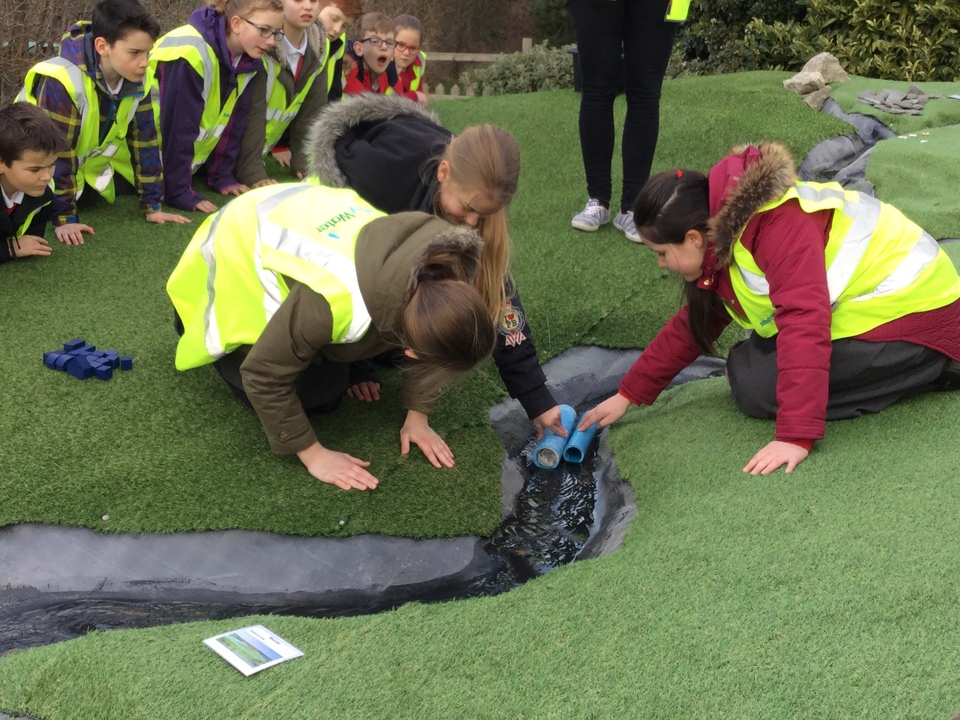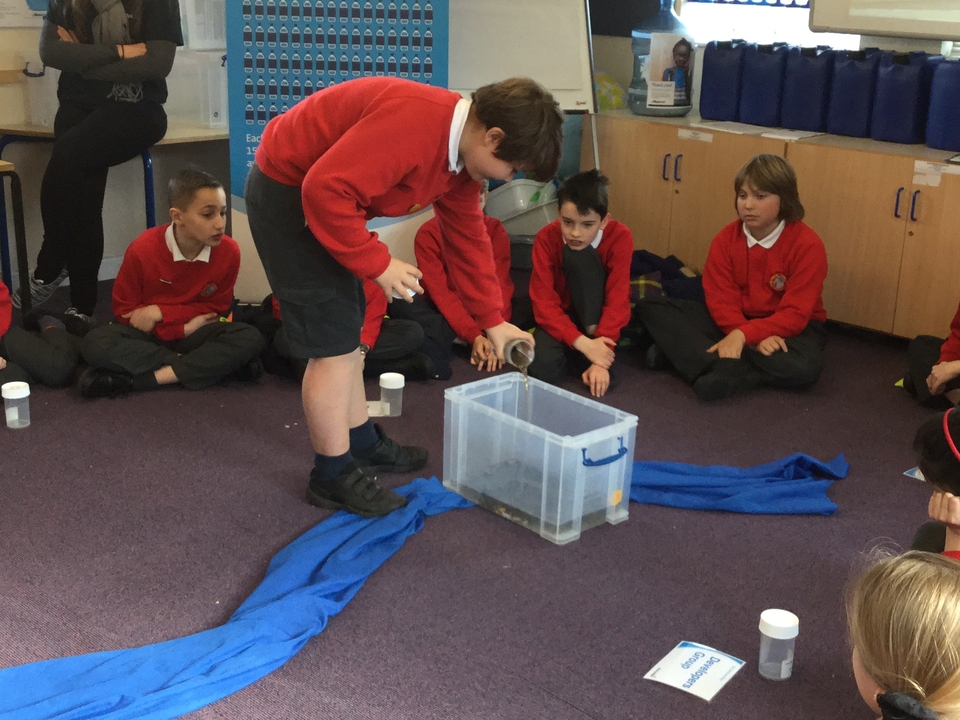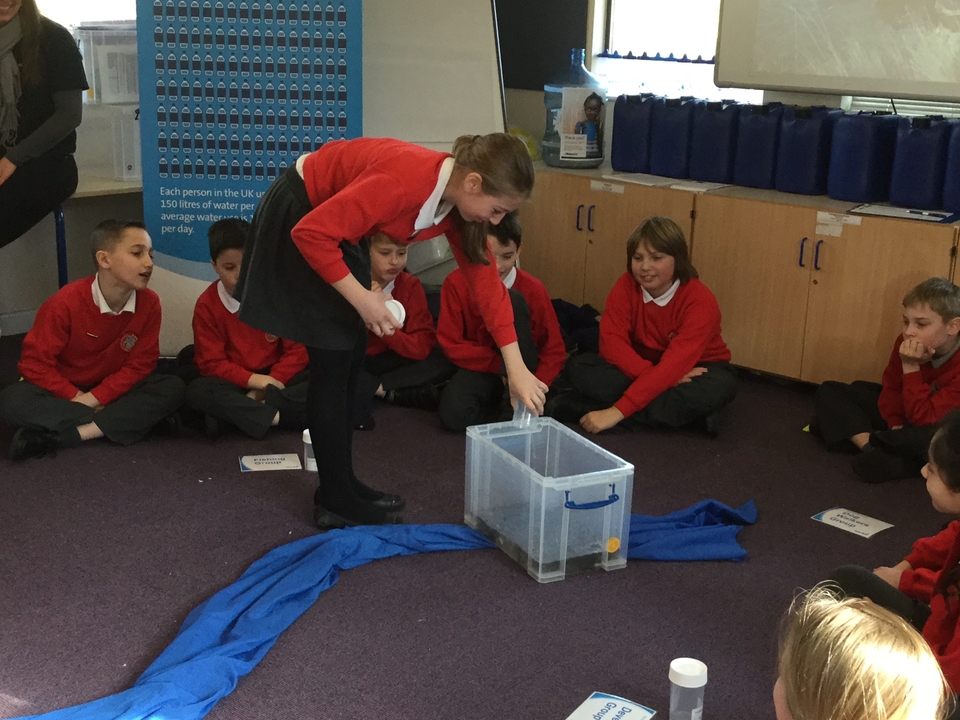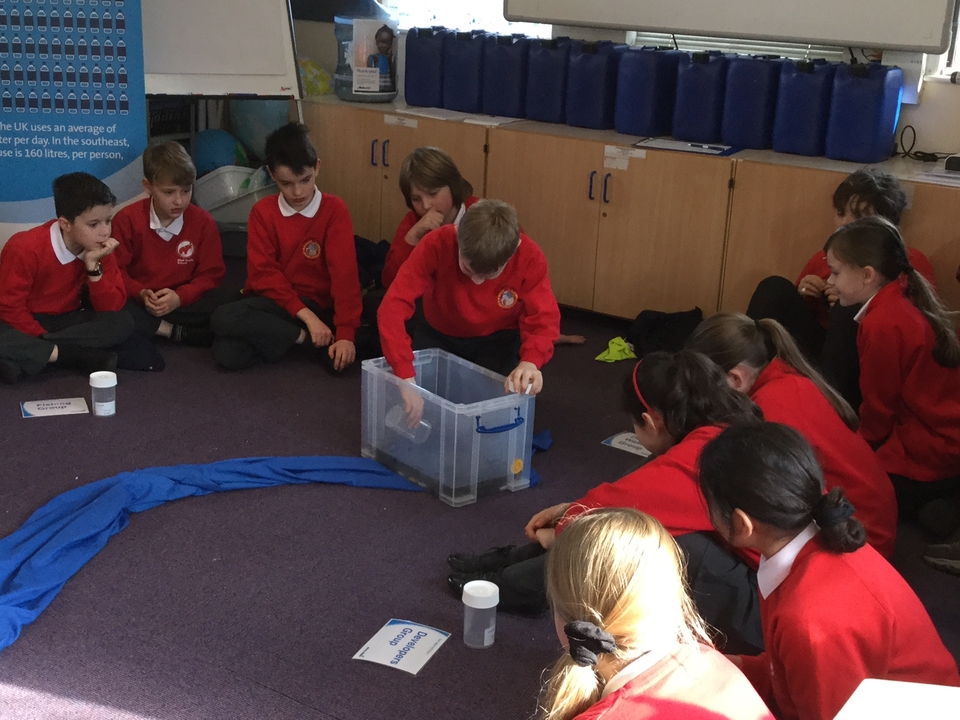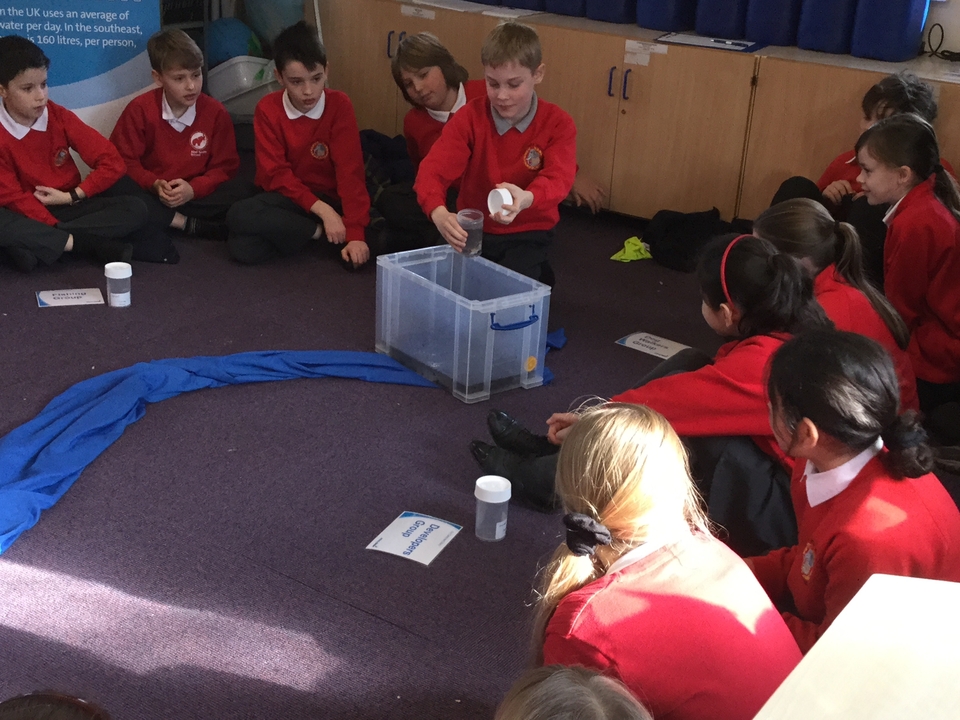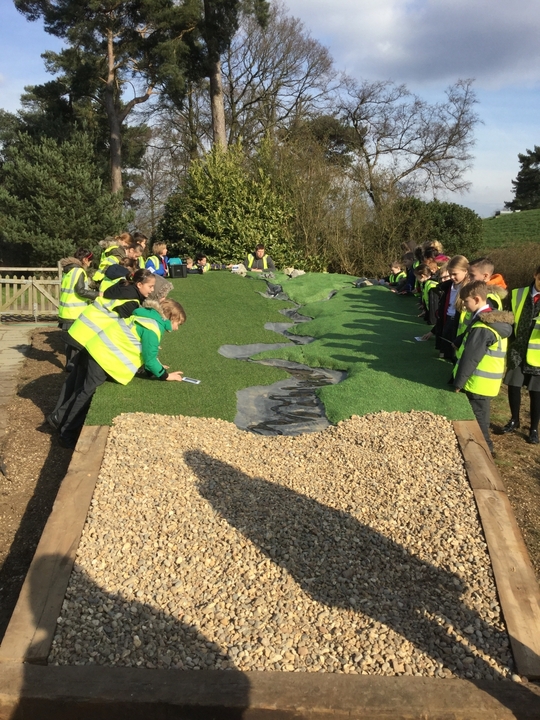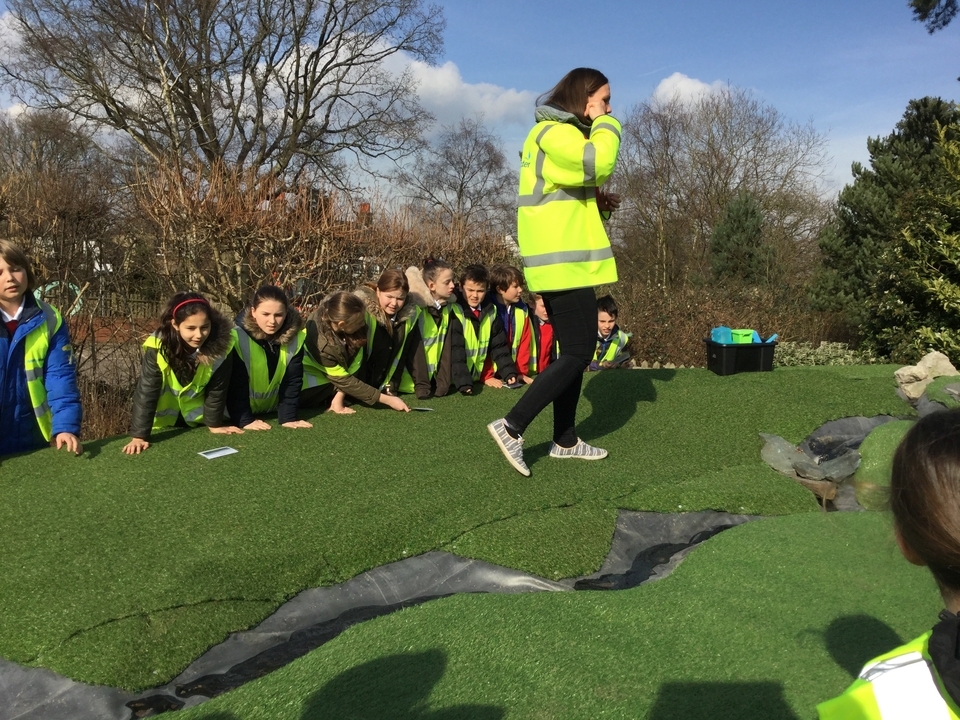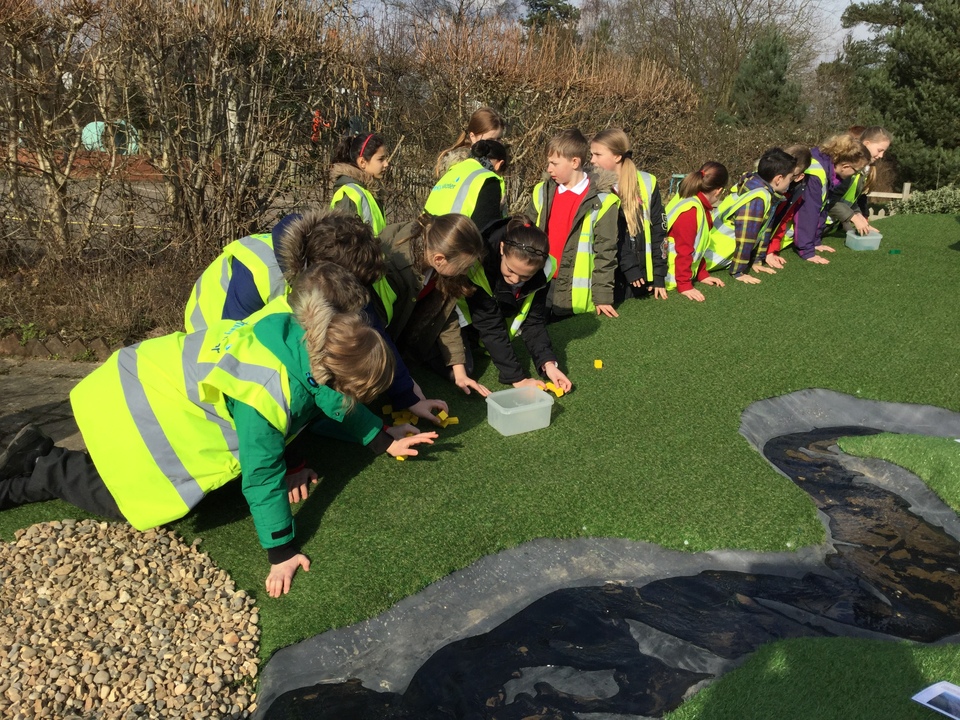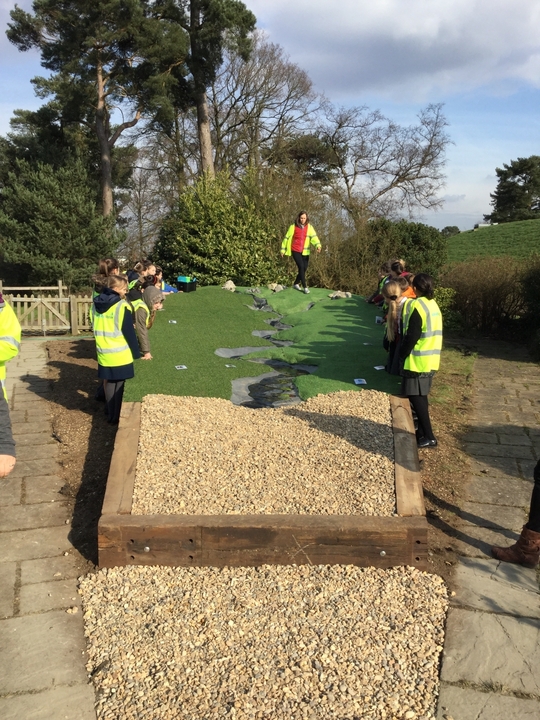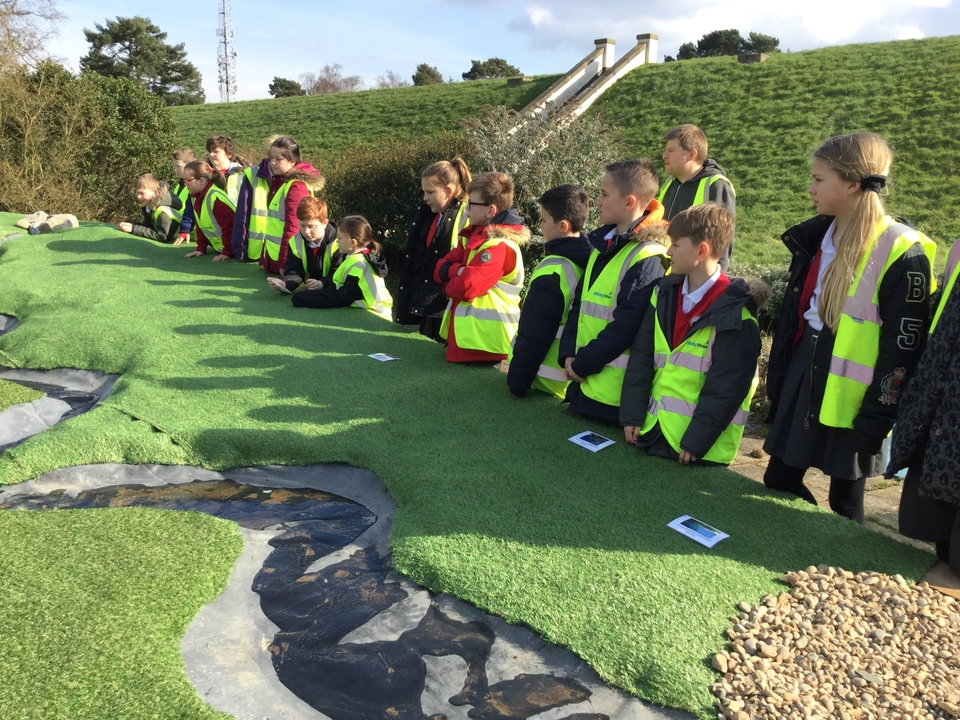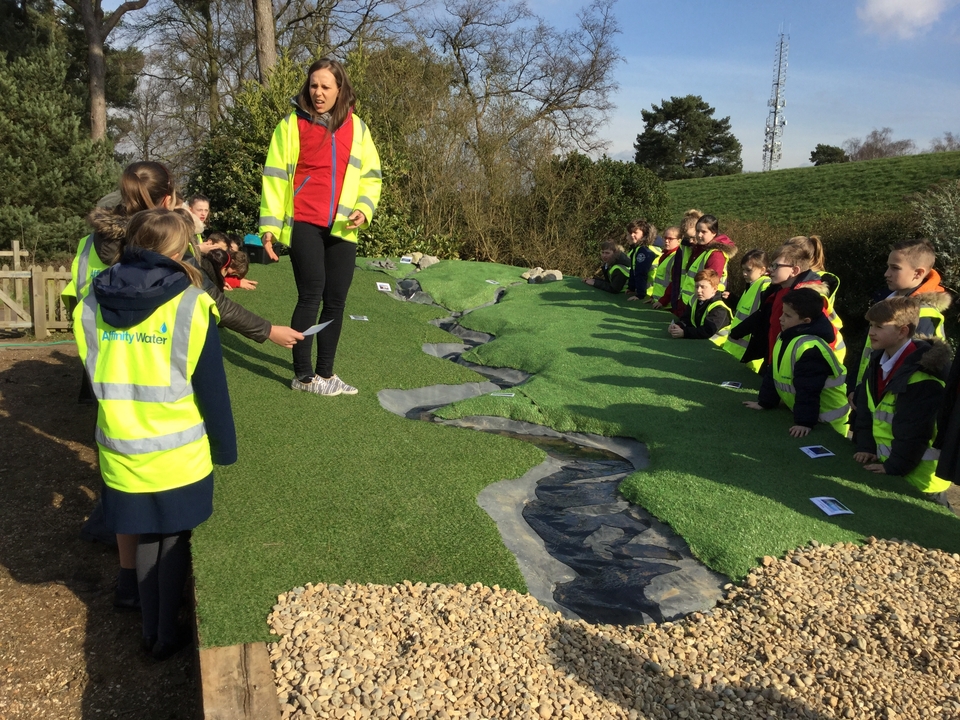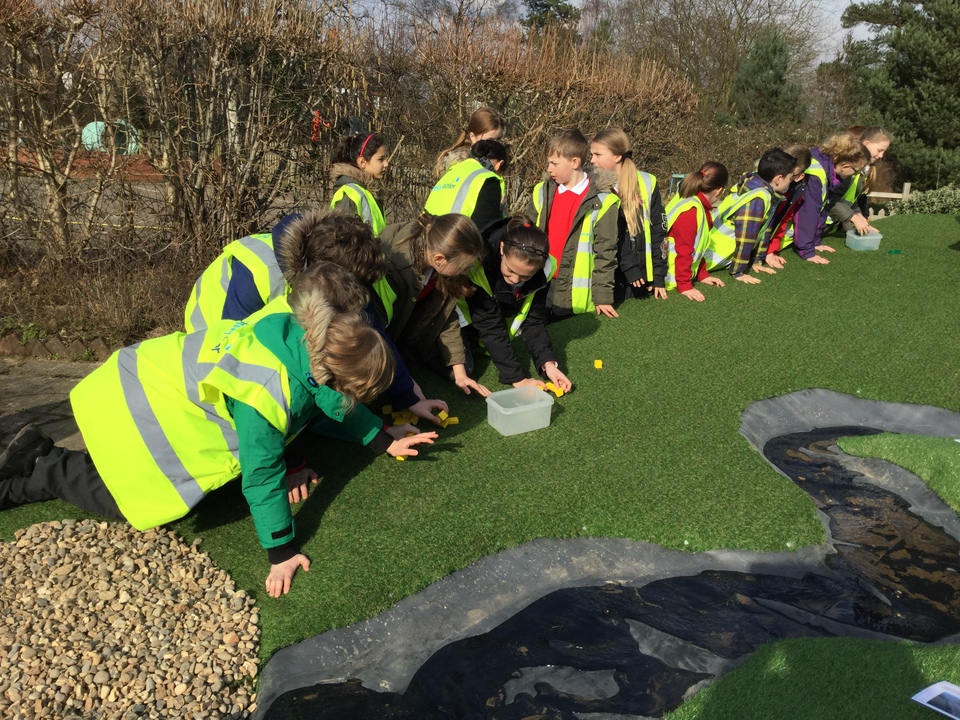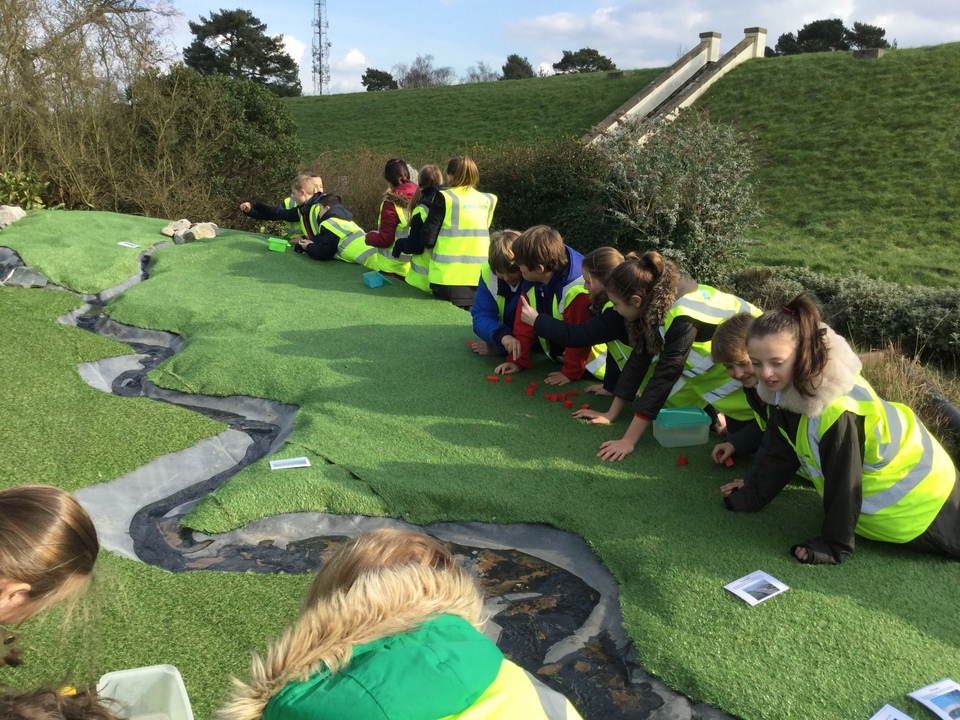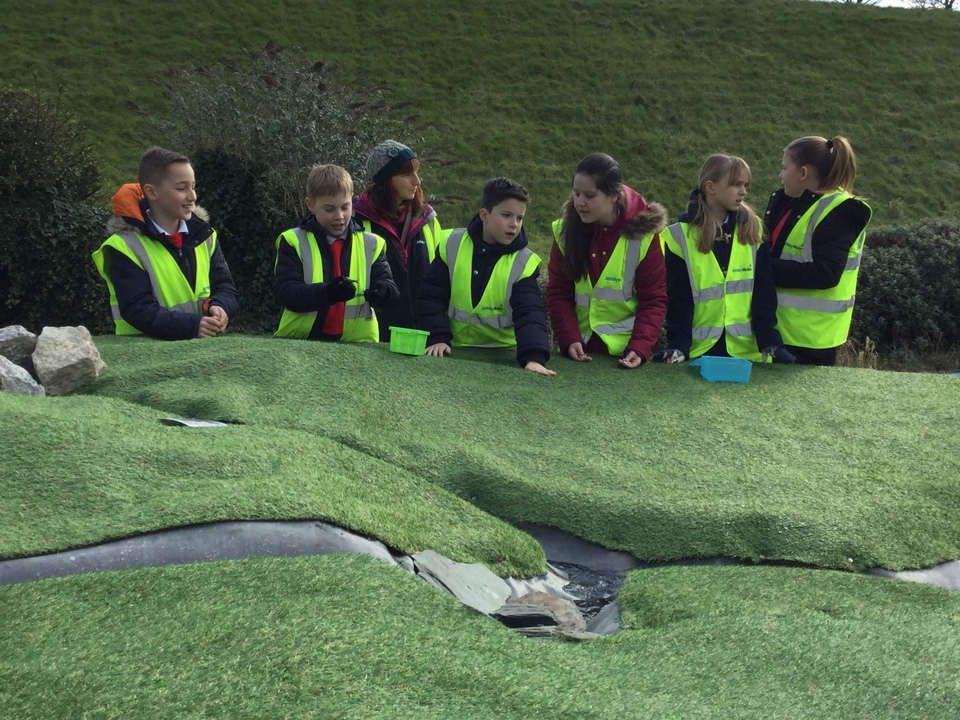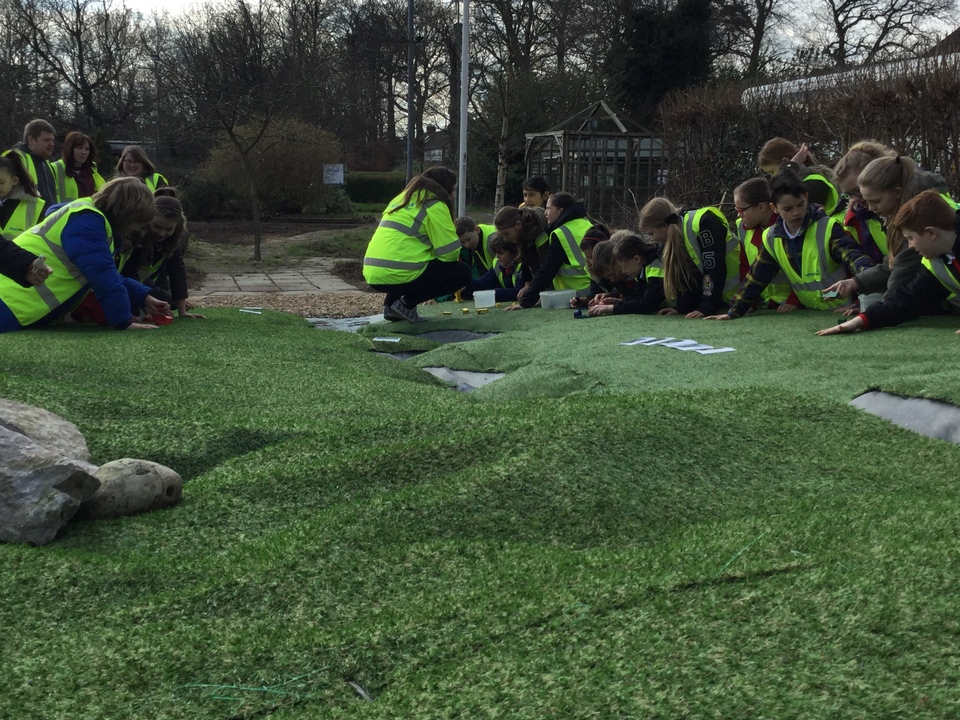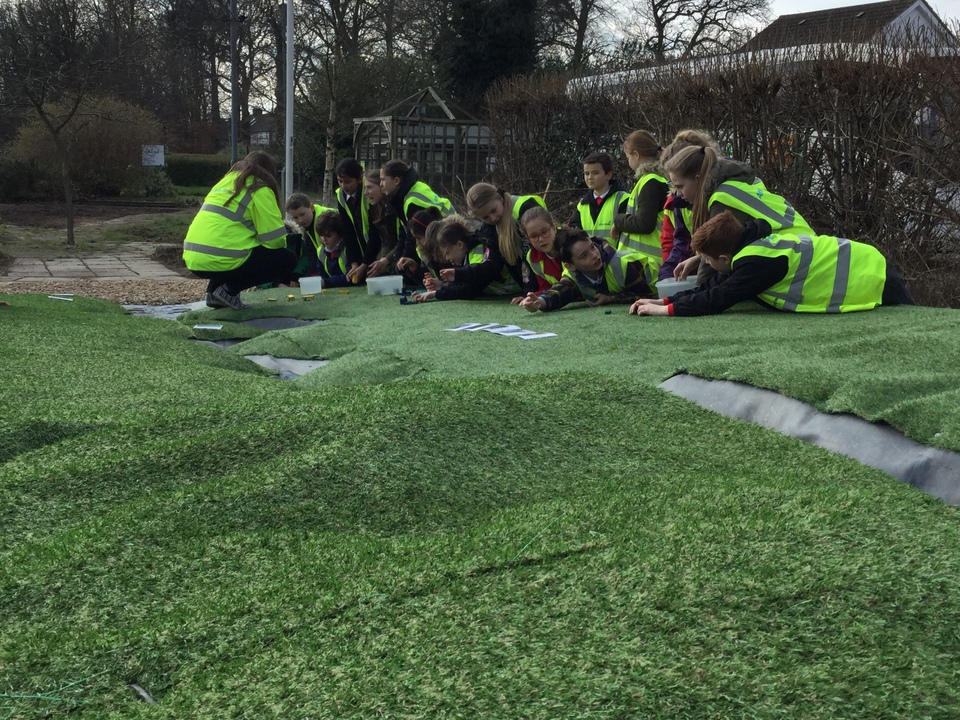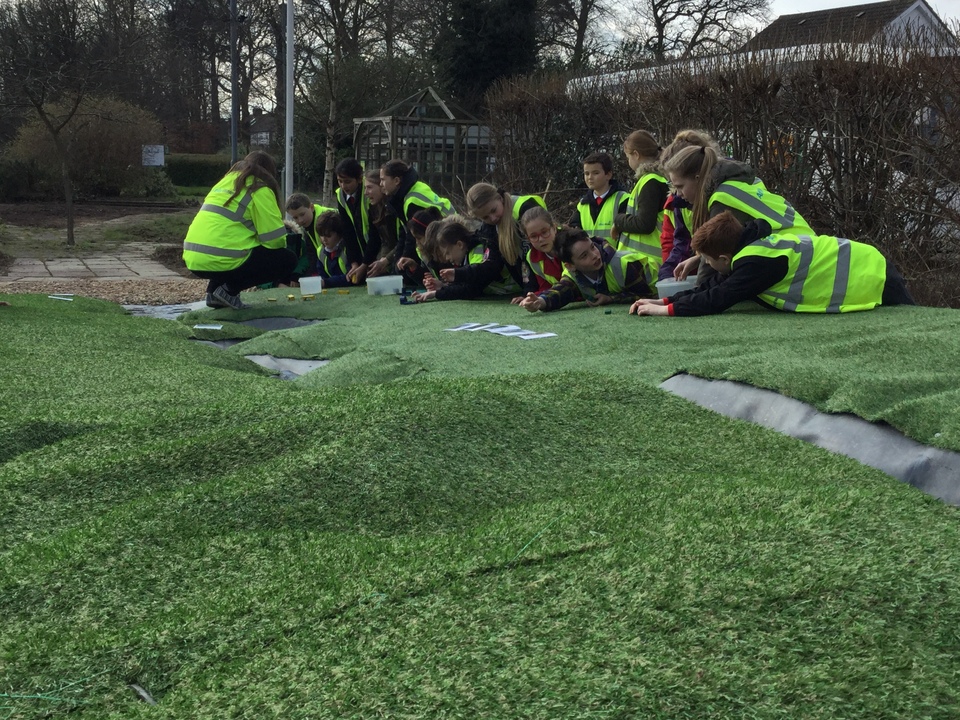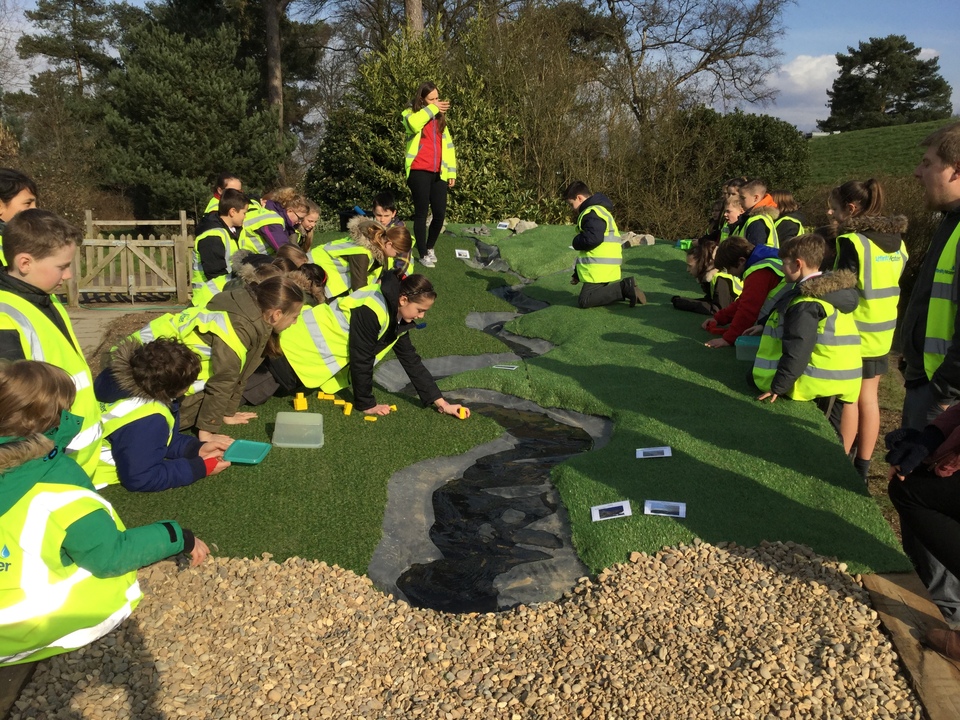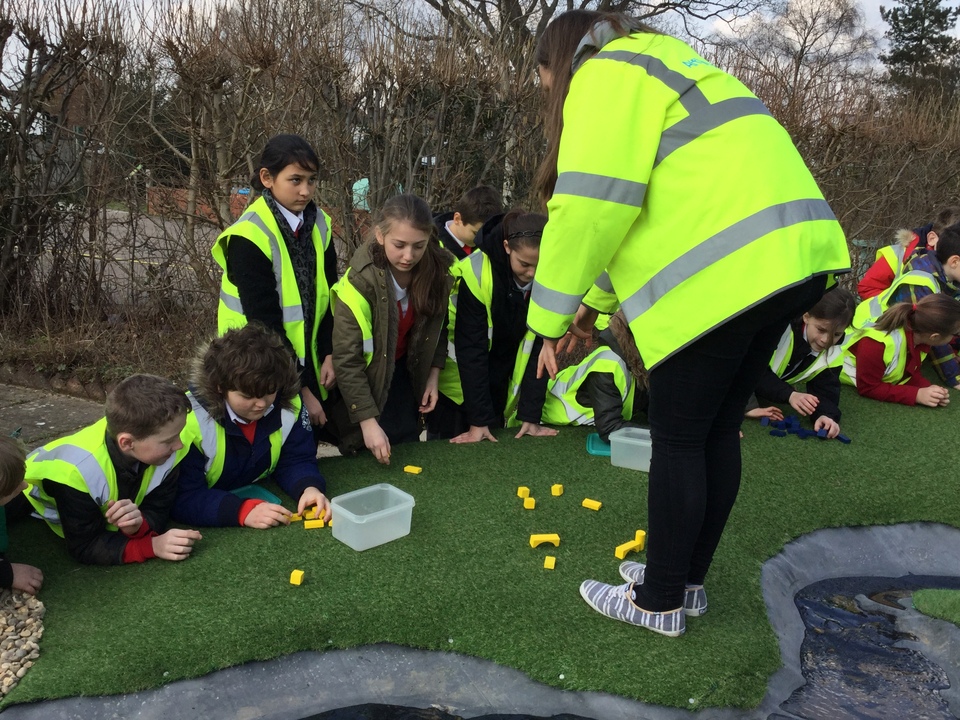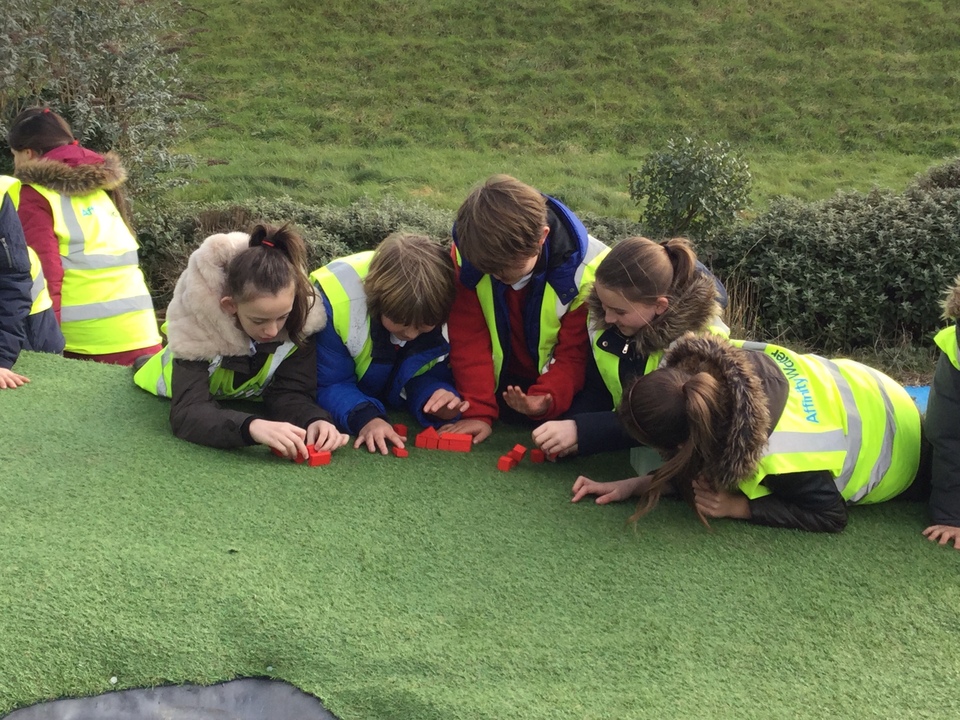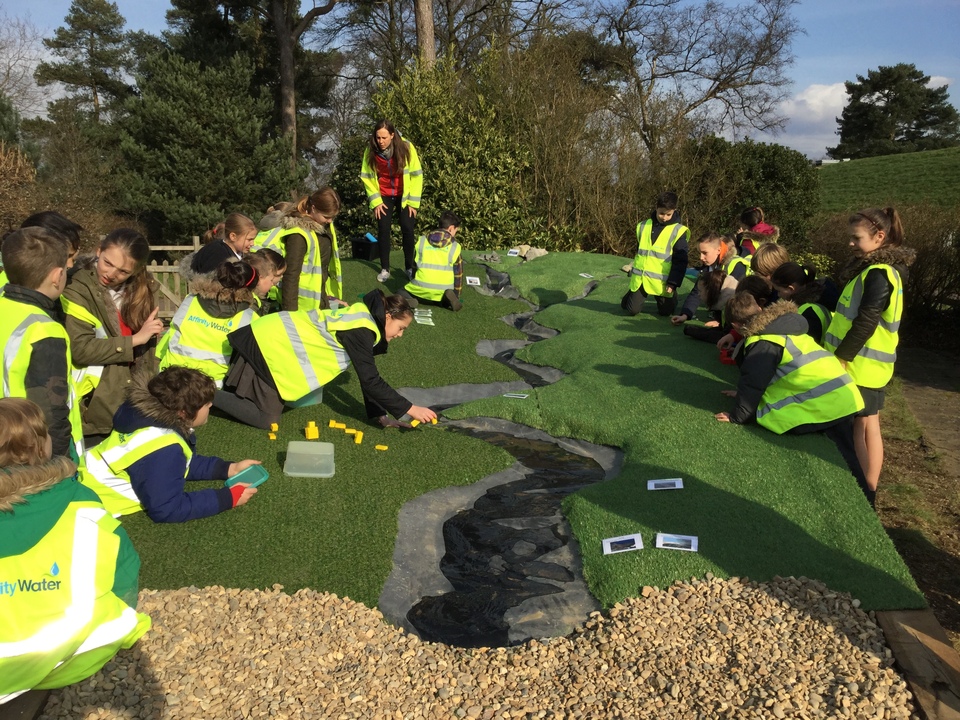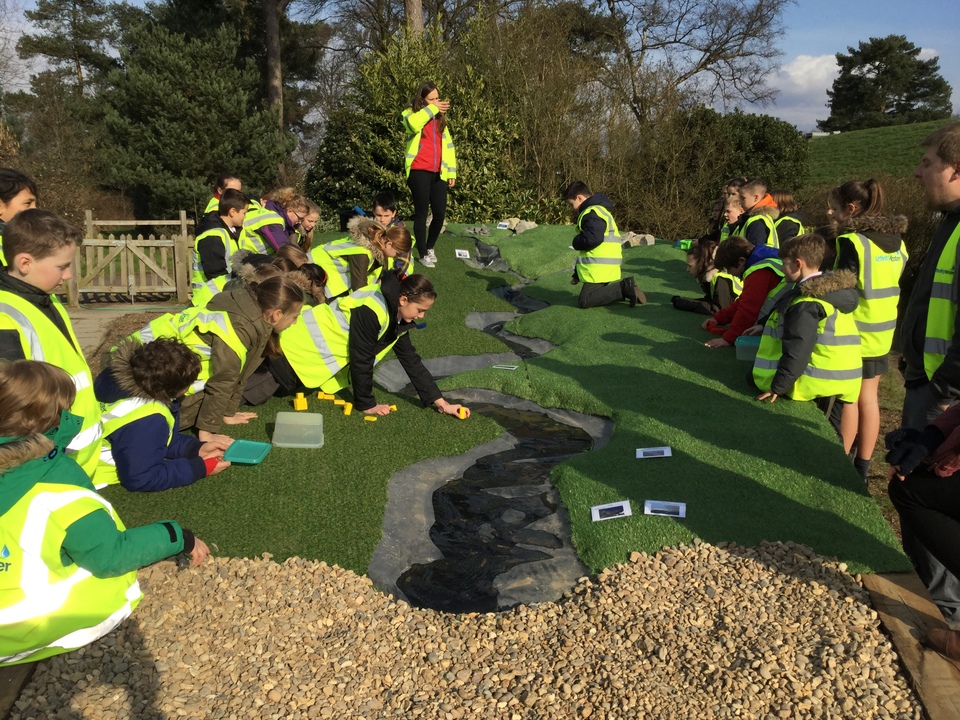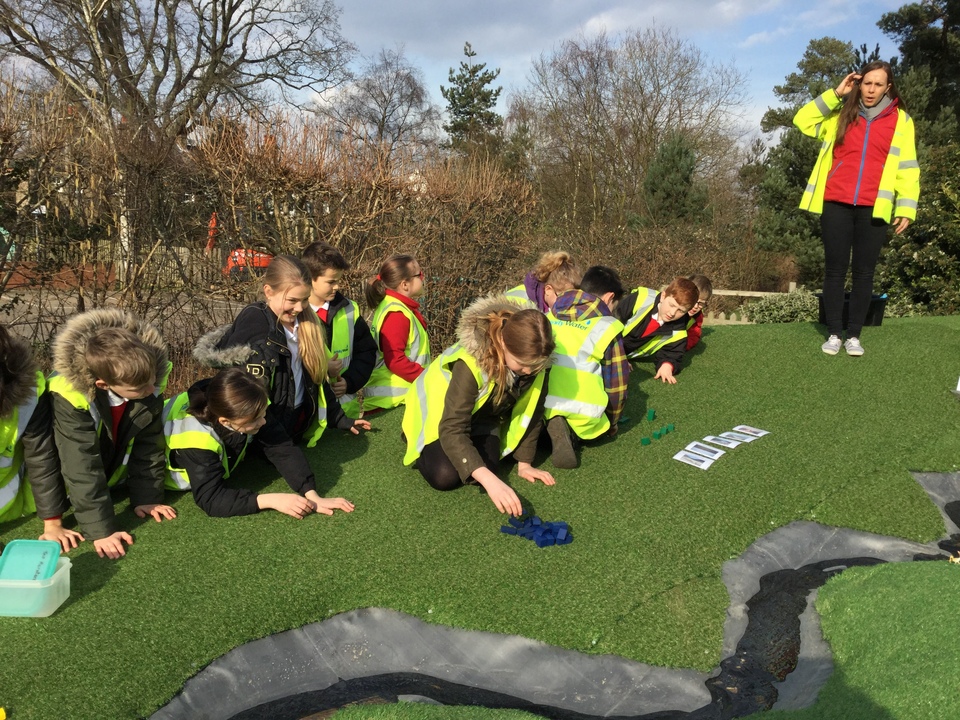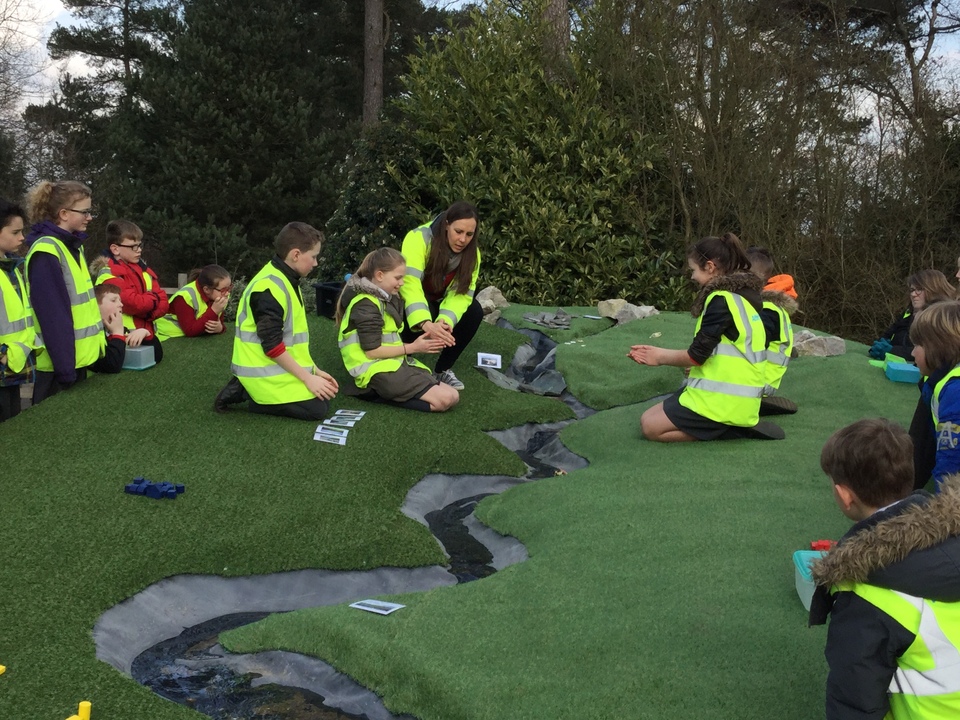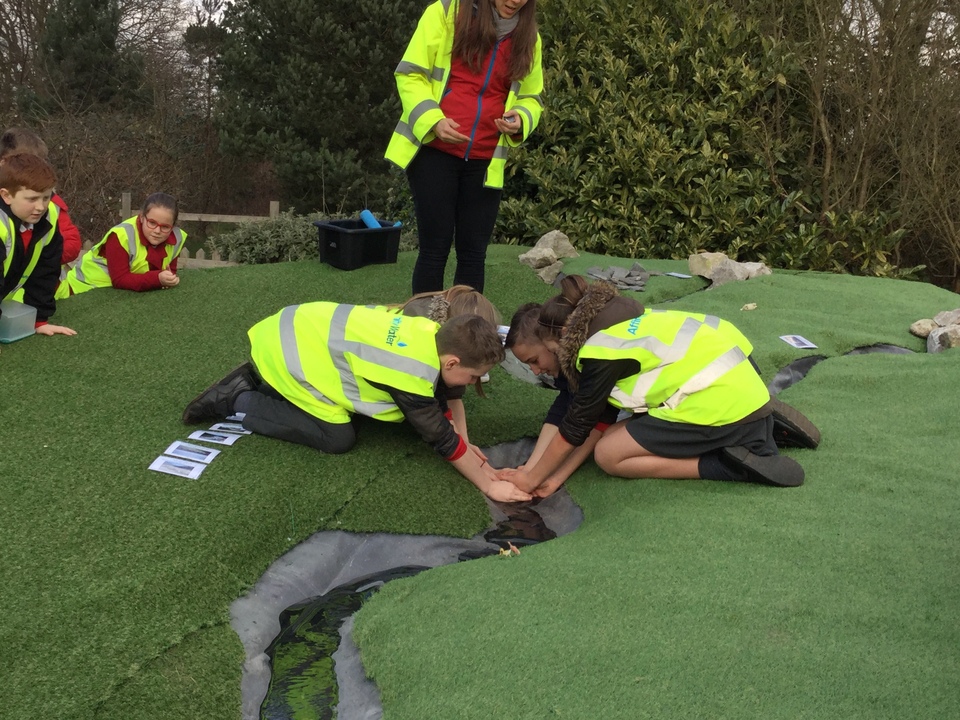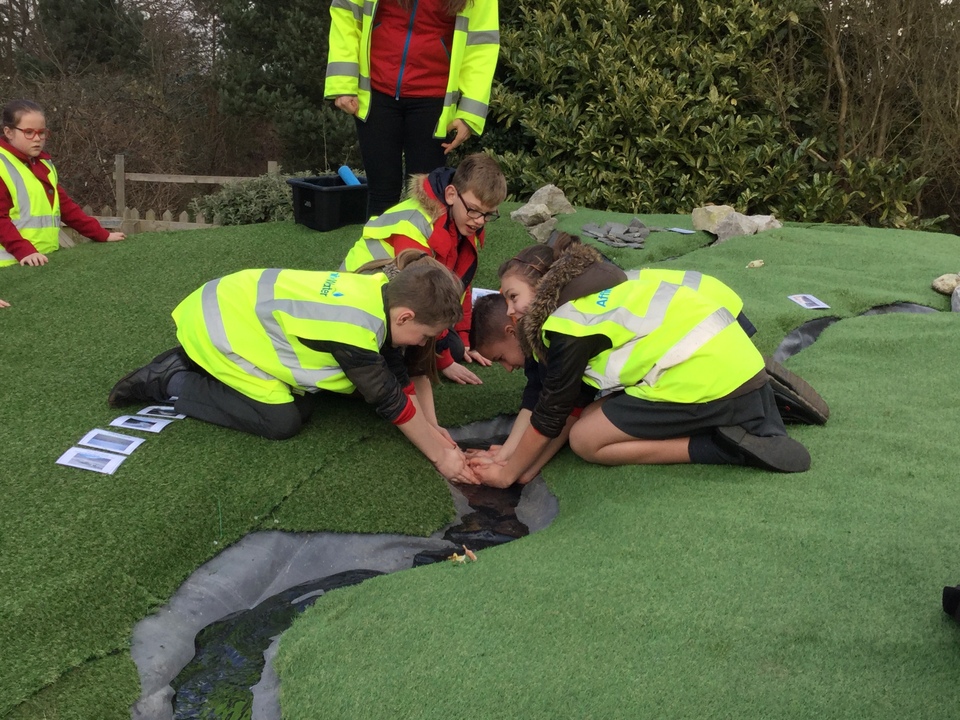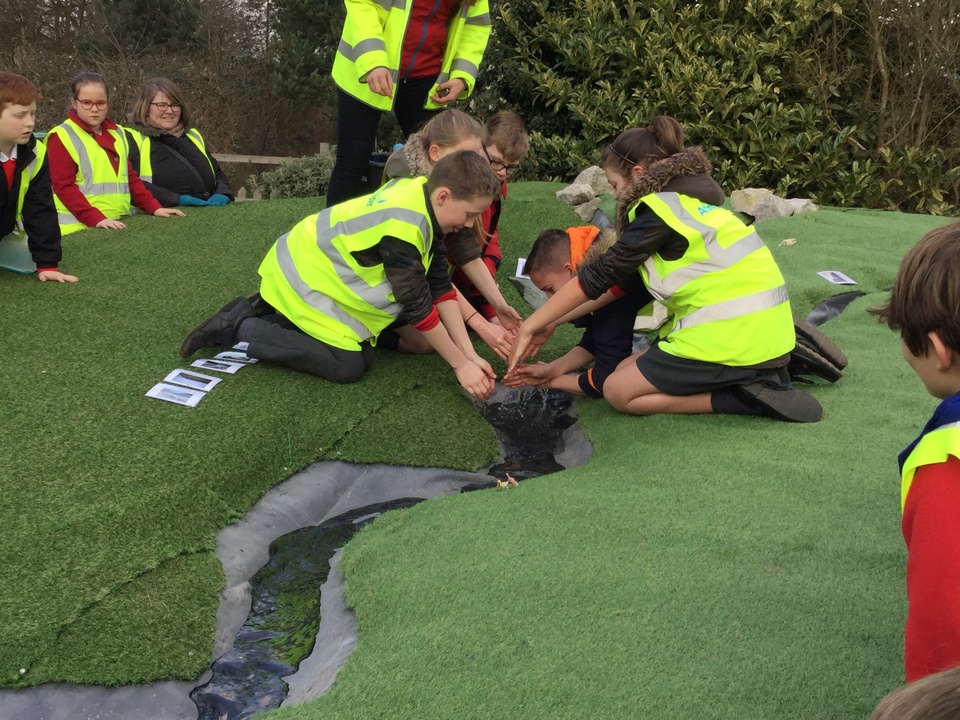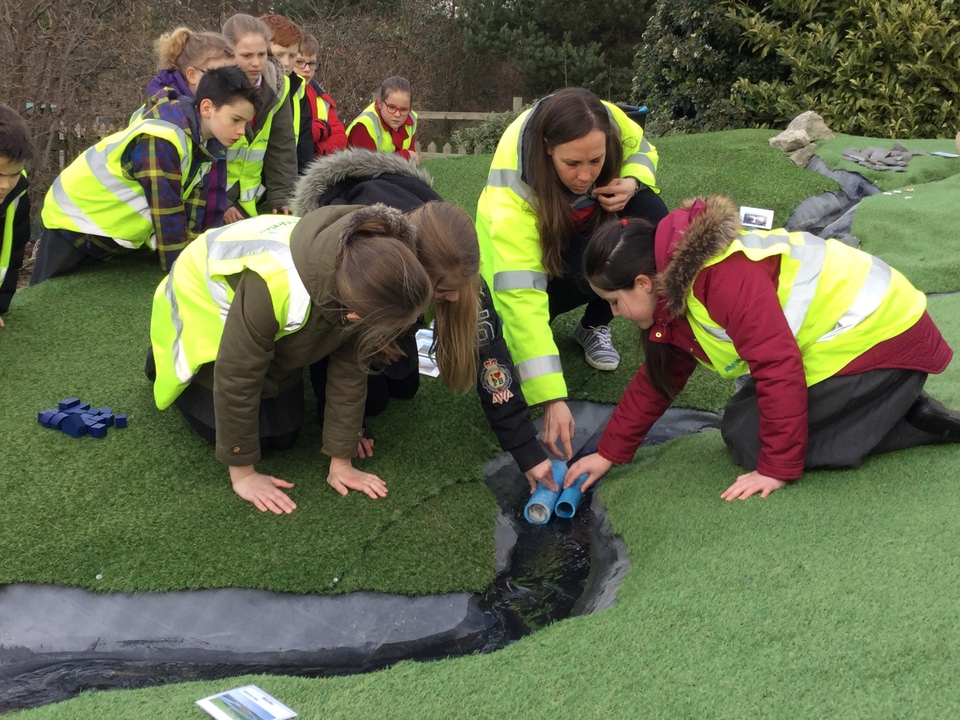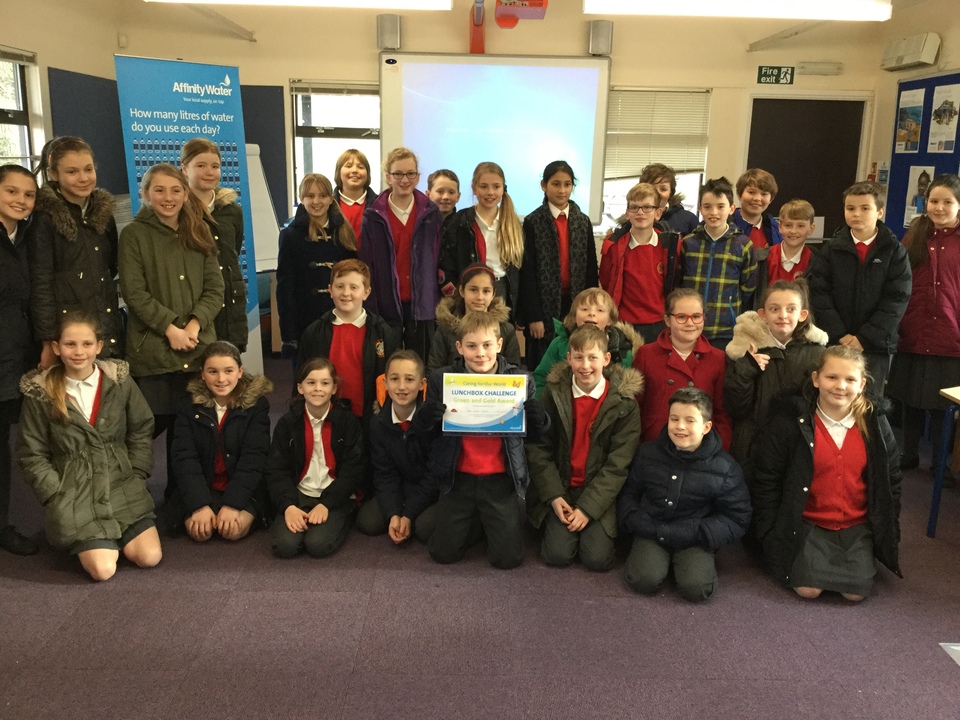 Science Week - Solar Power Workshop
This week we have had a workshop run by Setpoint who came in to teach us about solar power. We learnt how to make a fan move using solar power and looked at some of the benefits of using this as an energy source.
We also make zoetropes which was tricky, but goo fun! We investigated how we could power these with a solar panel too!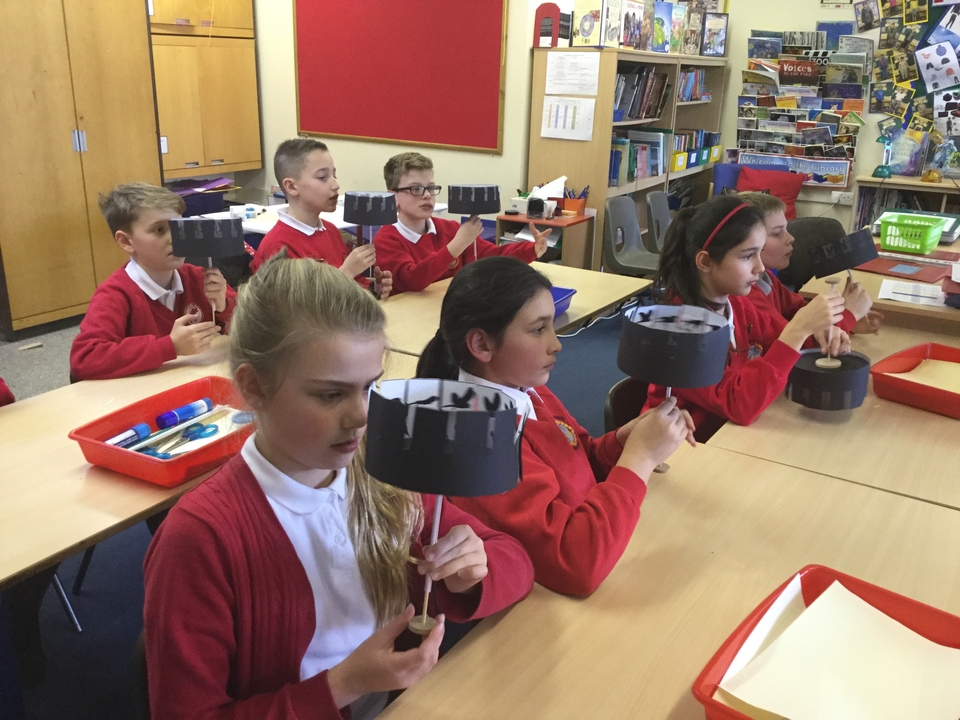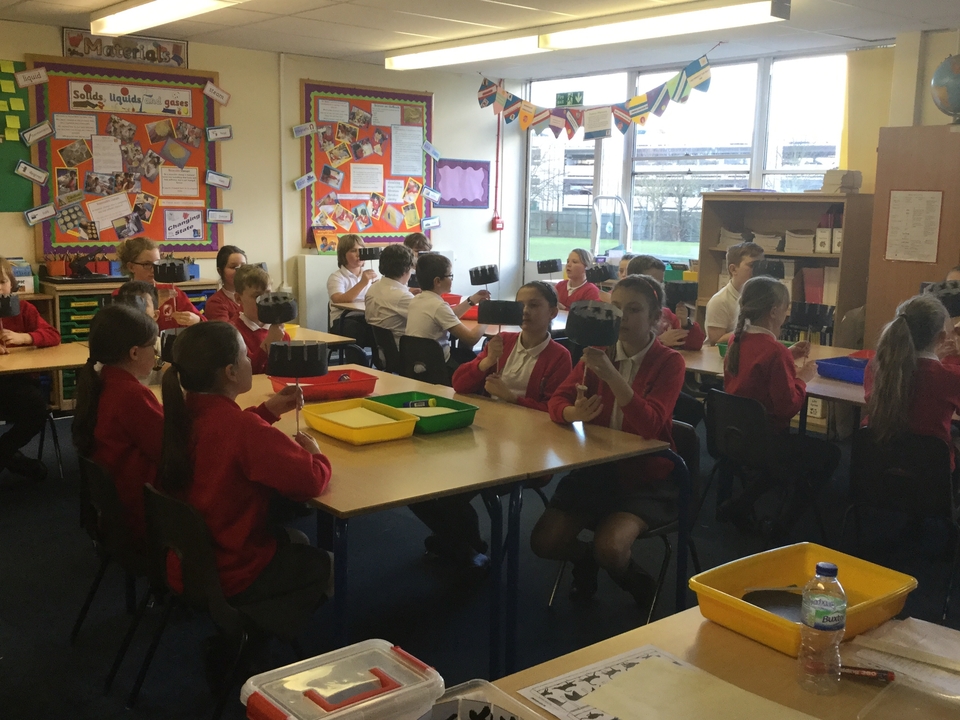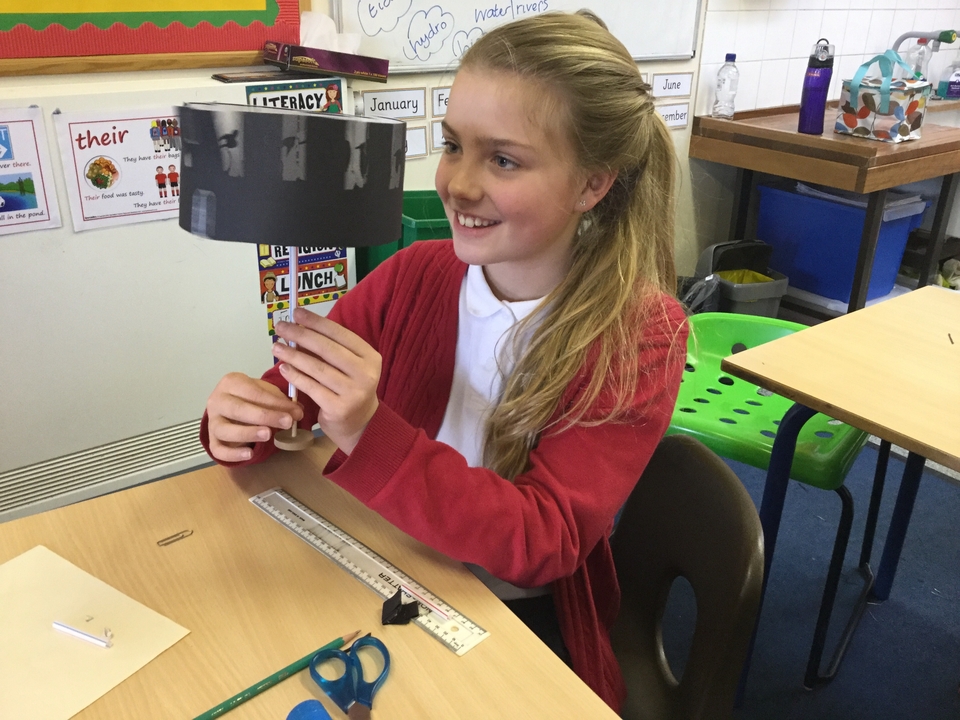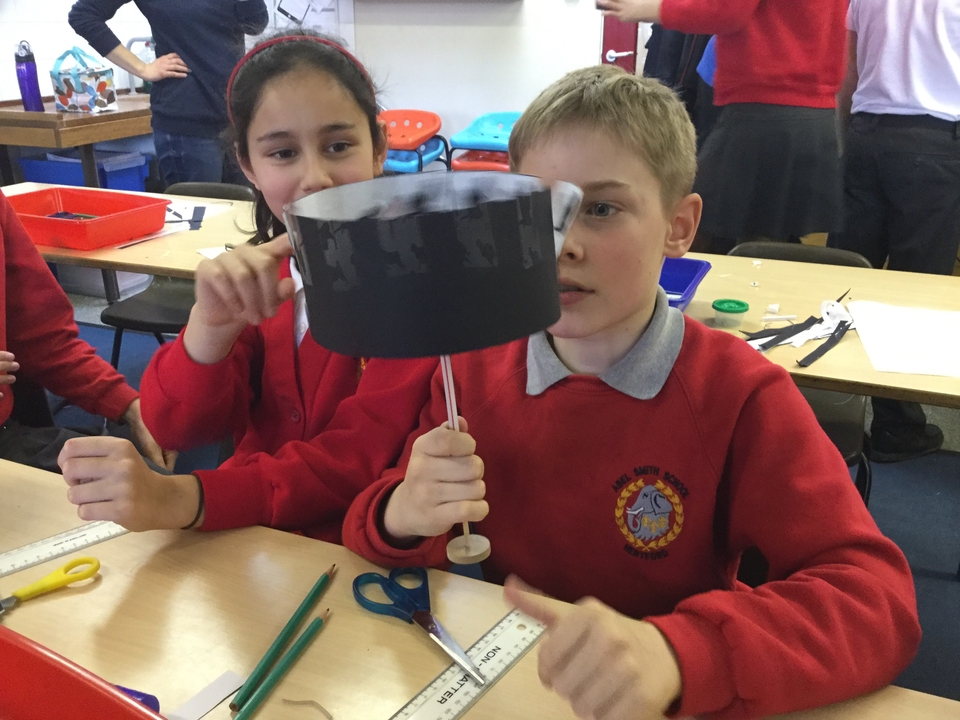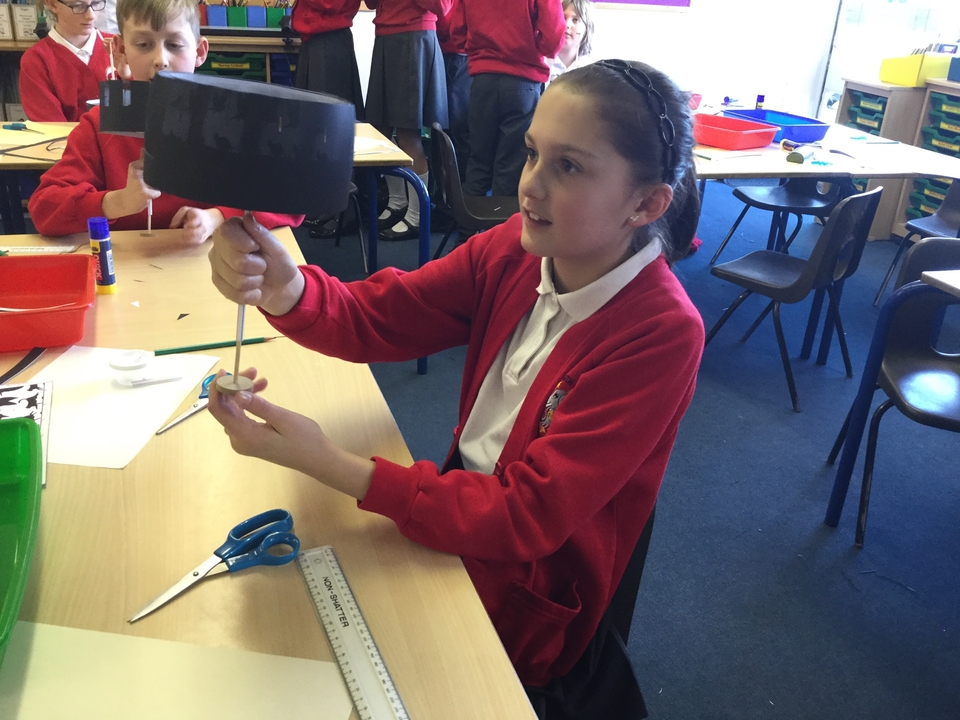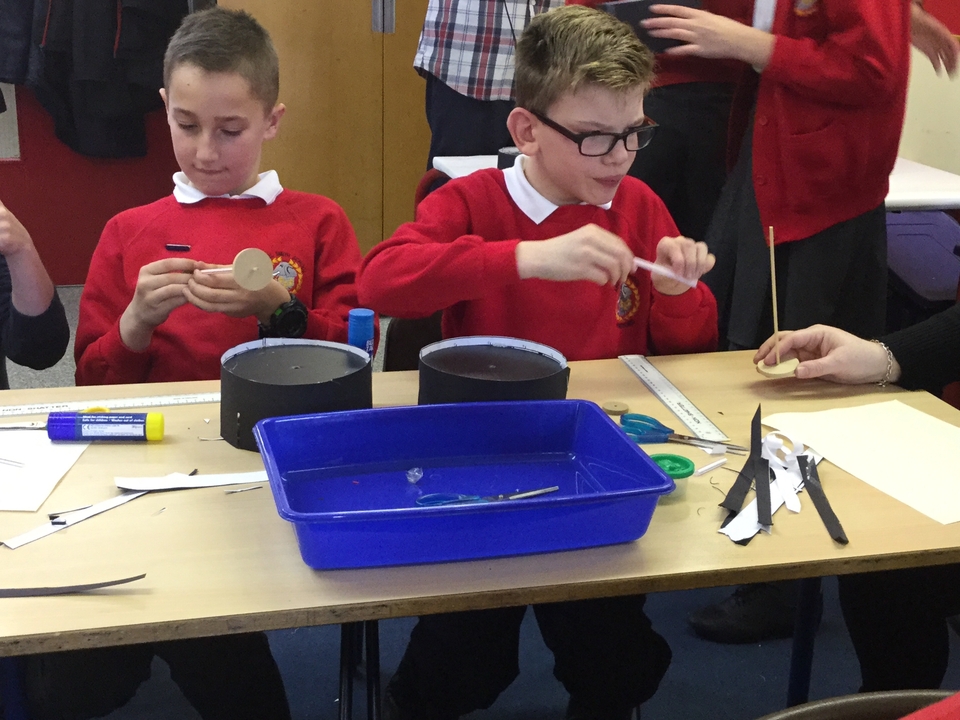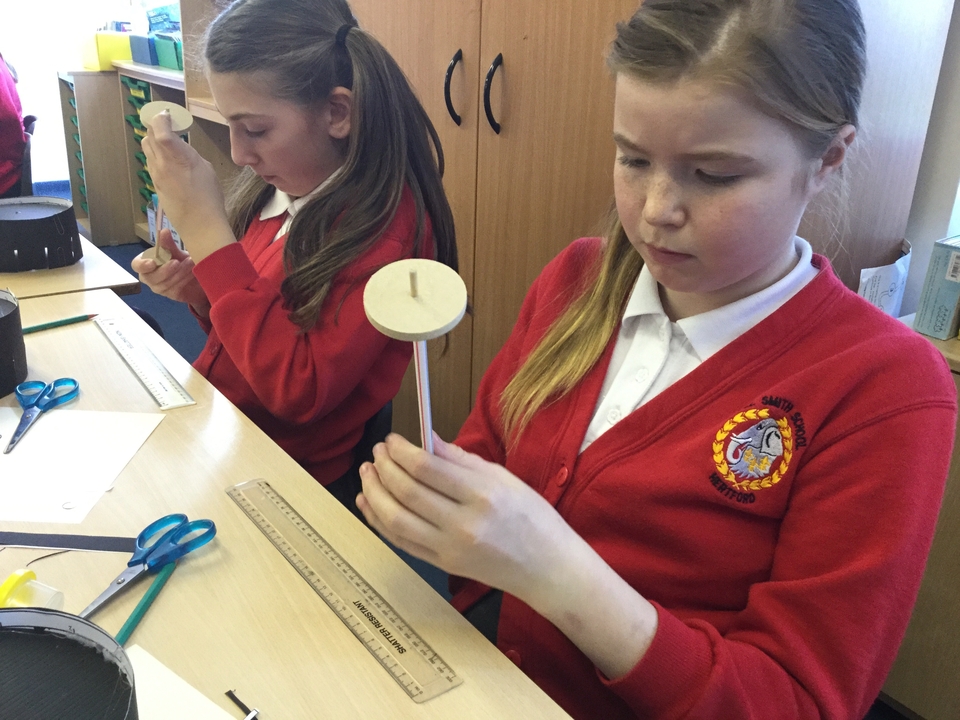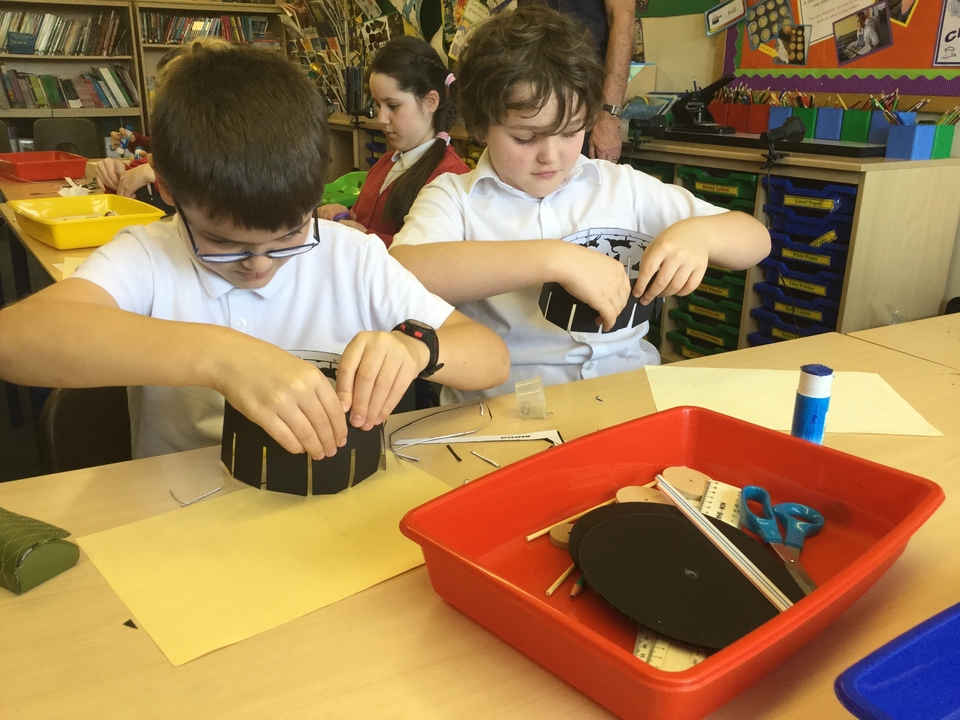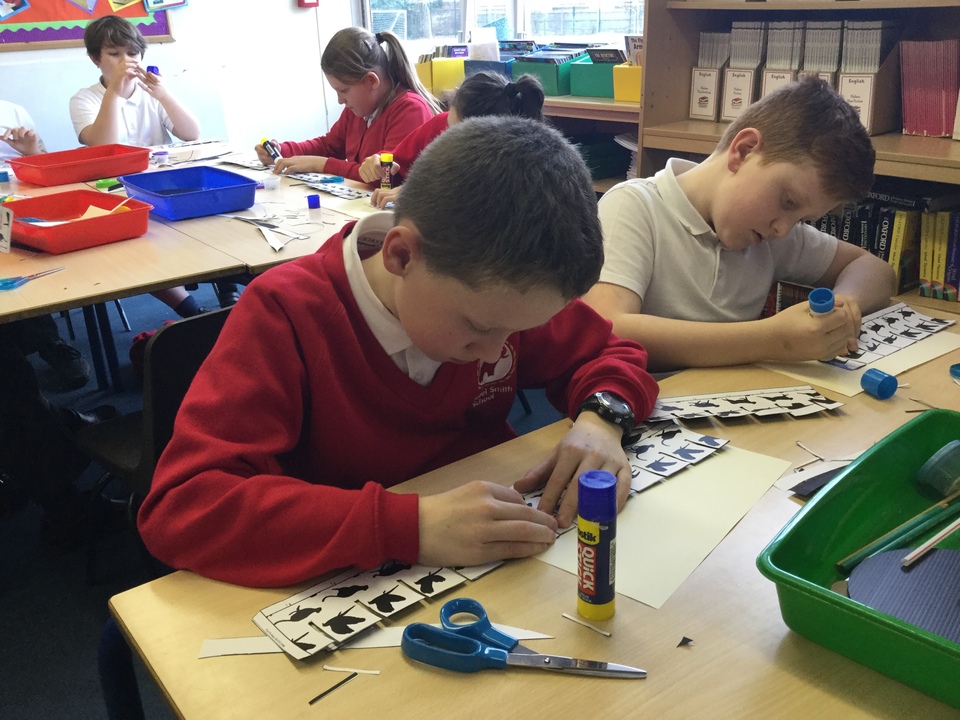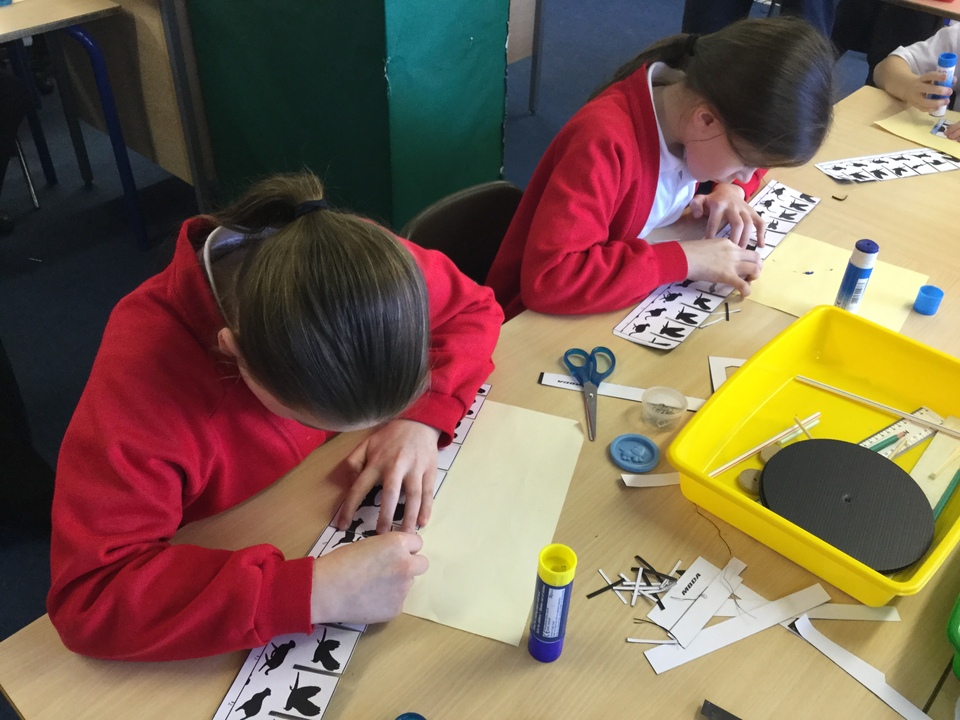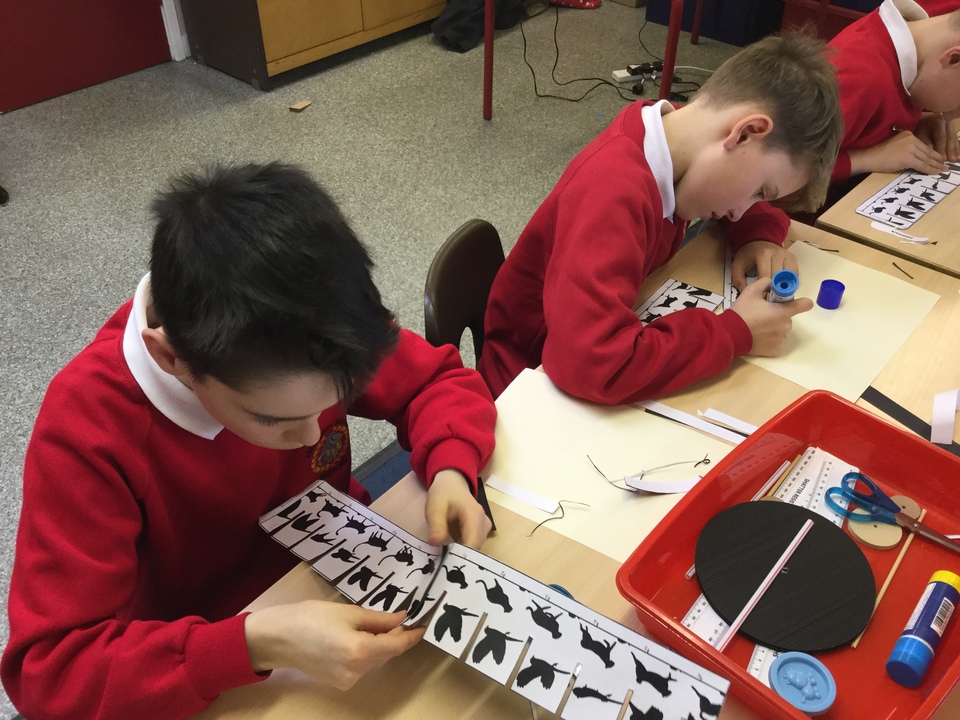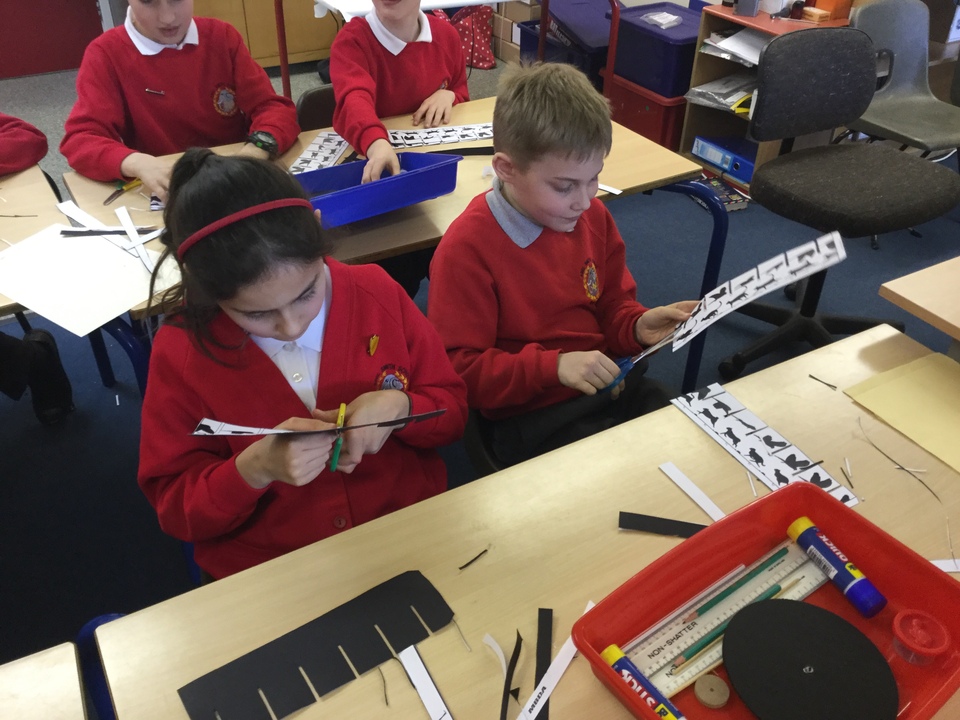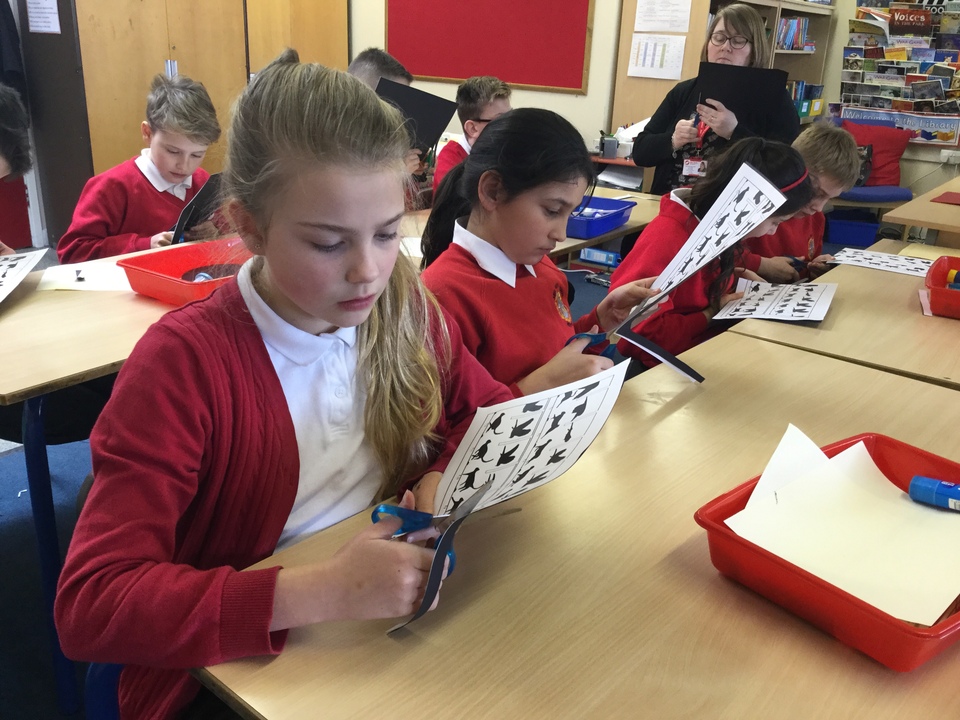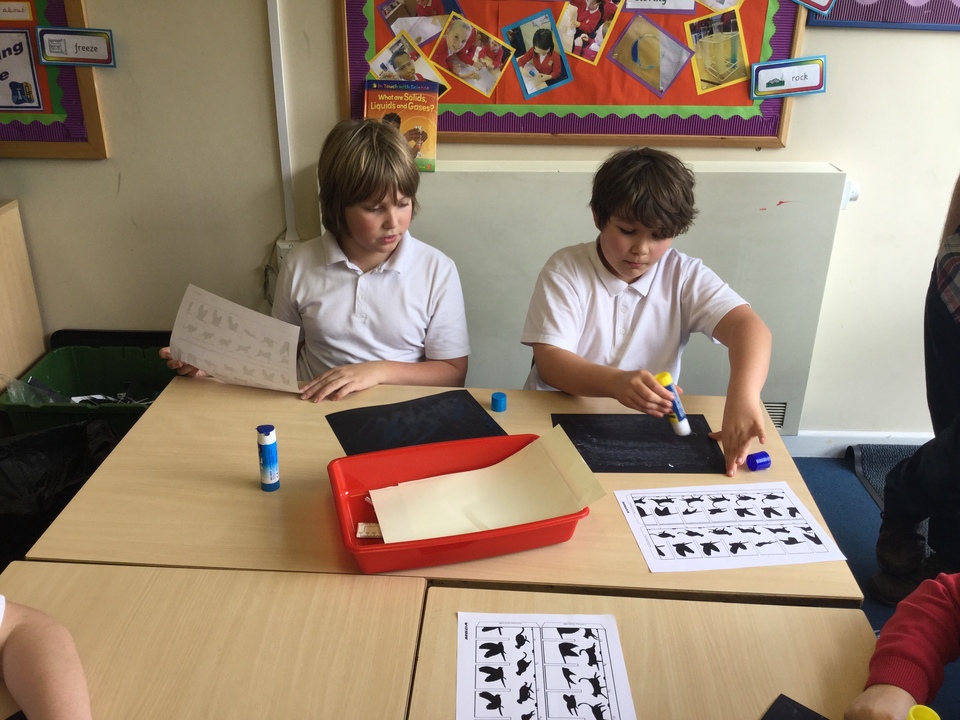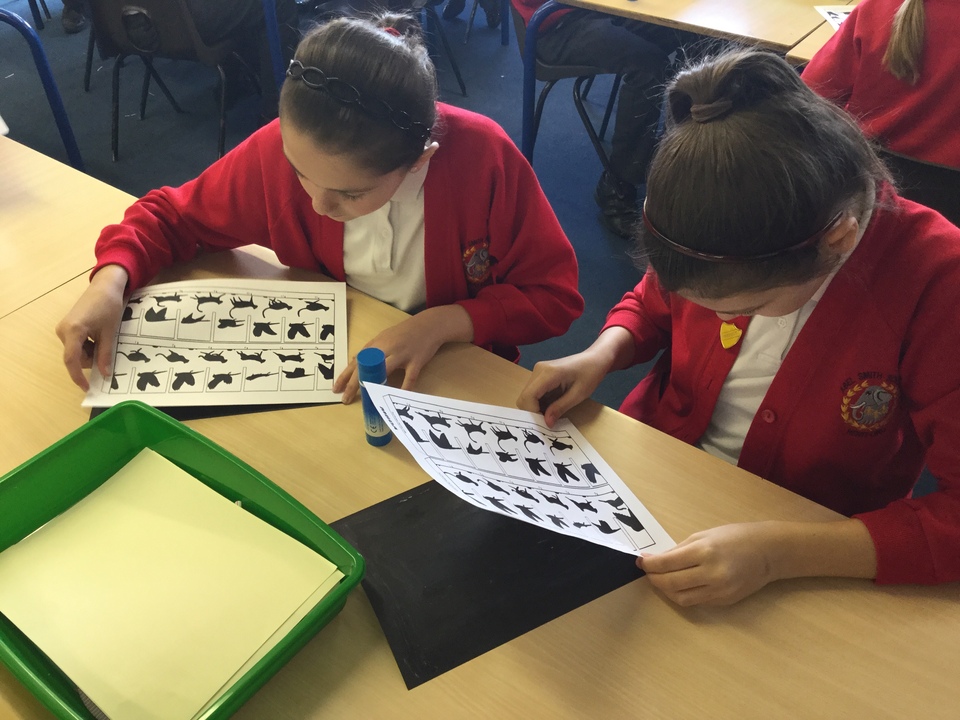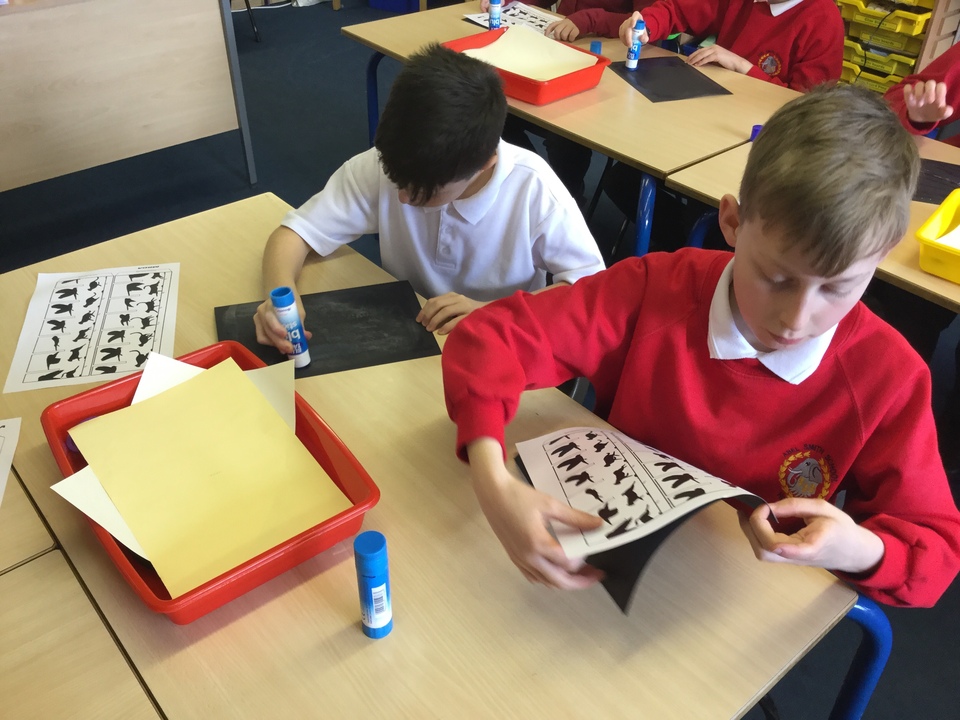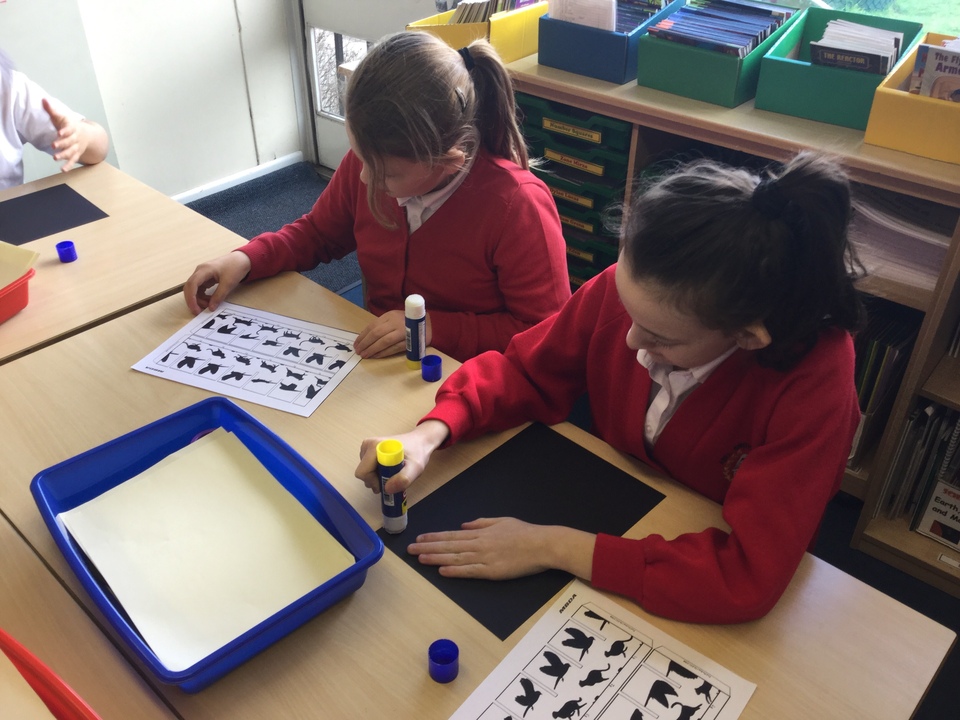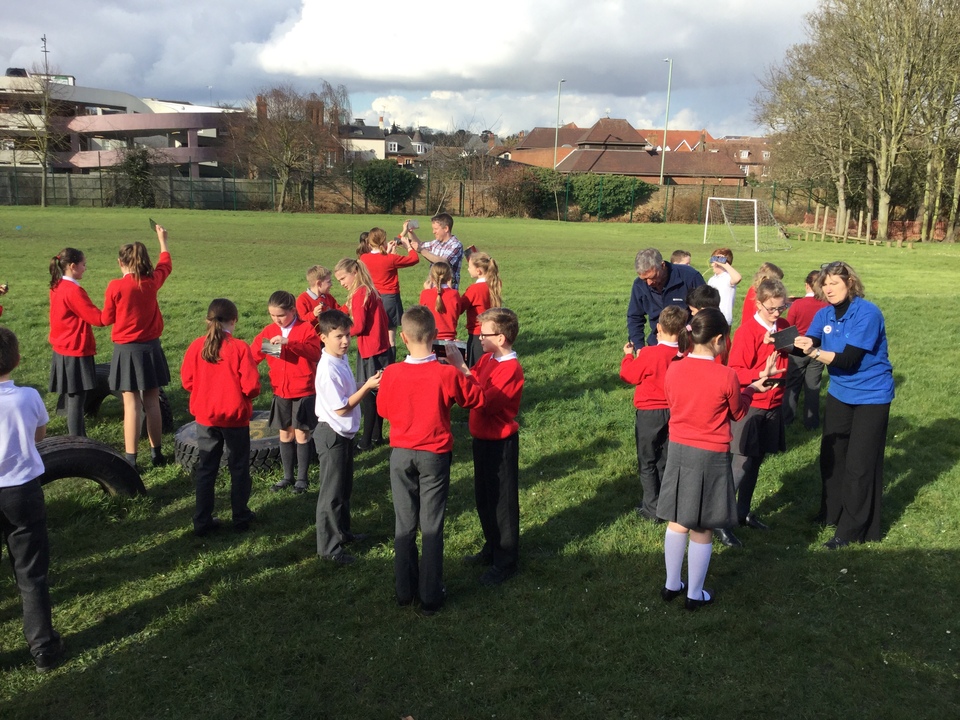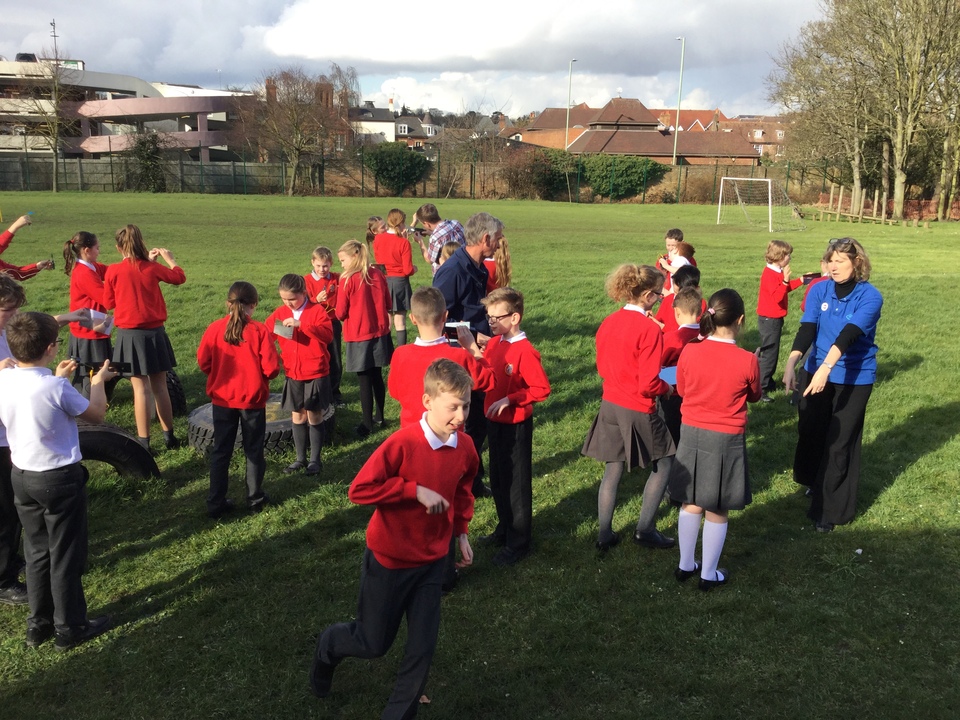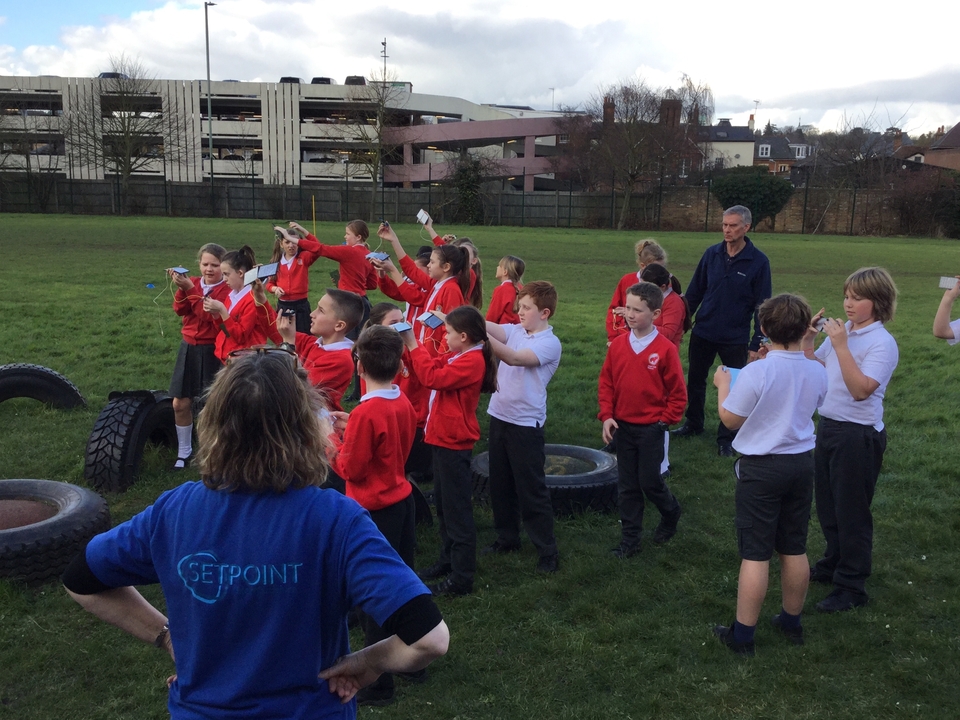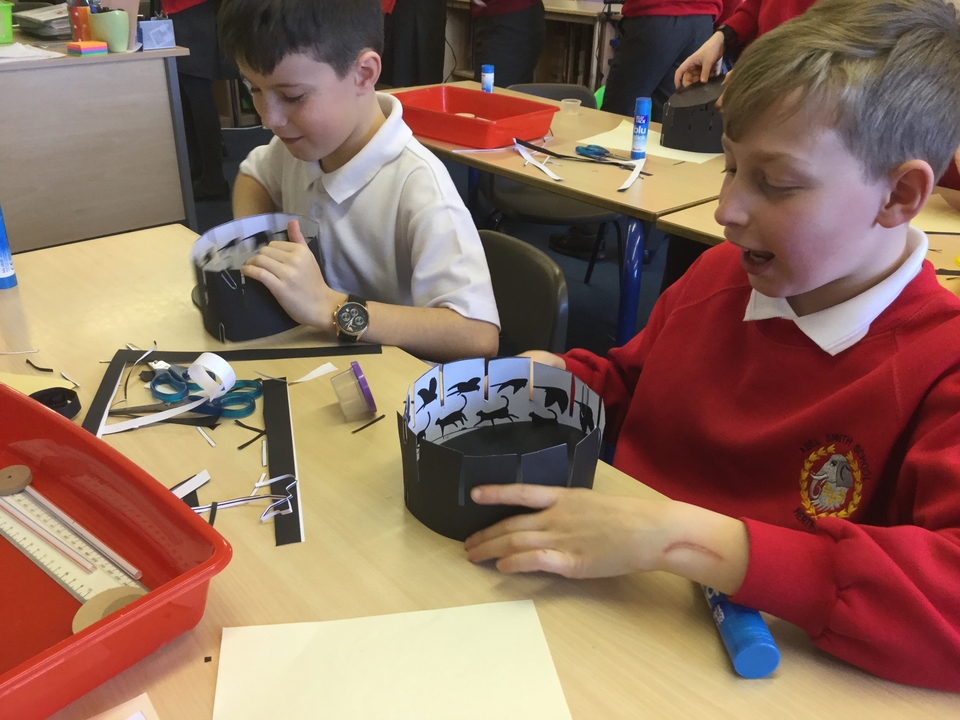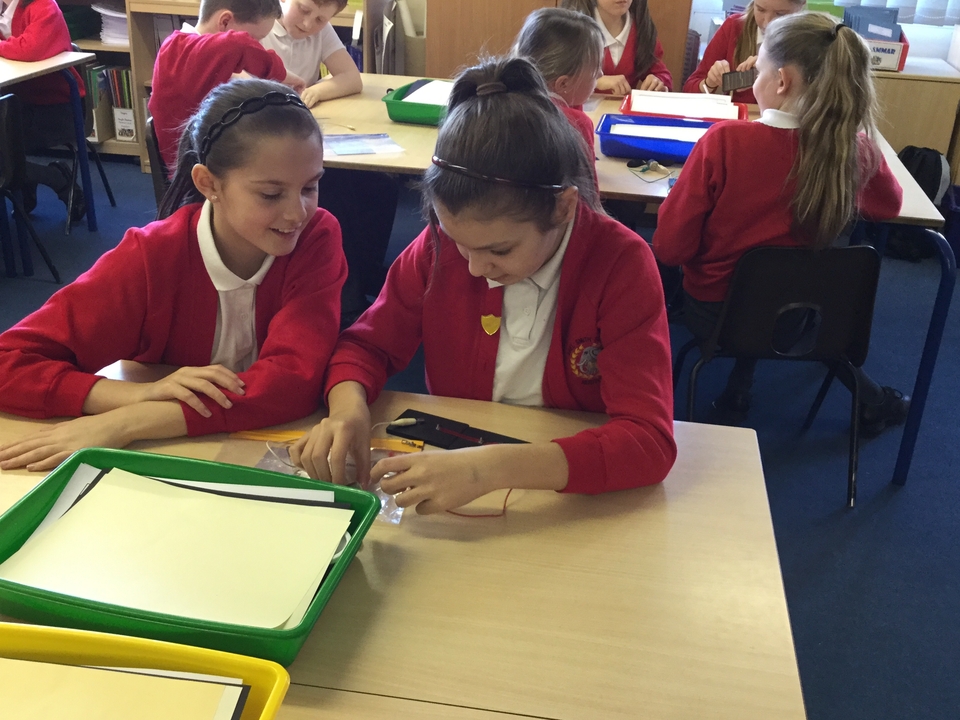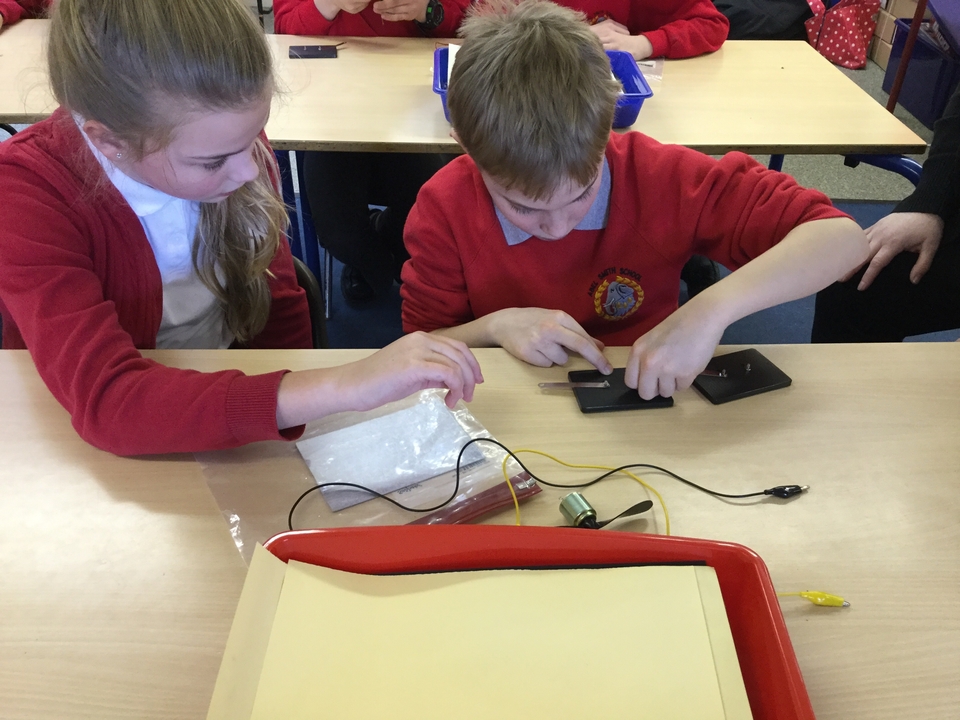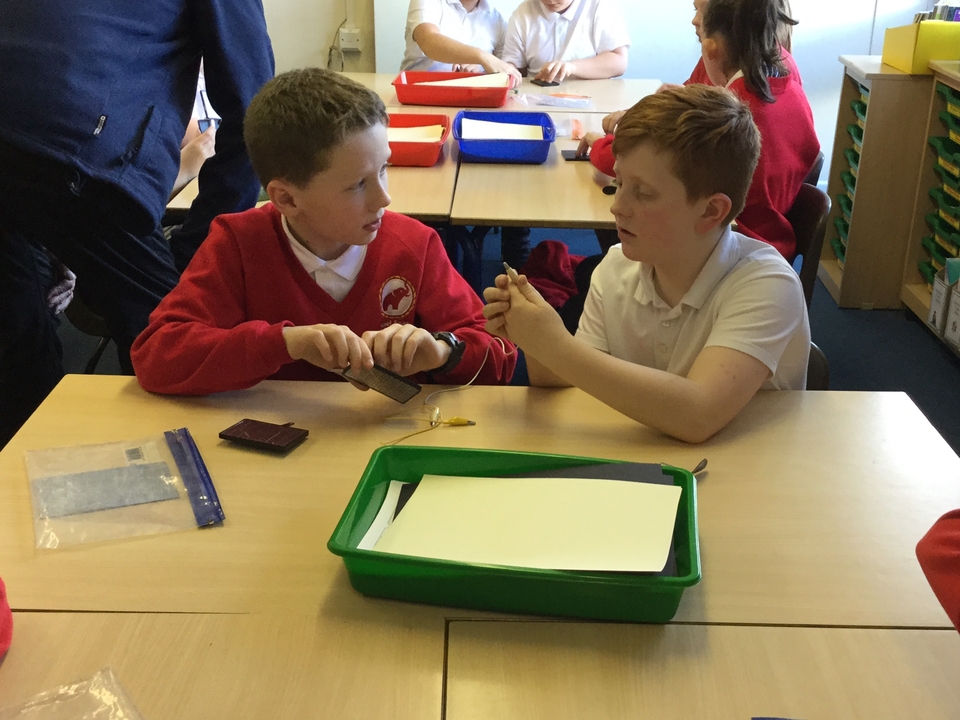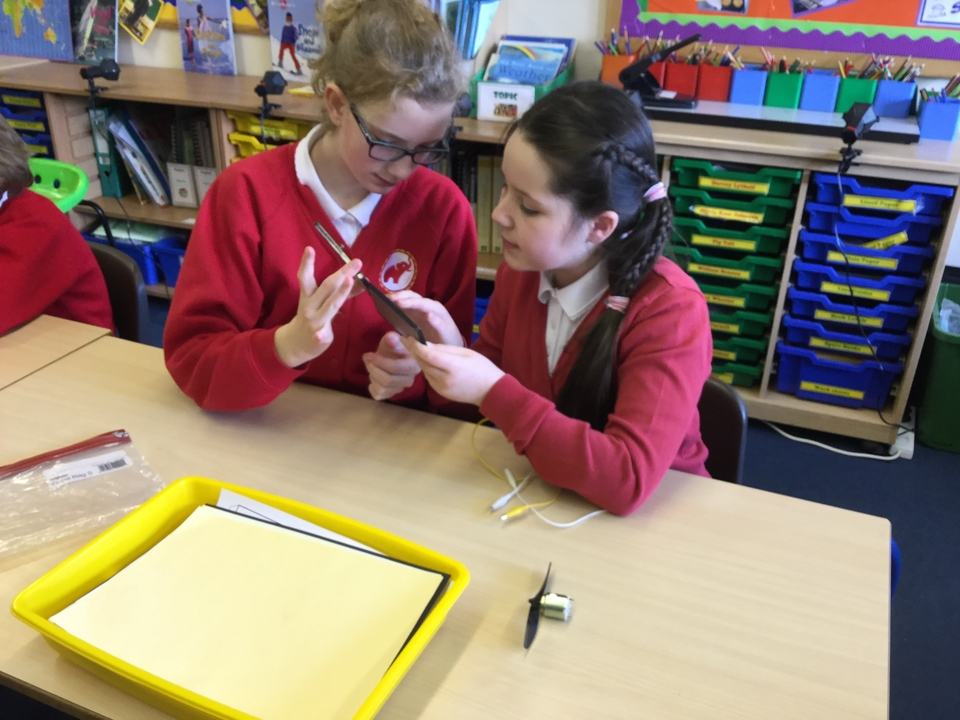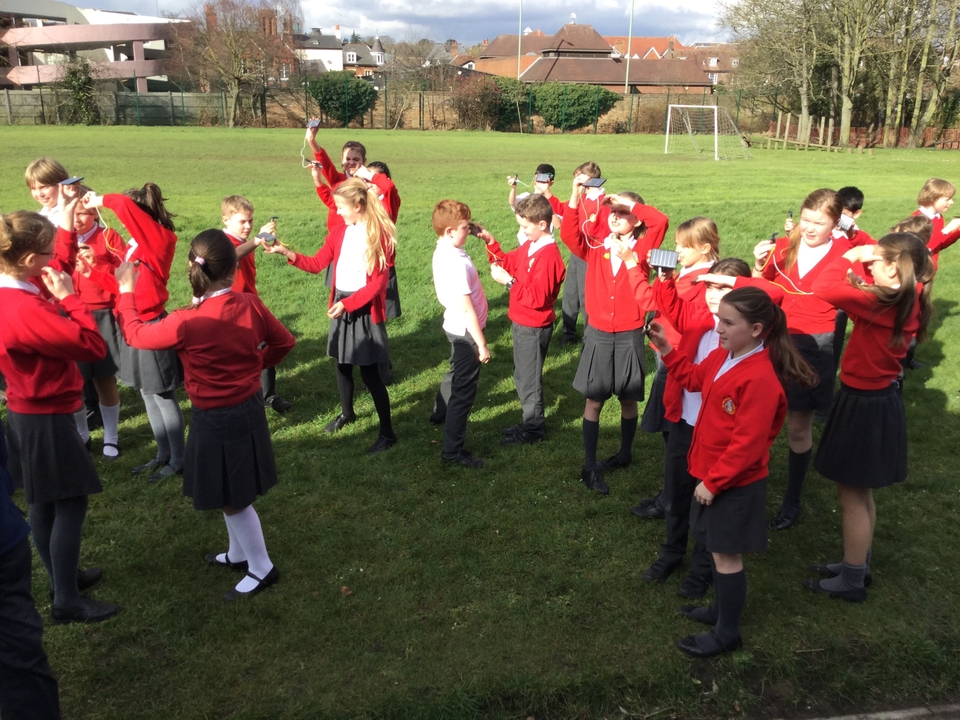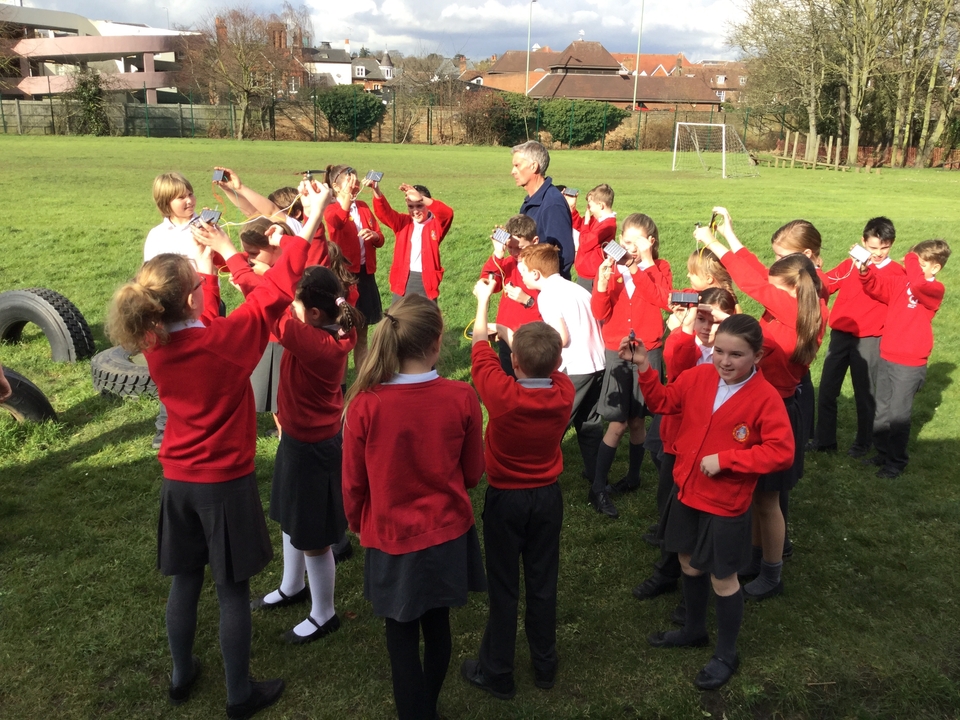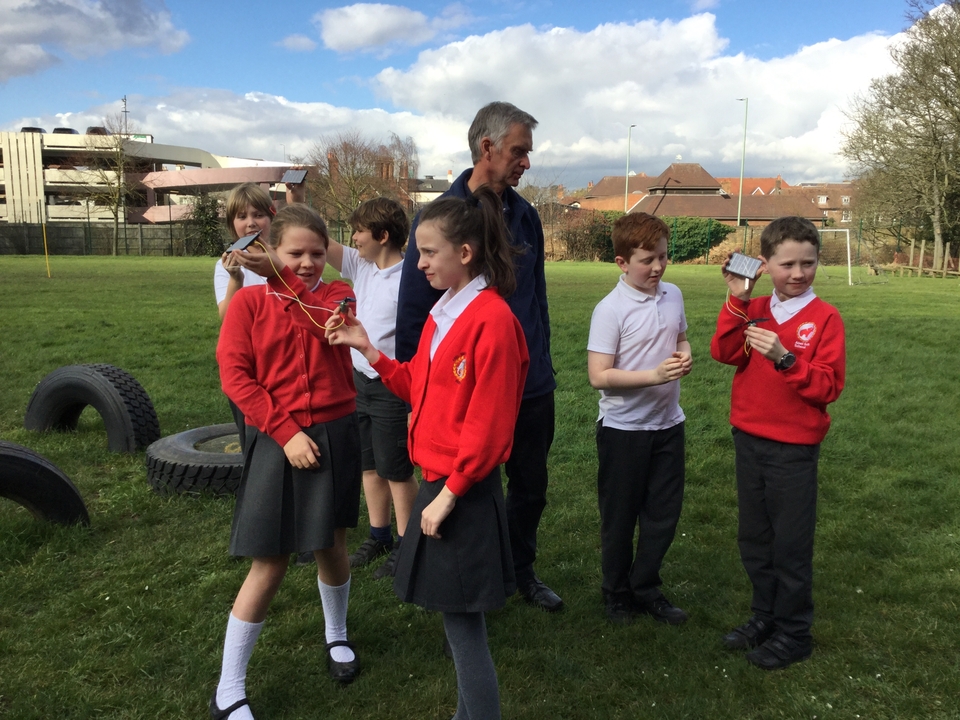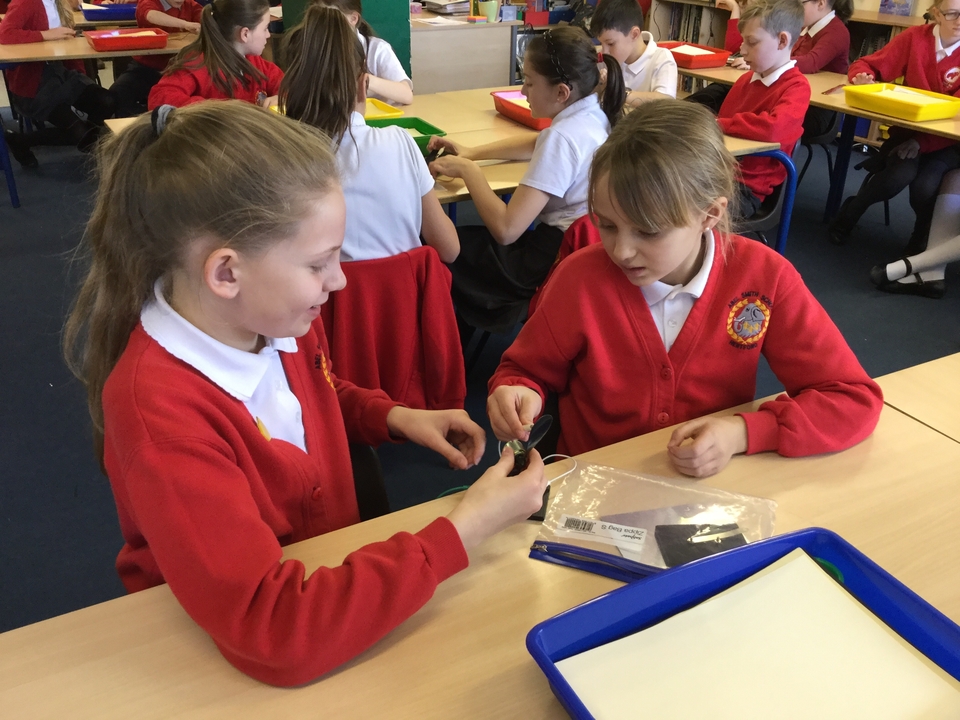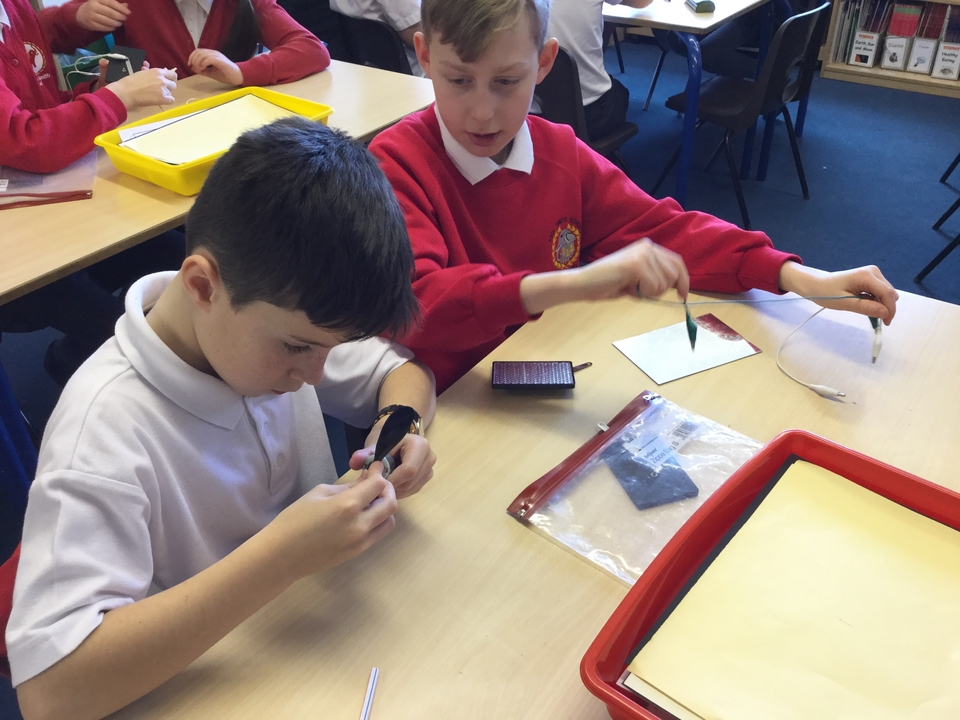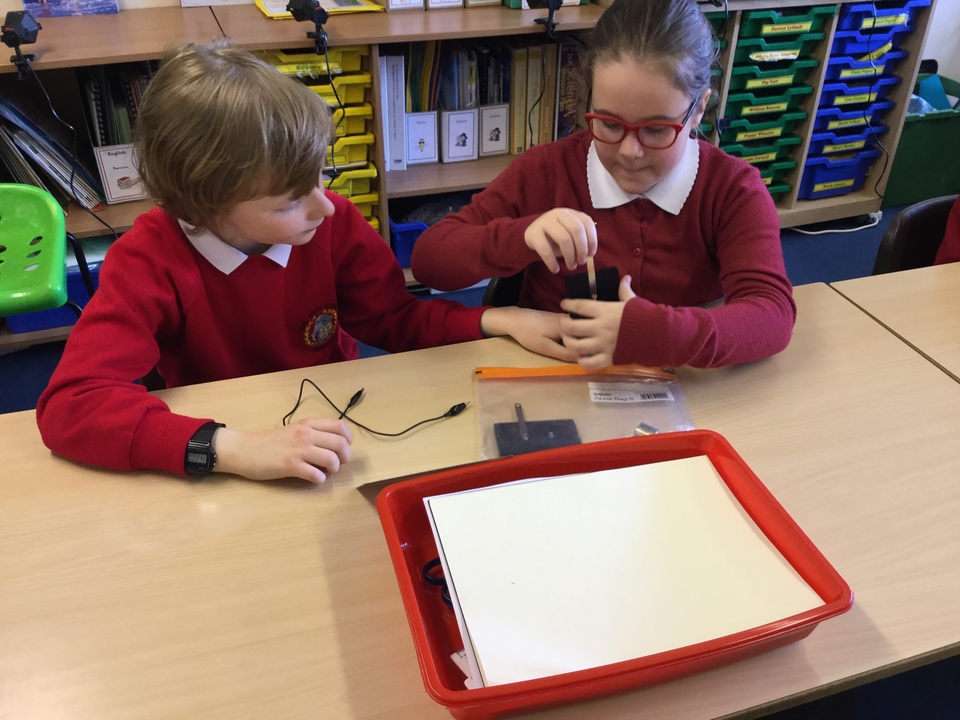 Science Workshop - Thursday 11th February
Year 6 had a fun and interactive Science workshop about the lungs and respiration. We took part in several mini experiments, including measuring our lung capacity and finding out about the effect of glucose on yeast respiration. Thanks to Mrs Bayliss from Richard Hale for running the session.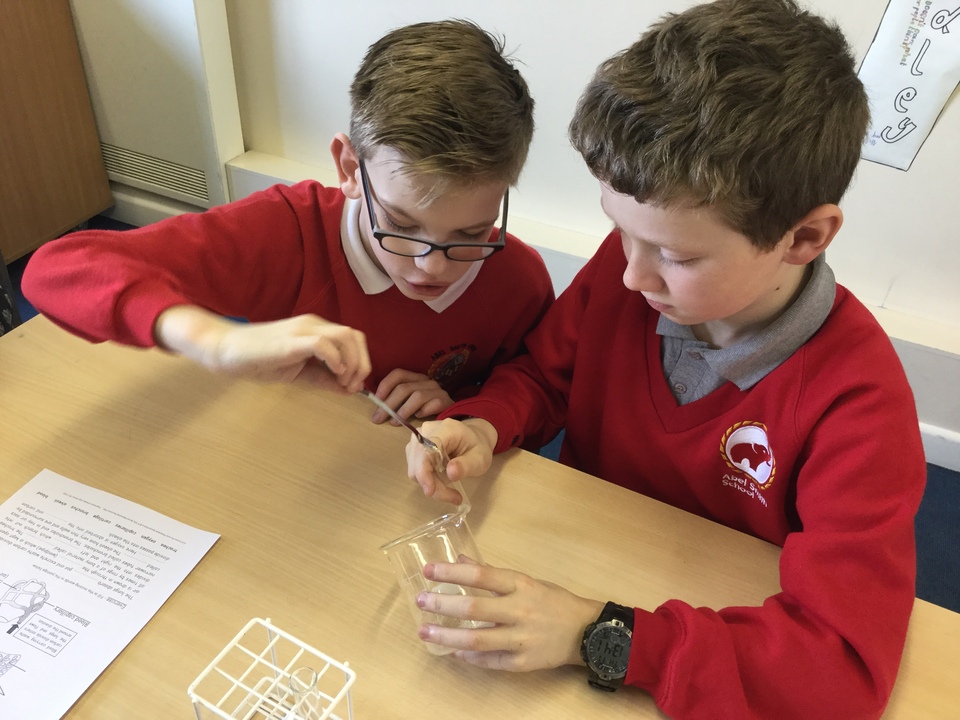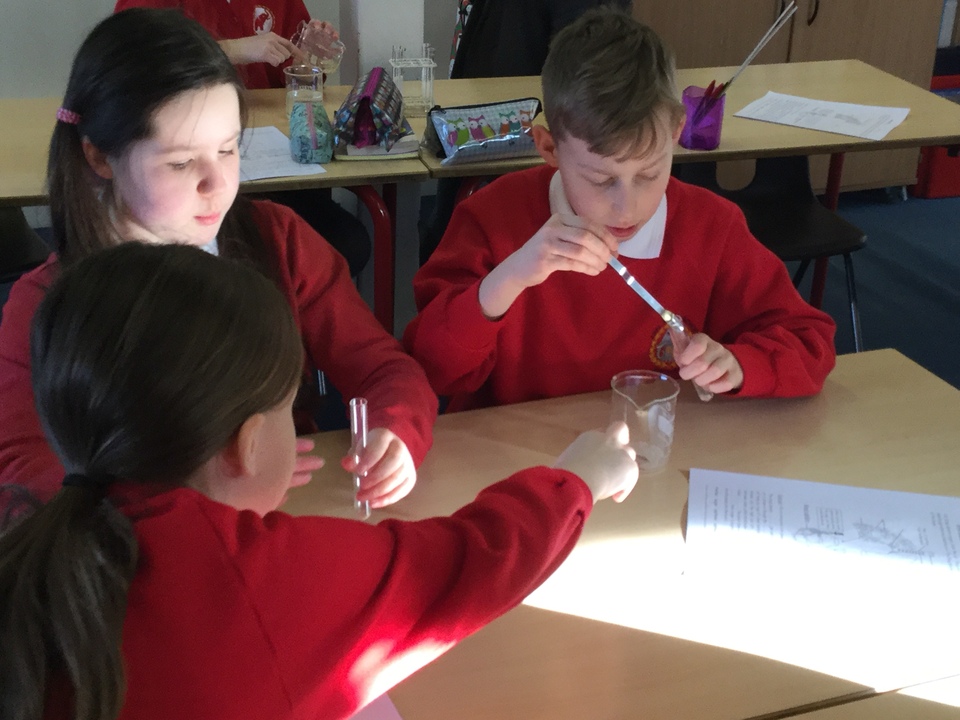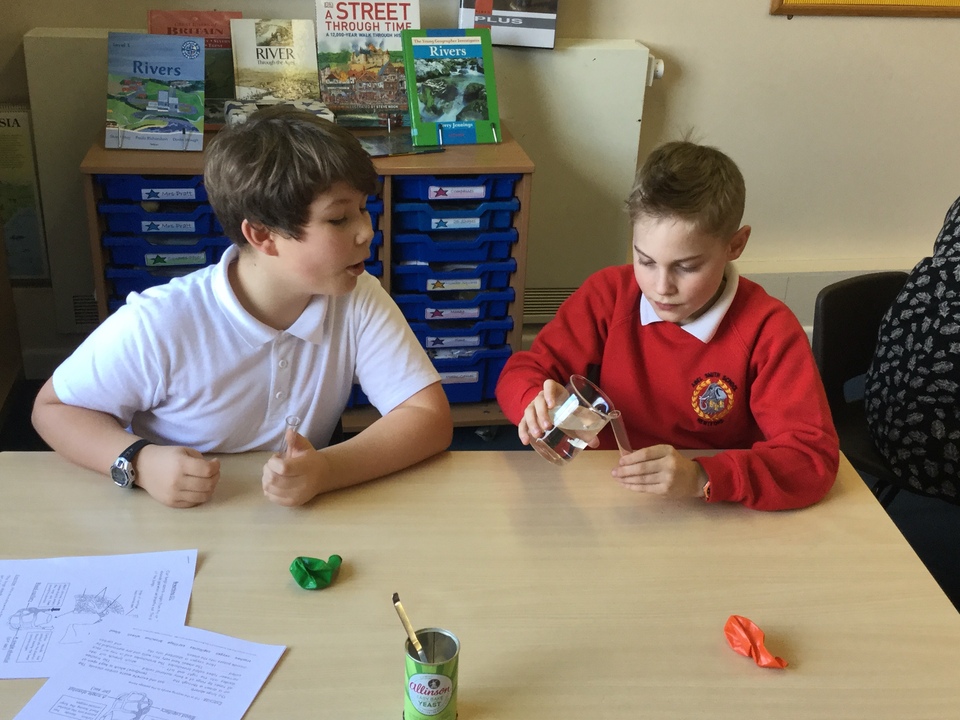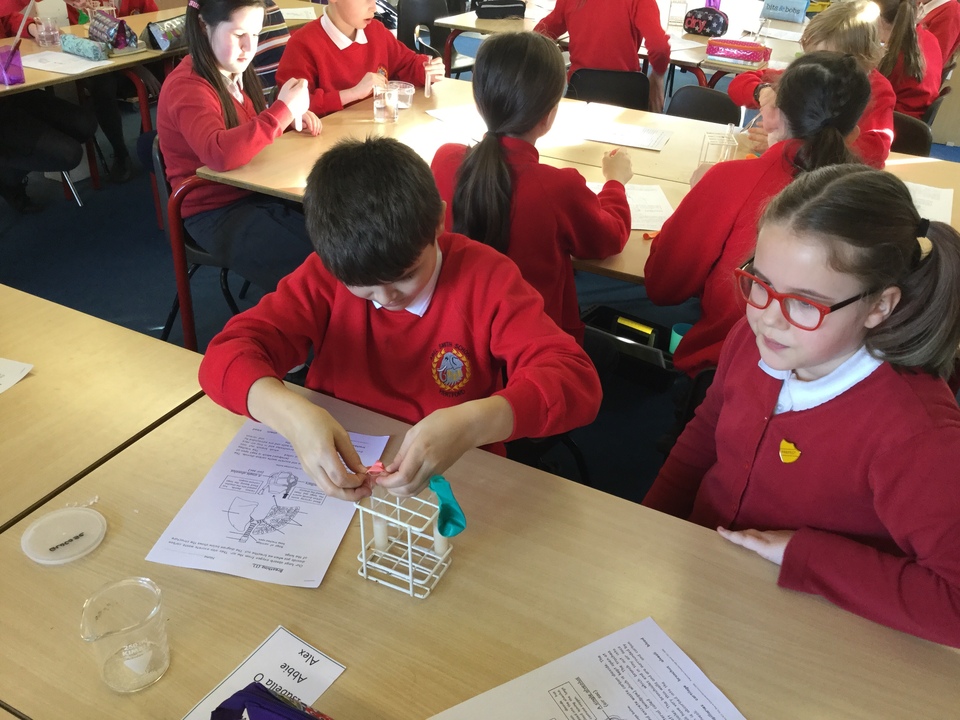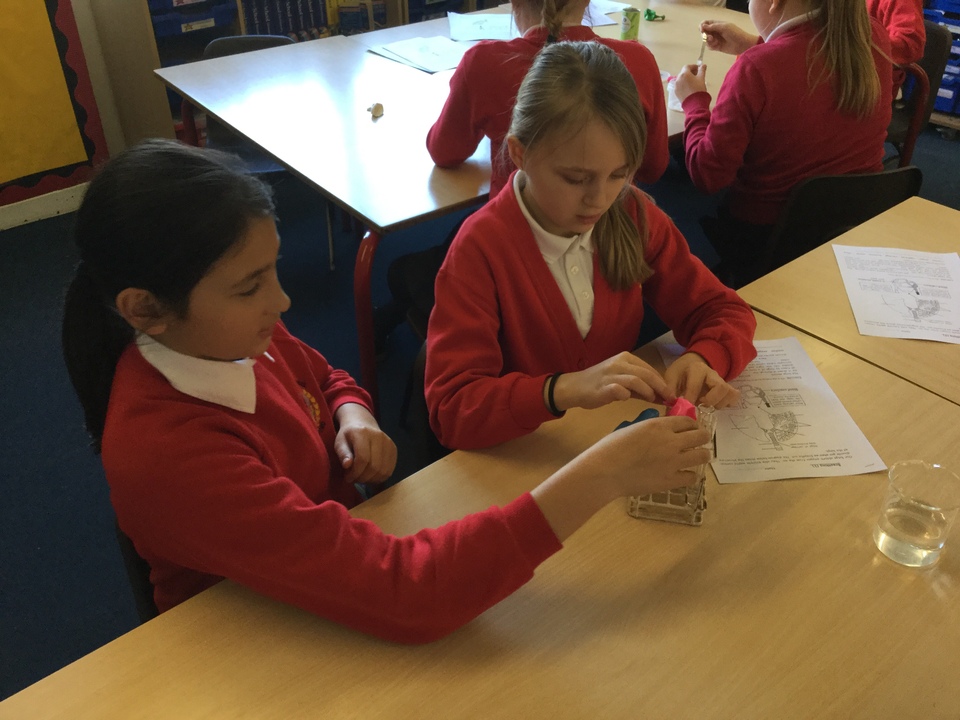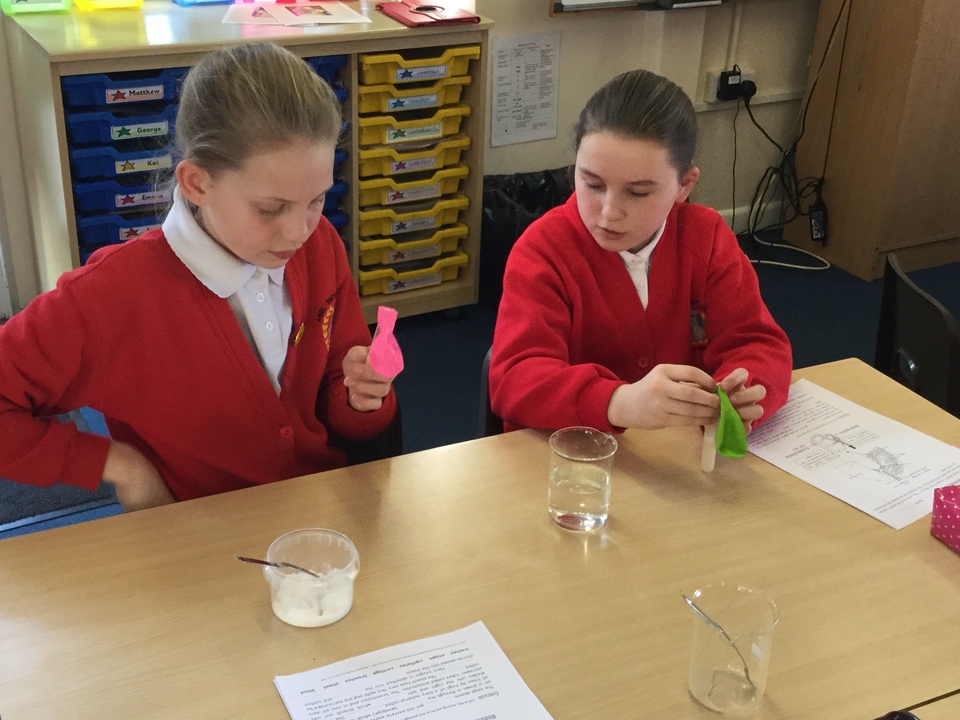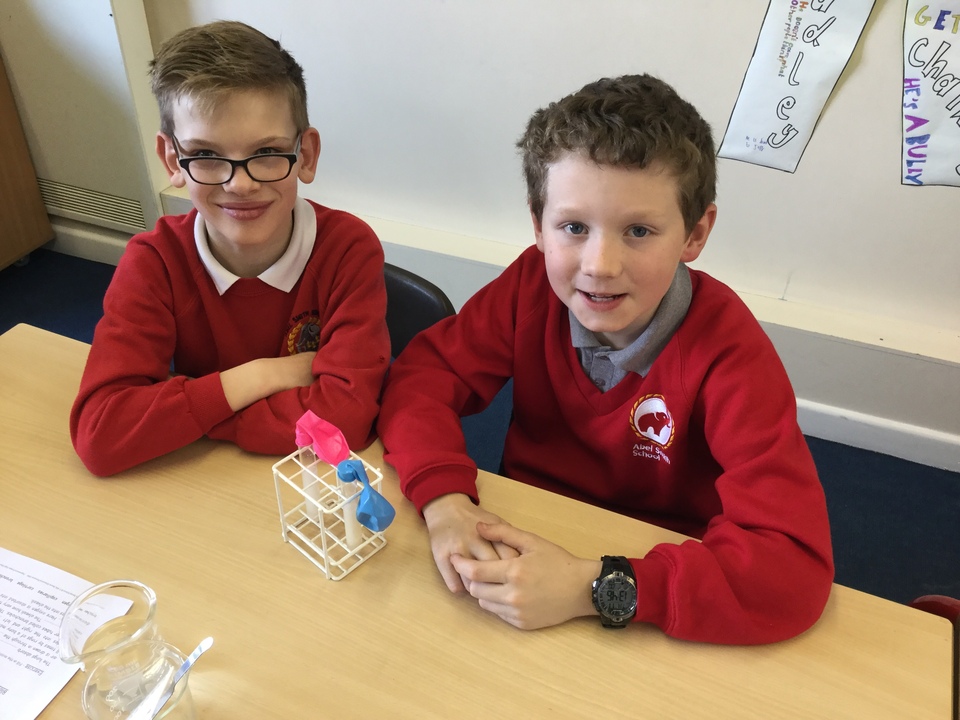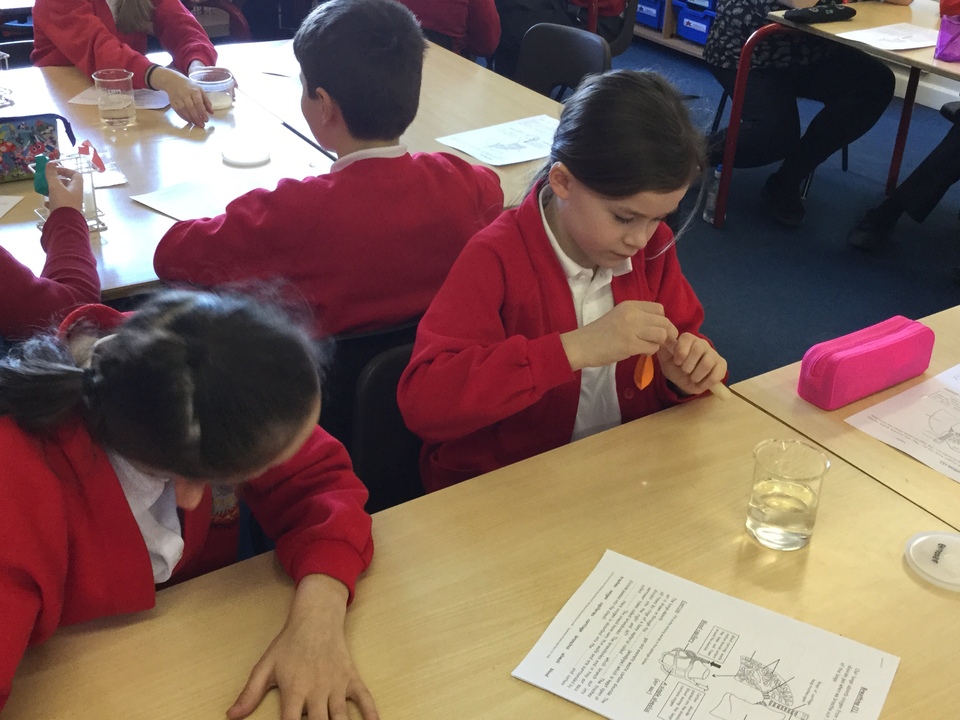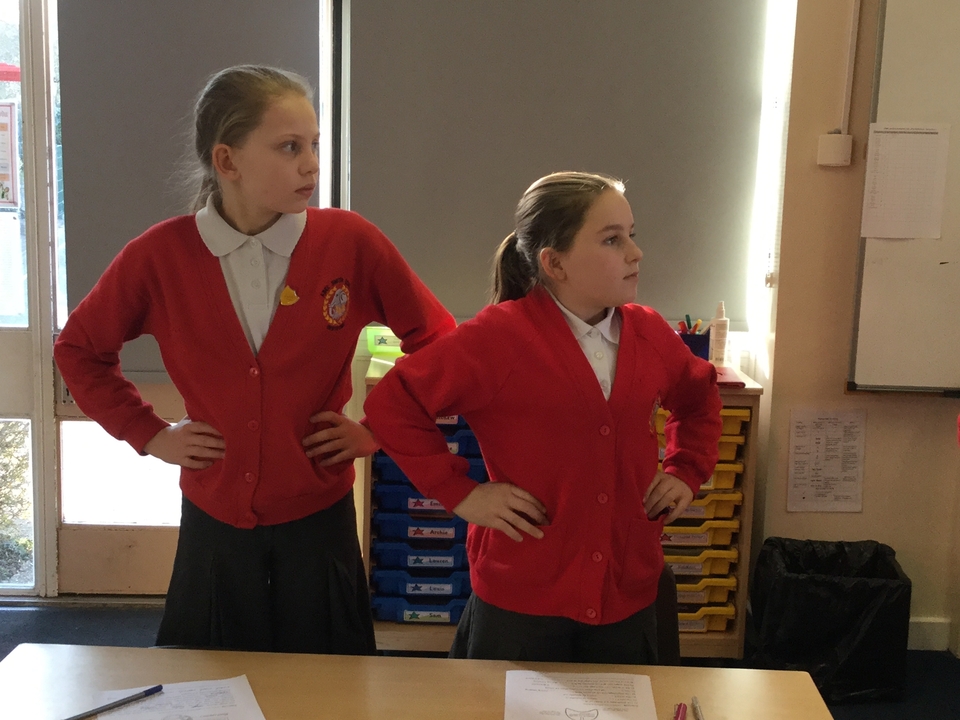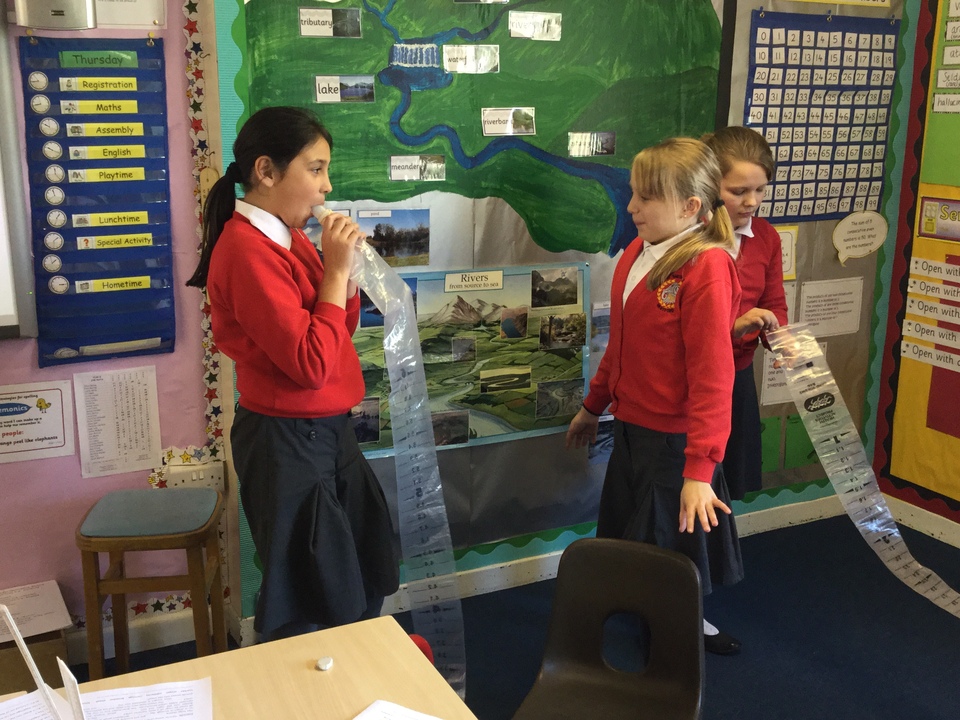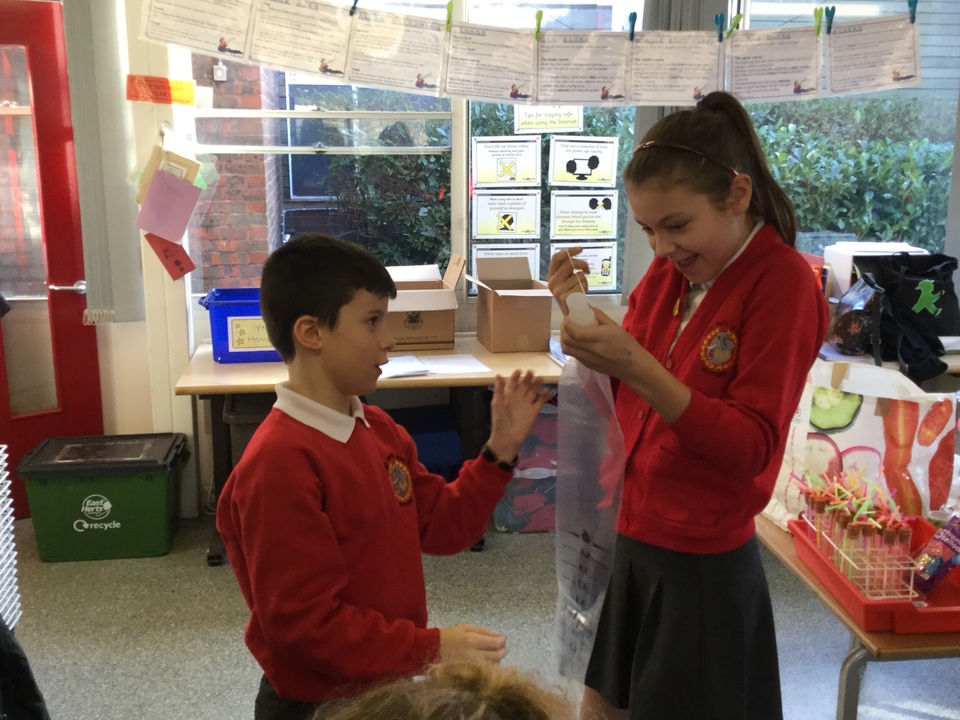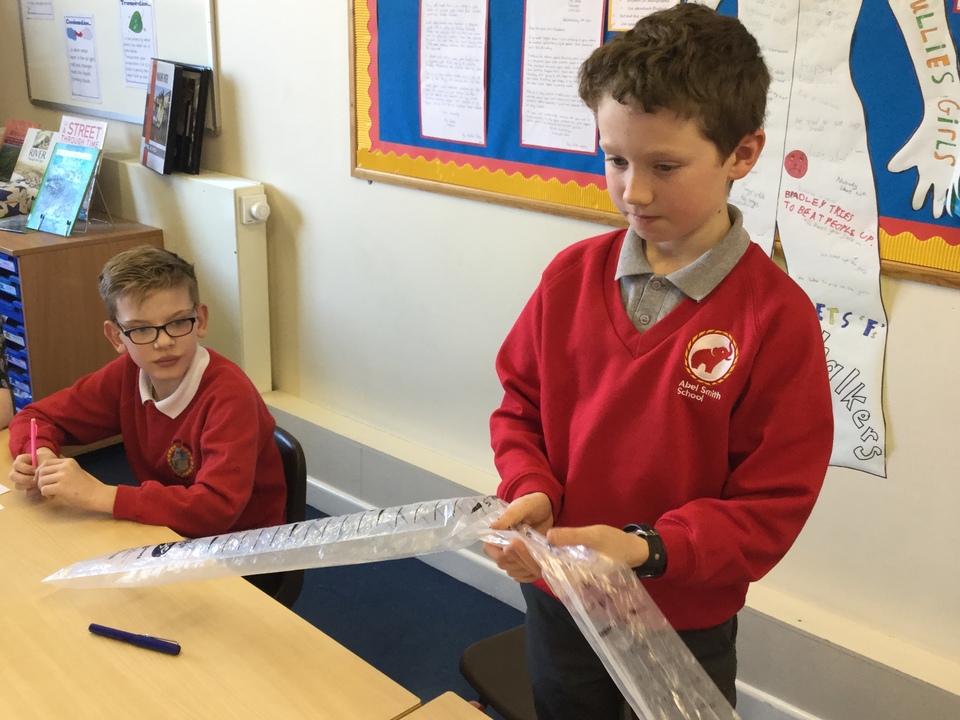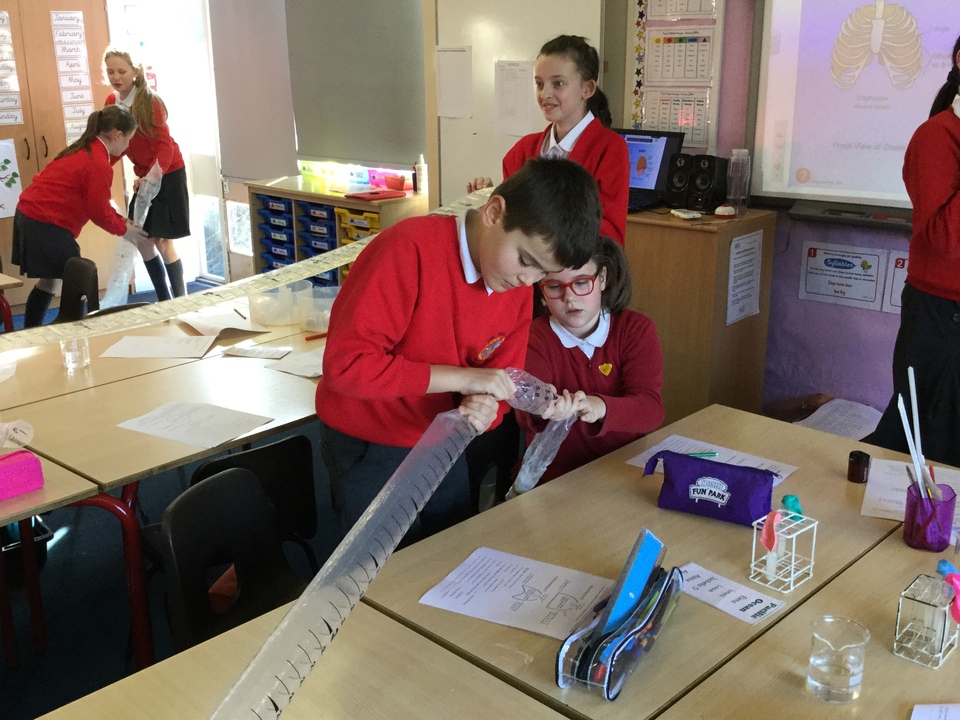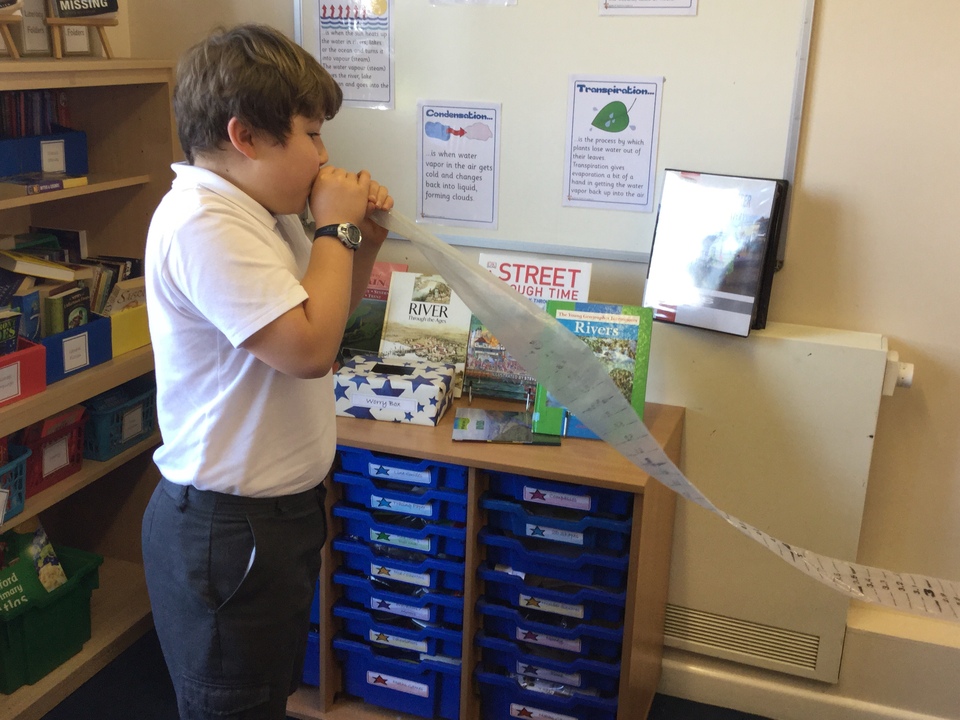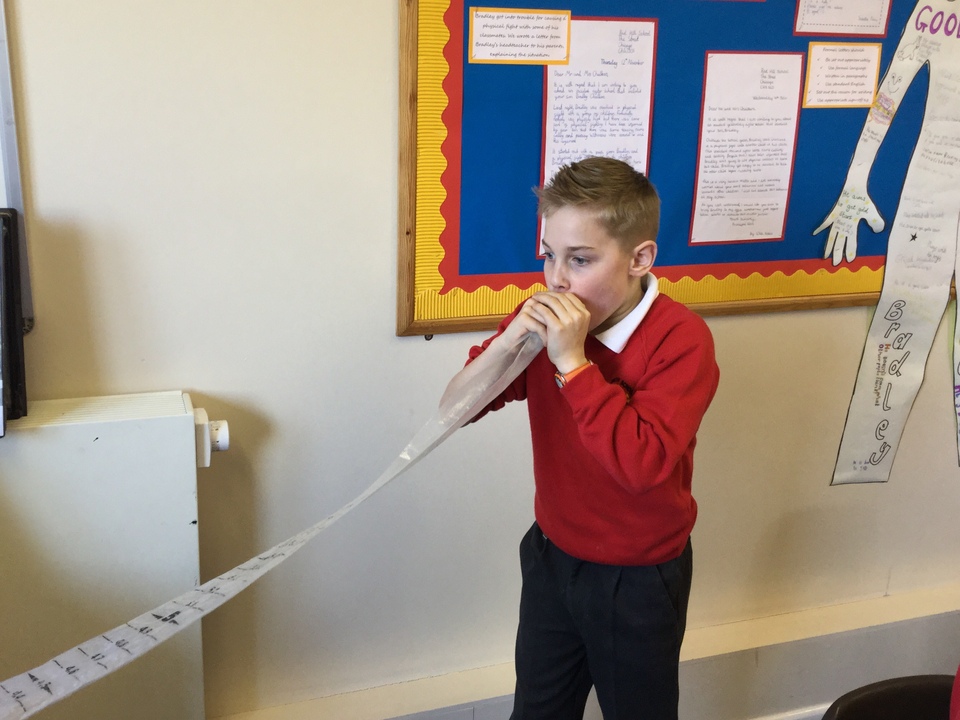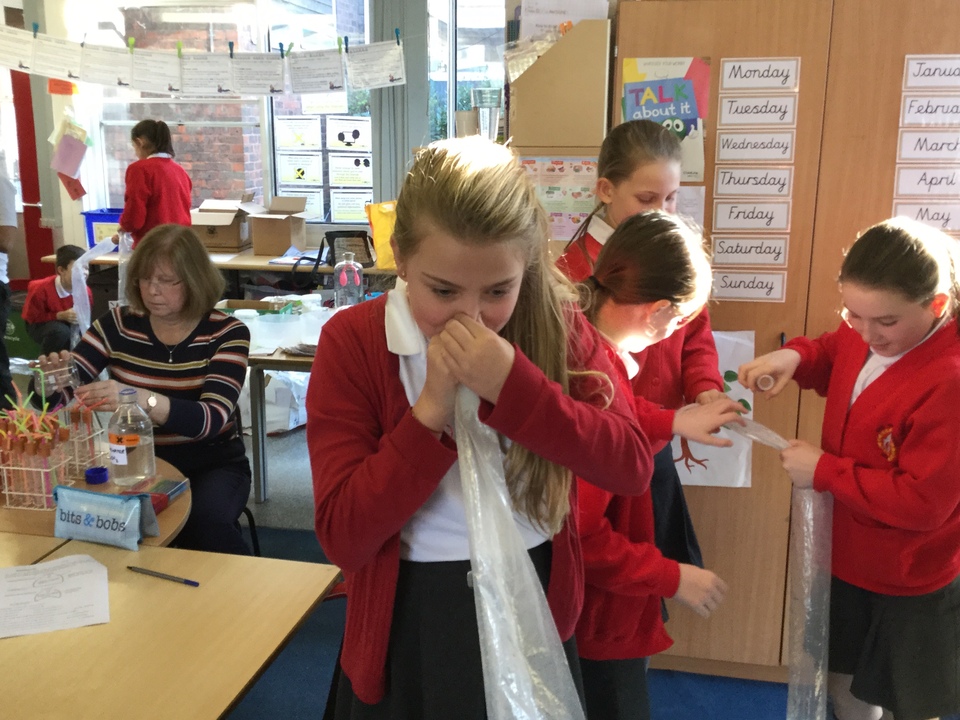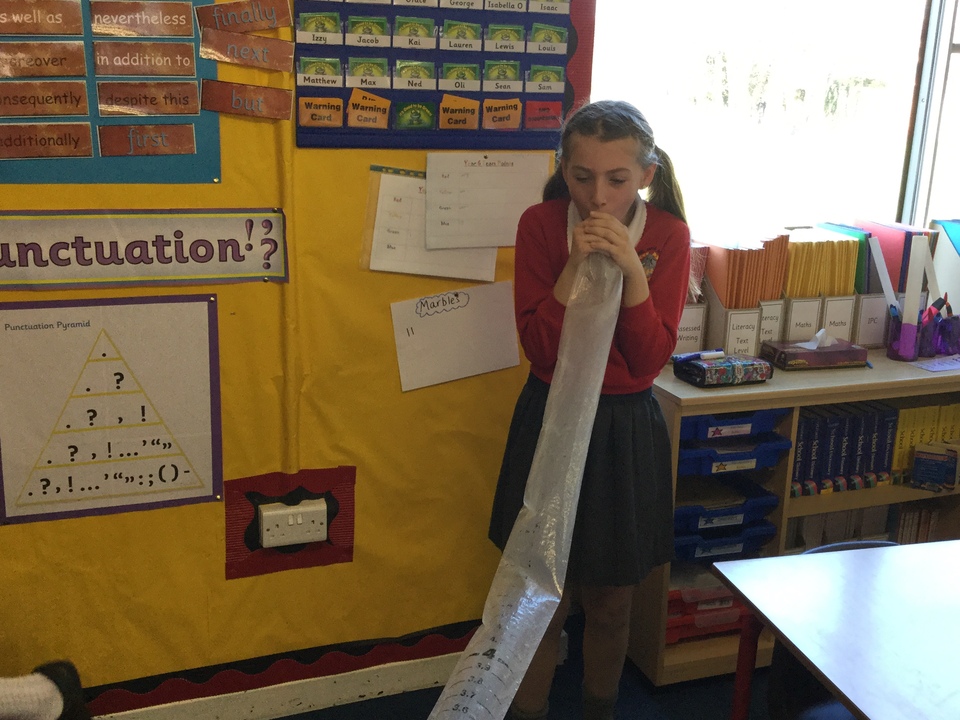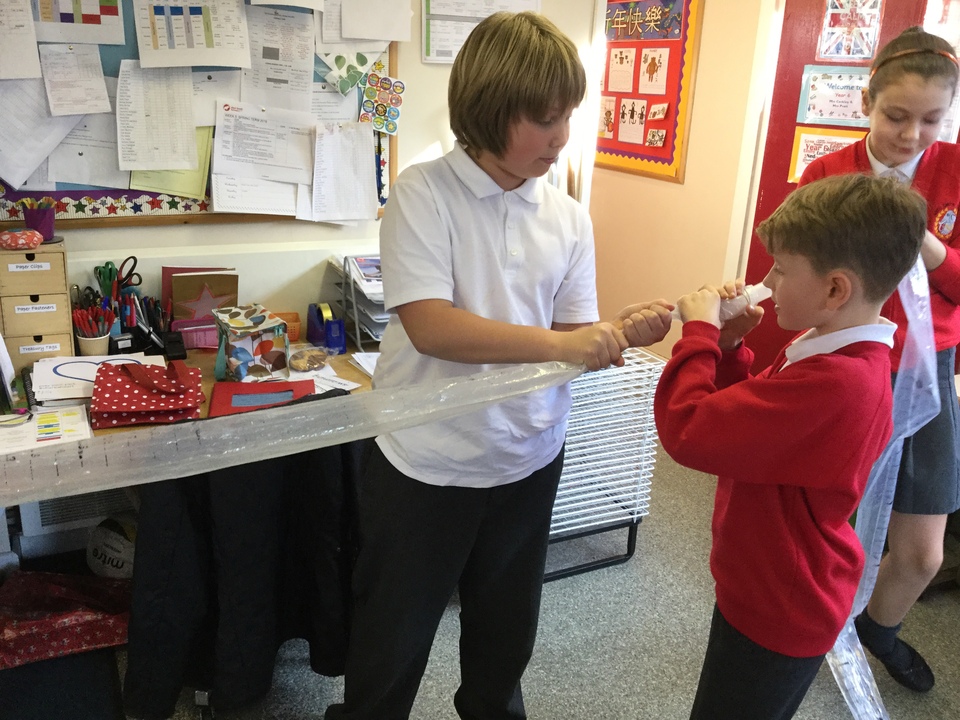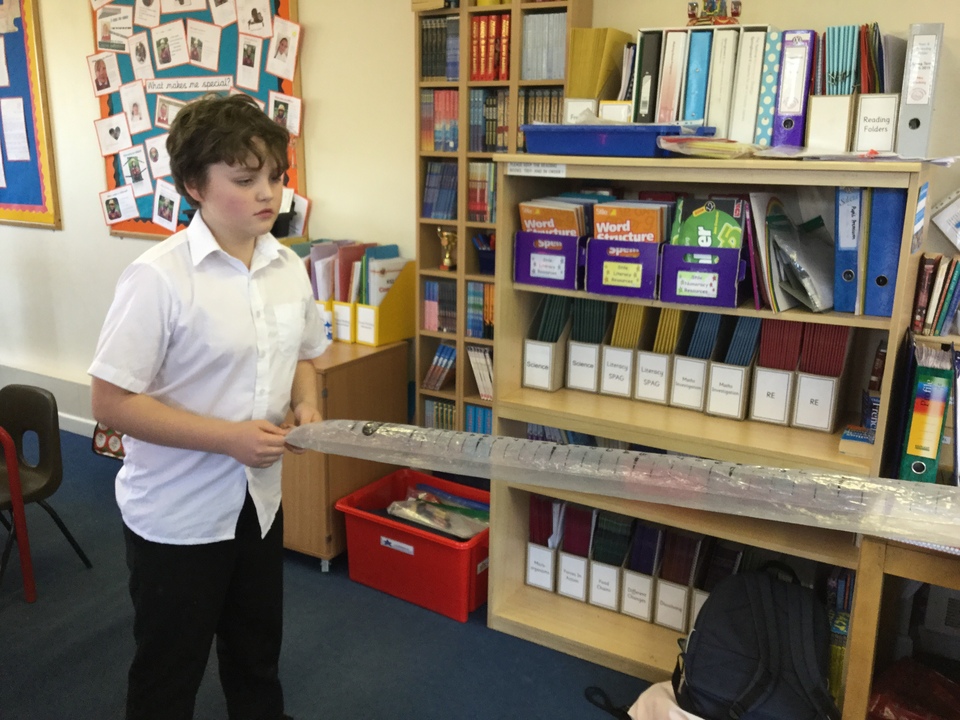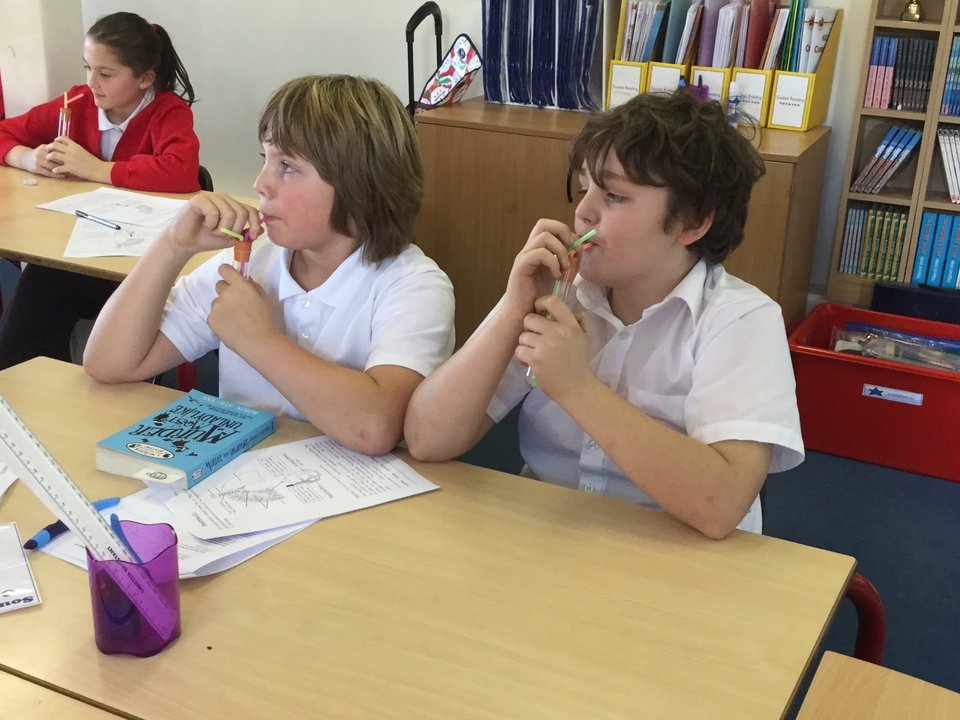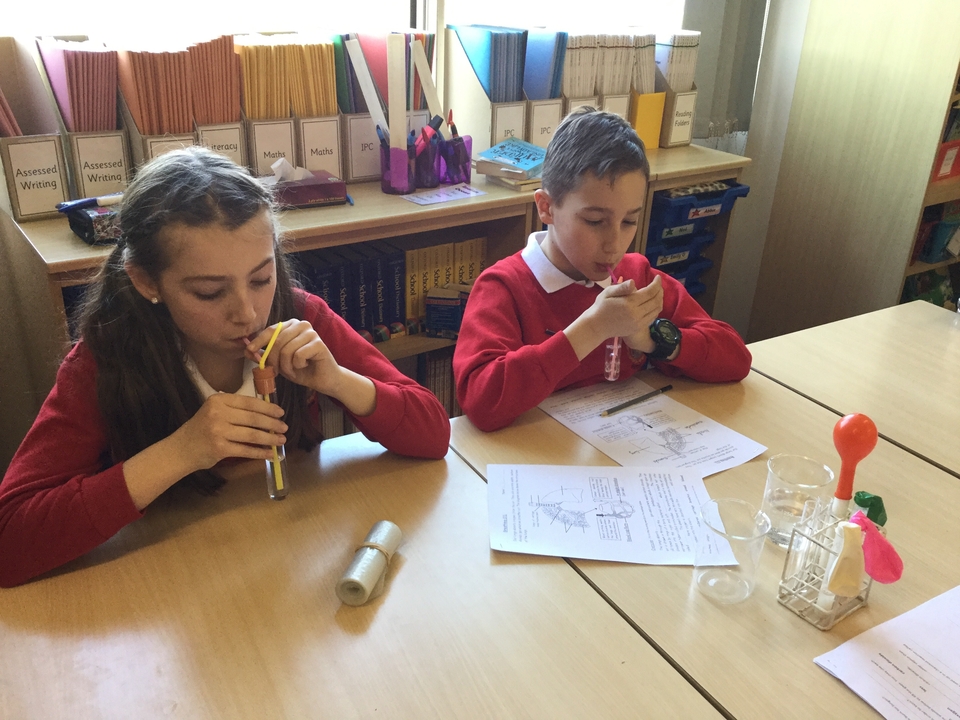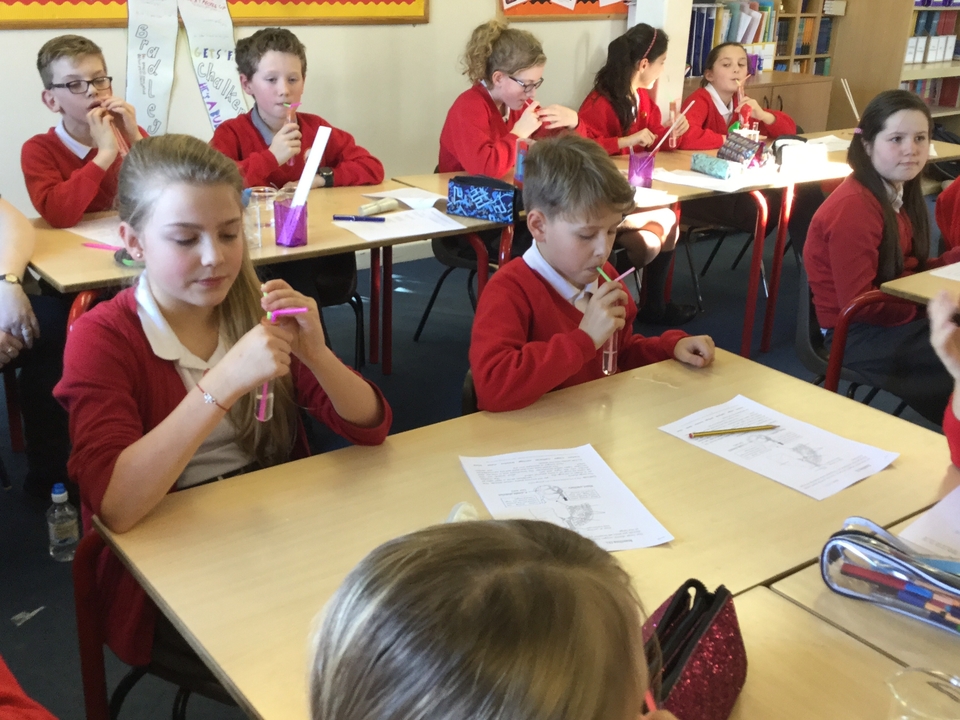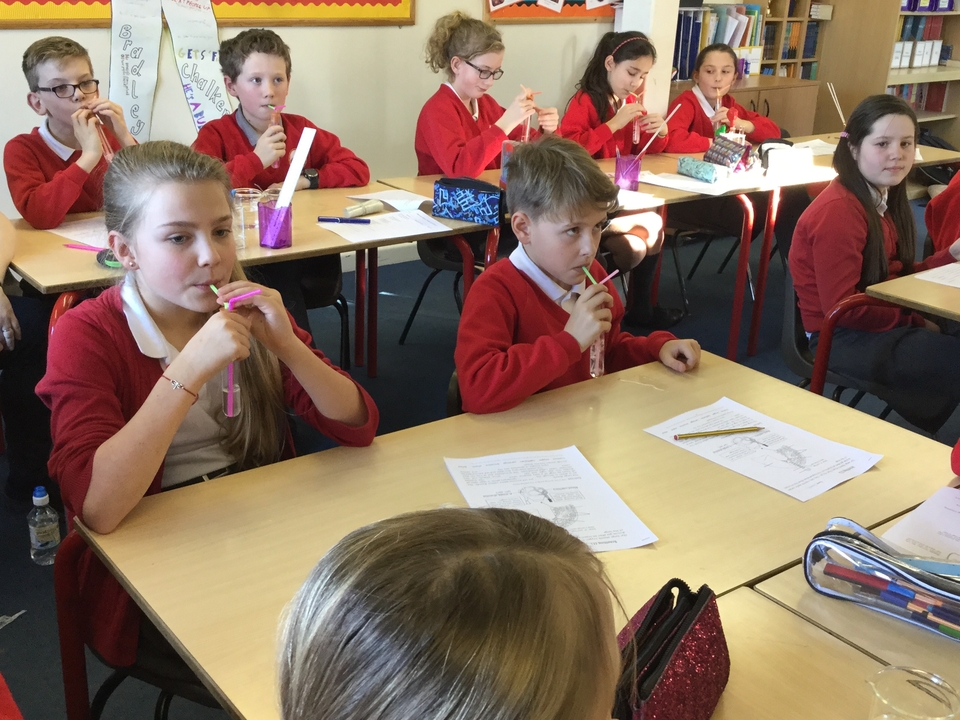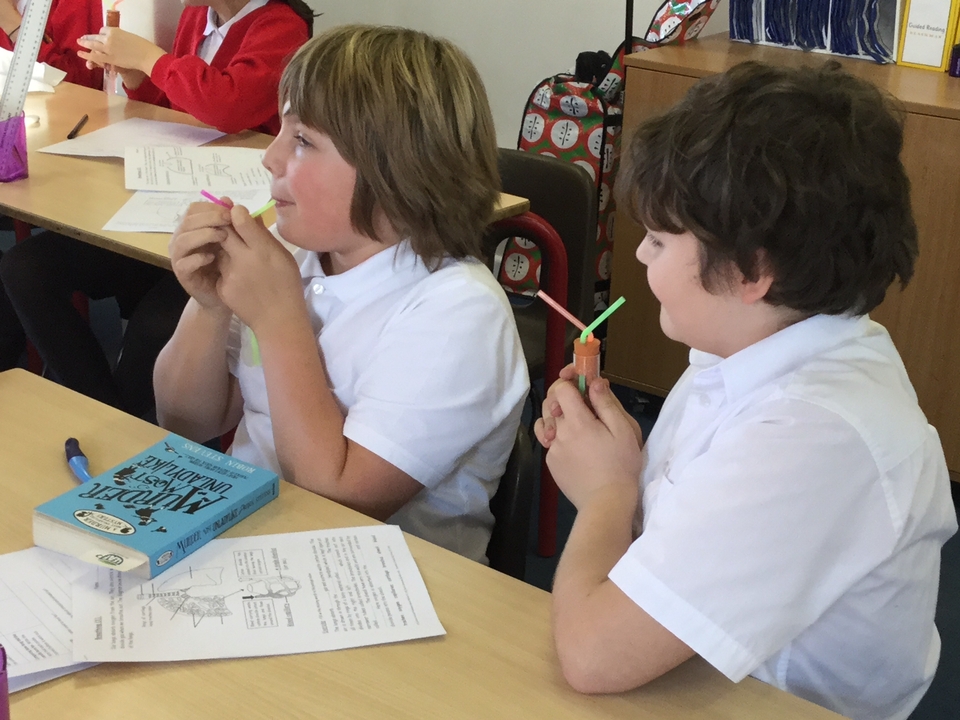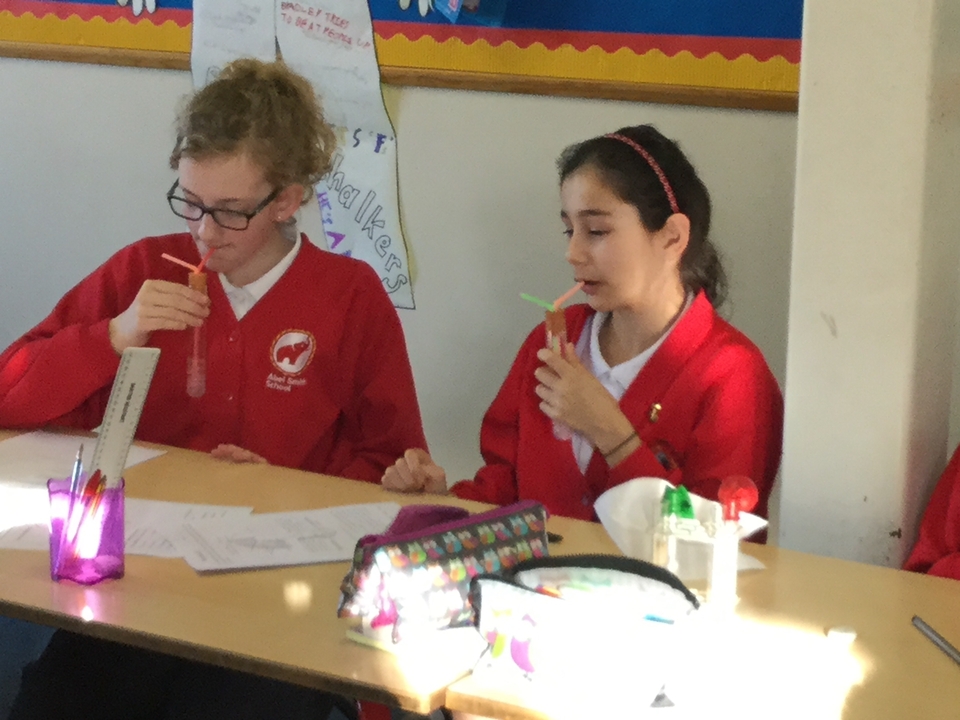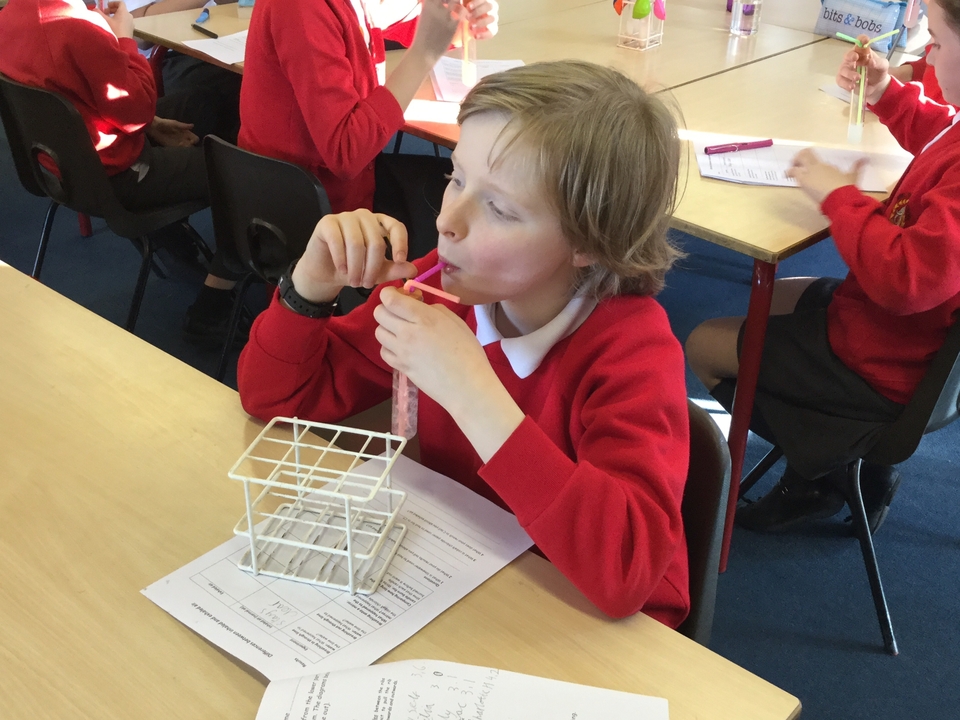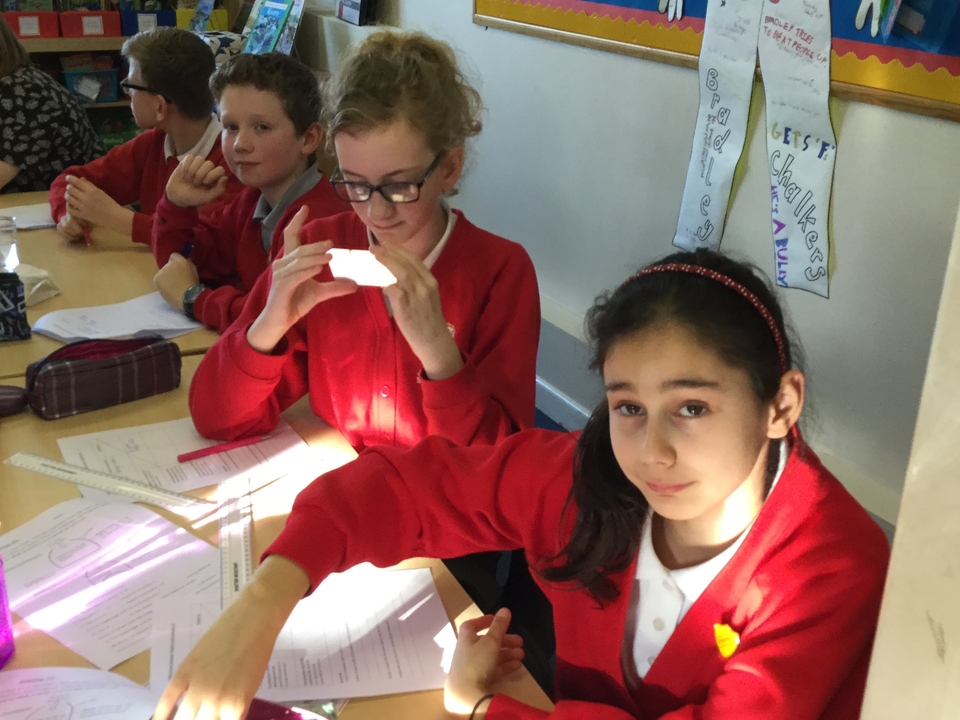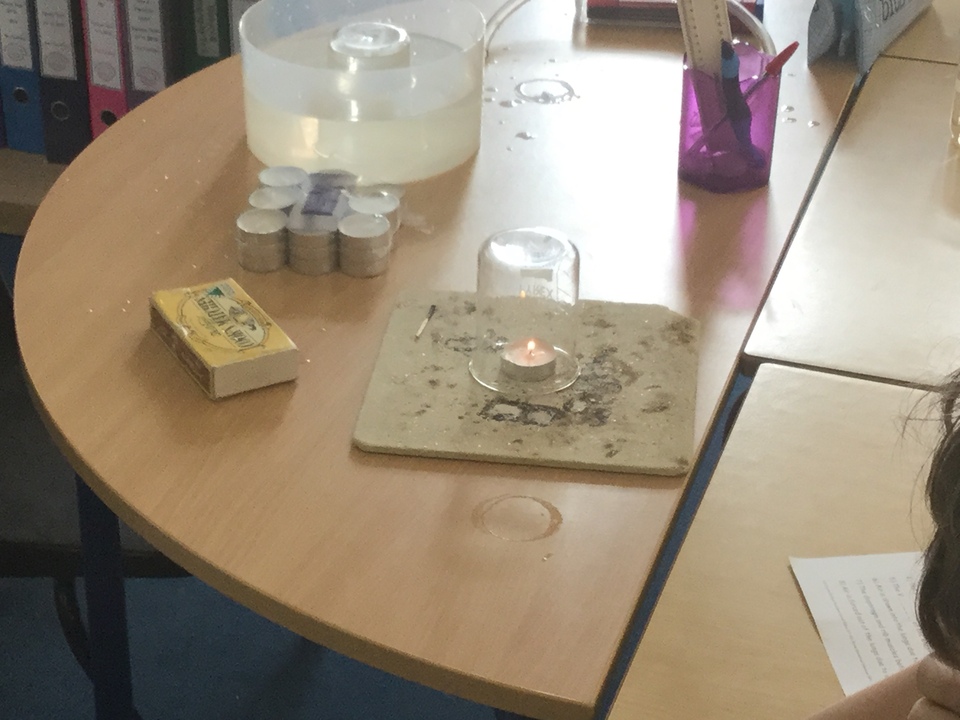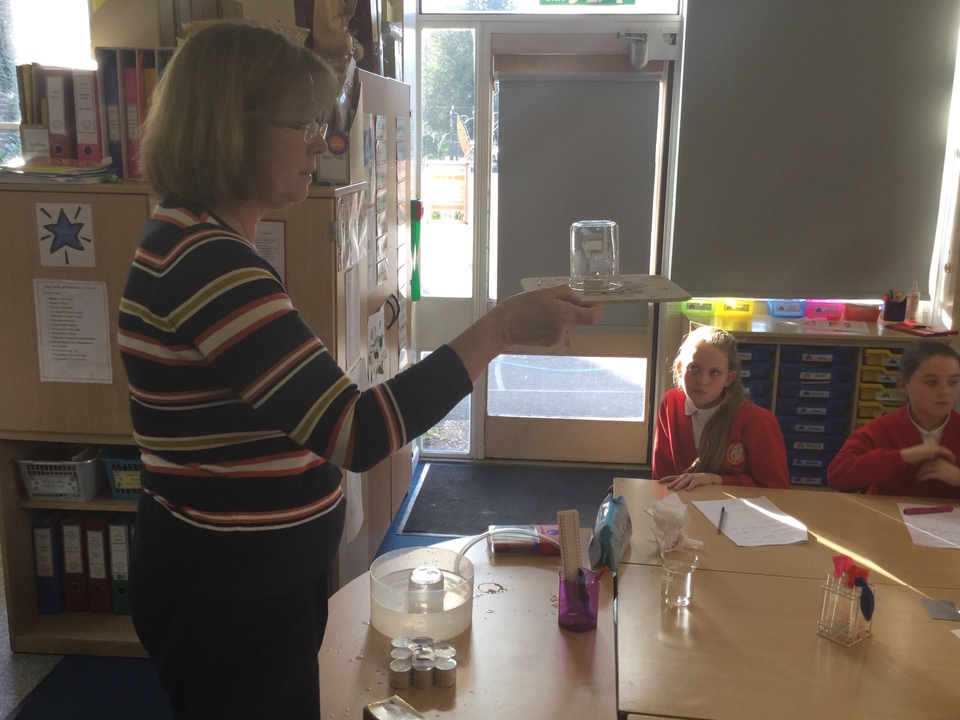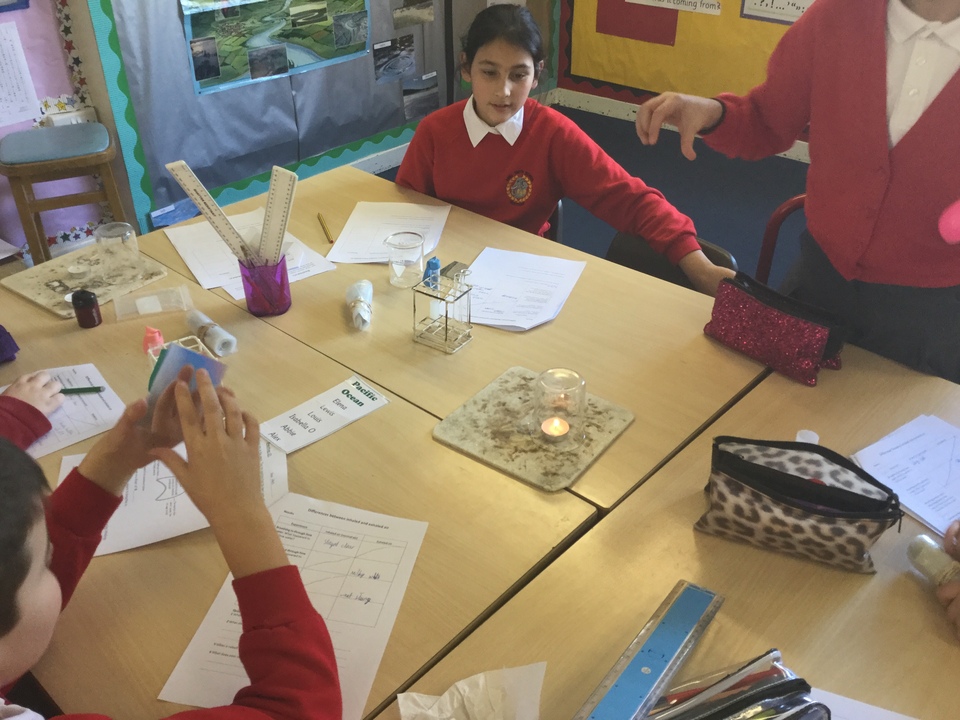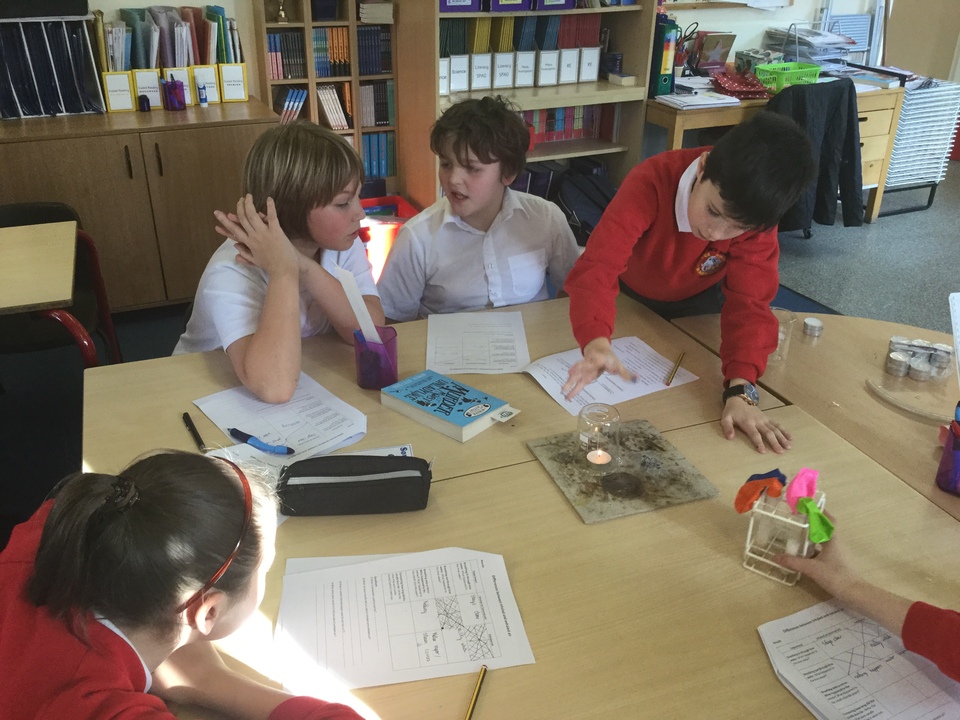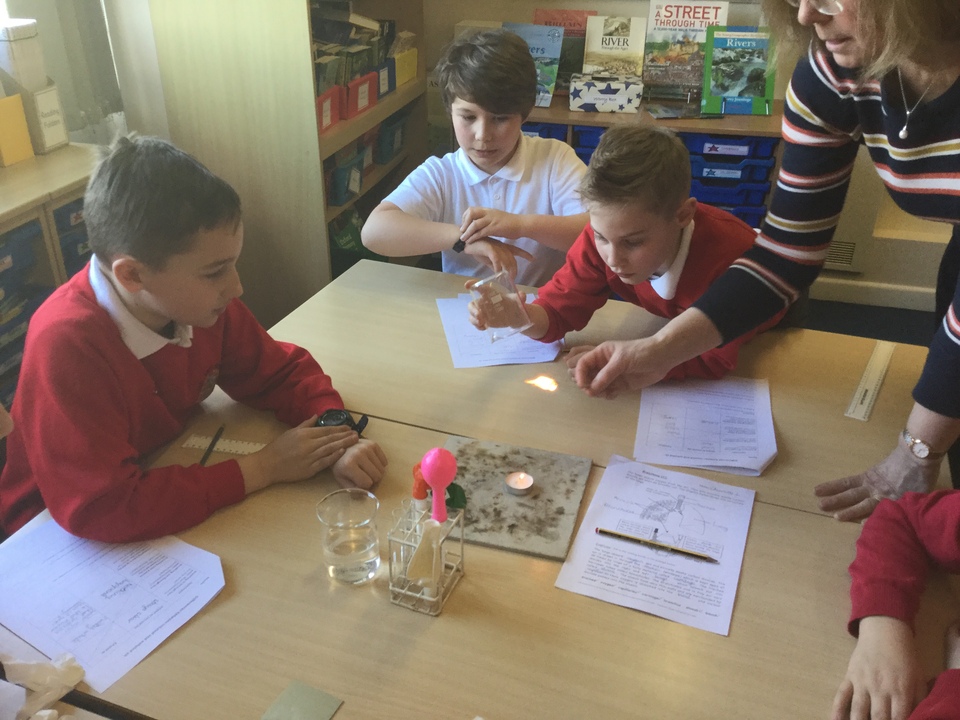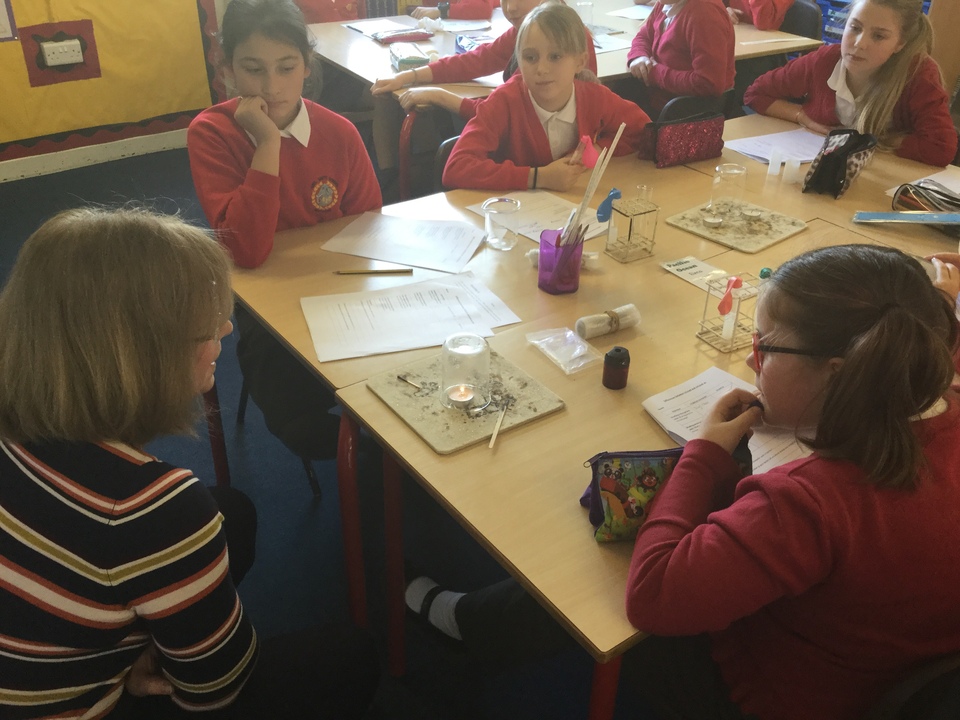 Crucial Crew - Wednesday 10th February
We had a great time at Crucial Crew learning some essential, life saving skills. We worked our way round 10 different scenarios, including: First Aid, Fire Safety, Internet Safety, Railway Safety, Road Safety and Water Safety. Everyone learnt lots and we are hoping that we are all now more aware of some of the dangers out there and how to keep ourselves safe.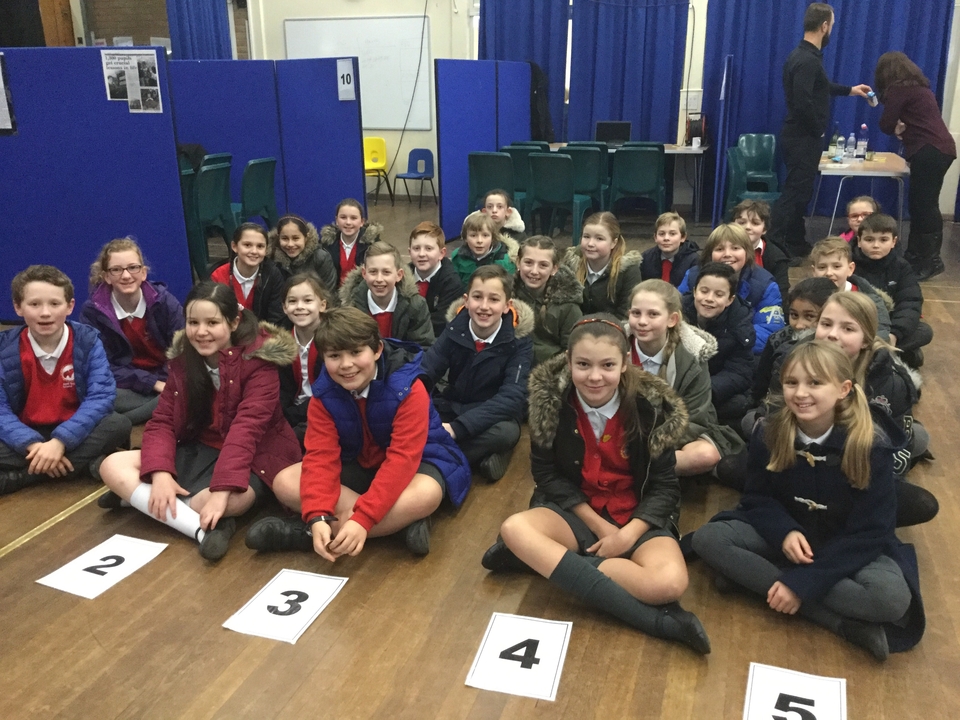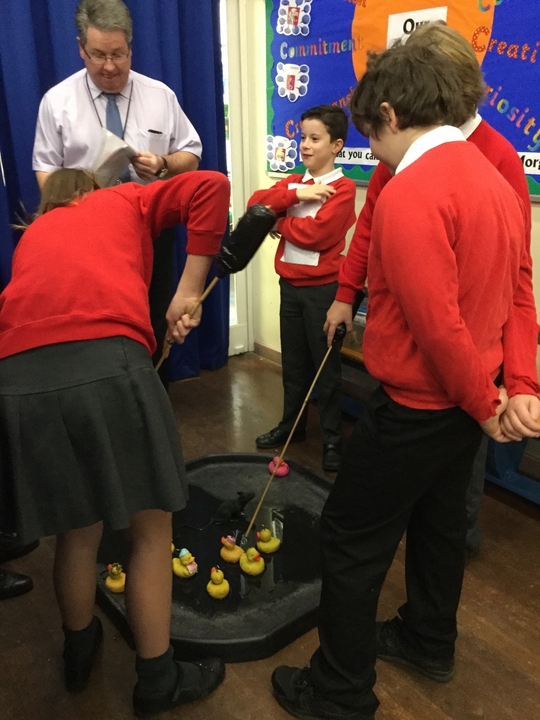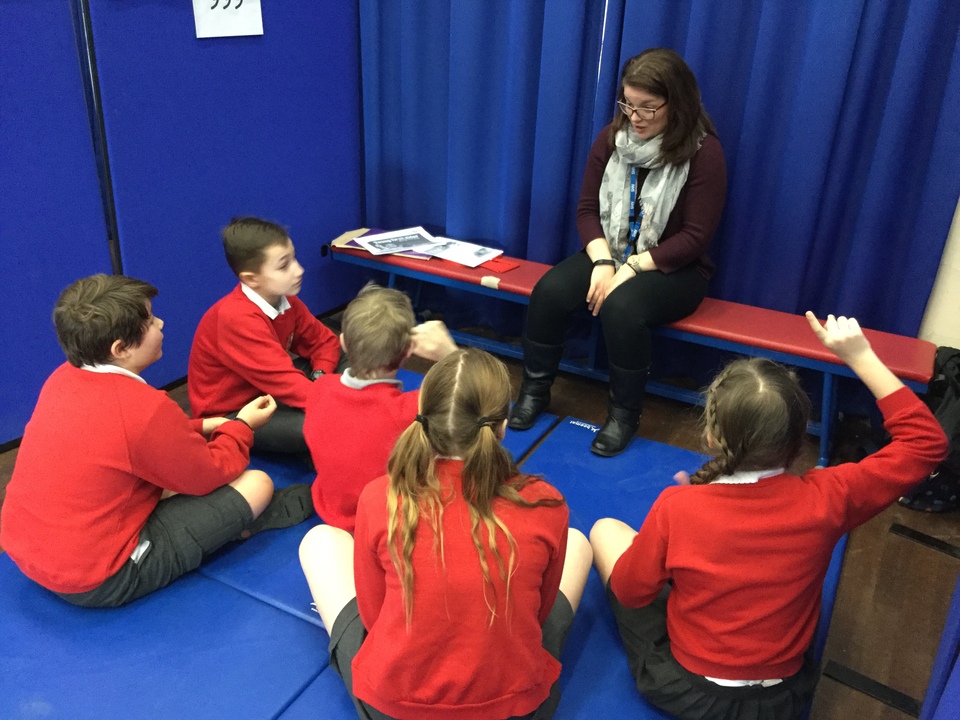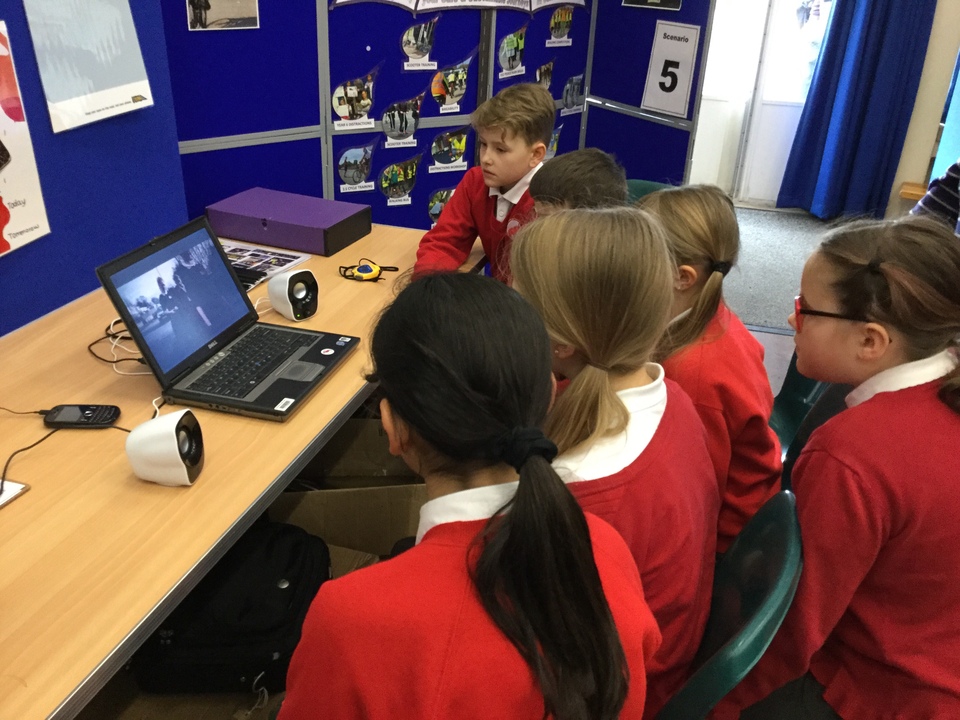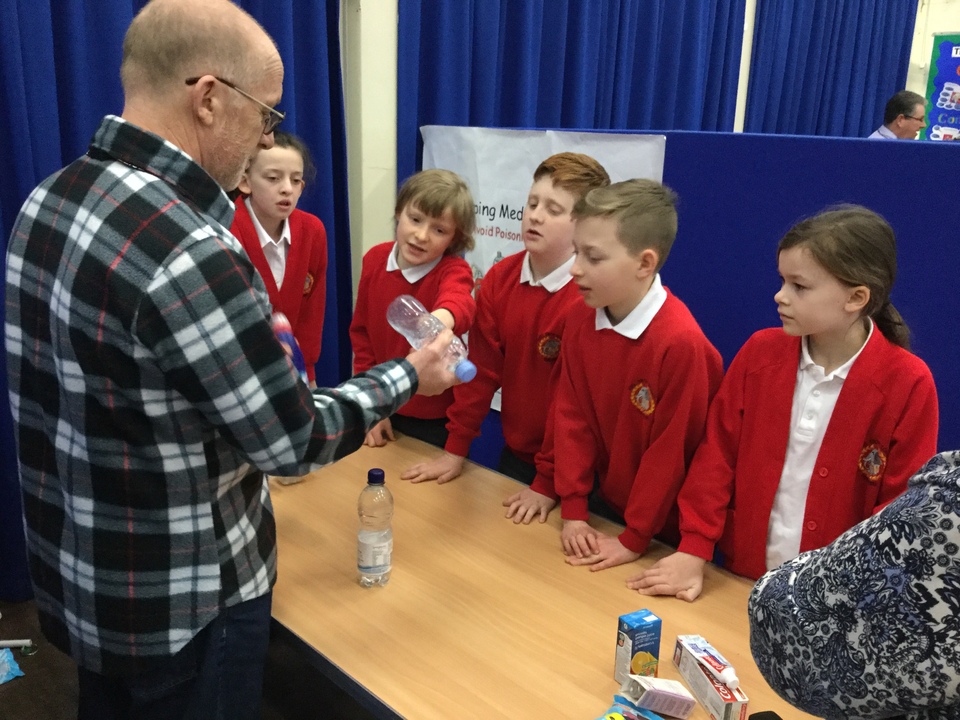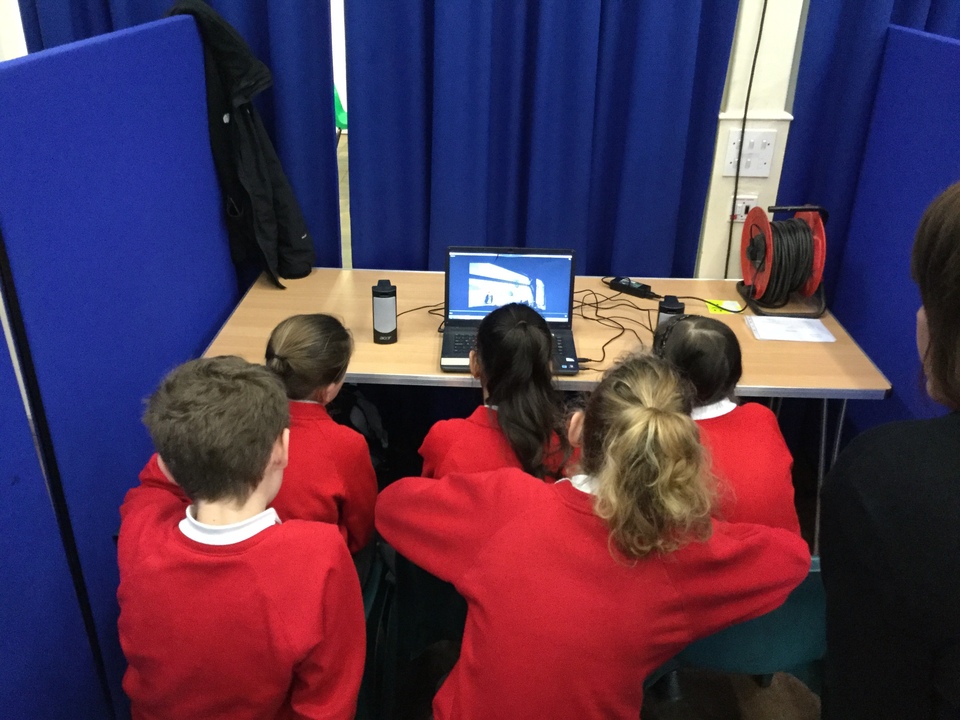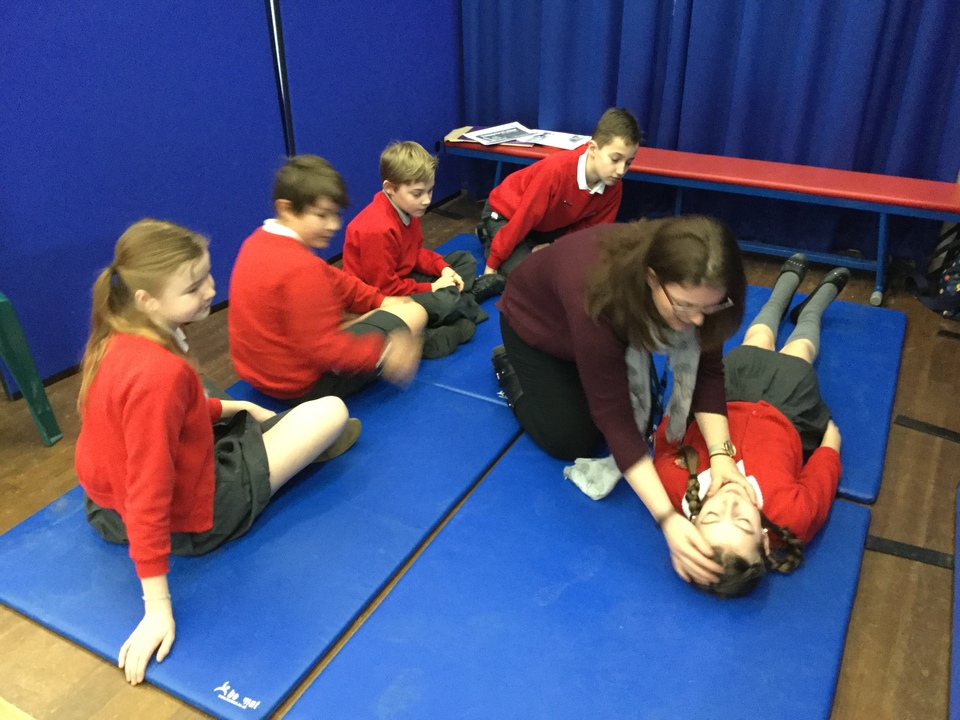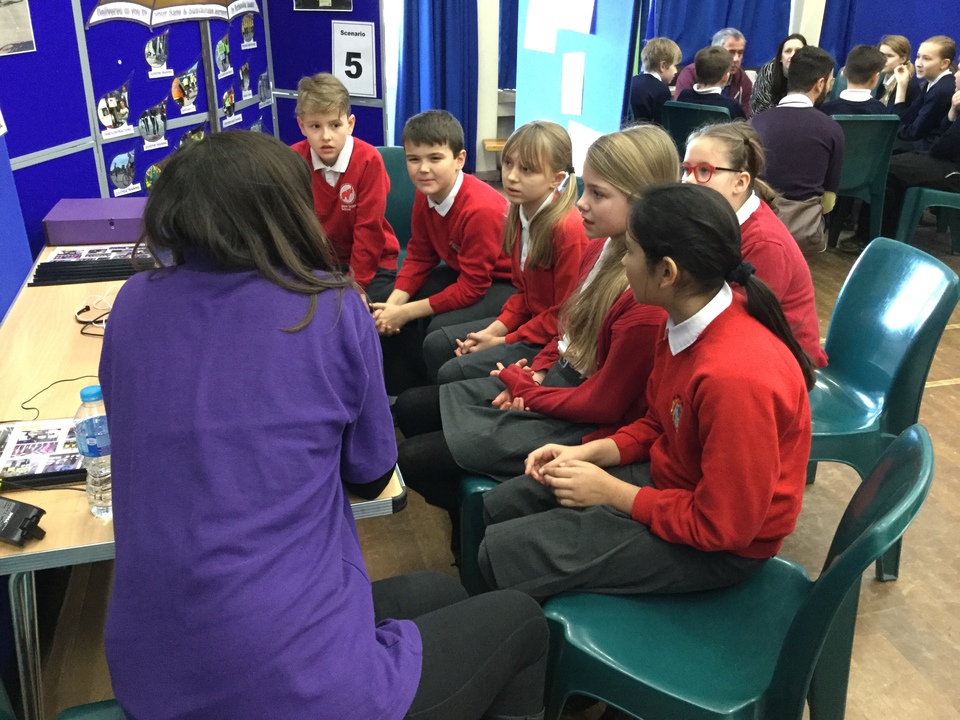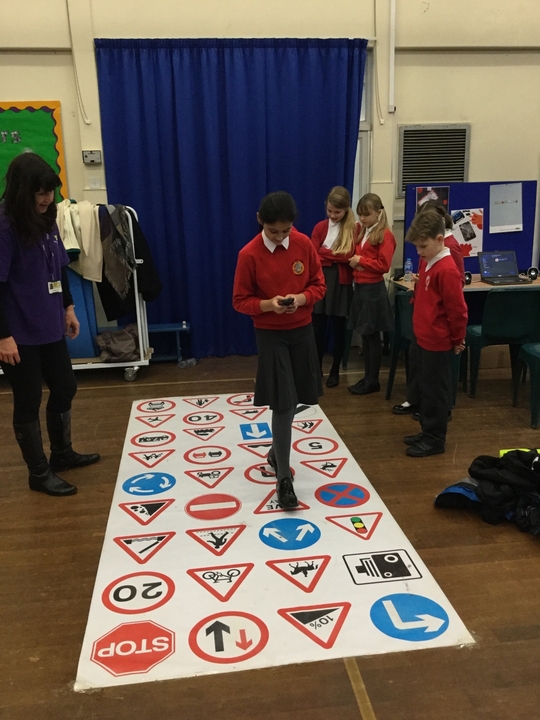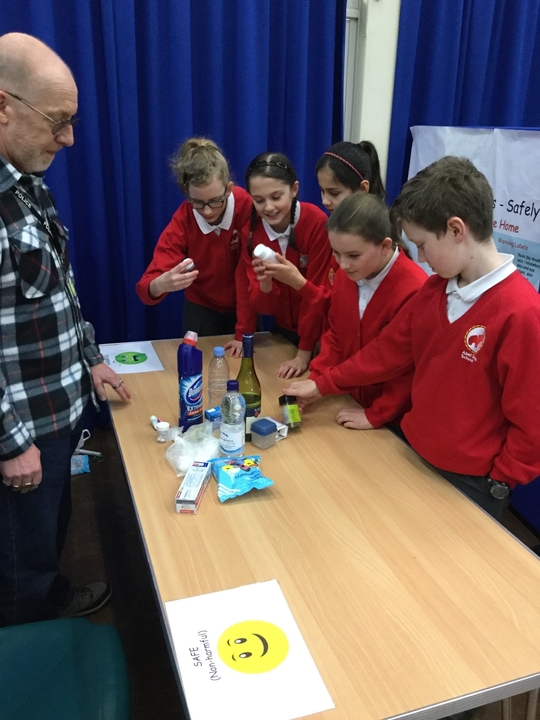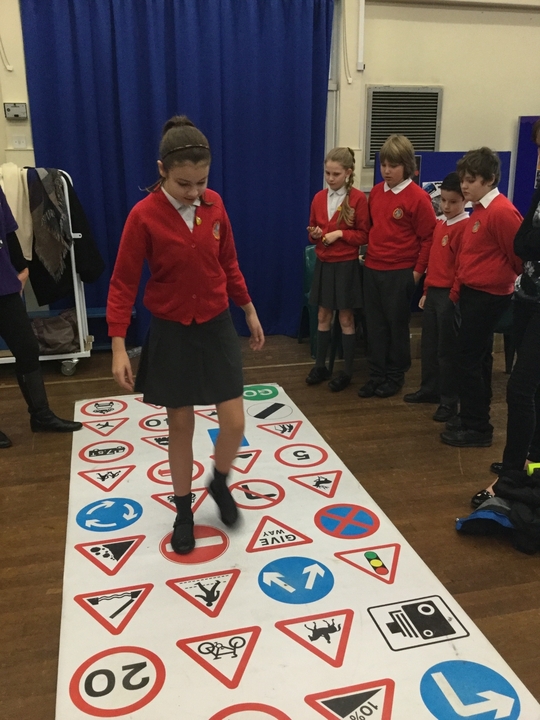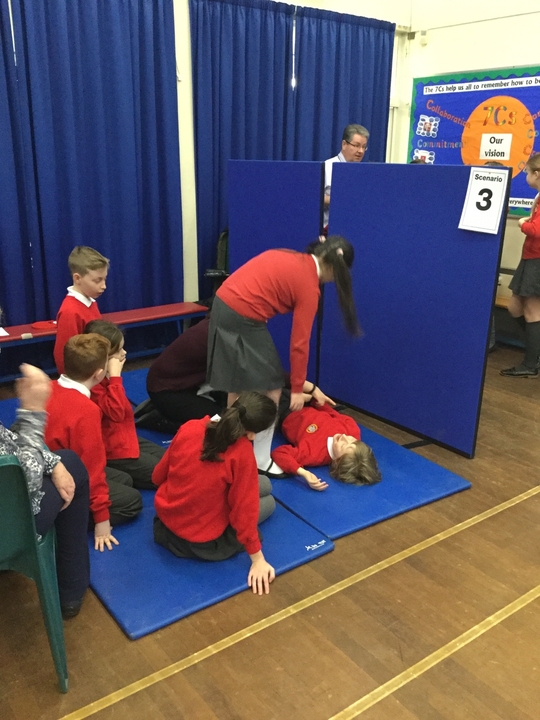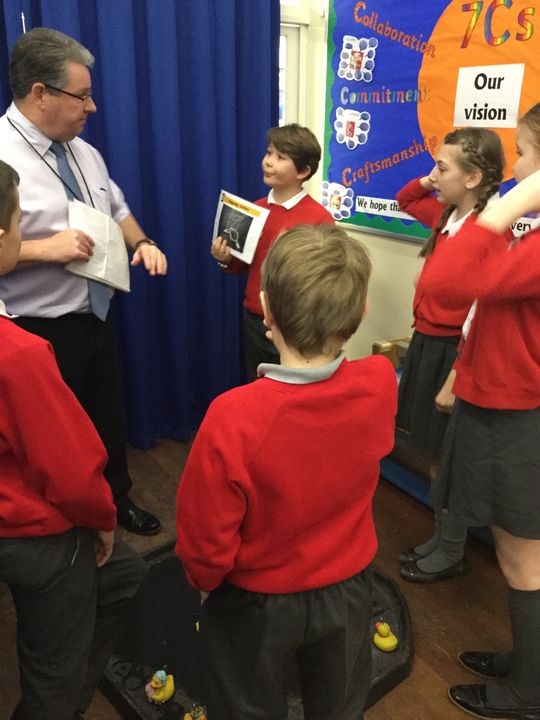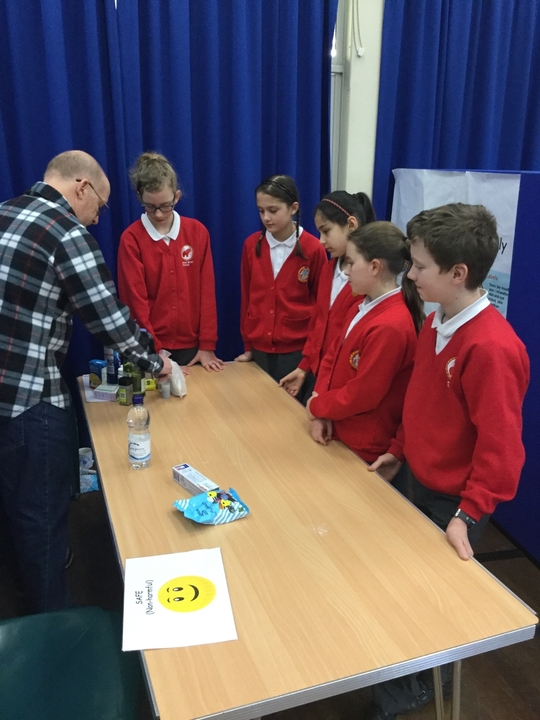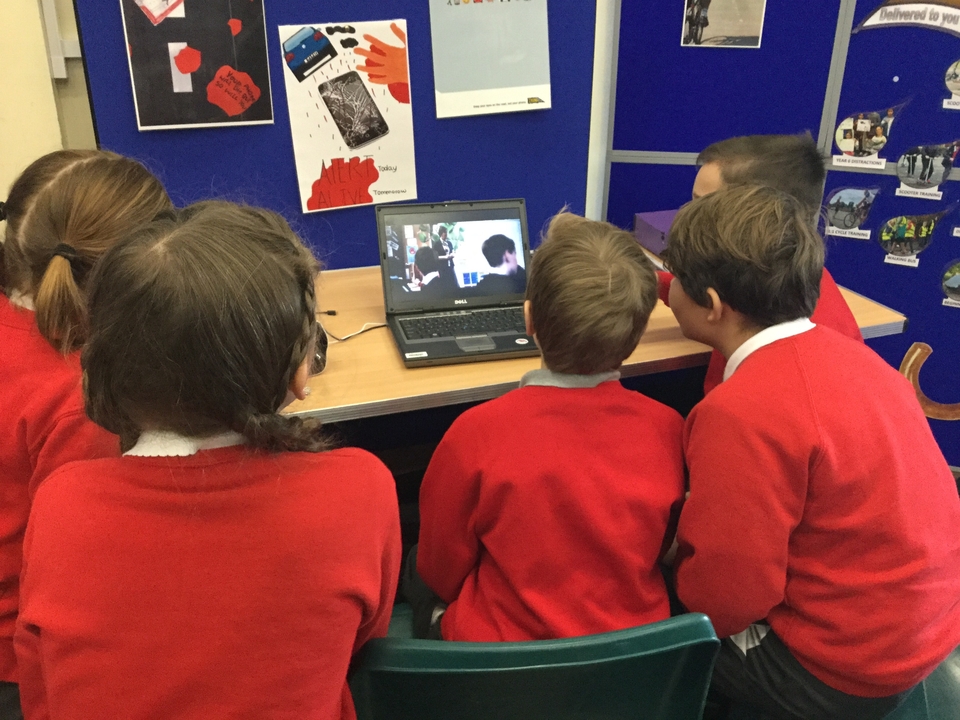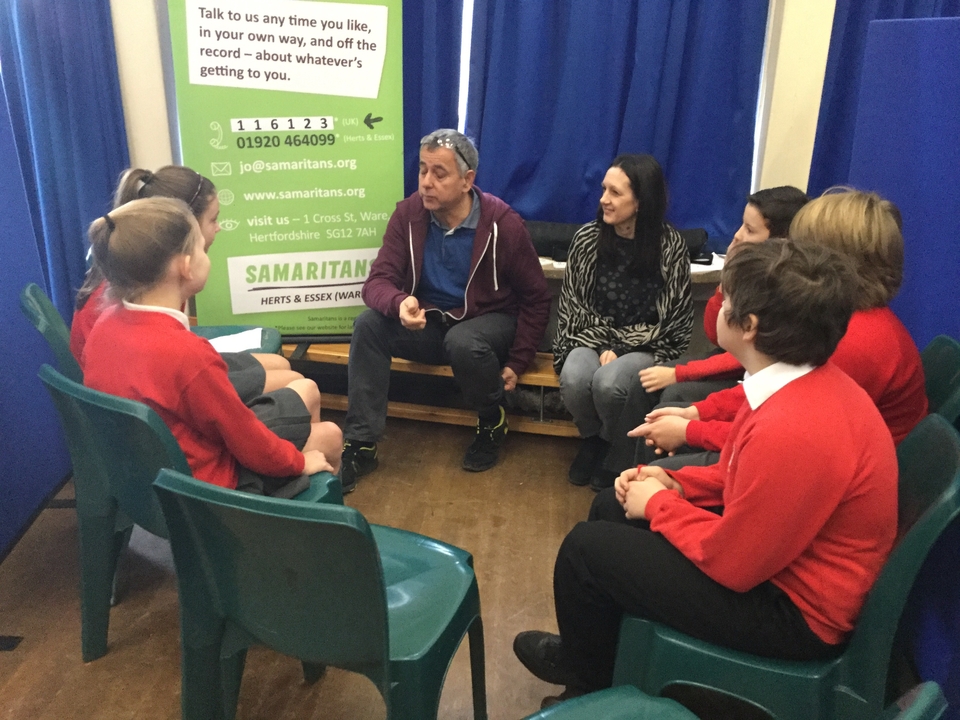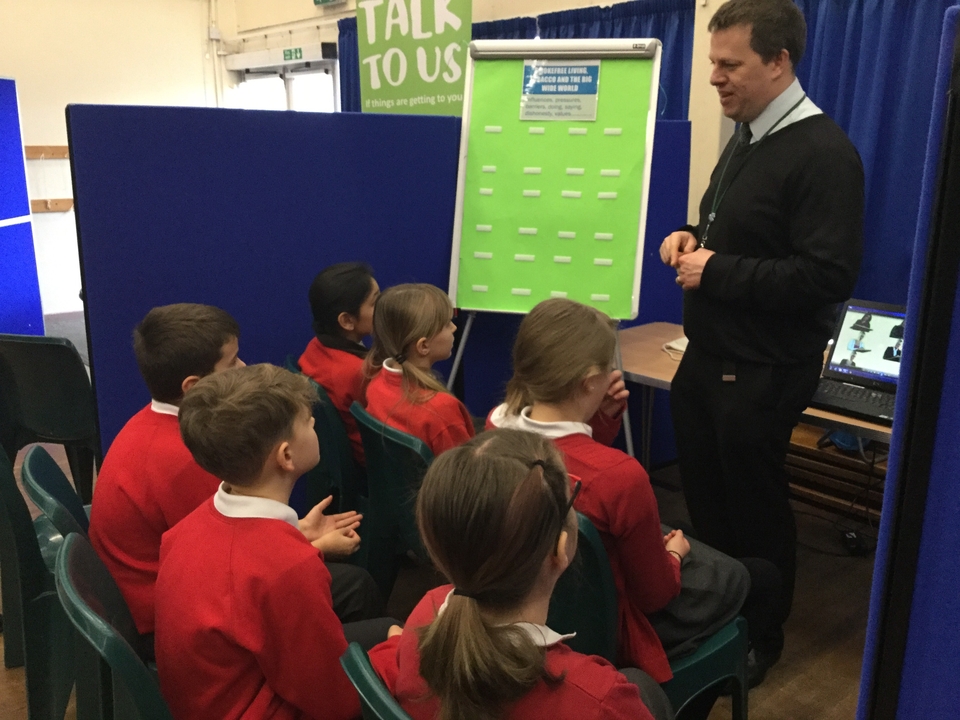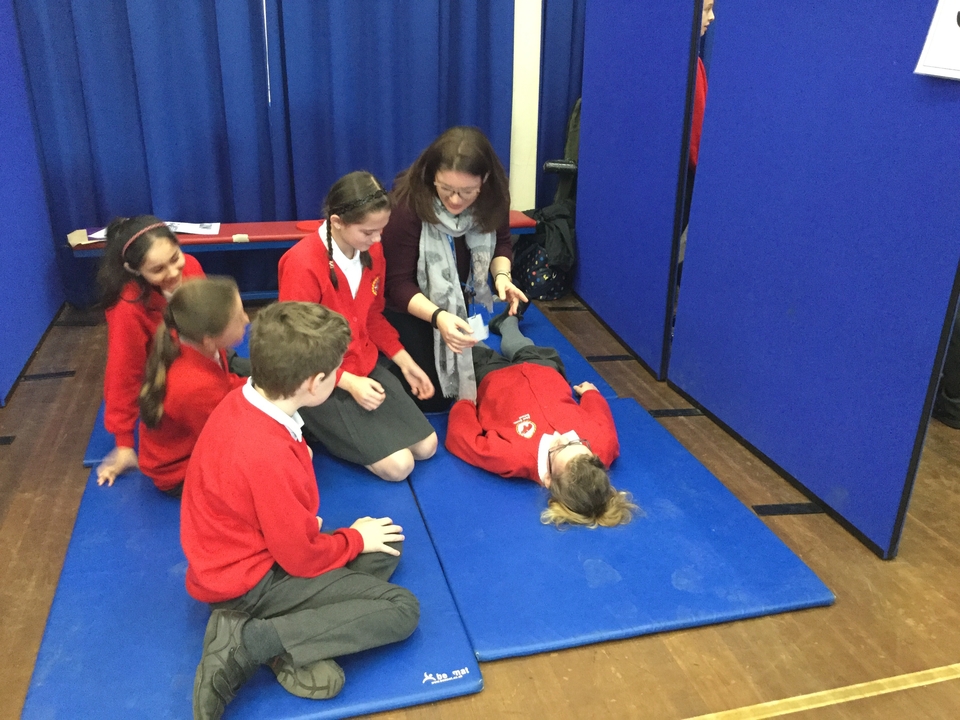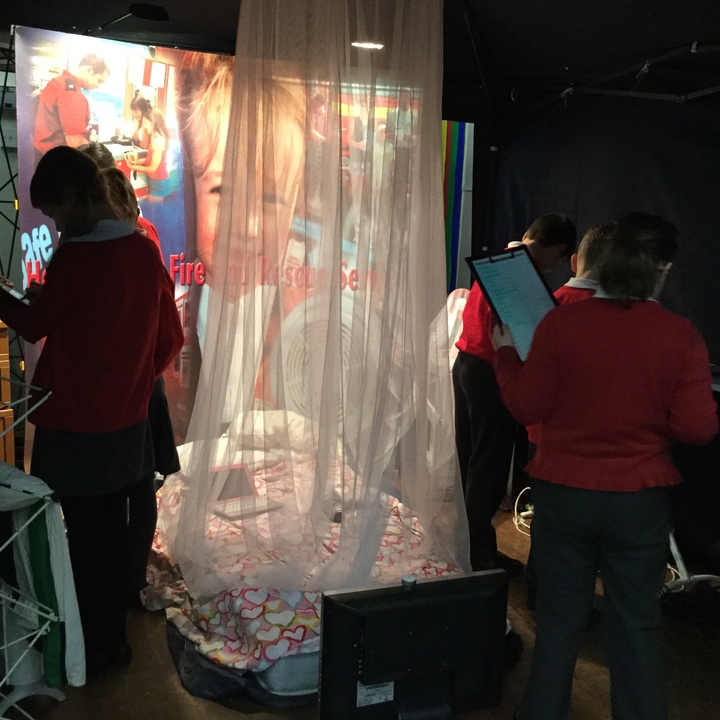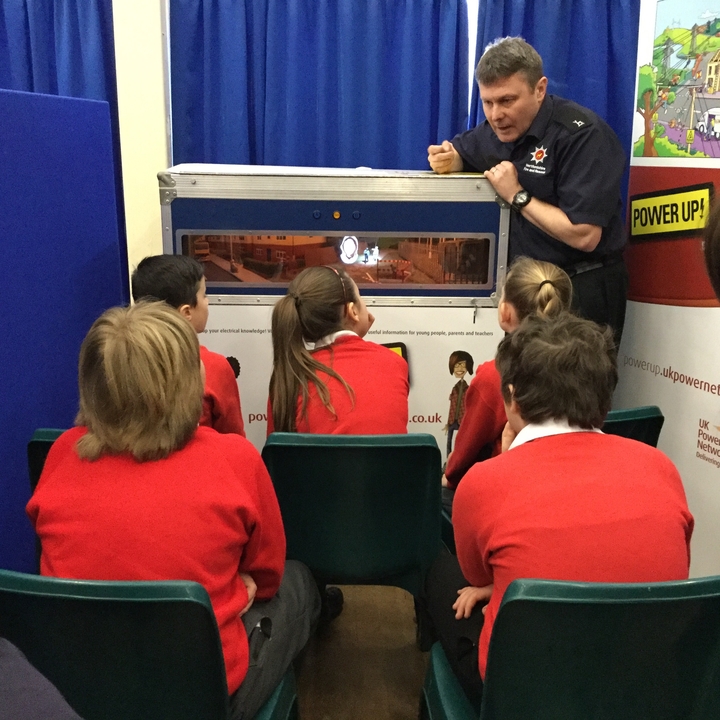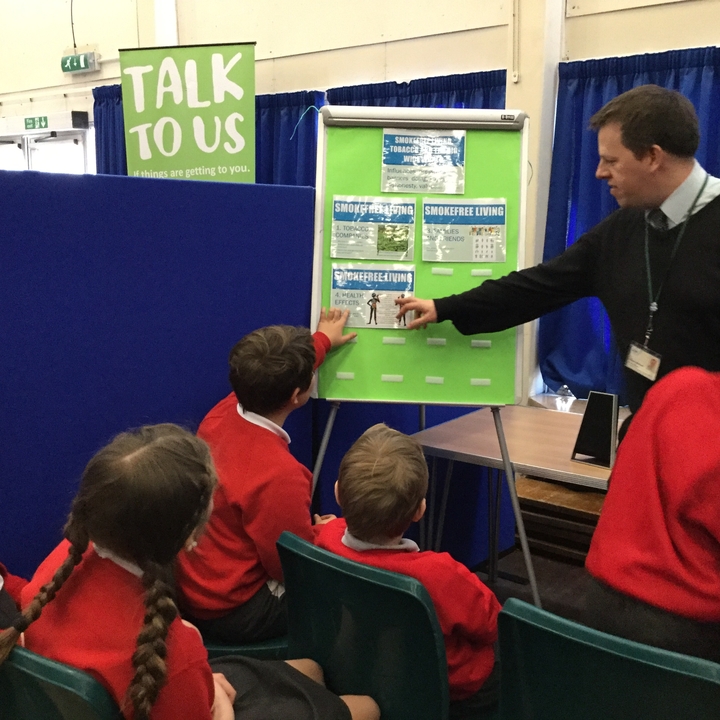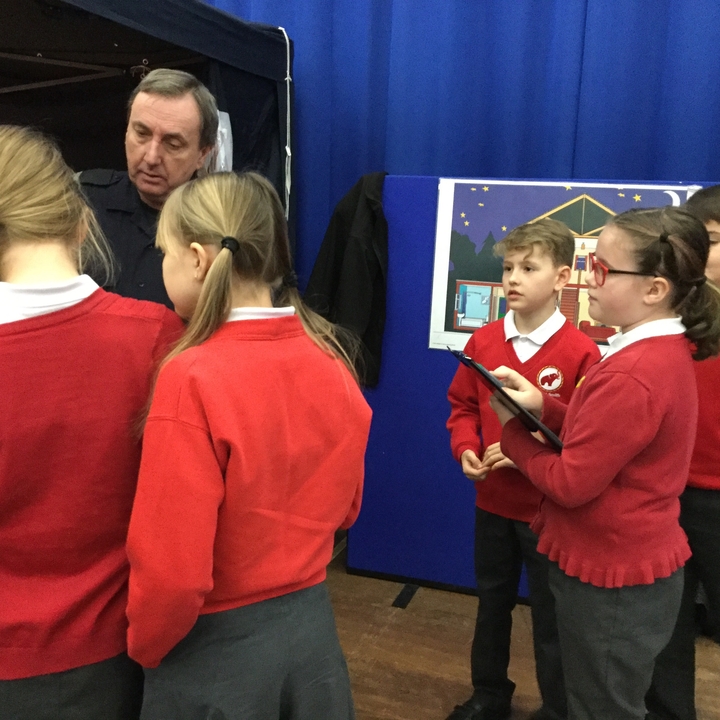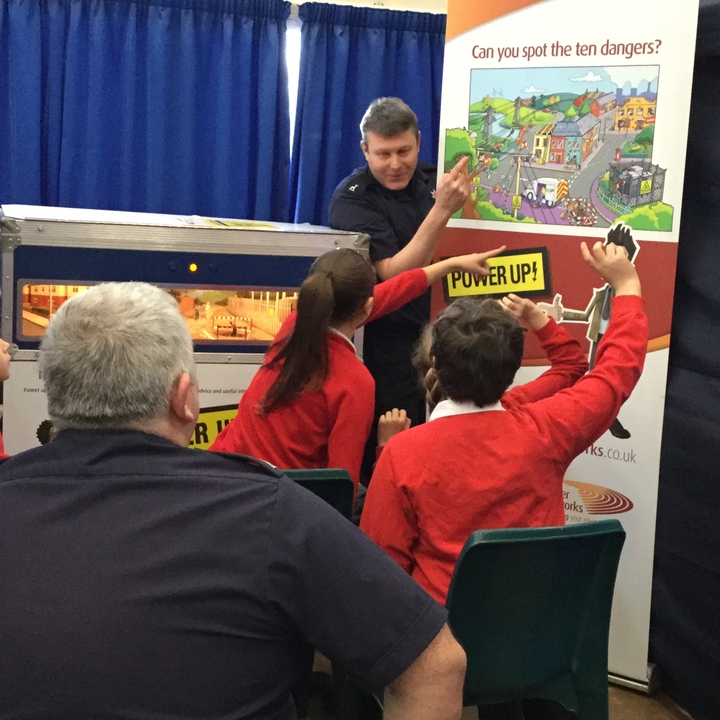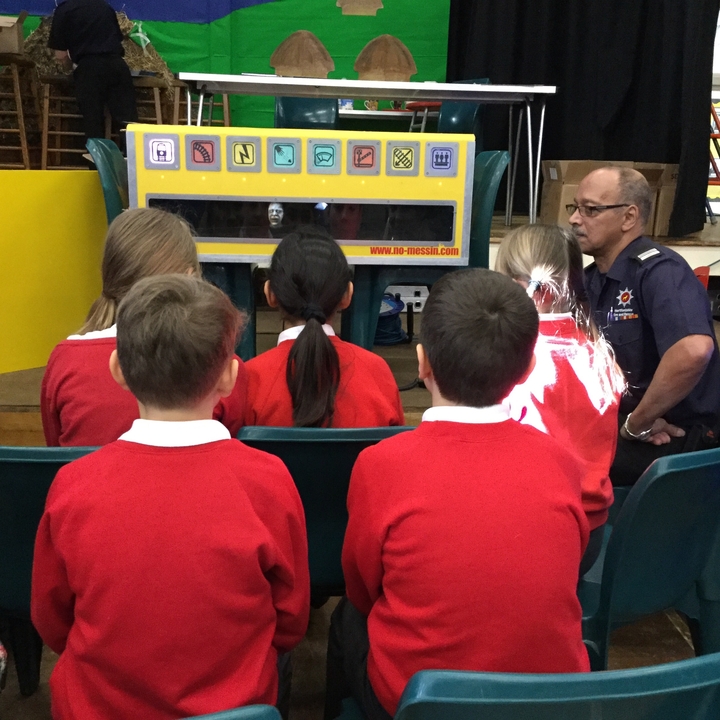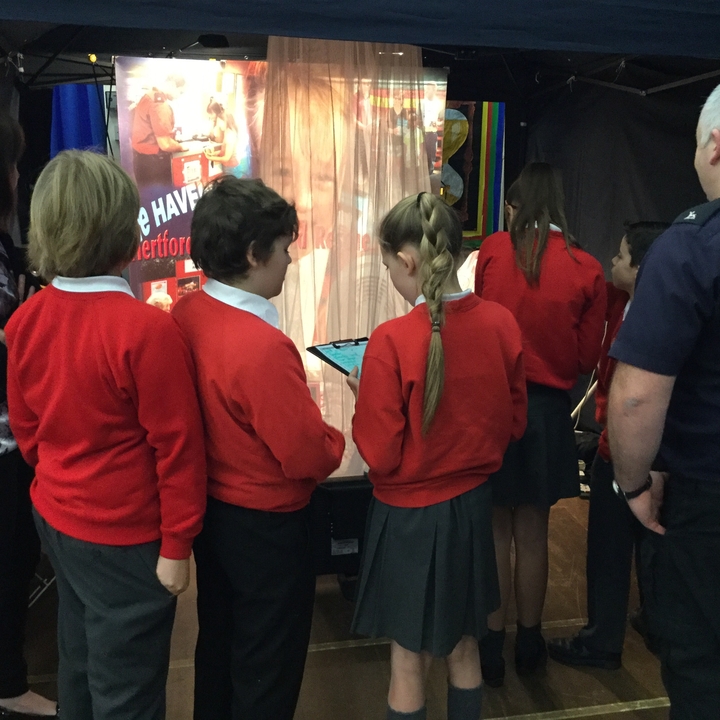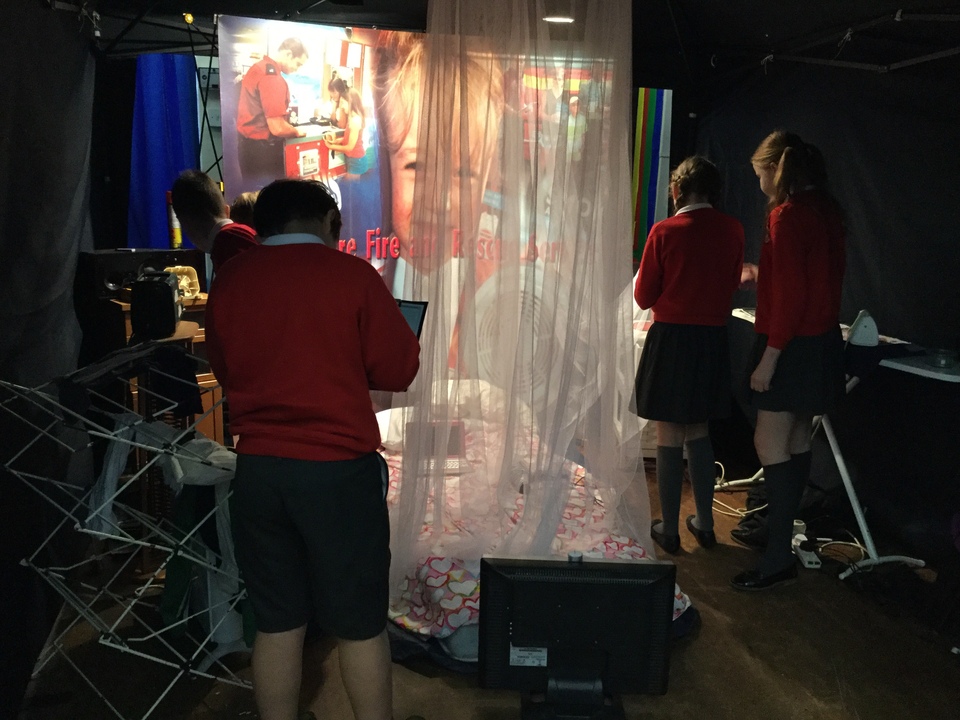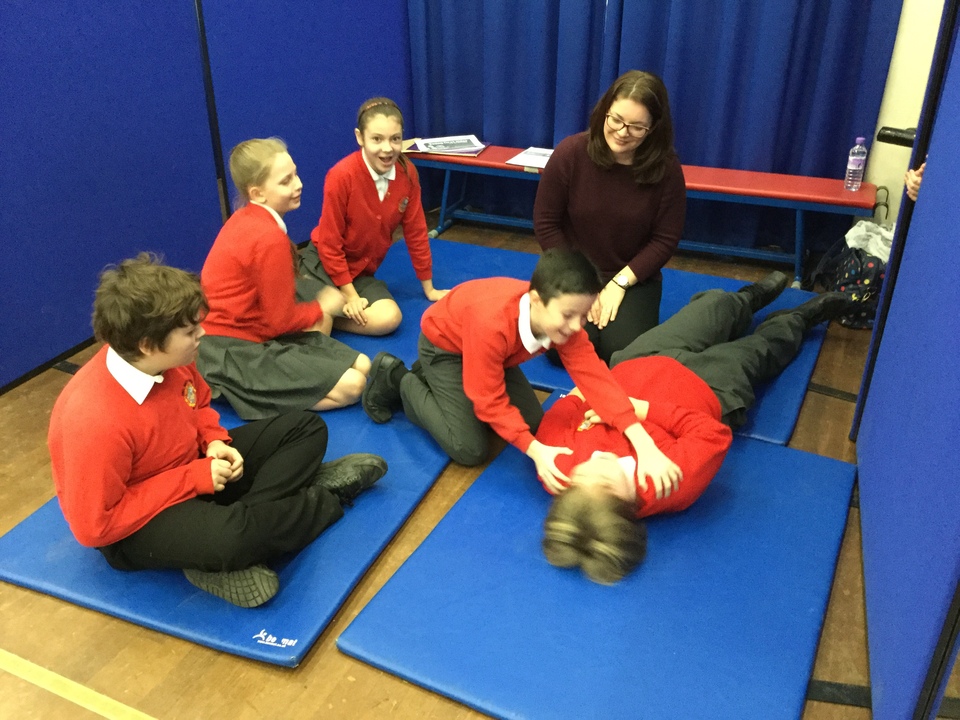 Monday 8th February - Meditation
As part of our Buddhism topic, we learnt about meditation and mindfulness. We loved it! Being quiet and calm and finding that special place (even the staff loved it!) Thanks to Mrs Pittman for sharing your expertise with us.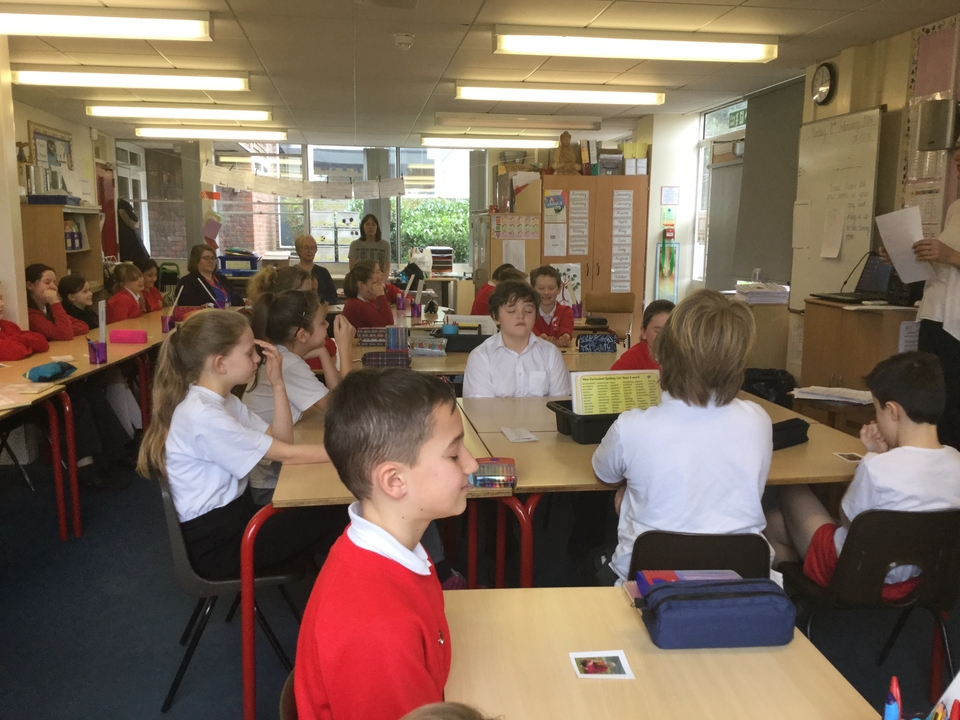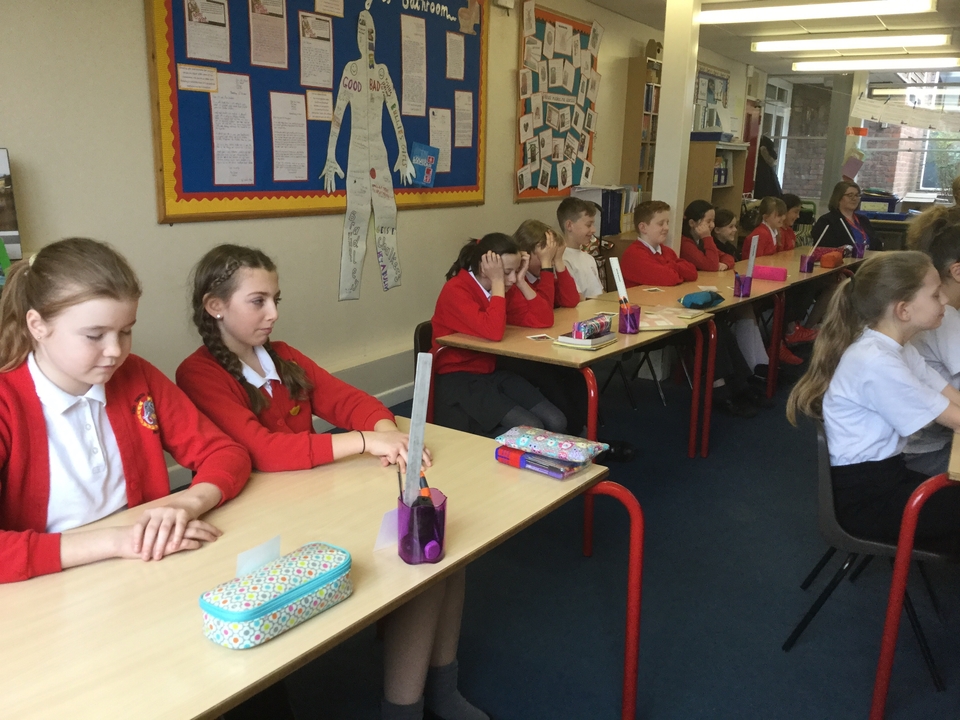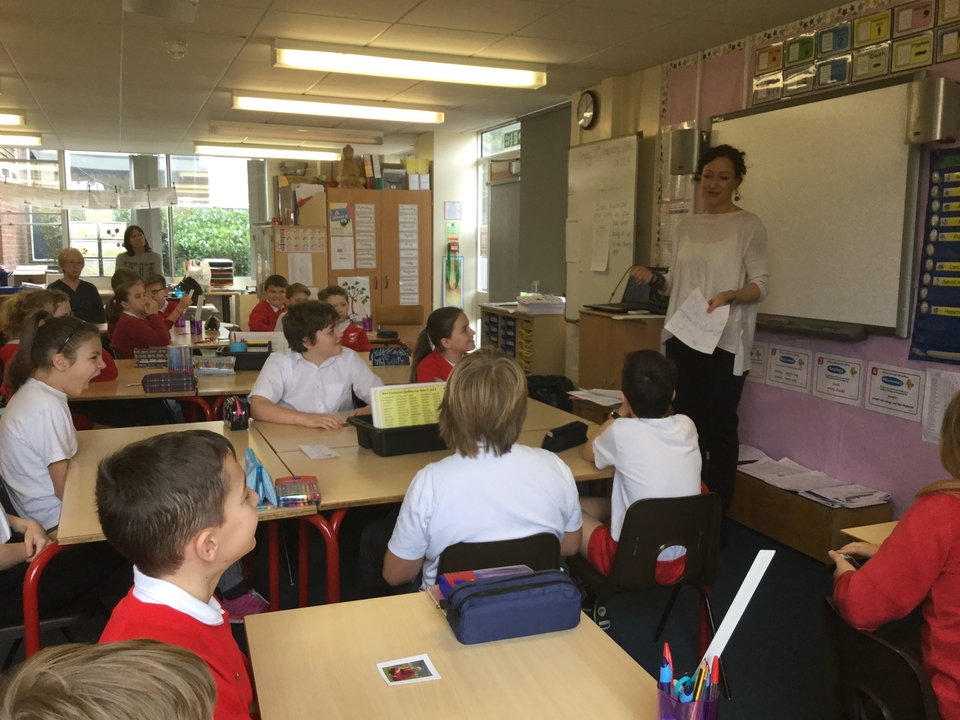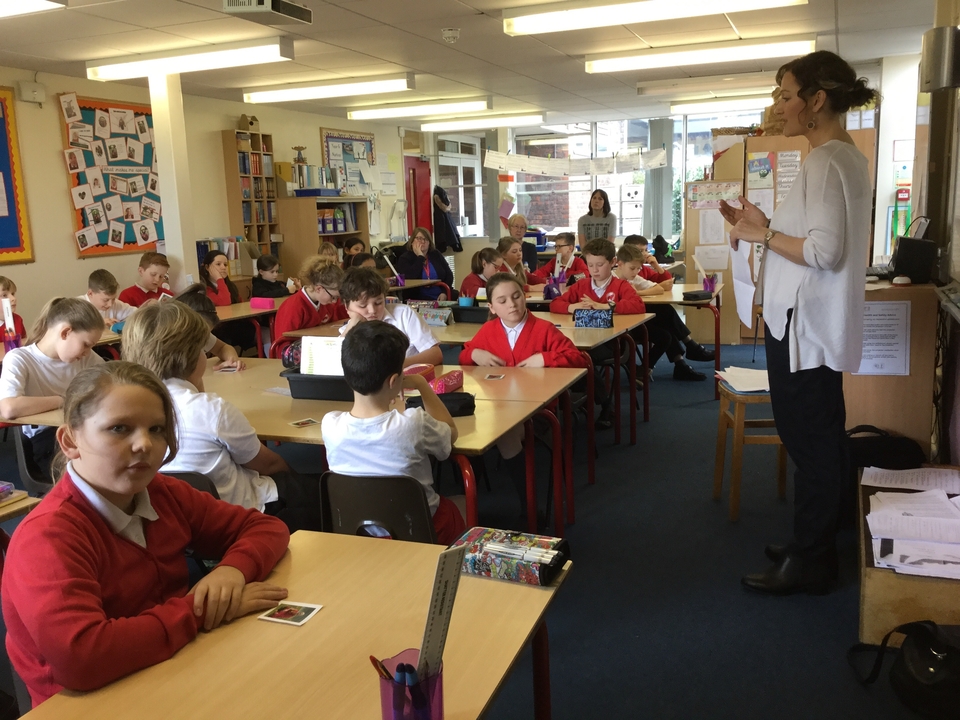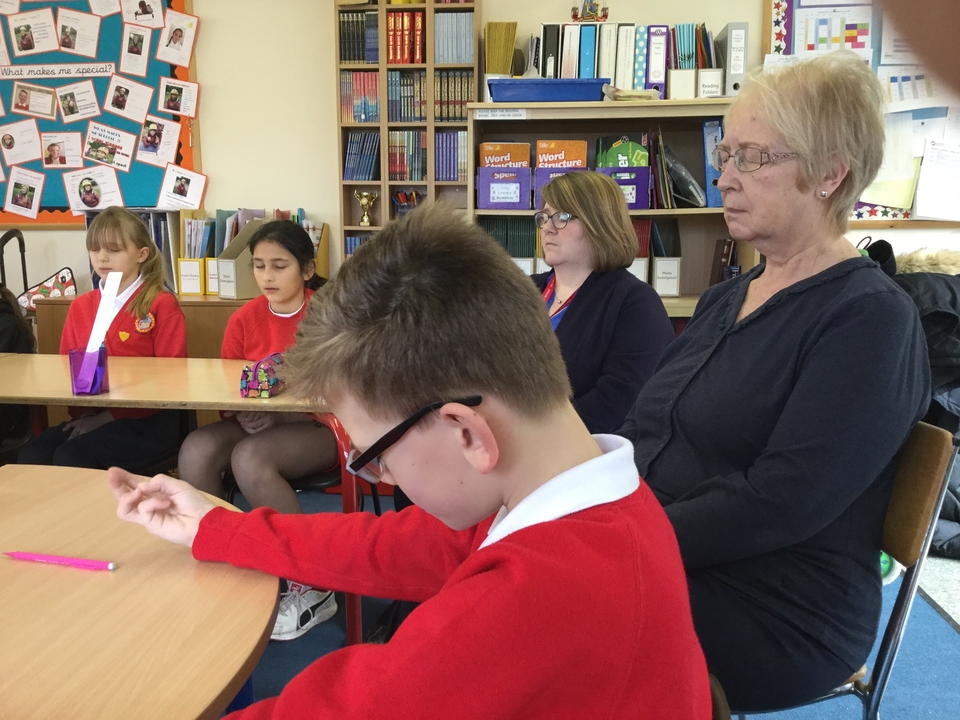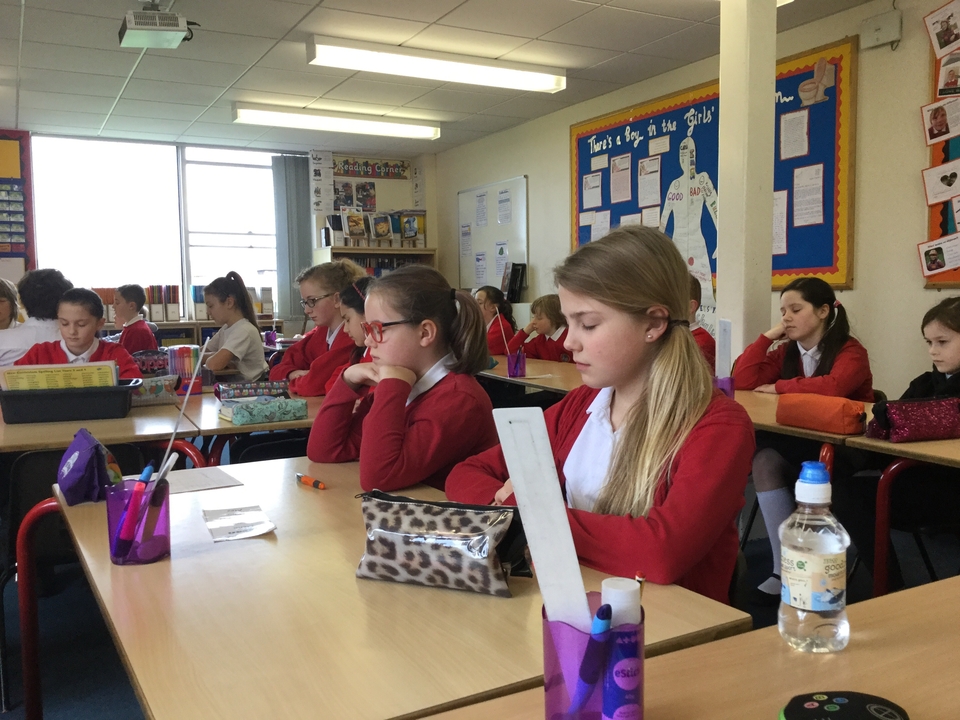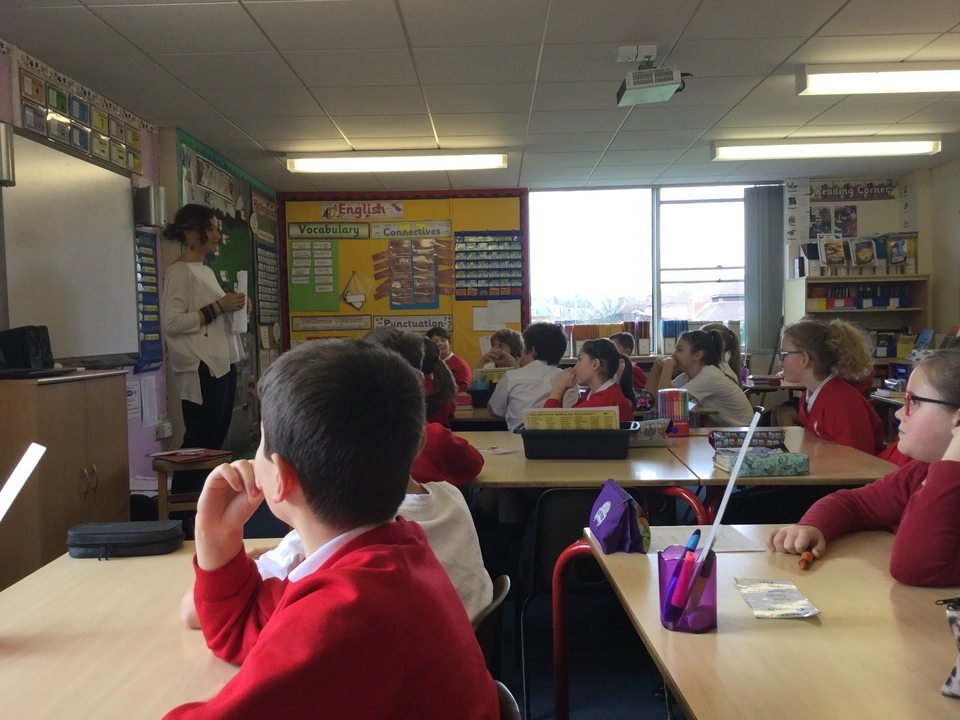 Thursday 4th February - Sportshall Athletics
We had an enjoyable afternoon competing against the other schools at this competition that was held at Wodson Park. The boys relay team were amazing, winning their race and the girls relay team came first in 4 of their track events. Overall, the boys came 5th in the competition and the girls came 4th. Well done everyone!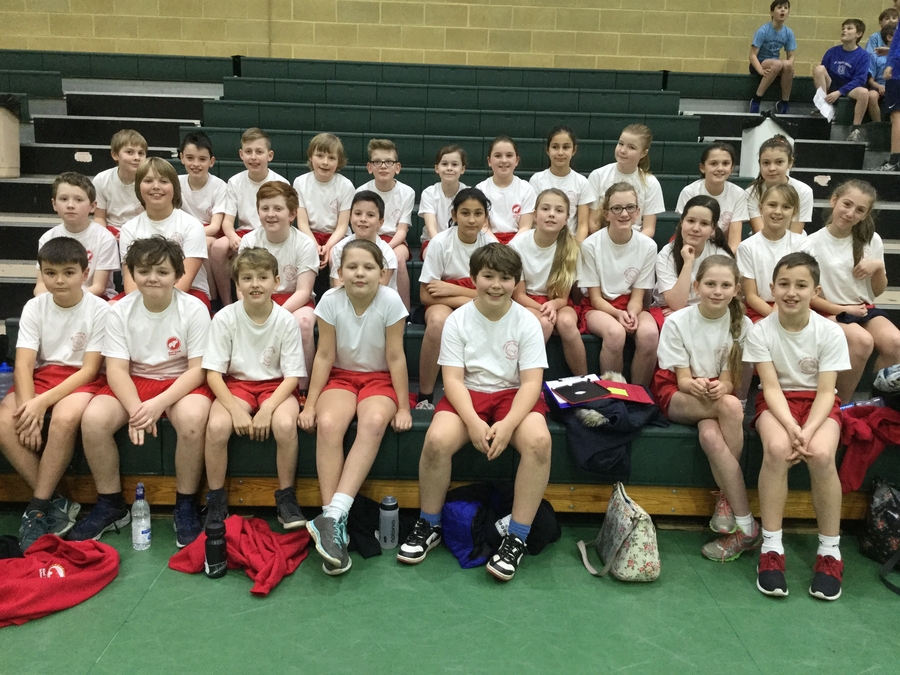 Week beginning 11th January 2016
Gymnastics
In our gymnastics lessons we have been learning how to perform some balances and we have been working in synchronisation with our partners. This week we taught our balance to another pair and they taught us theirs. We then put these together in a synchronised routine!
Science
In our science topic this week we have been learning about our heart and about the different functions of the chambers. We made a model of the heart and learnt how it pumps blood around our body. We had a go at using a stethoscope to listen to our heartbeats.
Christmas Production of Peace Child
We really enjoyed working alongside Year 5 on our part of the Key Stage 2 play. The Sotongi's, Wannakeekee's, film crew, builders and bears all worked hard on their lines and dance moves and we were very impressed with the final show. Well done everyone - we look forward to planning the leaver's play in July!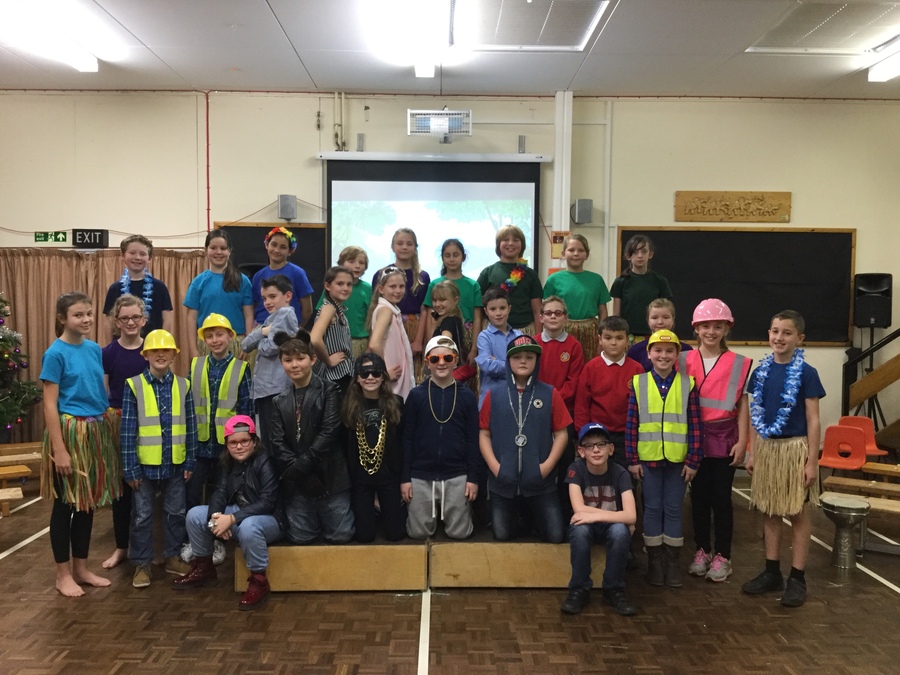 Painting Christmas Cards
Year 6 enjoyed getting creative when making our Christmas cards for our families. We used only blue and white paint to create this optical illusion - just look at the concentration on our faces!
PGL - 28th September 2015
Greetings from sunny Wales! We have arrived safely after a bit of an eventful journey! Our groupie Matt showed us around and then we spent our first evening playing Ambush (An Abel Smith Favourite!)
We were a bit lively at bedtime but soon settled down for the night, with most of us waking about 6.30am.
Today the sun in shining and we have been playing Aeroball, jumping off the Trapeze, Fencing and doing Archery. So far our morning has been brilliant and we are looking forward to building dens, lighting fires and orienteering this afternoon.
Mrs Cockley will try to upload photographs but there is currently no WiFi at Tregoyd House! (How did we ever survive without it!)
PGL - Wednesday & Thursday
We have found a little WiFi spot! Here are some photos of the last two days. I will upload more when I can.
We are still having a brilliant time and the weather has been glorious. Our activities on Wednesday were: Challenge Course ( the muddy one), Jacobs ladder, climbing and problem solving. We LOVED getting muddy - despite it being a little cold and smelly.
Ava had a great birthday and enjoyed her special day - we all enjoyed sharing her very special birthday cake! Wednesday evening was spent playing a giant, physical game of cluedo.
Today (Thursday) we are all raft building as a class and looking forward to Archery and Rifle shooting this afternoon. This evening we have the talent show!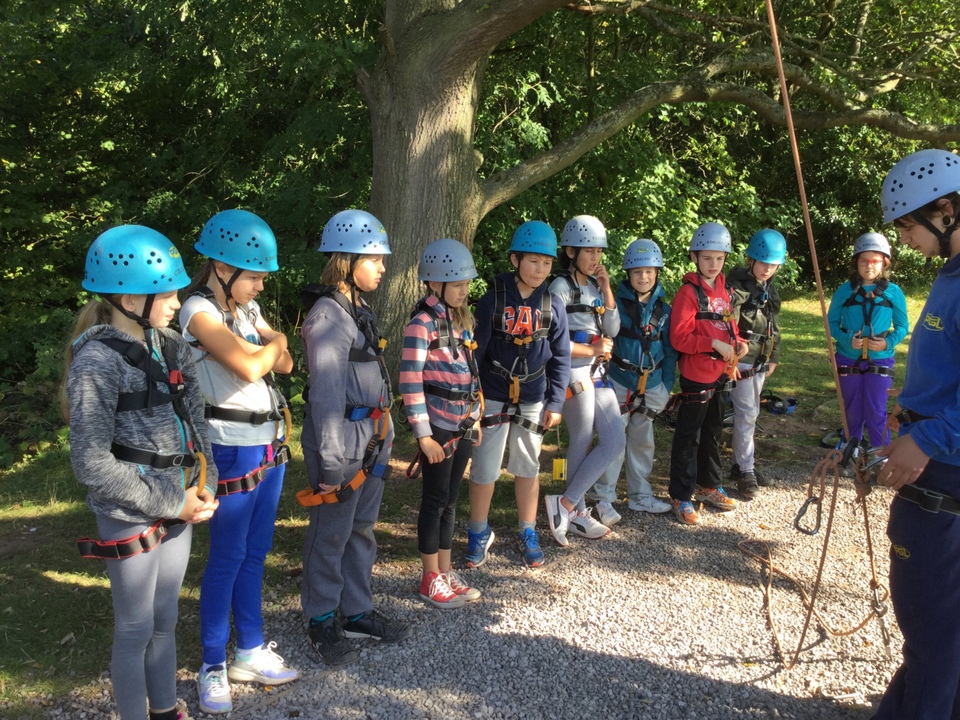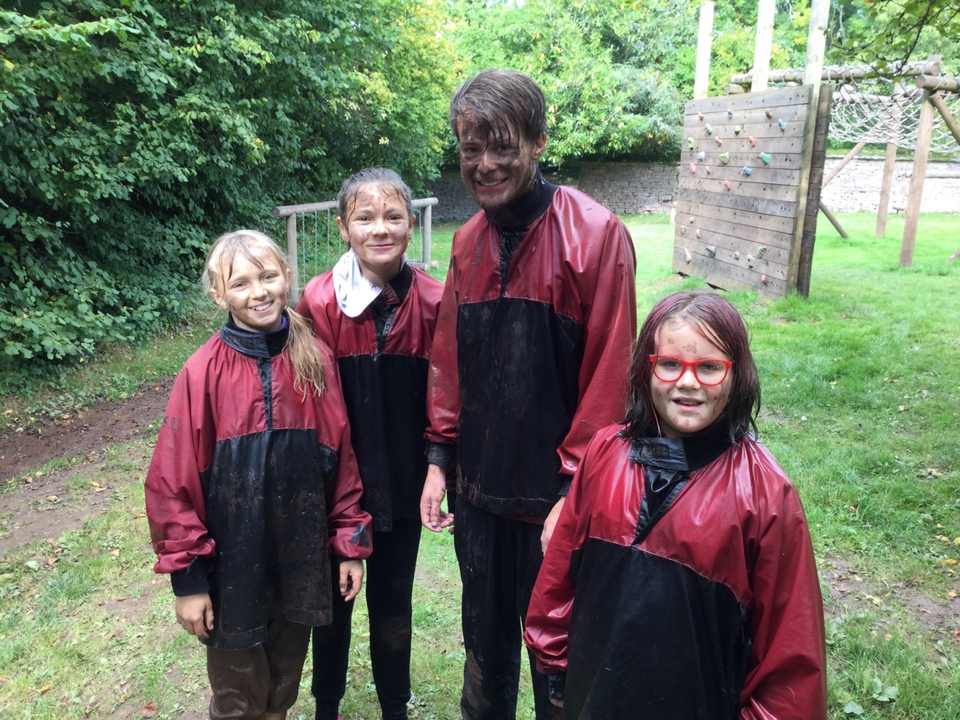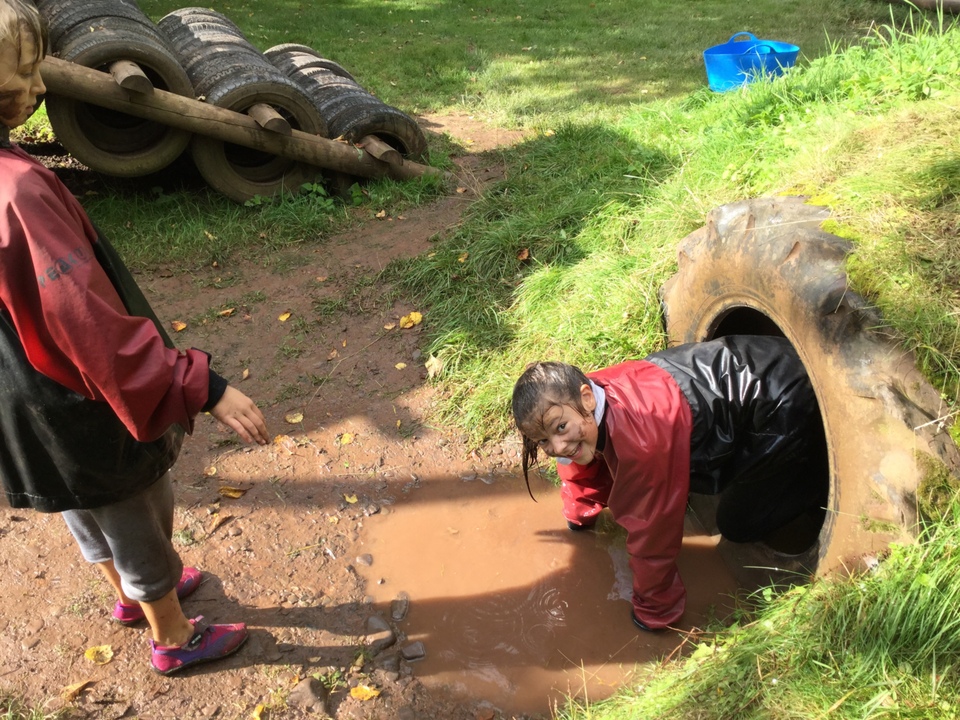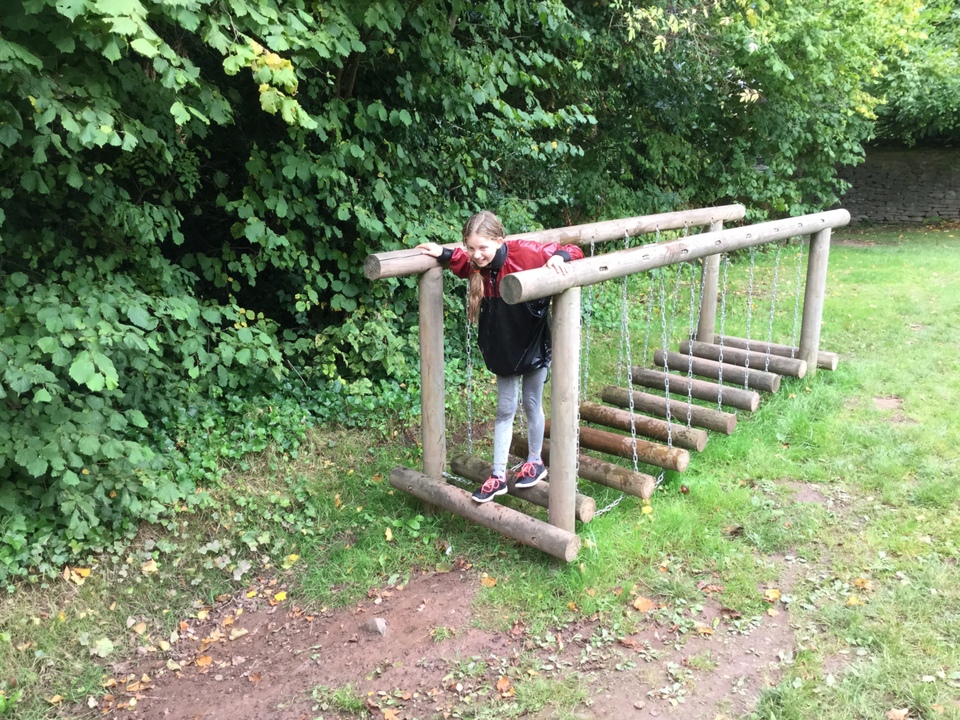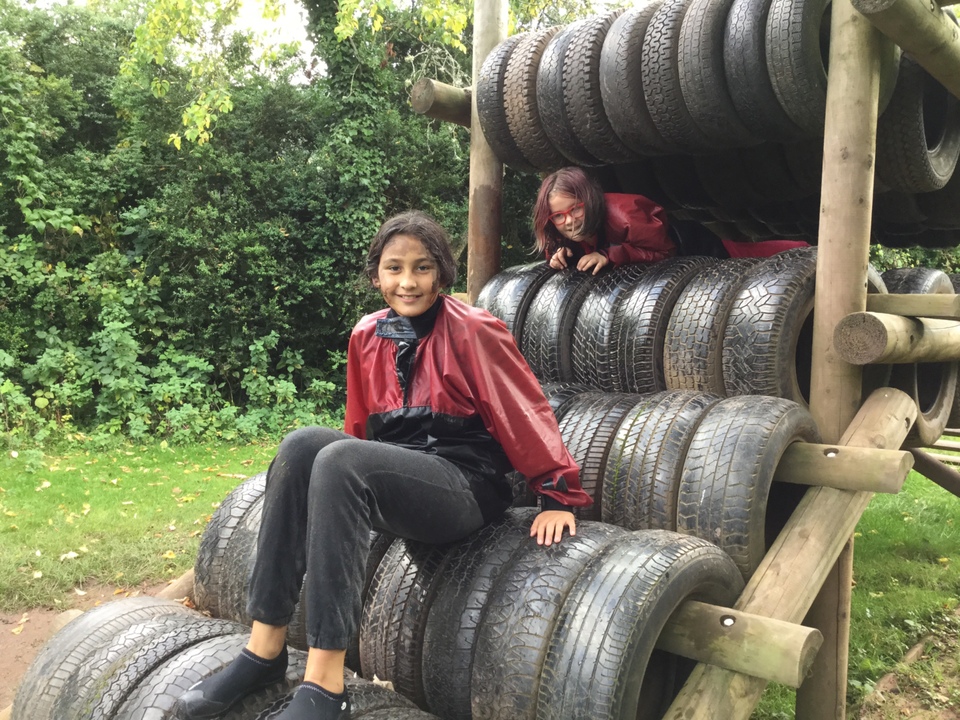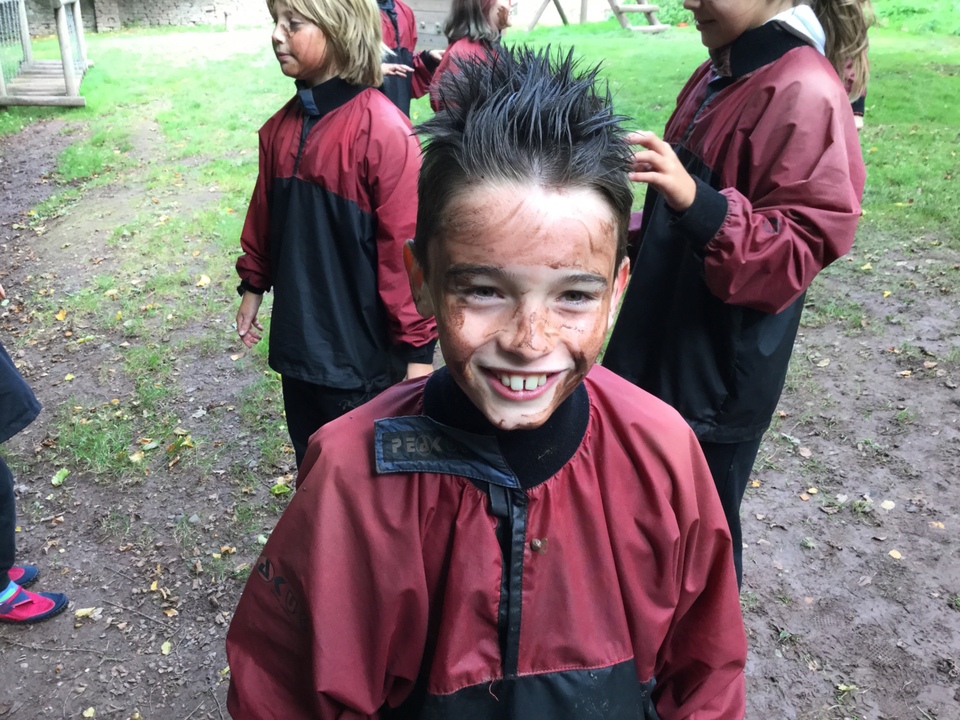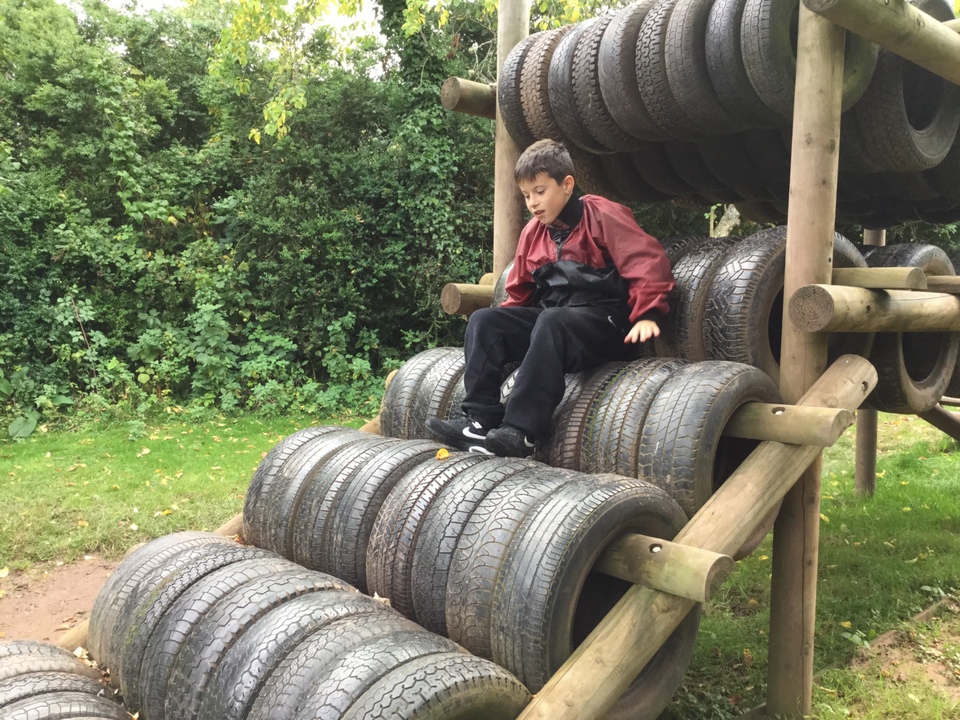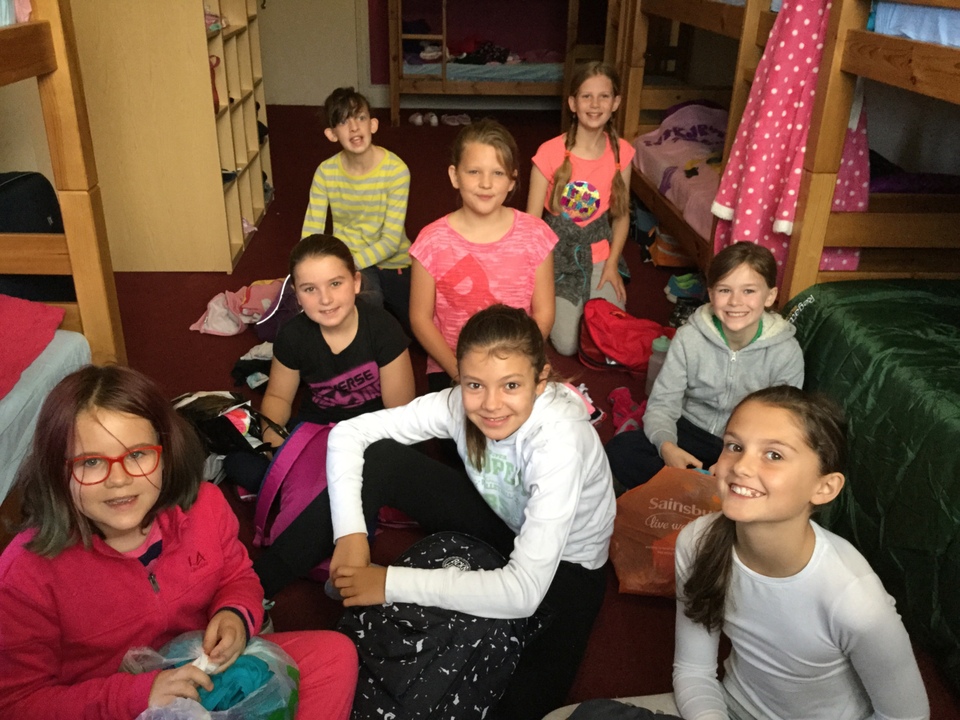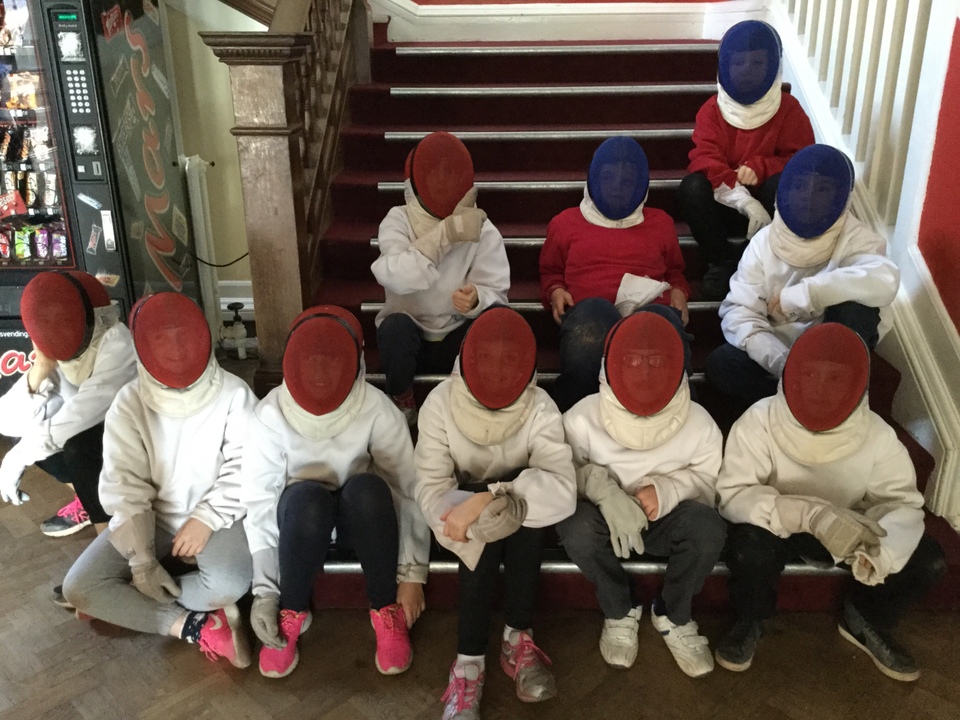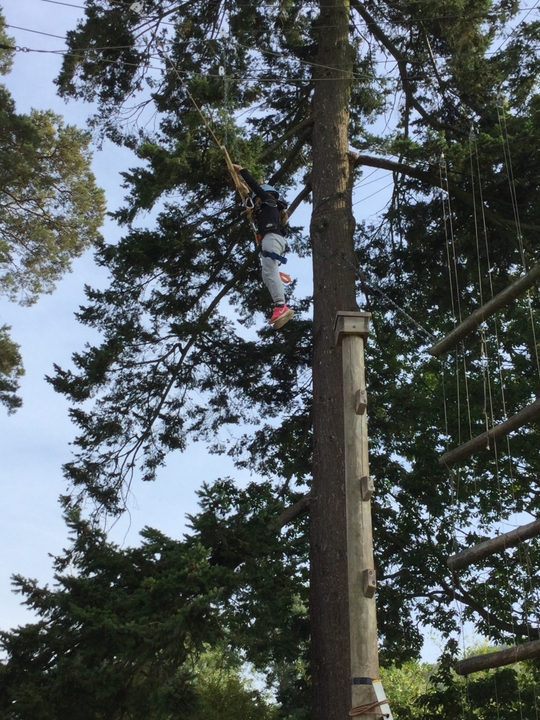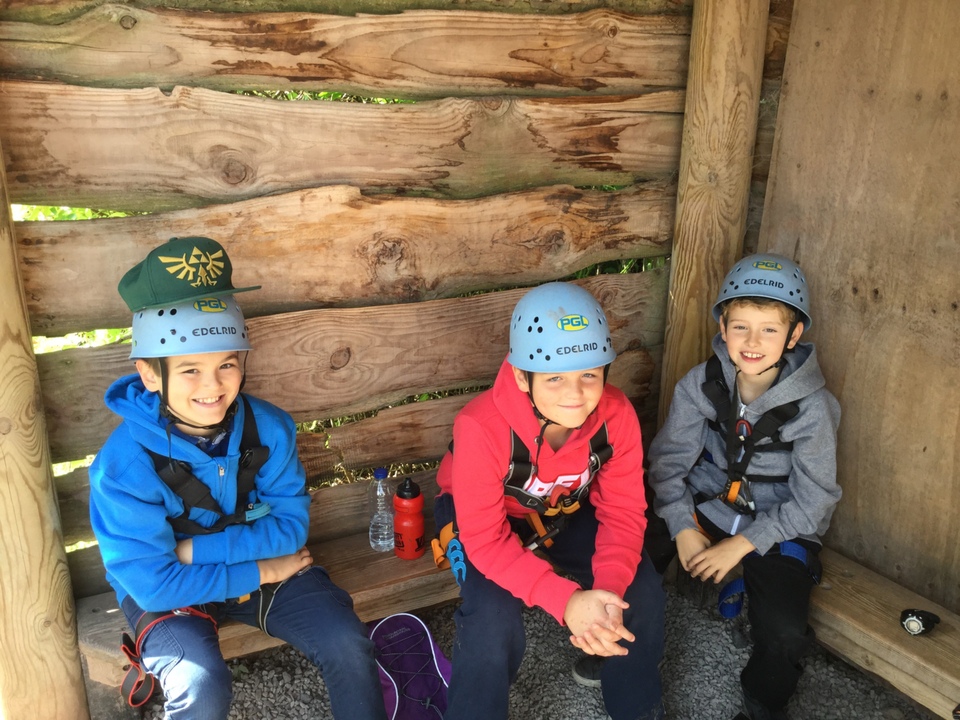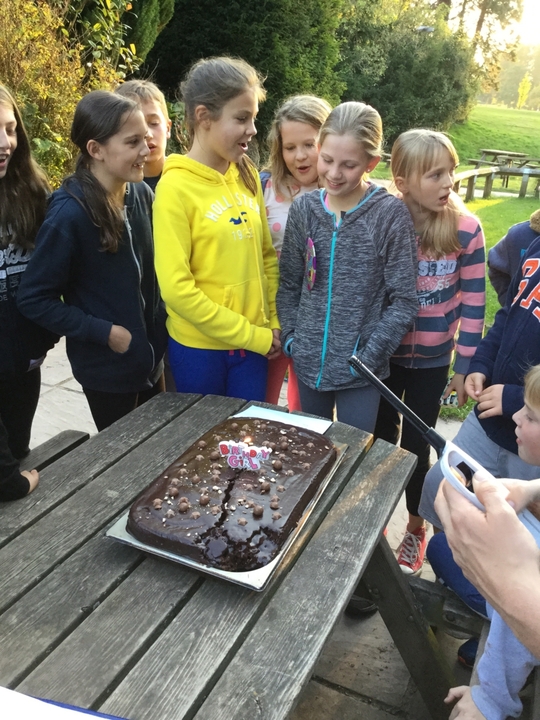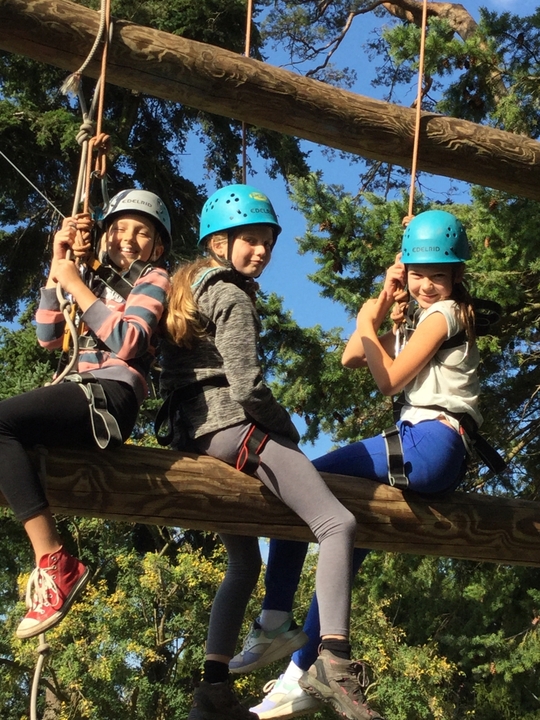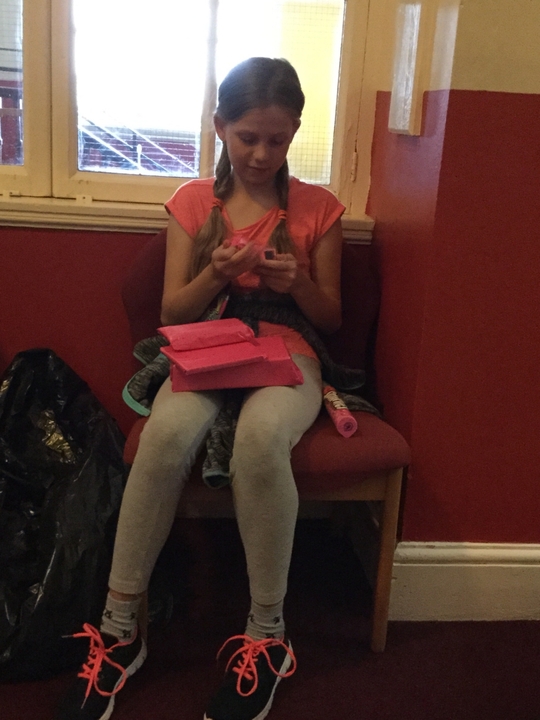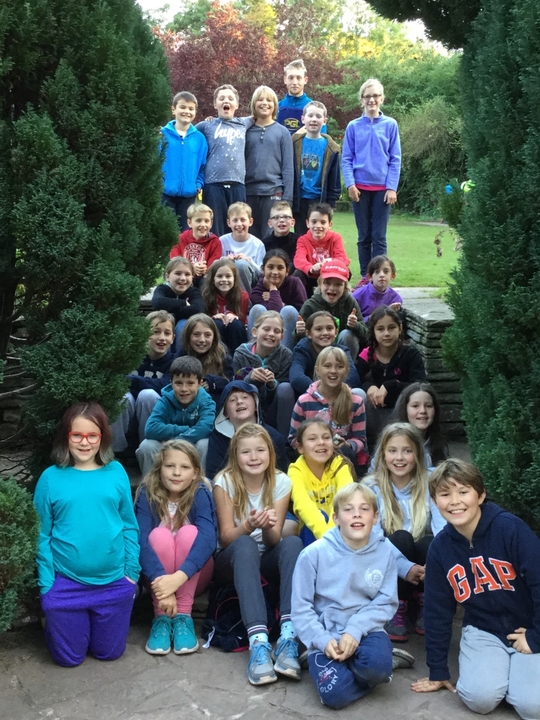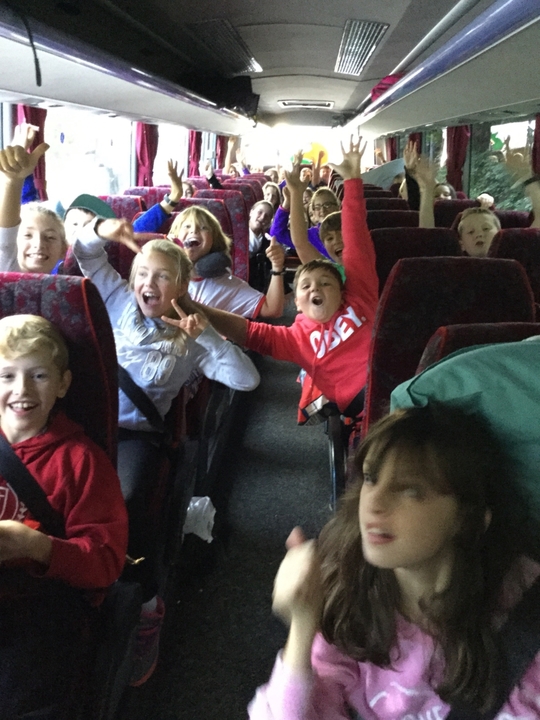 PGL - Thursday & Friday
The talent show was a huge success and Year 6 entertained the five judges with magic, comedy, dancing and singing. We were very proud of everyone who hadprepared acts and performed with gusto. After much deliberation and discussion we finally agreed on the following winning acts:
1st Place = The E Girls - Emily G, Emmy & Ella
2nd Place = Grace, Ava, Elena & Lauren
Joint 3rd Place = Jacob & Max and Emily S & Anabel
Well done everyone!
The photos below show some of the activities from Thursday and Friday.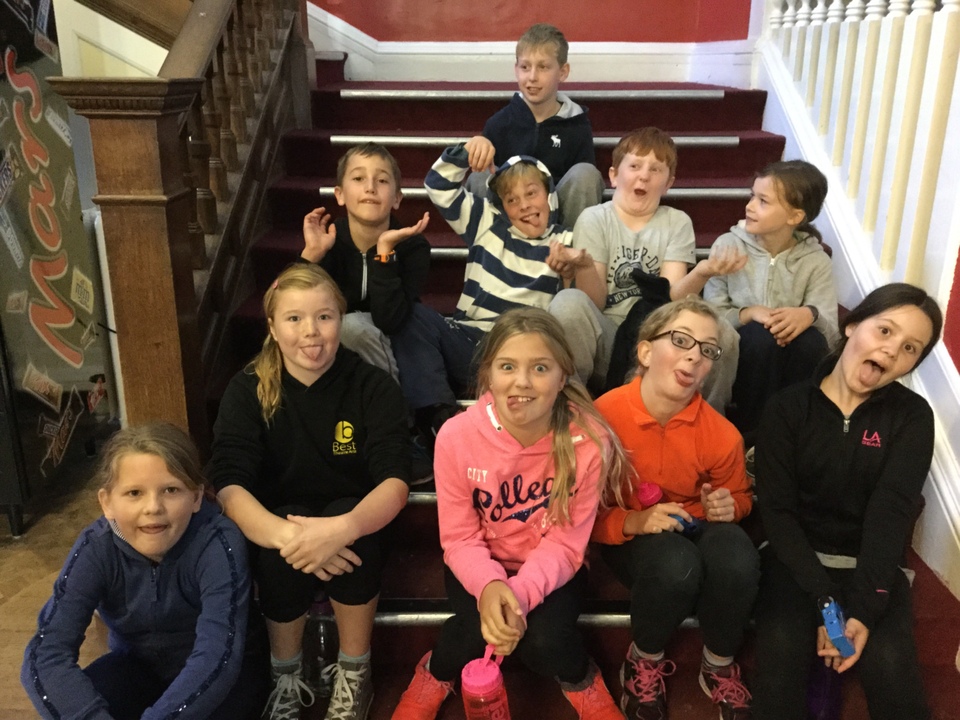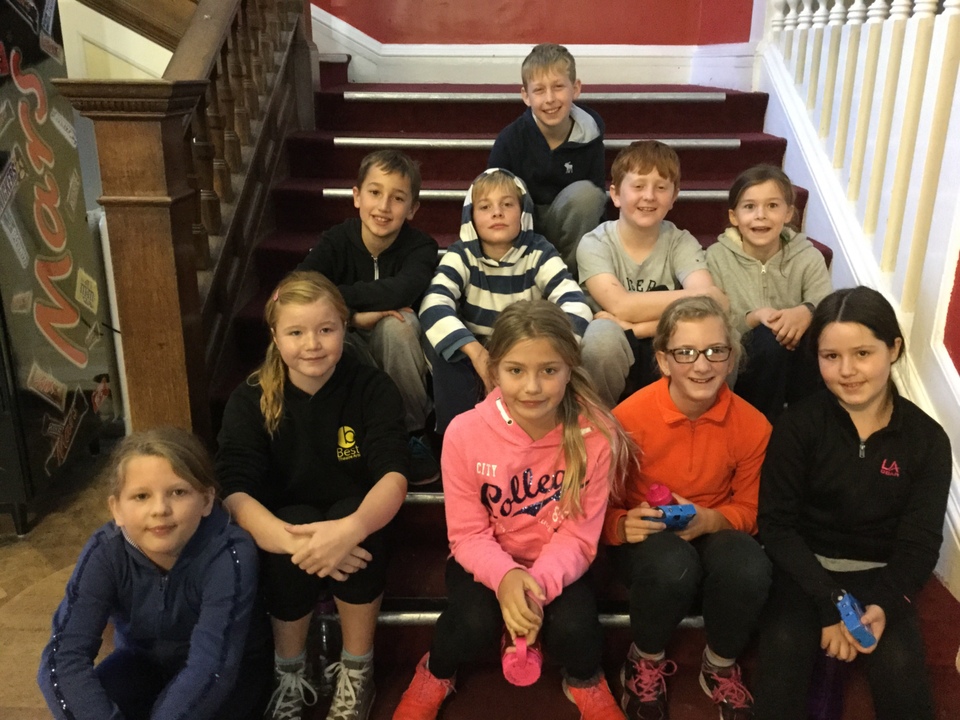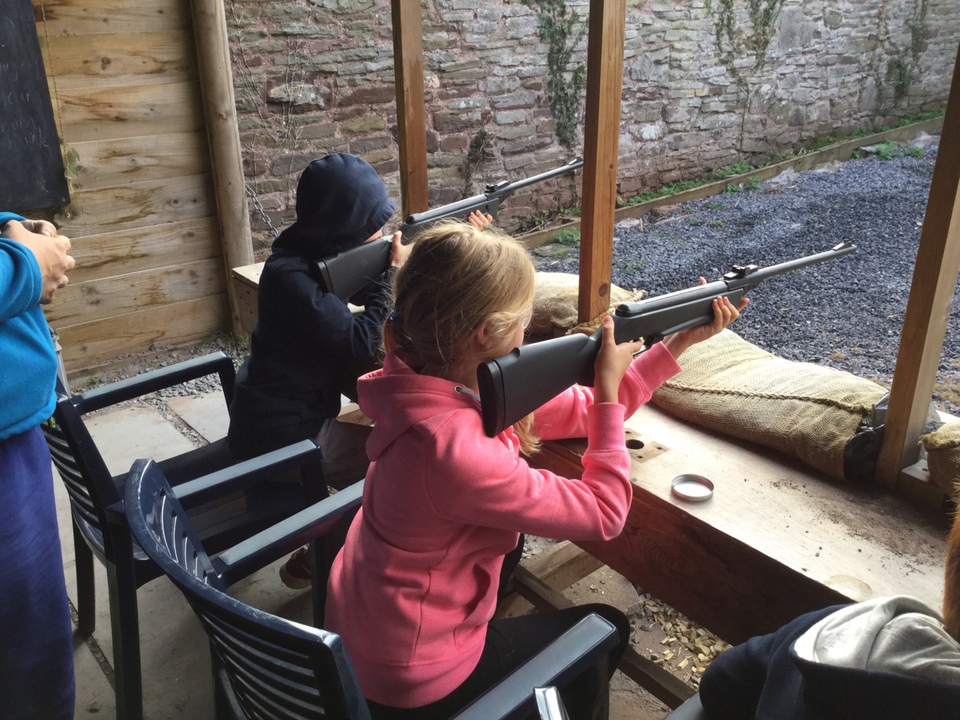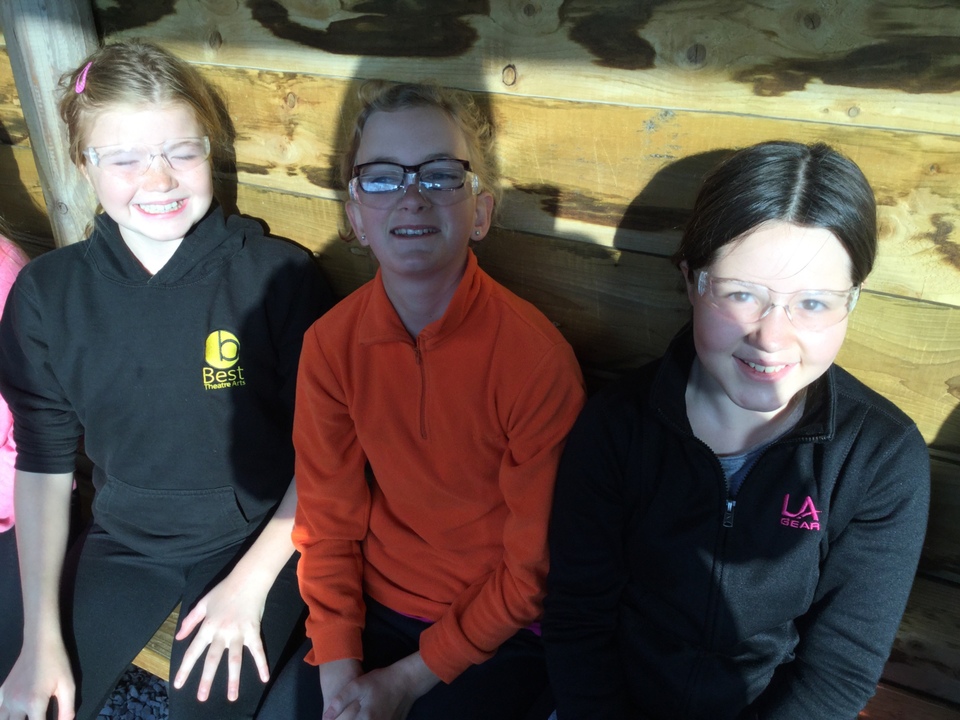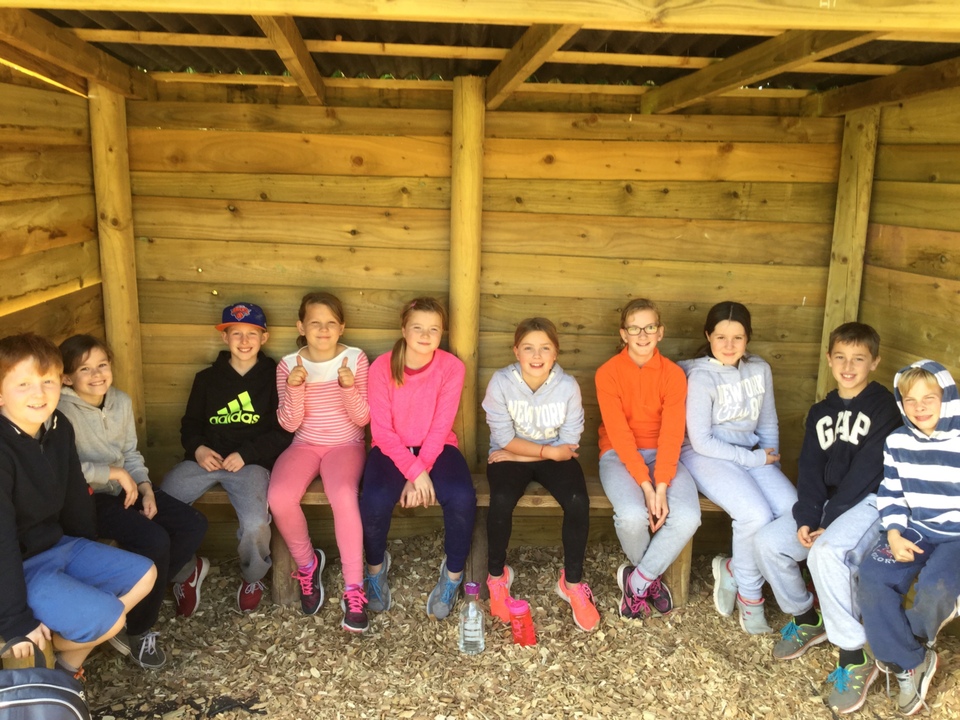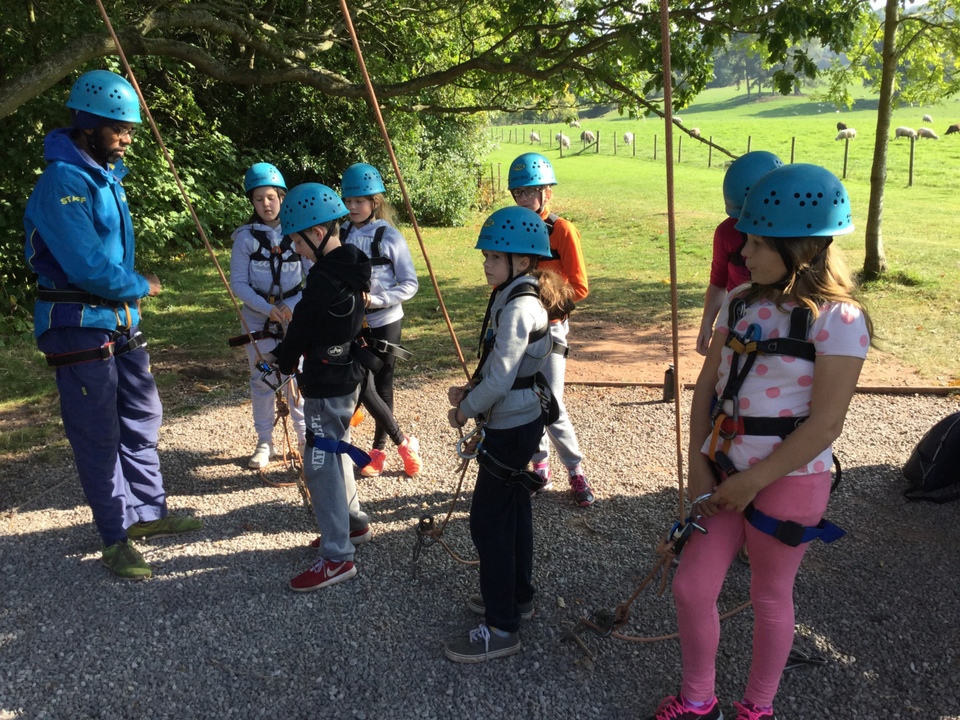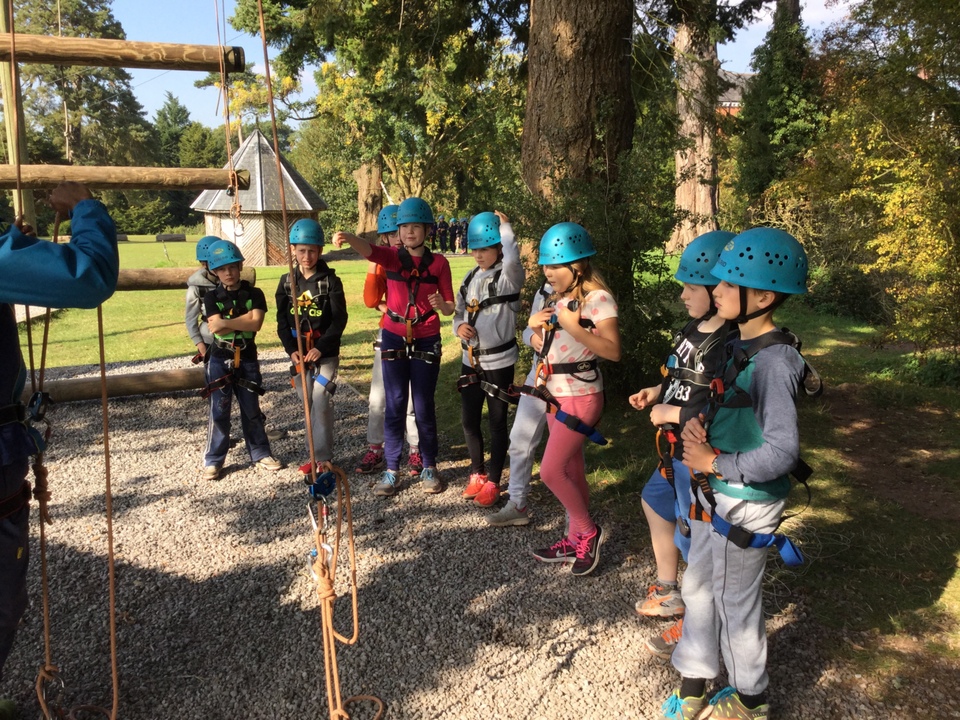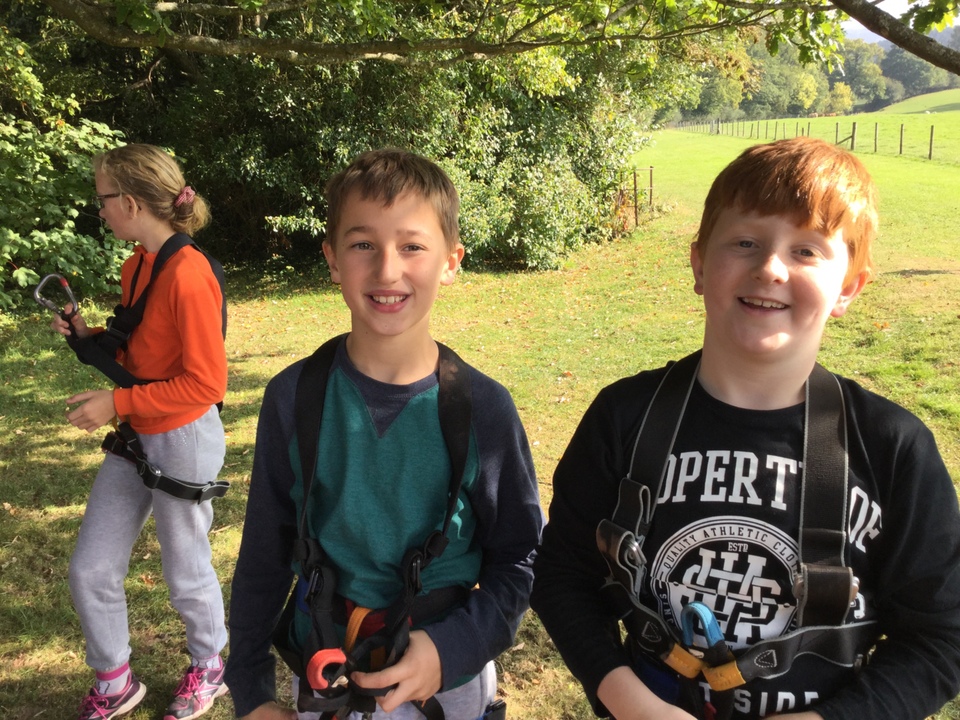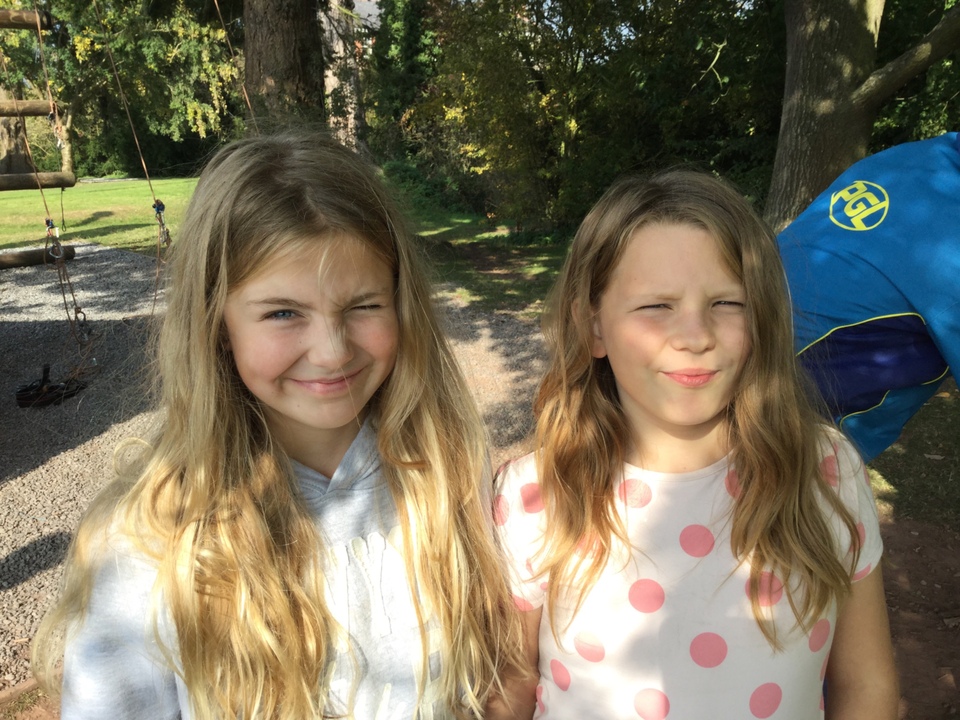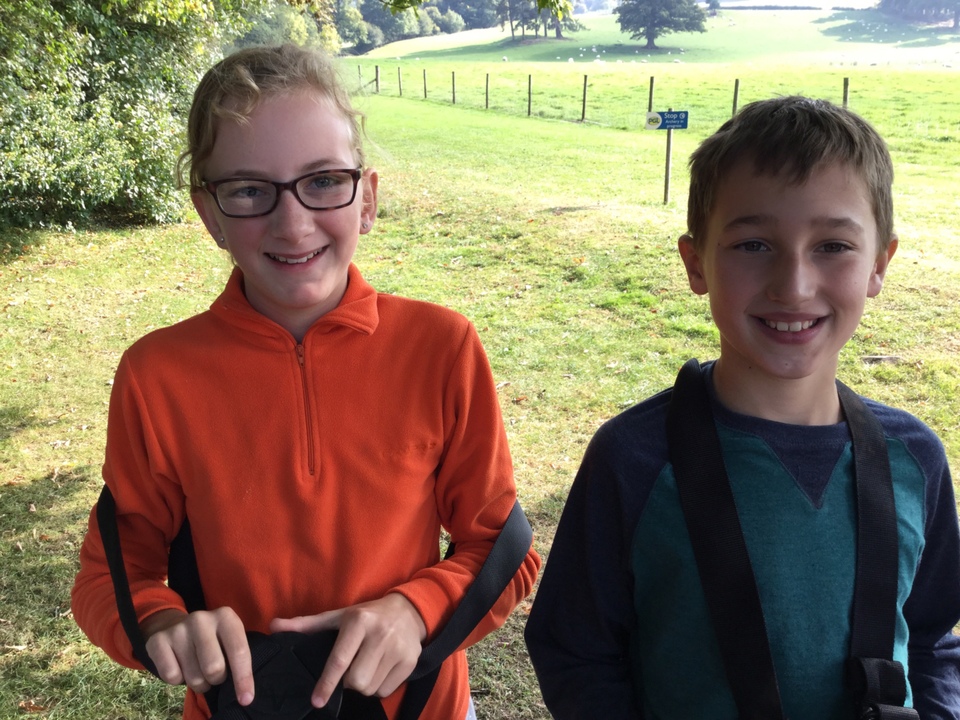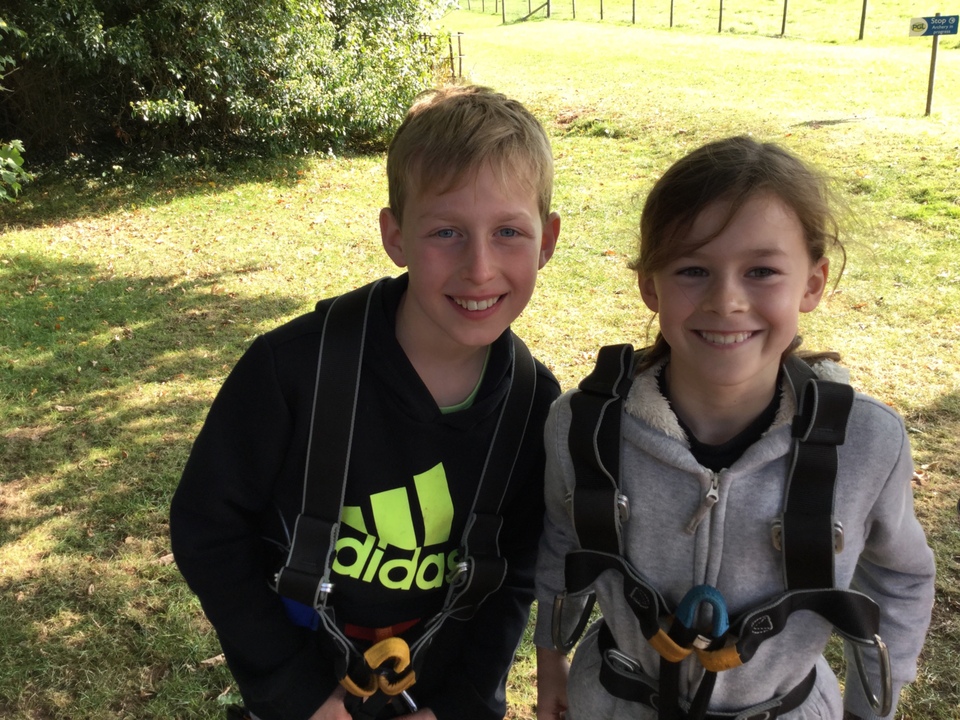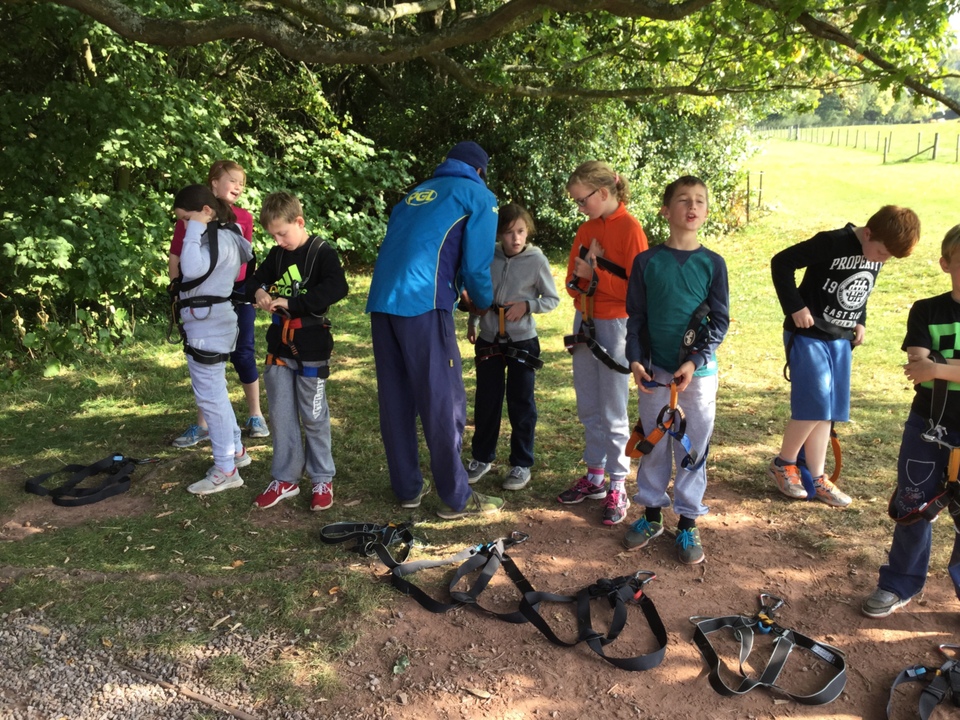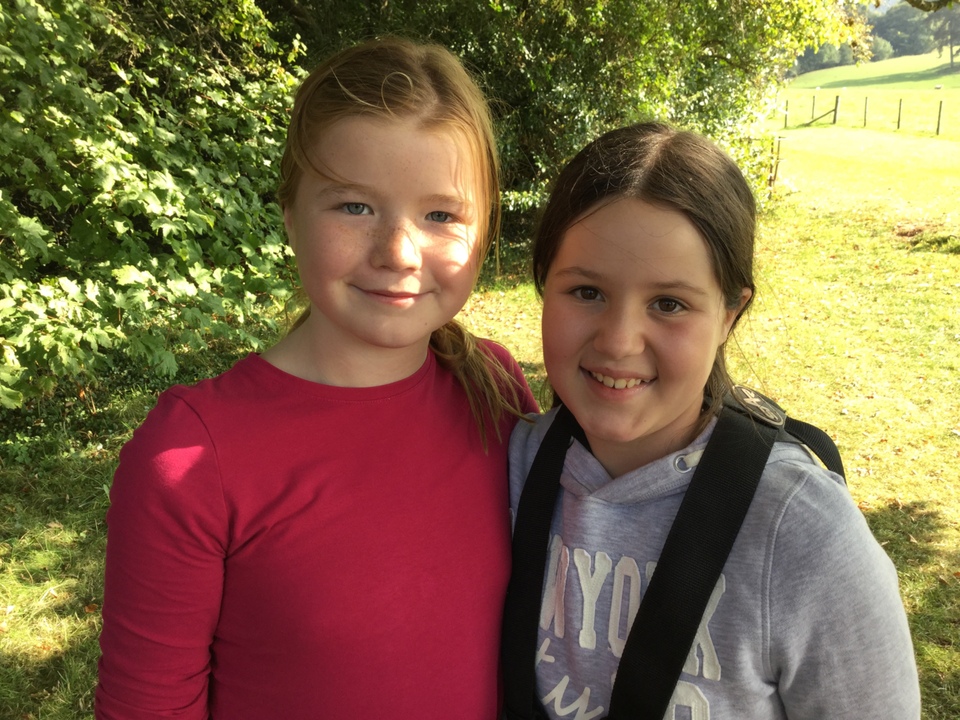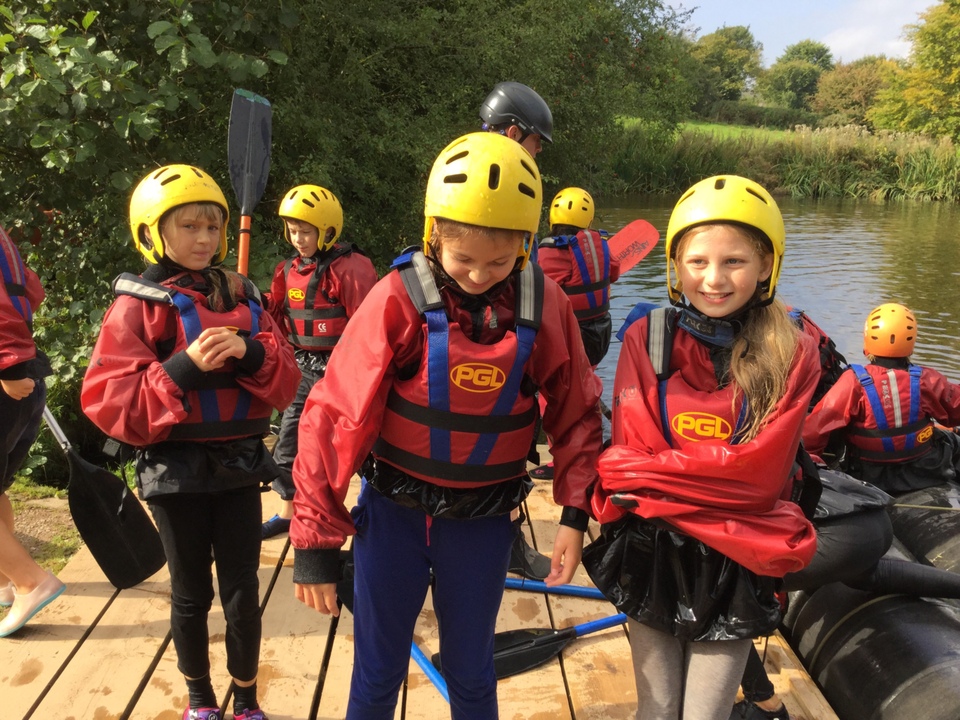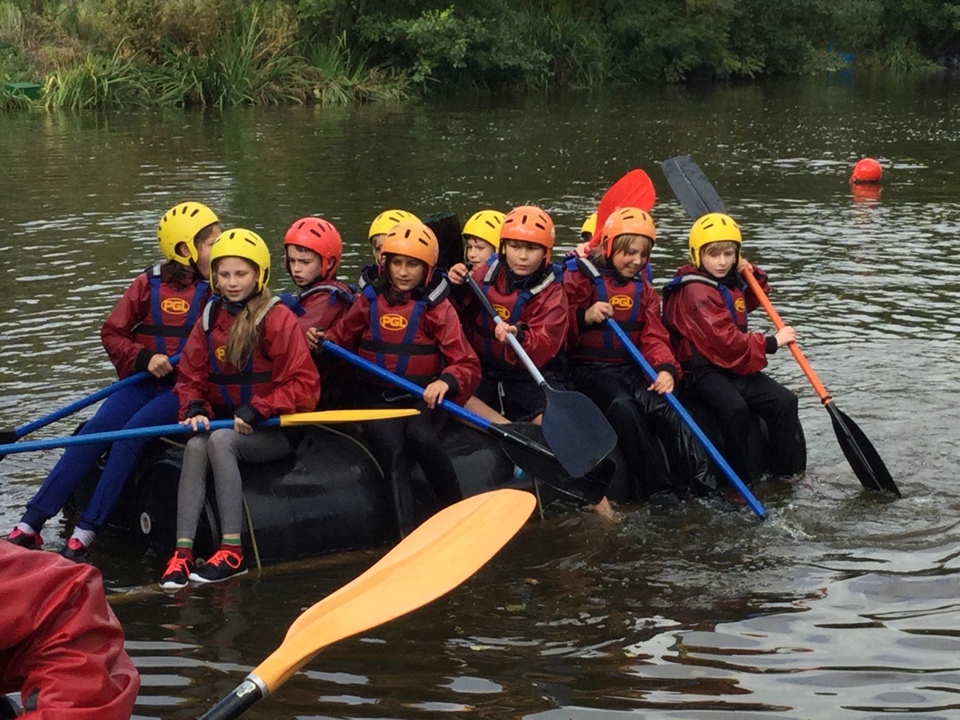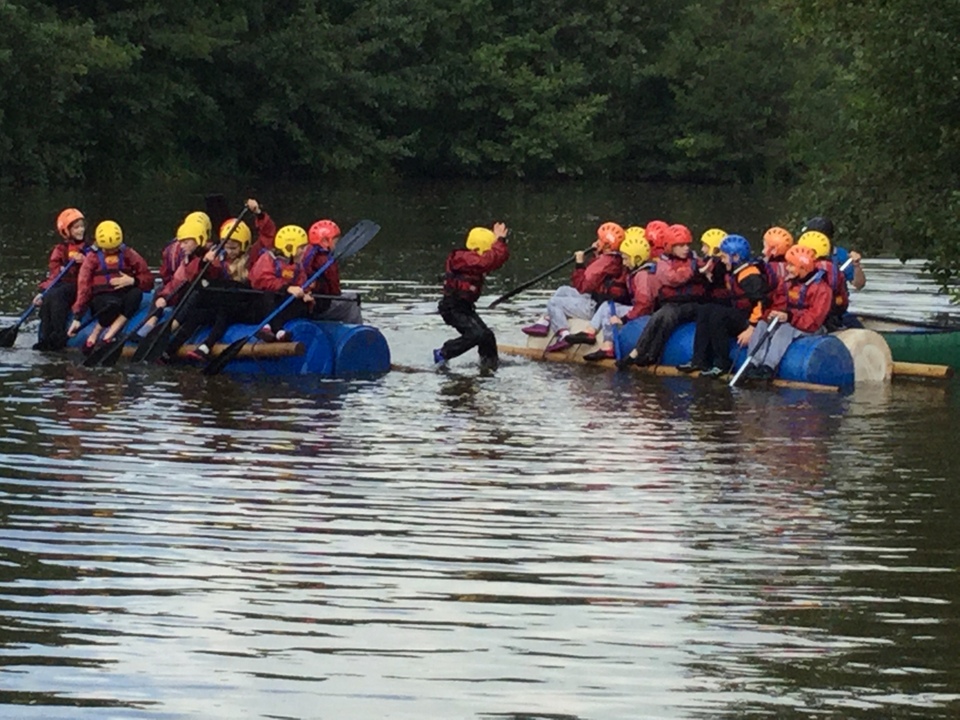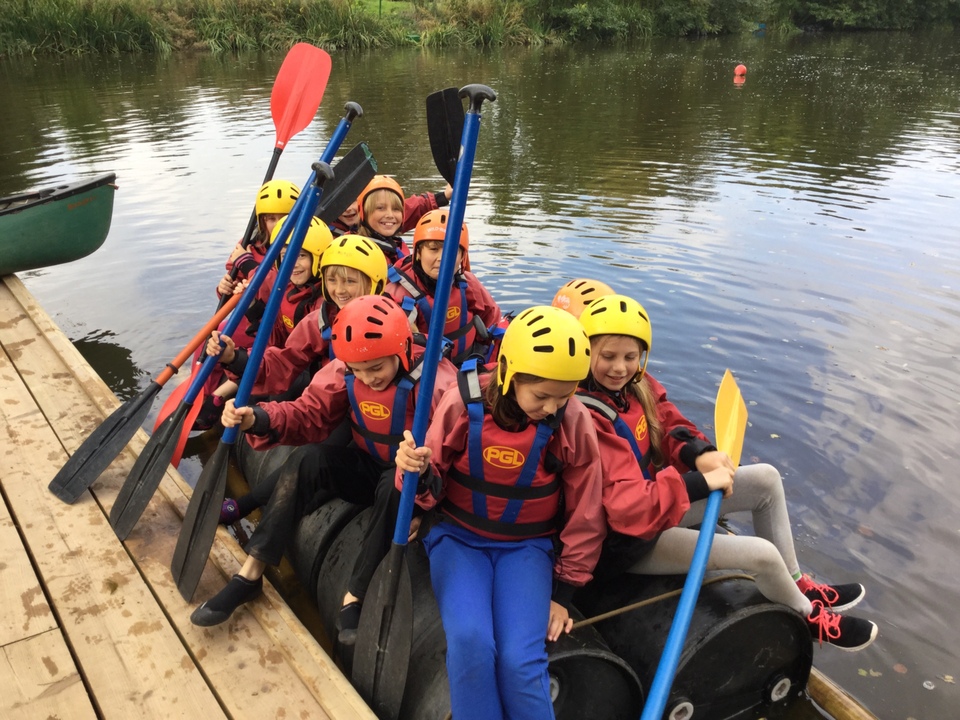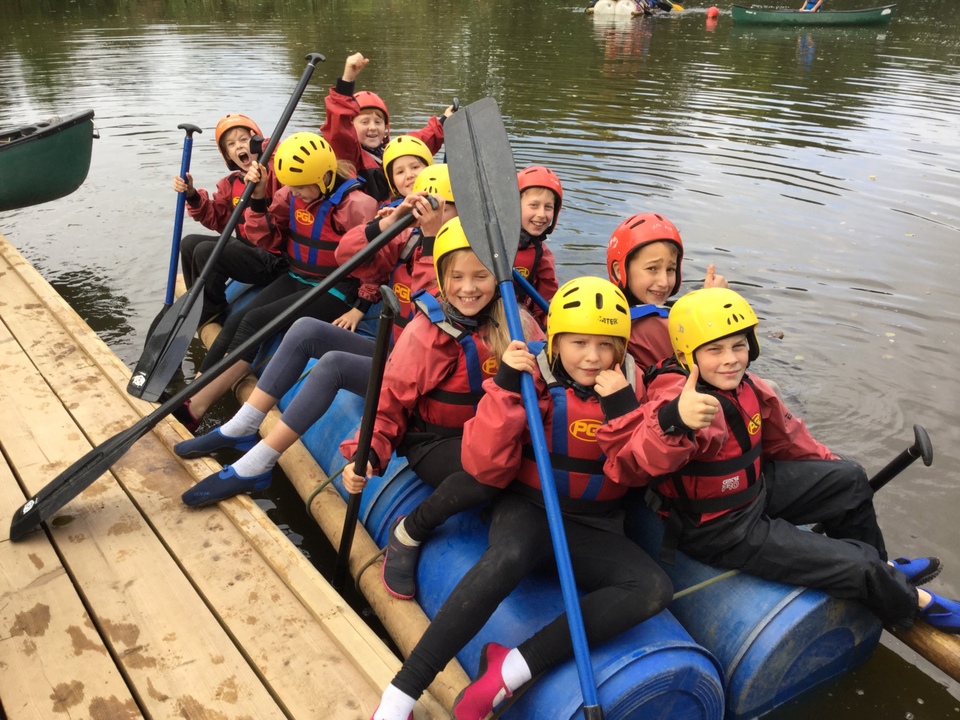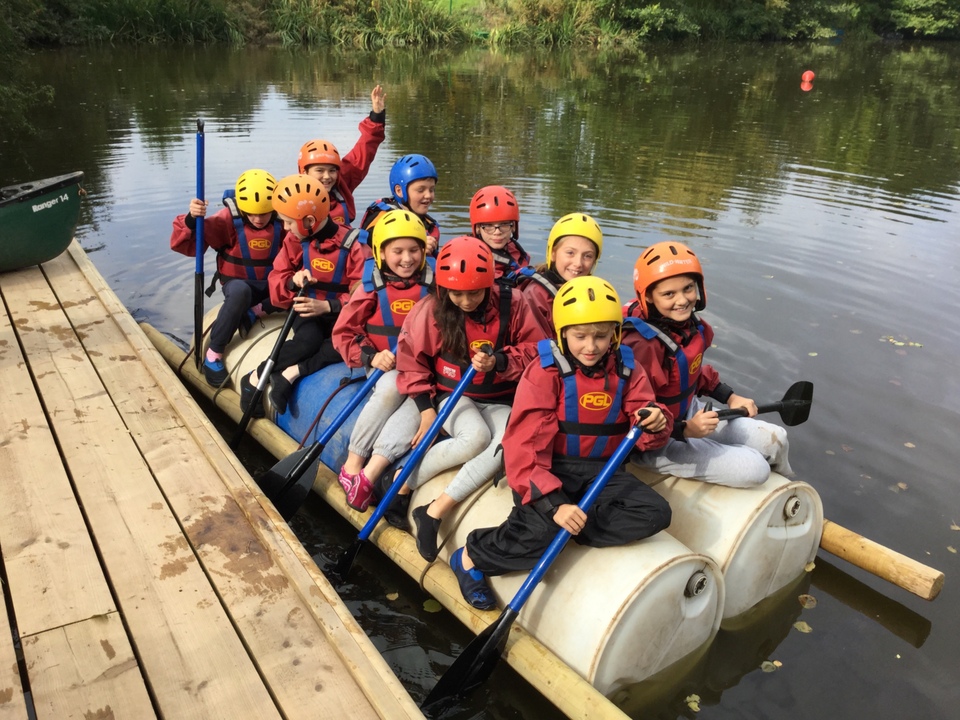 The year 6 team warmly welcomes the parents and children of the new year 6 class. We have lots of challenges ahead of us (including the dreaded SATs!!) but lots of fun and excitement also.
We were very impressed with the quality of the holiday homework. The children have settled in well and being a real credit and example to the rest of the school! Good work, Year 6!